and marvel at the perfectly pulled fashion garb my very own stylist has selected for me!
Now, I had asked for easy to wear and wash items because I am a mommy and a teacher and I never seem to have enough time to drop things off at the dry cleaners (#canyourelate). I wanted things that I could easily wear in the classroom and cart my one year old around for the day.
Here's a peek at what she pulled for me!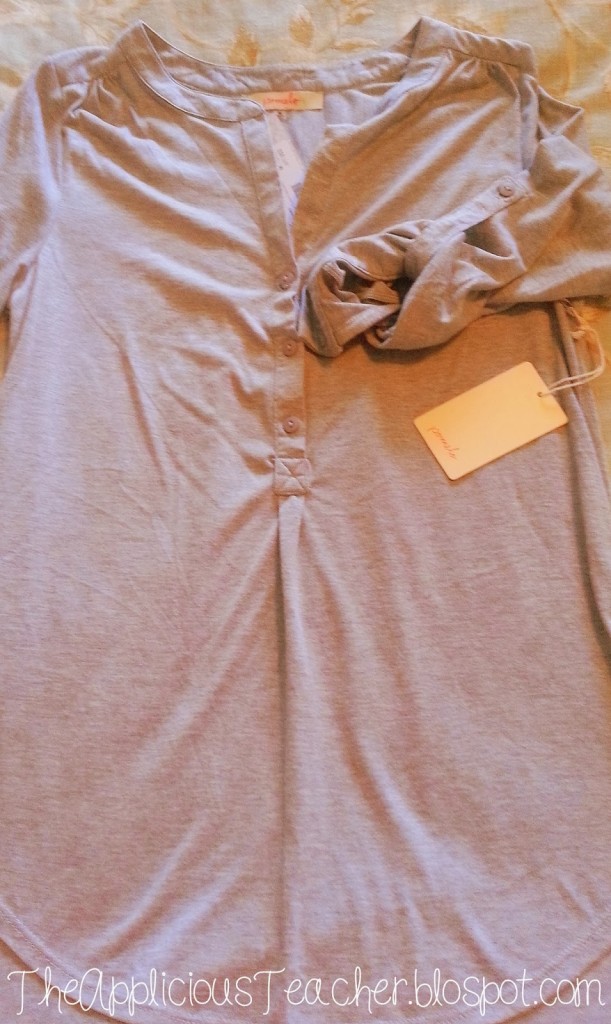 This soft grey shirt made me want to stay in bed and snuggle all day!
This cotton tab sleeve Henley was so soft and comfy. Great for running errands on the weekends!
Can you ever have too many jean crops? I think this is a staple in every women's wardrobe at the moment! Love the back pocket detail on this! The legs were a little wider in this cut for a more casual look.
This tulip sleeve blouse is probably one of my favorite tops sent over! The color, the style, the sleeves! <3 #Iaminlove! I wore this to school on Friday with some gold accented jewelry and dark denim skinnies with brown flats. Then turned around and touched up my make-up and wore it for date night. It screamed "Spring has arrived!"
Seriously… I am a sucker for little special details like the draping on the sleeves!!
Anything I didn't want headed into the prepaid/pre-labeled mailing bag.