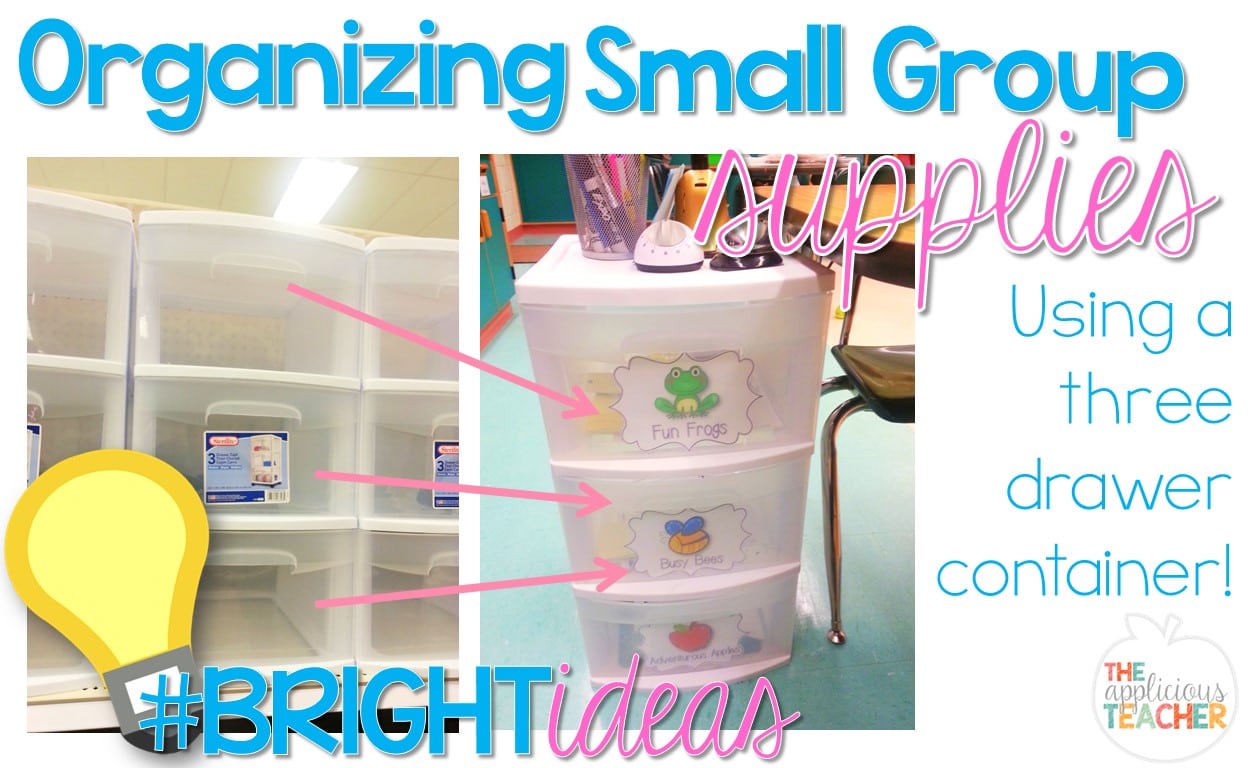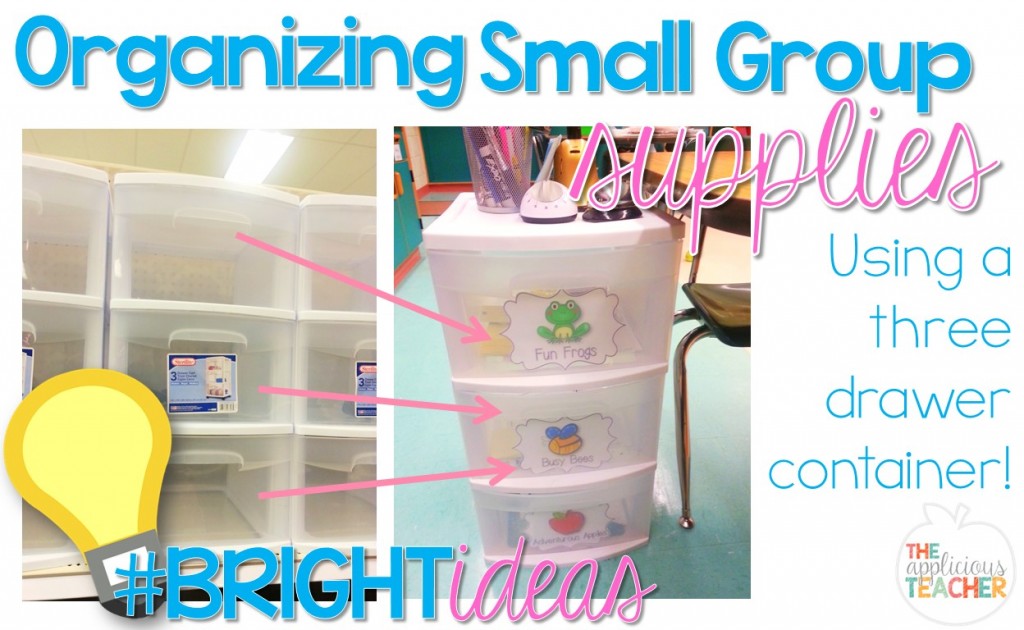 I am super excited to share this time saving and sometimes life saving (more on that in a minute) small group supplies organization idea with you!
Ok… if you're like me, you like a little organization in your life. You know the kind where everything has it's place in your classroom and you never loose anything because you are THAT organized… (ok.. I *may* still be aspiring to that one…) But anywho… here's a little time saving idea that has saved me more than once! Use a three drawer bin to organize all your small group supplies for the week!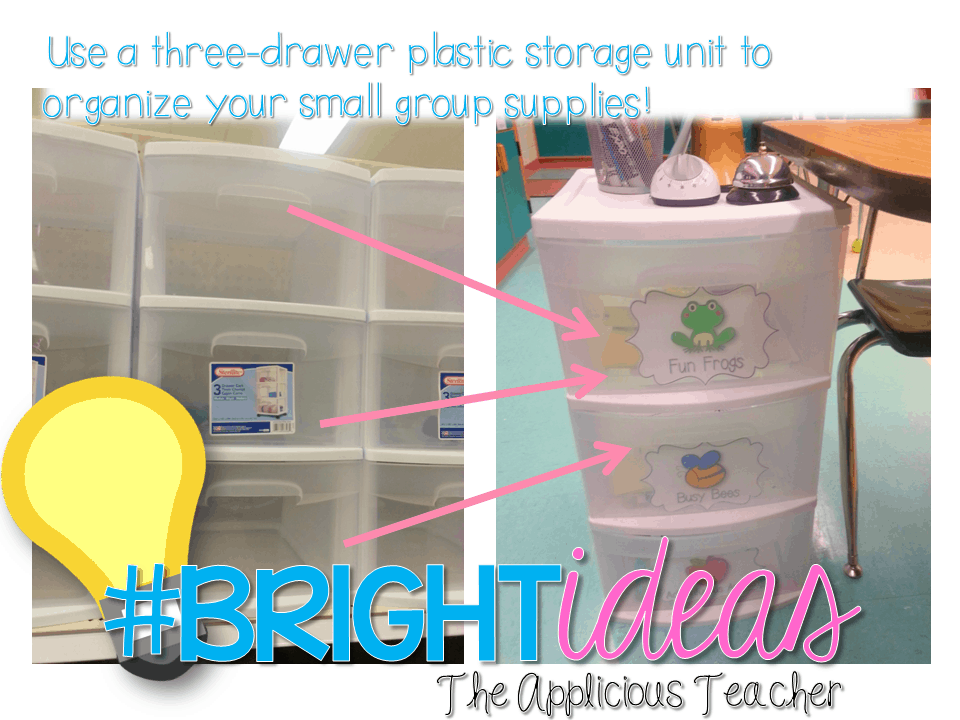 You know those boring but very practical 3-drawer plastic storage units you can find at Target? Well, turn it into your small group supply station! To do, just label each drawer…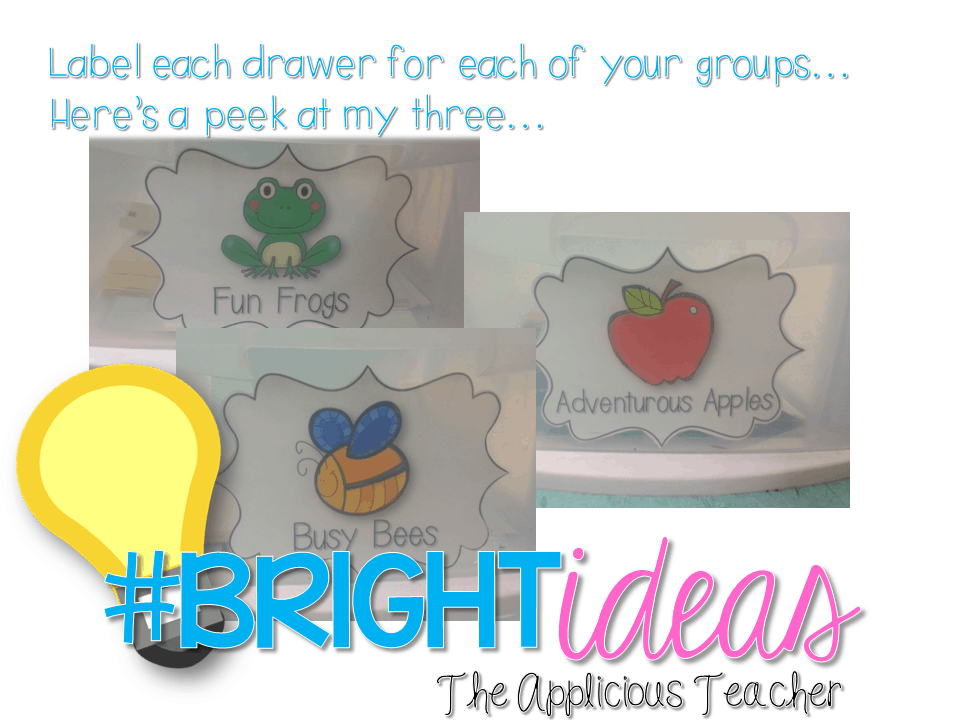 I've found that clear packing tape works well on keeping the labels stuck to the inside of the drawer. Then, fill up each drawer with your supplies for the day's lessons.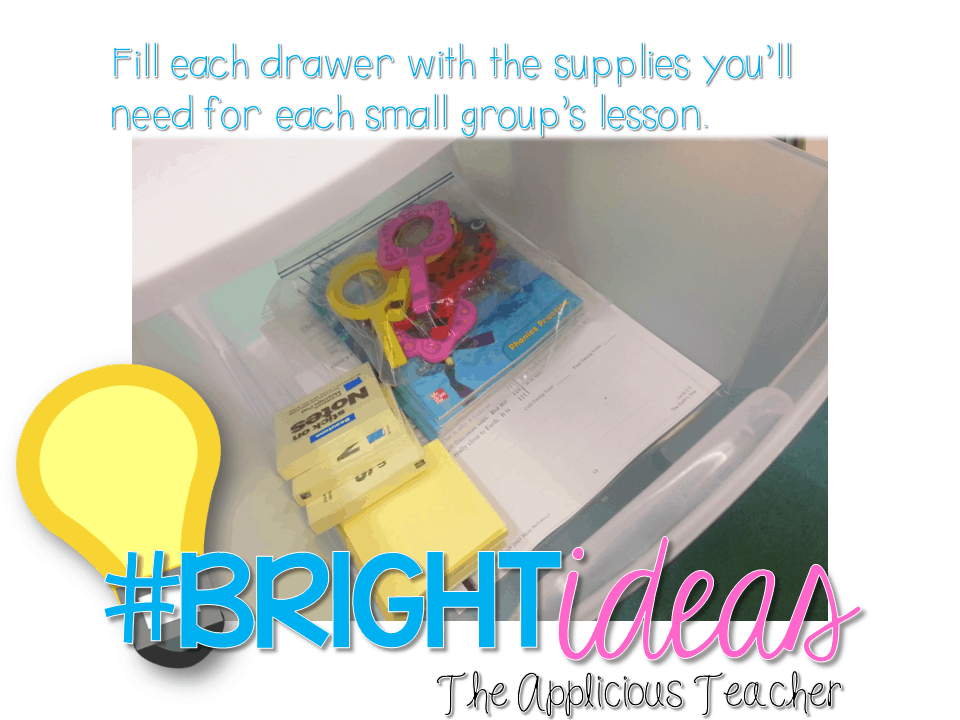 We've got magnifying glasses for going on word hunts and evidence detection, a stack of decodable books, fluency drills, and LOTS and LOTS of sticky notes for our close reading a meaty texts.  What I love is that even if I'm doing different lessons with each group, I have a nice neat place to house all our supplies. No more running around the classroom trying to remember where you put something after you "cleaned-up" your table for that parent conference! YAY!
On the top, I house all my small group must haves: timers, pencils, pens, markers, and my bell.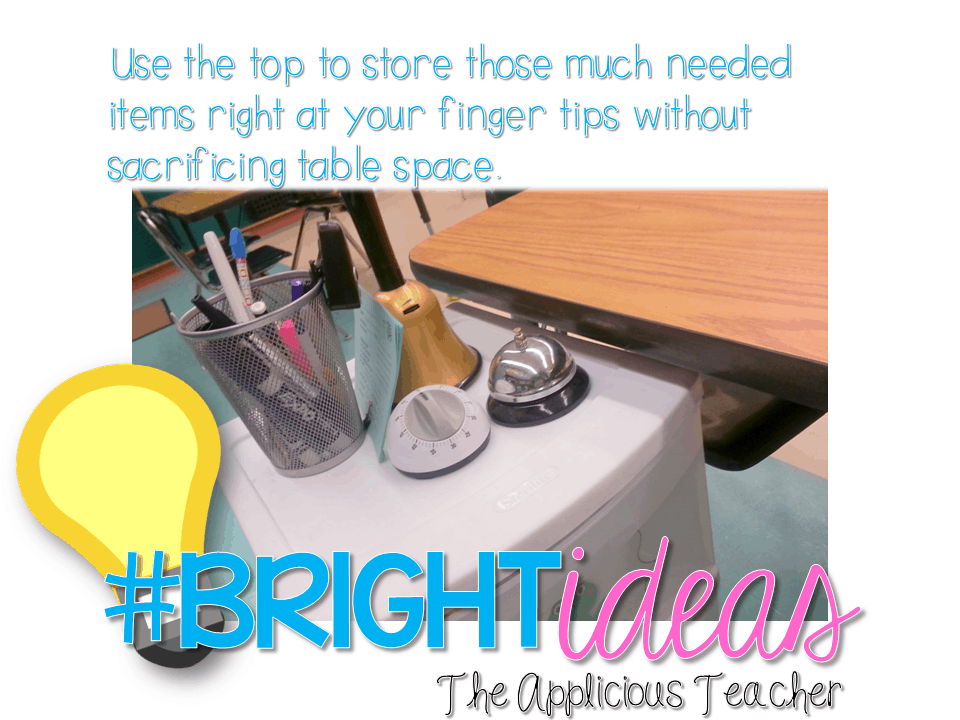 This helps keep my table clear for learning but supplies on hand. In my bottom drawer, I also keep a crayon box so I can whip that out if we ever need to mark or code text. If you don't need to use the top, then slide this baby right underneath your table top for a super clean look. #aspiration #maybeoneday
I am sure you are wondering why I consider this a "life saving" idea…
I *may* have been completely thankful for these three little white drawers one especially difficult MONDAY morning when my administrator walked in and plopped down to observe my small group. (They always know the best days to come! ;)). I was already feeling frazzled from practically saving the world from total destruction that am, so I hadn't quite switched to small group teaching in my mind yet. I was thankful to pull open my top drawer and see the supplies for a fairly simple lesson planned for my intervention group that day (we were going to hunt for our phonics pattern in our literature study books and "phoneme graph" them) I was easily able to ramp up that lesson even more by whipping out the sticky notes (note the mounds of them) and having students write questions they had about the text as they read. After graphing our words, we discussed the questions and strategies on how to find the answers. TEACHER SCORE! #lifesaver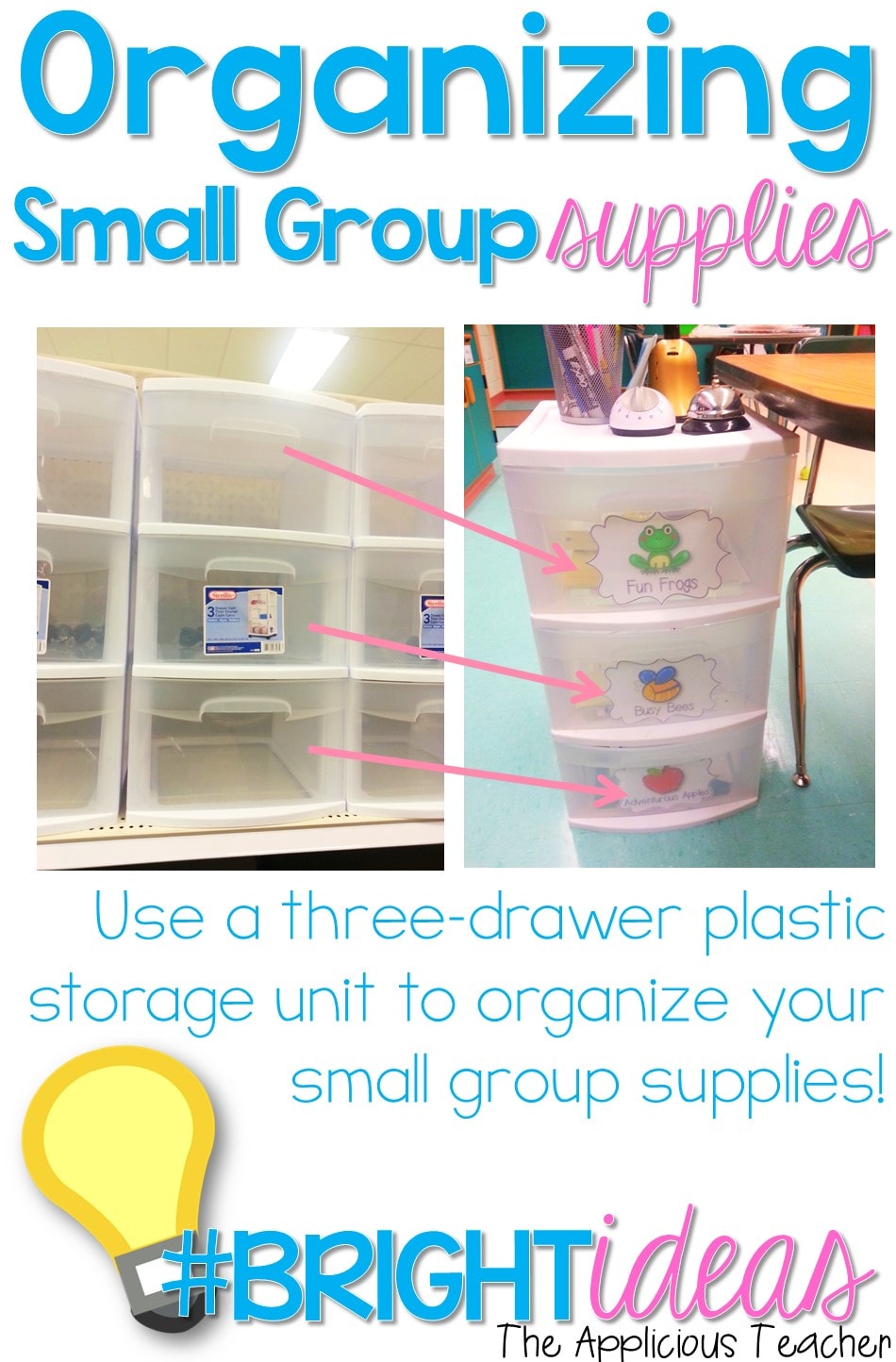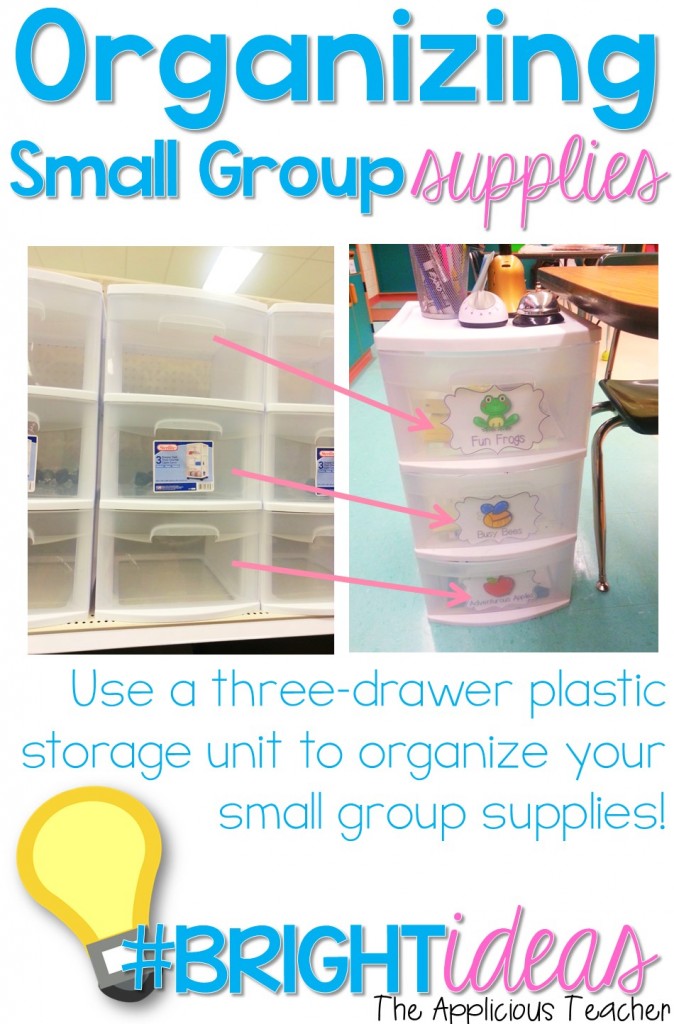 Now go forth and organize! Or at least pin a bunch of awesome organizing tips from these other fabulous bloggers. Having a
Pinboard
with amazingly organized spaces counts as being organized in my book. 😉
Like this post? Be sure to catch up with me on
More Bright Ideas to check out…
Sign up to snag these!
Receive all these classroom management tools right to your inbox!