Good-bye summer! Hello new school year! Tomorrow is my first day of Pre-Planning. Of course, the whole week is consumed with meetings and such, so I've been trying to do as much to prepare for those first few weeks with my kiddos from home as I can. Now that I am back in second grade, I am super excited to be able to do all the "fun" first week of school activities. (Not that you can't do fun things in third grade, I'm just excited to be back in second!)
One of my favorite first week of school activities is creating classroom charts.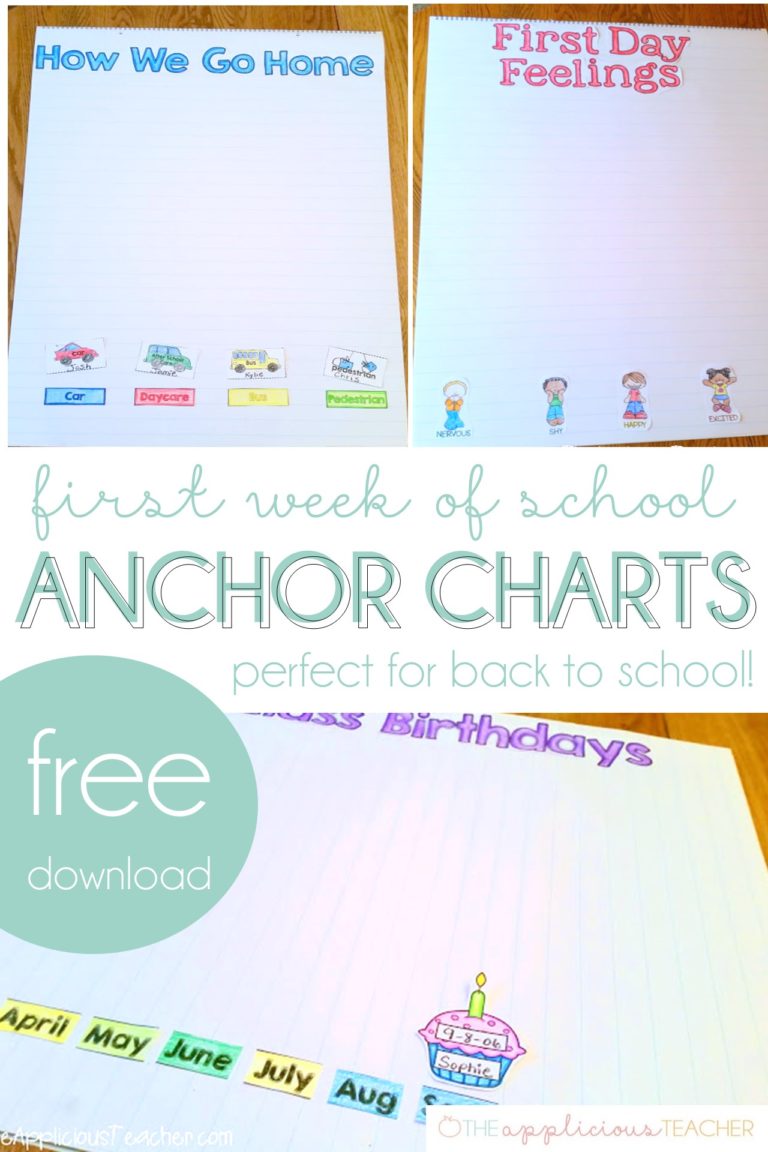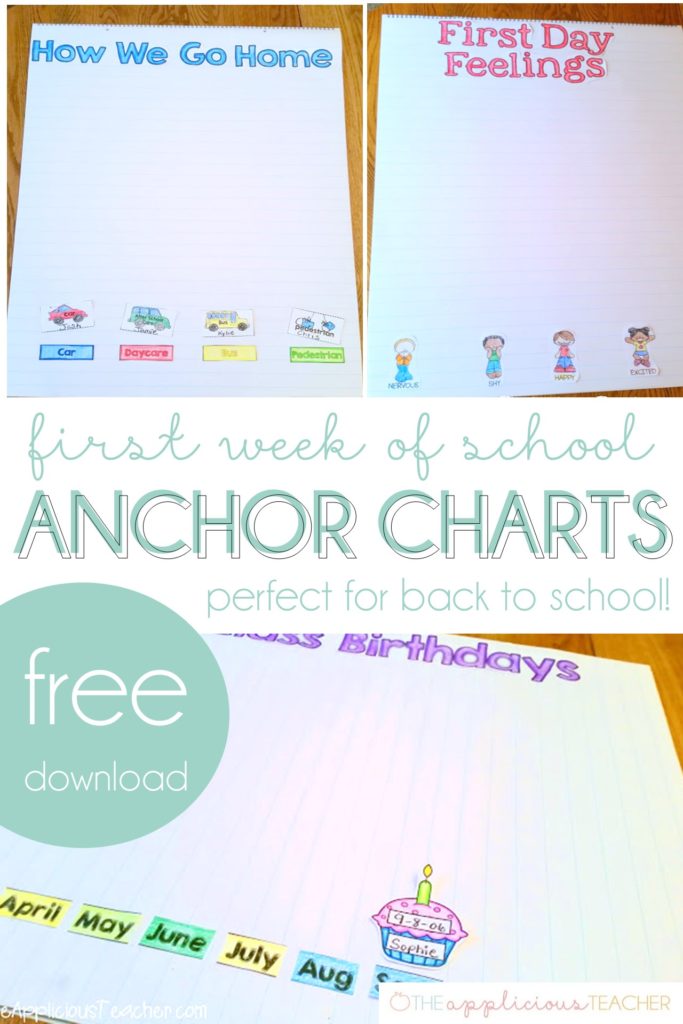 They're such a great way to get to know your kiddos AND review how to gather up information and present the data in a formal way.
The first week of school is a perfect time to implement these class charts, so I whipped up this little FREEBIE so you can make all these charts with your kidlets too! To make sure these babies last and can be used year after year, laminate them before using them. You'll be so glad you did!
First Week of School Anchor Charts: First Day Feelings
First up…. "First Day Feelings"!
I love using this chart after reading, "First Day Jitters" by Julie Danneberg
or "The Kissing Hand". This the perfect way to see how your kiddos are feeling on their first day back.
Are they happy? Shy? Excited? Nervous?
To graph their feelings, give each student a sticky note to place above how they feel. You can keep it anonymous by leaving off names. Use it as a launching point for discussion on feelings or a writing activity.
First Week of School Anchor Chart: How We Go Home
Another first day graph must? The "How We Go Home" Chart
I usually use this as a wrap up for our math lesson of the day. I love reading, "This is the Way We Go to School".
After reading, discuss all the ways students can get to and from school. Then, pass out the correct picture for each student on how they go home.
Have students use tape to attach their picture in the correct column. Once everyone has placed their information on the chart, compare the results. Which column has the most? The least? Who can be your "End of Day" buddy?
Then, when it's time to go home, students know who to look for in their lines. For younger students, you can assign "End of Day" Buddies to help make sure everyone gets to where they should be! (For forms to help keep you organized at the beginning of the year and beyond, click here)
*TEACHER TIP!* This is the perfect time to make sure EVERYONE knows how they are going home. If they are not sure, this gives you time to find out. There is seriously nothing worse then trying to deal with calling parents at the very end of the first day! Things are always crazy. Extra points if it's raining and you teach Kindergarten! BLAH! 😉
First Week of School Anchor Charts: Class Birthdays
Later in the week, we complete the last classroom chart. I like to keep this chart up through out the year and use it as a reference.
This is another chart that can be used at the end of one a back to school math lesson. To introduce this chart, I like to review the months of the year and match them to the chart. I also like to review each month and discuss special days in each month (Holidays, birthdays, etc) Then, we jump into birthdays and discuss who's birthday is in each month.
Kids LOVE sharing information about themselves, so I usually stop after a few months (and pretend to be a little overwhelmed) and ask if there's a better way to show our birthdays by month. Students usually respond with creating a graph (as they had done 2 before then)
Before graphing the information, don't forget to review how to write the date. I like to show students the "short way" of writing the date, but you can teach them the full. Then pass out the birthday cakes.
Students write their name and birthday on the cake and then attach above the correct birthday month. Once all cakes are placed, use the information to compare the data and information represented. Which month has the most birthdays? The least? Who's birthday is coming up? Who's birthday will we be celebrating last?
*Teacher Tip*- Keep a sheet with your student's birthdays handy. Many students do not know their complete birthday and you don't want to have to hunt for this information. Showing students how to write the shorten version of their birthday date also helps foster an understanding of how the months can correlate to numbers (ie January is the 1st month in the year, therefor if you are born on the 6th of January in 2006, then your shortened date will read 1/6/06.
You can find all these graphs in this little FREEBIE in my TpT store.
Whew! It feels good to have a few things crossed off my never ending Back to School list!
Sign up to snag these!
Receive all these classroom management tools right to your inbox!