I know just the mention of field trips can bring on the pings of migraines, so I thought I'd share a few EASY ways that I have found to help reduce stress surrounding a field trip!  I've been on plenty of field trips where I actually enjoyed my time.  I know what you're thinking… "Leigh, seriously? Field trips are NEVER stress-free!" I don't think the average person (As in non-teacher) understands how stress-induced dragging 20 eight-year-olds around a public place can be! LOL!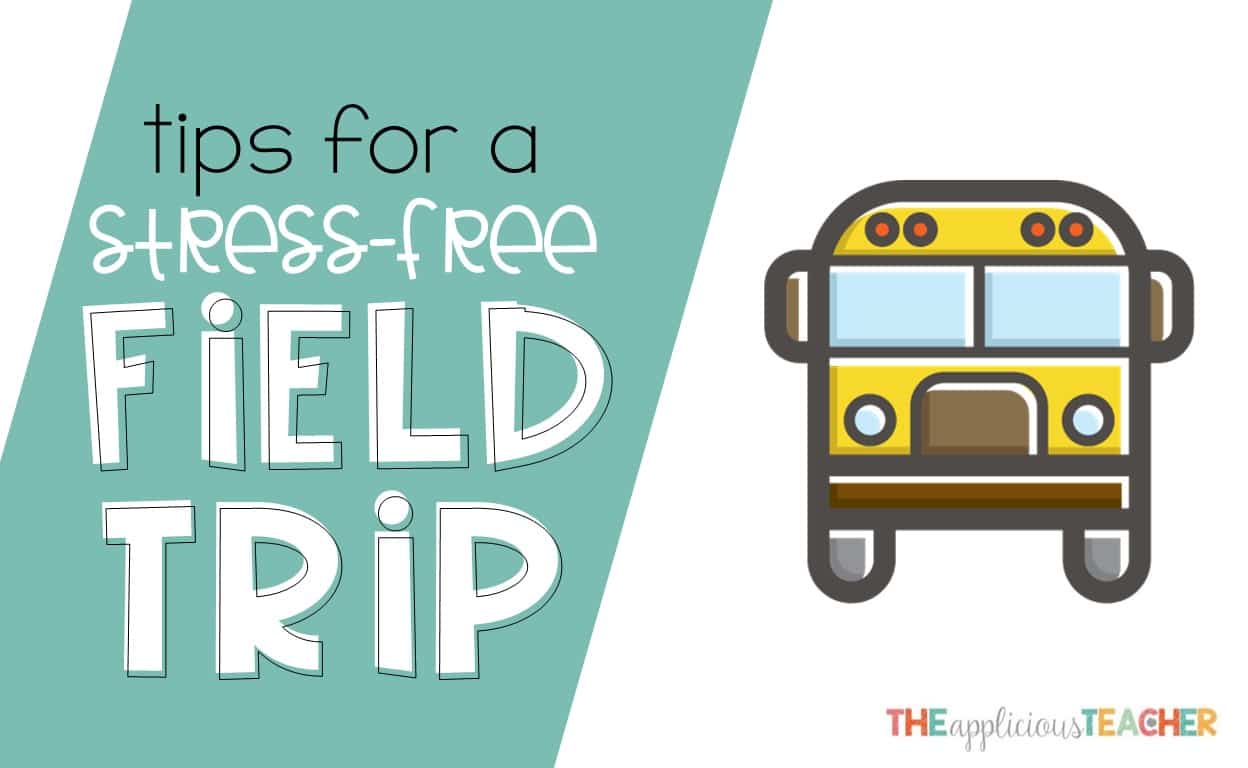 Tip #1- Get Your Papers in Order
I don't know about you, but one of the most stressful parts of preparing for a field trip is handling the paperwork! 20 permission slips, 20 receipts, 20 of this, 20 of that… One way I've found to help cut down on field trip stress is to keep all my paperwork together in one file in my desk. Anything field trip related gets stuffed in that folder. To help keep me sane, I use a VERY handy sheet from my School Forms and Checklists pack.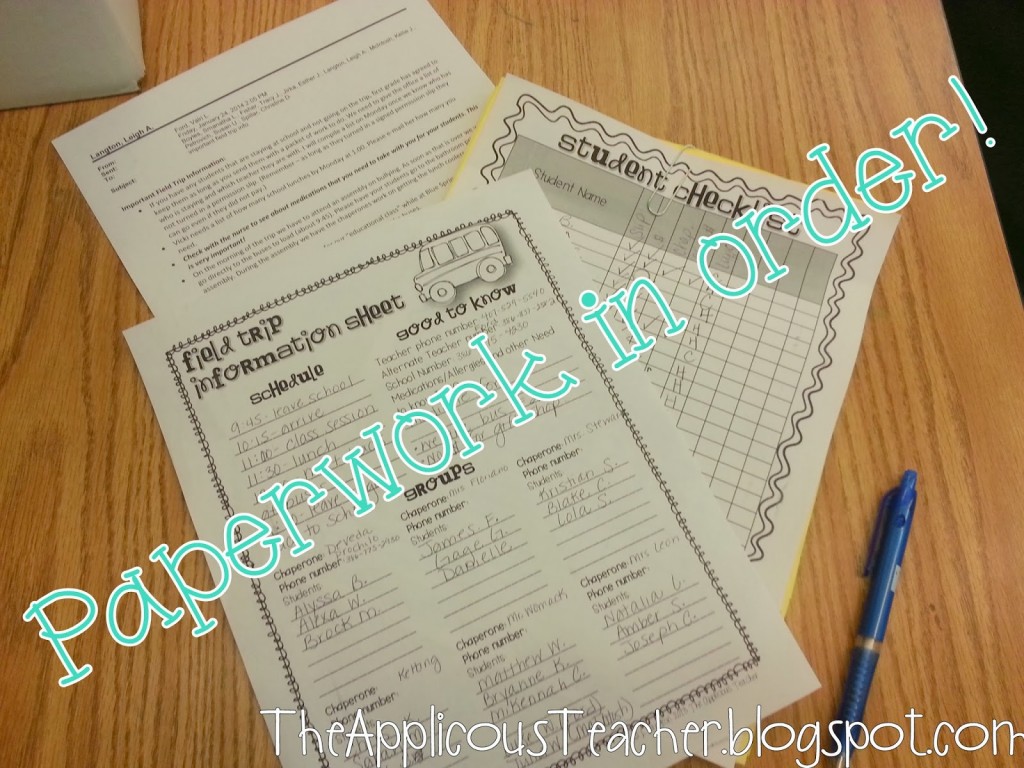 That student checklist up there helps me keep track of who's going, who's paid, if they are bringing a lunch from home or buying one, what parents have volunteered to chaperone, and if they've paid. As permission slips come in, I fill in the information on my checklist and paperclip the slip to the back.  Then, until I need it again, it goes back into my designated "field trip" file.
Tip #2- Get Chaperones
This one is simple… the more helping hands you have, the better. I know there are limits sometimes set on the number of chaperones you can have on a field study, but be sure to take advantage. Chaperones act as your eyes in the field. They can help set up lunch, count up heads, and make sure you're heading in the right direction. I often try to split my kids up into manageable groups of 3-5 and take no group for myself. This allows me to "float" from group to group and facilitate the trip. If there's an emergency like if a student gets sick, I can handle the issue without a group of students "suffering".
Tips on getting chaperones:
(A few ideas that have helped me in the past!)
 Make it EASY for chaperones to go! Sometimes sites offer free seats for adults! Pass those savings on to your chaperones.
Give plenty of notice. Many parents want to spend the day with their child, but can't because of hectic work schedules. Giving plenty of notice to your parents will allow them to make the necessary arrangements to participate if they are able.  In my district, chaperones have to have an "approved volunteer form on file. If a parent is alerted early enough, they can make sure they have the proper paperwork on file.
 Extended family- Chaperones don't just have to be moms and dads. They could also be aunts, uncles, grandmas, and grandpas. Poke around, often students have trusted extended family willing to attend.
Use approved volunteers.  If worse comes to worse, check your approved volunteer list. Chances are, they wouldn't mind spending the day with you and your class.
Also, ask your chaperones to come about 30-45 minutes before you leave. They can help with last minute things like packing lunches in the coolers or making copies of paperwork. I've never regretted having a few extra hands on field trip day!
Tip #3- Plan your Work (and Work your Plan)
Plan your day in advance. Sometimes the place or event that you are going to will have a specific agenda you must follow and other times you don't.  Either way, make a plan ahead of time.  Schedule out your day. Things to keep in mind while you're working out that schedule:
What time are you leaving school? What will your class be doing while you are getting things ready?
When will you arrive at your destination? Where should your buses or other modes of transportation park while you are there?
When and where is lunch? Will everyone in your group be eating lunch together? (Lunchtime is a great time to touch base if you are not spending the day as a group.)
Will you be staying as a large group the whole time? Or does your location/schedule allow for some small group exploration? Is so, specify that exploration time in your schedule.
Is there a gift shop? Are students allowed to purchase items from the gift shop? (This mean teacher says NO WAY to gift shops!)
Do you need to have a formal bathroom break? (Especially for the little ones!) If so, what time?
When do you need to meet back? Also, where will your departure meeting place be? I suggest keeping it the same as all your other meeting places.
How long is your travel time? Be sure to work in an extra 15-20 minutes for loading and unloading (maybe even longer for younger kiddos!)
Those are just a *few* things to take into consideration while you are planning your day. Be sure that once you have a plan in place, you stick as close to it as possible!
Tip #4- Write and Share
Once you've made your plan for the day, be sure to write it down and share it with everyone attending the field trip. I use this "Field Trip Info" form to help me keep organized. You can grab it here as part of my best-selling School Forms and Checklists pack.
Also included on that information sheet? Phone numbers for me, an alternative teacher just in case I can't be reached, and the school's number. I also include any medications or allergies and who will have the medication if it needs to be administered while on the field study. At the bottom, I write down the chaperone and the names of the kiddos in their group, as well as a phone number so I can reach them while we are out. I make a copy of this sheet for each of my chaperones and review it the morning of the event. I also include a map (if available).
Speaking of groups, that brings me to the last tip for a stress-free field trip…
Tip #5- Groups
We all know "grouping" kids can be the biggest headache of all! Planning a field trip would be sooooo much easier if there weren't any kids to bring right? 😉 But if you have to bring 'em, I suggest a few things to keep in mind when making your groupings:
Behaviors- share the love and sprinkle them around. Alert the chaperone to the "special student" and any issues to look out for. Give explicit directions on "handling" the student and when to call you. Sometimes, HUGE behaviors may be better off in "The Teacher's Group".
Good Kids- Spread them around too! You want each group to be balanced.
Keep parent/family with their child. Parent's came to spend the day with their kiddo, give them the chance!
Personalities- keep personalities in mind when creating groups. You WANT your chaperones to come back and help on the next excursion, so if certain students can't sit next to each in class, then don't put them in a group together.
Boys and Girls- I am a huge fan of "mixed" groups, but you know your class best 🙂
Keep your groups to a manageable 3-5 students if at all possible.
Tip #6- Be Prepared
This next tip has saved me time and time again. Bring a backpack full of "much-needed" stuff! It doesn't need to be big. I personally love this one from Vera Bradley. But even one from Target will work!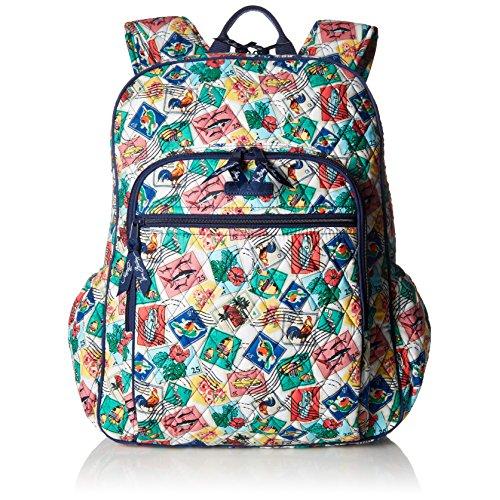 Here are a few things to include:
field trip release forms
class list (with a student/adult count at the top!)
emergency numbers for every student attending
schedule for the day
copy of field trip form mentioned above
bandaids or a first aid kit
wipes
hand sanitizer
headache medicine (for the teacher only!)
water bottle
extra snacks
medications for students with directions on how to administer
travel sized tissues
cell phone
keys to the classroom (I've totally forgotten this one before! OOPS!)
lady products (you never know!)
This might seem like a lot of extra stuff, but really once it's all in there, it's not that much. Also, I like using a backpack because it keeps my hands and arms free! As a teacher… lugging a bag around on your shoulder makes it a little harder to move around IMO.
Tip #7- The Pep Talk
Going on a field trip is EXTRA exciting! There will be a bus, lots of new people, and lots of cool things to see, do, and touch. Your kids are going to go WILD! That's why setting the expectations of proper bus and field trip behavior is KEY! Some items to review BEFORE embarking on your trip:
How to sit properly on the bus. I always tell my kids… bottom to bottom and back to back. Seat belts buckled if your bus has them.
What voice level to use on the bus. (That's why you brought those extra headache pills!)
Where to sit on the bus. They should be near their chaperone and group members only.
Who they should stay with at all times- their chaperone!
Practice having students go in their groups and pointing to their adult.
Practice lining up with groups (but still in a line)
Reviewing how to be respectful to the speaker. Voice level zero when an adult is talking.
Review again: NEVER leaving their chaperone.
Hand signal/attention-getting signal- review and practice this. You'll be thankful you did when you're out and need to get your students' and chaperones' attention for whole class announcements.
I like to have these discussions the day before AND again the day of. Heck… maybe again while we're waiting to board the bus, or listen to a presentation. Best bet is to have students act out the expectation and review the importance of following the directions given.
Tip #8- Color-Coordinated
If your field trip involves being out in a public place or lots of other kids… this last tip is important for your sanity. Color code yourself and your students. This makes doing a quick visual check of your students easy-peasy because you know EXACTLY who is in your group without having to scan faces. Some schools require that you wear a school shirt. Others may have had team or grade level specific shirts made. But, I'm telling you… you don't even need to be that fancy.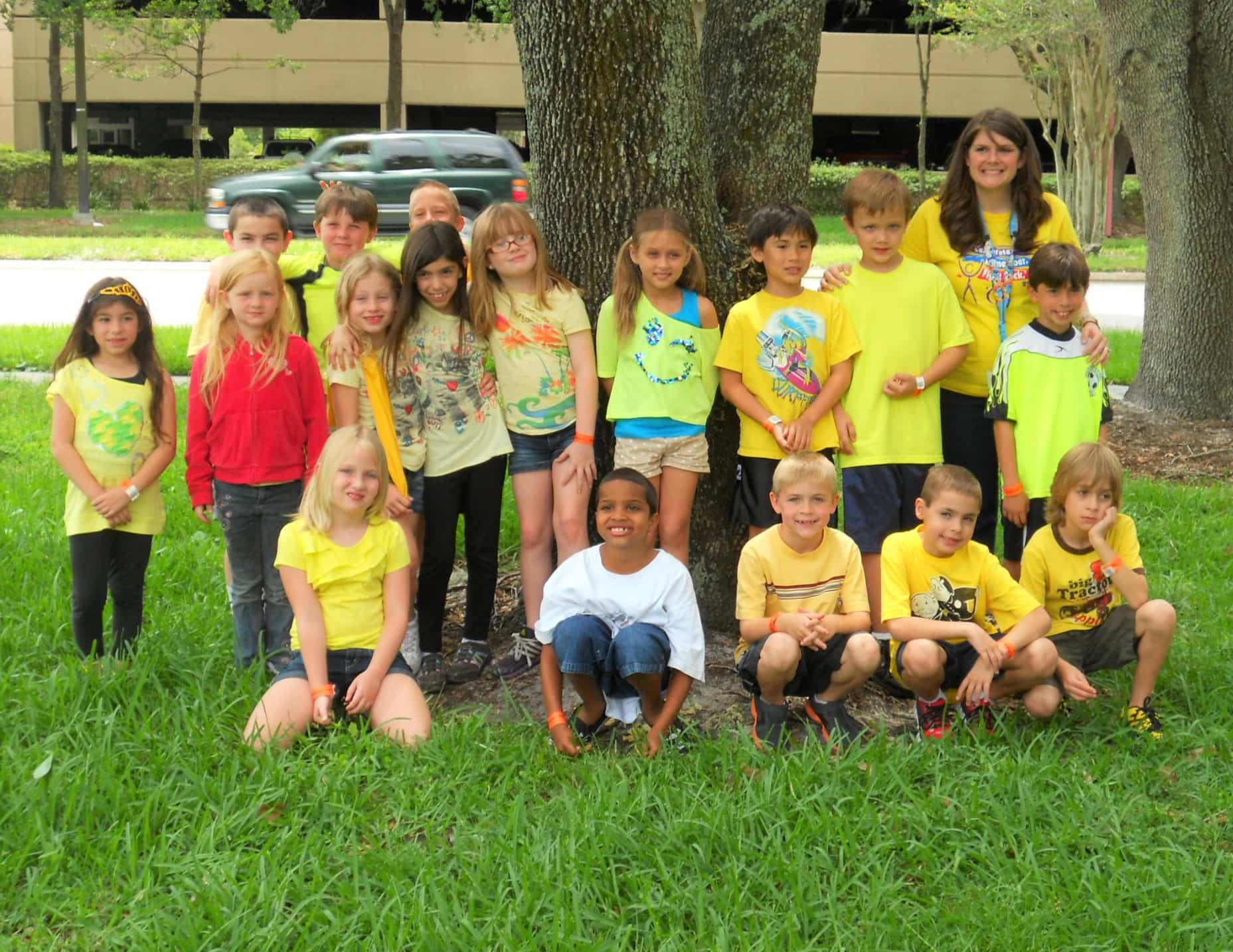 Something that I've done in the past is to assign a different shirt color to every teacher on your team. This way, you'll know who's class those kids are in just by looking at them. I've always chosen yellow. Ahead of the field trip, I let parents know that we are to wear yellow on the big day. Chaperones included! And if yellow doesn't work, then a white shirt. I'm telling you when you're in a huge group with TONS of other same-aged students, it's wonderful to be able to look out and know who is exactly with you!
Well, those are a few tips to help you get through your next field trip with almost no stress! I mean things may not always go as planned, but with these eight tips in order, it won't seem as terrible!  Have fun!
Sign up to snag these!
Receive all these classroom management tools right to your inbox!