Whew folks! Is is really only one week until Halloween, cuz I could SWEAR my kiddos are chowing down on candy everyday before they come to school.
They are keeping me on my toes, that's for sure!
I thought I'd pop in and share a quick little close reading lesson I did with my kiddos using a timeless classic!
It all started one afternoon when I was digging around in my team's resource pod looking for a new chapter book to read with my thirds. I am blessed to be at a school that has put so much money into books as my pod is literally ceiling to floor shelves of chapter books. I wanted something that the kiddos could relate too, have a good story line, and have *just* enough humor to keep 'em interested.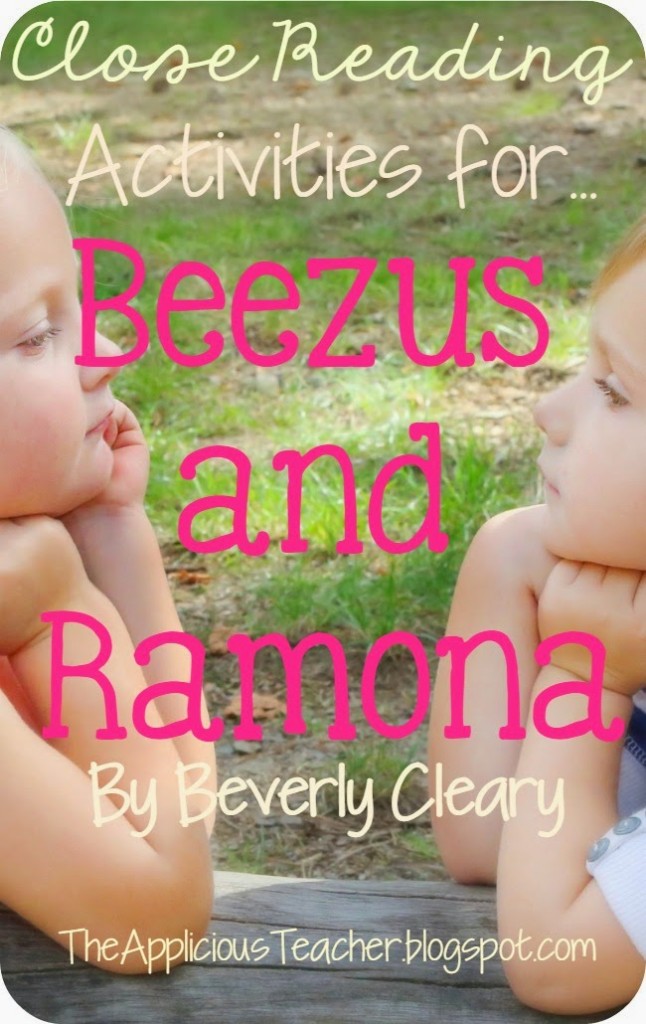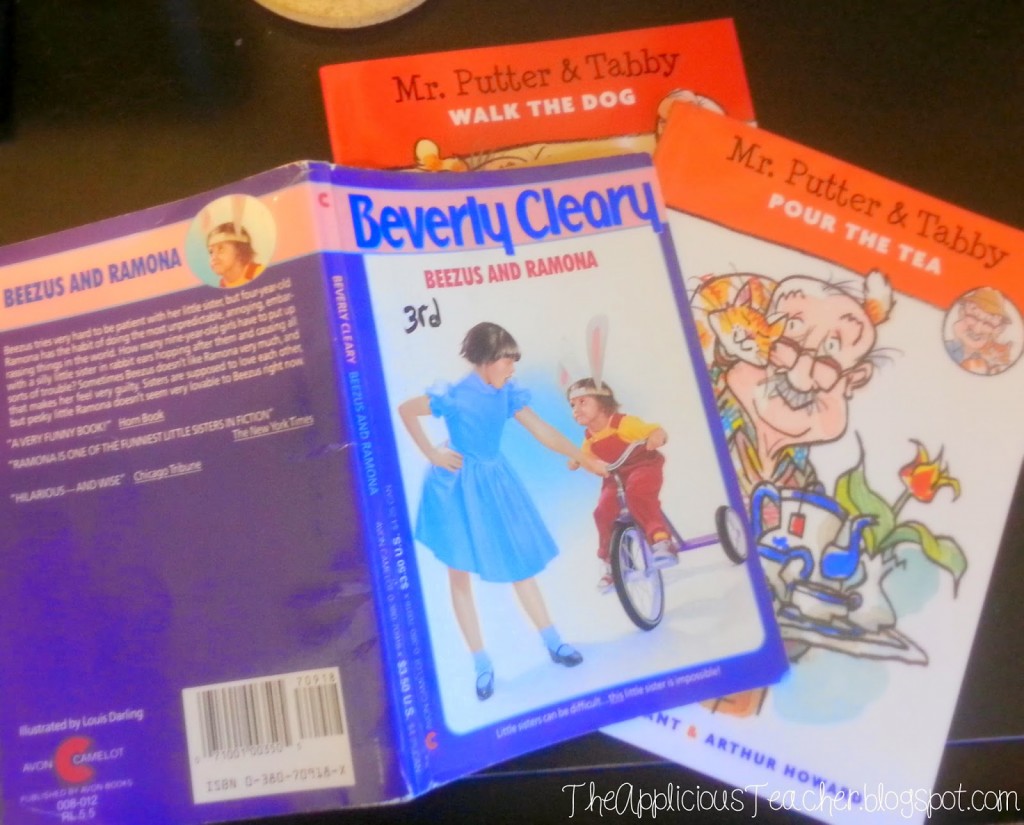 I seriously hadn't seen this book since I was probably in the 4th grade! I knew I had to snatch it up! This is a Beverly Cleary CLASSIC. It had everything I needed for our close reading lesson:
quality literature, solid story line, relate-able characters,and just enough humor to keep everyone interested!
You can check out this book and so many other fabulous Beverly Cleary books here on Amazon.
To started off our close reading lesson, I pulled up a clip from "D.W.'s Imaginary Friend" from the Arthurs series on PBS.
Such a great way to illustrate the strained relationship that often happens between older and younger siblings! We discussed how Arthur felt about his sister during in the beginning of the clip and how he had changed at the end. Then at their table groups, students discussed how they felt about their younger siblings. If they didn' t have a younger sibling, when it was their turn to speak, I had them share how they think they would feel having a younger brother or sister.
On the heels of that discussion, I passed out copies of "Beezus and Ramona" and gave a very brief description of the story and the characters. Then we jumped in and read the first chapter.
While the students read, we discussed the word, "exasperating". This word is used a lot in the book, I knew it was a perfect chance to stretch our vocabulary. Our first discussion of this word was mostly about what it meant. As we progressed through the book, we studied by Beezus felt that way about Ramona and why the author choose that word over "annoying".
On day two of our close reading, we jumped into chapter two and learned more about these two sisters. After finishing the chapter, we created this chart to compare the two girls.
Then we made some connections to the text and compared ourselves to Ramona and Beezus. Were they more like Beezus or Ramona?
Their answers were just too cute!
Of course most of my kids identified more with Beezus, but their reasons were precious!
For our third and fourth days of our close read, we used my Literary Discussion cards to discuss the text more.
I loved how the kiddos used the text as a reference in defending their opinions to the questions! Using this structure provided a meaningful activity after reading, but not always having to something big and formal. You can grab these here in my TpT store.
On our last day of the close read it was time for students to share their opinion of little siblings. To complete the assignment, students had to answer the question and provide at least three pieces of evidence from from the story. Students could also draw upon their own personal experiences to support their position. I took this as a writing grade.
You can grab this little writing response sheet here for free!
In addition to all that sibling fun, I also implemented a new way to find a buddy.
In years past, I've always allowed to students to find their own buddies with the understanding that we could work with everyone and anyone. This year my kiddos really struggled with finding a buddy, so to take out the headache, I created this buddy cheat sheets. I chose two of their buddies, and allowed the students choose the other two. Now whenever we need a buddy, I just say, find you summer buddy and boom we're ready to work! You can grab this here for free, too!
Now it's time for me to pack! I can't wait to share with you where I'm headed this weekend!
Sign up to snag these!
Receive all these classroom management tools right to your inbox!