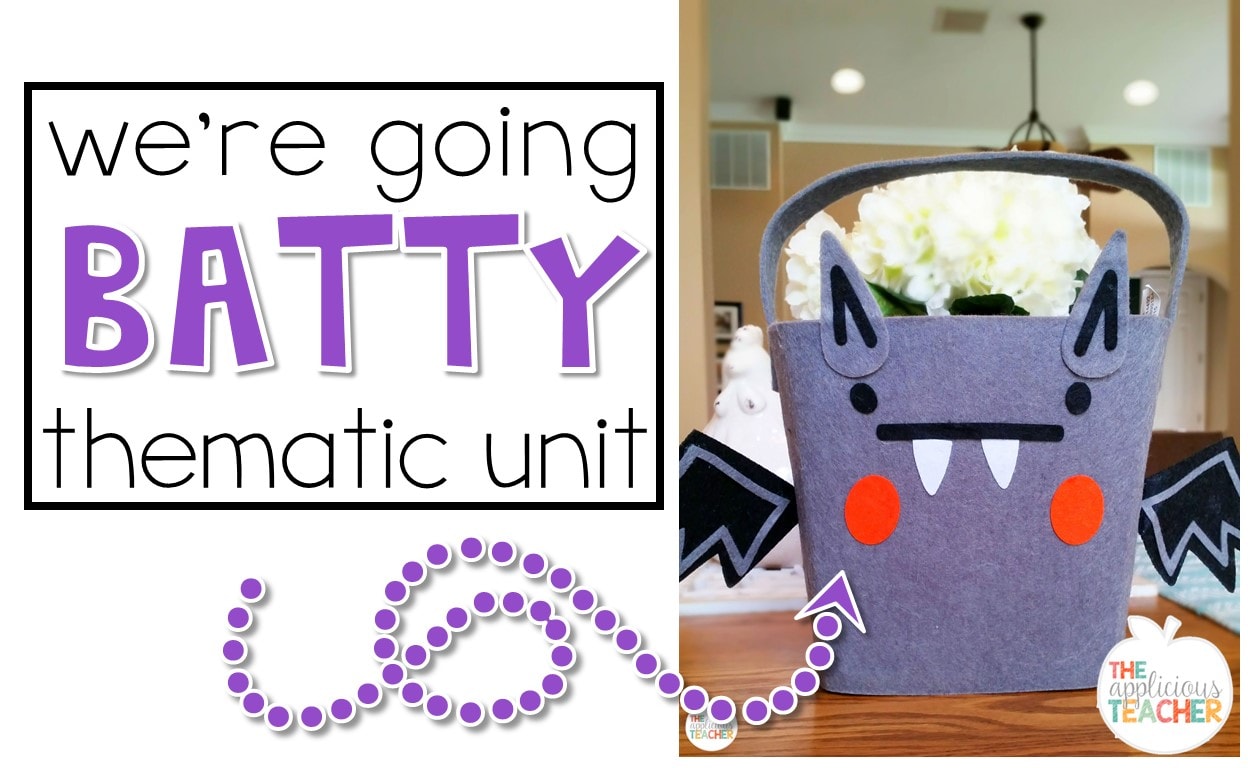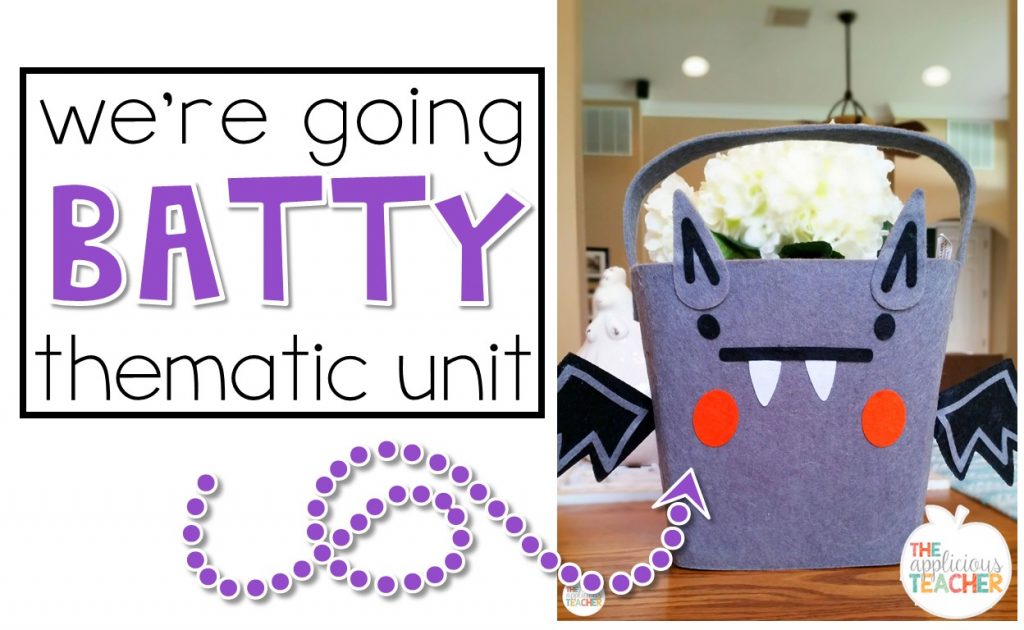 My students' favorite units (and mine!) every October is to learn about Bats. I'm a huge believer in thematic teaching and bats just seem to work PERFECTLY with that teaching style! I mean who doesn't love a bat thematic unit?! LOL! Here's a peek at some of our favorite bat activities from the past few weeks!
Learning About Bats with Stellaluna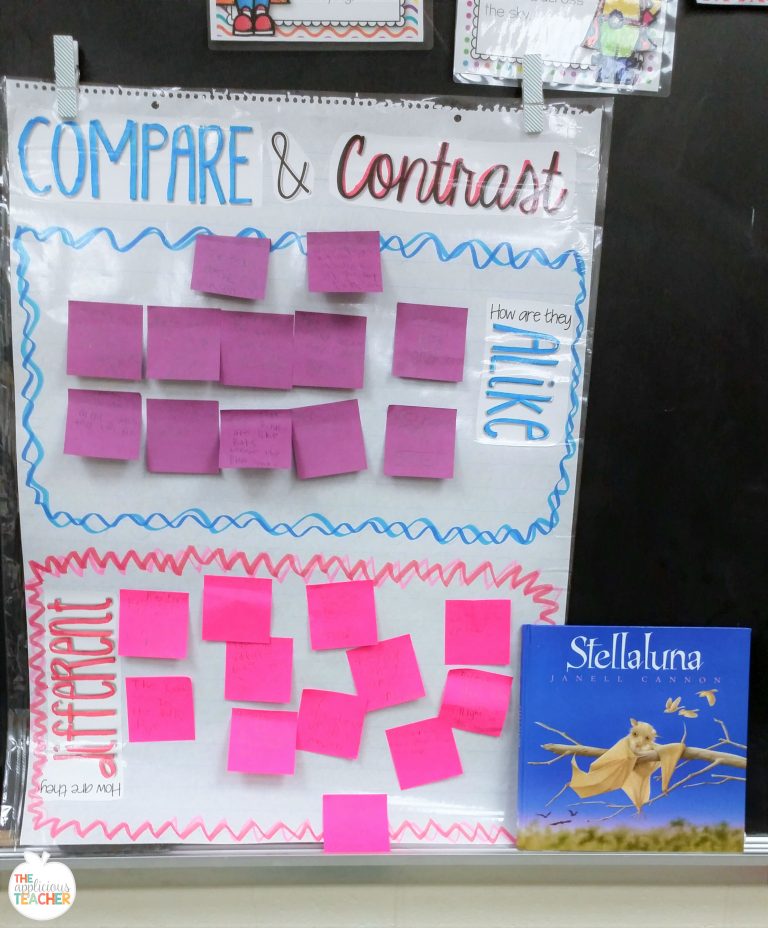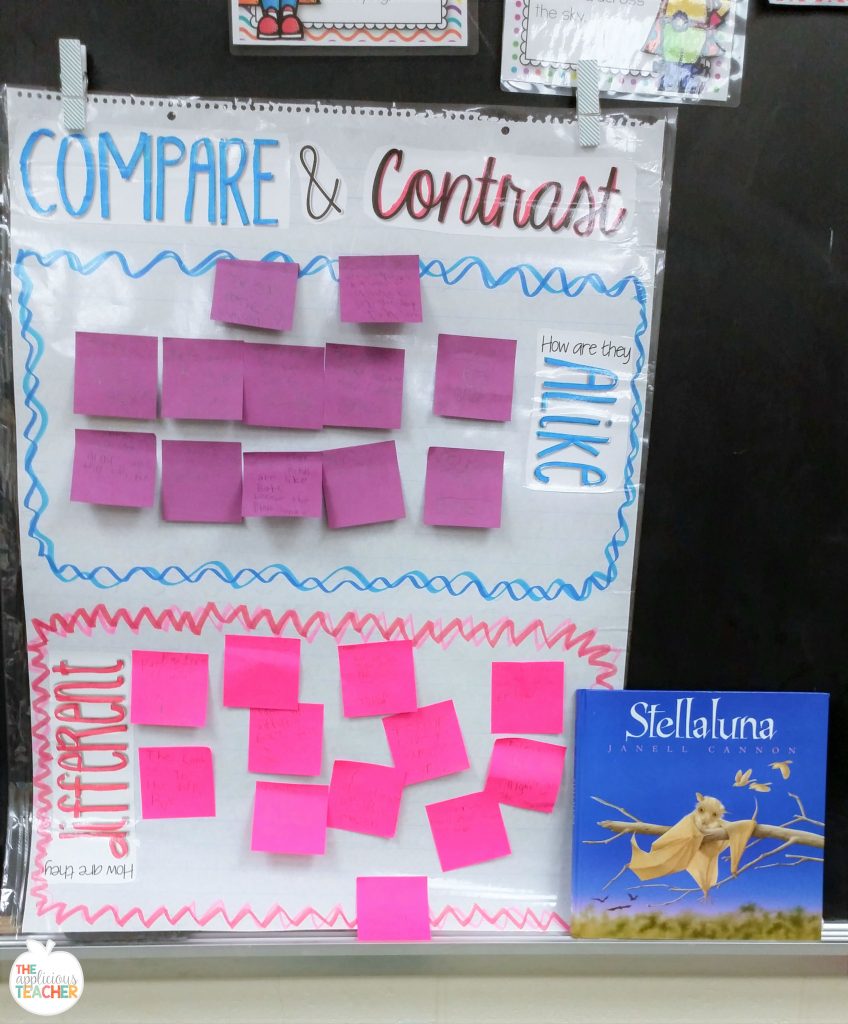 To start our batty week, we read the classic story of Stellaluna. After reading through the story, we discussed the difference between Stellaluna and the baby birds she befriends in the story. To add to our schema about bats and brids, we watched a quick video that compared bats and birds and how they fly.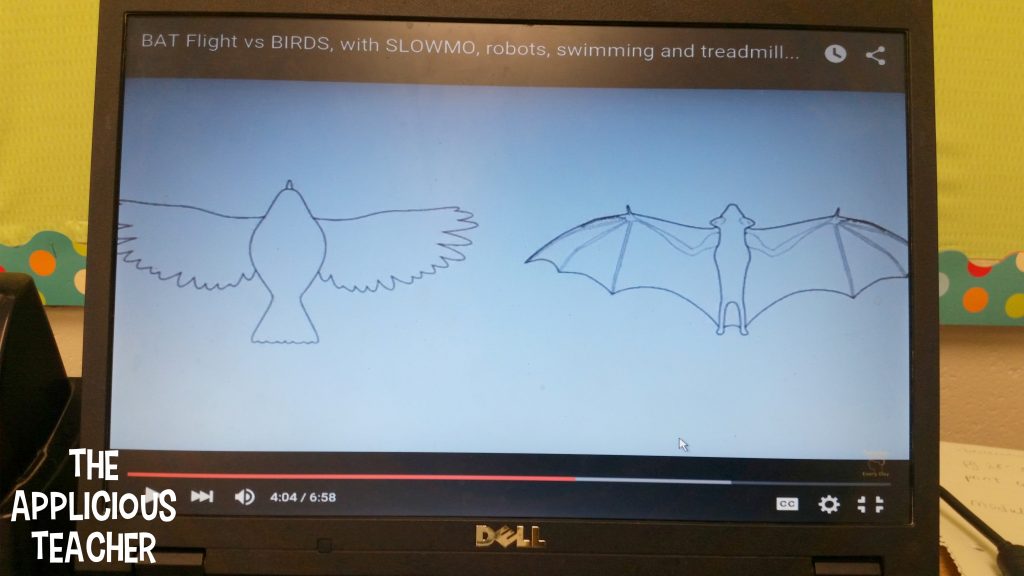 Then, we used the Compare and Contrast Interactive Anchor Chart to share our answers as a class. Then, each student completed their own three flap books to compare bats and birds.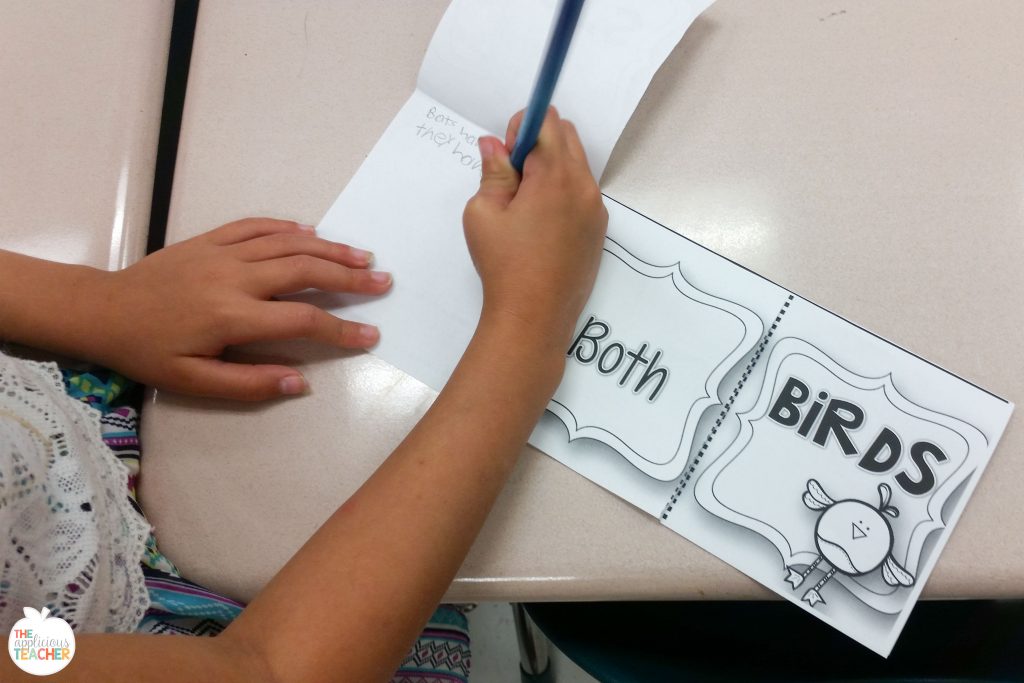 On each side of the tab book, students wrote details about each of the animals. Then, in the middle, students shared what they have in common. Once they finished, students had a chance to share with their shoulder partner at their table. My students LOVE to talk, so giving them some built in conversation time allows for them to "get out" the talking, but still keep it academic. #tryingtomakeit #allthetalking #cantwinjoinem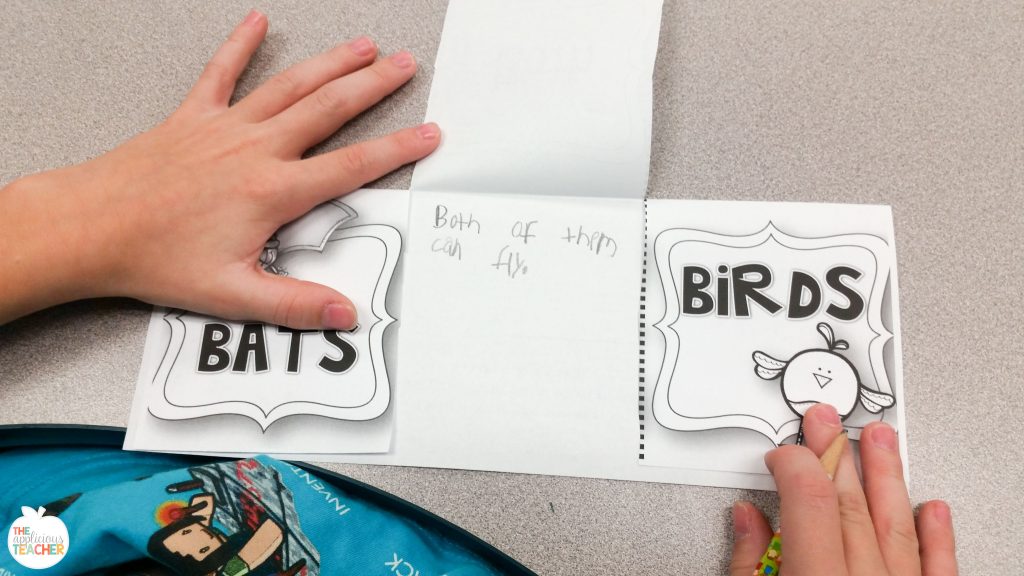 Bat Vocabulary
After reading Stellalua, we were introduced some ideas about how bats live. This lead to some great batty vocabulary. To build our understanding of those key vocabulary terms, during literacy centers that week, students worked with partners to illustrate, write, and discuss our content vocabulary.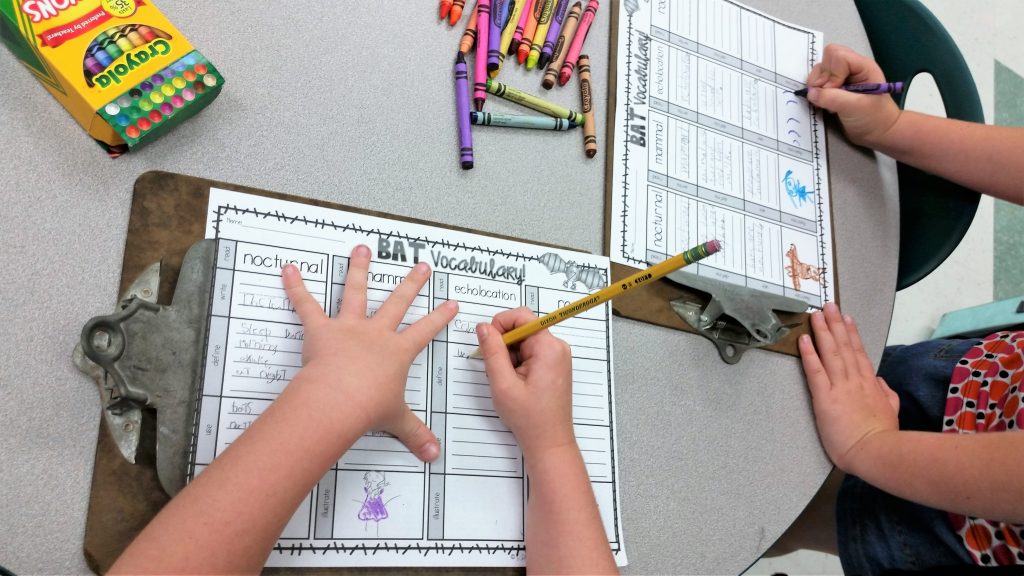 I love using the routine: write, define, use, and draw when we're exploring new and important vocabulary. This sheet from my Bat Thematic Unit was the perfect place to record and explore our new words!
Bat Facts and Opinions
So many of my students had very strong opinions of bats, so I knew we'd need to spend some time understanding the difference between opinions and facts. To demonstrate this, we play of whole group game of Facts and Opinions sort. To play, I put strips of bat related facts and common opinions into this adorbs bat shaped candy bucket I snagged from Target. Then, we passed around the bucket in a circle on the carpet. Taking turns, students pulled one of the sentence strips from the bucket and read it to the class, then they decided if it was a fact (or something that could be proven) or an opinion (how a person might feel).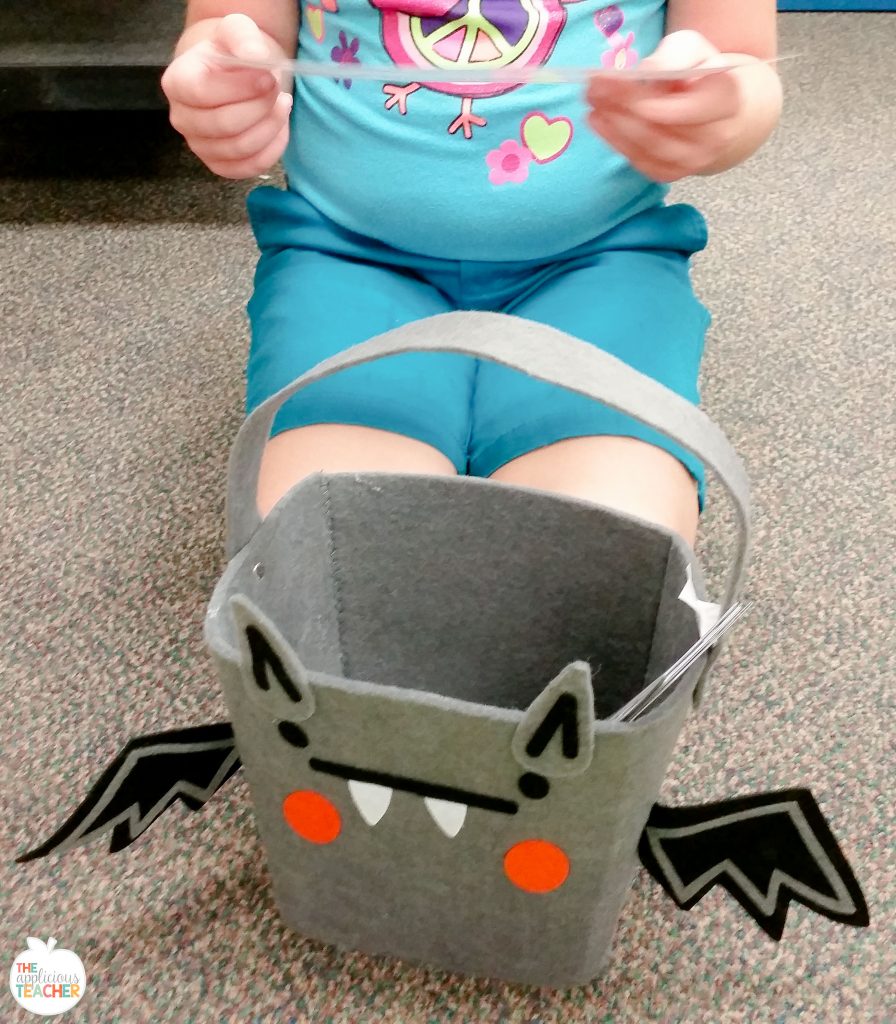 Once the student decided, they placed it in the correct column. The rest of the class would show a thumb up or thumb down if they agreed with the choice.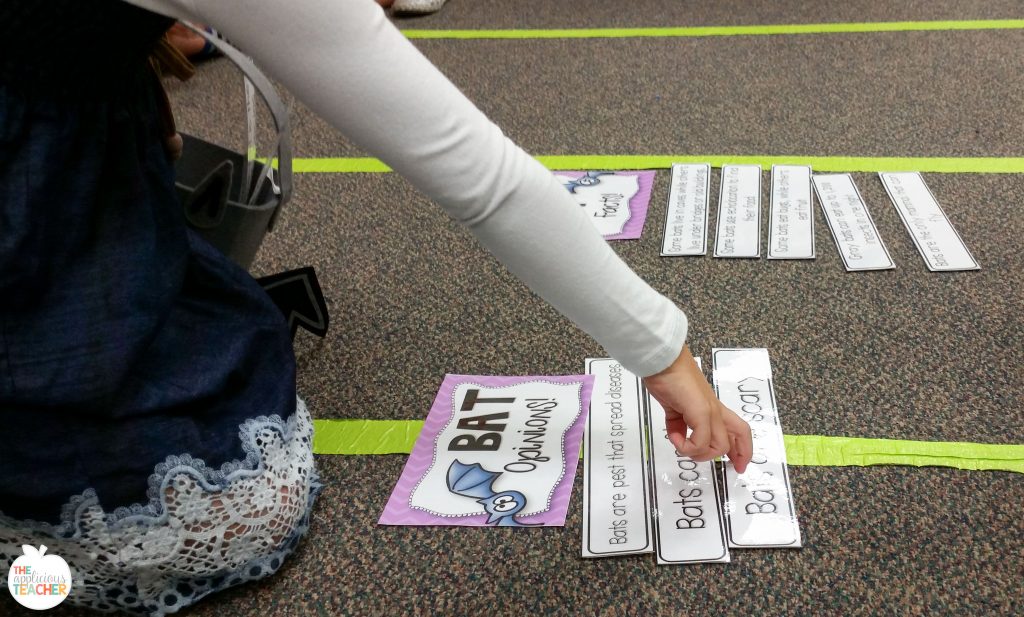 By the end of the game, students were really beginning to understand the difference between facts and opinions! Which was perfect for our bat research projects!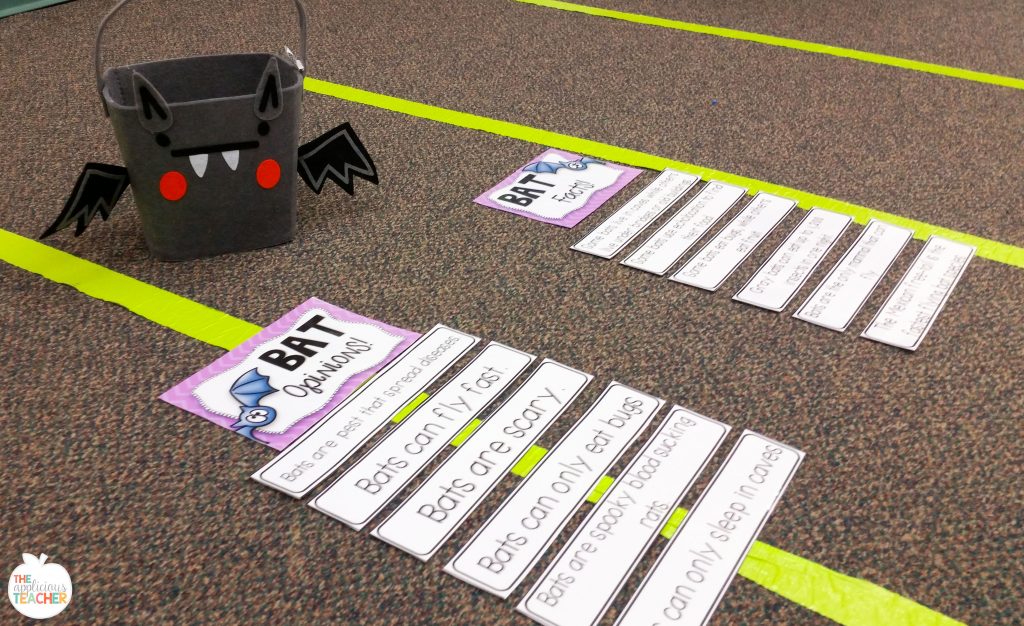 Bat Research Projects
For science, we integrated our batty learning by conducting our own research on different species of bats. Our lesson on facts and opinions really helped here by focusing students to look for facts about their chosen bat species. For our research project, students chose a type of bat that they were interested in learning. If several students were researching the same type of bat, they worked together to find information.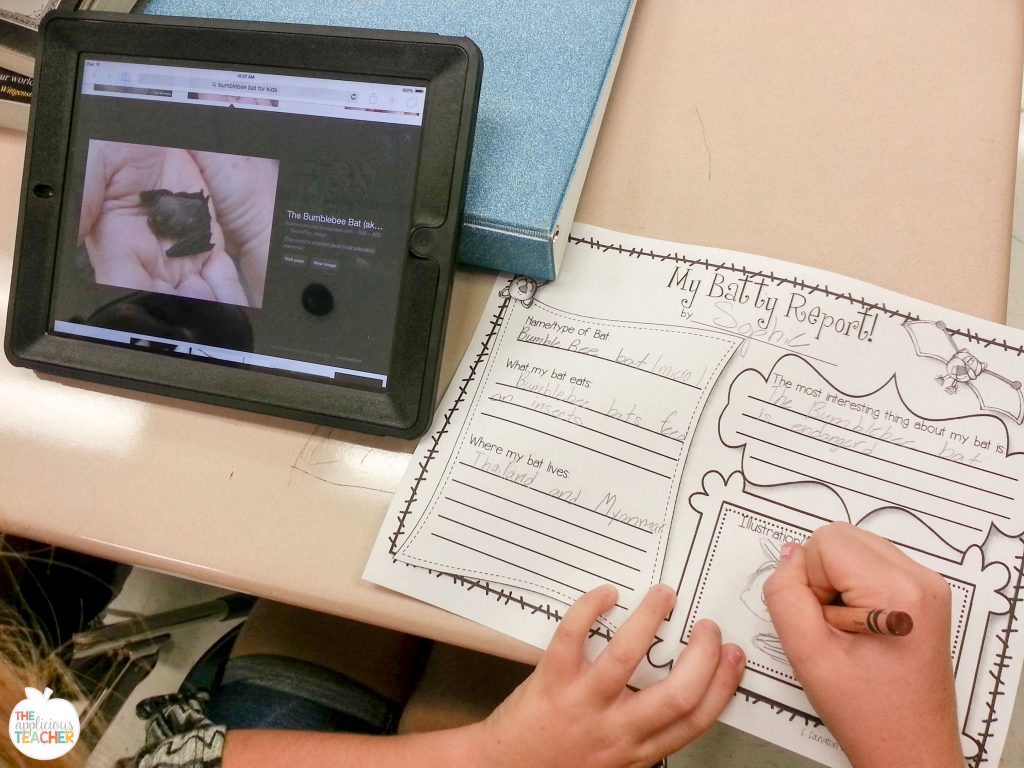 Since this was our first experience with researching, we kept it super simple with general information about our bat species. We used the IPads to look up information that we couldn't find in the books we pulled from the library. Google Jr. was a MUST to help filter our results. I also showed students how to skim for key words like "location" and "diet". This was the perfect time to discuss how good researchers don't necessarily read EVERYTHING on the page. I modeled how to 'skim' the page to look for specific words or ideas that I needed for my research paper. I also discussed the importance of looking at reliable webpages like National Geographics for Kids.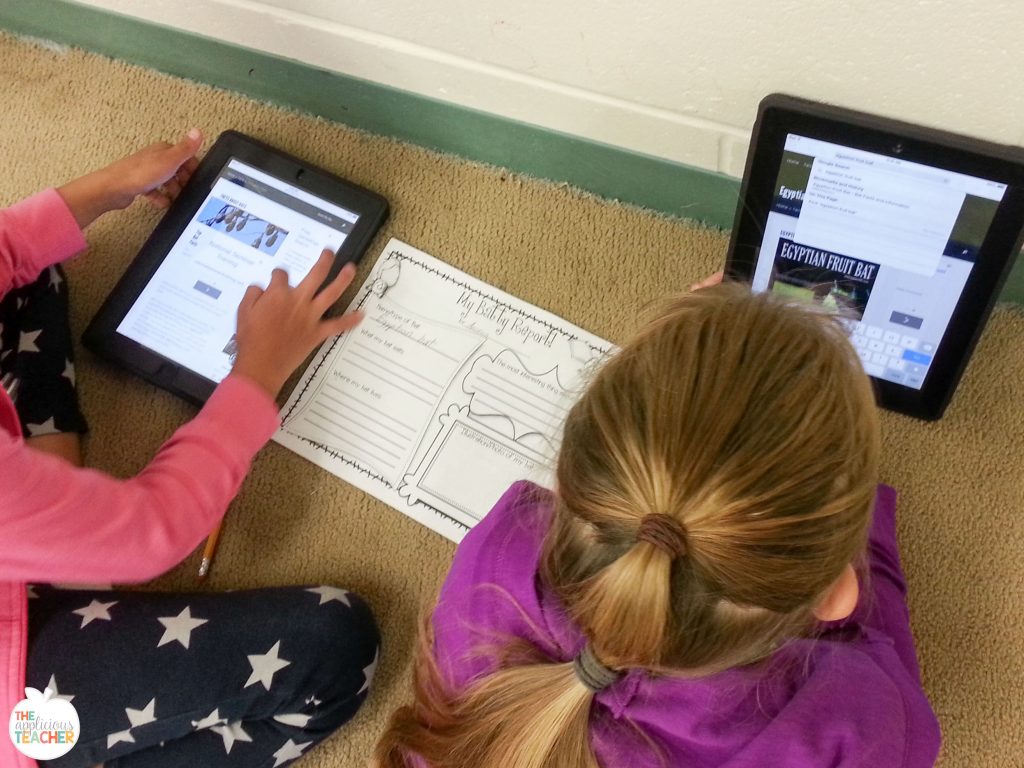 Batty Adventure Stories
For writing, we worked to write about an adventure we'd have if we were bats. To start our brainstorm, I turned off the lights and had students close their eyes. We did some visualization techniques and pretended to fly into caves, hang upside down, and zip around to eat bugs! This gave us loads of ideas on where we would go if we became bats ourselves.
To organize our writings, we wrote out where we go, what we might see, and what we would do. From there, students formed their story, using these peices as part of their beginning, middle, and end.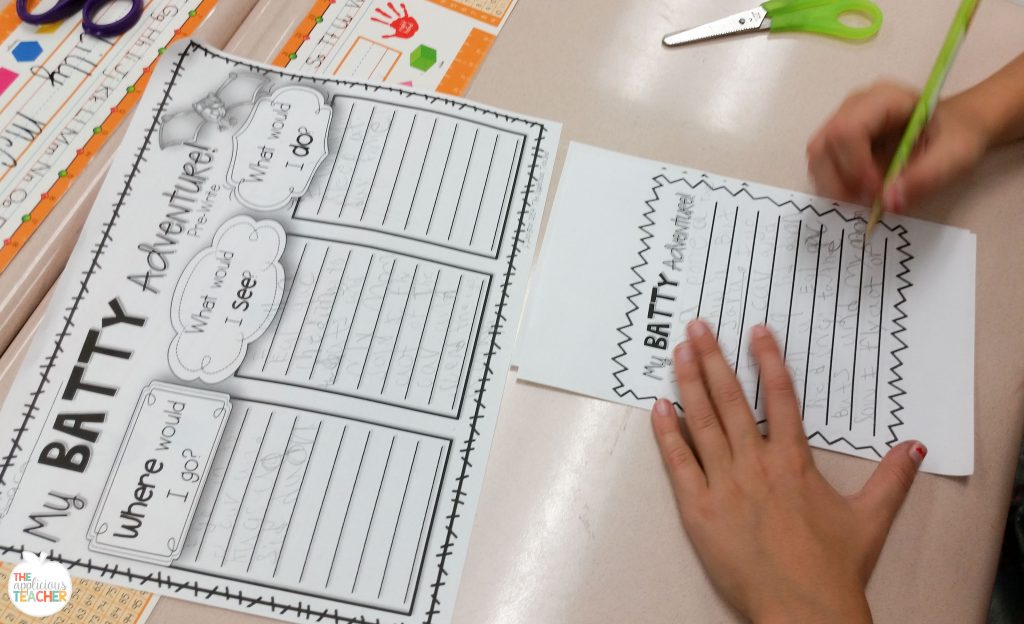 Once students finished their stories, they cut out their pages and made a little book. Then, they traced and cut out a simple black bat and I stapled their batty adventure on! Some students got creative and used white crayon to add a face to their bats. Later in the week, I attached fishing line and paperclips to the tops (or bottoms of the bats) and hung them from the ceiling to make our classroom a bat cave!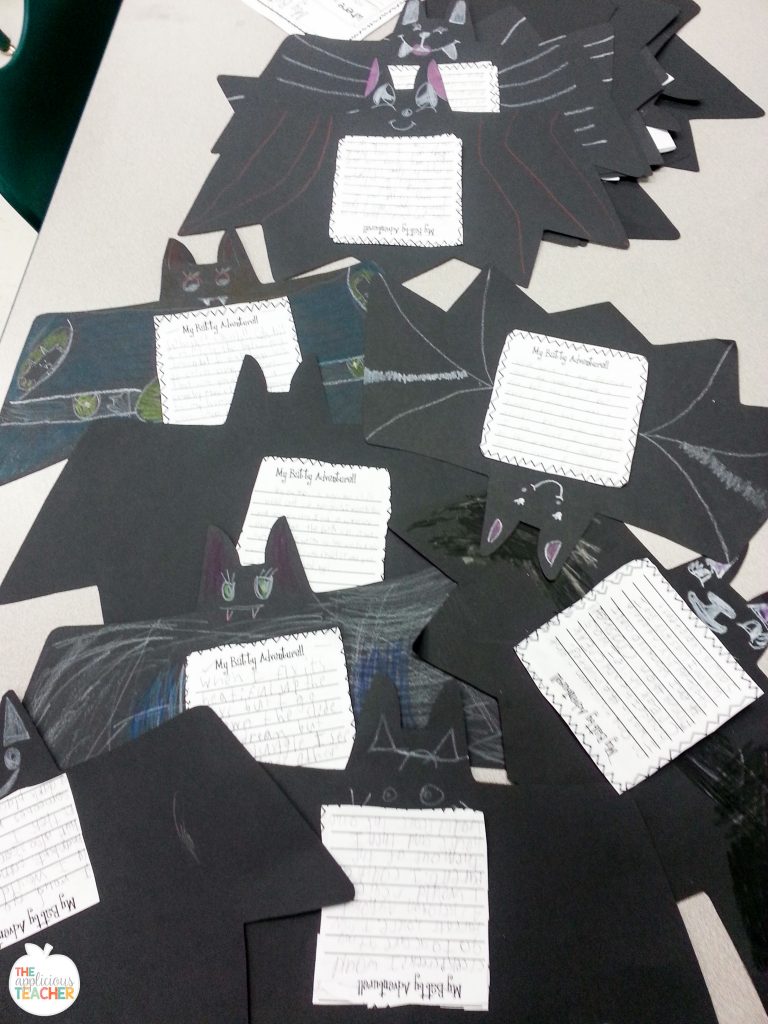 Bat Facts
Now that we were basically bat fact pros it was time to share some of the bat facts we learned!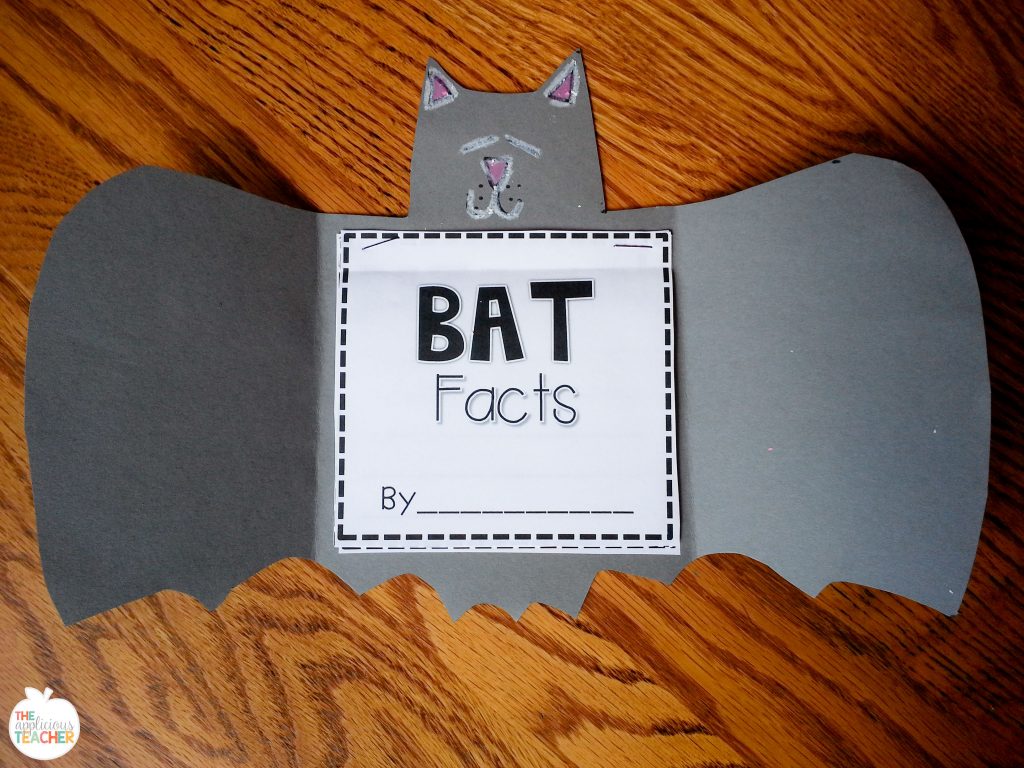 To complete this project, each student wrote three bat facts they learned. If they couldn't remember three, I let them grab an IPad and look up a few facts using the Science for Kids website. Once they recorded their three facts, they cut out their bat fact book and stapled the book together with the cover on top.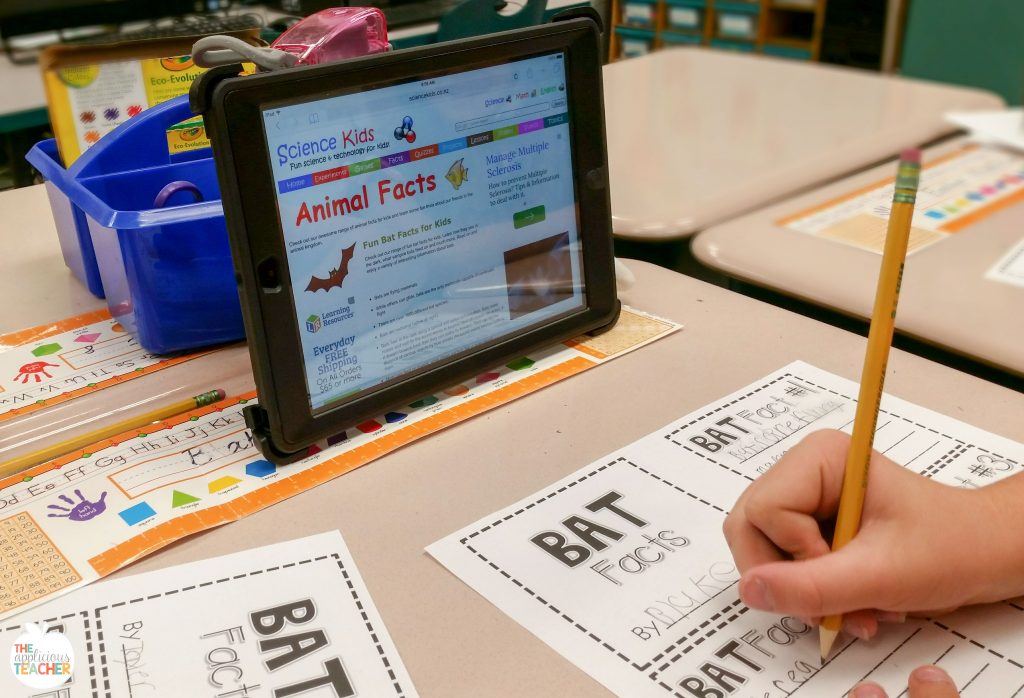 Then, they traced and cut out their own brown, gray, or black bat to fold around their book. We hung these on our back cabinet to add to our batty classroom cave!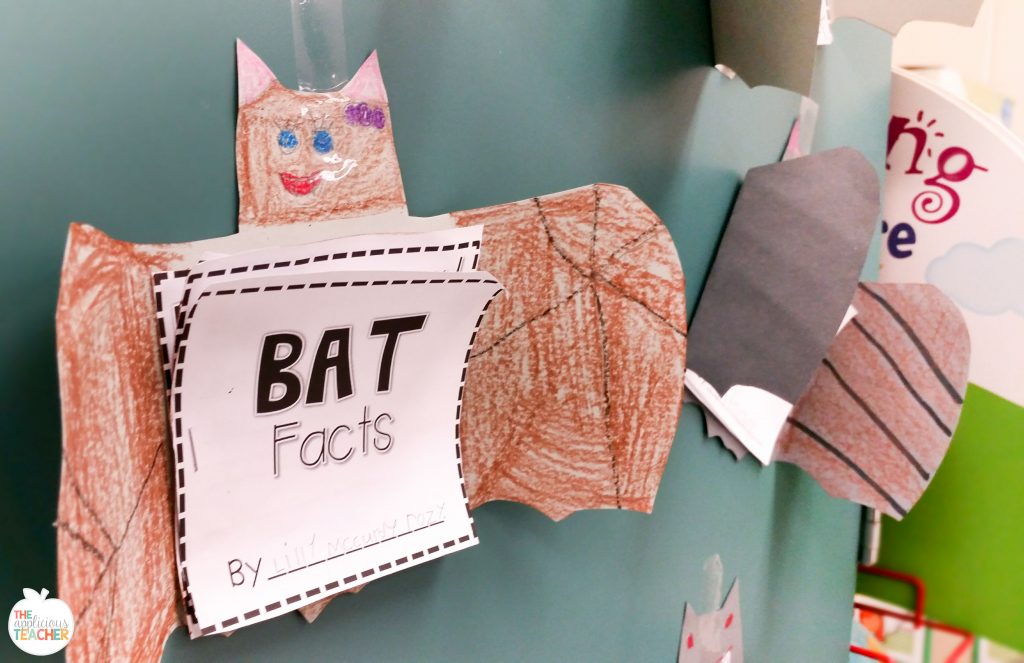 To finish it off, I added a quick "Batty Facts" sign that I trimmed and taped to the door. Who needs extra bulletin board space when you have cabinets! Am I right?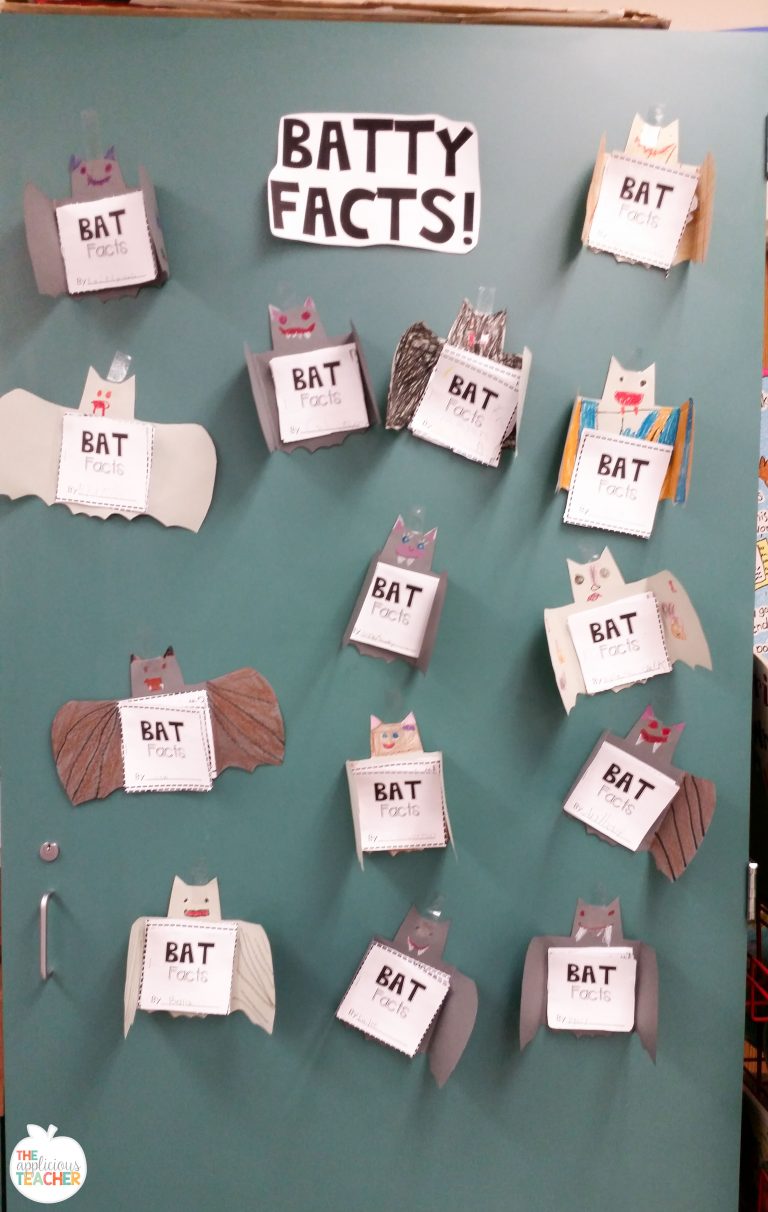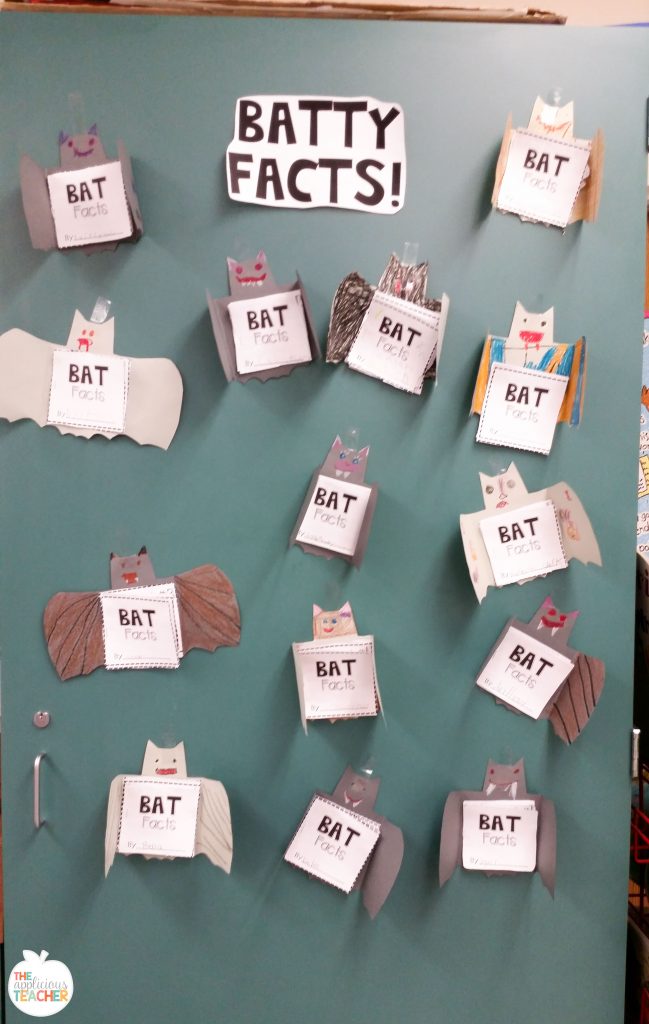 Summarizing Our Bat Learning
By the end of the week, we were full of information and ready to prove our learning! I love using the 3-2-1 Summarizing Technique to have students share what they've learned about a topic. Before ending our study for the week, we read one last non-fiction bat book, "Zipping, Zapping, Zooming Bats" during our whole group reading time. Then, we worked together to share 3 things we learned, 2 Things we found interesting, and 1 thing we were still wondering about bats.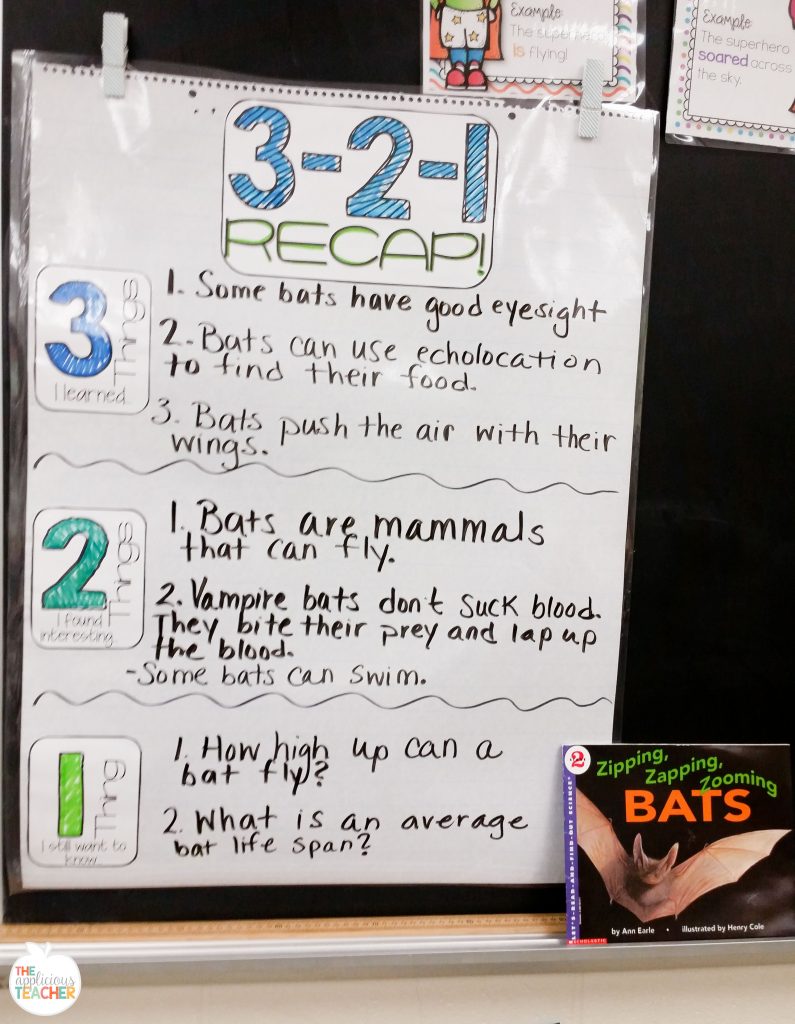 I recorded their answers using this Interactive Anchor Chart and left it up for our small group rotation time. During literacy centers, students had to fill out their own summary sheets.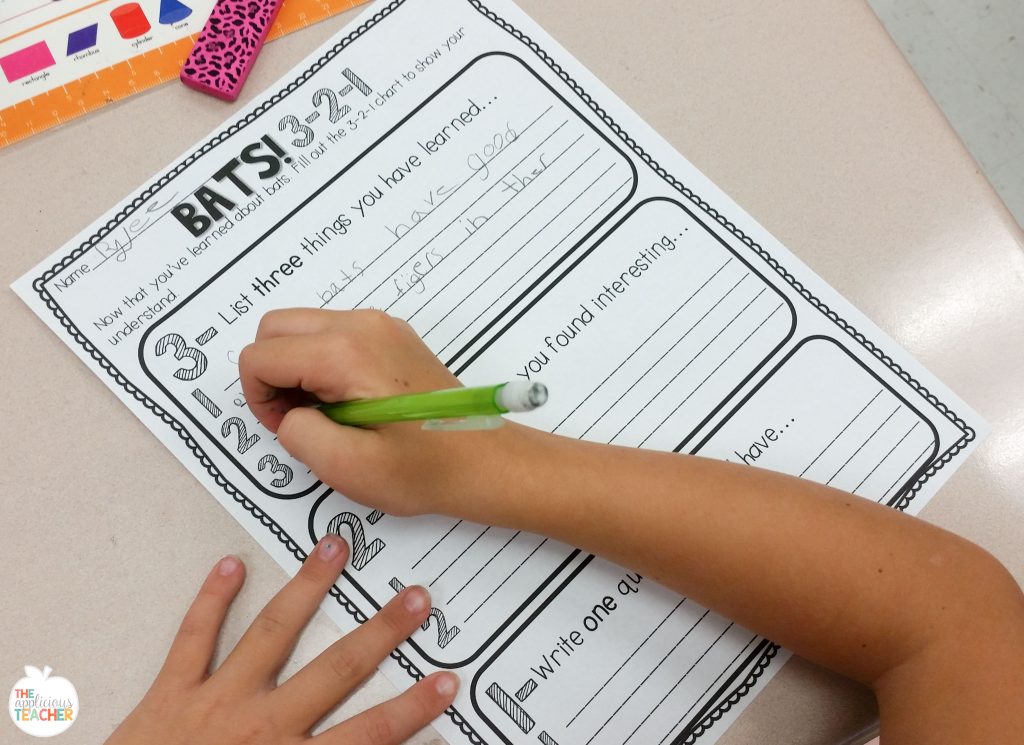 Then, during our science time, students worked to research the answers to the questions they still had about bats.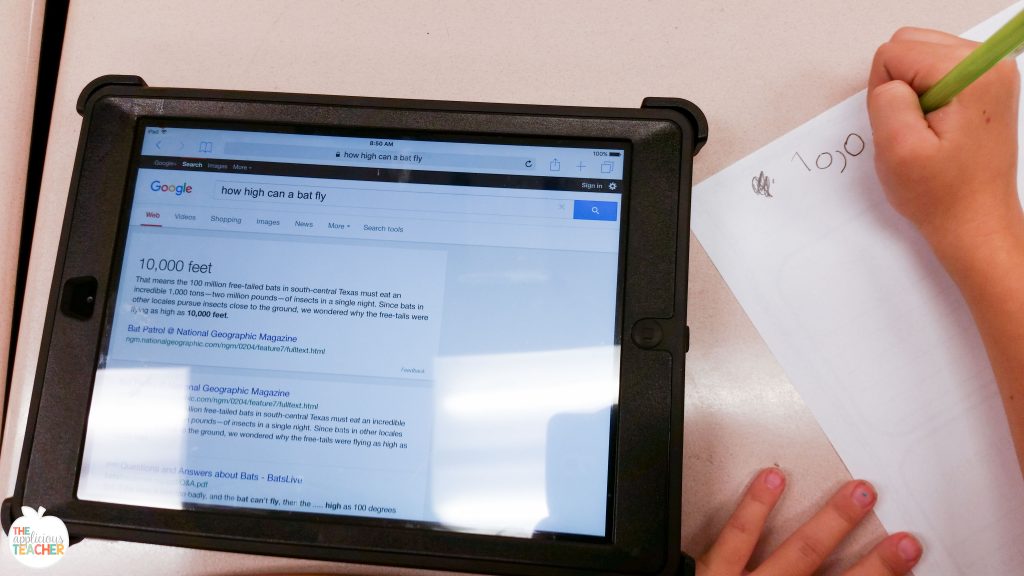 Oh! That's how high bats can fly? WOW! They did an amazing job looking up information and sorting through different resources. Our batty week was so much fun! You can find all the activities (and MORE) in my Bat Thematic Unit here in my TpT store. If you like to have your students learn about bats, please share some of your favorite bat ideas below!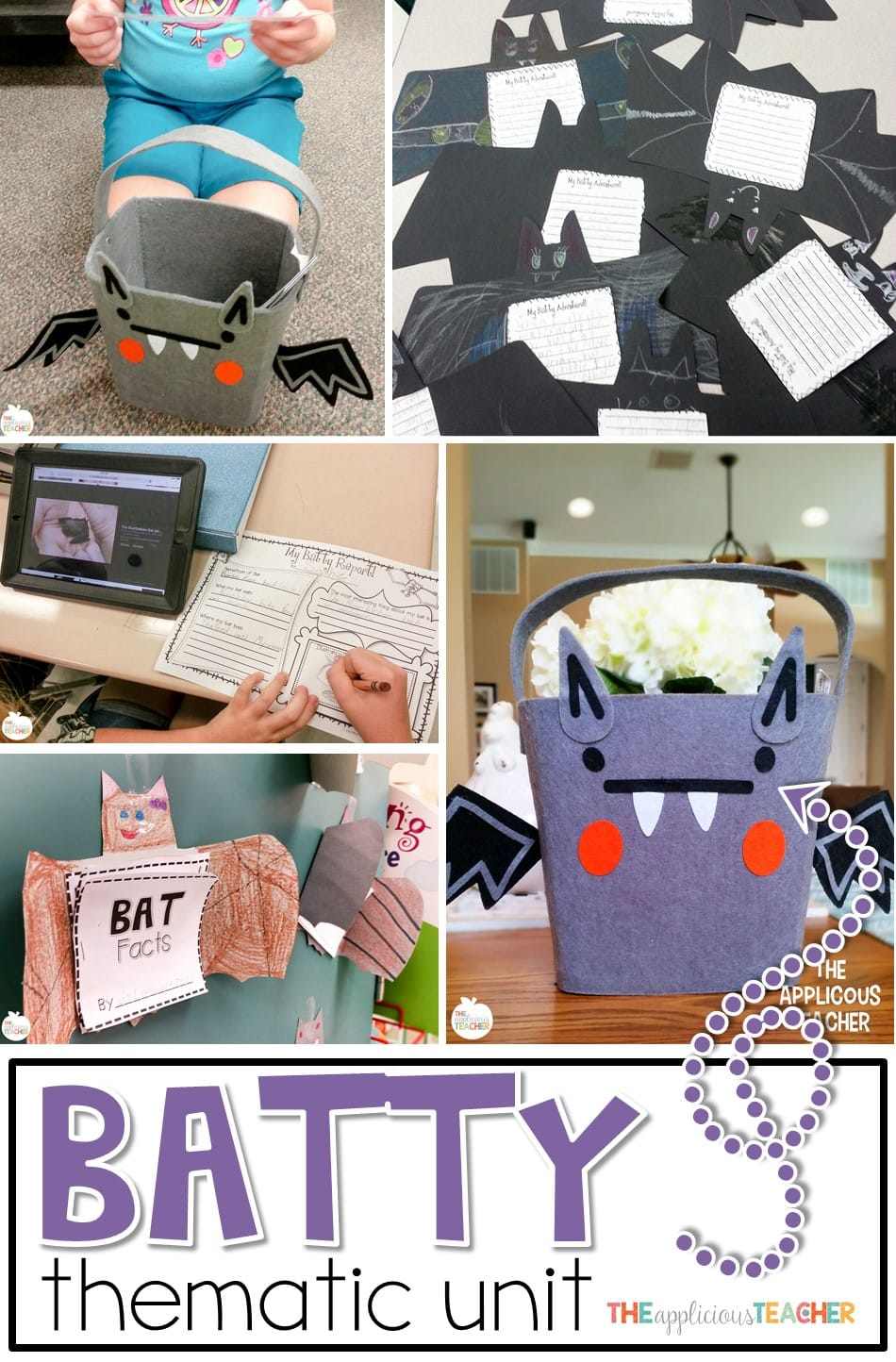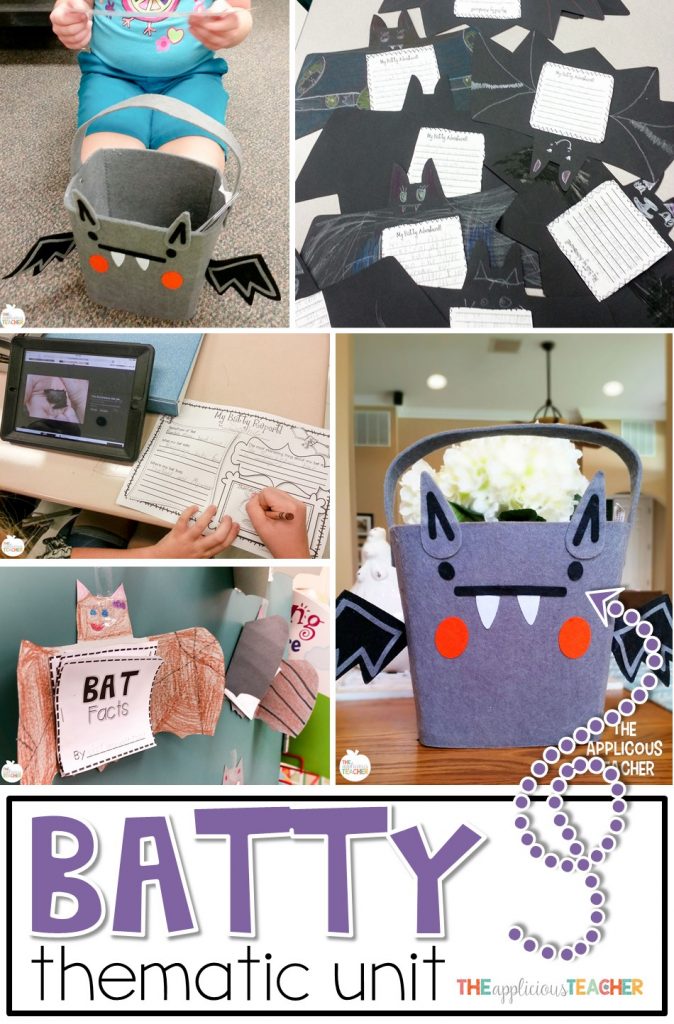 Sign up to snag these!
Receive all these classroom management tools right to your inbox!