Halloween is just around the corner! This is hands down one of my favorite times of the year to teach! Bats, spiders, pumpkins! They all fit perfectly in the month of October. But, this year I wanted to do something a little bit different. So instead of doing more general Halloween stuff, I thought it'd be fun to learn more about mummies! Of course, that learning also had to include a Halloween mummy writing project!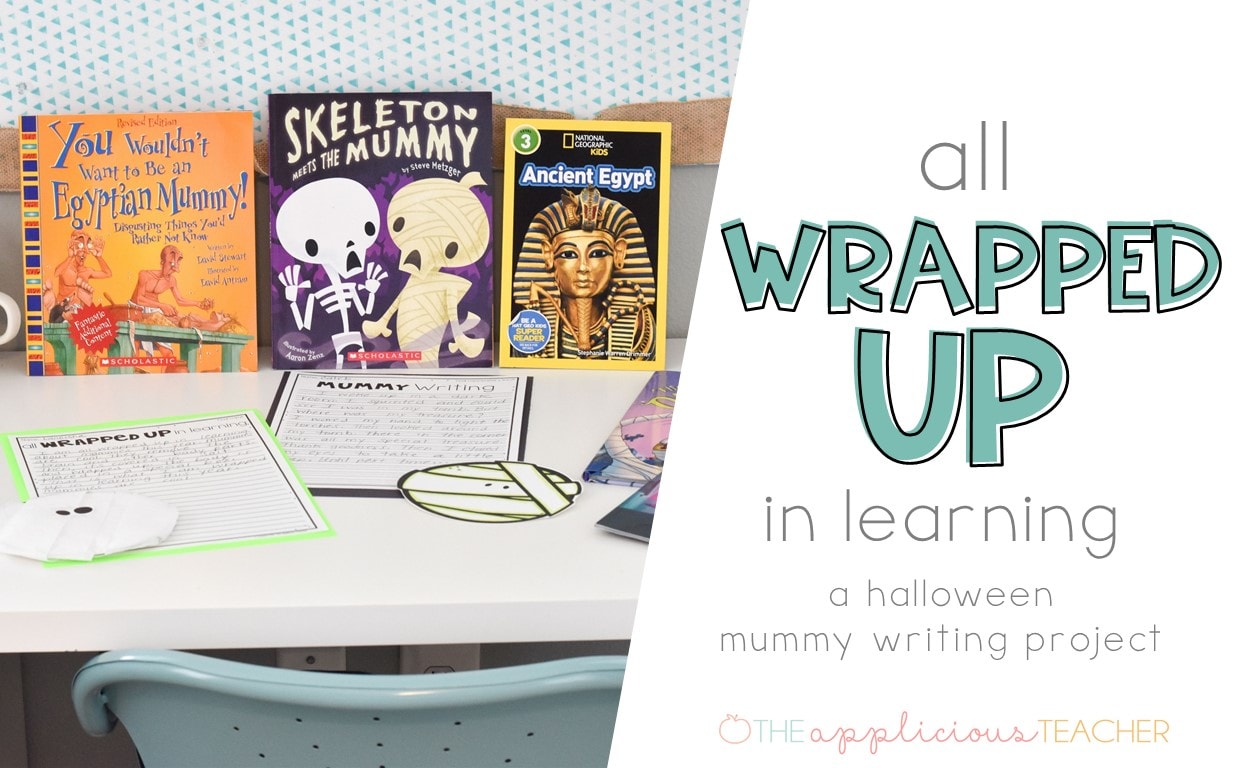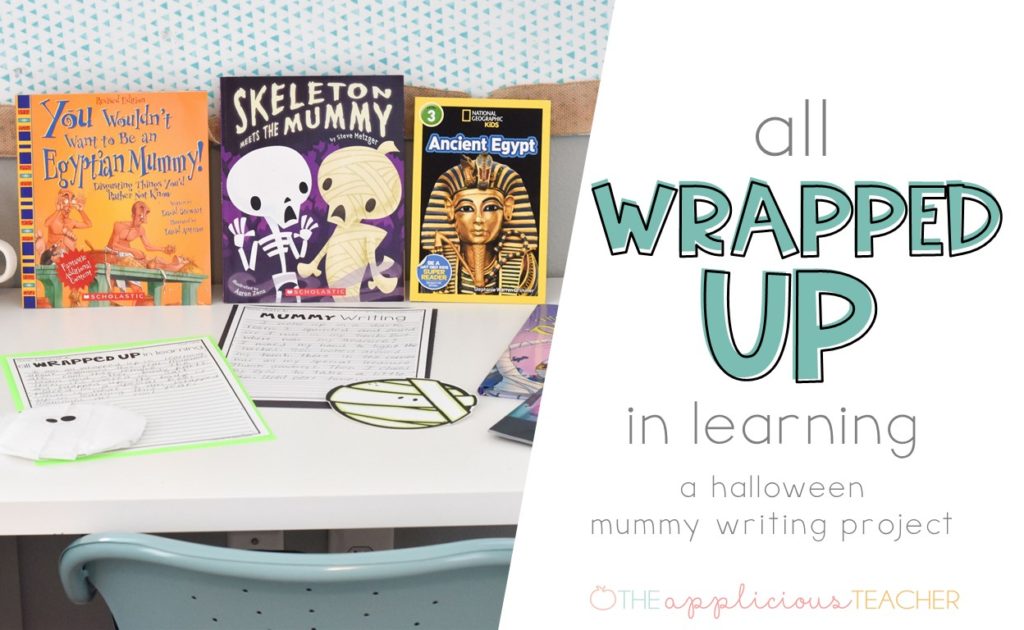 Please note this post does contain affiliate links. This means that if you click through and purchase something that I've recommended I receive a small fee in return. These small fees allow me to bring amazing and free content for you and have a few giveaways!
Learning About Mummies
To start the unit off, we worked to learn more about Mummies. I pulled a TON of mummy books to get our learning started! I usually like to keep the selection right up front so that during the week, the students can pull and enjoy the selection of books on their own.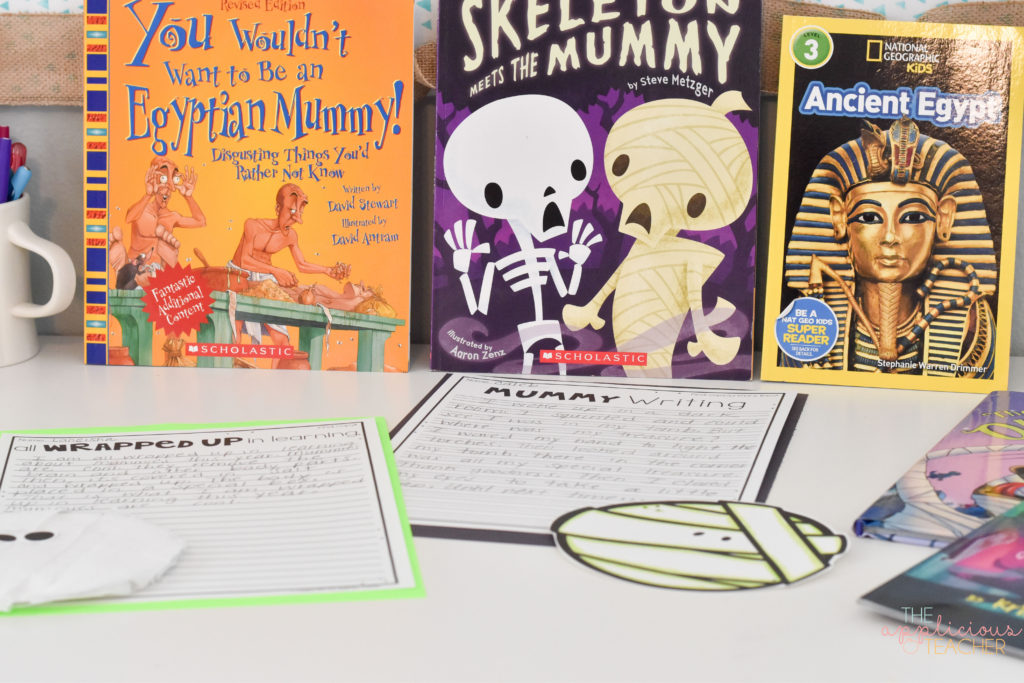 Setting the Stage for Writing About Mummies
For our first day, we focused on what we already knew about Mummies. We filled out a "Mummy" circle map to include everything we already knew.
The next day, we reviewed our circle map. Then, we read National Geographic Kids', "Ancient Egypt" to help set the tone for our learning.
From there, we added information to our class circle map. For the third day of our writing unit, we read the funny but so informational book, "You Wouldn't Want to be an Egyptian Mummy".
After learning some amazingly gross, but interesting facts about mummies (like pulling out the brains through the nose!) I passed out sticky notes for students to add two to three more facts that they had learned about mummies through our reading.
This served as the perfect launching point for our brainstorm! Using the information gathered through our reading and our shared mummy chart, students wrote down 3-4 facts that they had learned about mummies on their brainstorm. You can find the brainstorm we used as part of my "All Wrapped Up in Learning Writing Craft".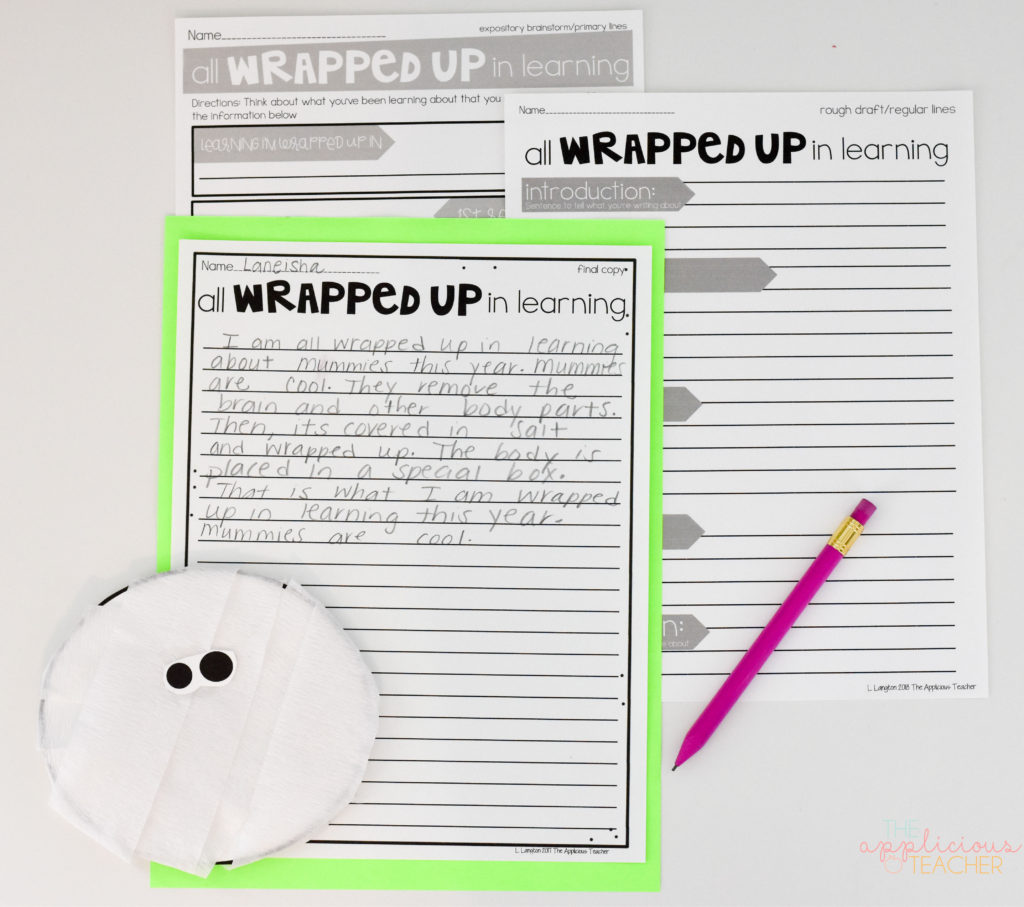 The next day, we took those brainstorms and started our rough drafts. I like to teach students how to write a solid paragraph. Although template writing tends to receive some slack, it works great as a launching point for new writers and as an organizational tool for students who are ready to branch out.
Together we worked to write our paragraphs about mummies. We made sure our paragraphs included:
An introduction
at least three details about mummies
A conclusion
Sentences have capital letters and ending punctuation
I always work to model what each of these look and sound like in our writings.
Editing and Publishing Our Mummy Writings
For the last day of writing, I passed out a self-checking rubric. We've used these a few times by this point in the year, so I just quickly reviewed the expectations for this writing and sent students to review their rough drafts. Then, once students finished their rubrics, they worked to re-write their expository essays on to their final draft papers.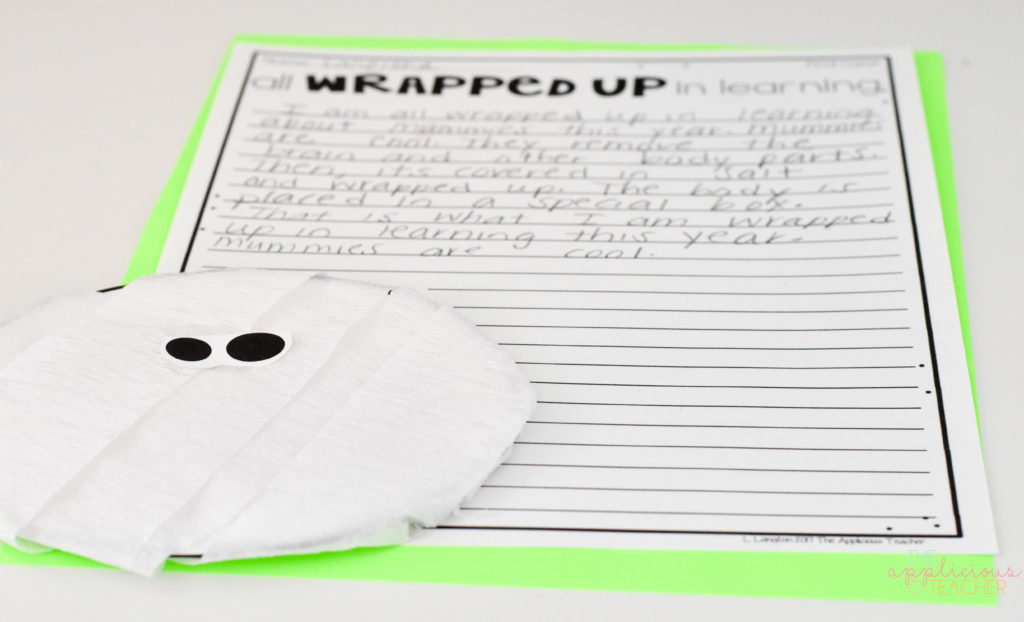 Mummy Writing Craft
After their final drafts were complete, students could make their mummies to decorate their writings with! This one is so simple, but the kids LOVED it! To make their mummy, each student got a circle to cut out. Then, they wrapped it with white party streamer paper. Then, they cut our eyes and glued them on top of the wrapped streamers! For added fun, have your students choose their own color for the mummy wrappings! The kid's writings turned out so cute! I can't wait to make a bulletin board with the finished mummy writings! Perfect to have up for the month of October!
Want to do this easy Halloween Mummy Writing Craft activity with your second graders? Check out the entire unit here on TpT or click the picture below!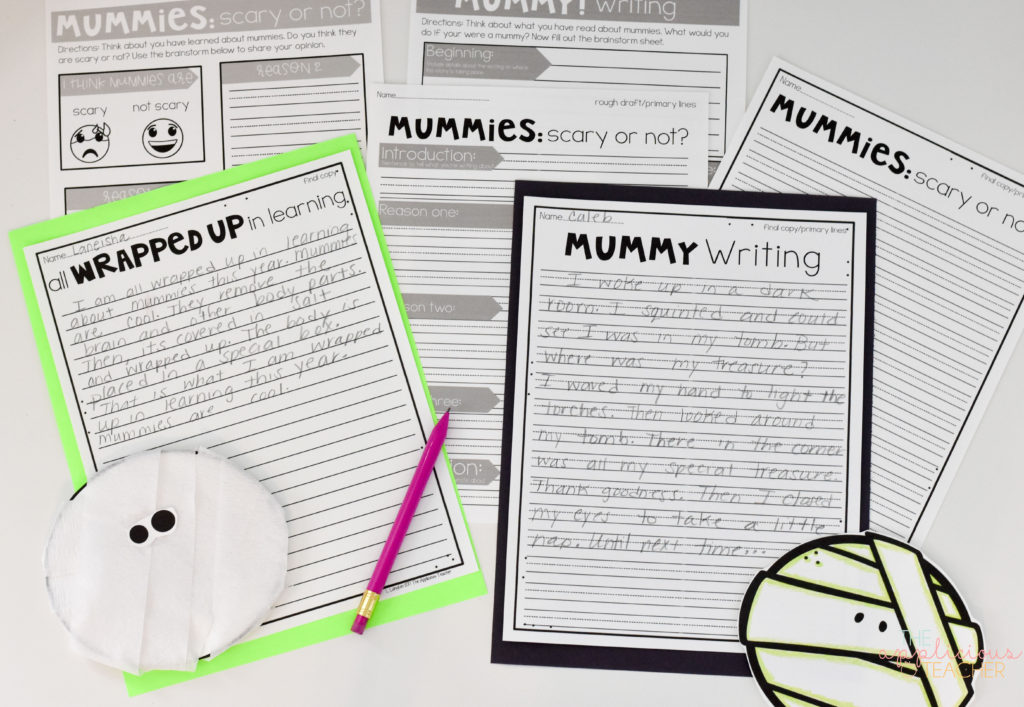 This writing unit actually includes two other writing prompts and a plain mummy themed paper. There's also an easy print and go version of the mummy craft if you just don't have time to make the wrapped mummy!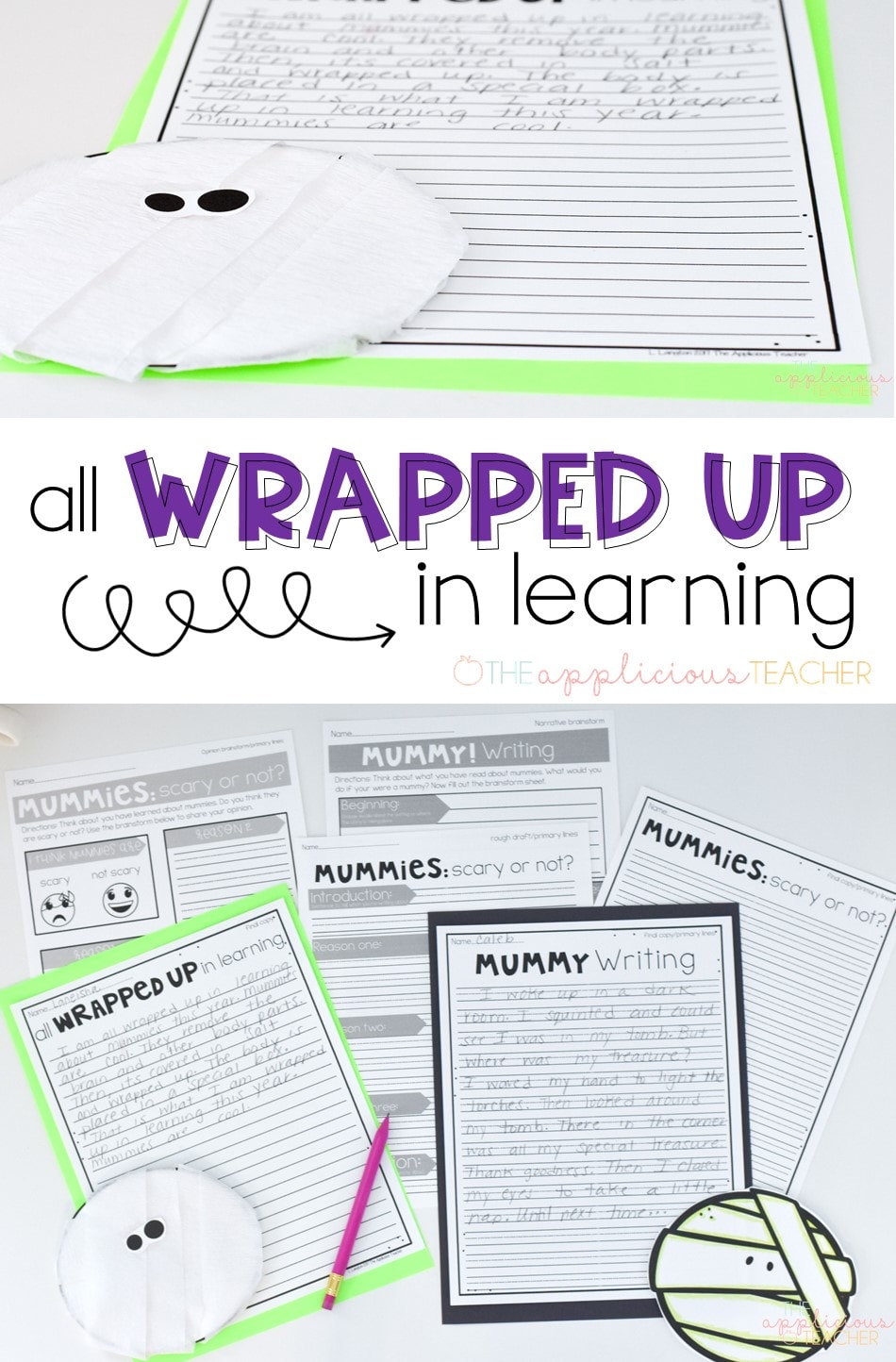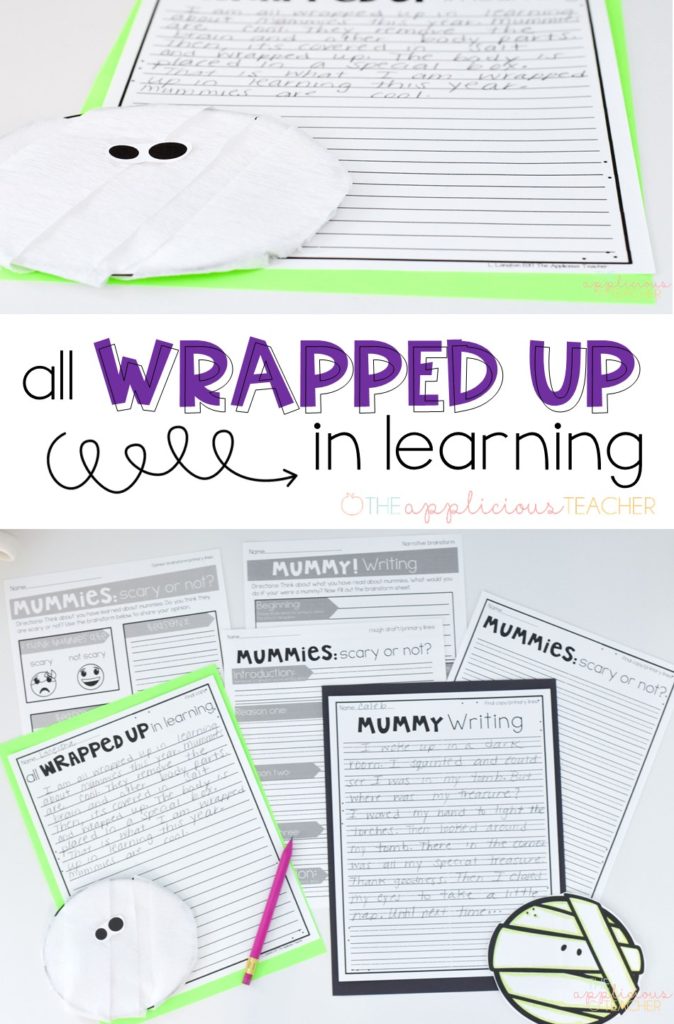 Sign up to snag these!
Receive all these classroom management tools right to your inbox!