October is just around the corner! Time to start thinking about those October Bulletin boards!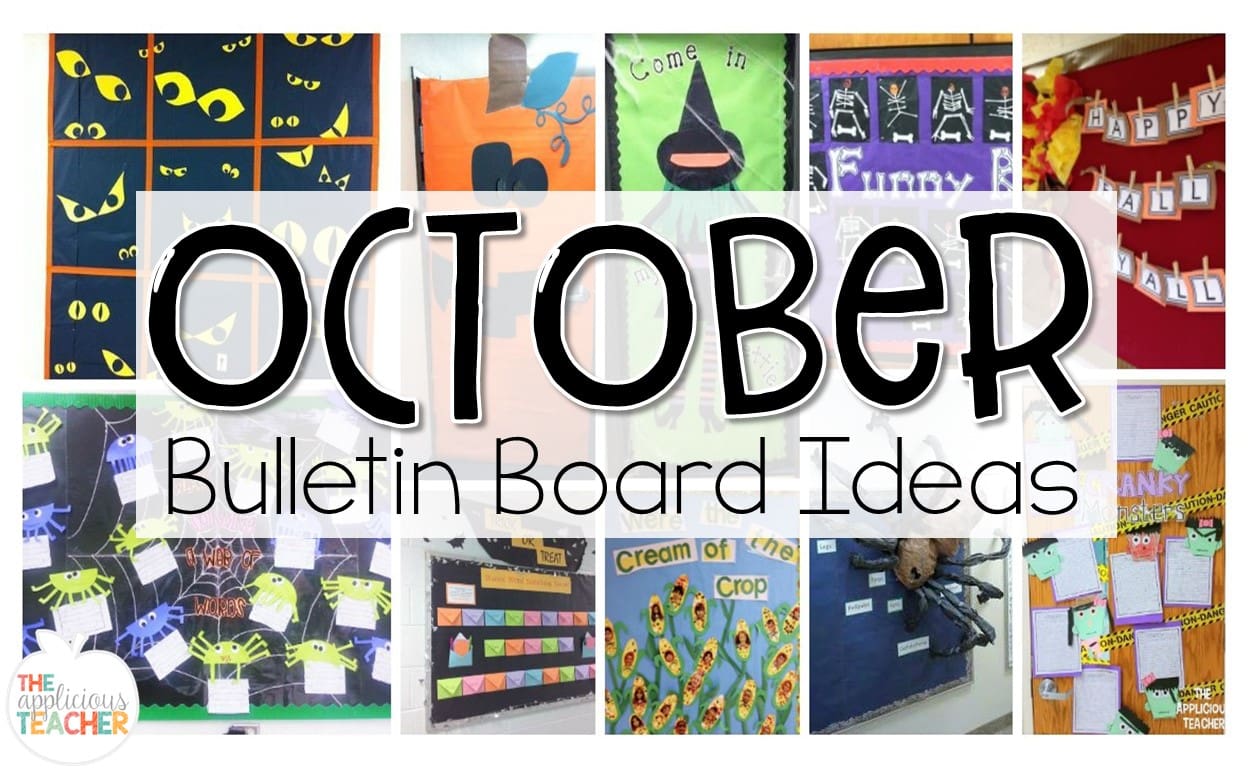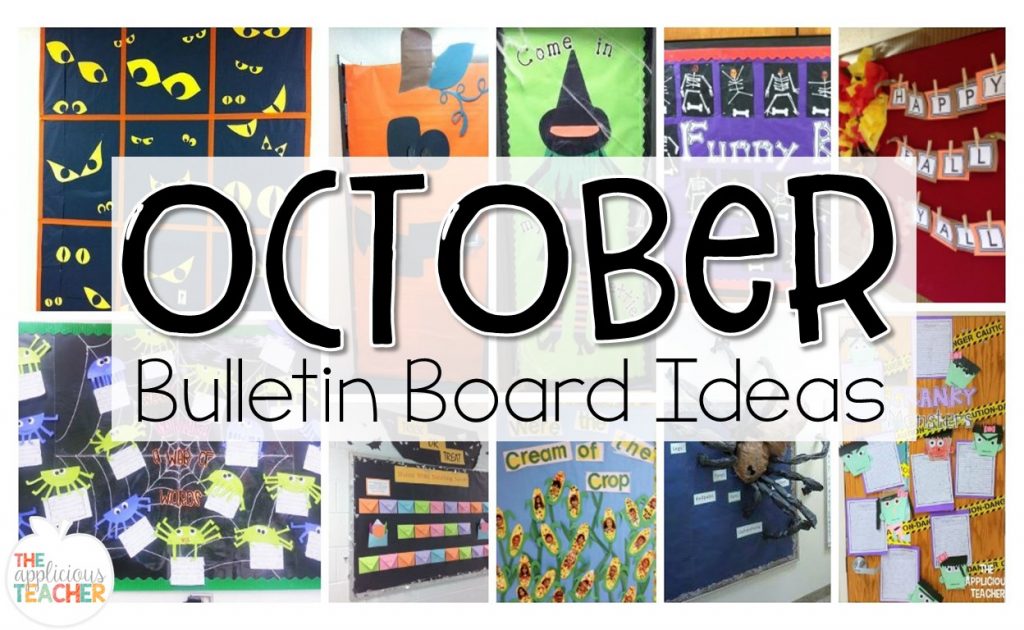 Now, I'm a fan of leaving bulletin boards up all year, but who doesn't love a good Fall themed board?! I've searched high and low for some of the best bulletin boards (and maybe a few SUPER cute doors) to help you get through October without too much fuss! Here's my TOP 10!
Spooky Eyes: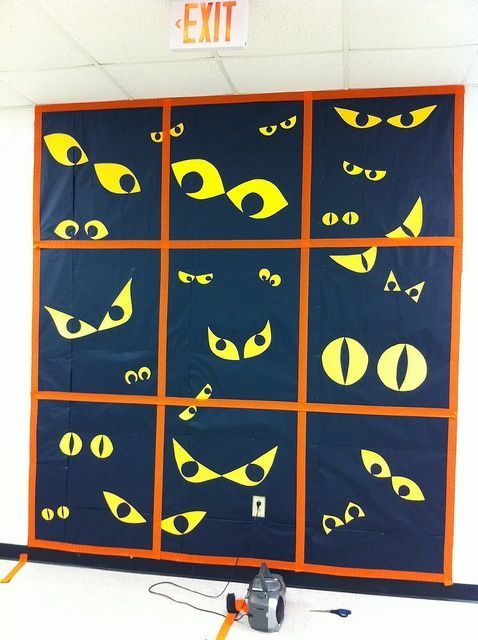 Love this spooky bulletin board! Perfect for the words: "We've got our eyes on _____ (Good Book, Learner…ANYTHING!) !". If you notice, this gem goes from floor to ceiling, which makes me think it may not actually be a bulletin board at all. But, I love it either way! Large black butcher paper, orange painters tape, and yellow spooky eyes. CUTE and not too complicated!
Want some ideas for bulletin boards you can keep up all year? Check out these 5 bulletin board suggestions!
Monster Door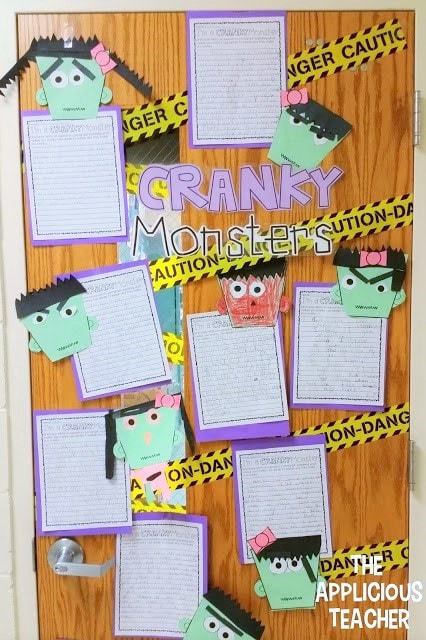 I love doing this door decoration for Halloween after reading the book, Crankenstein. After reading, students wrote about what makes them cranky. I found the "CAUTION" tape at the dollar section of Target. You can read more about this close reading activity here.
Witchy Door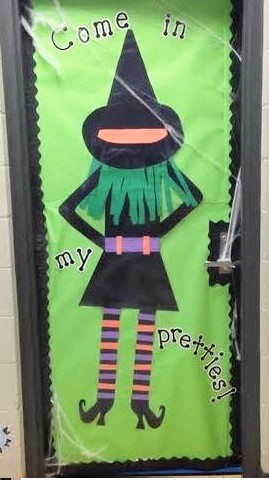 Since we're on the topic of October doors, how cute is this witch?! Seriously, so fun! Click here to see this door and TONS of other fall inspired decorations for the classroom! I'm thinking this door would be great for "Which Witch is Wich?" or some other play on words!
Want more "Witchy" fun? Check out these "Room on the Broom" reading activities!
Spider Diagram Bulletin Board
If you're scared of spiders, this board is not for you, but OMW! How fun is this? Perfect for a spider unit! I love that it only takes up the corner of the board, so you could put spider facts on the empty space. See those little white cards? Those are labels! So after you talk about the different parts of a spiders body, you could have your kids pin up the different spider parts. This would also TOTALLY work for a Harry Potter themed classroom? LOL! Now, I tried to link back to the page this was on, but the page is set to private, so you can see the pin here. I mean, a picture is worth a thousand words? Or in this case a scream!
Grab a ton of spider ideas in this Spider Unit!
Happy Fall Ya'll!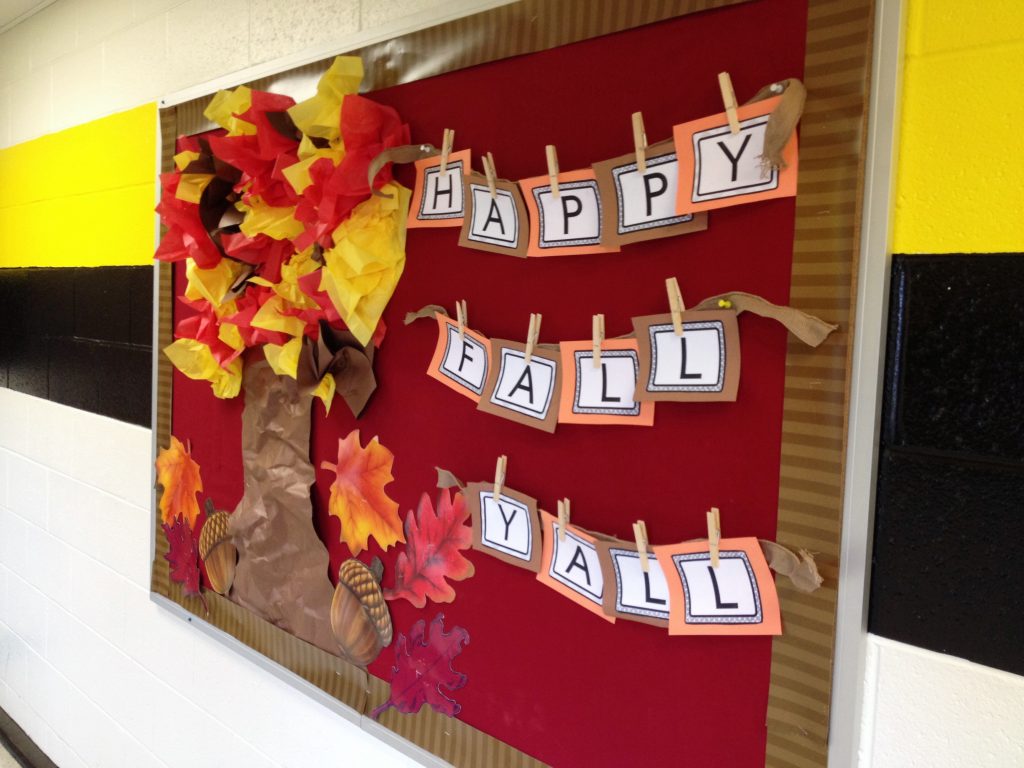 So, I know not all schools are allowed to celebrate Halloween, so this Fall Bulletin board is perfect! Happy Fall Ya'll! If you're from the south, this is the board for you. Just tissue paper leaves and pennant letters hung on burlap ribbon using clothes pins! Cute! Now, I wish I knew where this sweet board came from, but it is from some image search. You can find the pin here!
Corn on the Cob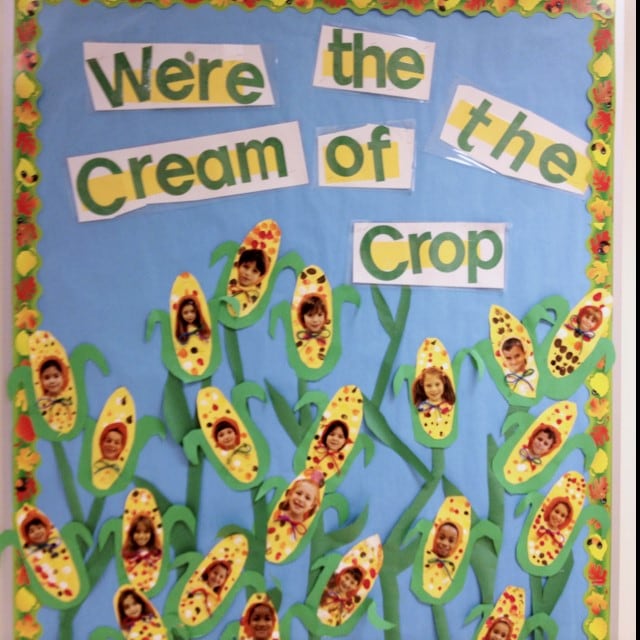 Here's another great "non-Halloween" style bulletin board. Anytime you can use a student's picture on a board, it's good in my book. Look how cute these little corns look! I'd love to see some awesome corn facts on this board too!
Spider Web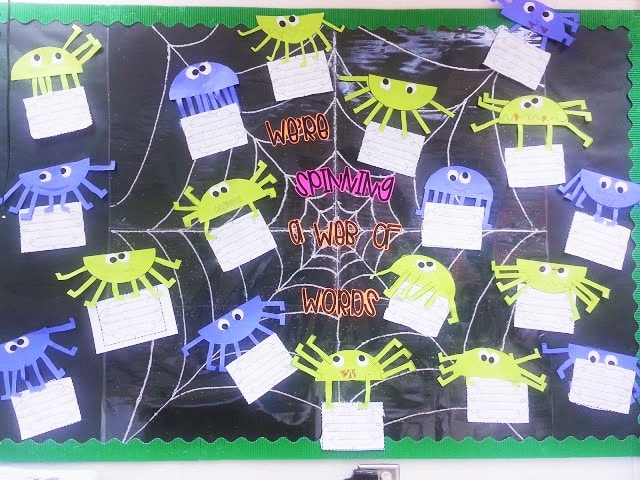 We're back to spiders for this fun October board! I loved having this board up all October. For the web, I just took large black butch paper and made a web using white glue. Then, I sprinkled sliver glitter over top to make it really stand out. To keep the web looking good for years to come, I cut the web in half and had them laminate the sheets. YEAH for reusable webs! We then decorated this board with poems about spiders! You can read more about that project here and grab the spider tracers for free!
Pumpkin Door
Do you have a pumpkin day? Wouldn't this be the perfect decoration for your littles to walk into? I'm in love! Could totally be adapted to a bulletin board by just cover the board with orange butcher paper and add the face and stem. Easy but perfect for the week of pumpkin fun! Click the picture or here to see some other AMAZING ideas for fall and Halloween at the preschool level.
Writing Treats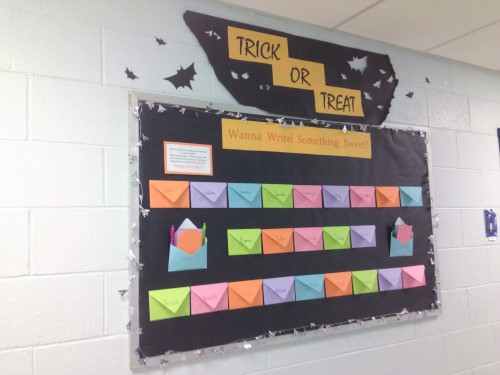 Anytime you can make a bulletin board interactive I'm on board! This cute idea is meant for a collage dorm, but I think it could totally be adapted for the primary classroom. What a fun October writing center? To make, just staple up empty envelopes with students' names on them. Then, add an extra envelope with fun Halloween paper. Students can write sweet notes to each other and place them in their envelope! Another idea would be to have writing prompts in the envelope and students could just grab out the prompt and write in their journal. Either way, I love when form and fun met! I will not post the original link to this picture because the website is questionable, but you can either click the picture or here to re-pin the link.
No Bones About It…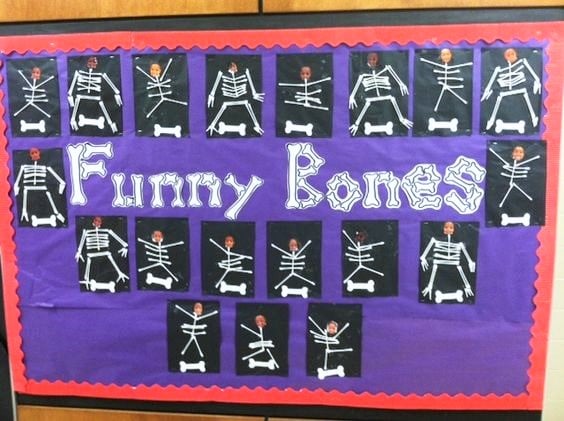 Every so often, our study of the human skeletal system would align with the month of October. How fun is this bulletin board. In second grade, we label the bones (not all of them, just the major ones) But, I love that they used the kids faces for the top of the skeleton. The skeletons are super easy to make using q-tips. Learn more about about our fun body systems unit and grab this freebie here Add some fun lettering and BOOM! Fun and informational bulletin board.
Need more October Ideas? Be sure to check out my October Pinboard and if you don't already, be sure to follow me on Pinterest!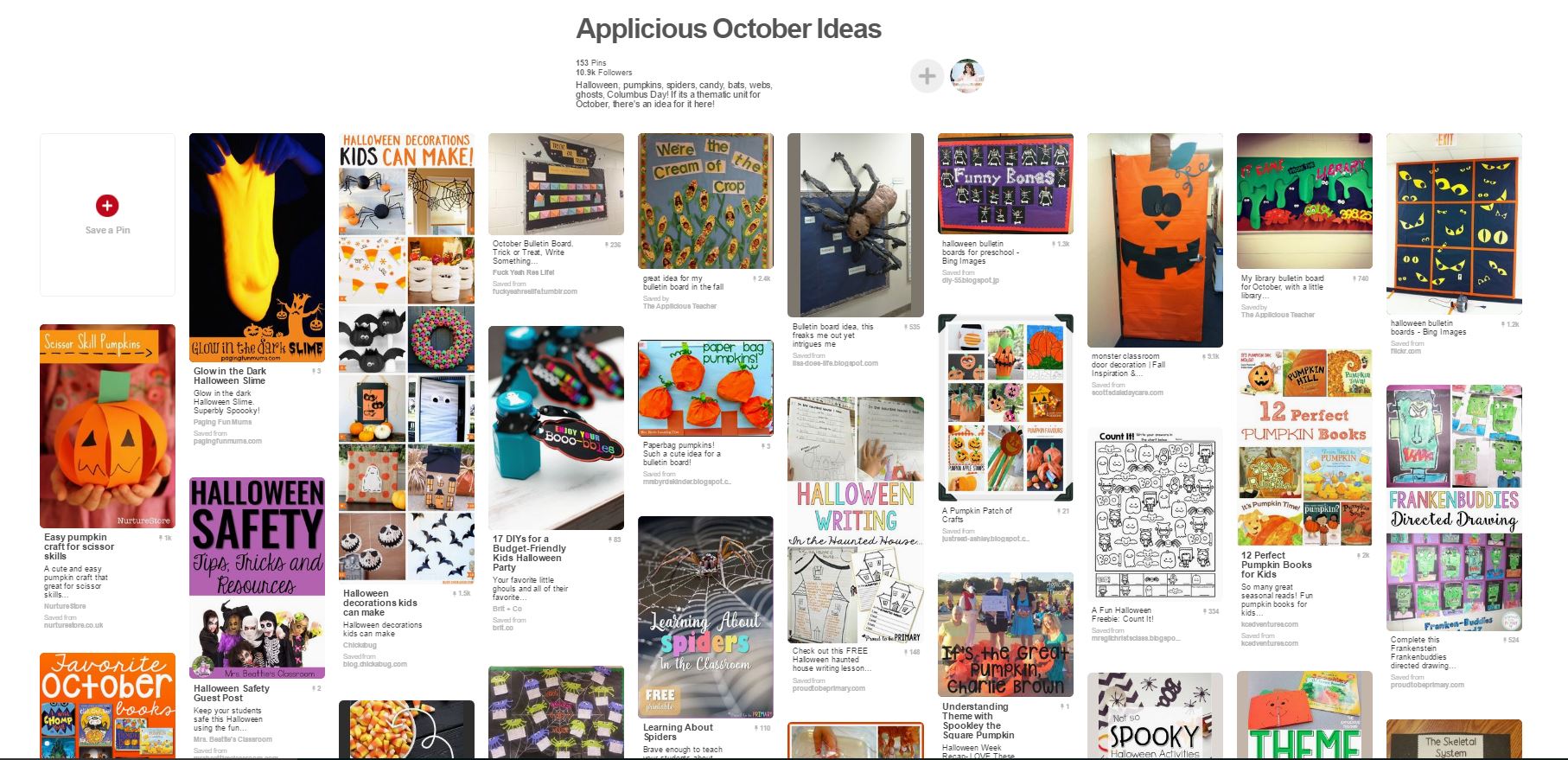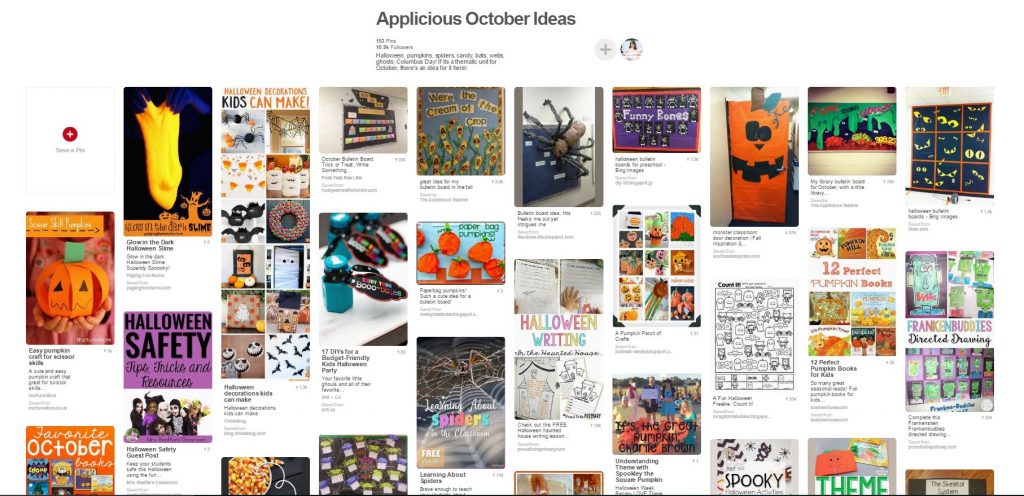 What are some of your favorite ideas for October? Comment below!