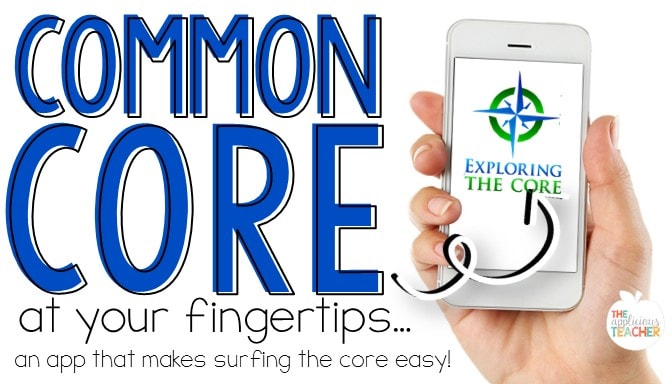 As a teacher, I am constantly looking at the standards.  Am I teaching this right? Where are we headed with this standard? What does the standard say? What does it mean? Which standards should my students have already accomplished? What does this standard look like in the next grade level? Looking through the standards is usually more of headache than anything. So, when the creator of the app, Exploring the Core asked me to check out their new app from an educator's perspective, I was intrigued. An app that could show me all the math standards and help me plan? Yes please! #anythingtosavetime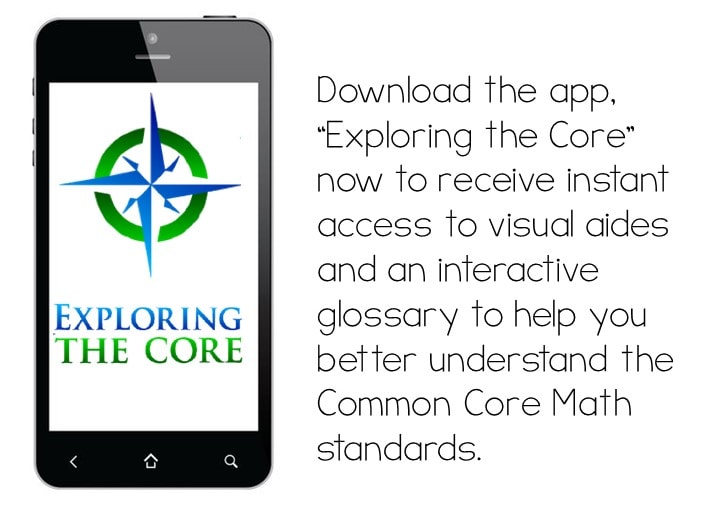 Explore the Core: Background
With the huge push for Common Core (or Common Core like) standards, there's been disconnect between teachers and parents. Parents want to help, but they aren't sure how to anymore. Especially when it comes to their child's math homework. What they remember from elementary school is totally different then what they see on their child's homework every night. This frustration, along with a lack of awareness, swirls  a dark cloud around Comm Core Standards. The dark cloud of parent frustration is almost exclusively felt by teachers. Teachers, who work tireless to build a partnership with their parents, only to have it smashed by Common Core math jargon.  Greg Mullen, a California based educator, felt this friction and decided to something about it. Something, we teachers, are eternally grateful.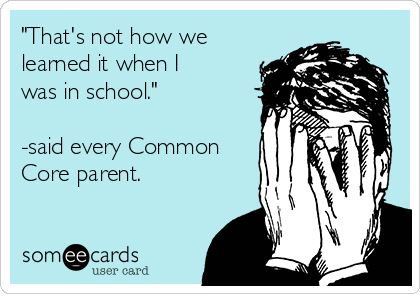 So, Greg assembled a team and worked to create an app that brought the Common Core State Standards to life. The  mission was simple: help parents take an active role in their child's education by demystifying the Common Core Math standards for grades k-5. But as a teacher, I see the value that extends passed helping parents on the standards. I see how this app makes my life easier and brings a better understanding of the standards to my short term and long lesson planning.
Peek at the App
What I love most about this app is how user friendly it is to navigate. No complicated logins, no passwords to remember. Just download and you're ready to surf the core.  After opening the app, you're given the option to view skills, check out the standards, or look for terms in the glossary.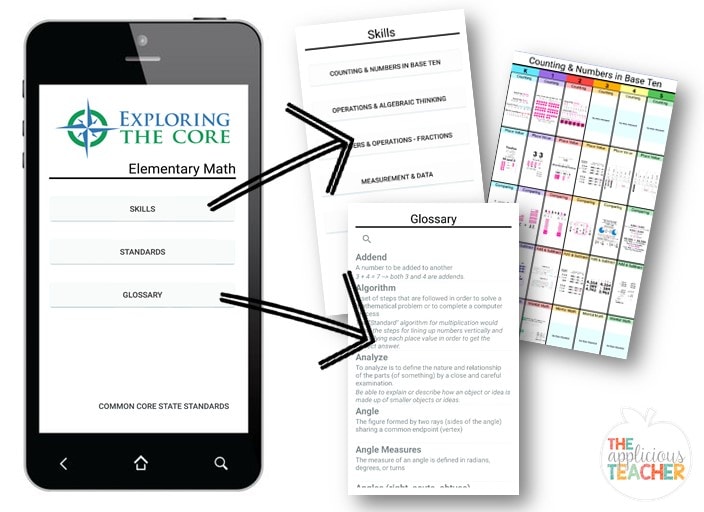 Selecting the "Skills" button allows you to see a quick glance at the skills in Common Core separated into the 5 domains. From there, select the skill focus. This brings up a large grid that shows how that skill is used across a grade or span of grade levels. It even shows where certain skills are no longer taught. Like in the sample below, you can see that counting skills are not supported in grades 3-5.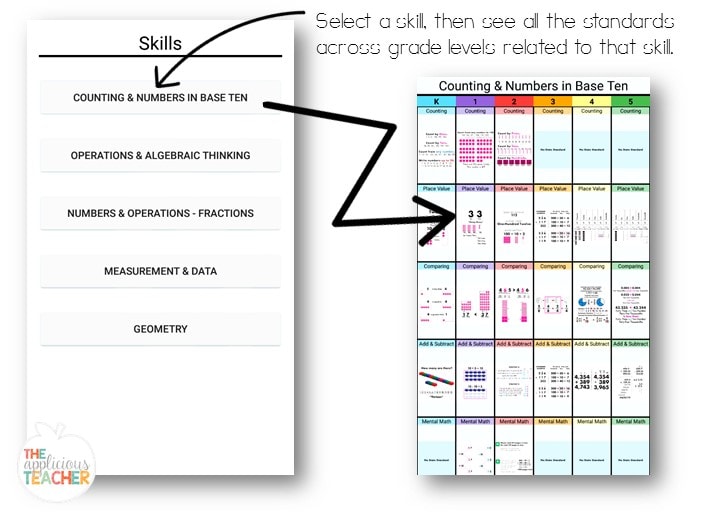 If you want to search standards, just select the "standards" tab and start typing… Then, boom! All the standards related to that key word pop up. Use the color coded buttons at the top of the screen to narrow down your search by grade level.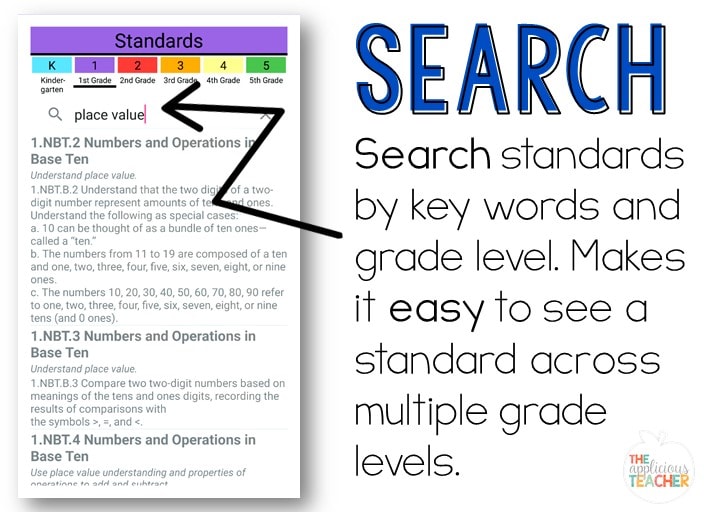 Exploring the Core does the hard work for you by pulling up all the standards that relate to whatever you're searching. You can change the grade level by selecting a different grade at the top of the screen.
One of my favorite features, and probably the one that I feel parents using this app would appreciate the most, is the Glossary feature. Often, parents are unsure of terms that they see on their child's homework. From the home screen, you can select Glossary and search for terms. Perfect for parents who aren't quite sure of a specific term their 4th grader (what is the comparison model, anyway? #sogladidontteach4th #2ndgrade4ever)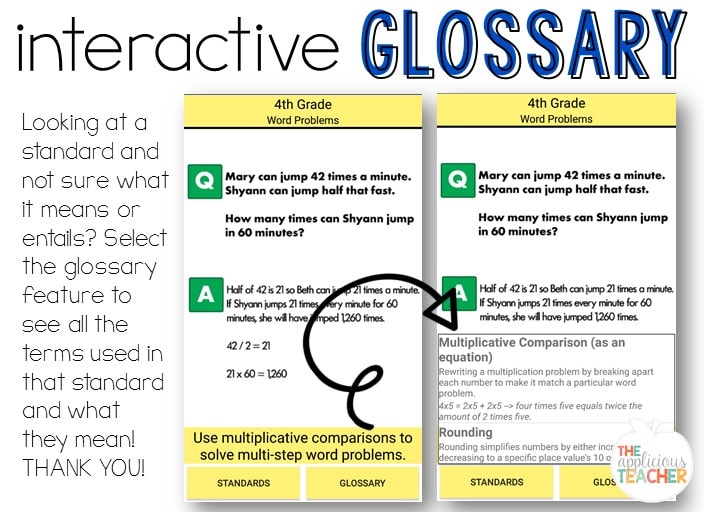 But, as a teacher, I really like the interactive glossary feature. If I'm looking at a standard and I'm not really sure what some of the terms entail, I can select the glossary tab at the bottom of the screen. This gives an in-depth explanation of the key terms related to that skill,  as well as examples. Now I know what multiplicative comparisons are as they relate to multi-step word problems. WHEW!
Visuals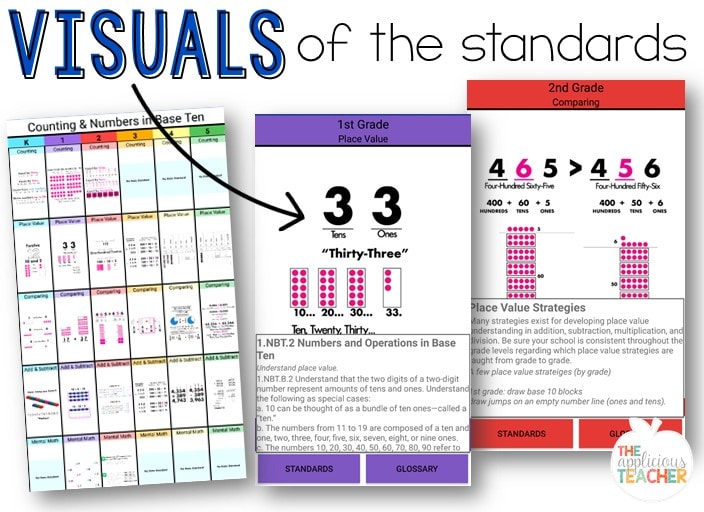 One of the unique features of Exploring the Core is the visuals they provide of the standards and skills. This is a huge piece for parents and teachers. Many times the simplest concepts get lost in educational jargon. Attach a visual to  the skill and there is little room for ambiguity. The app also includes this amazing visual standards chart that gives you a glimpse of a certain skills across all all grade levels. Simply navigate from the skills tab to your desired skill. Then, you can select the standards you'd like to look at more closely.
As a teacher, I like that I can swipe through the standards and see the prerequisite standard as well as the proceeding standard. This allows me to differentiate my lessons by allowing me to see what background skills my students have or maybe lacking.  I cam swipe right to glimpse at the proceeding grade level's standard and make sure I'm supporting my students to be successful with the next step in the progression. I also love that this feature can be used to help with vertical team planning. So many of our skills build upon each other and many teachers want to support the growth progression. This can help simplify that process!
An App Well Done…
Exploring the Core is a well designed app geared towards helping parents better understand the Common Core Math Standards. But, I see the value in this app as an educator. The ease of navigating the standards across grade levels and the visual aides makes it a must during my planning. Good-bye packets of Common Core Standards!
As easy as this app makes navigating the math standards for parents and teachers alike, it did leave me wanting. Although the math standards are important, I find myself wanting to check out the ELA strands.  As a teacher in a mandatory retention state, those reading standards are so important.  I also wish that the app wasn't limited to only grades k-5. Why leave out those ever  important middle and high school math teachers?
What's Next…
I shared these concerns with creator, Greg Mullen and he enlightened me on some growth projections for the Explore the Core App. Some of these plans include adding in the ELA standards and expanding the grade range to k-8. Whoop! Reading teachers are rejoicing! He also mentioned that plans for other subjects are in the works.  Maybe I can convince Greg and his team to go to k-12? Considering the Common Core standards are designed so that each previous standard would support the 12th grade standard, I could see how this ultimate understanding would benefit teachers and parents alike. Something to consider, Greg, something to consider!  Until then, I'll be patiently waiting for my app update for those Reading strands. My teacher brain thanks you and your team for designing this app.
Ready to grab this app for yourself? Click the picture below or search "Exploring the Core" in the App Store or on Google Play.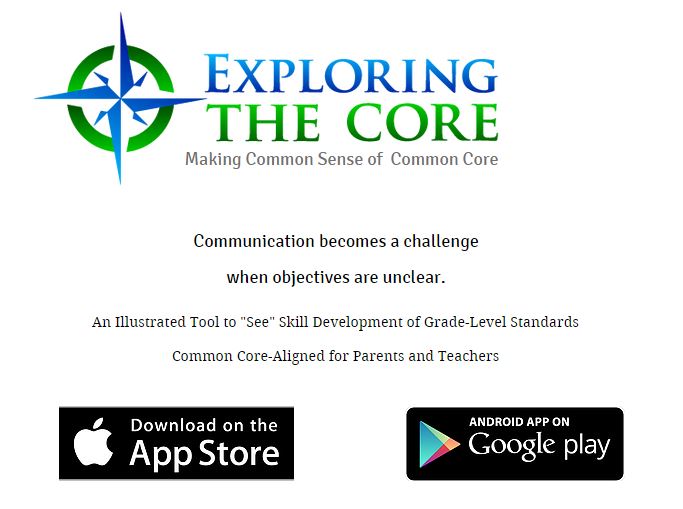 Tip: Having trouble finding this new app? Put quotations around the title. That will pull up the app instantly!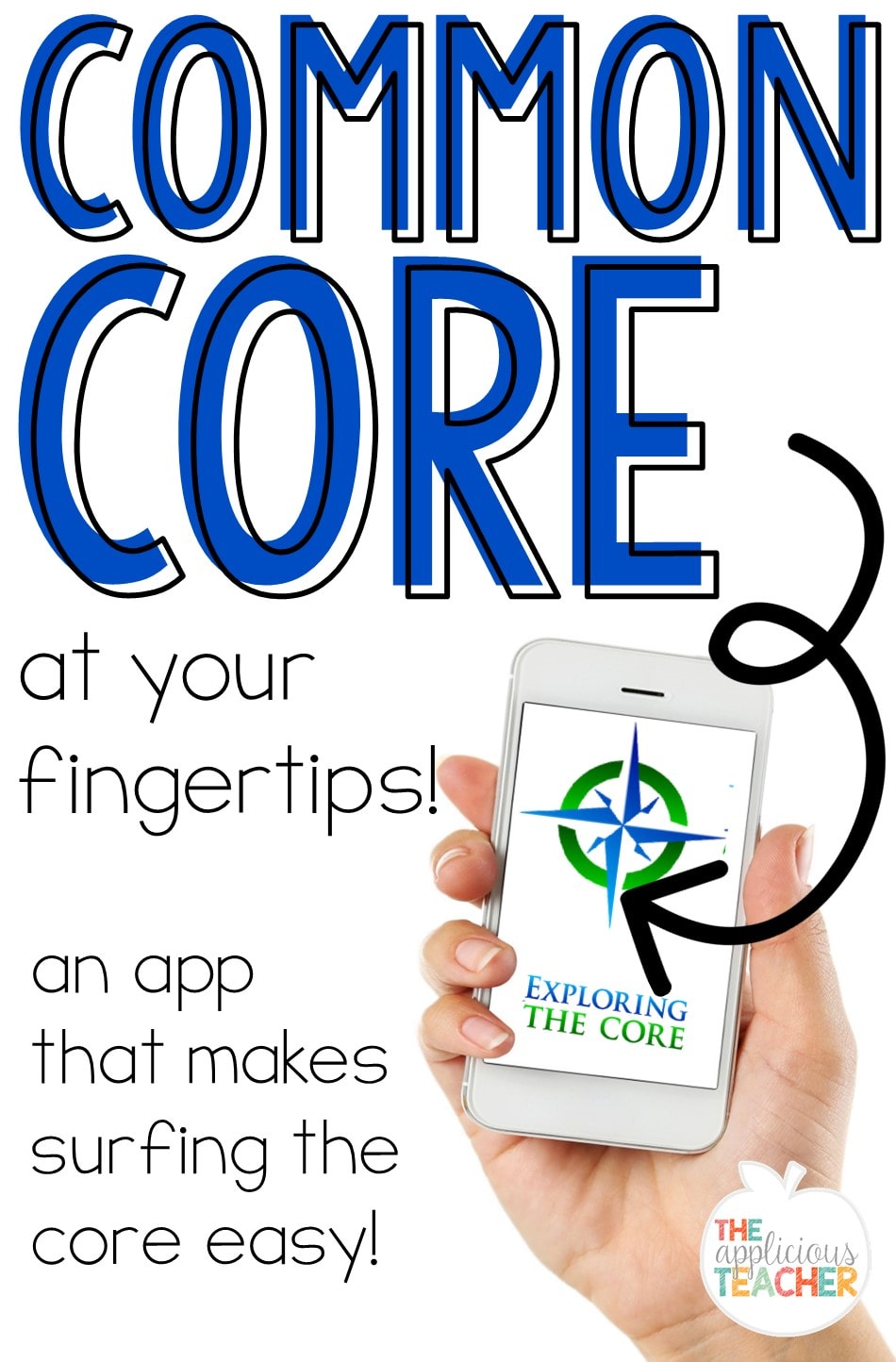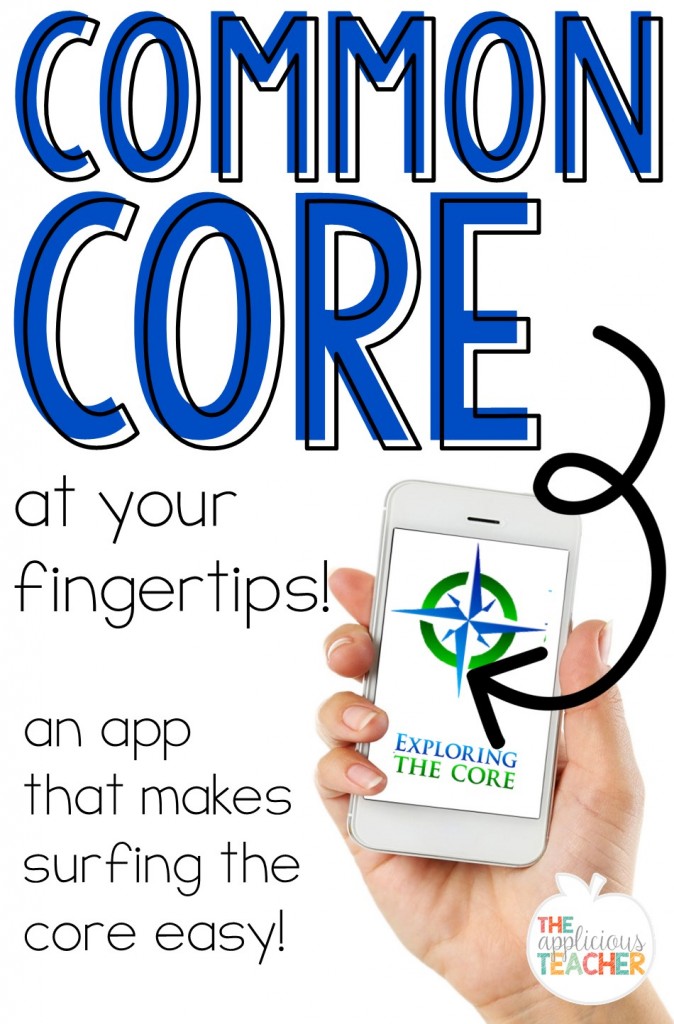 *Please note: I received compensation/and or free access to the product in exchange for writing this review. Although this is a sponsored post, all opinions are my own.
Sign up to snag these!
Receive all these classroom management tools right to your inbox!