The biggest concerns I hear when it comes to teaching reading comprehension in a digital classroom are… 1) Am I engaging my students? And 2) How can I be sure I'm reaching them? And those are certainly challenging when you're trying to teach through a computer. In a classroom, you know when a student is engaged because they're listening to you or you can see it in their face…their answers… it's immediate. The feedback is right there. But, it's really hard to connect with your students when it's through a computer, I totally get it! This digital learning thing is a challenge, but those challenges are something we can overcome!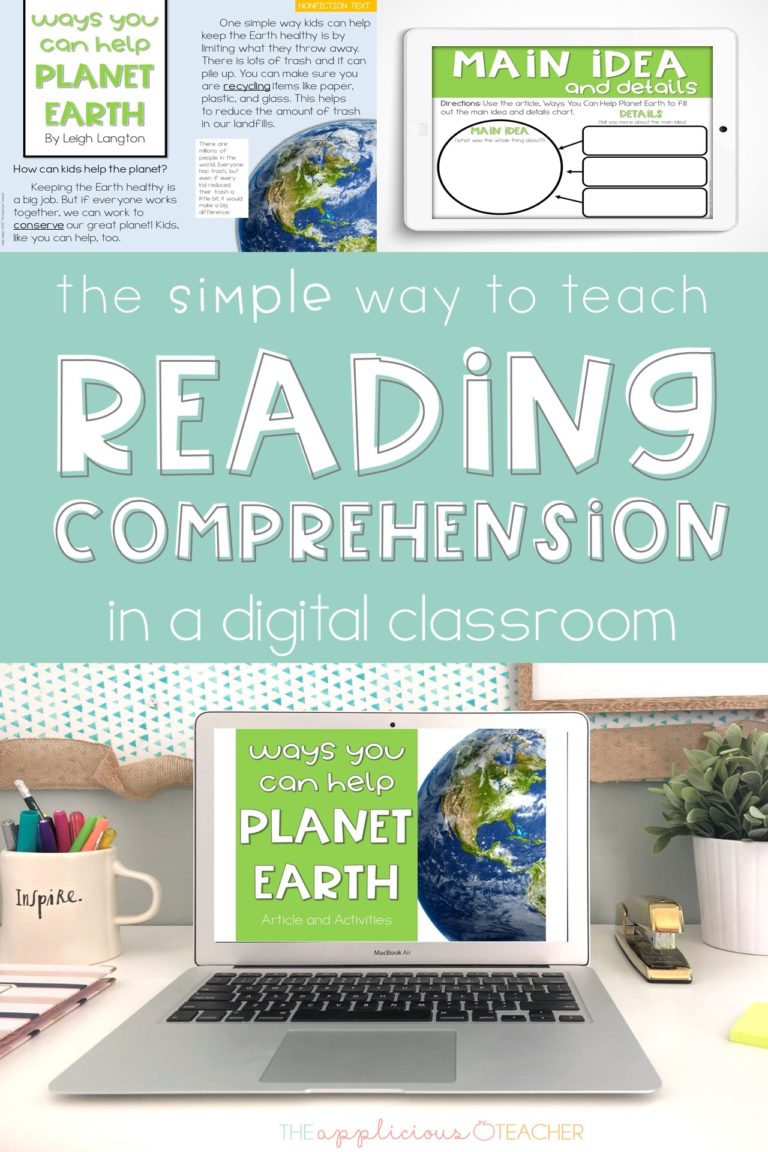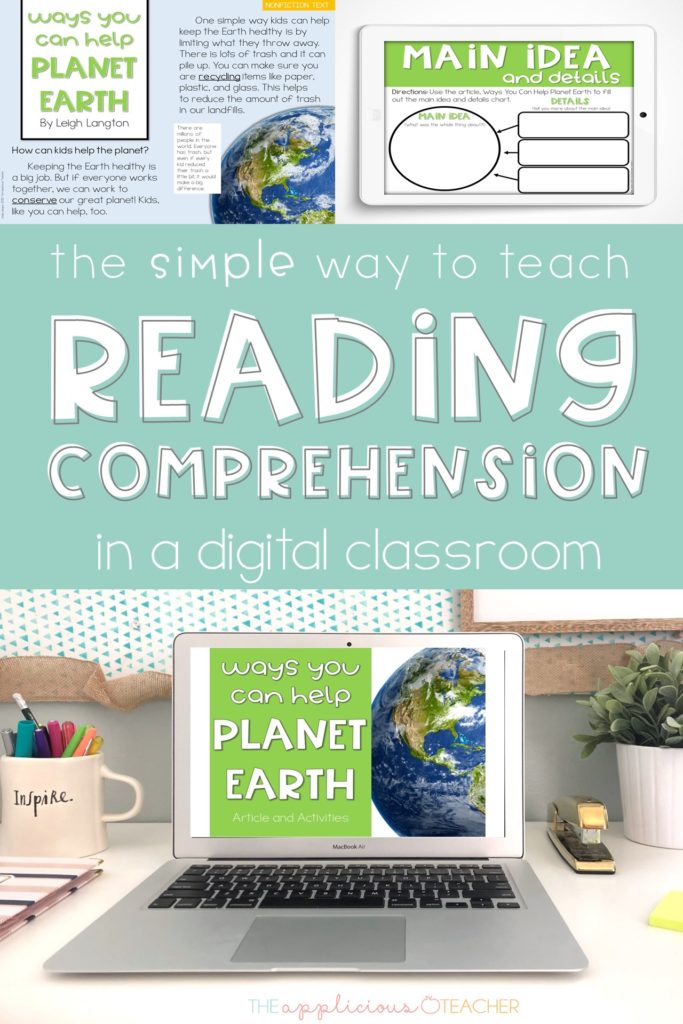 Today, I'm sharing how to virtually teach reading comprehension using Digital Reading Comprehension Mini-Lessons. This is a simple and easy to use product that will help you easily connect with your students and keep them engaged all while they are working on their reading comprehension while at home. (Yes- that's a mouthful, but honestly,  they really do!) 
No time to read today? Click here to watch the video!  
Okay, let's dive in. Now, these Digital Reading Comprehension Mini-Lessons come as a bundle unit or can be purchased separately. These particular ones are geared for a science theme. 
My favorite is all about a butterfly's life cycle and it's called "From Egg to Butterfly." Right off the bat, you know that this is going to help engage your students because it's a familiar and high-interest topic for most of our readers, AND it's content-specific, driven by science standards and science books.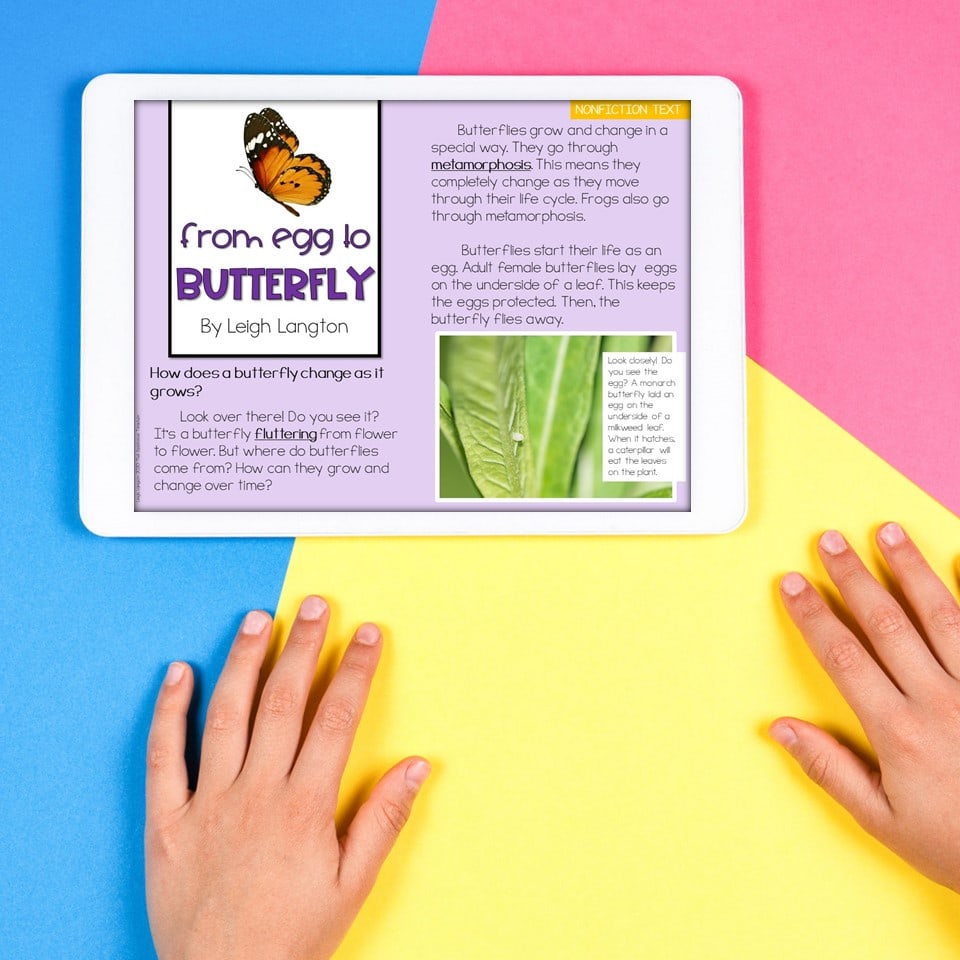 You can grab this Digital Reading Comprehension Mini-Lesson here!
Ways to Use Digital Reading Comprehension Mini-Lessons
These Reading Comprehension Mini-Lessons Units are designed to be used exactly how I would want to use it in a classroom: flexible!
Here are some suggestions for how you can use these Mini-Lessons in your classroom…
Part of a mini-lesson that you push out for reading in your digital classroom. 

As part of your small group instruction. 

 Independent activity as part of your small group rotations. 

Use as a science extension. Each lesson focuses on common science topics. So, even though it's reading comprehension, it crosses over to science. (You know, I love it when like our curriculums can meet and just love on each other!)
Closer Look at Digital Reading Comprehension Mini-Lessons
The Teacher File:
Let's start with the teacher file. It tells you what's in the file and includes a suggested lesson plan, which follows a close reading routine.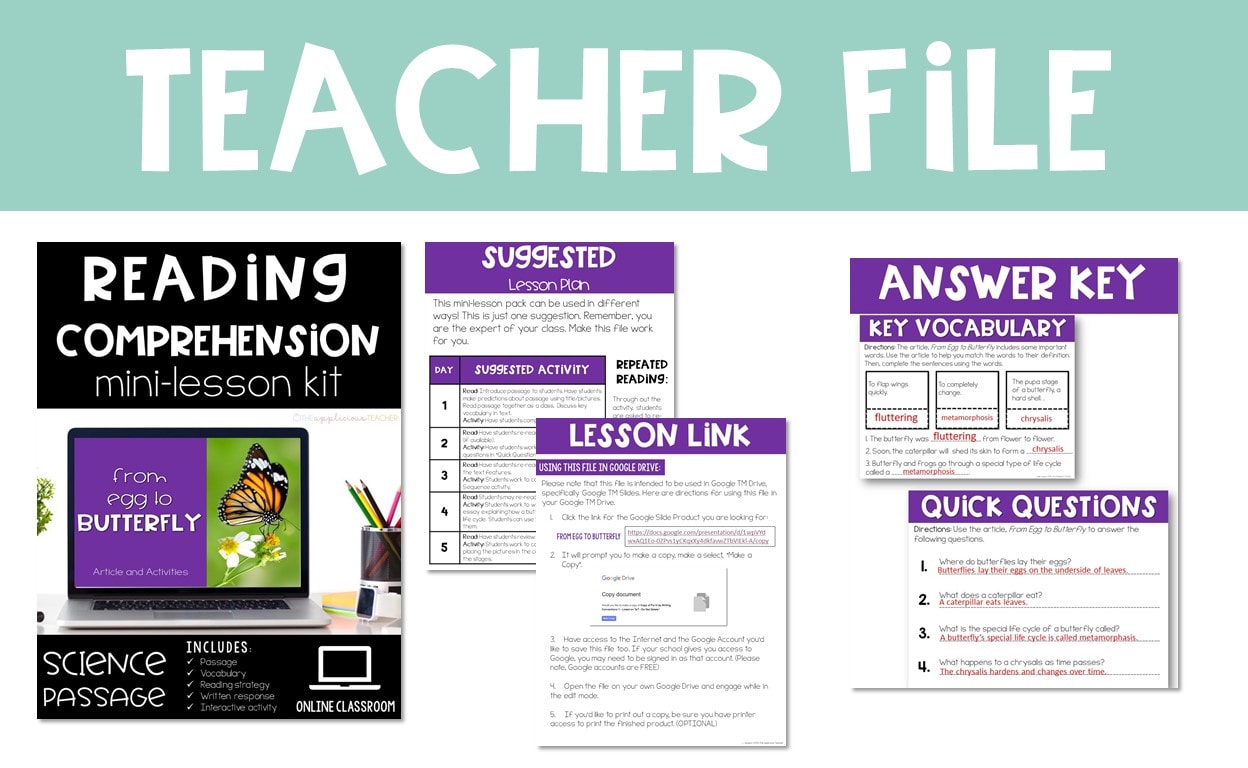 Now, you know I am a huge believer in using a close reading routine, whether it's through reading repeated passages or looking through books.
Here's the why:
When we do a close reading or reread texts, we allow the text to tell us its secrets.
You know, when we do just one read, we're really just hitting the surface of a text. But, once we actually start looking at it a second, third, or even a fourth time, we're really starting to see the magic that's happening under there… the author's craft that's happening.
We're looking at more than just the main idea and details. We're looking down into deeper into the vocabulary, into the nuances that are there. And so, that's why I love close reading. And in this pack, if you follow the suggested lesson plans, you're following that close reading routine. 
So there's a lesson plan page, as well as an explanation on how to put this in your Google drive. If you don't use Google classroom, then you can download it as a PowerPoint to use in any virtual meeting setting instead. Once it's been downloaded you can also print it out. Don't worry! There are instructions for how to do all of that! Plus, there is an answer key included making it super easy to spot-check answers. 
Organization
One of the best things about this Reading Comprehension Mini-Lesson is it's broken up into small chunks. Each day's activity is only about 15 minutes! Perfect for a traditional classroom where you never seem to have enough time for ANYTHING. This time frame also makes it ideal for your small group instruction. 
For digital learning, the short instructional time is perfect, especially for me as a mom! I know my son loses interest pretty quickly. So, I love the idea of something that's quick and easy. It's not draining on a student, but it's also engaging enough to keep their attention. I know a lot of us are worried about our students not completing a lot of stuff. When it's this easy, and this short, you're definitely going to have more participation and a lot more completion of lessons. 
The Student File
Let's go over what your students will see with the student file.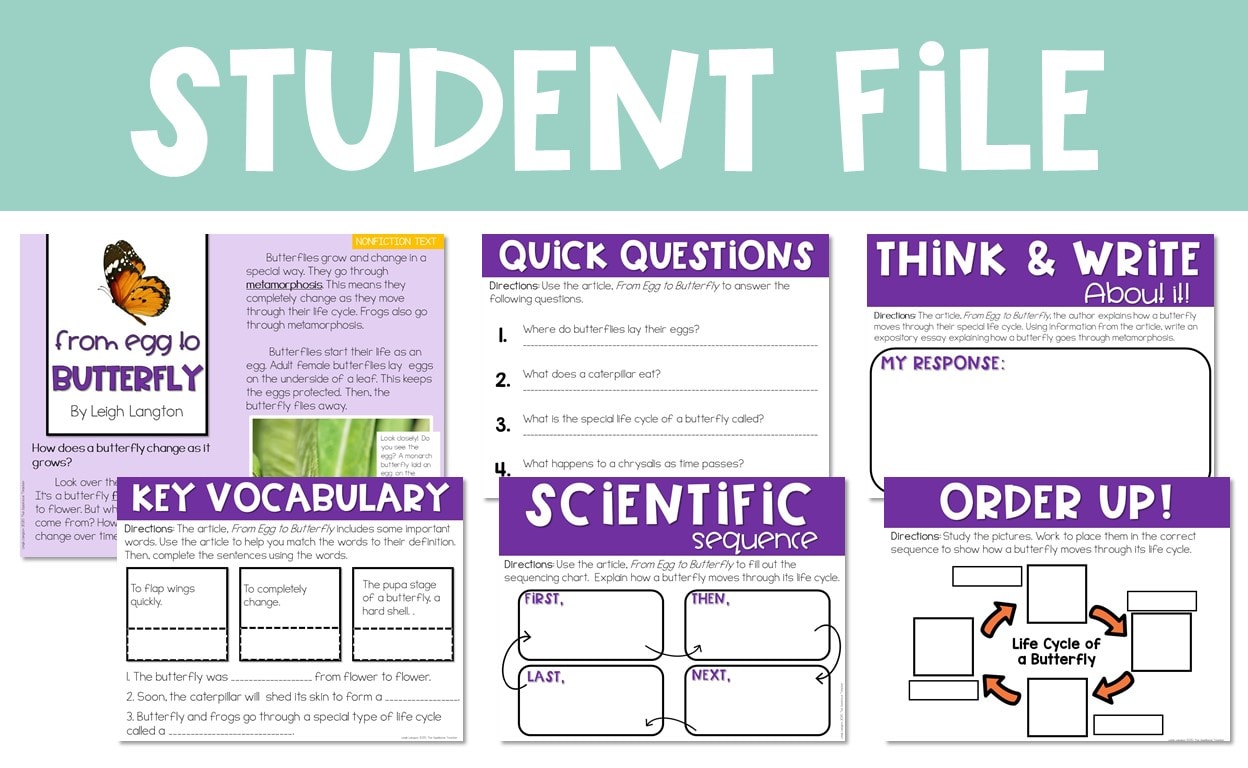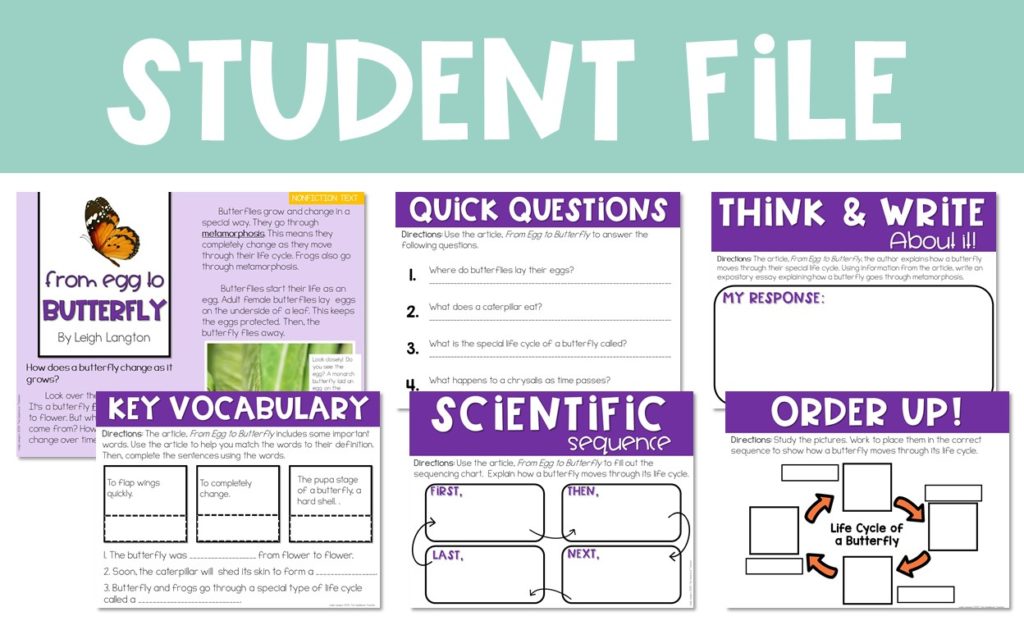 (You're going to need to make a copy into the Google account that you want this to be accessible in.)
The student side is created in Google slides. This makes it all digital-friendly so your students do not need to have anything printed out. It can be accessed on a computer, on a phone, or on their iPad. All they need to access it is the Google suite – well, Google slides specifically. Obviously, if they have Google classroom, then they won't even need that because it'd already be embedded into there. 
So for the student part, you'll have a title page, directions, and then you're going to have a passage in science based on standards. There is one, for example, that is about how animals can grow and change, and observing that process. Specifically, we're looking at a butterfly's life cycle. So here we can see the passage, and then there are vocabulary words that students are able to focus in on. There are also engaging photographs and text features. 
There is even a little video for them to watch, which I just love. There's a time-lapse video of a caterpillar actually shedding its skin and turning into a chrysalis! 
Digital Reading Comprehension Passage
Then, they can just read the rest of the passage, which is short and sweet. This isn't something that's going to take a student 45 minutes to complete. I've done this on purpose for a couple of reasons…
First, we're going to be reading this passage a few times if you're following the suggested lesson plans since they use close reading. Second, I want students to be able to do this on their own. It's designed for 2nd, 3rd, and 4th-grade students, which means they need to be able to read it and access it on their level. And I know that means we have a wide variety of readers. Some will be able to tackle this text with just the right amount of challenge, for others, it may be too easy, and still other students it may be a little far out of reach just yet. But, in general, the length of it makes it accessible for the majority of your students. 
Content-Based Vocabulary
Next, there's a vocabulary exercise for them to complete. And here you can see that students can pull over and match up their vocabulary words from the text. They can always go back to the text to spot-check what each of the words means. And then they can actually type their answers to complete the sentences with the vocabulary words. 
Text-Based Questions
There's also a question section that asks general questions, which is a great resource that you can use for student groups. It's truly a great comprehension check. It asks them questions about the text vocabulary and specific details throughout the passage, things like that.
Reading Comprehension Strategy for Digital Classrooms
All of the science passages also include a specific reading strategy. For example, the scientific sequence standard that we see in 2nd through 4th grades. So, students will understand a text that shows a scientific sequence. For example, in the "From Egg to Butterfly" Mini-Lesson, students will follow the flowchart and then explain the different steps in a butterfly's life cycle using transition words – first, next, last, etc. 
Written Response
There's a written response, and they're actually going to use the information they've gathered already to create their written response. So they're really just using information we've already gone over to actually now formulate it into a mini-essay. And here is where they can just type in their answer. Plus, they can click back and actually see what they've typed. They could copy and paste, too, if they need to. I always just would tell students to go back and make sure that their sentences, well, make sense! 
Interactive Learning Activity
There's also an interactive activity in all of the units because this is a way for them to really get creative and apply what they've learned! So, for example, they're filling out a chart which details the life cycle of a butterfly by clicking and pushing the different images over the cycle parts. And they would type in the name of each of the stages. This really ties it all together for them!
Pro-tips:
If you don't want to push this entire product out to the students, you can create a copy, then change that copy by deleting out slides. Just make sure you rename it so you're not confused. So, maybe you only wanted them to do the questions. You could just delete out the other sides. 

Or, you could make different copies so that day 1 might just be looking at that key vocabulary. Day 2 might just be answering those questions. And then day 3, we're able to focus in on a specific strategy, like sequence.

 

Also, if you want to break it down and just have them do one slide at a time, it's literally a 10-minute lesson. They read the passage, and then they complete the assigned slide, and bam – that's it!
Grabbing this resource for your classroom!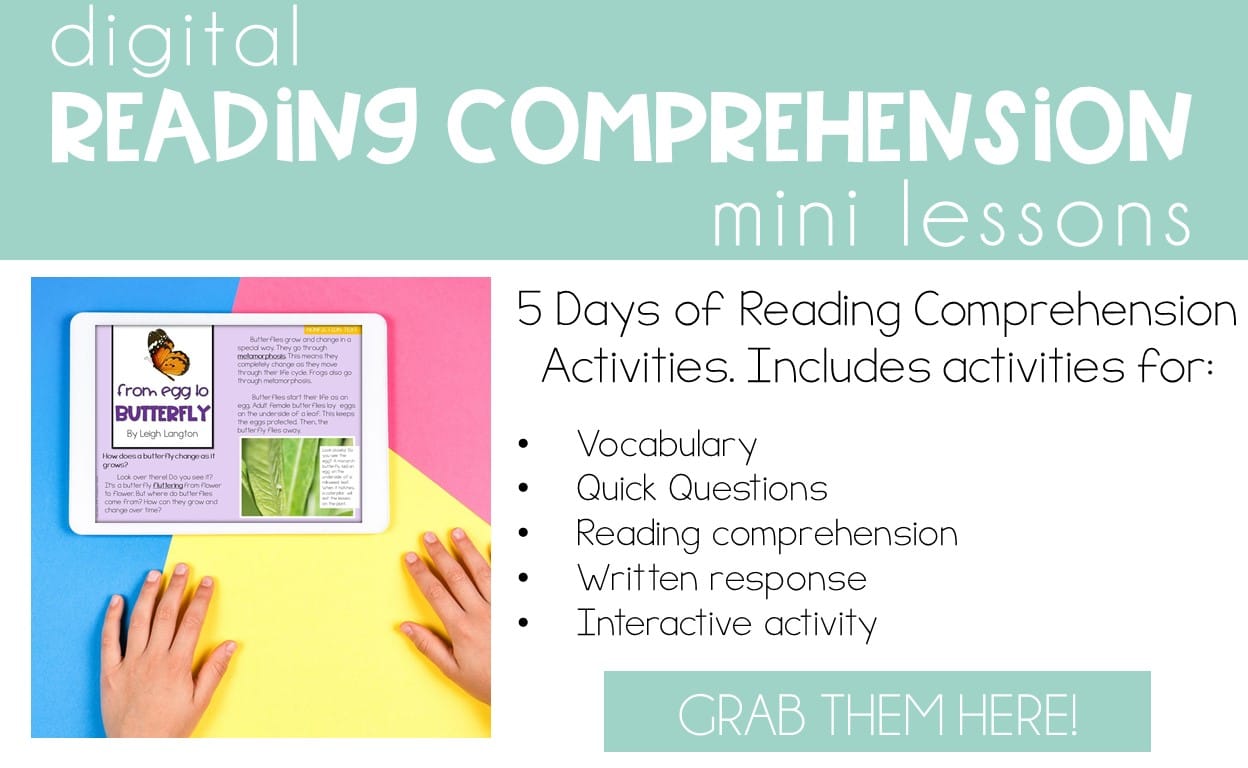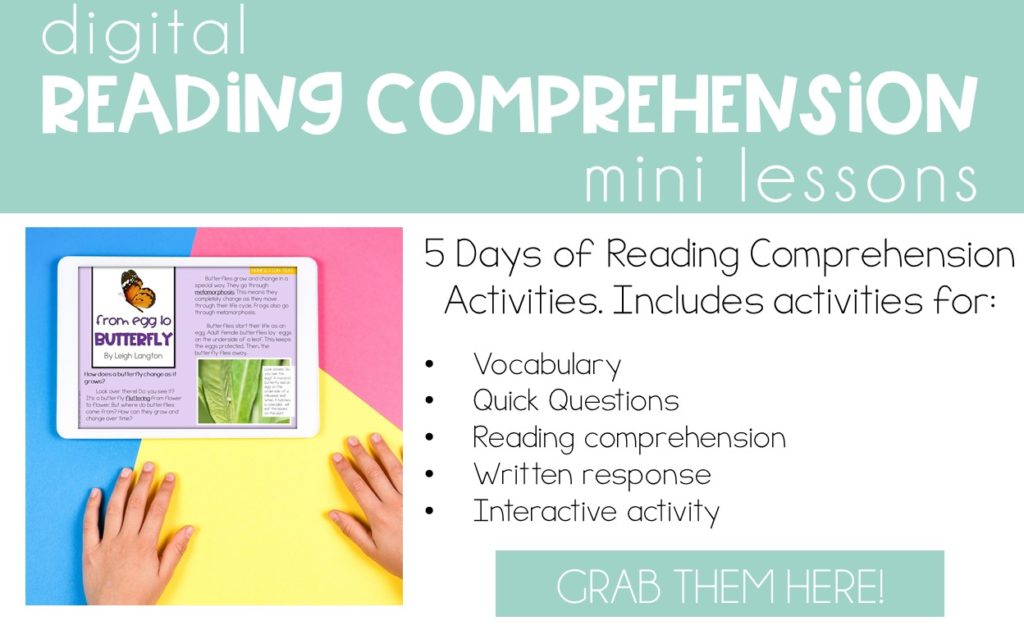 Want more than one week? Check out the growing bundle here!
So, there you have it!  My hope is that, through using these Digital Reading Comprehension Mini-Lessons, you are able to feel more confident about reaching and engaging your students and that you are better able to set them up for success in their daily classwork. This Digital Reading Comprehension Mini-lesson Pack is the simple way to teach reading  
Okay, your turn! Have you used one of the Mini-Lessons in your digital classroom yet? Did your students love it? Let me know how it went in the comments!
More Digital Learning on the Blog!
Need more ideas for digital learning in your classroom? Check out the links below!