One of the questions I've been getting the most right now is if I am going to be converted my Close Reading All Year units into digital classroom friendly versions and honestly, the answer is… no. (Wincing!) And that's hard for this people pleaser to say!  But before you stop reading, hear me out on why you don't need ME to convert these traditional PDFs to Google (TM) Classroom slides. The beauty is… that you can take what you need from my book based units and make them work for your new digital classroom, all without having to wait for me! And it's so much easier than you thought! So today, I'm sharing a step-by-step guide for using these beloved units during this time of crazy time of uncertainty and distance learning.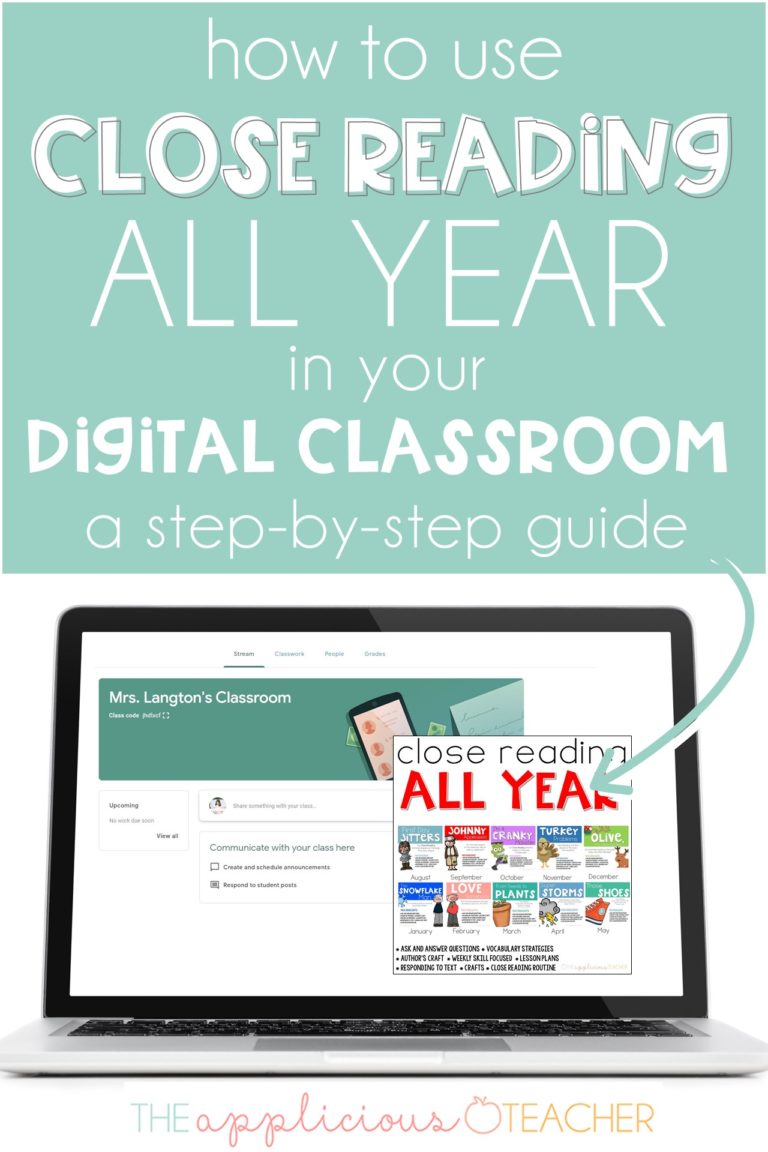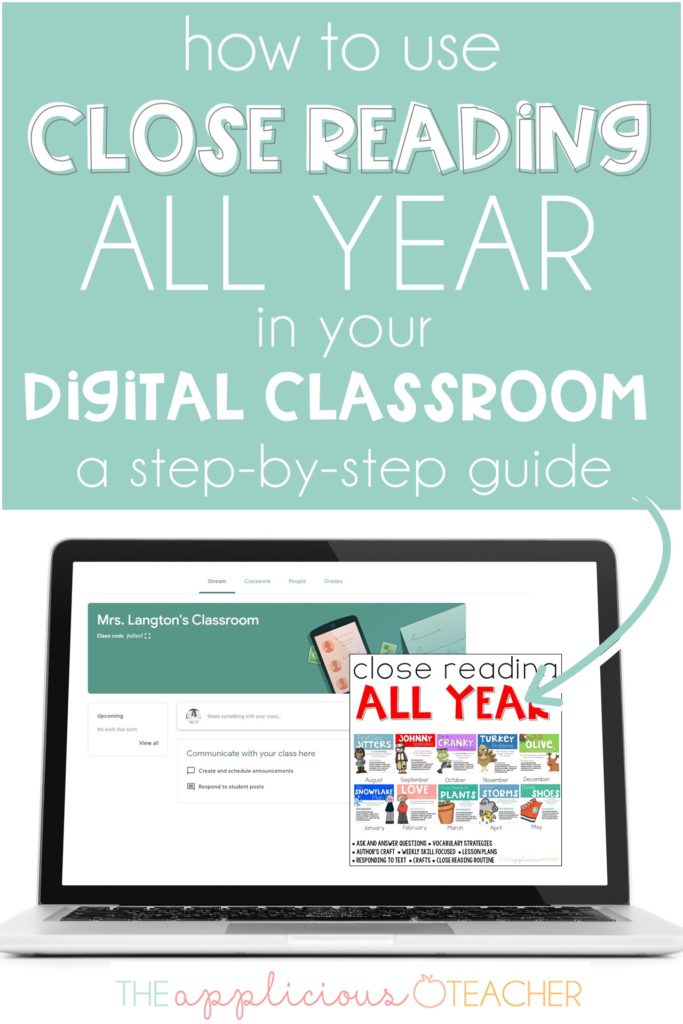 What Are Close Reading All Year Units?
Ok… before we start the guide, let's just make sure you understand what a close reading unit is!
My Close Reading Units are literacy-based units designed to help you create meaningful and deep (dare I say, rigorous?!) learning as you read well-loved books. Not only will your students gain a better understanding of the author's craft, but they will also learn to see the magic that can come from a book.
Here's a quick overview of what every Close Reading Unit includes:
5 Day Lesson Plans
Question Cards
Standards-Based Vocabulary and Grammar-based skills
Standards-Based Reading Comprehension activities
Responding to Text activities with rubrics
Related Craft
Bulletin Board Letters to help you display your student's work at the end of the unit.
Close Reading in Your Digital Classroom
Now that you understand what each unit includes, you're probably wondering how this obvious traditional classroom tool can be adapted for digital classroom learning? and that's a great question! Let's break it down by each part so you can see exactly how I'd use each piece in my digital learning classroom.
Step 1: Close Reading Lesson Plans for Online Classroom
These 5-day lesson plans are done for you, which means, all you have to do is read them over and set up your week in your classroom. These 5-day lesson plans include and reading and a writing lesson. There's no guessing on how the progression through the unit should look. Or if the activities are standards-aligned and appropriate for your students. (These units are great for grades 2-4th). You can choose to do both every day, or just pick and choose which activities make the most sense for your students at that time.
To me, lesson planning is always the hardest part because you spend so much time curating ideas, then placing them in learning progressive order to scaffold the learning as you go. With these units, all the lesson planning is done for you, so all you have to do is do what you do best: Teach. Isn't it nice to have the hardest part done for you?
Step 2: Online Book Readings of Close Reading Units
One of the biggest drawbacks of online learning is there are no little cuties sitting at your feet as you share a new book with them. Sigh!
But, that doesn't mean you can't share the books with your students! All the books in my Close Reading Units All Year are well-loved and popular. That means all of them are available in digital form on Youtube.com or StoryLineOnline.com. Just type in the title you're searching for and you'll find video readings of all the books! (BONUS! If you own my Close Reading All Year Bundle, I've uploaded a document there with links to video readings of all the books online!)
From there, you can copy the link to the video reading into a lesson in your digital classroom. Once students have watched the video of the book, you are ready to have them start interacting with the text to build their comprehension, vocabulary, and grammar, or writing.
Step 3: Using the Question Cards in the Digital Classroom
Normally, you would use these question cards throughout the unit. I love having students draw out questions to ask the class. Obviously, that in-person part won't be happening for a while-sadsville! But, these question cards can still be used to build meaningful discussions in your digital classroom.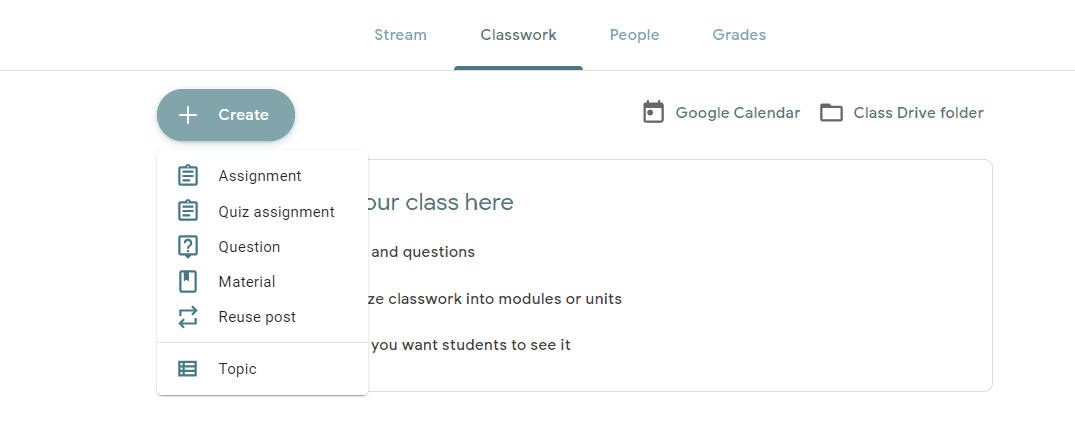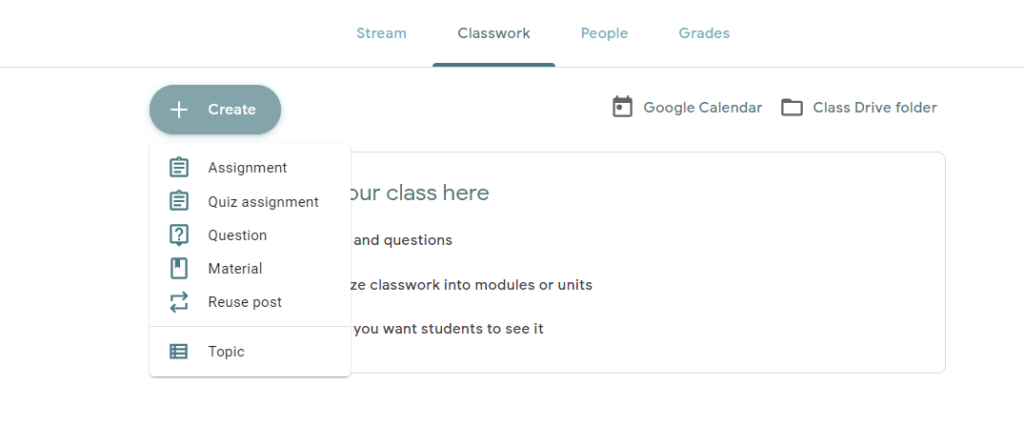 One way you could do that is by posting one of the questions in your digital classroom. Students can respond to the cards right there in your classroom. You can add links to the video and students can post their answers in the assignment.
Or pull a few question cards to guide the conversation in an online reading lesson.
Step 4: Using the Reading Comprehension, Vocabulary, and Grammar Printables
Each Close Reading includes a few pages that can be used to build your students' reading comprehension, vocabulary, grammar, or writing skills. Obviously, in the classroom, you would make copies and have students complete the pages over the course of the unit. But, in a digital classroom using these sheets looks a *bit* different. You have two options for getting these pages into the hands of your students:
Option 1- Print/Email Them Out- I've heard some schools are only using printed packets of work for the time being and these sheets are perfect to send home with the instructions on how to find the video. Alternatively, you are allowed to email the file to your parents and ask them to print out specific pages.
Option 2- Upload to a Digital Classroom- This option is digital based and will require a few *tech* tips to complete! But it's not hard and it literally takes just a few minutes! Let's discuss the steps on how you can upload just a few select pages of the Close Reading All Year unit (or any PDF really)  into your password-protected online classroom for your students to complete right there in the classroom (or as an option for parents to print out)

Open the PDF you'd like to use pages from. Scroll to the first page you'd like to assign students. Make sure you can see the full page in your view.
Open the "Snipping Tool" on your PC. If you're on a Mac, you can do a "screenshot". If you're not sure where to find the Snipping Tool, use the search bar to look for this amazing little tool!
Select "New" from the top. This will allow you to literally take a "picture" of what's on your screen.
Use the crosshairs to expand a box around the entire PDF sheet. You can always redo the snip if you didn't get everything you need in the first attempt.
Save the snip as a JPEG and save it into a file to be used later. I suggest you name it something related to the original file you snipped it from.
Do this for all the pages you'd like your students to work on.
From there, open a Google Slides file. Name the file to represent the name of the original file so you know what file this is! You could also upload the screenshotted files into SeeSaw. If you do that, just ignore the rest of this tutorial.
Then, adjust the page size of the slides by selecting: File > page set up. Adjust the page side to 8.5 x 11 or 11 x 8.5 if your file is landscaped.
Then, insert the snipped images as a "background" on the slide. To do this right-click the page. Then select "change background". This will allow you to make the worksheet picture the background of the slide and therefore, not moveable. Select the file, then image you'd like to make the background.
Add text boxes for students to type in their responses. You can add all the slides to this same file, or make individual files for your students. Don't forget to make a forced copy link to share with your students in your classroom.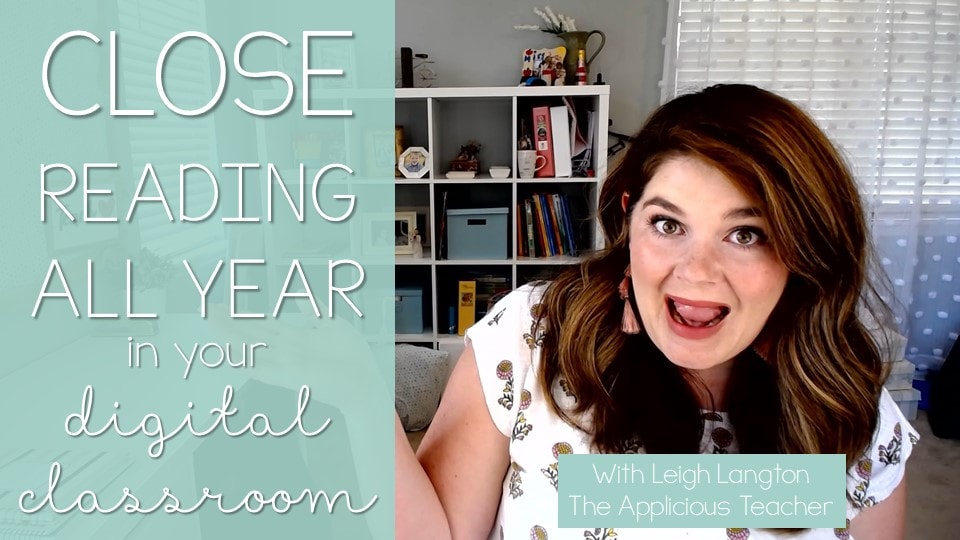 I know that seems like a lot of steps, but it really isn't and it allows you to pick and choose what you'd like your students to complete from each unit. I even made this tutorial video for you as a visual guide! (Oh and if you aren't already, let's pretend I'm cool and have a YouTube channel and you subscribe to the channel because I'm cool.)
Step 5: Responding to Text
One of my favorite parts of my Close Reading All Year units are the "responding to text" writing activities. Students use what they've learned throughout the week to formulate a response to the book. Each pack includes expository, persuasive/opinion, and narrative options for writing.
To make these work for distance learning, simply select the prompt you'd like students to complete. Once again, this can be done by just creating an assignment in Google (TM) Classrooms and uploading an empty Google Sheet for students to type in. You could also upload the snipped imaged (see step 4) as an attachment and have students print out the sheet to write on at home. My teacher's son has done this quite a few times and I like the handwriting/actually writing practice it provides. She just has us snap a picture and send the picture of the completed work to her.
I know some families lack the supplies to complete this step, so another option would be to upload the printable to Google (TM) Slides like we did for the printables and add text boxes for the students to complete the writing activity online.
Each project includes a writing rubric. Use this rubric to help guide your students in completing the best writing they can. Some schools are requiring grades, this simple rubric makes it easy to grade your students' writings.
Step 6: The Craft
As a teacher, I love the craft portions of Close Reading All Year. It allows students to use their creative sides and they love the mental downtime this part can bring after a week of intense brainwork!
To have your students complete at home, once again, take snips of the pieces needed and the finished product. Then, upload as an attachment to your assignment in your online classroom. Students can then print and assemble the craft at home. Have them share their writing and craft as an end of the week wrap up in Seesaw by making a video of themselves, or use as part of a classroom meeting using Google Meet. Either way, your students will love completing this color, cut, and paste activity!
Step-By-Step to Close Reading Units in Digital Learning
So those are the steps and suggestions you could take to make these amazing units work for you! You can check out all the units I have in my store here.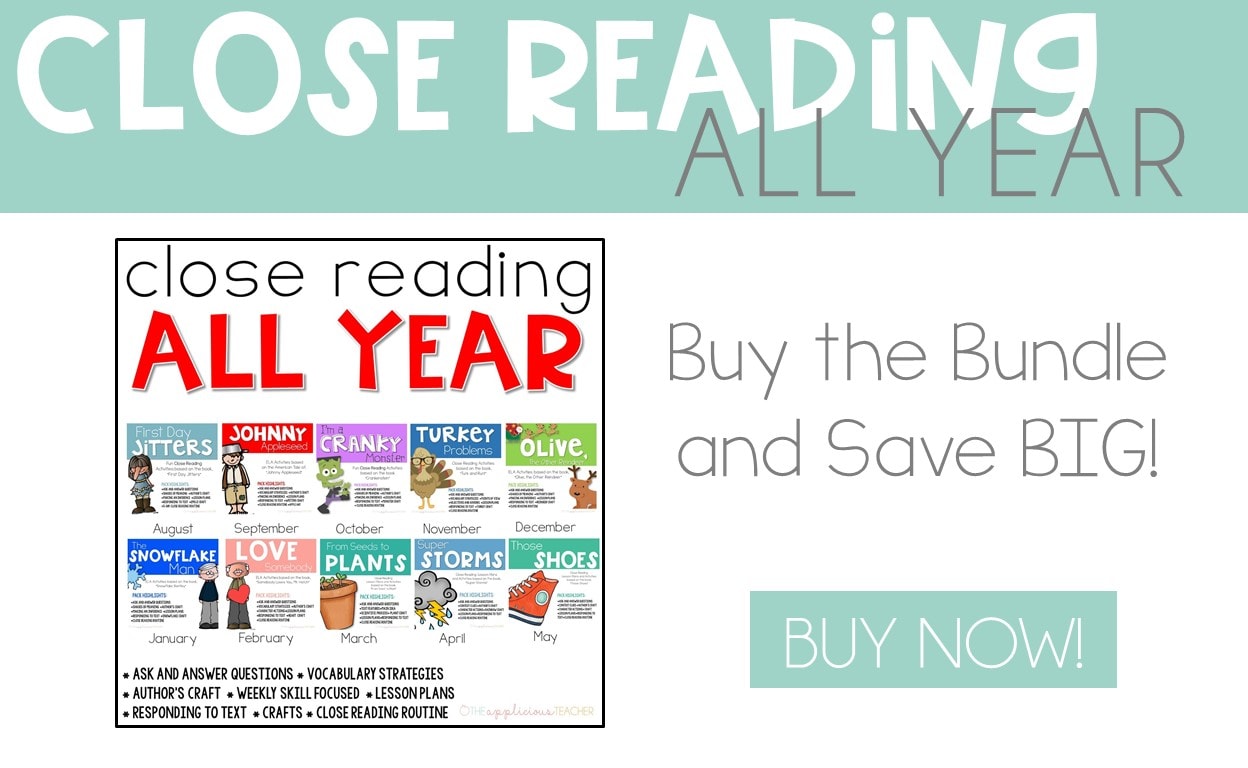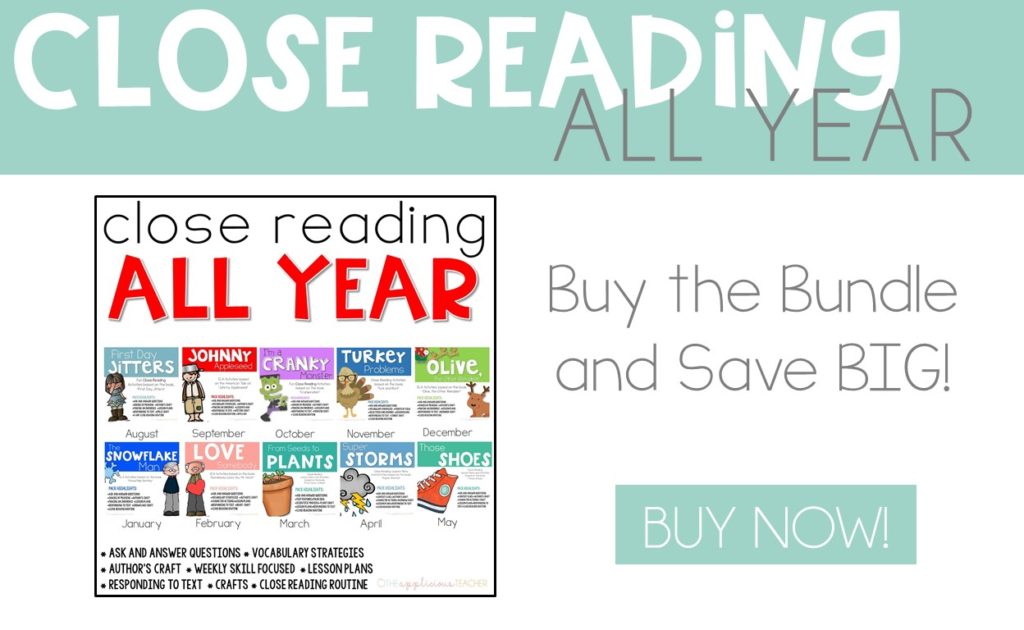 Don't forget, if you have the "Close Reading ALL YEAR Bundle" be sure to re-download it so you can snag the video reading links document!
Have questions, concerns, or comments? Be sure to post them below! I always work to answer questions I get!
More Close Reading and Online Learning
I know this is troubled and uncertain times and I'm here to help! Check out the links to more posts below to learn more about a Close Reading Routine, see units in action, and discover new resources to help you succeed in this Distance Learning Age.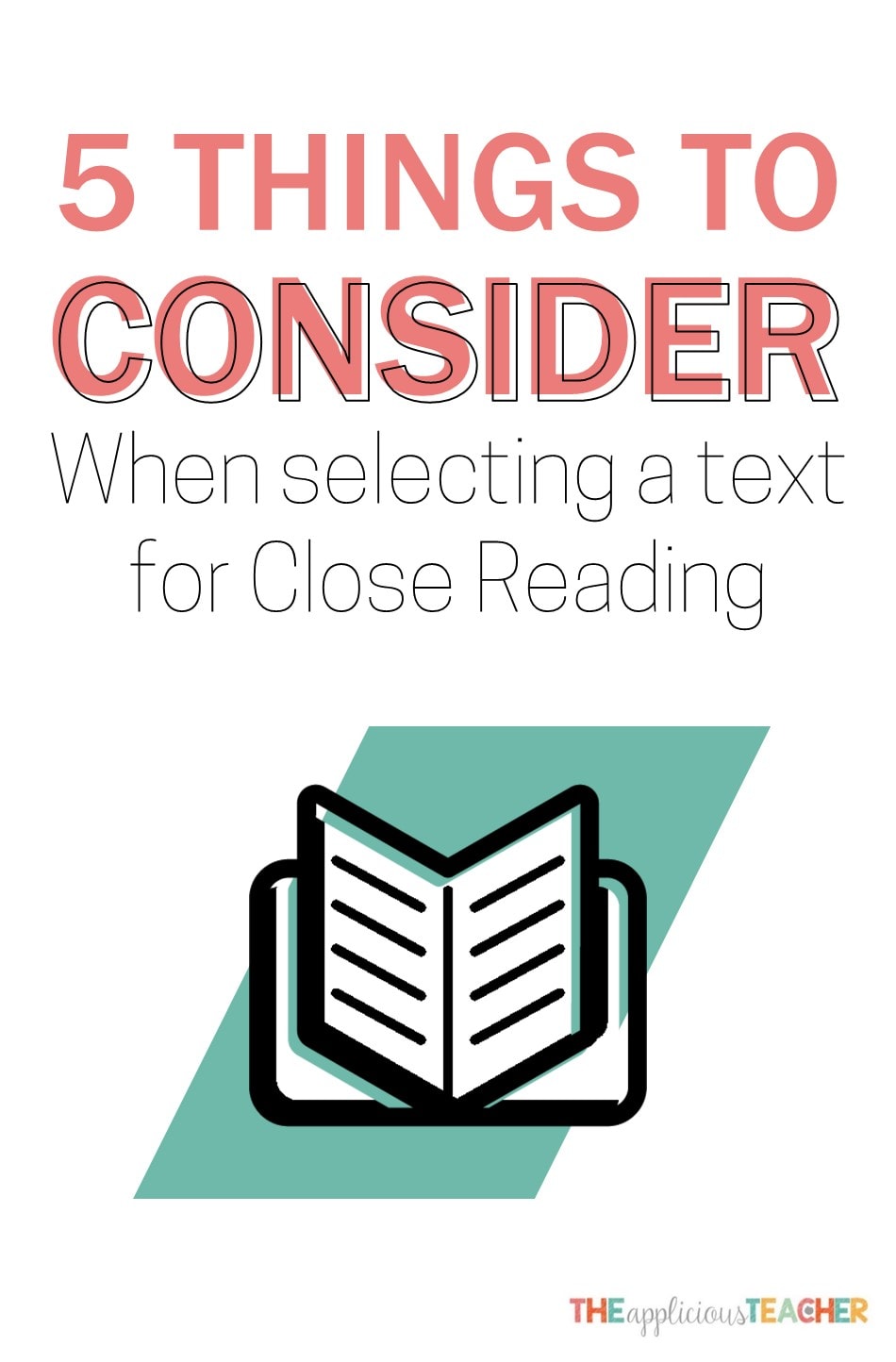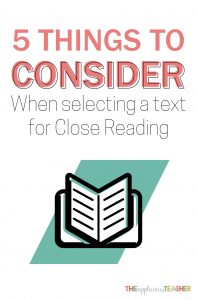 Sign up to snag these!
Receive all these classroom management tools right to your inbox!