Make this easy three-ingredient Leprechaun slime for your students as a fun St. Patrick's Day activity!
What's green and gooey and full of Leprechaun magic? Leprechaun glitter slime, that's what! If you're looking for an activity to do with your students this St. Patrick's Day, this one is fun, easy, and full of some Leprechaun mischief and magic!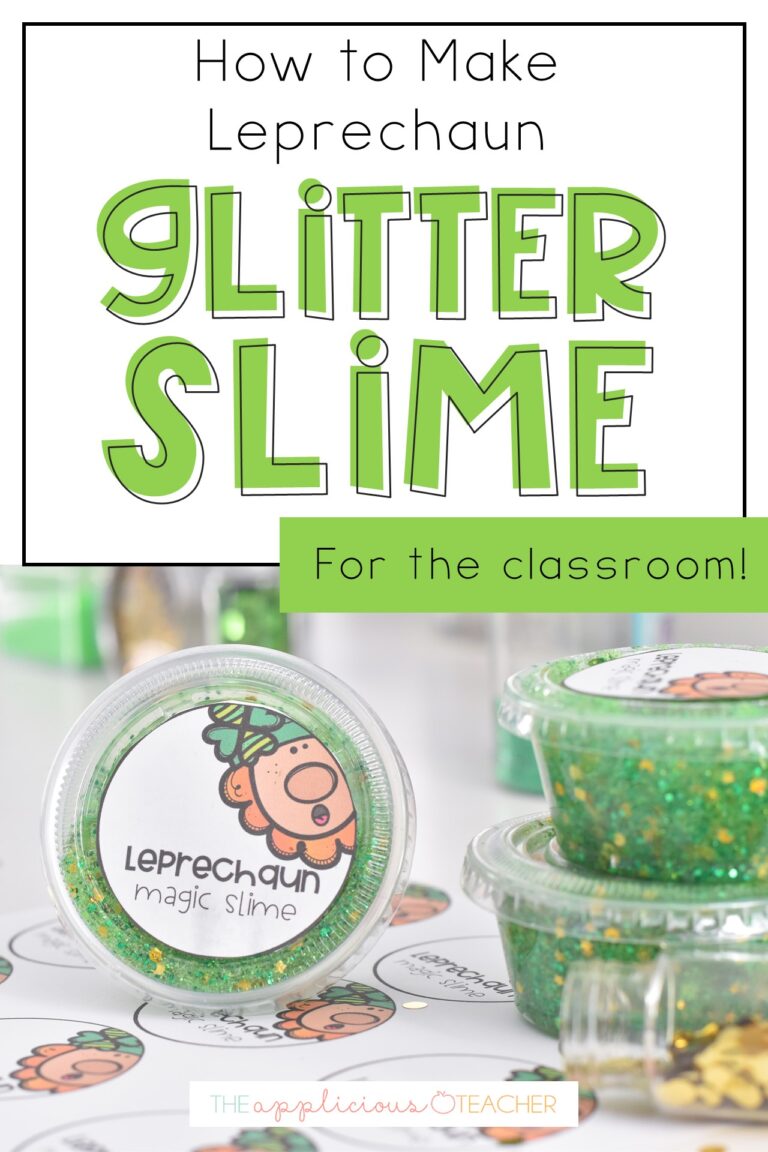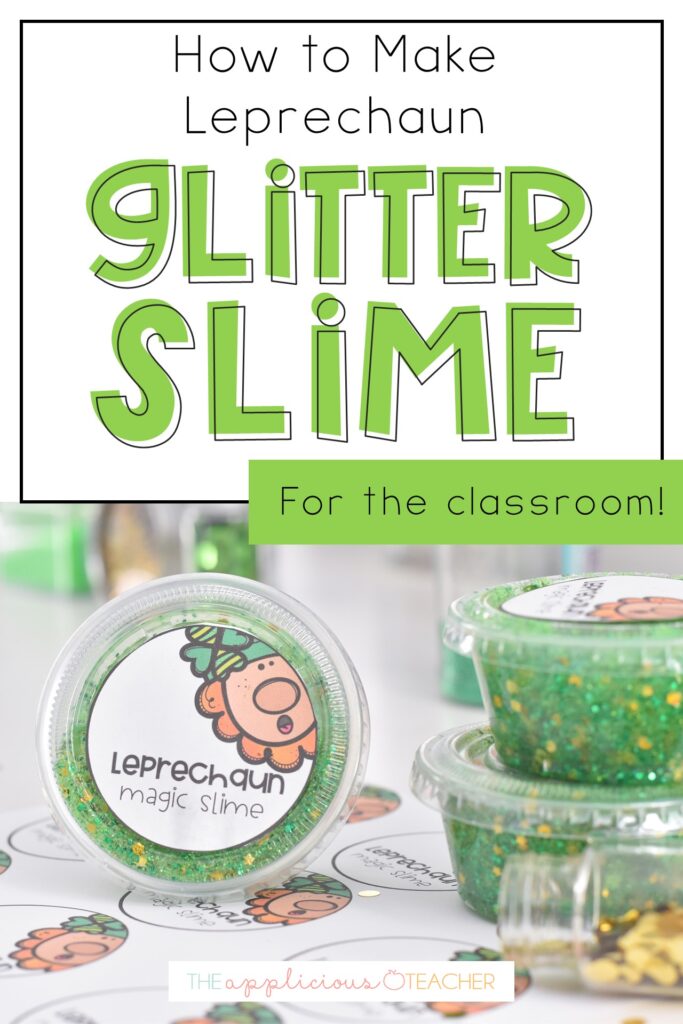 Please note that this post includes some affiliate links. Each time you click and purchase an item that I've included in this post, I receive a small fee in return. These small fees allow me to keep this website full of amazing content for you! To read more about my affiliate networks, please check out this page.
How to Make Leprechaun Glitter Slime
So, making slime is actually pretty easy (and the countless YouTube videos make it even easier!). Today, though, I'm sharing an even easier way to make this fun slime activity with your students.
Supplies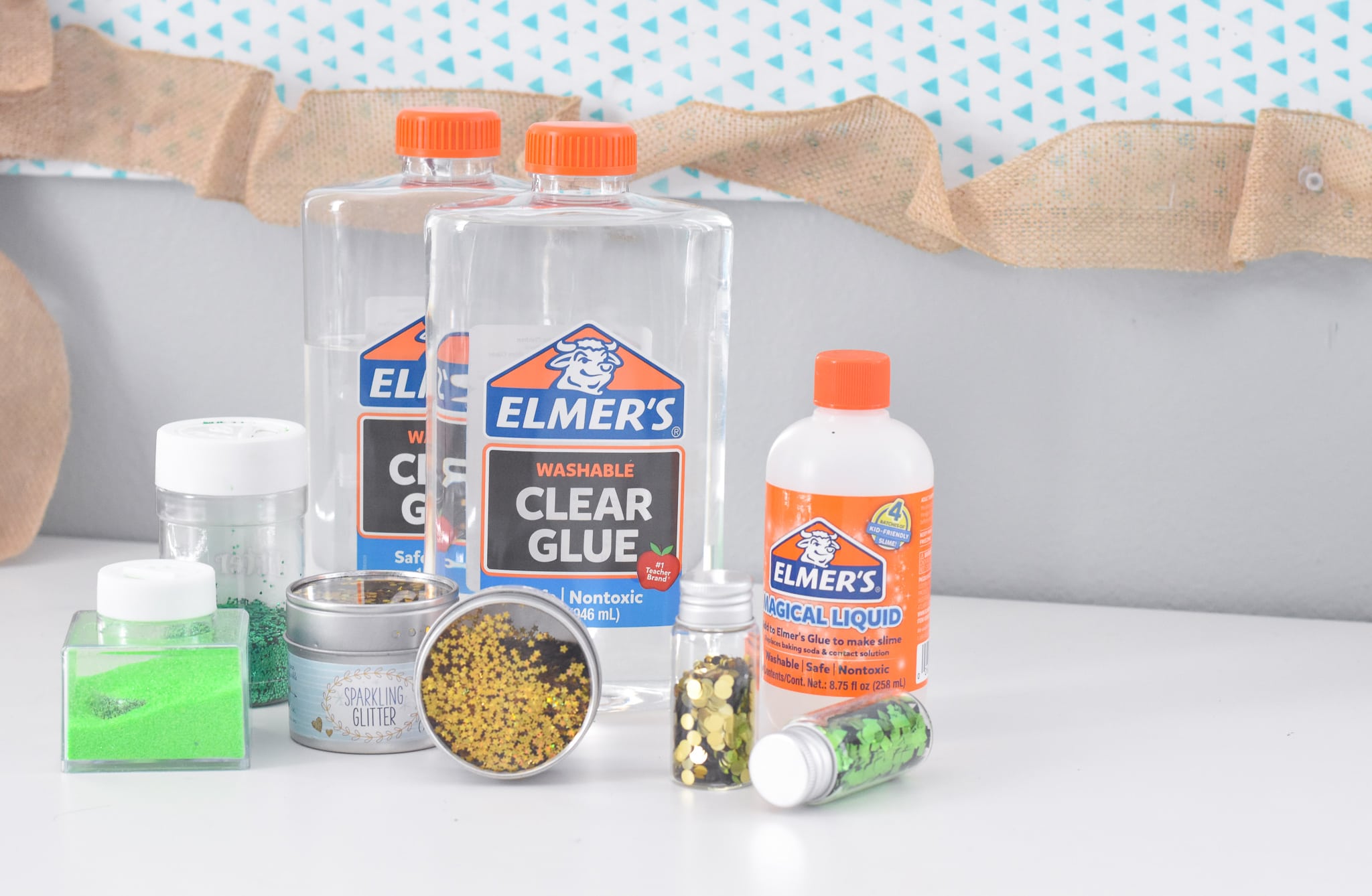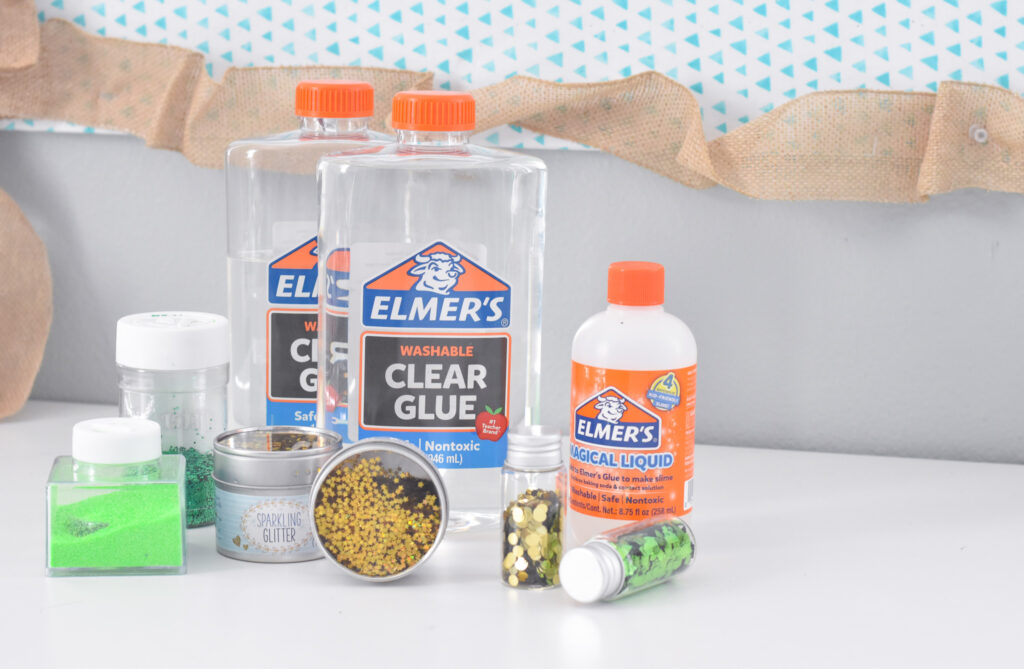 For this magical green glitter slime, you'll need a few supplies.
Step-By-Step Directions for Making Leprechaun Glitter Slime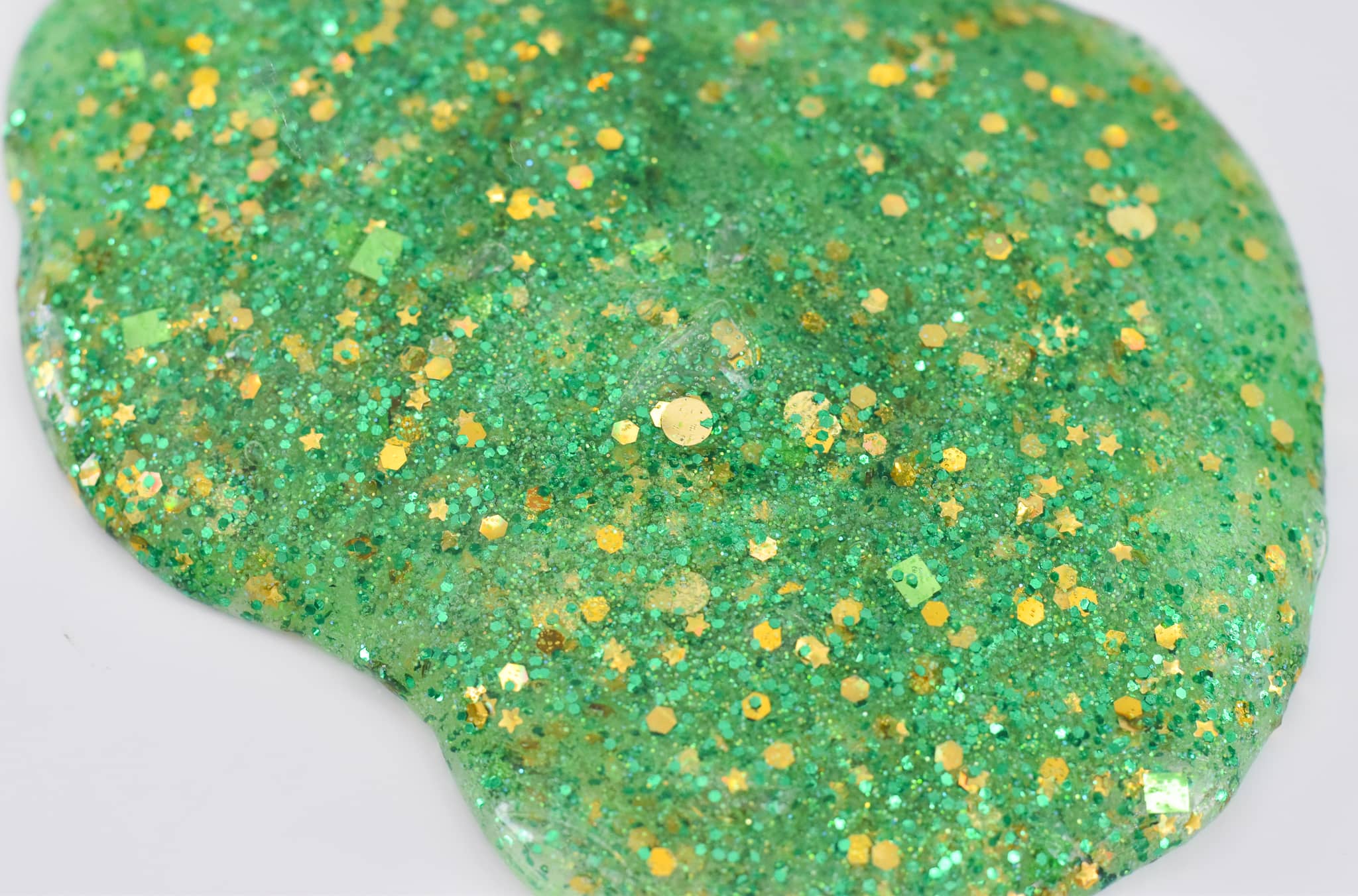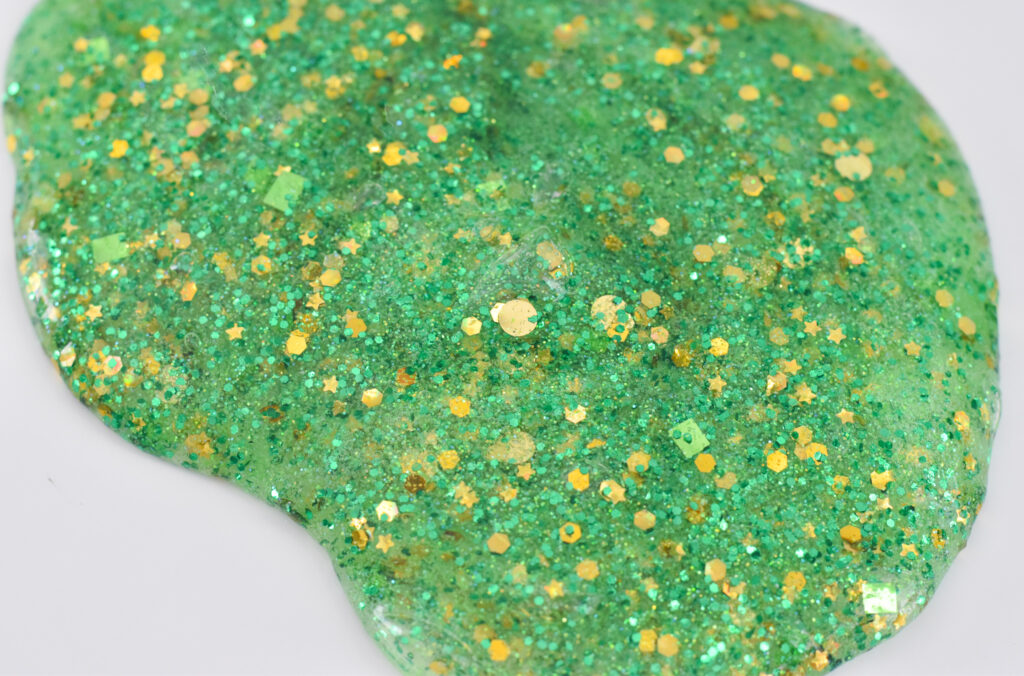 Start by pouring the clear Elmer's glue into a large bowl. I find it easier to work in batches but do what works best for you. If you plan on making enough for the whole class (18-23 students), you'll use the entire gallon of glue.
Mix in your glitter. Get creative! I started with a classic green glitter, then added some gold star glitter, small octagon glitter, and some large circle glitter (like lucky gold coins!). Add a lot of glitter! This is the only color we're giving it, so the more glitter, the more it will sparkle. (Note on glitter: There are also "superfine" glitters that you can use. I poured some in on my tester batch and found that it gave the slime a nice sheen and some base color.)
Once desired sparkle amount has been achieved, begin adding Elmer's Magical Liquid to the glitter and glue bowl, stirring as you pour. There are measurement recommendations on the side, but you want to add enough (a little more than half the bottle) to make the slime smooth and not sticky. You should be able to hold the slime without it sticking to your hands. The more Magical Liquid you use, the stiffer the slime will become.
If you're giving the slime as a gift, section it out and place it in the condiment container. This keeps it off the school's carpet.
Add the fun tag to the top of the condiment container for a festive touch! Like the label I used? Sign up for the Applicious Resource Library and grab this label and tons more resources!
Leprechaun Magic Slime Label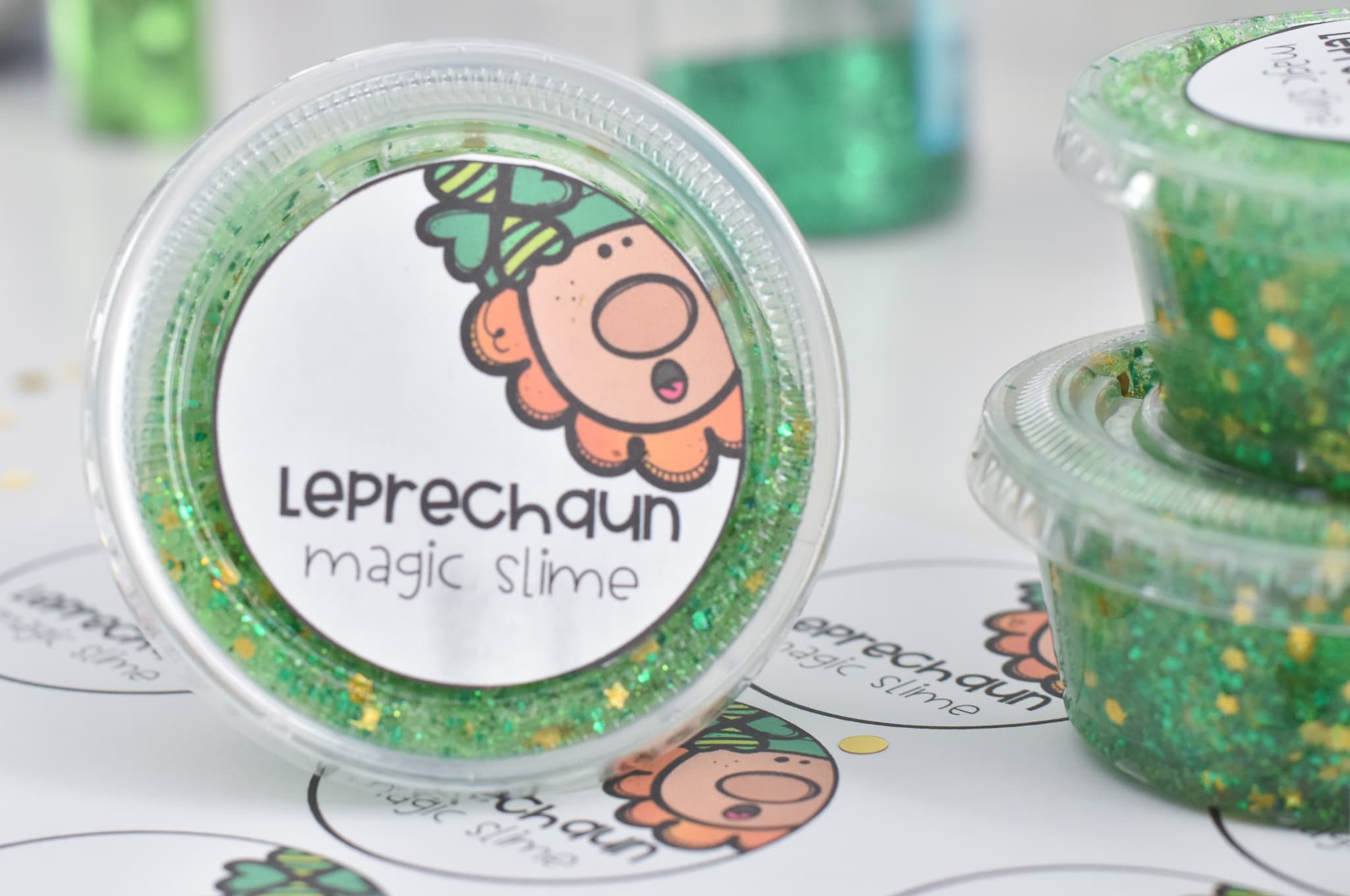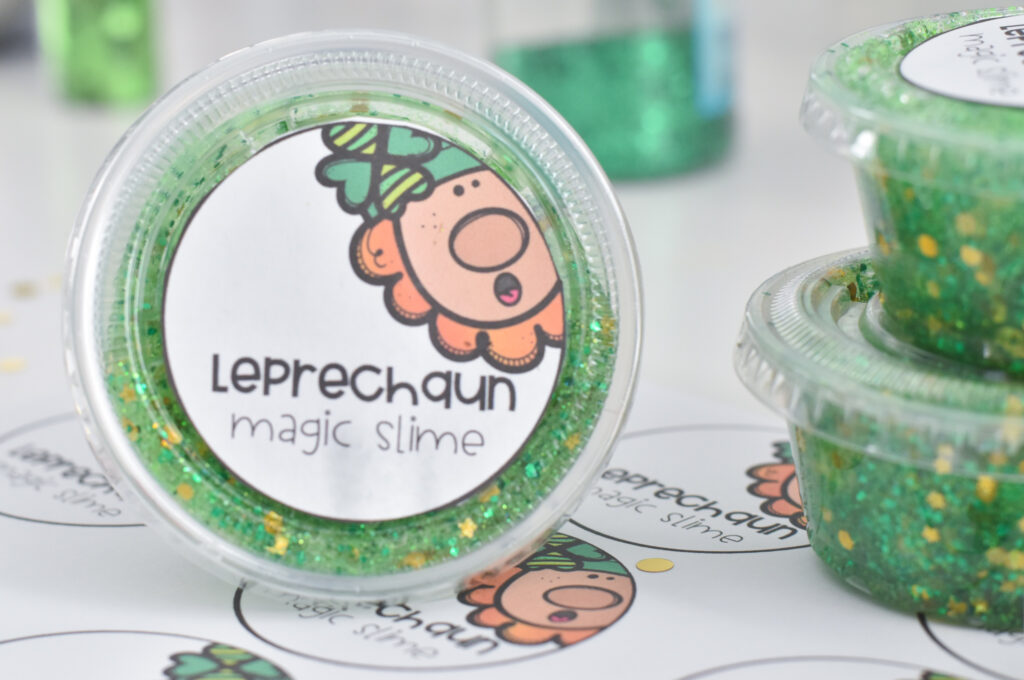 Like the label, I used to decorate the condiment containers? You can grab this label and tons of other teacher-friendly resources by signing up for the Applicious Resource Library! Sign up is at the bottom of this page!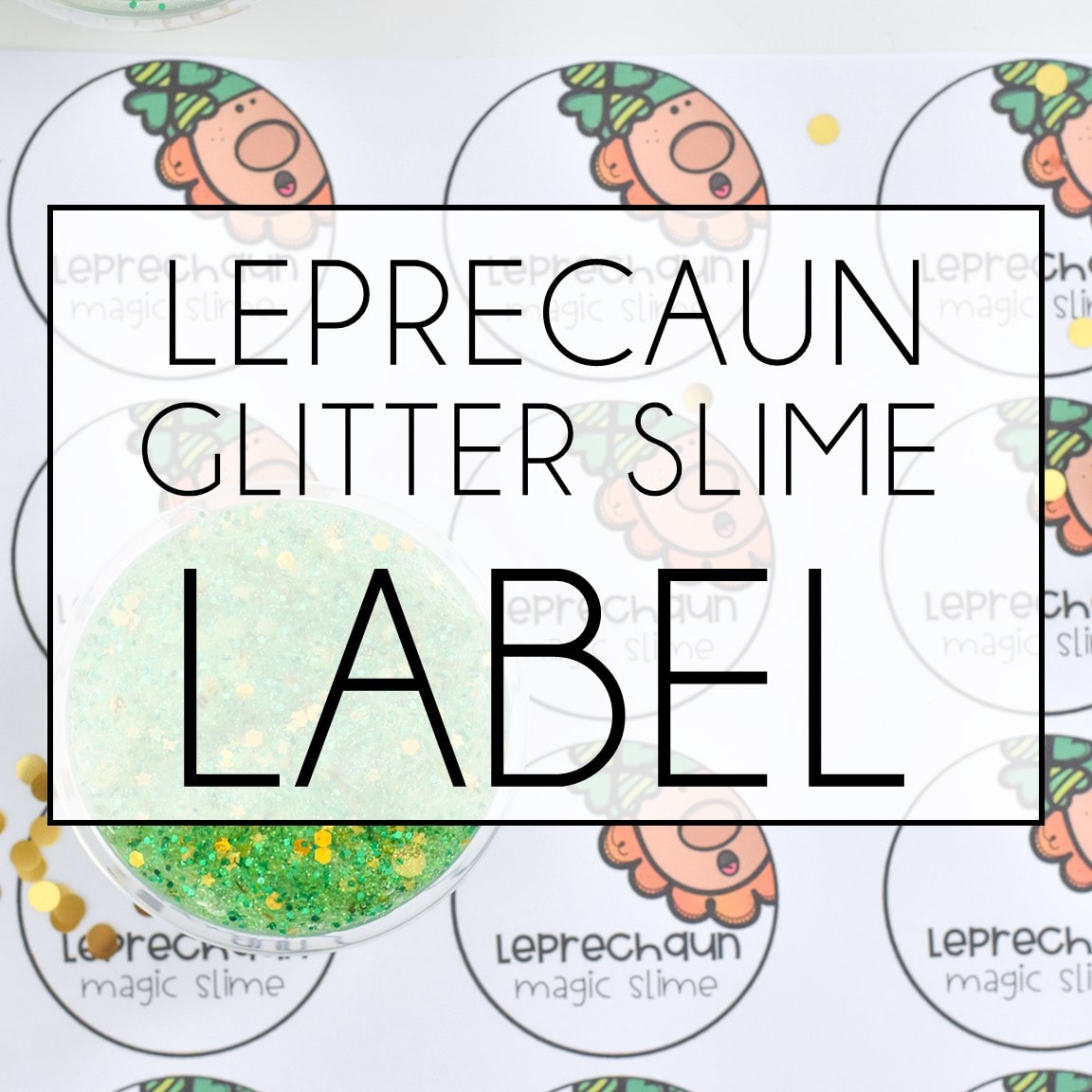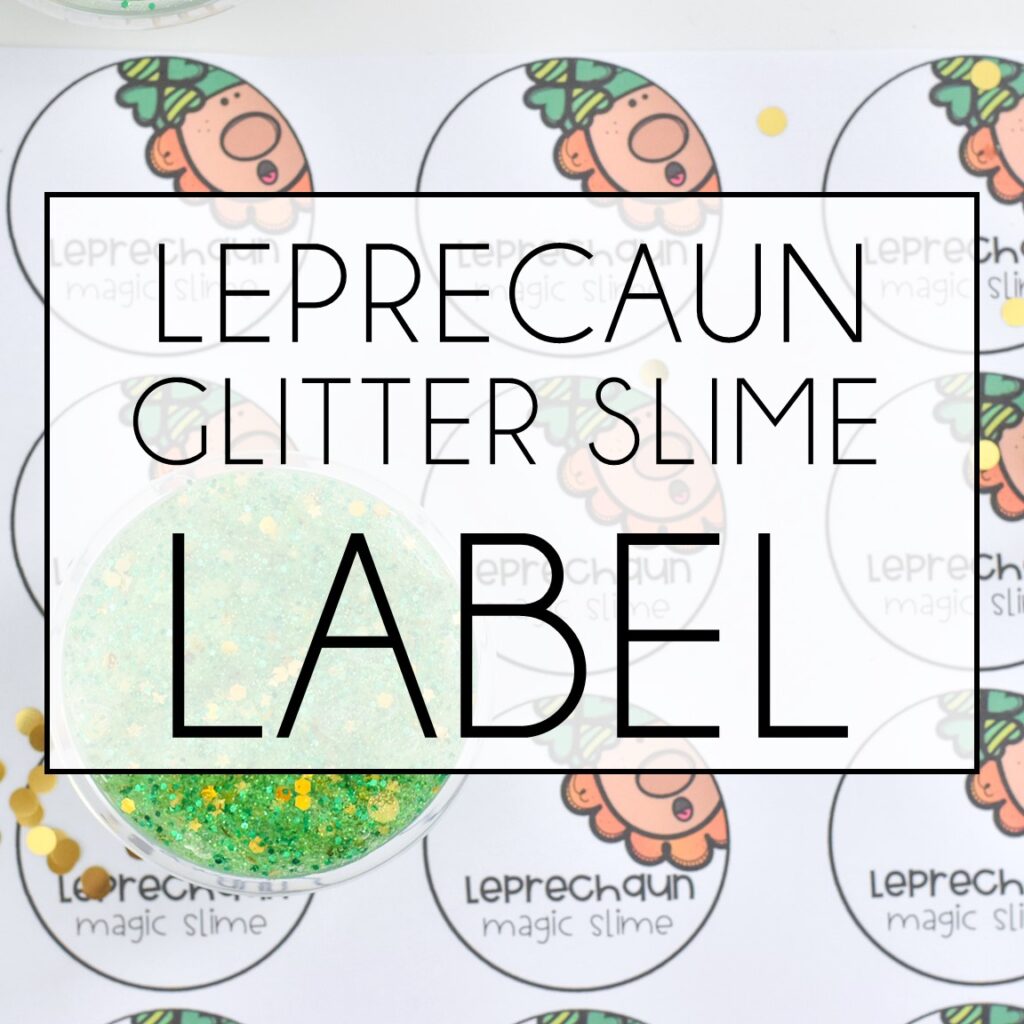 The Applicious Resource Library is an exclusive library full of resources designed to help you do what you do best: TEACH!
Click to sign up at the bottom of this page and you'll receive instant access to this amazing resource library!
Adding a Little Leprechaun Magic
So, of course, all the sparkle and glitter in this slime makes it the perfect little gift idea for a sneaky leprechaun to bring to your students! Add some extra magic with this idea:
Start making the slime with your students right before you leave for lunch or Specials. Then, while they are gone, add the large circle glitter and bring out the Magical Liquid as a gift from the leprechaun. Notes and footprints encouraged! Then, when the students get back to class, have the liquid ready and have your students watch in awe as you turn the sticky glue into sparkly leprechaun slime!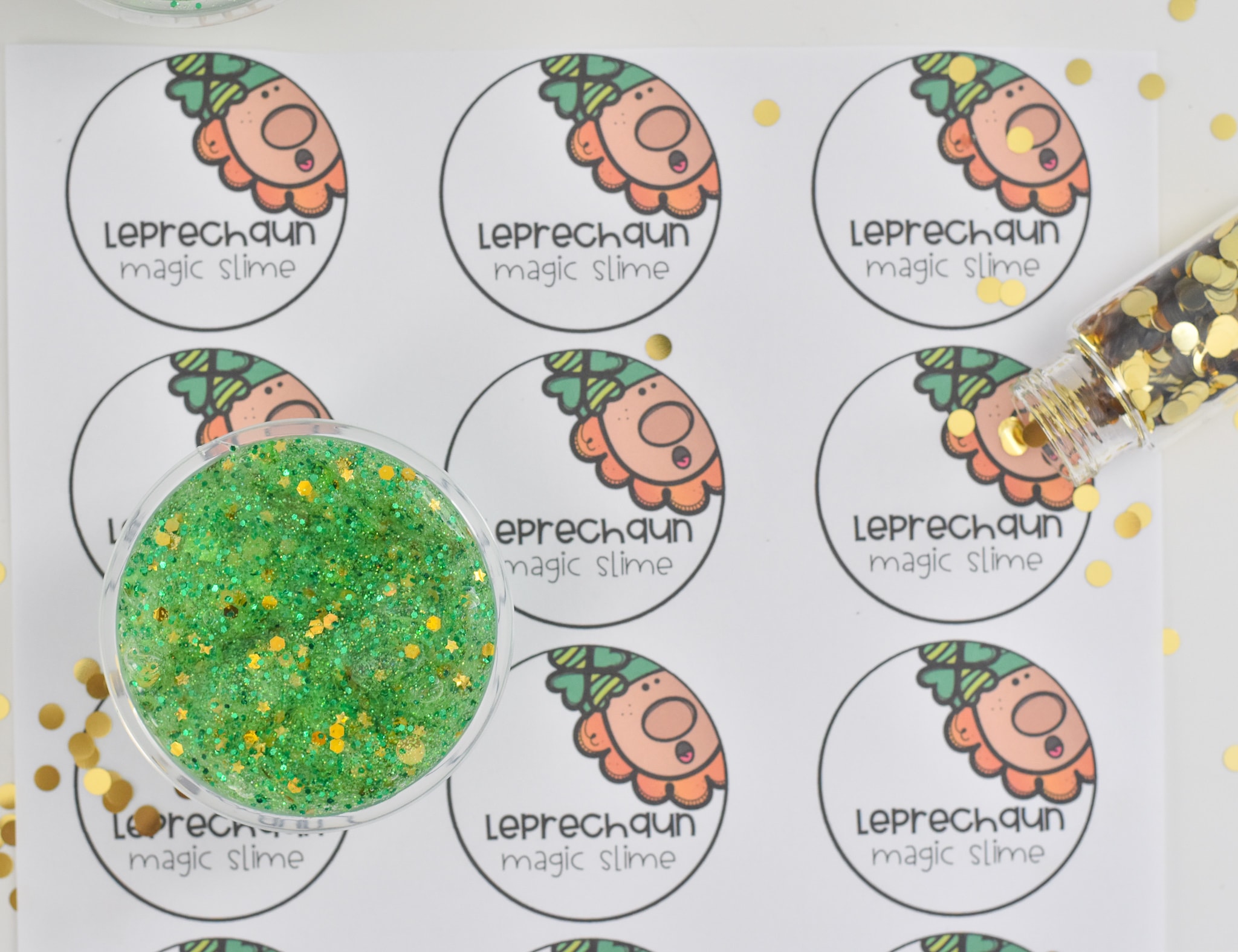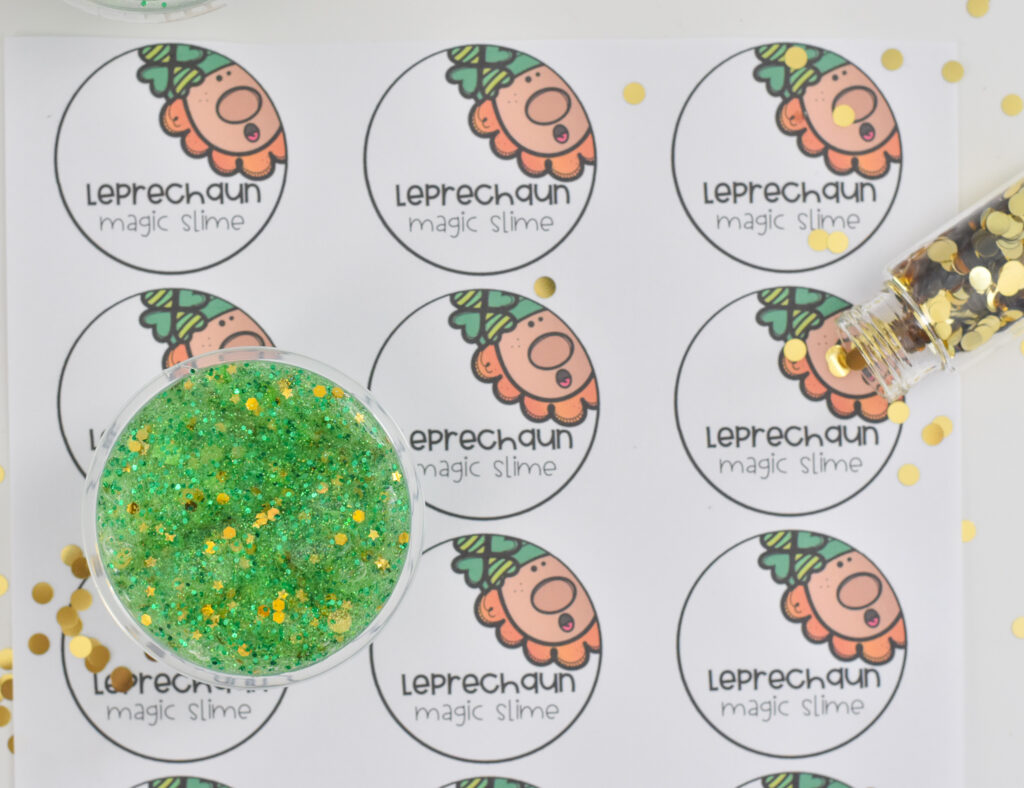 At the bottom of this post, you can sign up for this free label by joining the Applicious Resource Library! It's free to sign up and you'll get access ASAP!
Make it Educational
So, I know that time is pretty limited in your classroom, and maybe you're feeling a *bit* of a squeeze when it comes to the "fun stuff" like this slime. That's ok! We can totally make this fun activity pull double duty with educational focus!
Have students make observations about the slime from the beginning of the activity to the end. Then, discuss how the slime's properties changed. Discuss chemical changes vs. physical changes.
After completing the slime activity and giving students time to handle the sparkle slime, have your students brainstorm a list of adjectives to describe it.
Bring in some writing by having your students write the steps involved in making the slime. It's pretty simple, so this writing activity can be done in one day! Remind your students to use transition words like first, then, next, and last!
Leprechaun Shenanigans Writing Activity
You can also use it as a launching point for other fun shenanigans leprechauns can get in to! After completing the slime, invite students to imagine what other shenanigans their leprechaun will get into that day.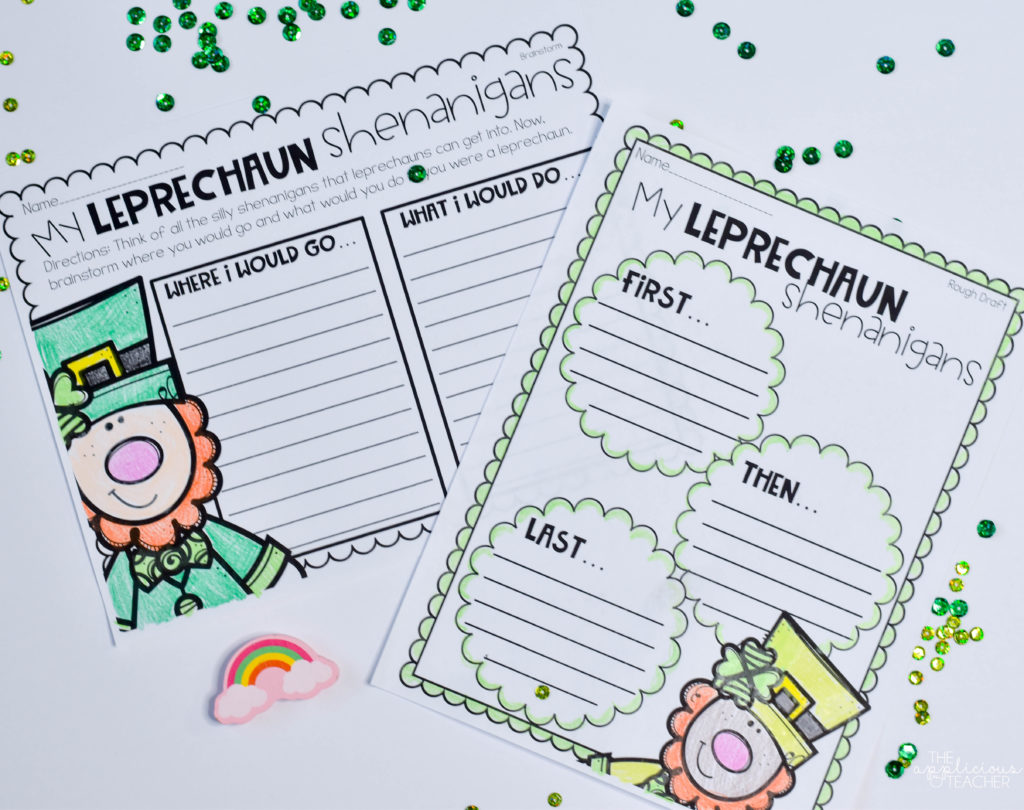 Use this fun activity to help students organize their thoughts and finalize the writing with this cute craft!
You can grab the whole unit here in my TeachersPayTeachers.com store! (Or here on my website store!)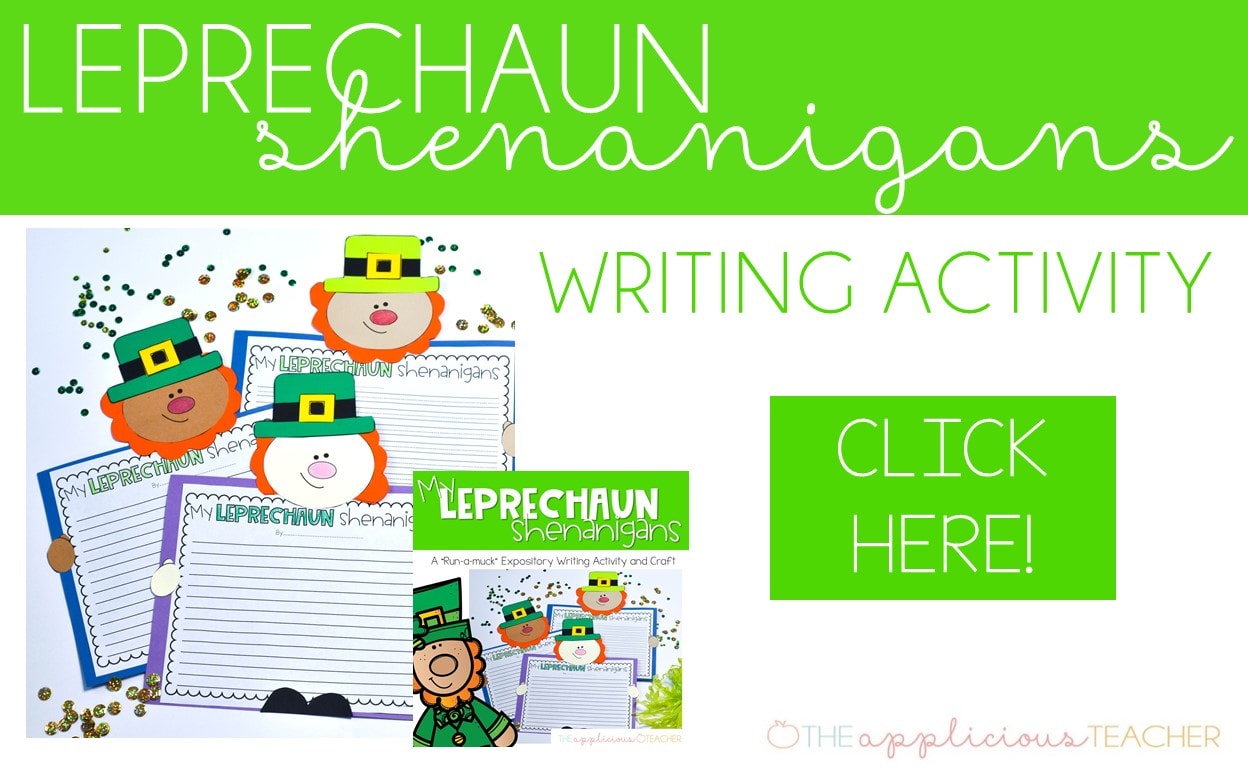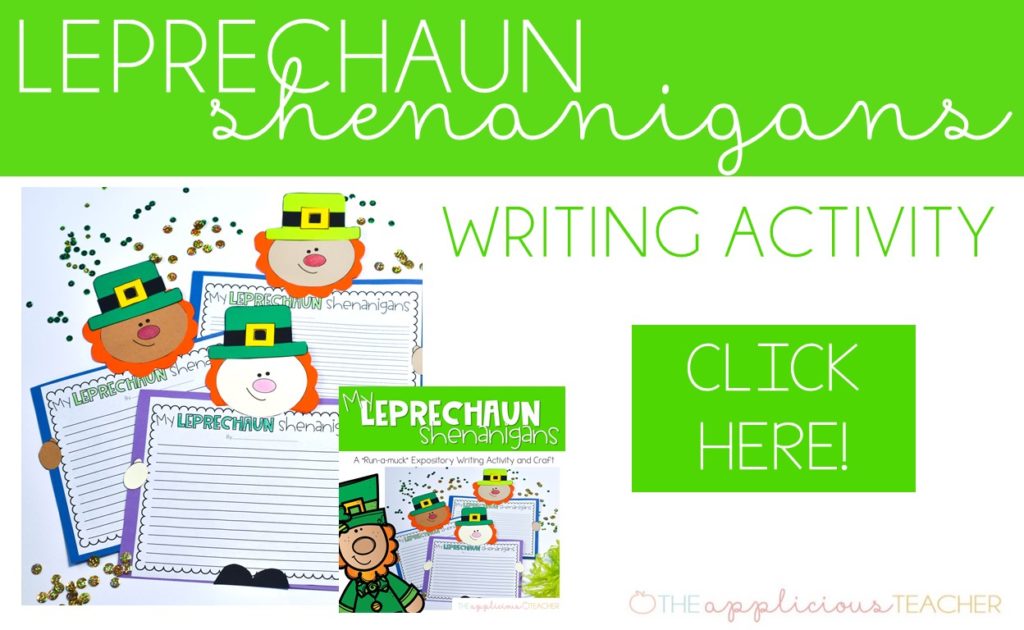 I can't wait for you to make this fun leprechaun treasure sparkle slime with your students. Let me know how this fun activity goes in your classroom with a comment below!
More Fun Ideas
Check out these other ideas!
Sign up to snag these!
Receive all these classroom management tools right to your inbox!