Alright, let's discuss something that gets an ugly reputation…
Reading Assessments.
Let's face it… assessments can be boring, over-burdening, and stressful (especially when we're talking about the end of the year assessments). But the truth is, reading assessments should be an essential part of your end of the year game plan… especially for distance learning!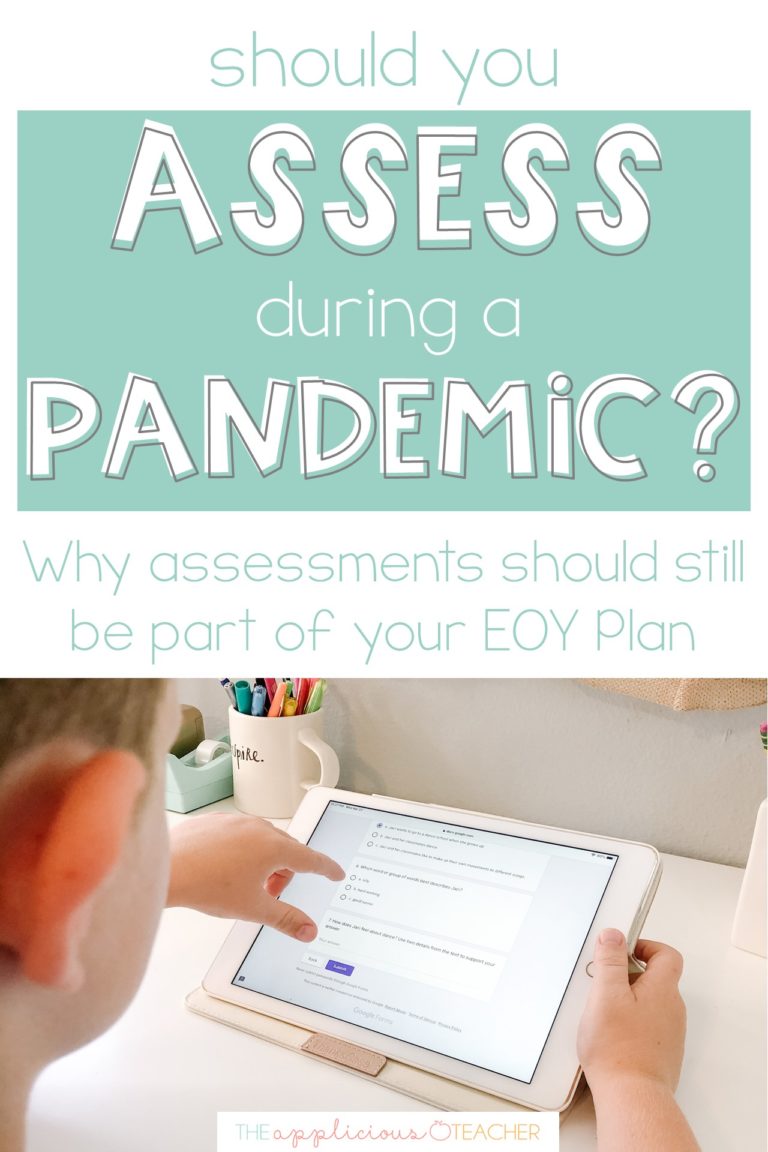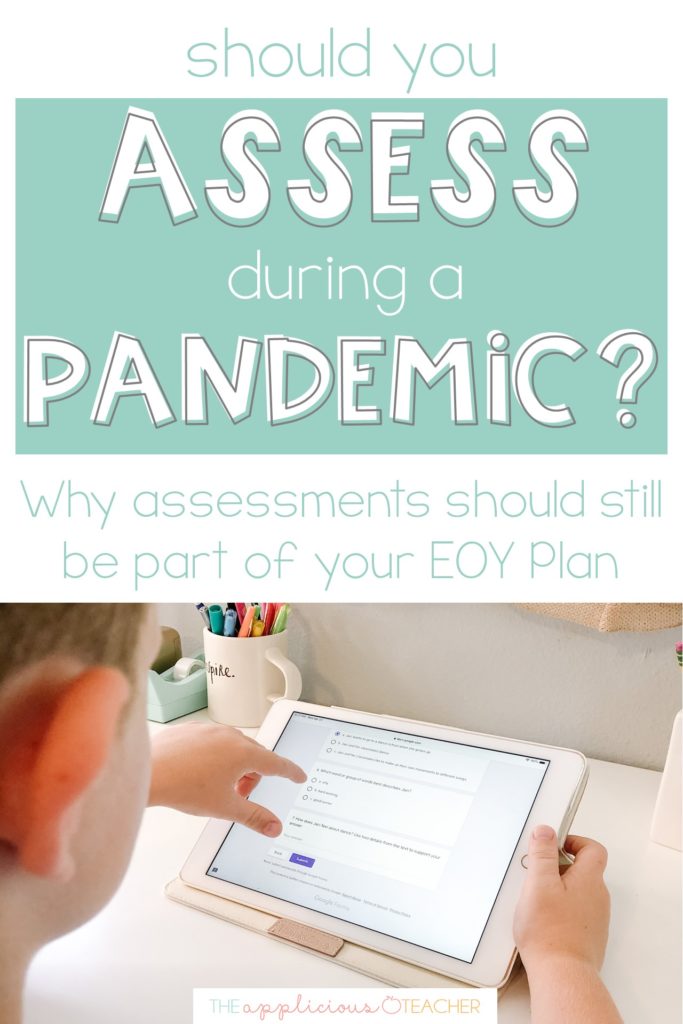 YES! You should be assessing your students during a pandemic.
But have no fear! Today, we're breaking down how to assess reading via distance learning AND help you make assessing a bit more approachable, actually possible, and a lot less stressful! (I don't know if I can promise "fun," but I'll try!)
Reading Comprehension Assessments in Your Pre-Distance Learning Classroom
Okay, chances are at some point in the school year – before all of this craziness happened- you gave your students a reading test. Maybe it was at the beginning or the middle of the year; or, maybe you gave them a diagnostic assessment, like a DRA. Perhaps some of you just did a running record on a little decodable book. However or whenever you did it, at some point this year, you gave your students a reading assessment.
Then, about six or so weeks ago, you stopped.
That's when things went nutty.
when schools started to close and you needed to stop.  Truthfully, you didn't need to assess your students. You were worried about their safety and their families… your safety and your family. These things were more important at that point, and we couldn't worry about assessments. And that's ok!
Why Assessing Students is Still Crucial
BUT! Here we are, weeks later. Most of us and our students are healthy, safe, and settled into their new normal at home. Now is the perfect time to re-introduce reading assessments and here's why:
Reasons to Assess:
We want know what level are they at… what they know.  Assessments allow us to get to know our readers better.
We need to know what we're teaching is sticking. We talked all week about the main idea. So, can they go in and identify the main idea of a passage?
We give reading assessments to evaluate where they are in terms of standards.
We use assessments to guide our instruction. When we're only giving instruction and no assessment, we're shooting blindly in the dark. Sure, we can plow on and keep throwing more content at the student. But, without spot-checking along the way or turning on the light, so to speak, with some sort of meaningful assessment – whether it's formal or informal – we're really just wasting our time. If our students aren't getting it and we don't pause to either re-teach or re-remediate, then we're going to lose that little learner as they fall further and further behind.
And finally, end of year assessments. This is a biggie! If we were in a traditional classroom right now, we would either be doing end of the year benchmark tests, a big state assessment, or administering a DRA. However the assessment happens, we want to determine what level a student is now at, compared to when the school year began.
Assessments really go hand-in-hand with instruction.
Assessment in a Digital Classroom
Now, this gets tricky when a monkey wrench called "distance learning" gets thrown in there. Where do we start? How do we accomplish all that, but now virtually? Especially for end of the year assessments?
I get it, you don't have your DRA kit that you can just pull out and just assess each student individually right at your teacher table.
Right now, we're either doing instruction via a Google classroom or Zoom calls. Maybe you're using Google chat or WebEx. Or, perhaps you're using Microsoft teams to reach your students. Some of you might even be stapling packets every week to send home. Either way, your students are not sitting in your classroom anymore, which makes assessments a little bit more – okay, a lot more – challenging.
But Why?
So, you're probably wondering, "Leigh, why are you telling me right now about how important assessment is when I don't even have my students in my classroom with me? How will I figure out their level? It's been hard enough just to get content out to them!"
I'll tell you why…
Because you can be teaching your curriculum until you're blue in the face, but if you're not going back and spot-checking, it's a waste. It really is.
I know it's more challenging to figure out how to assess in a digital classroom, I definitely understand that, but it is still as important as ever to be able to do that as a teacher.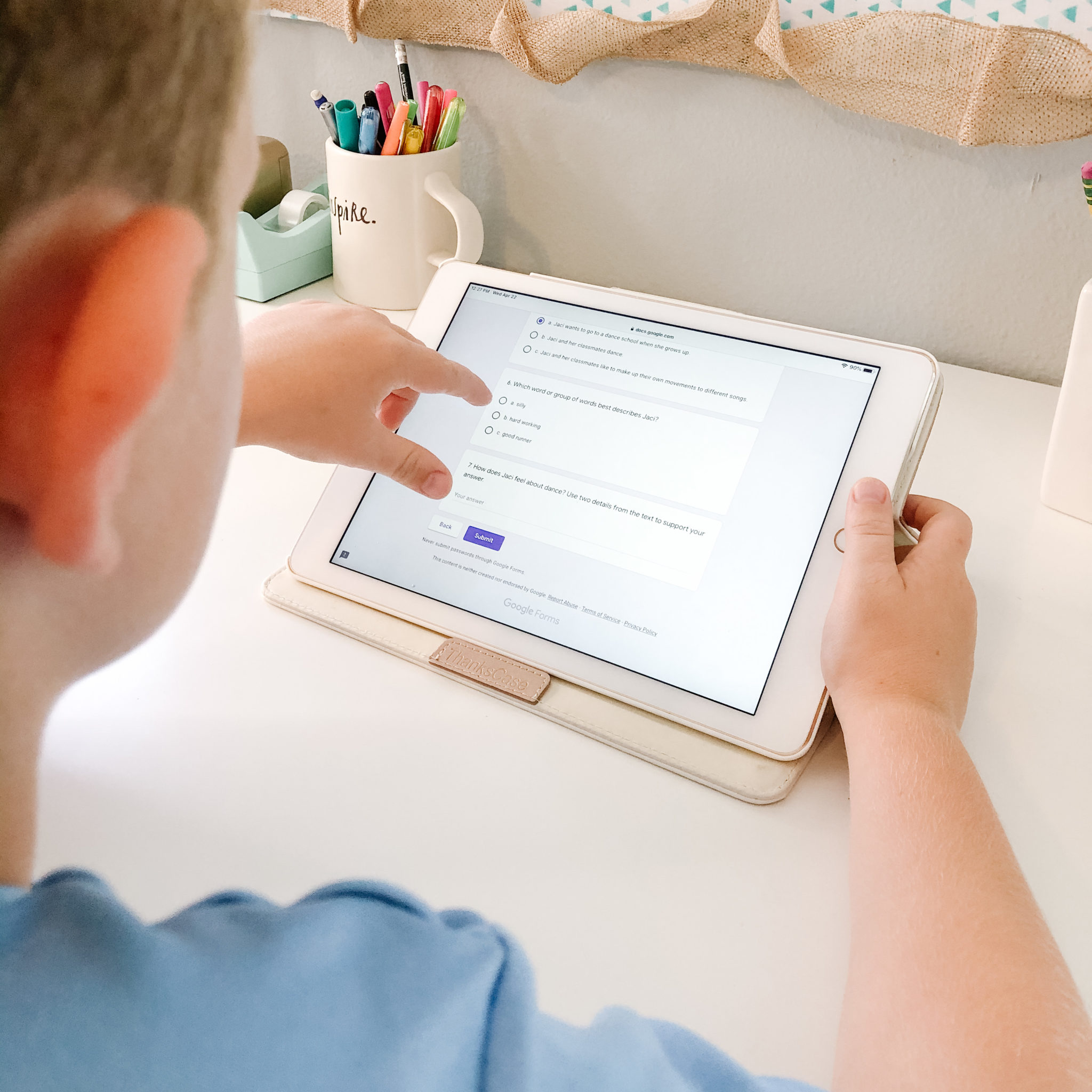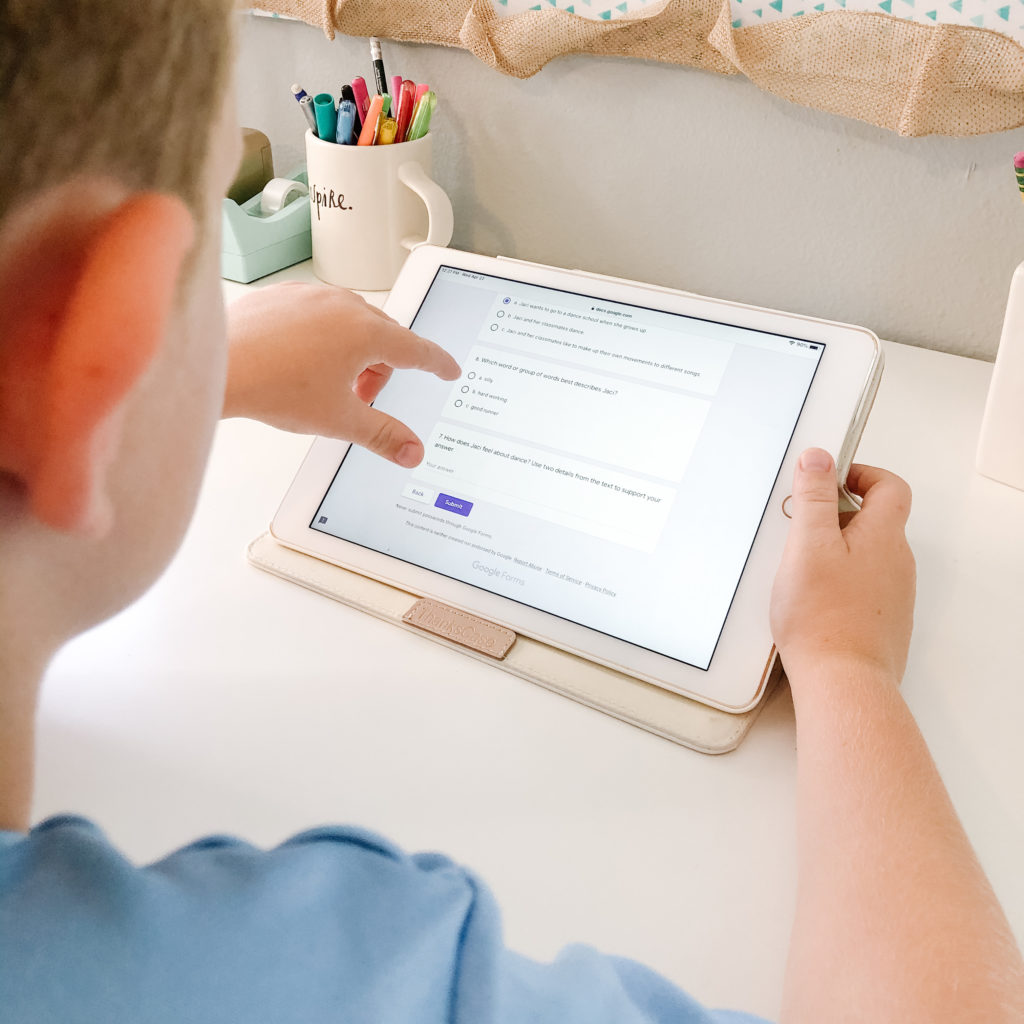 Tools for Assessing Reading in a Digital Classroom
So, let's look at two different ways that you can assess students via your distance learning classroom…
You can give them a digital reading assessment, like my third-grade ones HERE. These are all done in Google forms so you can upload them easily to your Google classroom. Or, you can send a link into your Google teams and have them do it that way. All you need to access is a Google drive or a Google account. But, your students do not need a Google account to access these, so don't stress out if they don't have that… they will still be able to complete! But this is so easy to push out, and you could just do a quick spot check. In the third-grade reading comprehension assessment pack, for example, there are passages for them to read with reading comprehension specific questions related back to grade standards. There's even a close reading activity for them to complete!
You can print out that same assessment from the reading comprehension assessments pack and send it home. If you're doing stapled packets, this is a great option. Or, if you're able to email parents, then just send them this assessment electronically and ask them to give it to their kiddos. (Click here to see the paper and pencil version of these assessments!) 
Okay, that's how we can actually send out our assessments, but now you're probably asking, "So, how do we use them to find out their grade level?" Or, honestly, you're thinking, "Is that even important, at this point, with everything going on? Shouldn't the fact that they're just healthy and safe at home be enough?"
And the truth is…
Yes, of course, we're glad that they're safe at home, and of course, we can't wait to see them again. Yes, we miss them so much, and we want to give them hugs galore!
But, we also need to make sure that when they DO return to school next year – whether it's once again in a digital classroom or if they're actually physically going back to school – that they have some type of data for that last chunk of the year that shows where they finished off at the end of the previous school year.
Plus, it doesn't really matter the score they get or the number they rank. We shouldn't be concerned about whether they are on, below, or above level. Sure, they may have slipped a bit over the summer. The reality is they probably backslid a lot simply from not being engaged in school in the same way as when they are in a regular classroom environment. So, we just need to be able to show what level they're at so their teacher next year can use that data to assess their learner… their strengths and weaknesses… and be able to build on that foundation.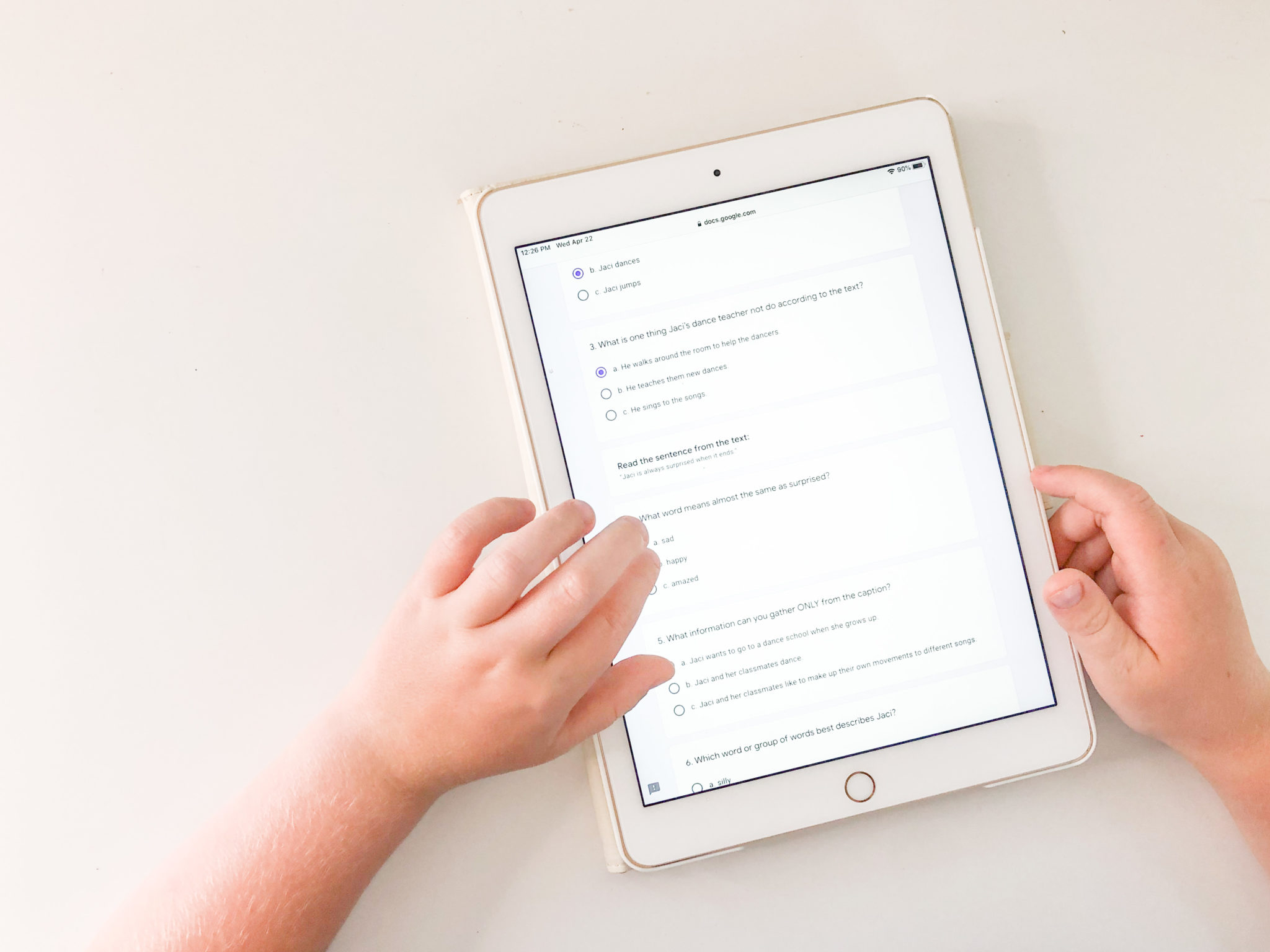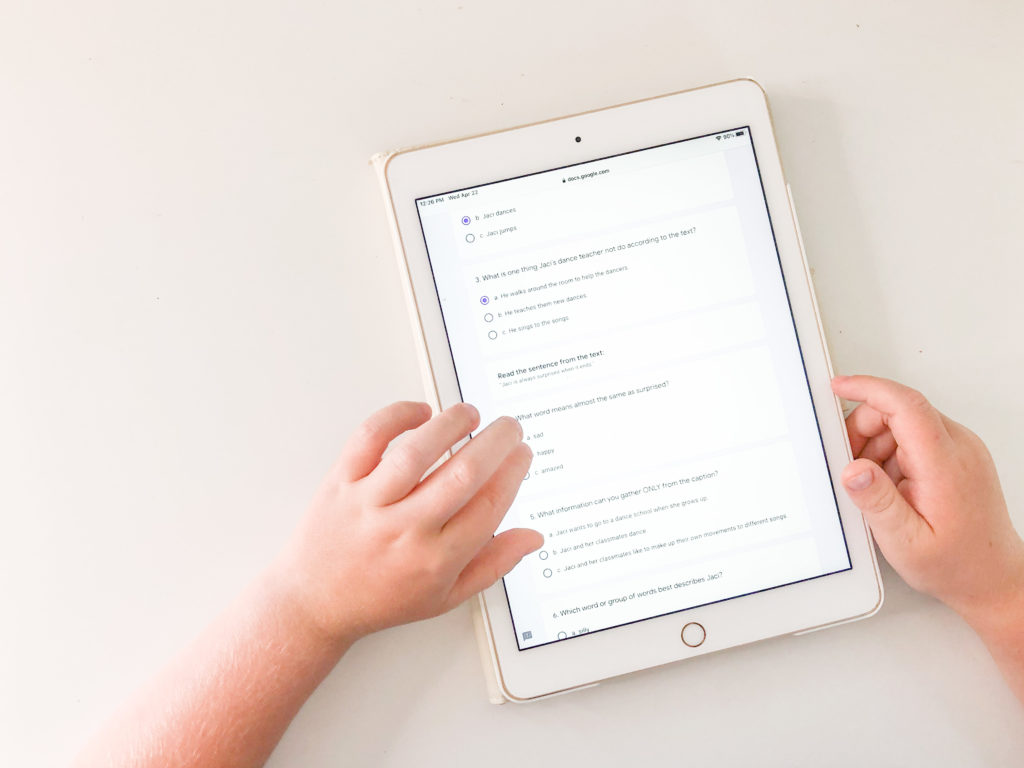 Digital Reading Assessments to Level Your Students
Let's talk about using digital reading assessments to level your reader. It seems like such a challenge, right? It's not like you have a DRA book that you can digitally hand out to your students.
But don't worry. You know I've got you! I'm going to show you a little trick to actually use these assessments to "level your students" without necessarily leveling them.
Here it is…
All of my reading assessments ARE ALREADY LEVELED!
I do this because, at the beginning of the school year, a reader is at a different level than they are by the end of the year. They have a full year's growth in between those two time frames. So, we want to make sure that our assessments match up with what a "beginning of year" third-grade student should be reading vs. what an "end of year" third-grade student should be reading.
Use the fact that the reading comprehension assessments are leveled to your advantage. I've made it easy to know by including a chart in both my digital and print off assessments where you can see the general Lexile ranges for all of the assessments!
The chart also shows the DRA range and the Fountas and Pinnell range. So, use whichever one works for you. For me, I would mostly be looking at Lexile and DRA ranges because those are what I'm the most familiar with. But, if your school uses Fountas and Pinell, it's on there as well!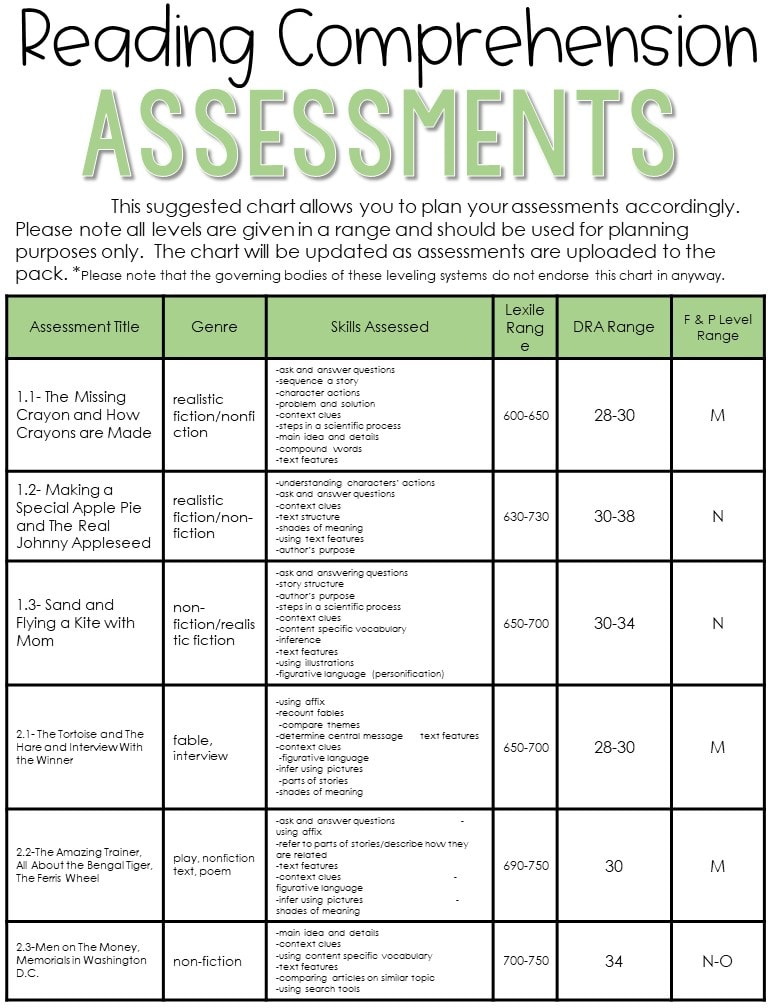 (Disclaimer: I am not associated with or endorsed by these leveling bodies. They do not pay me anything. They do the leveling systems but do not endorse this chart. This is something that I've done above and beyond in order to help you, as a teacher, make better choices for your students.)
Using the Chart to Level Your Students
Using this tool to help find the reading level of your students is easy.
First, think about each of your students. Ask yourself: "Where should my students be at this point in the year?"
It is the end of the year and the majority of students should be sitting at the end of the year number on the chart or the last assessment. Now, not all your students are going to hit this target, just like in a traditional classroom learning environment. But, it's the goal.
Next, push that particular level assessment out to Google classroom – or print it off/email it – and see if they can get at least 80% proficiency on it.
So, any student that scores within your decided-upon proficiency level (which in my opinion is 80%, but I know some school districts use 70% or 75%, so whatever you need to go by for proficiency in reading), then that would be considered their reading proficiency level. We can say, then, with confidence that they are "on-level."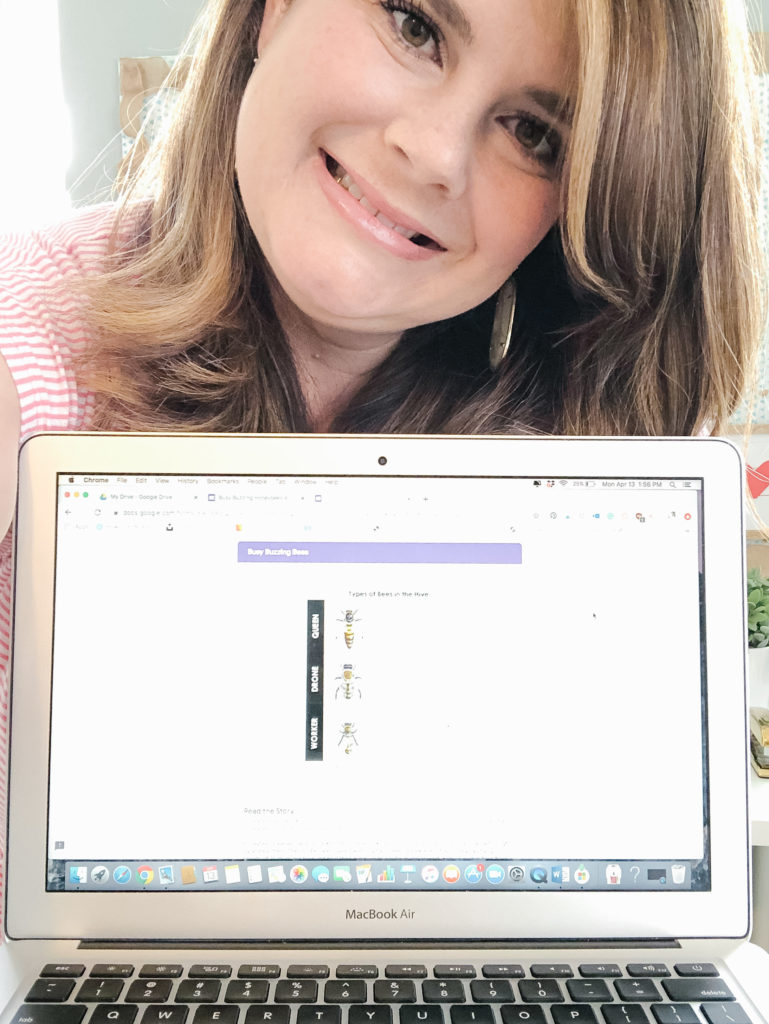 Easy Differentiation with Digital Reading Assessments
Of course, we will have some students that aren't reading at that same level, so be sure to adjust as needed.
It's super easy to do in Google Classroom! You can differentiate! You can push out an assessment to just some students and not to others, which allows you to pick and choose which assessments each student is using. Then, you can better use the data you glean from the different assessments in order to place them, or "to level" them, for the following year. Simply, take a step back and say, "Okay, I know that this student was a little bit behind before we let out from traditional school, so I'm going to push out one of these second or third quarter assessments to them."
Oh, and the icing on the cake?
The digital assessments are created in Google Forms. So, once students have finished, you can click over to their responses and see all of their scores. (You heard me, right- it grades its self!) The assessments will show you how they did on each of the questions. Now, you can use that to understand what your students may still need to know and what you can do to meet them there. Obviously, if all your students are bombing this assessment, then you might need to bump back a couple of assessments and use one of the lower-level ones.
So, now you have some good data that you can send as part of a package to the next year's teacher. The information you compile will say, okay… this is where they were at when they left me and here's how you can meet them where they're at to help them grow in this new school year. Think of it as your gift to them! I know it's something I would appreciate receiving as a teacher, for sure!
Many Grade Levels Available!
Now, if you are in need of assessments to push out to your students, you are in luck! I have assessments for students leveled first through 4th (with plans of 5th coming soon!)
Or, if you are a multi-level or multi-grade teacher, ESE or Intervention teacher, or if you teach two grade levels together, then THIS multi-age bundle would be great to grab! I actually listed that one because some of you were asking me for it. Plus, if you're a teacher who has a wide variety of reading levels in your one classroom – maybe you know you have some students reading on a first-grade level, but others on a fourth-grade level, you will probably want to grab that one too because that will give you the largest width between Lexiles and levels.
Well, that's it! See, that wasn't too terrible!  I really hope that this little breakdown helped you to feel more prepared and equipped for your end of year game plan for digital reading comprehension assessments!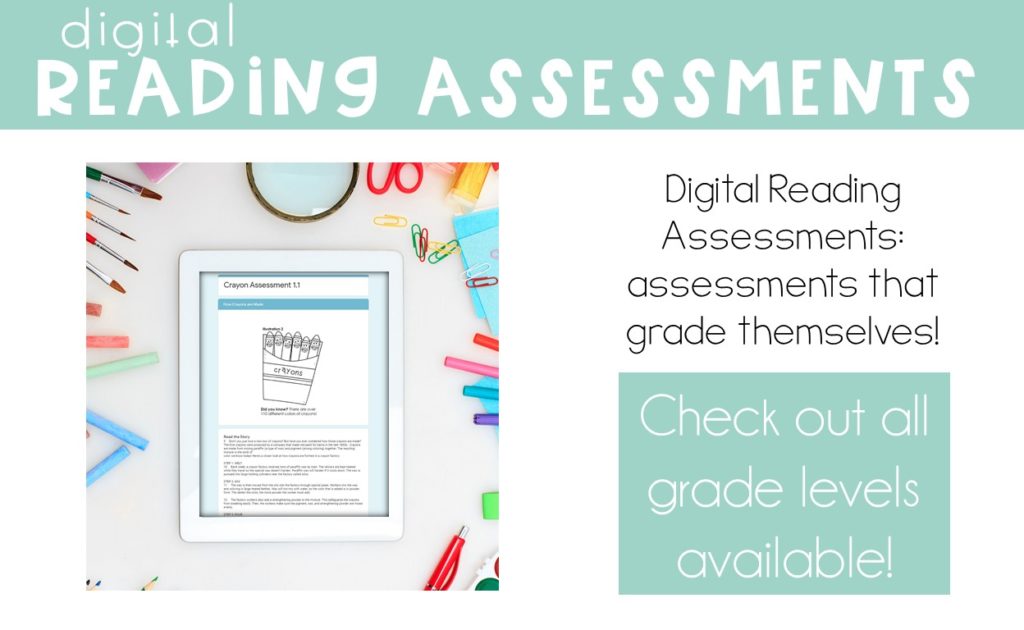 Making this Work for Your Students
I'm a huge believer in using instruction and assessment as an overall structure for teaching. I understand that at this point, many students do not have access to online learning. I also understand that not all teachers have all students completing work week after week. Please use this post as a guide, but ultimately, you need to do what's best for your students. Assessment must wait until our basic needs are met. If you are focused on providing a safe space for students (either via packets or digital classrooms) then this post isn't for you at this time. Please know I support you in this journey, however that may look/feel for you right now.
As you use your digital assessment pack, let me know how it goes in the comments! What was most helpful to you? How did it go for your students?
More Digital Classroom Posts
Need more ideas on digital classroom resources or assessment ideas? Check out these related posts: