Well… this arrived late yesterday afternoon!
Here's a peak inside my box…
Not too bad of a start.
So here's what was in there!
First up we had this fun Filbert Abstract Striped Henley blouse.
One look at the sleeve and I knew I HAD.HAD.HAD to have it…
#suckerforlittledetials
They also sent me this Denova Mixed Material Floral print blouse…
Yeah… I know… but I didn't want to judge a book by it's cover…
There was this beautiful Torrance Lace Detailed sleeveless blouse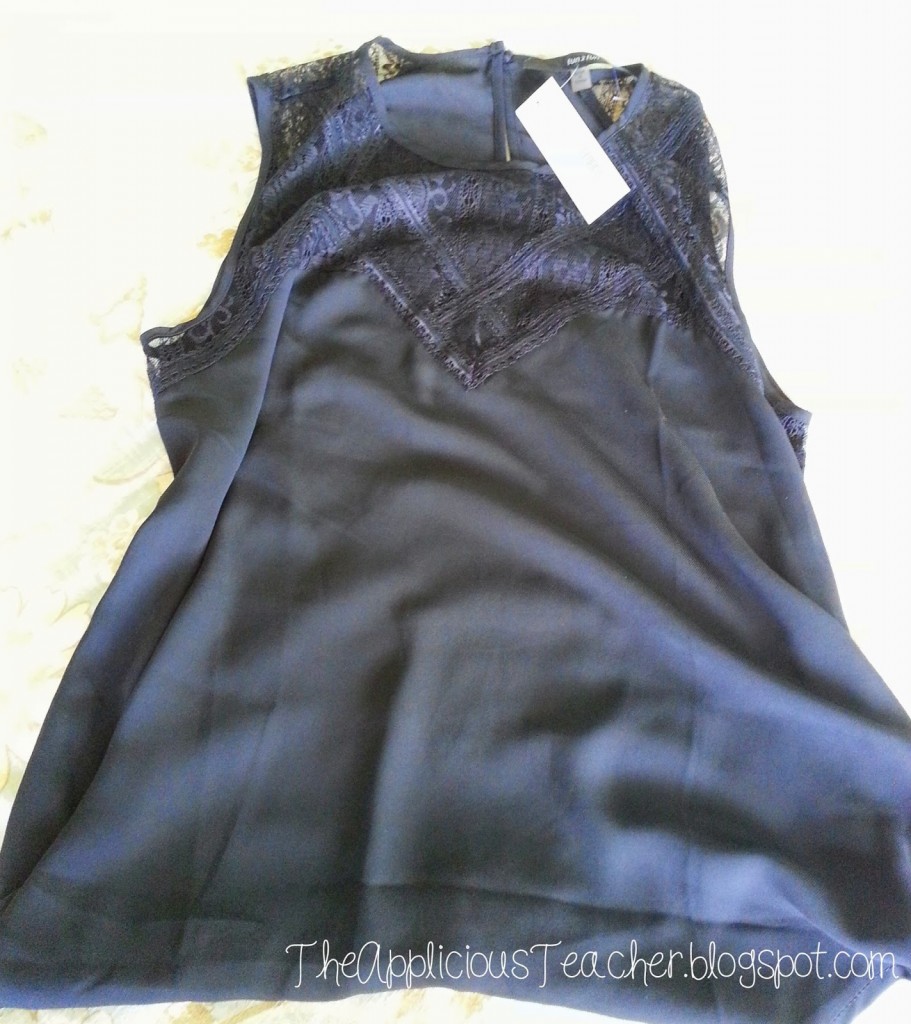 This picture doesn't do the lace justice!
This updated Loise Geo Print wrap dress..
Close up of the geometric print… very pretty with the bubblegum pink and navy!
and lastly, a pair of Dean Ankle Zip black skinnies…
They just looked soooo tiny!
So of course I had to try these on just for you!
Fashion show!
First up the abstract striped blouse… I couldn't wait to try on this piece and was sooo happy that it fit (loosely). I paired it with some dark denim skinnies and knew this would be a perfect running errands outfit! My biggest complaint? It's 100% polyester and even though its a thin weave, polyester doesn't breathe well, especially in Florida's 90 degree heat!
Ok… next I threw on the pink floral top. I had asked for some more feminine pieces and had specifically asked for some of the fresh floral prints I had been seeing…
This wasn't what I had in mind. For reference, the sleeves were a navy tee-shirt material and the rest was polyester. That didn't bother me, but the fit and print did! Take it off! Take it off! LOL! #fashiondont
The lace shirt they sent was billowy and comfortable. The lace detail on the bodice was drool worthy!
You can't tell from this pic, but the solid black fabric was also completely see-through… def would have to wear a cami underneath!
Now… I wanted to love this wrap dress. Years of working in clothing boutiques (In my previous life before teaching) have taught me that wrap dresses are the IDEAL dress for any body type. They hug in the right places and soften everything else…
But this one.. not so much.
The color combo and pattern were fun, but a good wrap dress should have thicker material (for holding things in) and have medium to wide ties. This was a very thin (good for Fl weather, not for holding in the curves) and strings for the tie belt. No beuno!
Notice no pic of the those black skinnies? Yeah… I knew they looked a little tiny!
So what did I keep? Sadly only the abstract striped blouse…