OMW Guys! What a crazy past few weeks! Last time I blogged was last week and I thought I was crazy busy and stressed. There is seriously no stress like Back to School stress for a teacher.
Did I mention this Applicious Teacher made some MAJOR changes for this new school year?!
SURPRISE!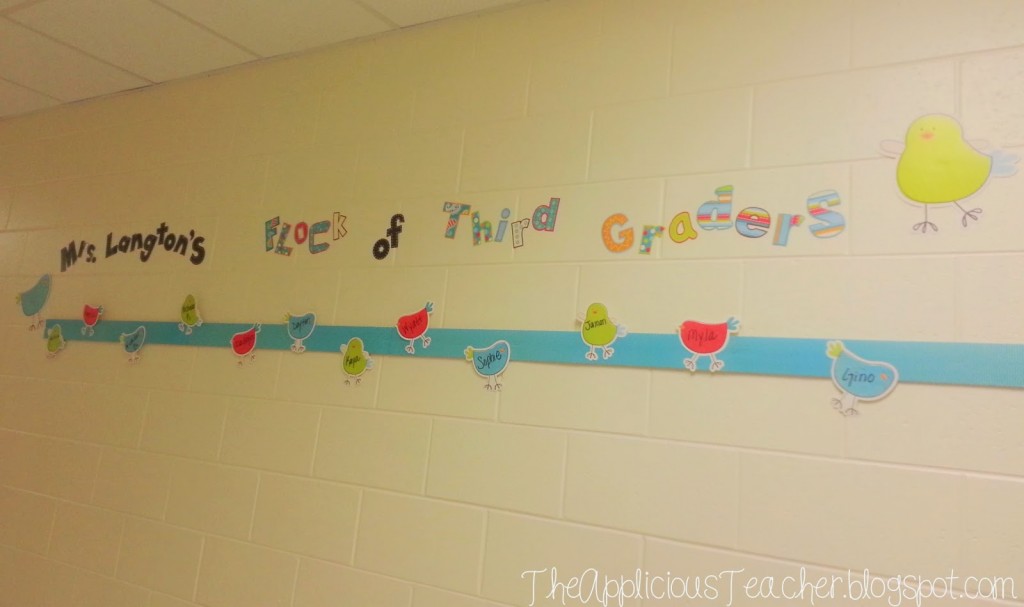 Well.. if you follow me on
Insta
, then you saw this little shot of my hallway display. Yes, people, I moved up to 3rd grade! I've been in 2nd for so long, it felt like a comfortable old shoe… but like all good things, my time in 2nd had to come to an end.
Sigh…I wasn't sure how or when, but I knew I needed something to change
and a grade change seemed refreshing.
Now in addition to that little (HUGE for me) change… I also transferred schools. This decision was full of emotional turmoil for me. But that is for another post on another day! I ain't got time to get into the nitty gritty of that… so let's jump into my room!
Real Talk people: I had to take down, box up, transport, and set up my new room in a span of about a week, so please don't judge me too much! LOTS of things are still in "tester" mode. I loved the Dots on Turquoise I used last year and added these sweet birds to add some flair!
I'm not sure how everything is working for me, but here's a peek at my new 3rd grade room!
First up is my chalkboard wall…
I kept it pretty simple here… Calendar on the right (LOVE this new one I got from Creative Teaching Press!) and my Lime, Turquoise, and Red number line. I'm working on a cursive alphabet to put up as well, so be on the look out for that one.
To the left of the whiteboard, I've got my Focus board, or as I called it… "Our Learning Feed".
I love how this turned out! I printed and laminated these headers and stapled a page protector with a simple sheet of paper slipped in so I can write and wipe our objectives as we move through our curriculum. You can check out the borders I used here! Those easy-peasy paper pom-poms added the perfect punch of color.
I even used them to decorate my calendar area!
I had to find a place for my clip chart and classroom expectations, so the side of this filing cabinet towards the back of the classroom worked just fine. (For the record, I usually prefer a more prominent location for important things like this, but the way my room is organized, this was the most logical place for now)
You can check out my classroom management system here! and grab the chart, expectation posters, and SO MUCH more here in my store!
By my door, I hung up my "Student of the Week" board. I can't wait to start filling up those labels with 3rds making good choices!
You can check out this bulletin board here!
Whew! There is soooo much more I want to add to my room, but that's what I've got for now. I'll be back tomorrow with how I got ready to meet my new flock of 3rd graders!
Sign up to snag these!
Receive all these classroom management tools right to your inbox!