Oh, springtime! The time when inside recess starts to become a memory of the past, and the weather is finally warm enough for a field trip! If you're planning a field trip this school year, then you know that they come with massive amounts of stress… But today's post is meant to put you at ease! These 11 field trip hacks are perfect for saving your sanity this field trip season!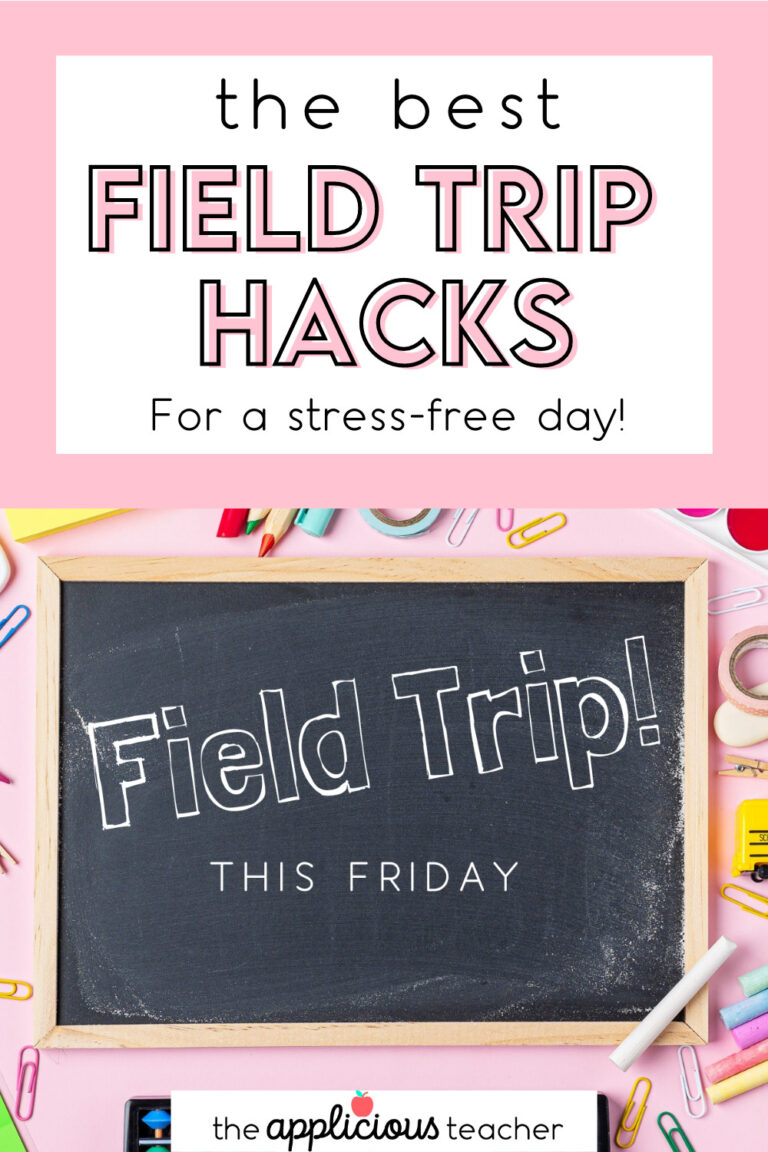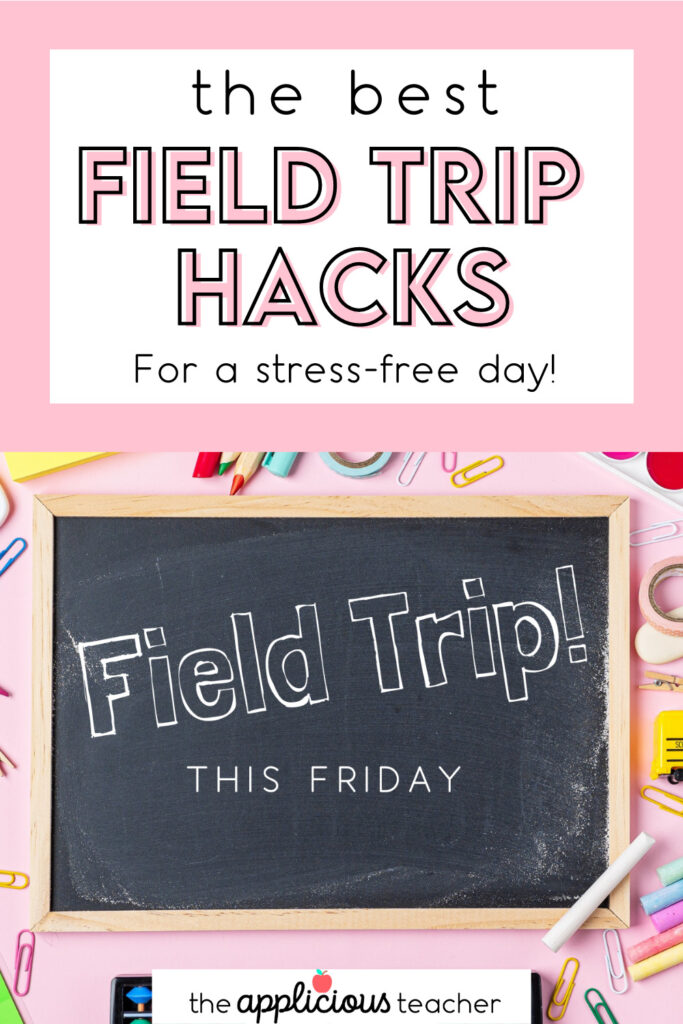 Please note this post contains affiliate links.  If you follow my links, please know that I make a very small commission from your purchase. There is no cost to you, but this extra coinage allows me to continue creating free resources and writing awesome content for you!
Hack #1- Tentative Schedule
This is my top hack because it really does help relieve some major stress associated with field trips! Having a tentative schedule that outlines what you'll be doing, and when and where things take place will help you plan for the day. It can be as straightforward or as complicated as you like.
But, I suggest your schedule includes the following information:
Leave and return times
Lunch/snack times
Important event times
suggested bathroom breaks
And don't forget to share the tentative schedule with every adult attending the field trip!
Hack #2 Field Trip Checklist
Collecting money, forms, and chaperone requests can get a bit unruly for 20+ students. Use a checklist to keep yourself organized as to who's going, who paid, and who signed up to be a chaperone.
Things I keep track of:
Permission slip form turned in
Field trip money
Chaperone request (and approved!)
Chaperone money
Bringing a lunch from school or home
Keep this checklist in a designated field trip folder along with the forms and any other important information. You'll be glad to keep it all in one place!
Hack #3- No Teacher Group
Ok… so this next hack is one that I feel is important, but I know sometimes available chaperones are limited. But if you can… don't assign yourself a group. I've done field trips both ways: with and without a group, and let me tell you… it is so much better for you and your students if you do not have a group.
This leaves you free to handle paperwork, count students, and address behavior/medical issues as they arise without slighting your students from the field trip experience. Believe me; there is nothing worse than having to review and sign paperwork/buy tickets/talk to the coordinators while a group of students stares on longingly at their friends enjoying the day.
Hack #4-Count and Count Again
This one is for the field trip day and can help relieve a ton of stress and anxiety about losing a student. Before leaving, get a head count (number of students and adults).
As a bonus, count the number of people on your bus. So if you and another teacher share a bus, have them count, and you also count. Don't leave the school or your field trip location until you've confirmed EVERYONE is accounted for!
Hack #5-Exchange Digits
Before leaving for the field trip, be sure to collect your chaperones' information, including their cell phone numbers. Also, give them yours. This will help you when you're split up through the day, and the chaperones can reach you if there's an emergency or an issue (like a delay because of a bathroom break!). If you're uncomfortable sharing your phone number, you can sign up for a Google Number here!
Hack #6- Lunches in a Gallon-Sized Baggie
This next tip will save you time and trash! Put lunches in gallon-sized baggies. This helps the lunches lay flat, maximizing space in the cooler. And bonus – the baggie serves as a trash bag when students are done.
To do this, I send home a field trip reminder/information letter with the baggie attached a few days before the trip. I also included that if students requested lunch from the cafeteria, they could return the baggie. On the day of the field trip, be sure to label the lunches with the students' names and put them in the cooler. This is a perfect job for a chaperone to do!
Hack #7- Extra Lunch
If you can, order an extra lunch from the cafeteria. You never know who might drop, forget, or lose a lunch on the way. It's happened before, and this saves you from having to try and buy lunch at your location. (If that's even available!) If no one needs the extra lunch, pass out the meal to students who are still hungry.
Hack #8- Field Trip Information Sheet
There are so many details you need to have with you on the day of your field trip. I like to keep it all in one place and use a field trip information sheet.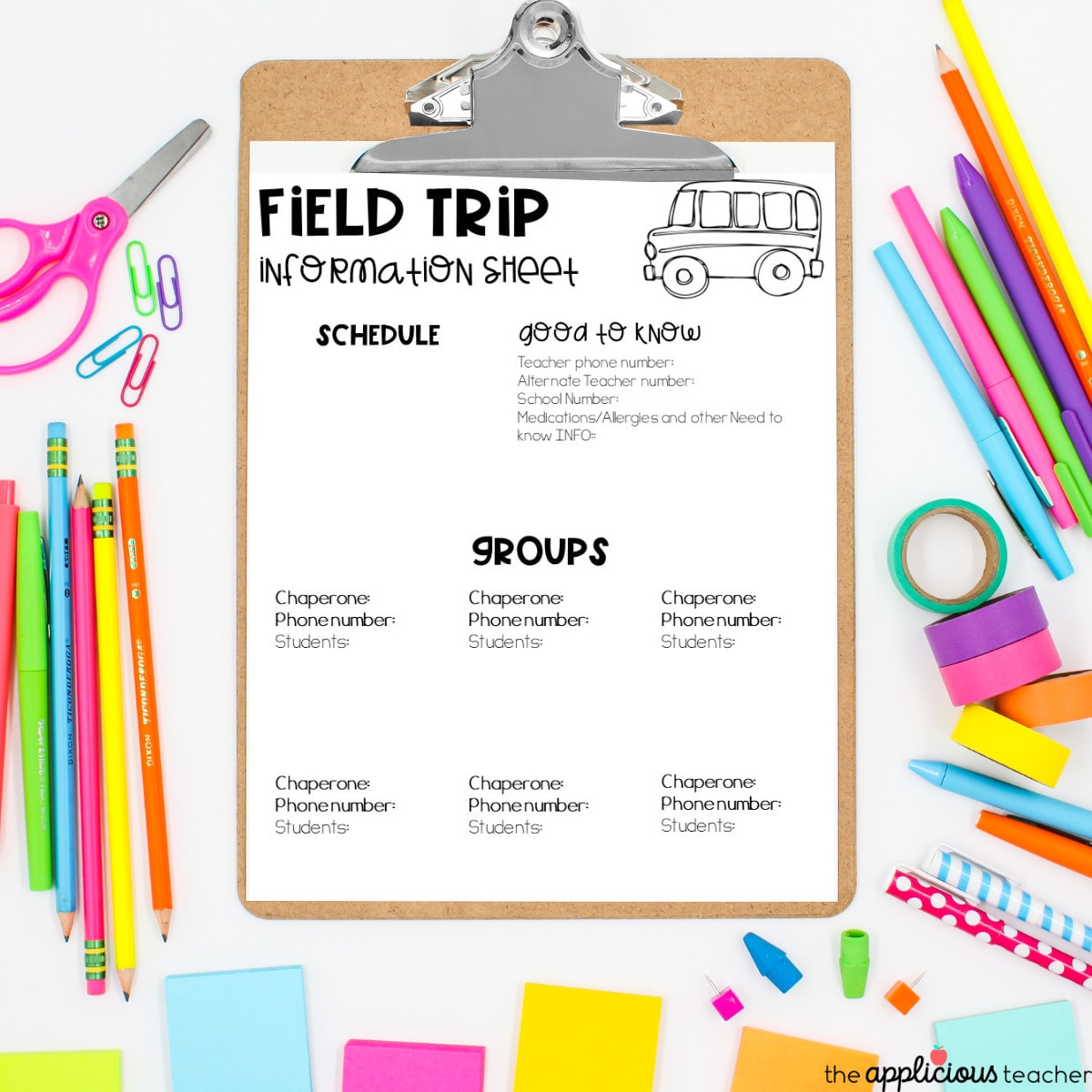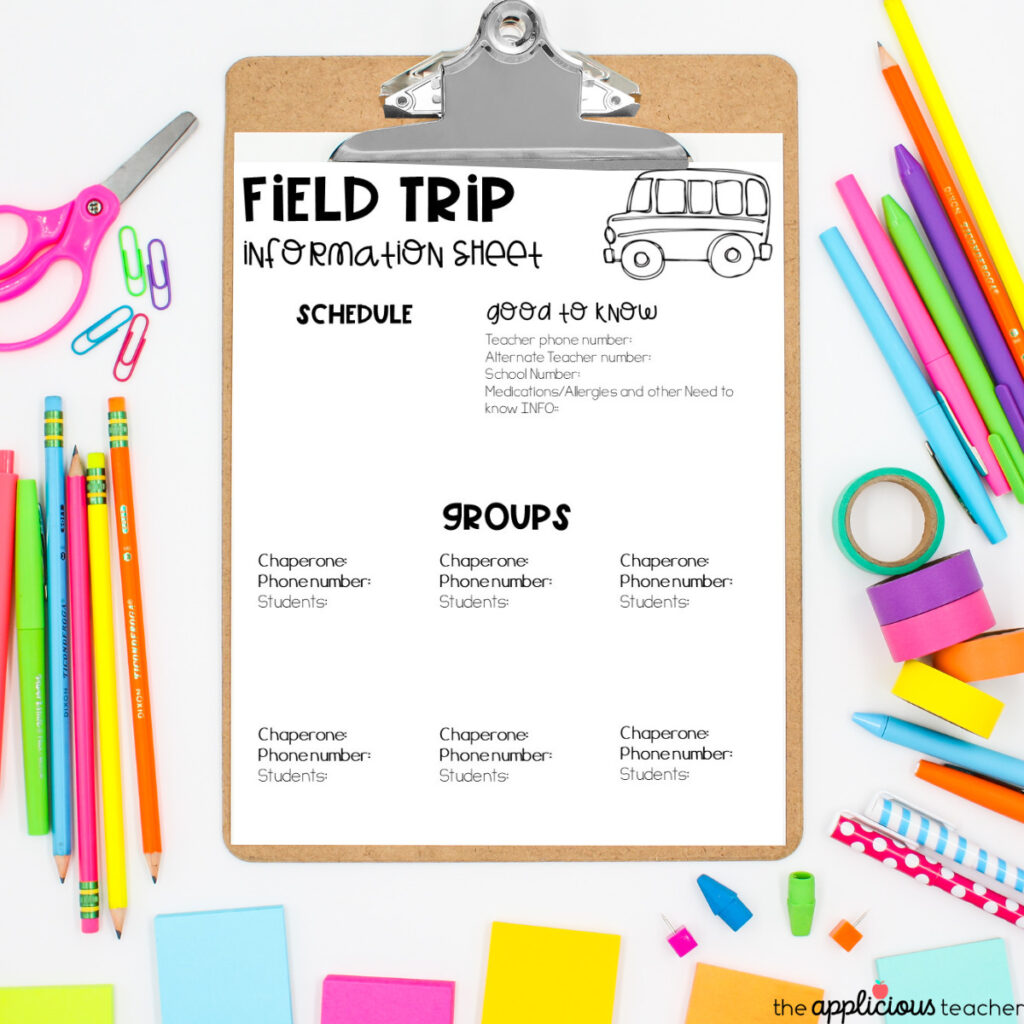 Things to put on the field trip information sheet:
Tentative schedule
Contact information for the school, yourself, and another teacher who is on the field trip
Groups/Chaperones
Chaperone information
Any allergies/medications- HIPPA requires you keep this information as private as possible, but of course, during a field trip, the chaperones NEED to know if there is a health issue to be concerned about (ie: allergic to bee stings and has an epi-pen). Even better- if a student does have life-threatening health concerns, ask the parent/guardian to chaperone the field trip.
Once you've made your information sheet, print out copies for yourself, your chaperone, and the office. Now everyone is on the same page.
Want a field trip form that's done for you? This one is a free download in The Applicious Resource Library. Sign up at the bottom of this post!
Hack #9- Snacks
I'm not sure what it is… but I have hungry kids this year! We brought snacks for both field trips, and they were a LIFE saver! I asked parents to donate some water bottles, granola bars, and pretzels, but anything could work!
If students walk around with their chaperones, gather enough snacks for each group and place them in a gallon-sized bag. Then, chaperones can divvy out snacks throughout the day.
Hack #10- Eat a Snack Before You Leave
This one goes with hack #9. If you leave a bit later in the morning (after 9:00), having students eat a bite before you go is a good idea.
Ask parents to send in granola bars or crackers with peanut butter (if no students with allergies). You want to ward off the "I'm hungry" hours before lunchtime.
Hack #11- Bring a backpack
For the day of the trip, bring a backpack. This will serve as your mini-classroom on your back. This one from Vera Bradley is a favorite of mine! The durable material, number of large zippered pockets, and side pockets make it a teacher's dream!
Fill it with the following:
Bandaids or first aid kit
Wipes
Tissues
Hand sanitizer (spray kind is my new favorite for on-the-go!)
Cell phone (and a power bank if you're going to be gone all day)
headache medicine for teacher
personal items like wallet, keys, lady items
student medications and forms
a folder with any required documents/forms
Your field trip information sheet.
Don't forget a pen or two to write down the headcount before you head out the door and board the bus!
11 Hacks for a Stress-Free Field Trip
Well, those are my top 11 best tips for a mostly stress-free day! Remember, a field trip is meant to be fun, so be sure to prep your students and get yourself ready! The more prepared you are, the less stressed you'll be on the day of!
Want to grab a free field trip information sheet? Sign up below!