Who Needs to Go Out On Black Friday When You Can Shop in Your Pajamas?
So were you one of the brave ones who ventured out this past Friday to score some major deals? Well…I did! We went to Target and scored a few good deals on gifts for the kids. I'm sucker for major steals, but I'm also a lover of shopping in my jammies, on the couch, while binge-watching my favorite show (OMW- The (new) Crown! <3! Mandalorian!) If you're a lover of scooping up some major good deals while in bed-ware, you'll LOVE the deals that are about to go down during the TpT Cyber Monday Sale!
Save Big with Promo Code
Shop Monday, December 2nd and 3rd and save up to 25% already amazing prices in my store! All products will be marked down to at least 20% (continue reading to learn more!) Then, use the promo code: CYBER19 at check out to receive an additional 5%. That's a combined savings of 25% off! WOOT!
Extended Days for Busy Teachers
Although the additional 5% savings starts tomorrow, I'm so excited about saving big, my ENTIRE store will be on sale from Monday,  December 2nd through Wednesday, December 4th.
Why?
Well, as a busy teacher (wife, mother, Christmas coordinator) aren't Monday's busy enough?  Wouldn't it be nice to save when I actually get a chance to sit down (and NOT fall asleep?)… and normally it's not Monday? Also… who knows what could happen between now and Tuesday evening! I'd rather have just one more day to shop just-in-case.
More Ways to Shop This Year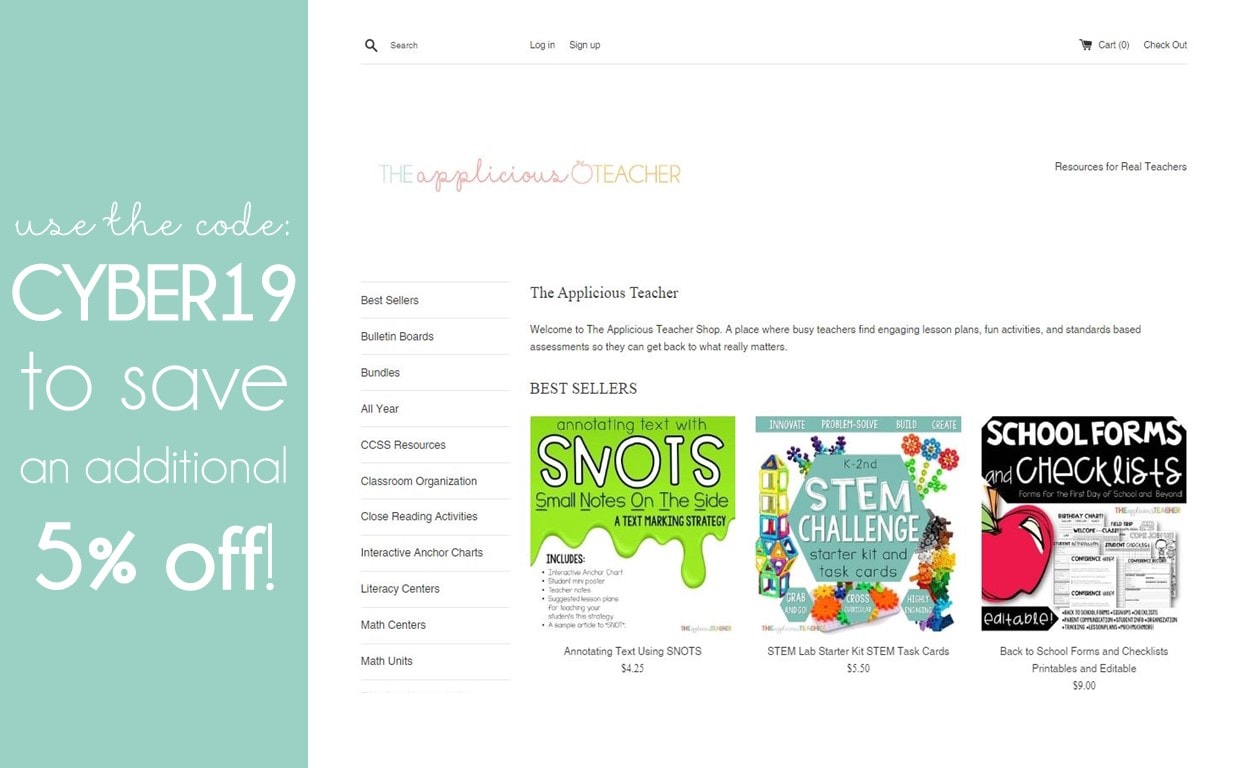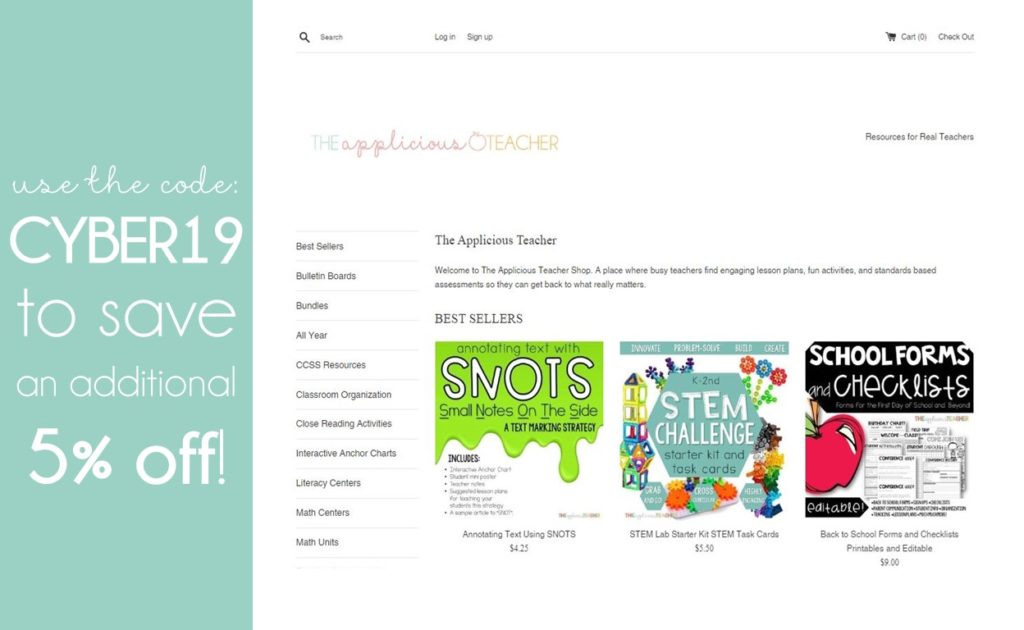 Did you know that in addition to my TpT Store, I also have a store right here on my website? I know, how exciting! In addition to saving on those must-haves in my TeachersPayTeachers store, you can also save big shopping right here on the site! Use the same code, CYBER19 to score some major deals!
December Resources
Oh, those December lesson plans! So tricky! Not only do you have to coordinate parties, create gifts for the family, make sure your classroom elf is behaving,  somewhere in there you're actually expected to teach!? The amazing part is, you do teach, and teach well! Why not snag some perfect-for-December resources to help you be even more amazing?
Check out these must-haves for your last month of 2019!
Click the picture to snag these great resources!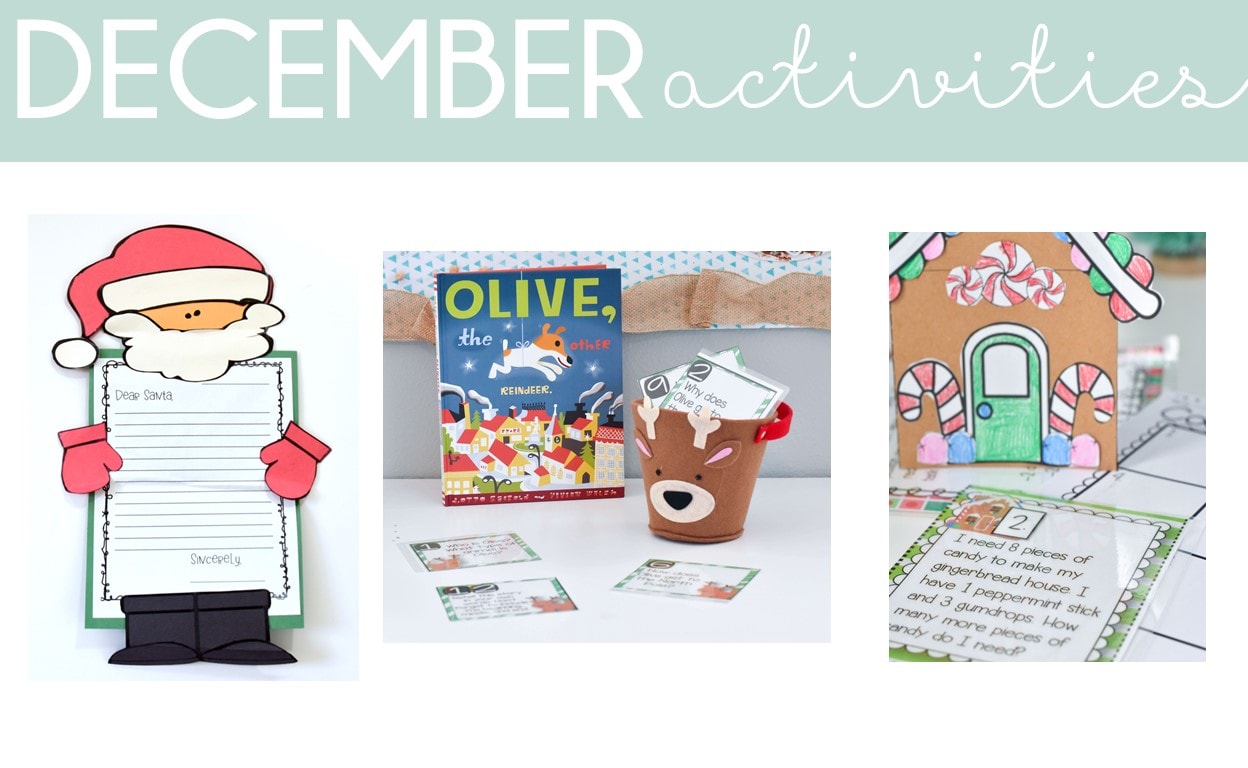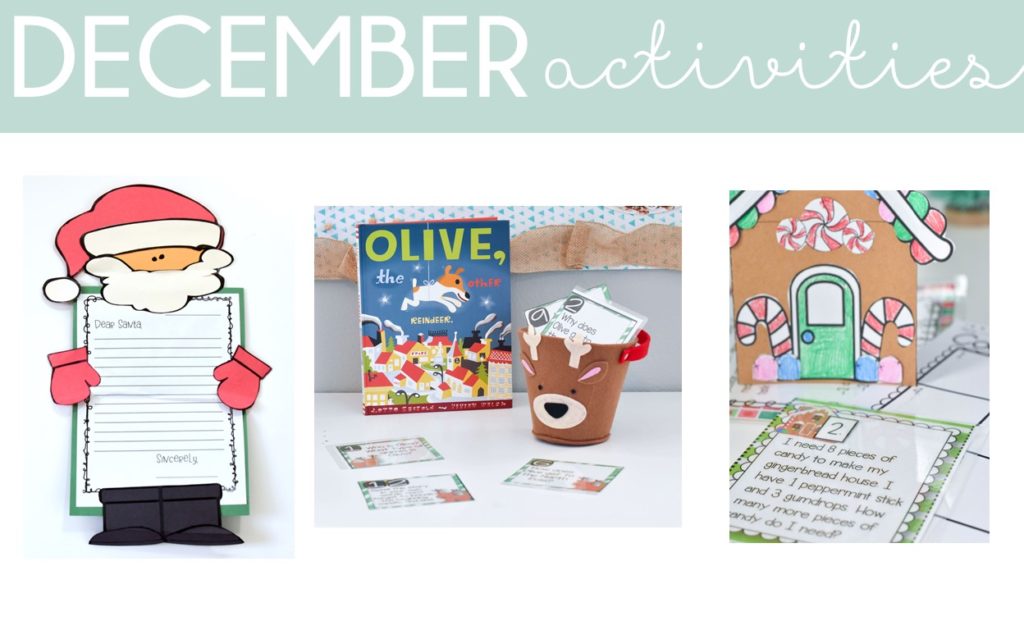 See how we used "Olive the Other Reindeer" to build a love of reading AND hit all the standards! READ BLOG POST HERE!
60% off All Year Long Resources
Ok… so this one I am SUPER excited to share with you. Planning activities week after week can be draining! That's why I love resources that help you out ALL YEAR LONG! So, I've marked down all my ALL YEAR LONG resources, then placed them on an additional sale of 20% off. Use the coupon code: CYBER19 to get an additional 5% off that price. Combined all these discounts add up to HUGE savings for you! Up to 60% off retail if we calculated it all up!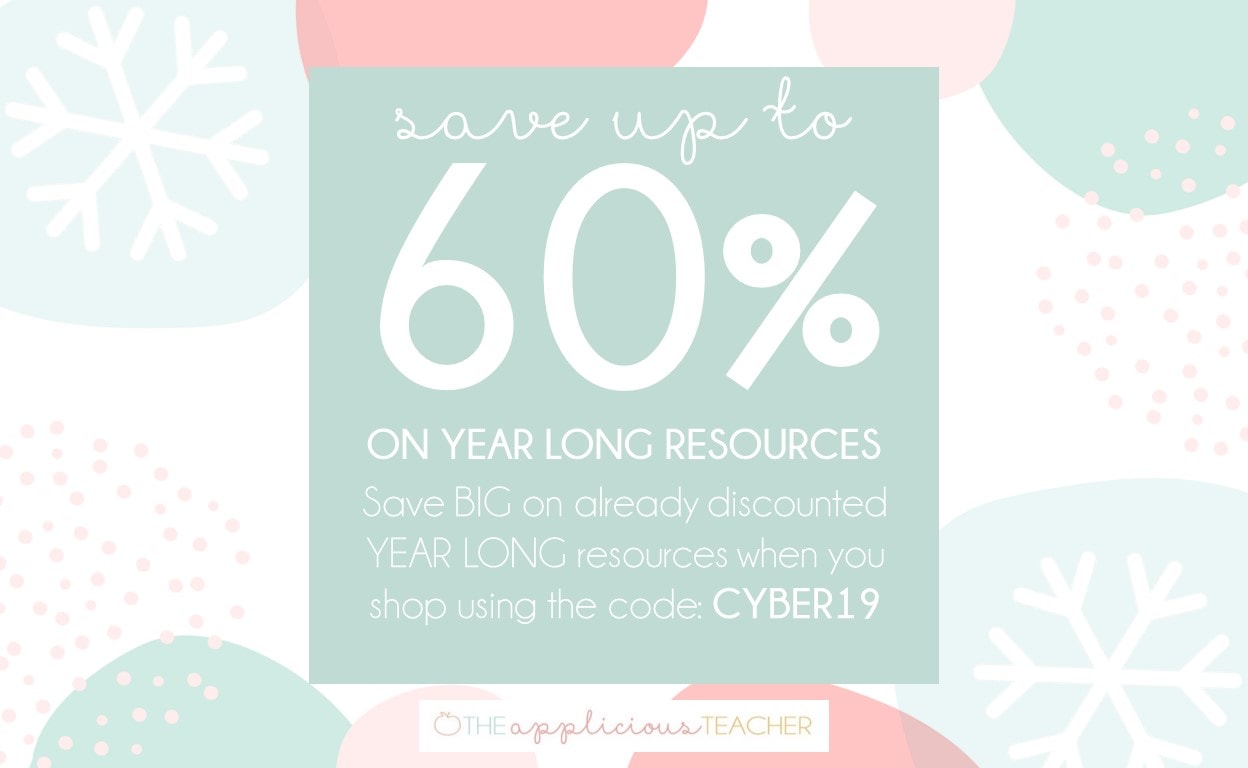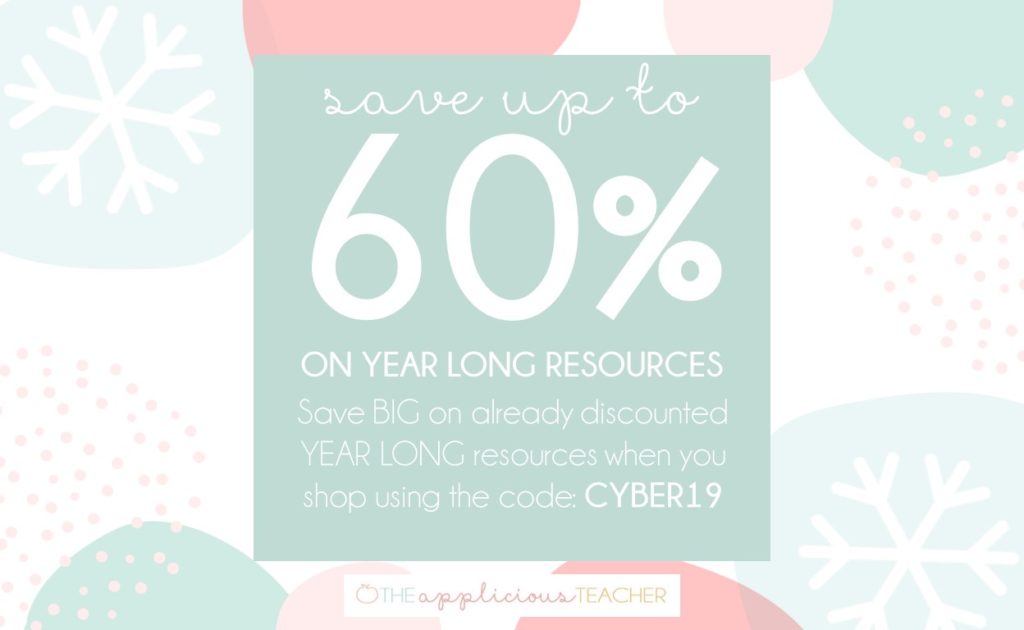 Seriously, Check it out!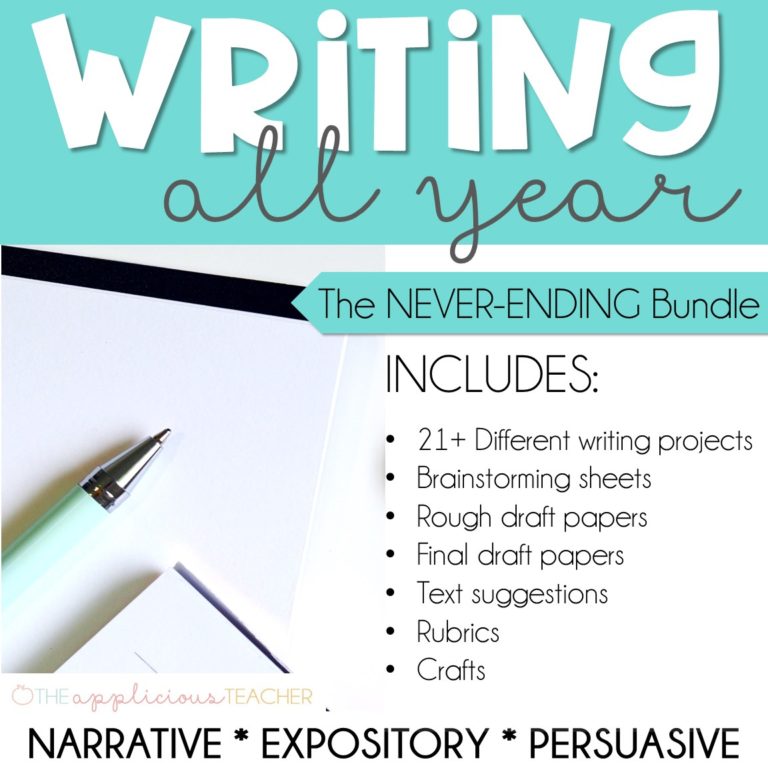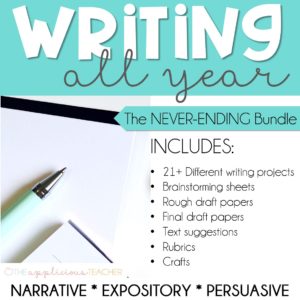 This HUGE BEST-SELLING bundle is a collection of EVERY and all future writing activities in my store. Each project includes brainstorming sheets, self-checking rubrics, final draft papers, and a cute craft! There are already 21 units included in this chunky download! Original Price: $77.50
Bundle Price: $39
Cyber Monday Sale Price: $29.64 (62% off)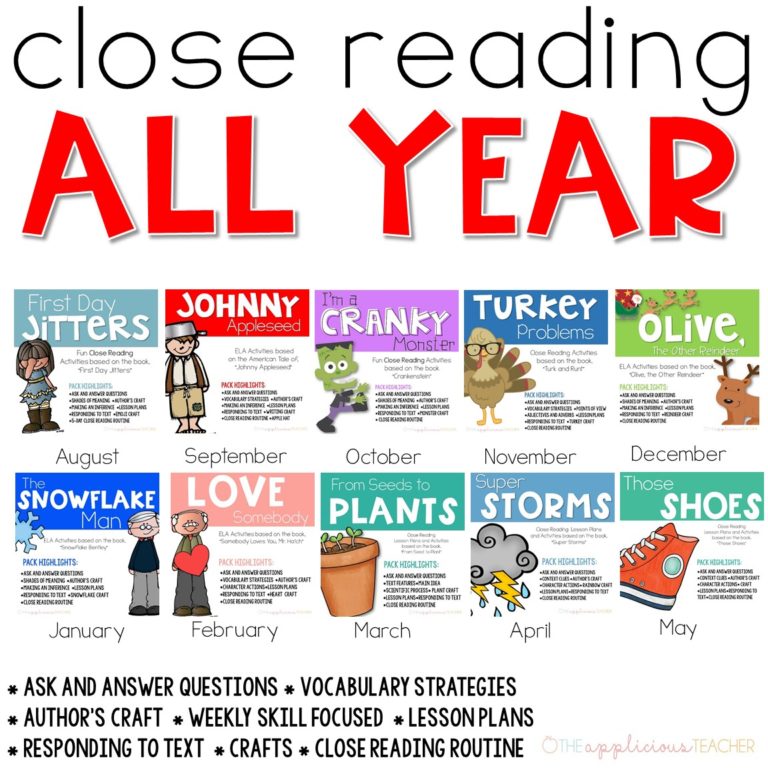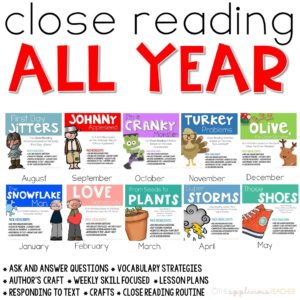 I love using a close reading routine to build a love and deeper understanding of author's craft and reading in general! Each of the close reading resources includes detailed lesson plans, engaging activities, and writing to text response sheets with rubrics! Original Price: $54.50
Bundle Price: $39.00
Cyber Monday Sale Price: $21.75 (60% off)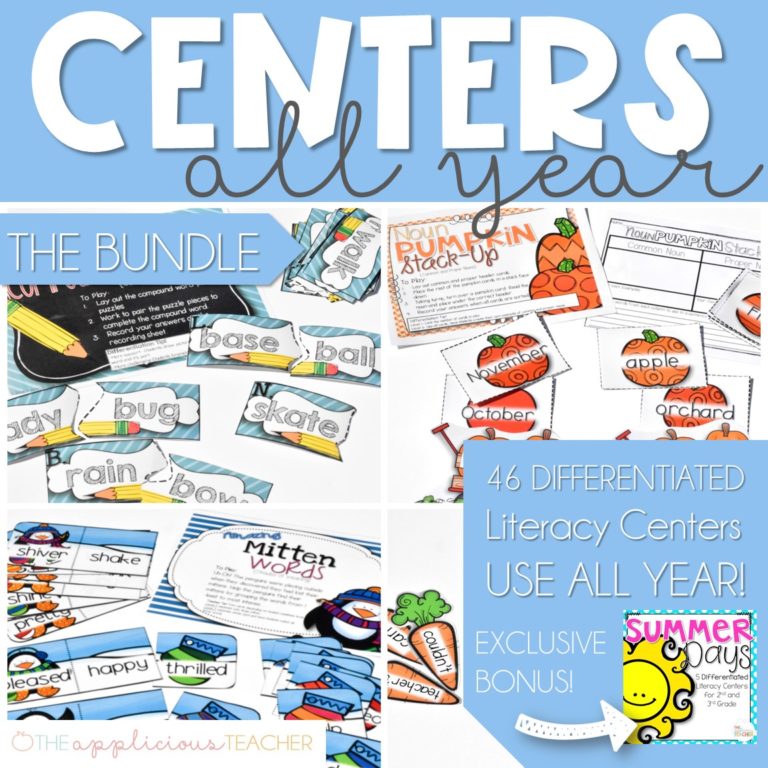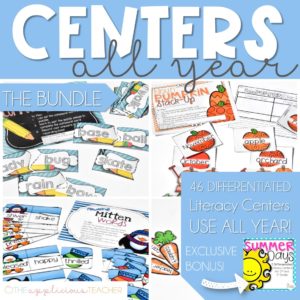 I love having all my centers prepped for the entire year and ready to go! When it comes to planning centers, I just go to my center filing cabinet and pull out what I need. Snag all my differentiated literacy centers and receive this Bundle Exclusive set of Differentiated Centers for Summer FREE! Original Price: $32.50
Bundle Price: $22.75
Cyber Monday Sale Price:  $17.06 (52% off)
Be sure to head to my store to check out ALL the amazing deals! Happy Shopping!
Sign up to snag these!
Receive all these classroom management tools right to your inbox!