I'm working as an interventionist this school year, and I can't wait to share my intervention classroom with you!
Just in case you missed the news over on The Applicious IG page: I'm back in the classroom this year! After six LONG years at home (and a few long-term sub positions sprinkled in…), I'm back in action… but in a completely new role that I've never done before: Intervention.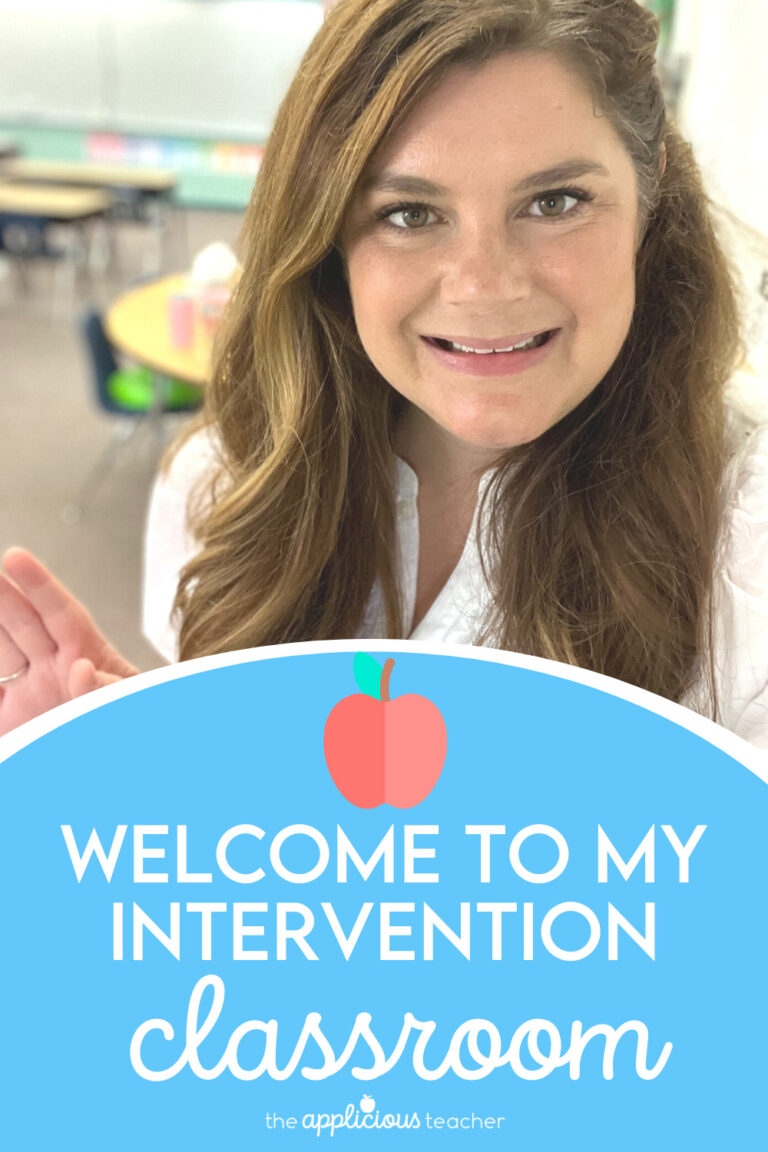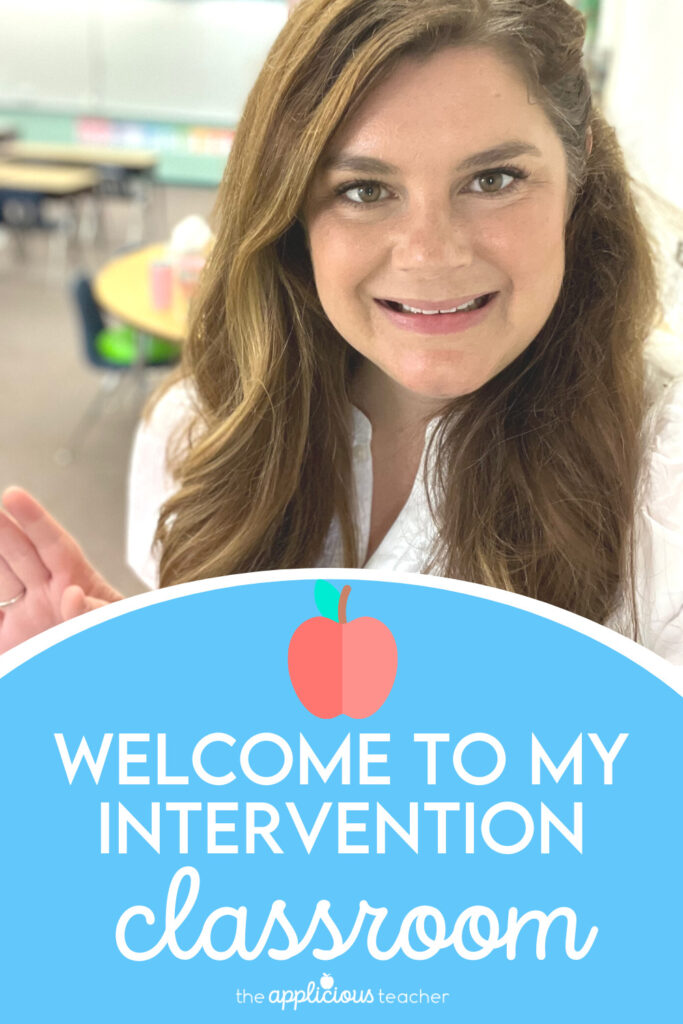 Of course, with a new position comes a new room, and I can't wait to share the details with you!
Please note this post contains affiliate links.  If you follow my links, please know that I make a very small commission from your purchase. There is no cost to you, but this extra coinage allows me to continue creating free resources and writing awesome content for you!
Intervention Classroom Setup
One of the trickiest parts of setting up this room was keeping in mind the type of teaching and learning that would happen in this space. So, as I go through and share some of the highlights, keep in mind that this room is not designed for a full class of students but for smaller groups of students to work and collaborate in different areas instead.
Welcome to our Mountain Themed Classroom!
So first, let's talk about themes. Over my last 13 years as an educator, I've used many themes in my classroom: Apples, birds, then color themes (bright rainbow, teal, and orange). Honestly, color themes are my favorite because they allow for many different aspects to be used in the classroom.
But for this room… I was kind of at a loss at the beginning. With mint green walls and dark green doors, I wasn't sure what "theme" would look best, so I asked the experts: YOU!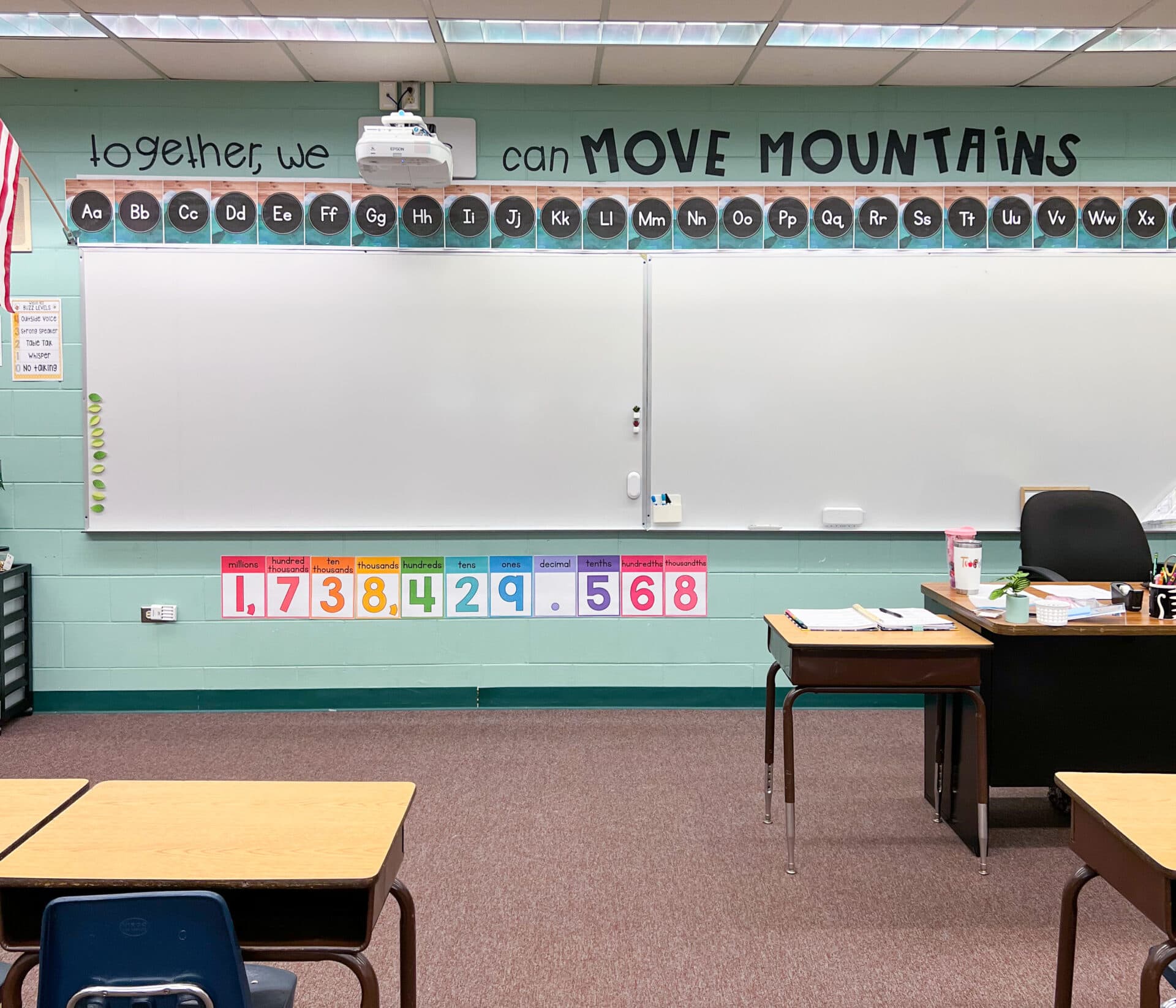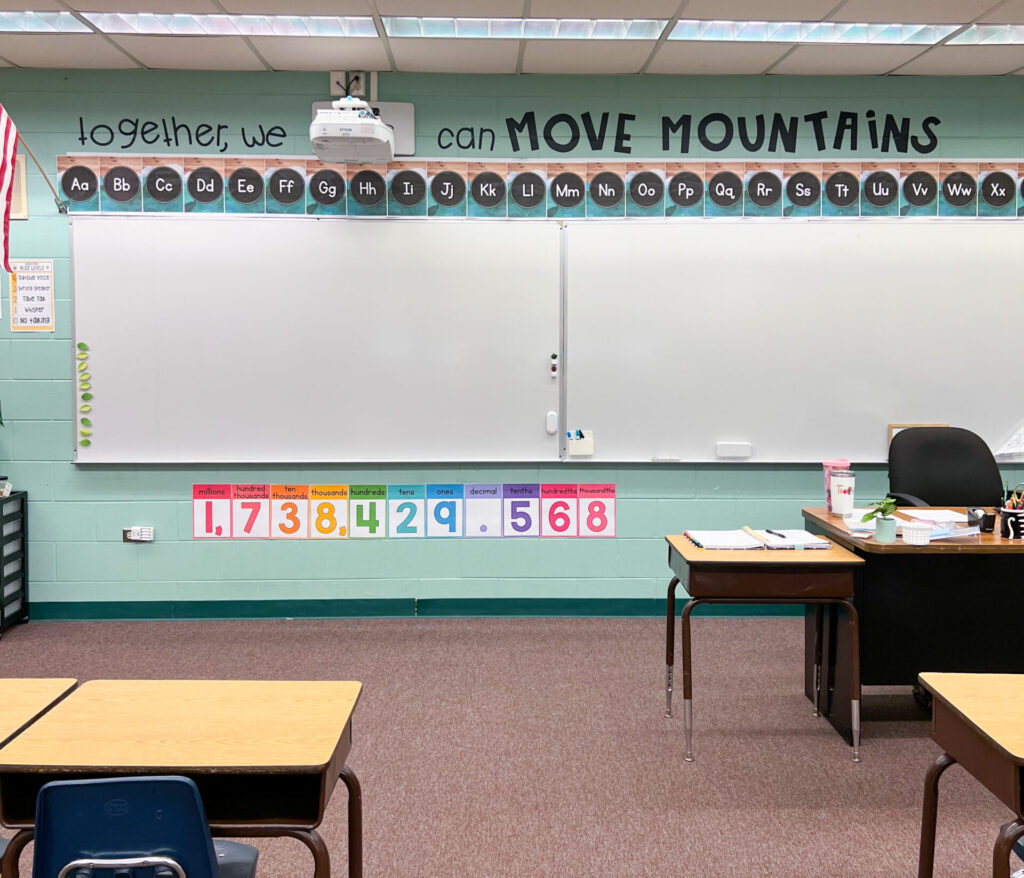 You also convinced me to do Ashley McKenzie's "Scandi- Mountain" with green and black overtones. So that's just what I did!
I didn't need the whole kit and caboodle, so I just purchased a few products from her line to start with, then built from there!
At the front of the room, I put my grade-neutral alphabet. I teach grades k-5th, so I wanted something that all students could use.
Just above that, I posted one of my favorite classroom projects. In this room, students will do hard work. But, I wanted them to know that they are not alone in that climb… so I used my Cricut and cut these letters onto black vinyl.
Teacher Circut tips!
Use regular vinyl, not the permanent kind! And it's ok to use the slightly cheaper version you can find online! It works just as well, and I couldn't tell the difference between them!
When cutting the letters, select the "advanced" option on the toolbar, then "Ungroup" the letters. This will place the letters in the best spot on the mat to maximize cutting space. Perfect for not wasting a bunch of nice vinyl!

Teacher Table
The space that's getting the biggest workout right now is my teaching table!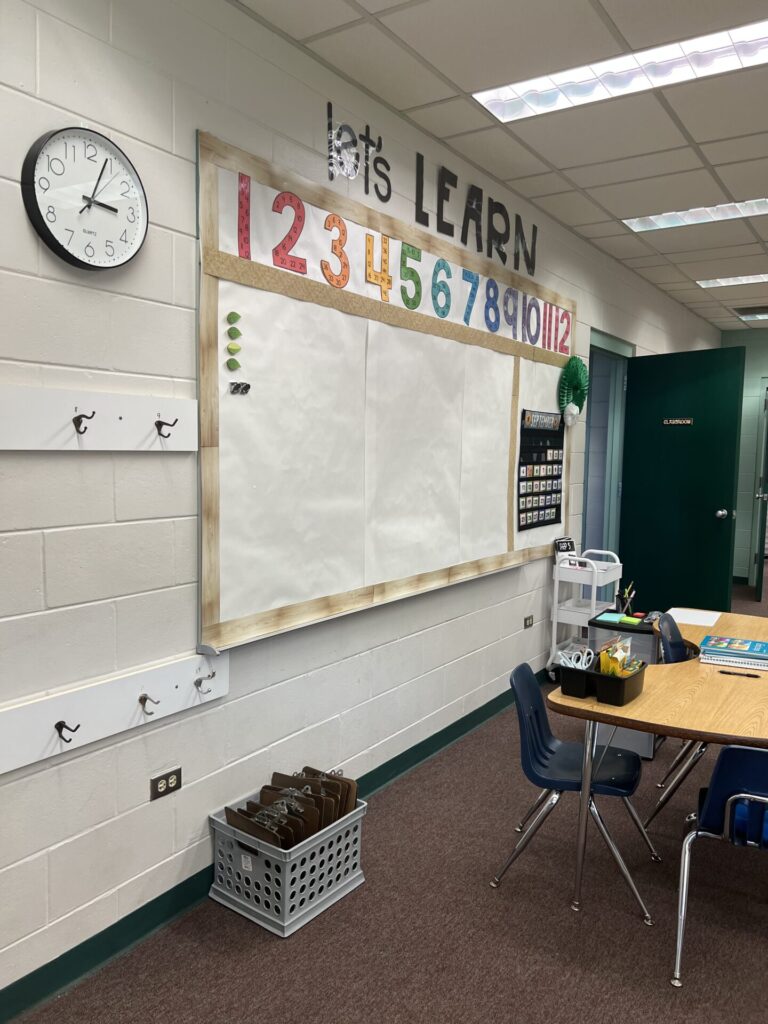 Right behind my teaching table is a whiteboard that I covered with paper. Right now, I'm using it as a reference board. I use magnets to hang up anchor charts, reference posters, and our learning objectives. Having the extra space behind my teaching space to hang information is so nice!
Right next to my teaching table, I have a three-drawer organizer. This thing has proven its worth time and time again! It stores all my small group supplies, so I grab from the drawer what I need for the group. You can grab a similar organizer to the one I use here!
I also have a three-shelf cart against the wall. I found this one at Micheals, but you can find a similar one here. I use the cart to store small group supplies like mini whiteboards, magnetic letters, and dry-erase markers. This way, I can grab what I need and not hunt for items.
Bulletin Boards Spotlight
Not having a class in my room day after day really made me wonder what in the world I would even put up my bulletin boards. Like, what does an intervention classroom really need to have up on the walls?
I knew I wanted reference information, so I dedicated a few spaces to reference, but in general, I kept the bulletin boards low maintenance so I could keep them up all year!
ELA Expectations Posters
This past year, Florida fully implemented the BEST standards. Attached to our new state standards are the English Language Art Expectations. These are "guiding principles" teachers are to keep in mind for each English Language Arts lesson we teach.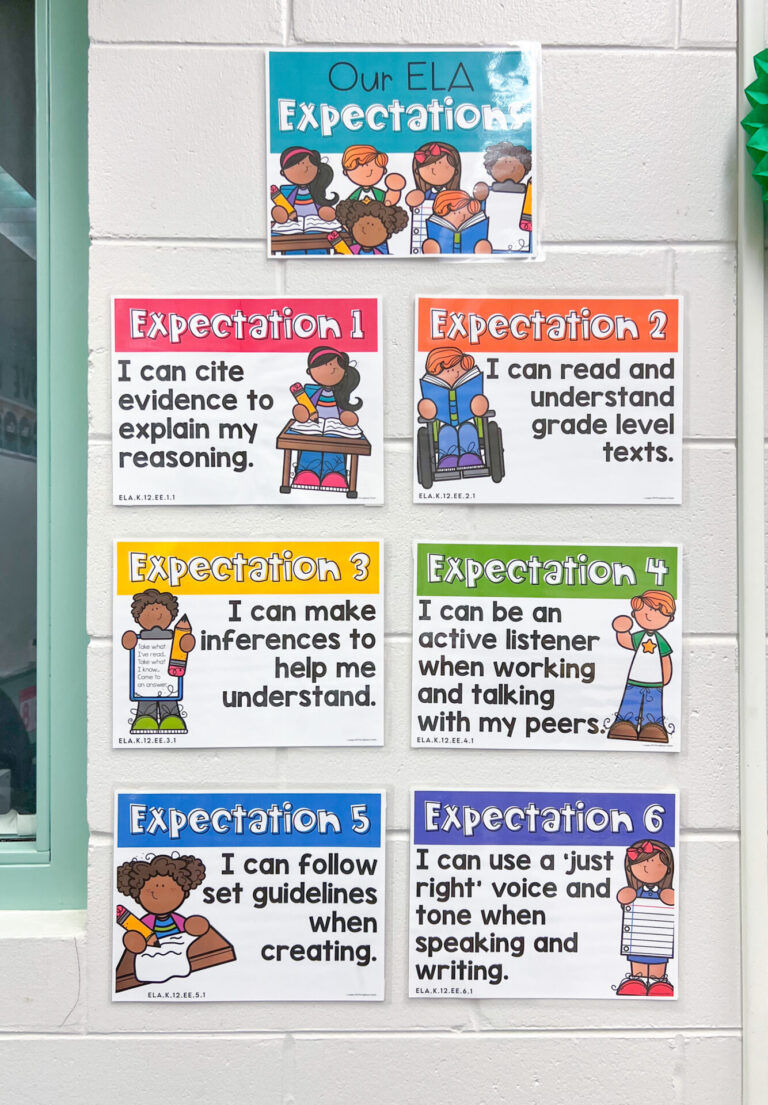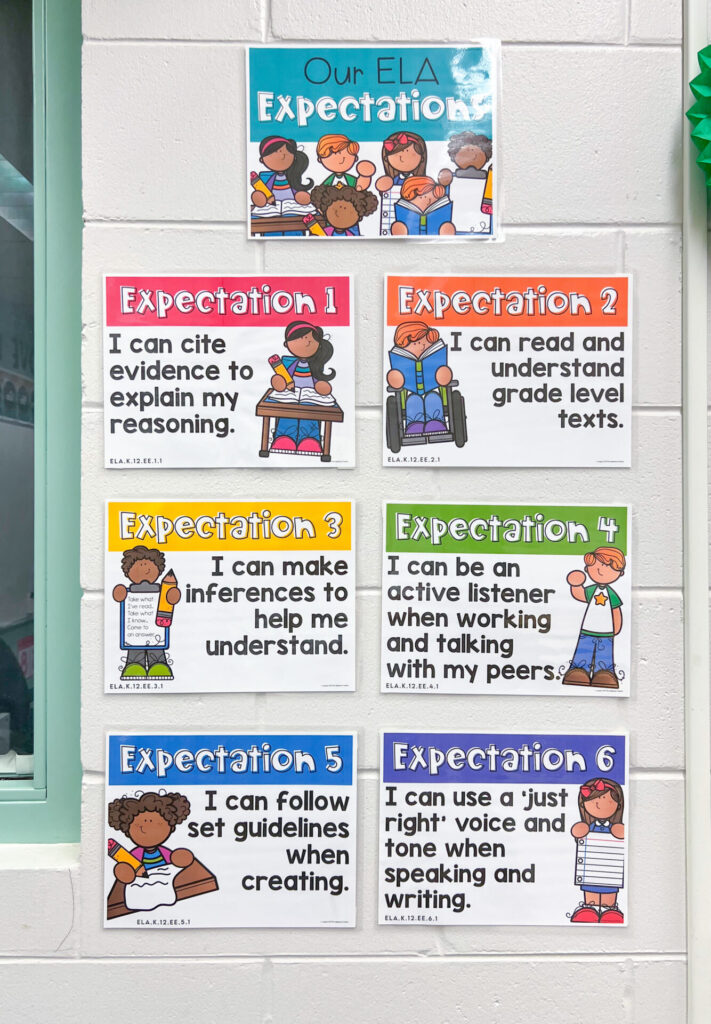 Our district has decided that the EEs should be displayed in the classroom at all times. So, I went ahead and created a student-friendly version. You can grab these for free in the Applicious Resource Library!
I didn't want to take up bulletin board space, so I used some wall space near my computer to display these.
TEACHER TIP!
If you struggle to hang items in a classroom with concrete block walls like me, you must check out Teacher Tape. This post isn't sponsored… it's just seriously the best stuff I've found that literally leaves no residue, is repositionable, and actually works on concrete block or any wall surface. Find it here on Amazon!
Mathematical Thinking and Reasoning Standards Posters
In addition to having our EEs posted, the district also wants us to post our MTRs. MTRs are Mathematical Thinking and Reasoning standards, and they are similar to EEs, guiding standards we are to keep in mind when doing our lessons.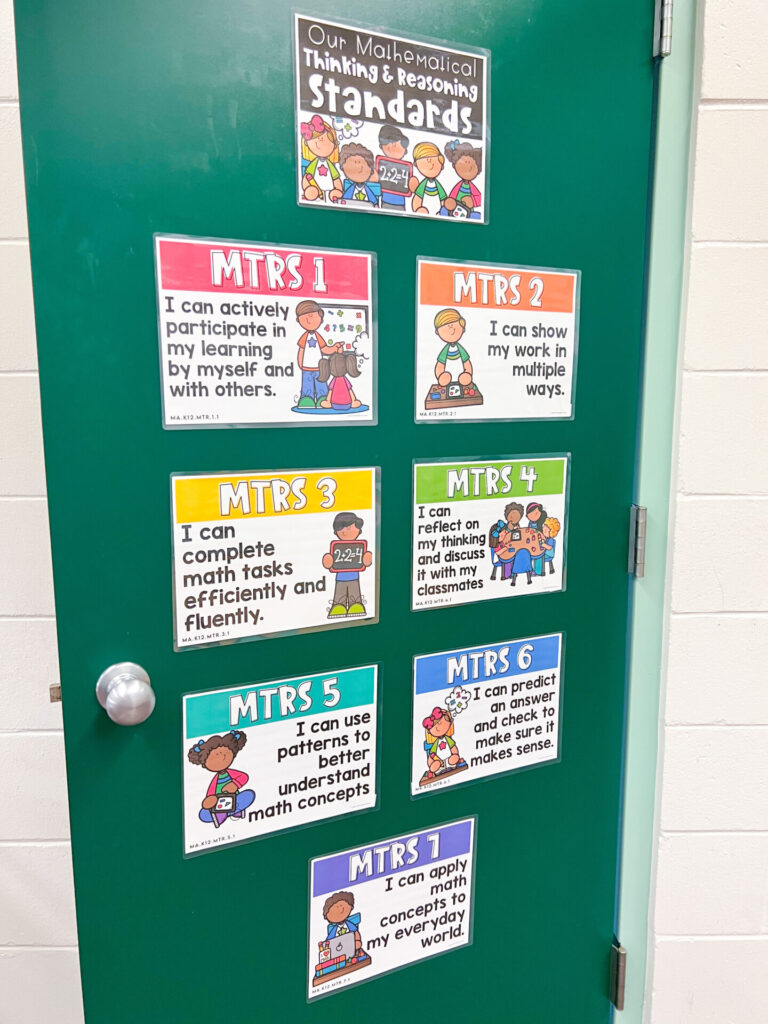 Once again, I didn't want to take up precious bulletin board space, so I used a side door to hang them. Teacher Tape saved me again!
Good Readers Bulletin Board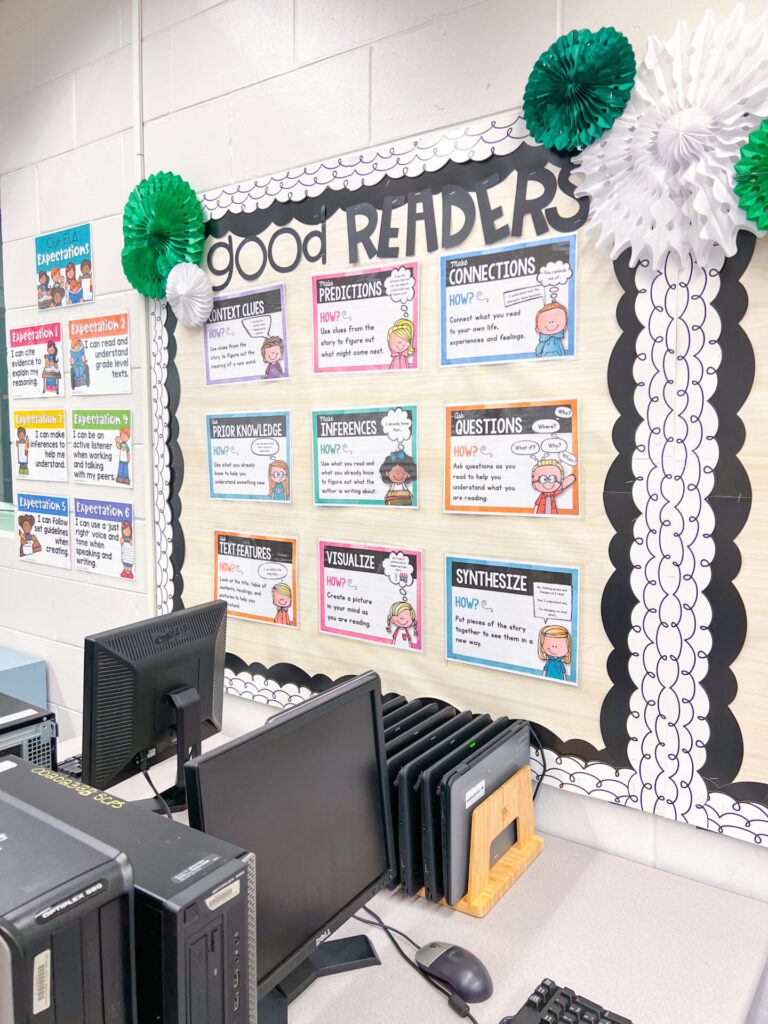 Keeping with the k-5 theme, I wanted a bulletin board that could be used as a reference. I found these "Good Readers" posters and thought they'd make a perfect bulletin board that could be referenced at any time. You can grab them here!
Sound Wall
Right next to the "Good Readers" bulletin board, I put up a sound wall.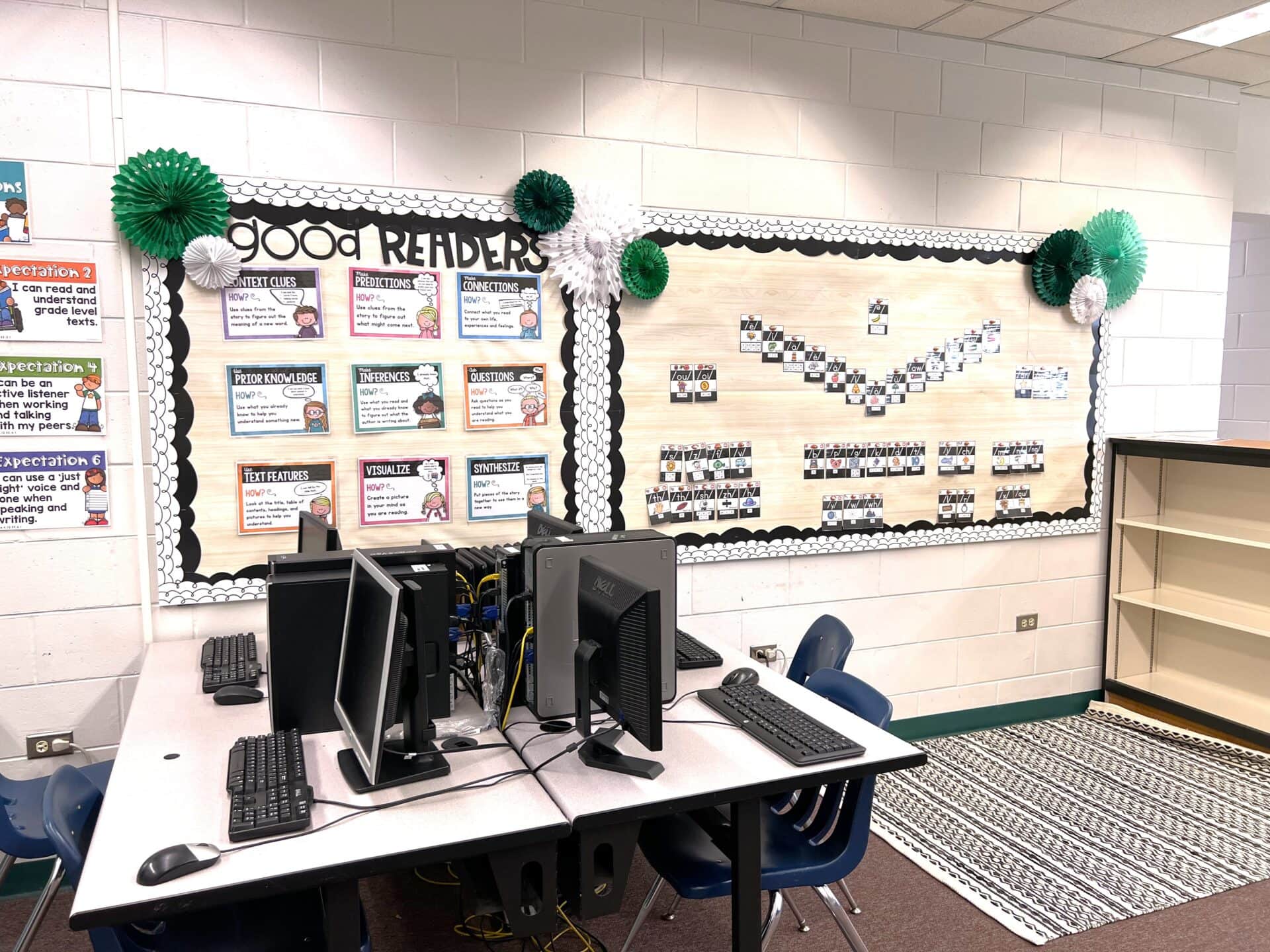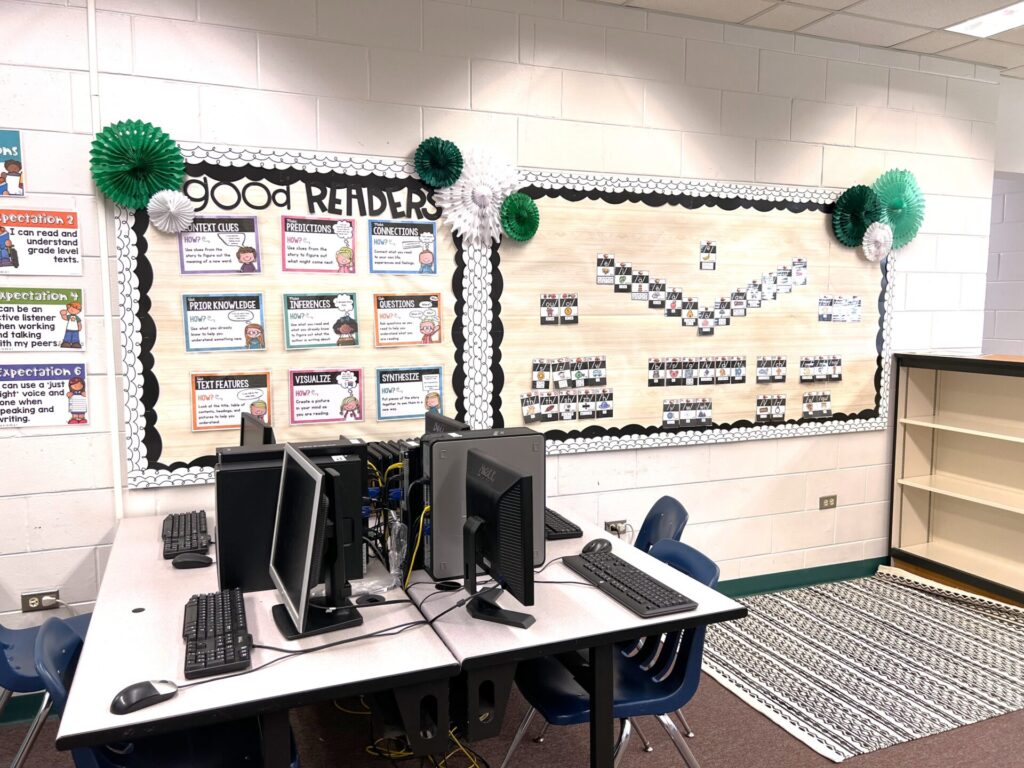 Be a Problem Solver Math Bulletin Board
Since I will also be teaching math, I knew I wanted some math references up, too! That's when I stumbled across a few posts that included a "problem solver." Such a fun idea, but I wanted to tailor the steps to match better how I like to teach word problems.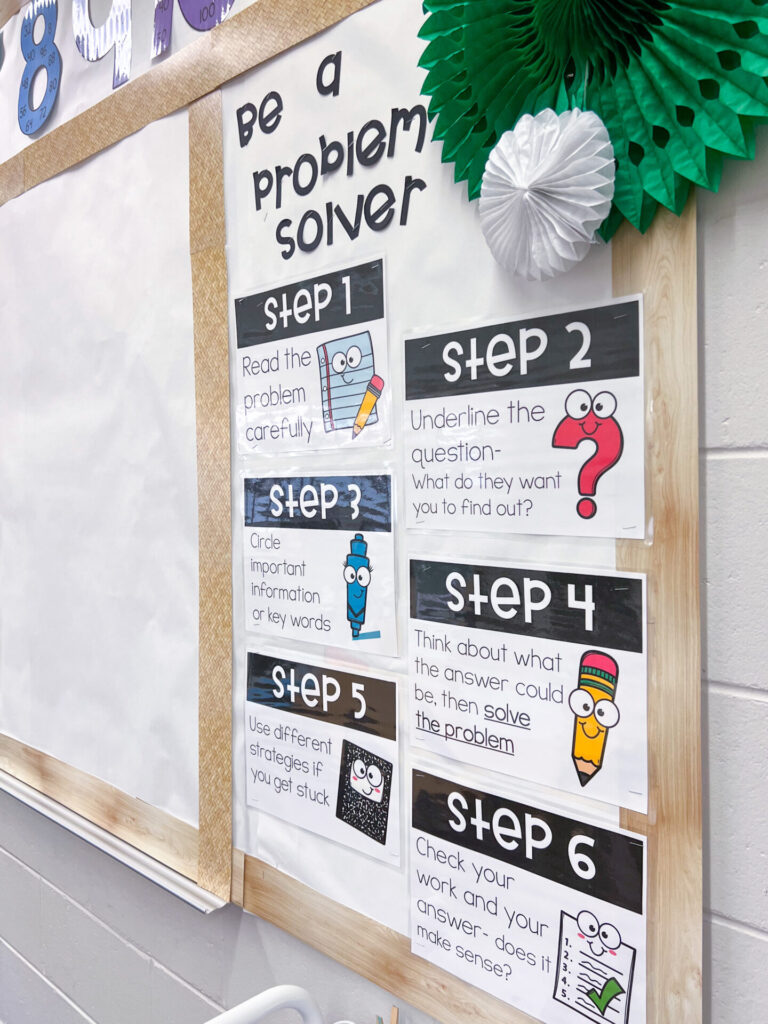 So I created my own version. You can also grab these as a free download in the Applicious Resource Library!
Bulletin Board Hack
So really quickly… I want to share this easy hack with you! I added some pizzaz to my bulletin boards by adding some paper fans I found on Amazon.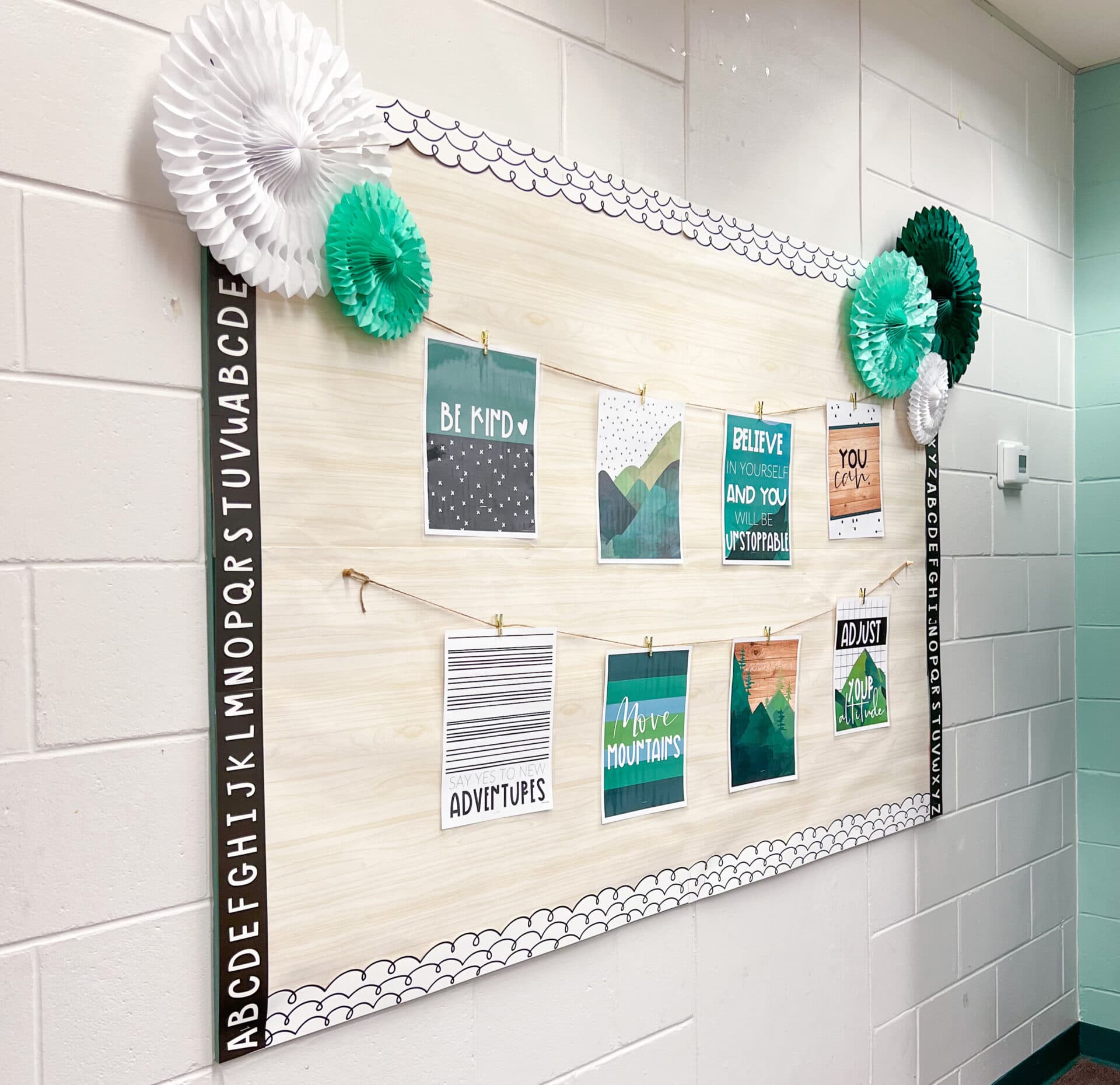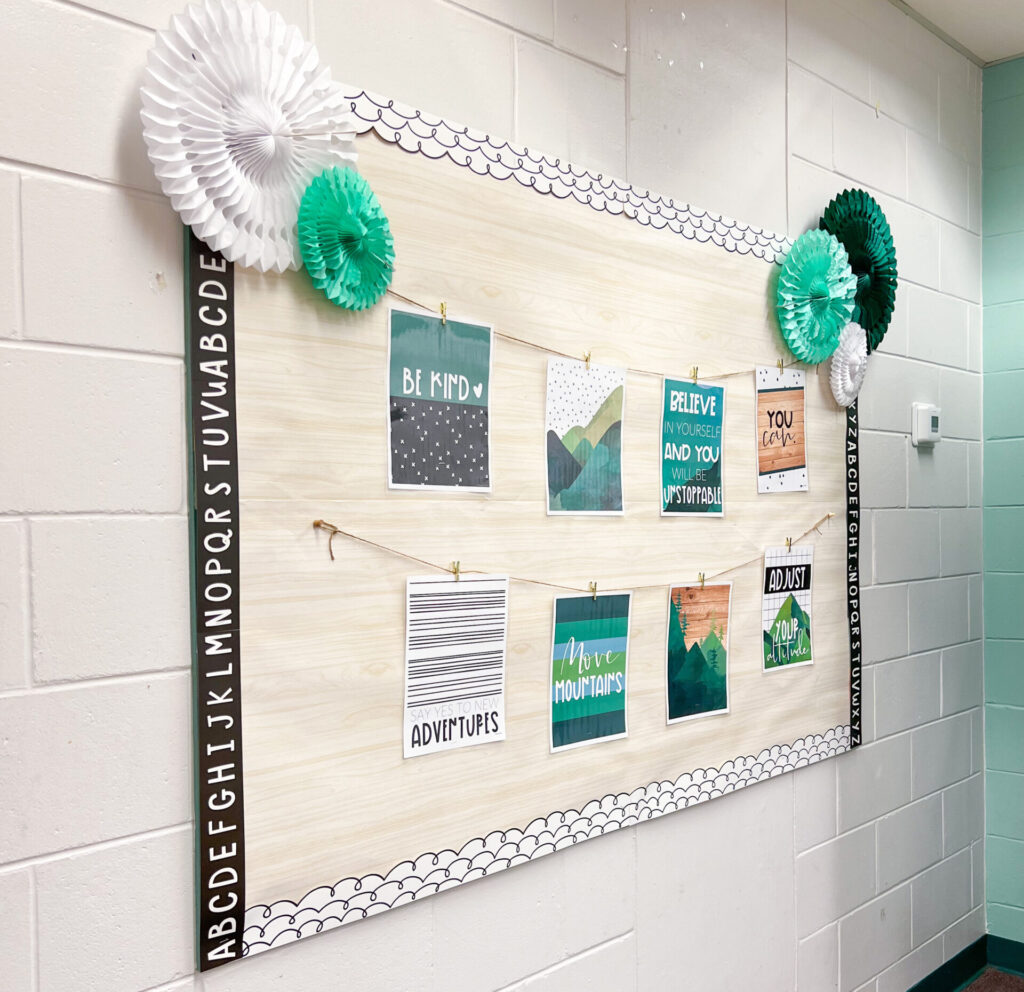 These were pretty inexpensive, and I figured it was easier than making them myself. But… there's a trick to hanging them that I have to share!
Straight pins, teachers! STRAIGHT PINS!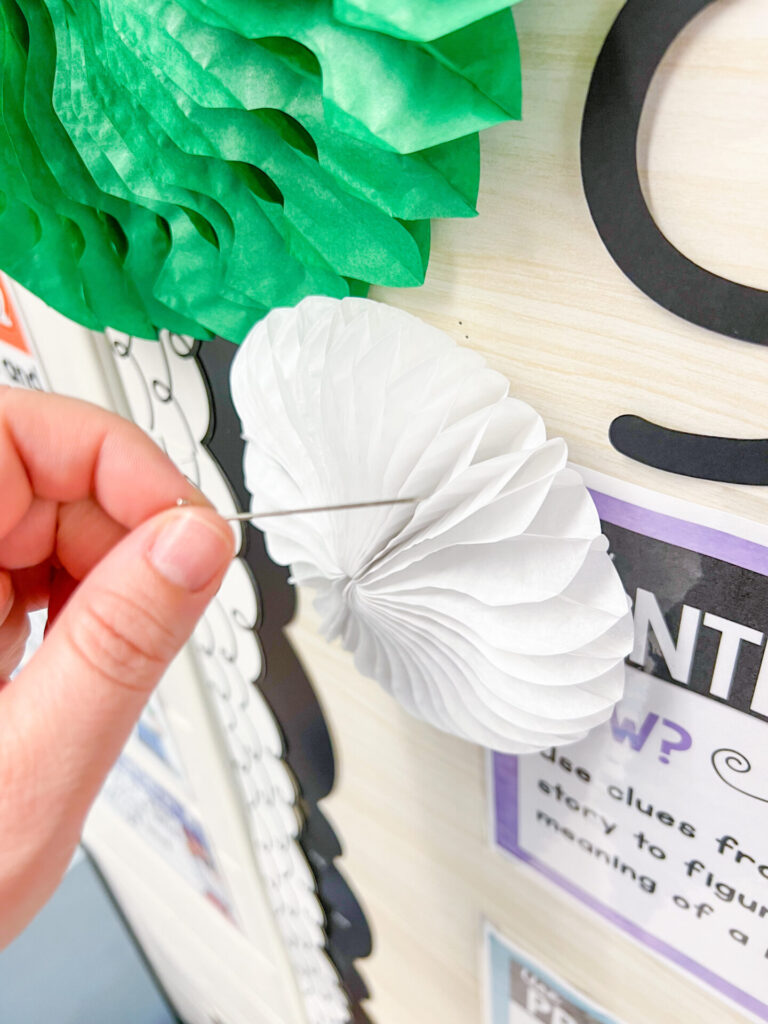 So easy, too! Just use a straight pin or two ( I used these!), and you can easily layer and secure the paper fans! So smart if I do say so myself!
Intervention Classroom Set up!
Ok… so there's a quick tour of my intervention classroom! I can't wait to make some magic happen in this space!
Don't forget to sign up for the Applicious Resource Library so you can grab all the free downloads in this post!
Like these ideas? Check out these other classroom posts!
Sign up to snag these!
Receive all these classroom management tools right to your inbox!