School has officially started! Last week was our first official week with students. I'm so excited to be back in second grade! I love the beginning of a new school year. Don't you? 😉 Although my room is not "officially" done, I thought I'd give you a quick classroom tour of my new second grade digs!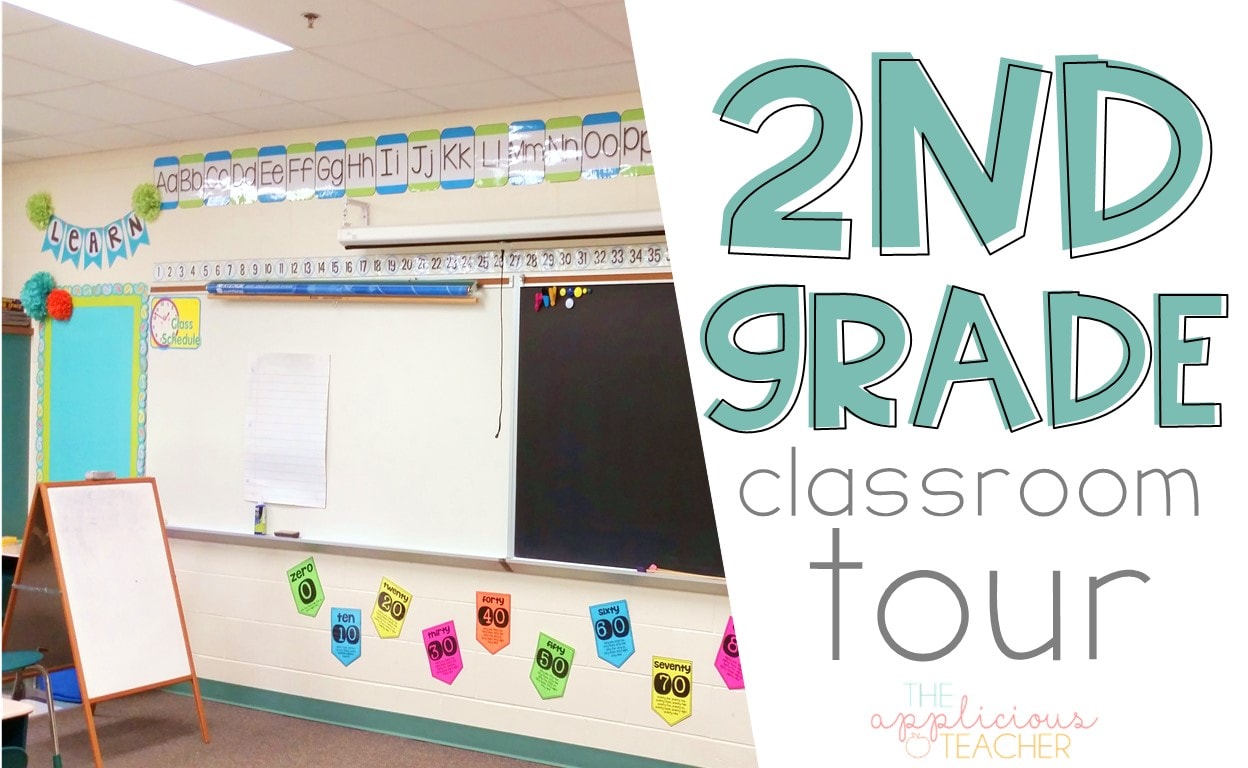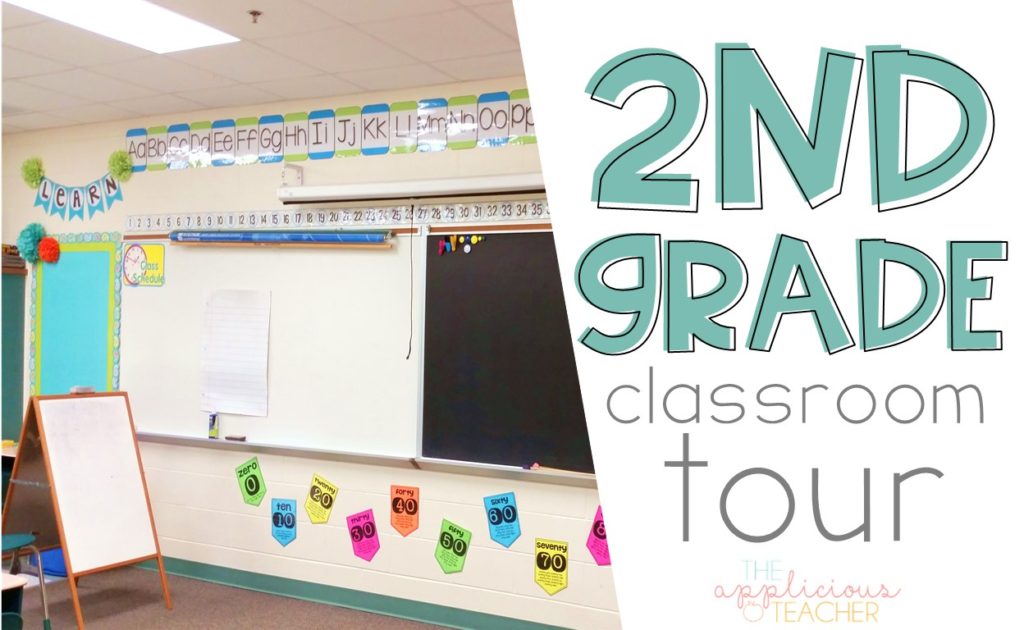 So, come on in!
Before coming to this school last year, I never had an area to decorate outside of my classroom door. Over the past year, I've grown to love this area!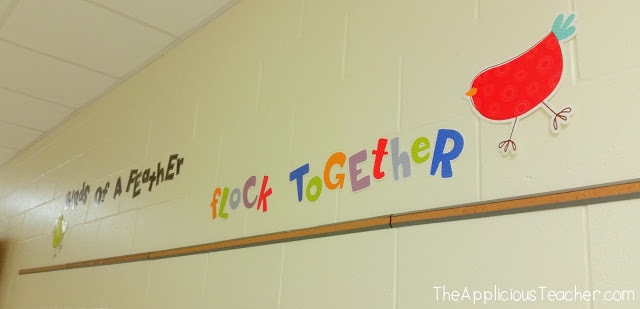 Then, I added a bird with the student's name on the cork strip below. This is where we'll display all the projects we're ready to show off to the school!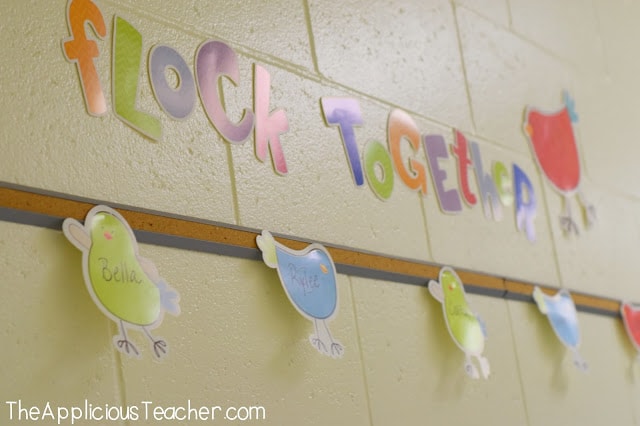 You can check out the letters I used here and the birds here.
Ok… That's the outside, let's see the inside!
Here's the front of my classroom…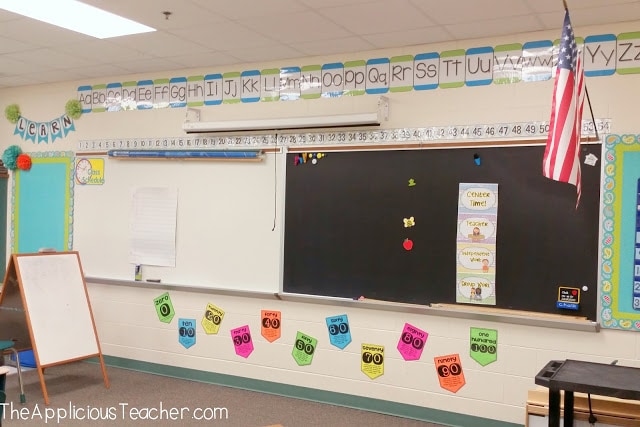 Yeah, I don't know why half my board is a whiteboard and the other half is chalk. Strange…
But, I knew I wanted my classroom to bright and welcoming.
Those neon number cards are from Amy Lemons! You can check those out here.
I made a new alphabet for above my chalkboard to match the teal and lime green theme. I wanted everything to be clean and modern looking.
You can check out this alphabet here.
Below that, I put up a 1-60 number line.
A number line in second grade is a must! Skip counting, adding, subtracting, all strategies that work better with a visual. This number line matches the simple/modern teal and green theme of the letter cards and helps with odd and even numbers as well. You can grab this number line here!
Flanking the left side of my board, I have our "objectives board". I kept it super easy to update daily by using white paper tucked into plastic page protectors and stapling them right onto the bulletin board.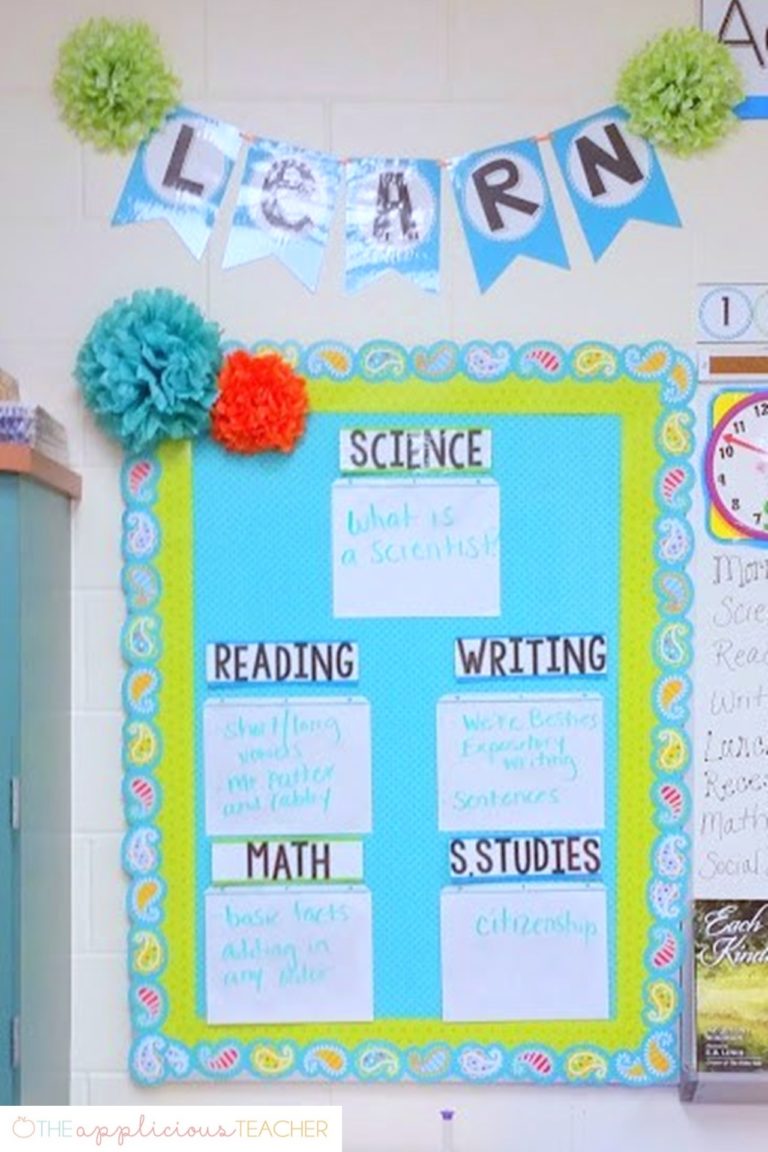 Of course I had to add a little touch of paper pom poms to give this area some depth.
These fun accents are super easy to do! Check out this tutorial I found on Pinterest. 🙂
The other side of my chalkboard houses my calendar. Although the calendar days of past are long gone from our second grade curriculum, I make point to reference our calendar everyday.
Of course, I had to accent the top with some more pom poms.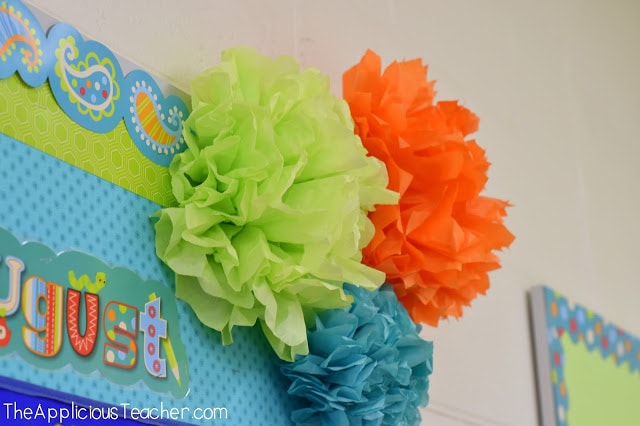 Behind my currently very messy desk, I have my word wall board.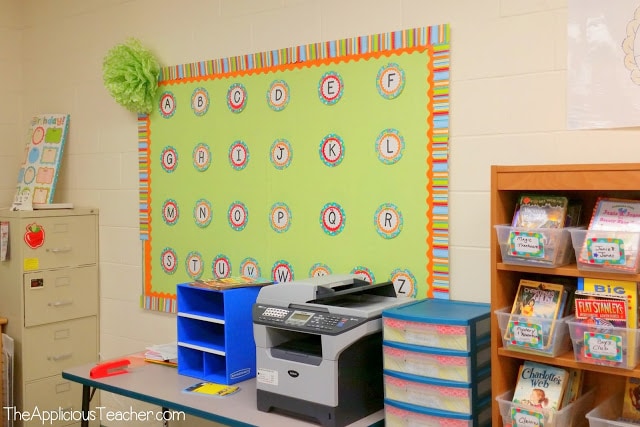 As the year goes on, we'll fill this board up with LOTS of new sight words, vocabulary words, and NEED to know words.
Further down the same wall, we have our "Tweet Success" Reading Counts Board.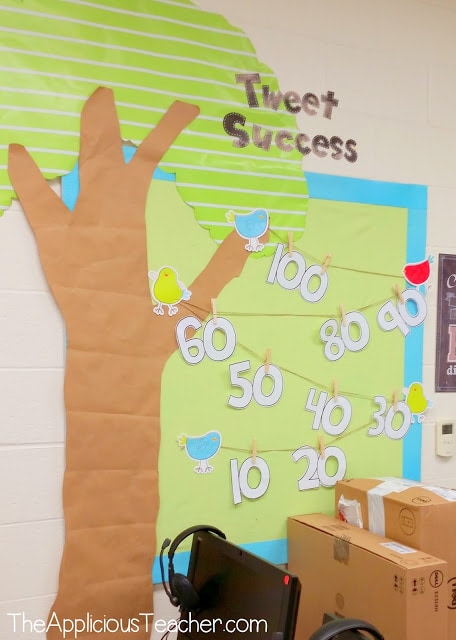 Some schools do AR, we use the Reading Counts program. I wanted my kiddos to be super excited to track their points, so I printed out these large numbers and hung them using twine and clothes pins.
As students earn their points, they can sign their name on the corresponding points. Simple and easy way to keep kiddos excited about their reading! You can grab the numbers here for FREE!
One of my favorite bulletin boards this year is my #SecondGrade board.
Kids LOVE seeing pictures of themselves and I thought creating our own classroom Insta-board would help create a sense of ownership in our classroom.
Right below that, I have a nice little storage system to house all my math manipulative. You can grab the simple and editable labels I used for FREE here!
Now, let's talk about storage. The storage in my classroom is limited, so I have to get creative to house all those school supplies we need to survive!
I've found copy box tops make excellent shelf organizers for small supplies like pencils and markers. I even put them into my large cabinet to help house markers, crayons, and glue. They easily slide out so I can get to the back of the shelf without having to reach too far.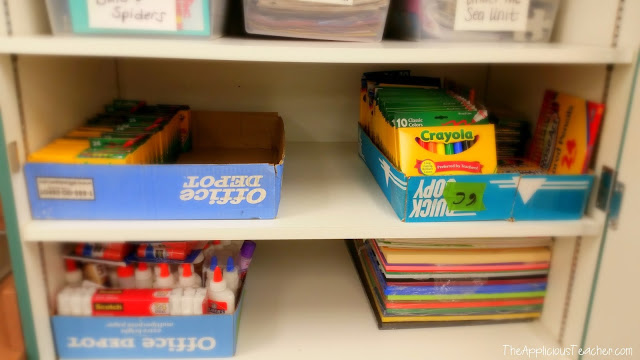 They may not be pretty but they are so helpful!
The left side of my classroom is still a work in progress, but I had to put up our classroom noise reference posters (best part? These are a total FREEBIE from the ever talented Reagan Tunstall!)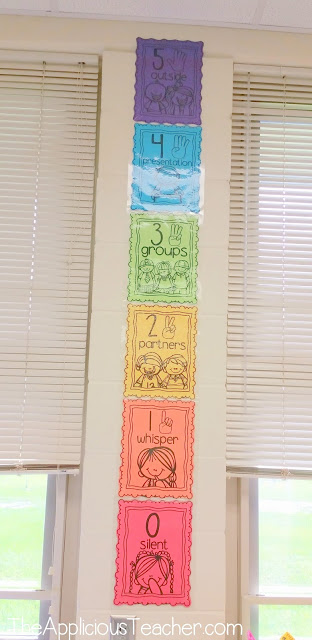 I just printed them out on bright colored paper to make them pop!
I am just about ready to start my reading groups, so I had to make sure my small group instruction area was all set up! Baskets for intervention binders and sight words?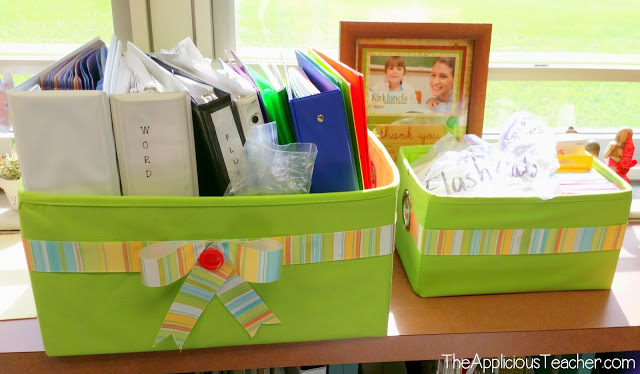 Check…
Plastic 3 drawer system to house our daily lesson supplies, complete with teacher junk already littering the top?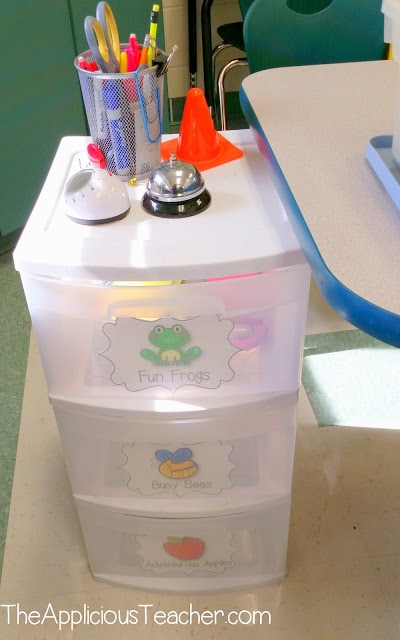 Check and check!
Tucked away in the back of our classroom is our Clip Chart and Classroom Expectations.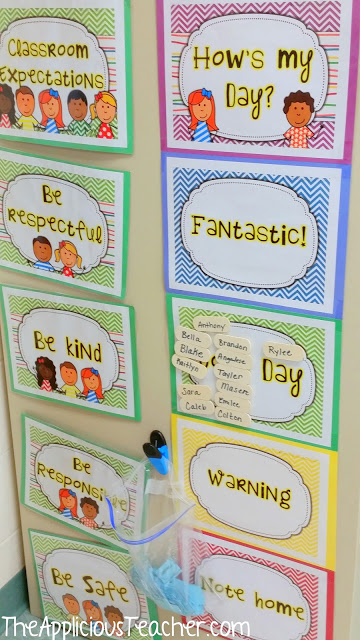 (You can check out these signs here)
At mid year last year, I HAD to give up my clip chart. My thirds were just having a hard time with this system. You can read more about that journey here. Don't get me wrong, my thirds LOVED Class Dojo, I just struggled with consistency using that program. I felt like I was always having to change and adjust rules and rewards.
This year I made the choice to bring back the clip chart. I had used it for 6 years in 2nd grade with a high success rate. I like consistency when it comes to classroom management and this positive clip system was very cut and dry, no gray area. You can read more about this classroom management system here.
And that's a peek at my new second-grade classroom!
Now excuse me while I go to B.E.D. the second week of school is just as exhausting as the first!
Are you new to second grade? Or maybe a life-long veteran? Join our community of second-grade teachers by clicking the pic below!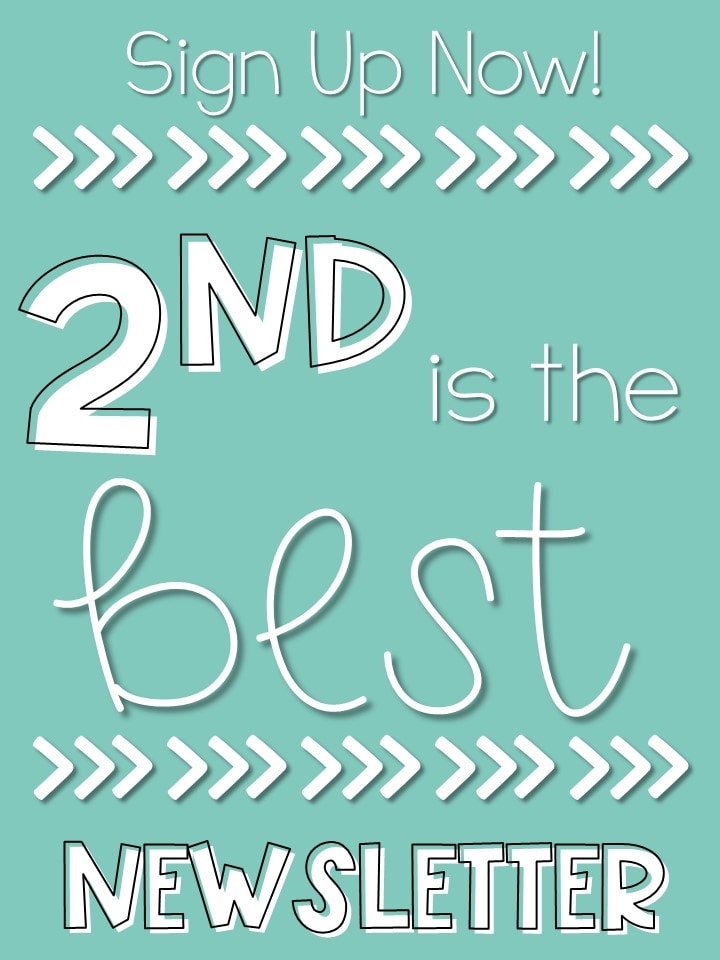 2nd is the Best!
Subscribe to our EXCLUSIVE for 2nd grade newsletter and get tons of PERFECT for you ideas, tips, and FREE resources delivered straight to your inbox!