I slump down at the table in the middle of my academic coaches' room. I wasn't just exhausted from the day, I was already exhausted in anticipation of today's team meeting. Today wasn't just about our upcoming plans for next week (which I still needed to do!) or a new professional development goal we need to add to our year-long growth plans. It was about Responding to Text writing. More specifically, what we, as third-grade teachers, were expected to do when it came to this new shift in writing instruction. Aghhh... I knew I should have brought coffee…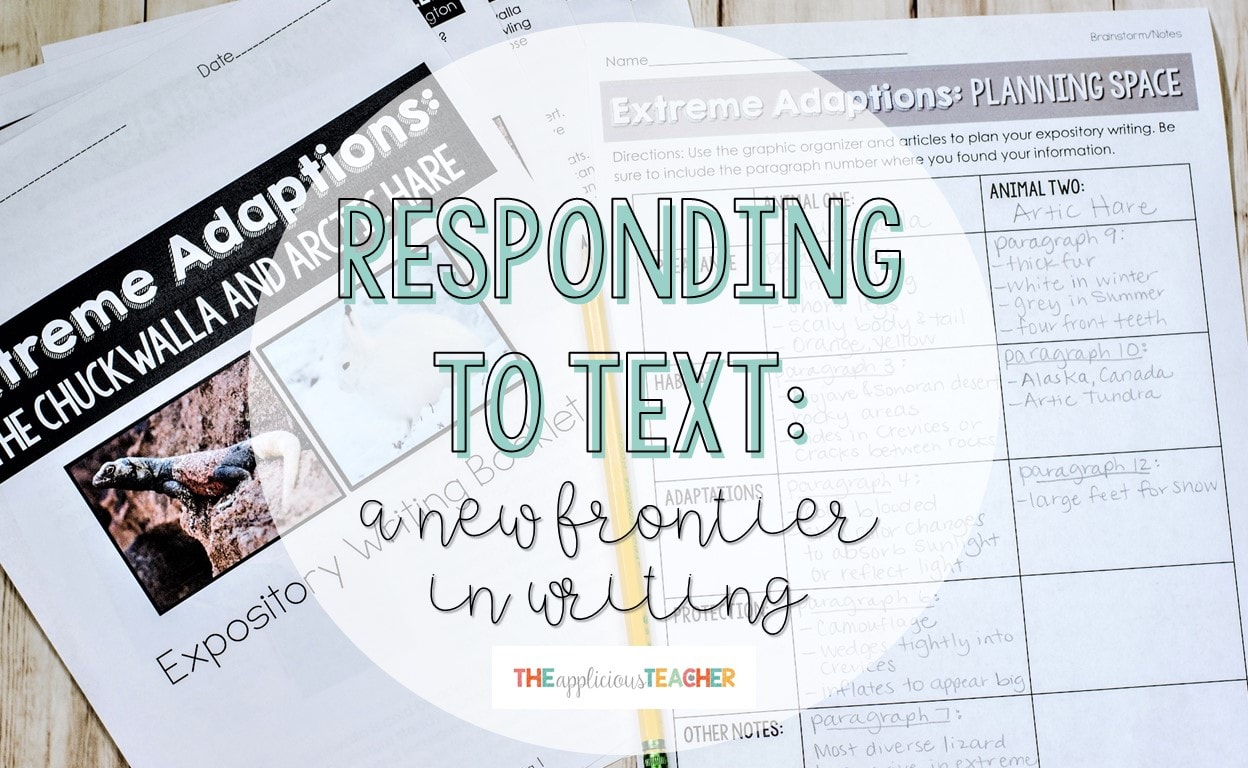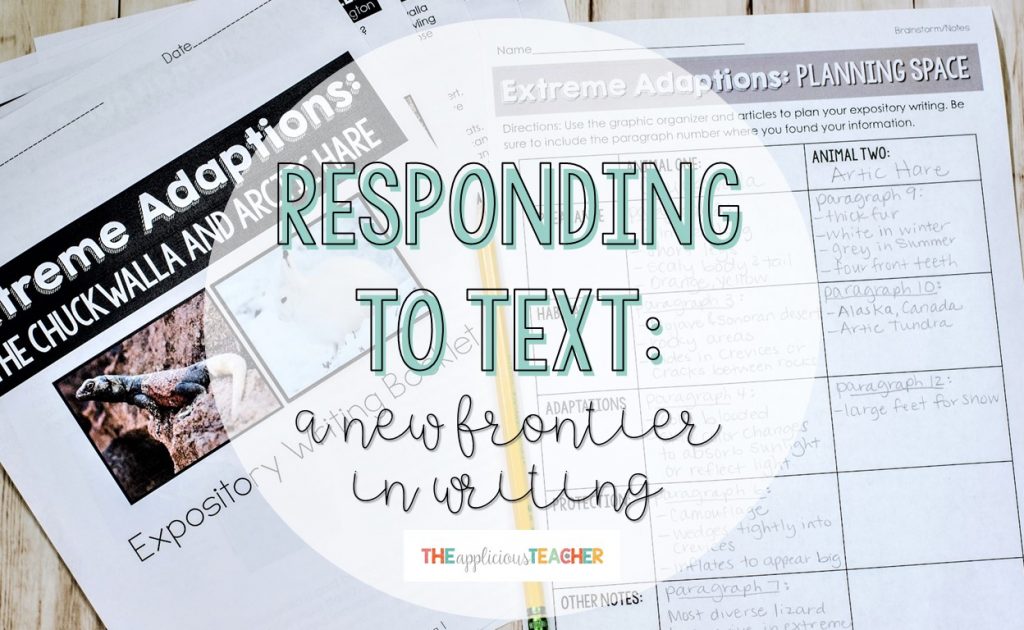 The Responding to Text Switch
When Common Core came to Florida in 2012 most teachers scrambled to find resources for reading and math. It wasn't until Florida decided to switch over to Florida Standard (Common Core's doppelganger) and adopted a new high-stakes test: FSA, that teachers really started wondering about their writing curriculum. Gone were the days of prompt writing where students relied only on their background knowledge and teacher-taught tools to write an essay.
Fast forward to 2017 and now students are expected to not only read and comprehend 2-3 articles but, also comb through them for evidence as they write about the texts. From there, students are expected to answer a document-based question using evidence found in the paragraphs they read.
Seems simple enough, right?
Not exactly, see the thing that most districts forgot when adopting this new type of writing was one of the most important pieces of the puzzle:
The Teachers.
Hello?! Where are teachers going to find grade-level appropriate texts for students to practice with? What about those evidence based terms? What about appropriate responding to text prompts? Unfortunately, this new writing style adoption came with a lot of expectations and assumptions and very little guidance. Talk about coffee-need inducing stress!
As a third grade teacher, I felt these exact stressors just sitting in my coaches' office. My team was filled with blank stares and searching glances. We weren't getting out of this and we had no idea where to begin. This wasn't just some fancy new term for the same old writing game. This was a completely different very complex AND TESTED writing system!
Luckily, a love for writing floated me down the Responding to Text writing river. I worked to find interesting and relevant passages for my students to read. I wrote prompts that not only asked students to consider the evidence presented but use it and cite it in their responses.
Although I had dabbled in this style writing when I taught second grade, I worked to grow it up, formalize it. By the end, I had a pretty solid routine in place and my students weren't completely dying of boredom. #teacherwinning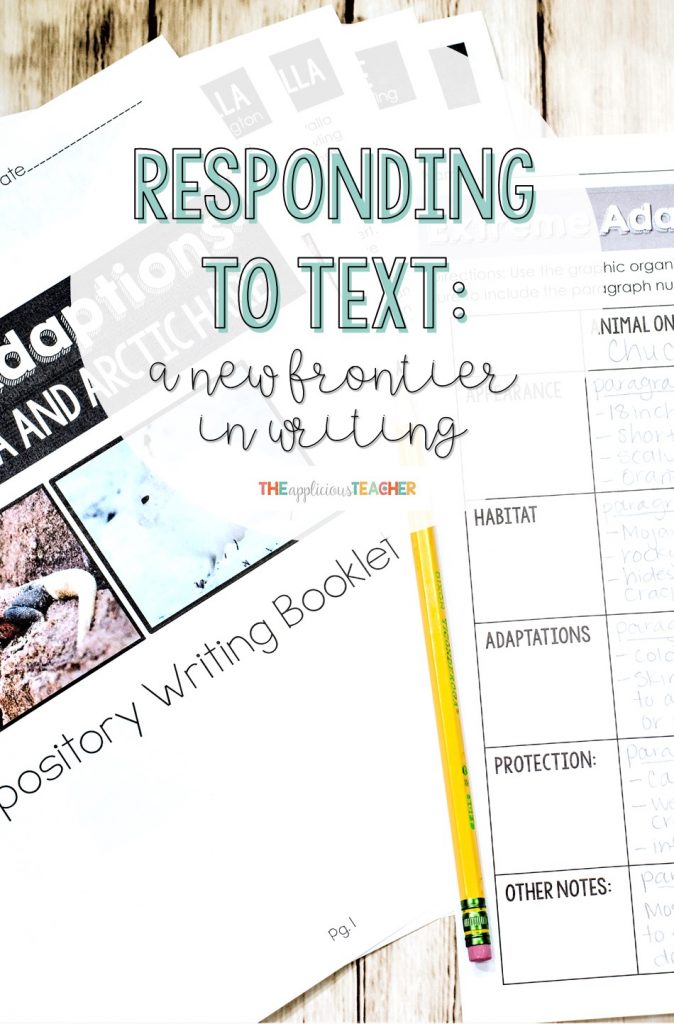 But, I was exhausted! And to think I thought I needed coffee at my team meeting all those months prior? Ph-sha! I needed a double Venti with three shots of espresso everyday Sunday night!
Planning writing activities every week took so much work! From finding articles, creating prompts, drafting rubrics and then there was that little *teaching it* part. I knew that I couldn't be the only one THIS exhausted from only planning one subject (with 5 others still to go!) Please tell me I'm not the only one?!
The Birth of Responding to Text Expository Writing Unit
Turns out I wasn't! (PTL 'cuz that would have been pretty embarrassing!) All the teachers I talked too had the same issues with finding text and finding a routine! Their number one complaint? It took too much time and was difficult to guide students to completion. This wasn't just my issue, but a teachers' everywhere issue!
So, when fellow writing lover, Kelley Dolling from Teacher Idea Factory and I started talking about our frustrations with the lack of curriculum for this type of writing process, I knew this sassy writing coach was my dream come true! She was going to help me bring this system to the masses! And boy, we've worked our patooties off so you, fellow teachers, would no longer have too!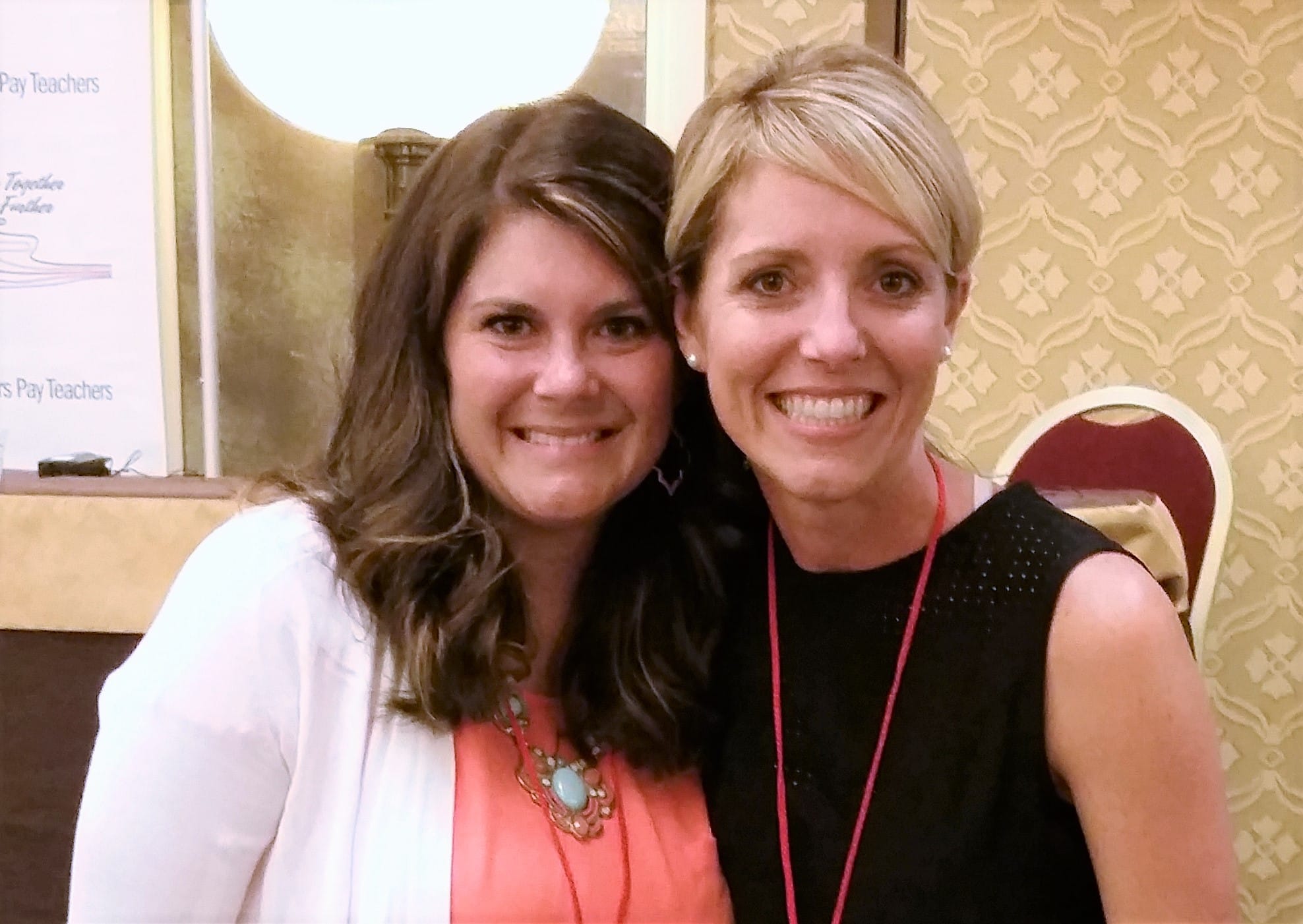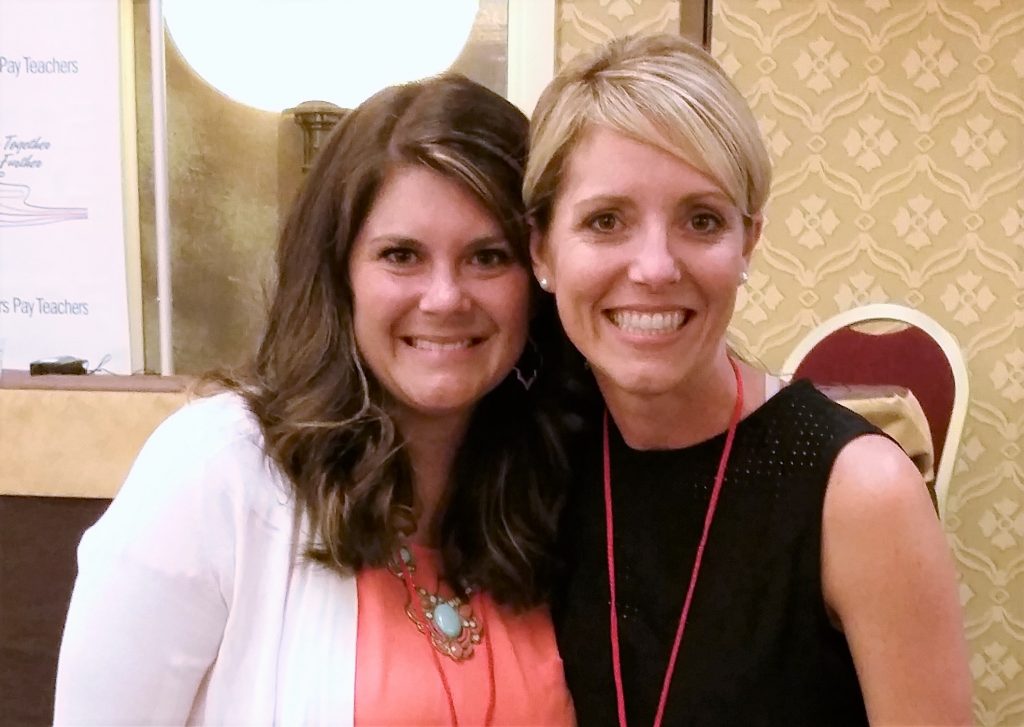 For almost six months, my girl Kelley and I have been working hard! Apparently, I'm a slave driver! LOL! We've worked countless hours planning, writing, revising, rewriting, and revising again to make this Responding to Text: Expository Writing Unit exactly what you need to teach this style of writing in a meaningful and engaging way. We worked to take the guesswork out and took care of all the hard parts!
This unit isn't just a unit, but a six-week curriculum designed for 3rd through 5th-grade teachers who are expected to do responding to text in their classrooms but have no idea where to begin. Or, understand the process but are tired of spending countless hours combing through resources for only one week's worth of lessons.

A Peek Inside Responding to Text: Expository Writing Unit
So here's a quick look at what the amazingly talented Kelley and I have been working on (for soooo long!) for you!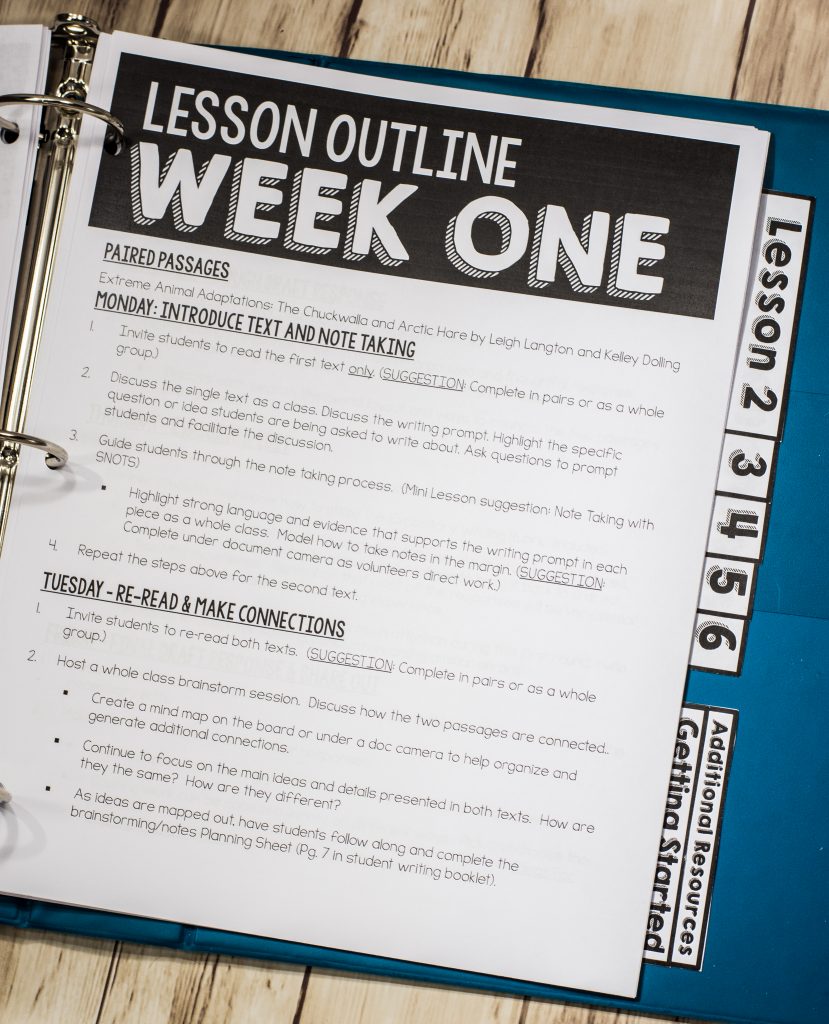 Six Weeks of Lesson Plans
So, writing lesson plans is hard enough, but add in that you're not *quite* sure what you want to do, or should do, or can do when it comes to writing… and it's next to impossible! There's a reason I'd always wait until 8 pm on Sunday evening to start lesson planning!
To make planning your writing for the week easy-peasy, we've included six weeks' worth of lesson plans. Each day takes you step by step on what to do, when to do it, and what you'll need! No guessing. No worrying. It's all there written out and ready to go.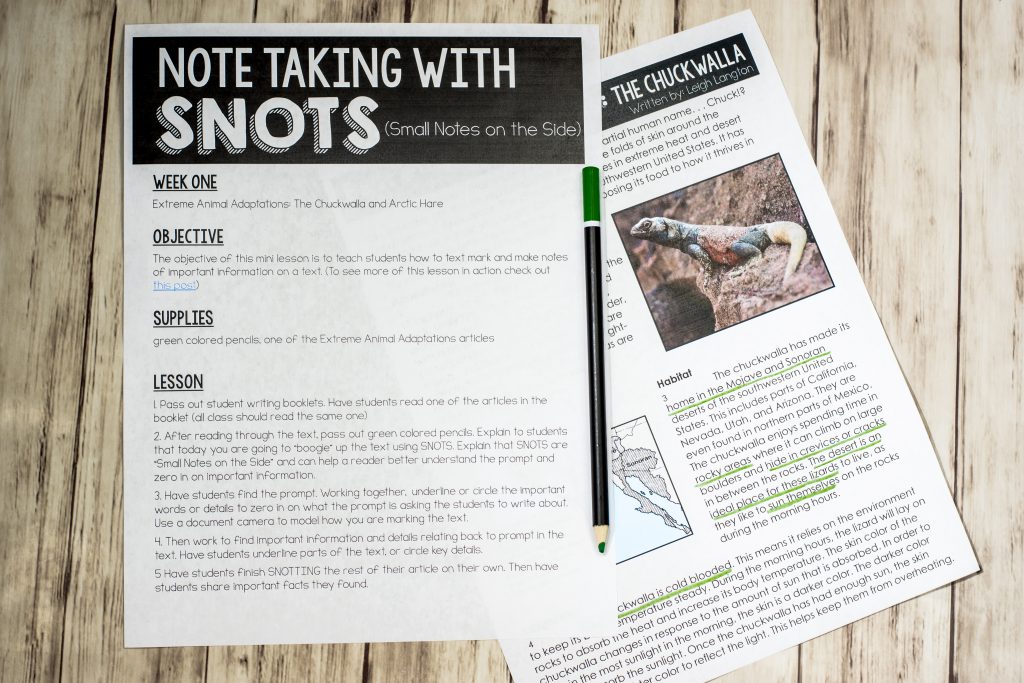 Six Weeks of Mini-Lessons
This comprehensive unit also contains six weeks of mini-lessons that are planned perfectly for each week! Use them to inspire your students to better their writings. Each lesson is designed to build on the previous week.
Mini-lessons included:
-SNOTS Note Taking Skills
-Strong Word Choice
-Powerful Introductions
-Transition words
-Strong Conclusions
Each mini-lesson focuses on building a stronger responding to text essay. Each lesson also includes games and partner activities! An engaged student is a learning student.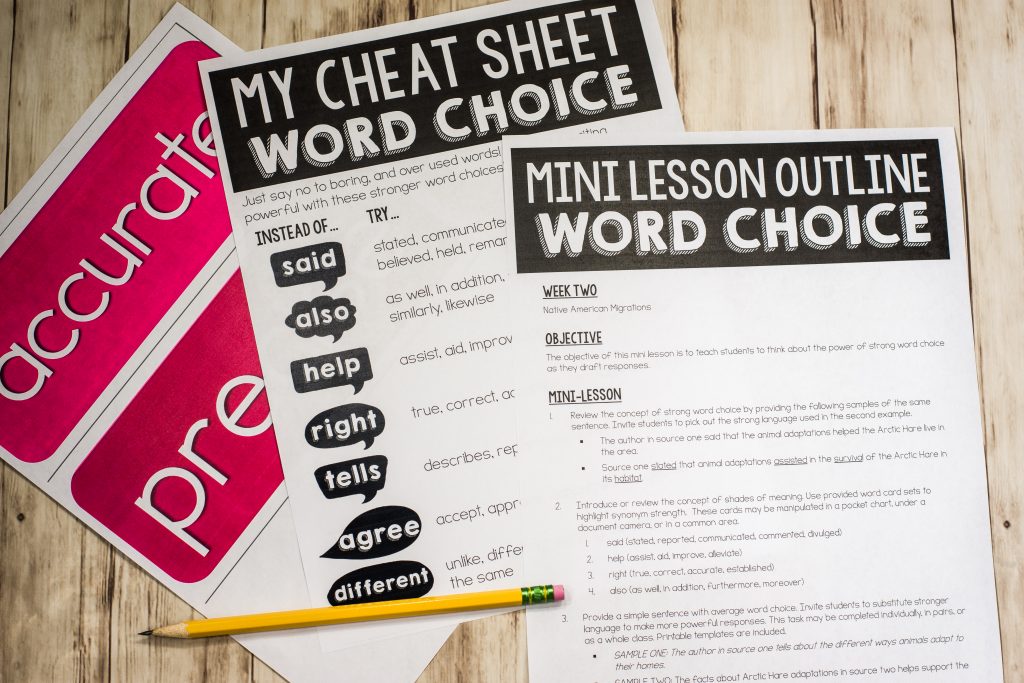 Mini-lesson also includes tip sheets or reference pages for your students to use throughout their writing time. Students can glue it in a writing notebook or place in their writing folder for safe keeping. Brownie points if they pull it out on their own to reference!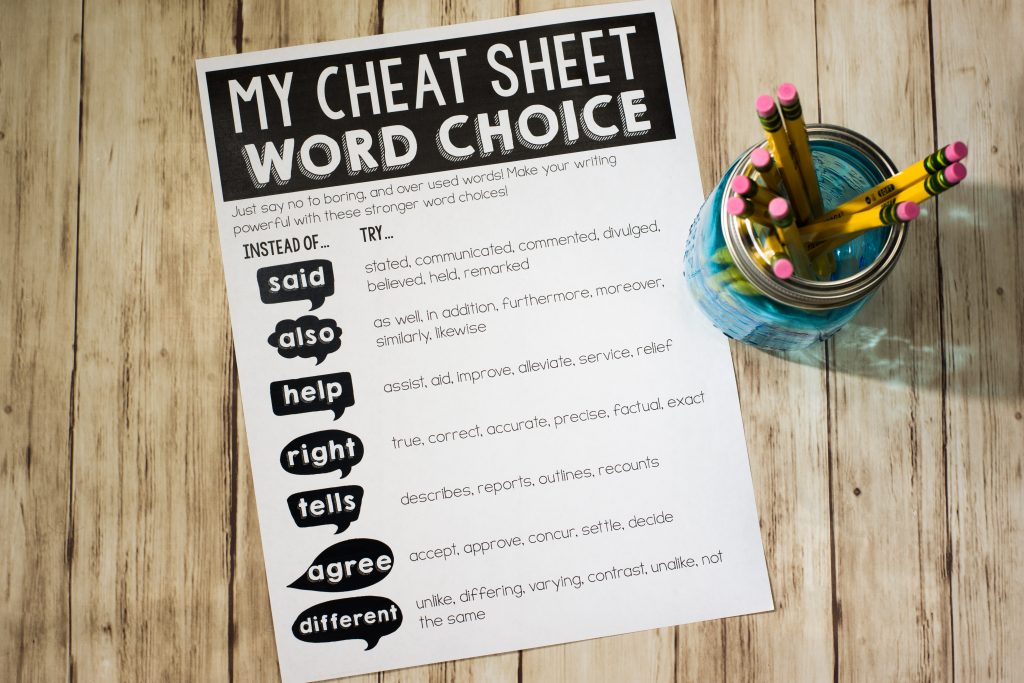 Six Sets of Paired Passages
No more endless hours of searching for paired passages! One of the most challenging parts of planning responding to text activities is finding quality (and grade level appropriate) articles. Kelley and I spent hours writing and (rewriting) articles that matched common science and social studies topics, but were also interesting for students to read. Each week your students will read a set of related topic passages and use these passages as launching points for their essays.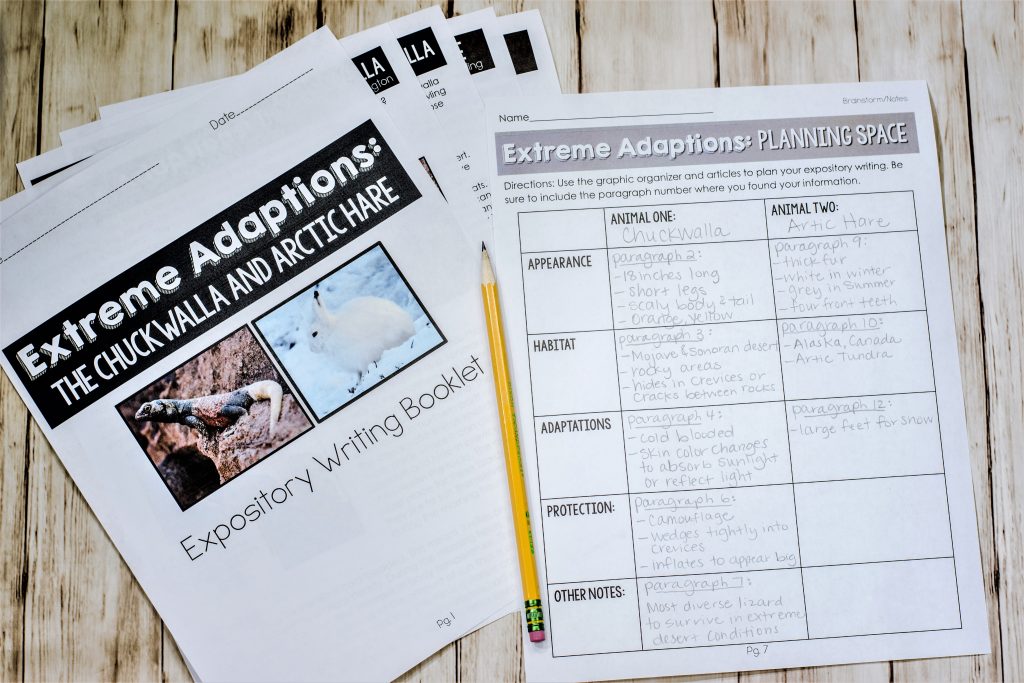 Planning Space/Brainstorm Sheets
This expository writing unit is designed to take students through the writing process. Each set of paired passages includes a planning/brainstorming sheet that guides students through notetaking and organizing their thoughts. The sheets also prompt students to write exact quotes and page numbers, so students can refer back to their sheet easily when citing evidence in their response.
Rough Draft Sheets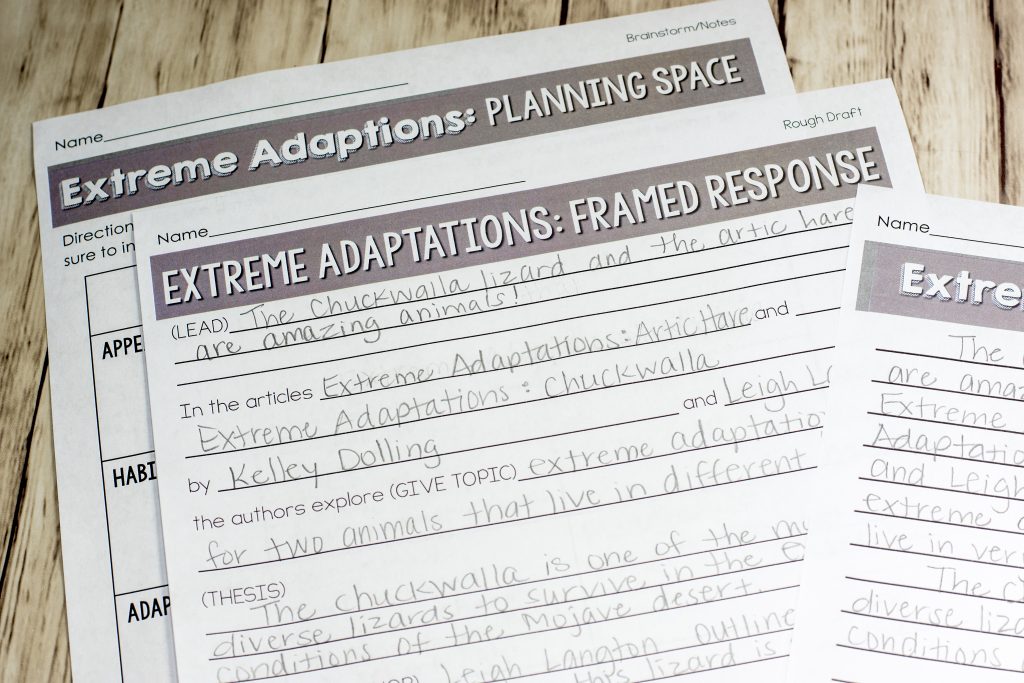 After organizing their thoughts and notes, students work on a rough draft of their writing. Modeling a well-organized essay is important so, for the first few lessons, we've also included a framed response sheet to scaffold students' writing. Eventually, this gives way to completely independent rough draft sheets.
Final Draft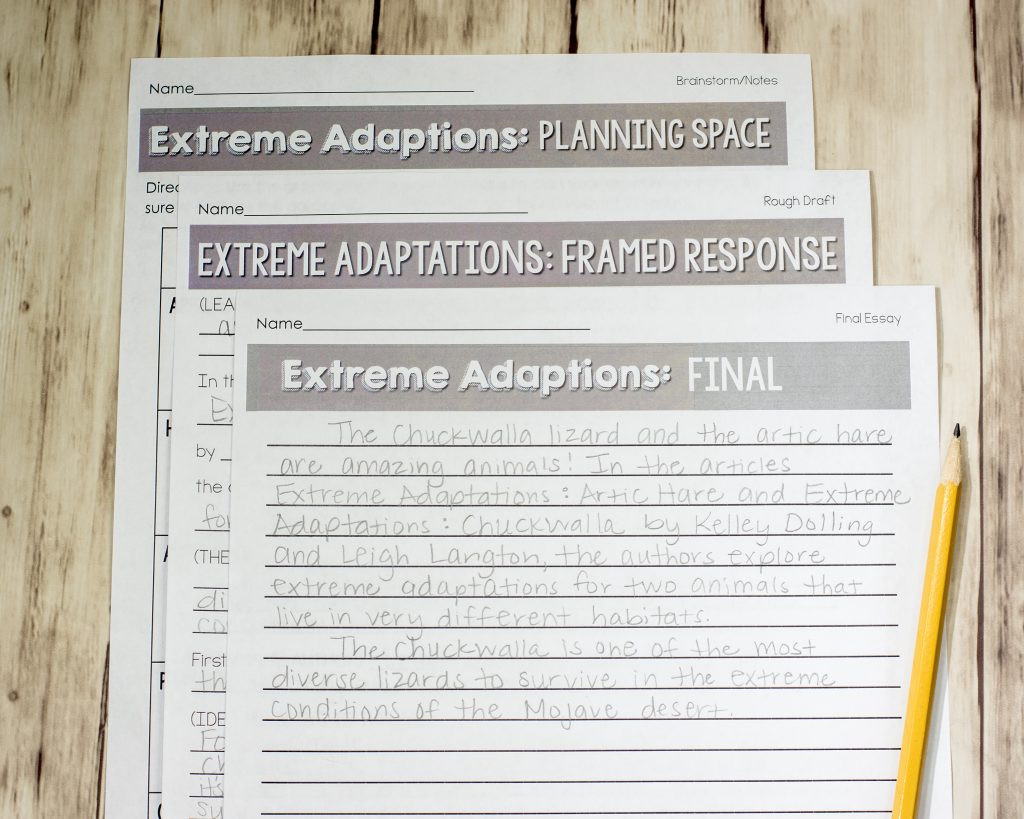 From there, students work on their final drafts of their responding to text essay. Also, included in this unit are suggestions for editing.
Student Writing Booklet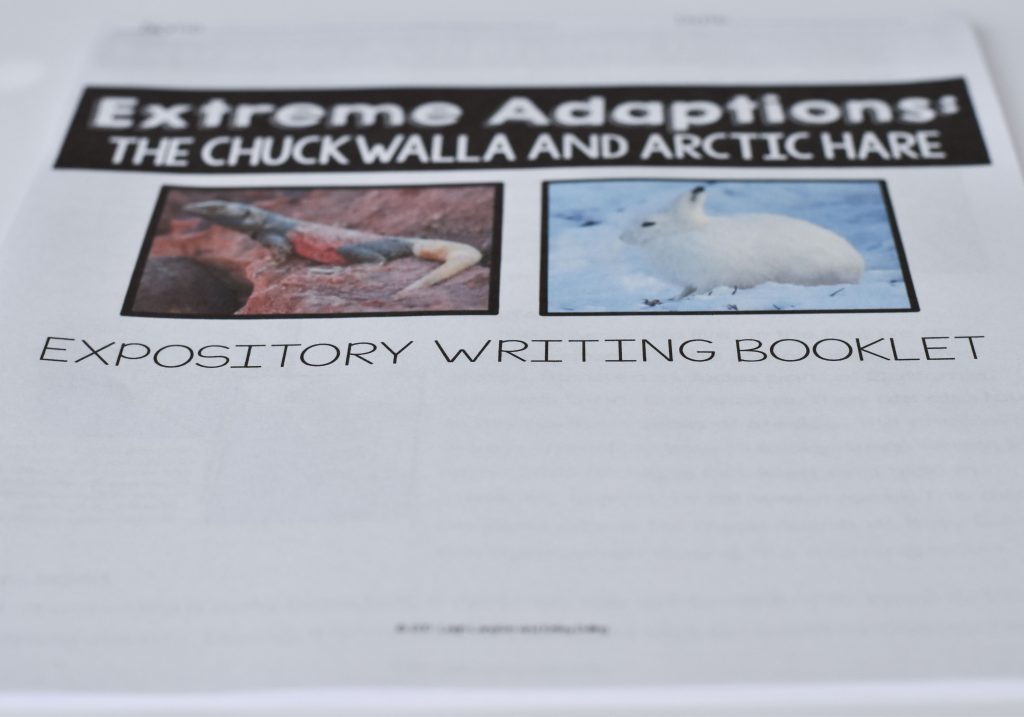 Is there anything worse than gearing up for a lesson and realizing you've forgotten to print out a sheet or a few sheets for the class? Kelley and I hate this too, so we organized all the student sheets into one Student Writing Booklet. This streamlines the prep process. Just print enough copies for your students of the student booklet. All your articles, prompts, rubrics, planning sheet, rough draft and final draft pages are there. Print them double sided to save paper. No more wondering what happened to all your lined paper or if you remembered to print that day's papers. It's all there!
Writing Rubric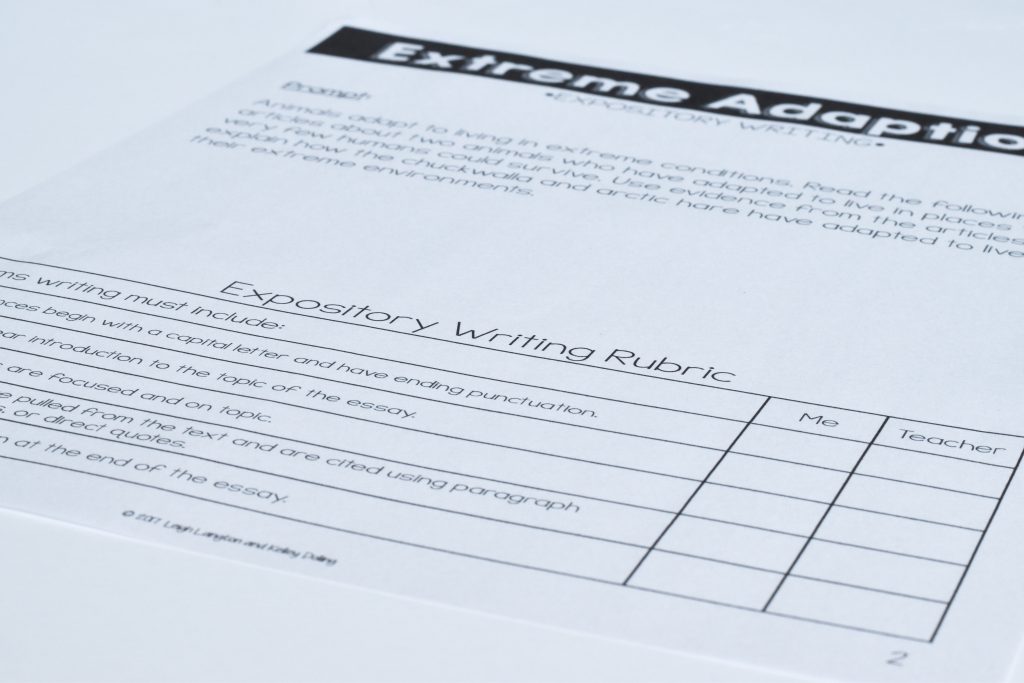 One of the hardest parts writing is that actual grading. Not because teachers don't love reading their students' essays, but more because it's hard to know what to look for everytime you read. Included in this pack are self-checking rubrics for your students to use as they edit and for you to use when you grade. No guess work in what should have been included in the final writing. Or questions as to what you're grading. It's all there!
Teacher Binder
To help keep everything together and organized, we've also included a teacher binder.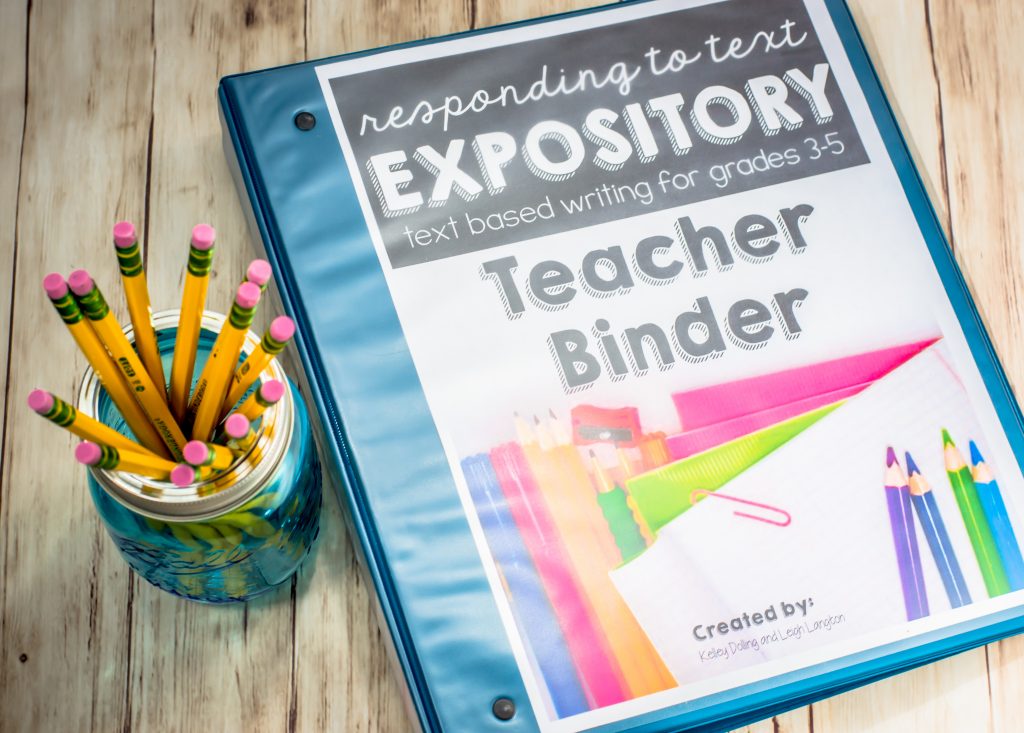 This binder is the 'safe house' for all your master copies of lessons, student booklets, and planning sheets! It is divided into weekly lesson sections so grabbing what you need week after week is simple!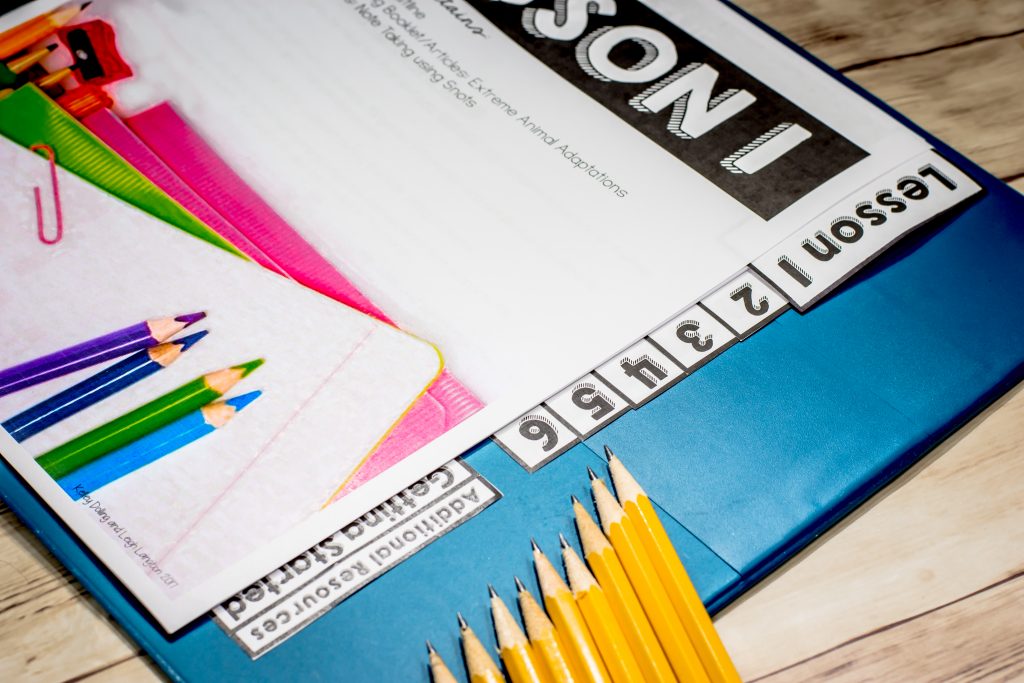 Digital Classroom
With so much of our testing moving to the computer, students NEED to practice reading, drafting and writing on technology. This resource fits that need! Kelley ( I can take NO CREDIT for this portion except as digital classroom cheerleader!) worked to convert all the student writing booklets into digital classroom-ready resources!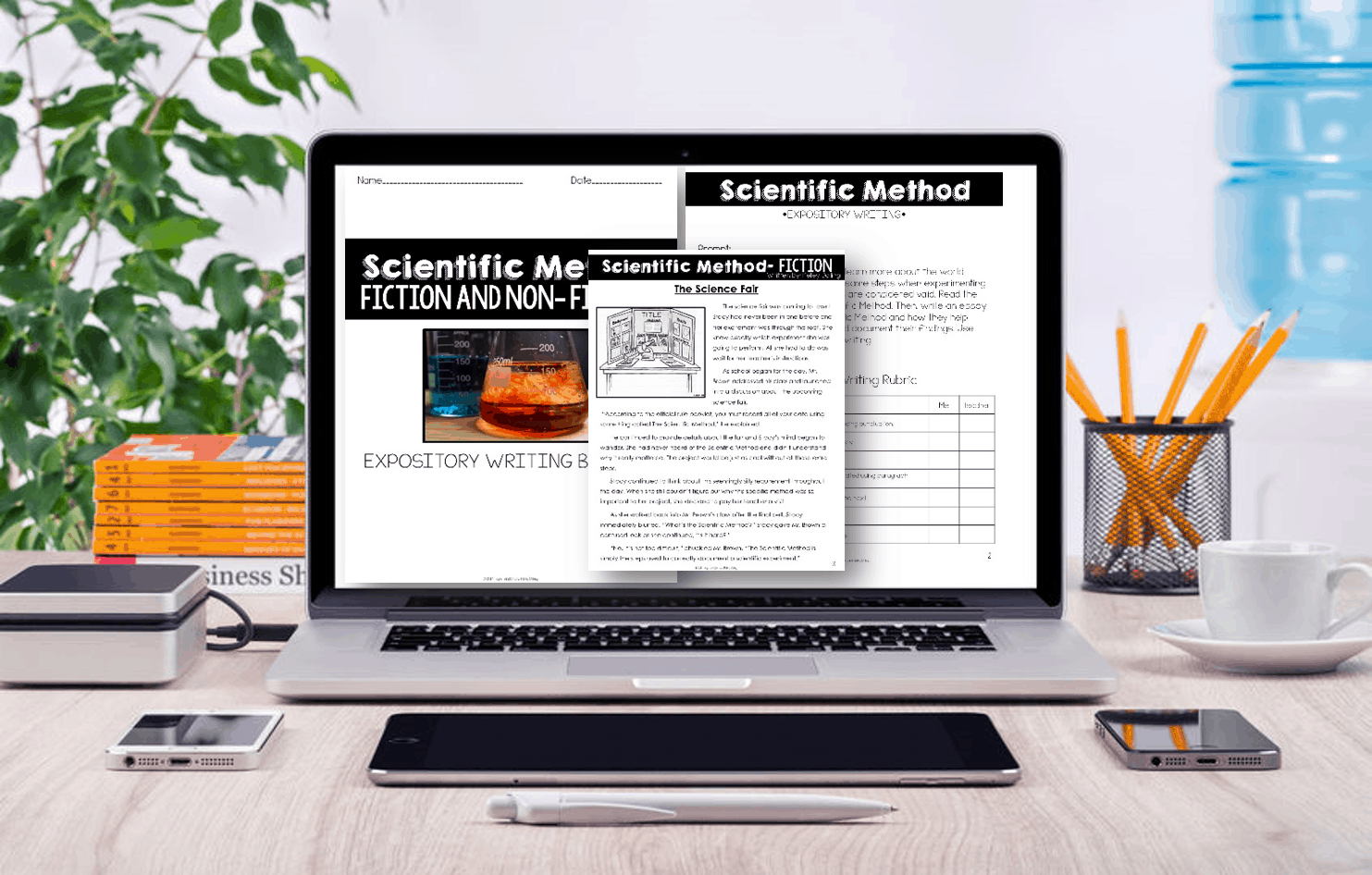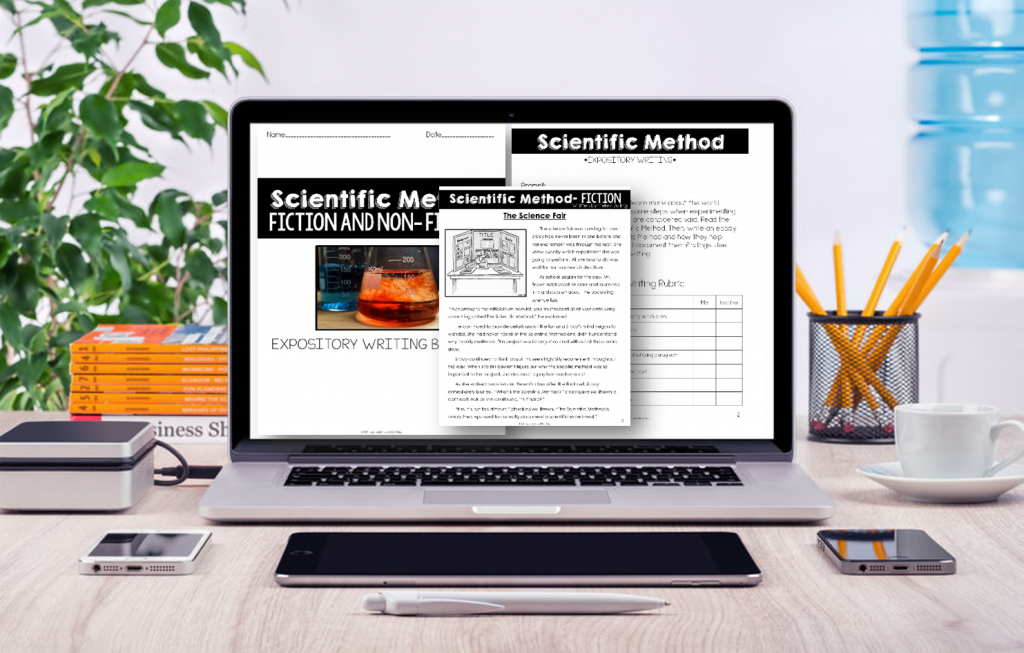 Kelley wanted to make this portion as user-friendly as possible so she even included instructions on how to get started using the digital components of this pack! I speak for all third through fifth-grade classrooms when I say THANK YOU, KELLEY!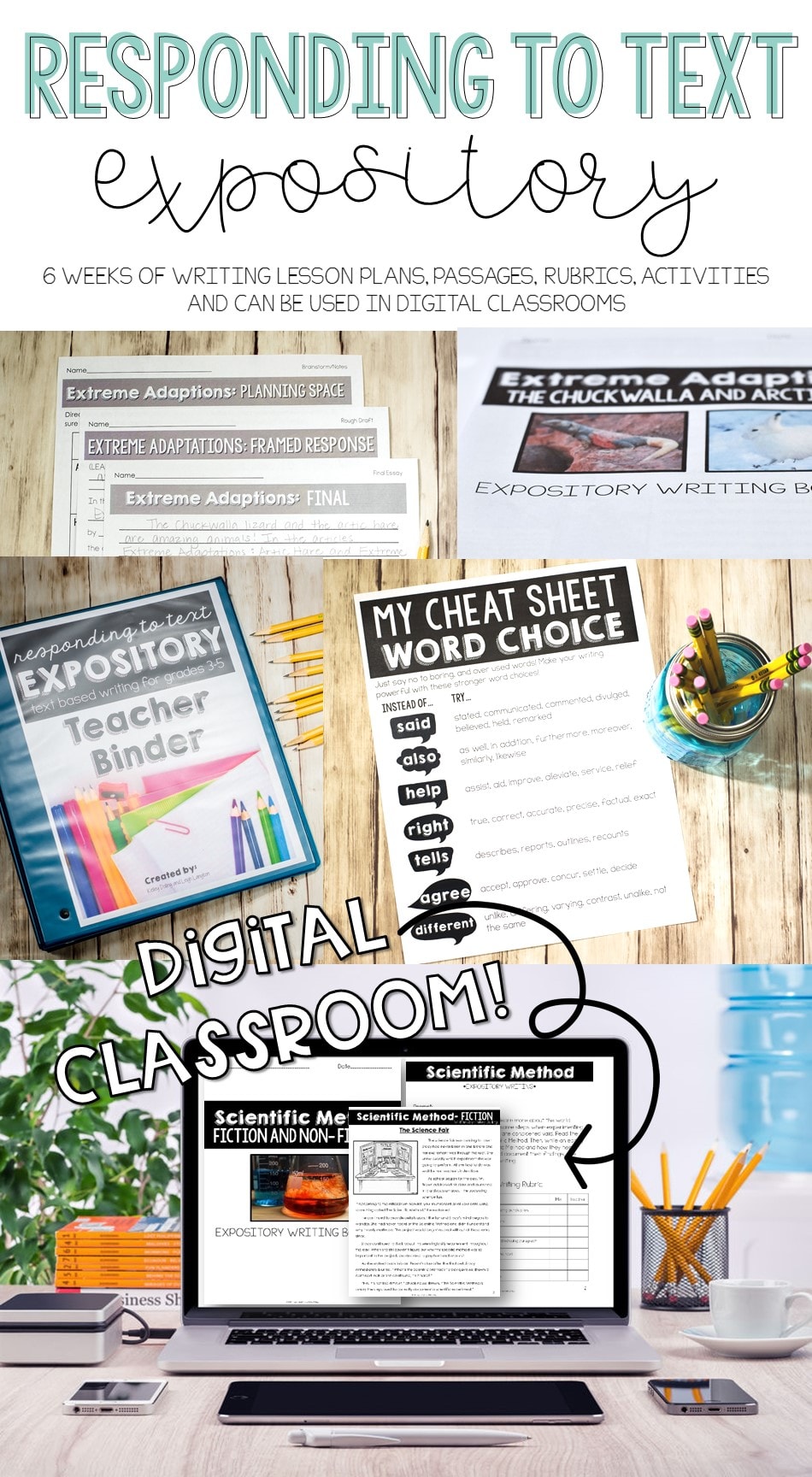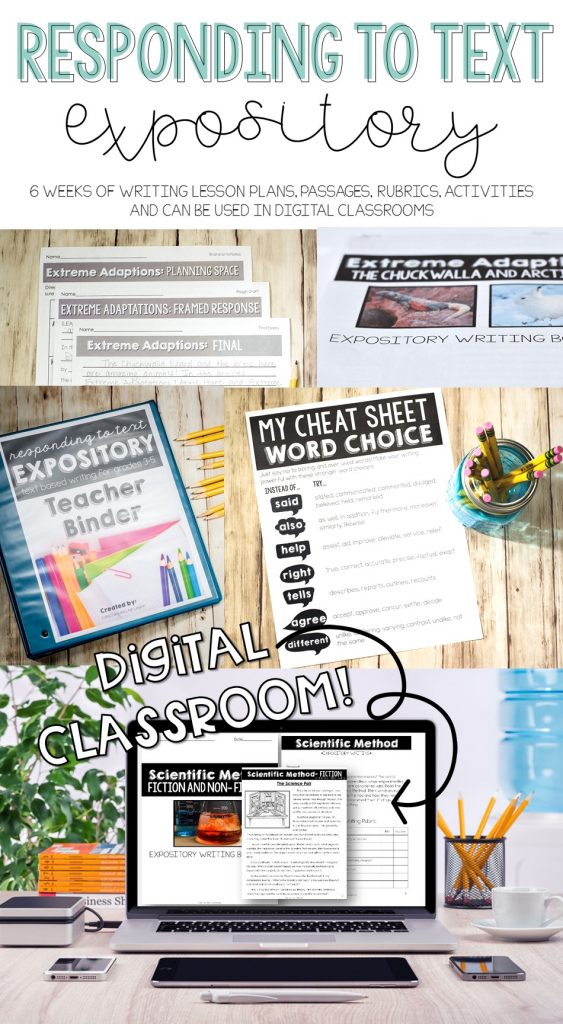 Snag it For Yourself
Know you're ready to just have this entire unit for yourself? Click here or the picture below to purchase this unit in my TpT Store.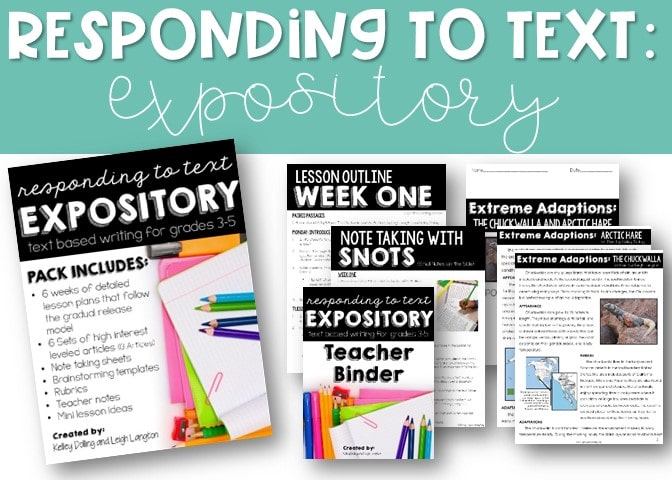 Try a Week
Overall, this unit contains over 250 pages of responding to text tools just for you! We're so excited for you to try this six-week curriculum, we're even giving you a week to try it for yourself! Click the image below to sign up for our Responding to Text newsletter and receive a one week sample!
In addition to a week's worth of Responding to Text lesson plans, you'll also be alerted as to when units for persuasive, narrative, and compare and contrast writing are complete! (Yeah, we've got three more coming!)
Now to get started on these other units! Good thing this exhausted teacher brewed some extra coffee…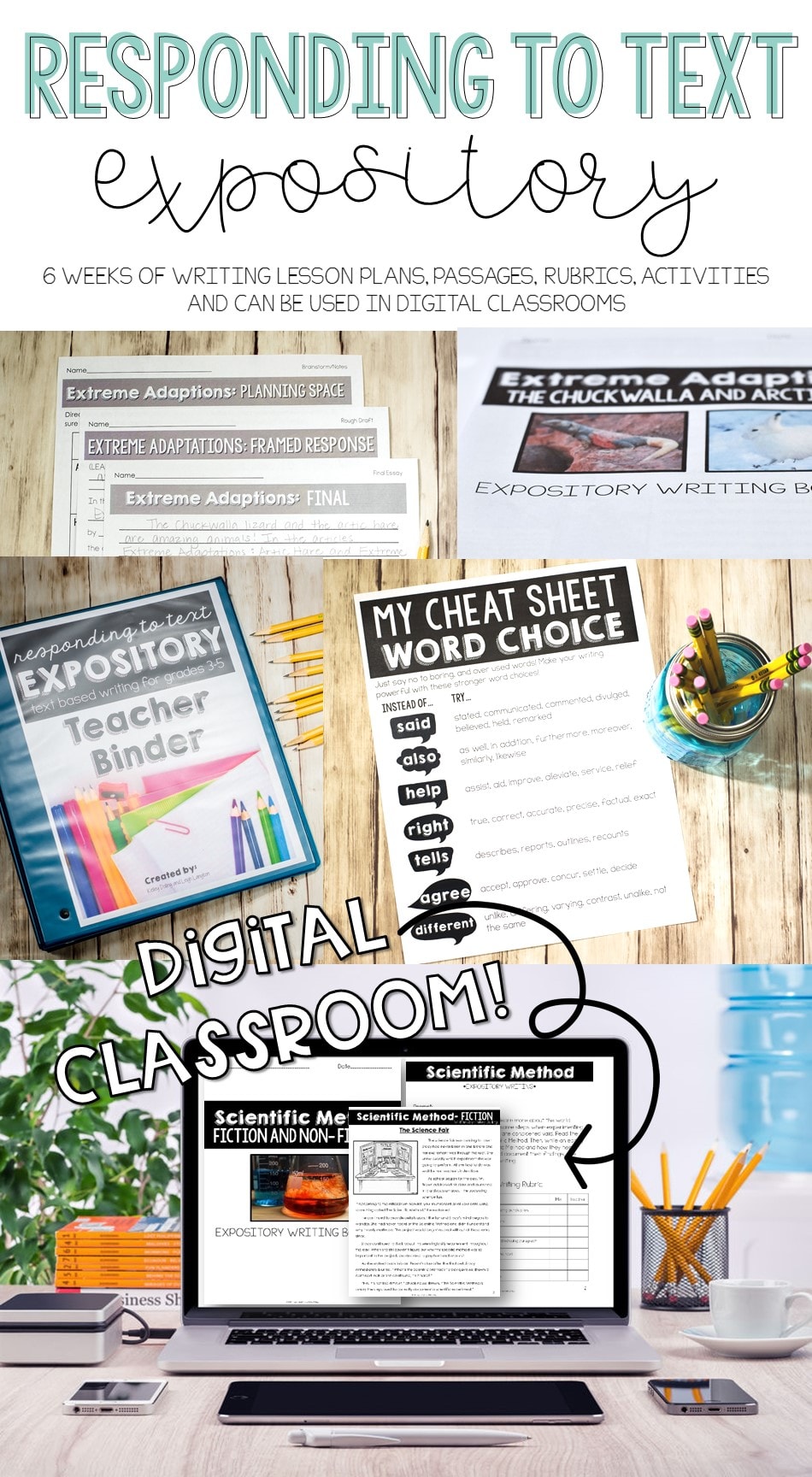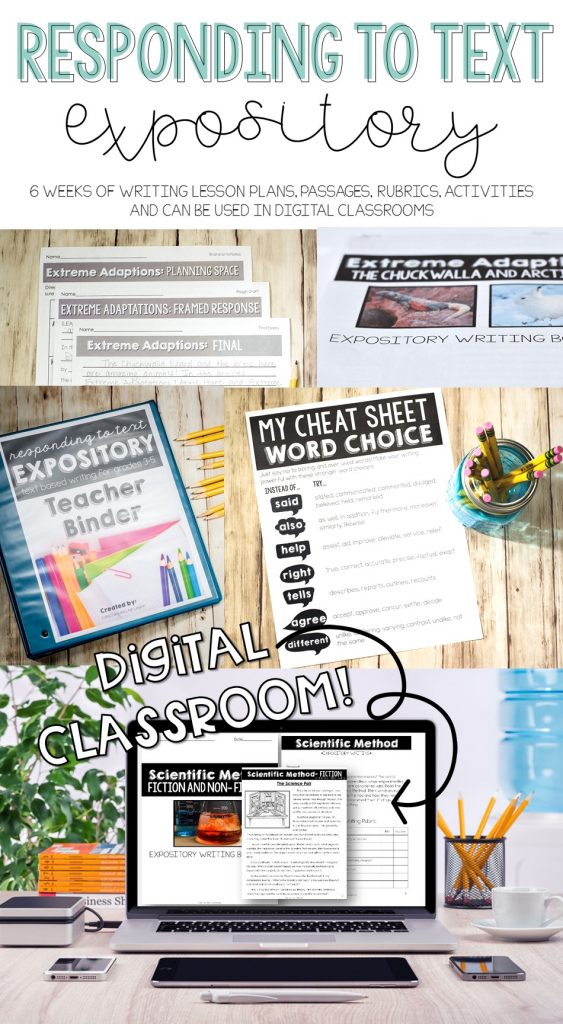 Sign up to snag these!
Receive all these classroom management tools right to your inbox!