State testing and April Fool's day… Yeah… those two words should NEVER go together, but for some strange reason this is the s
econd year in a row
I am discussing the two in the same post because they're happening at the same time,
again
!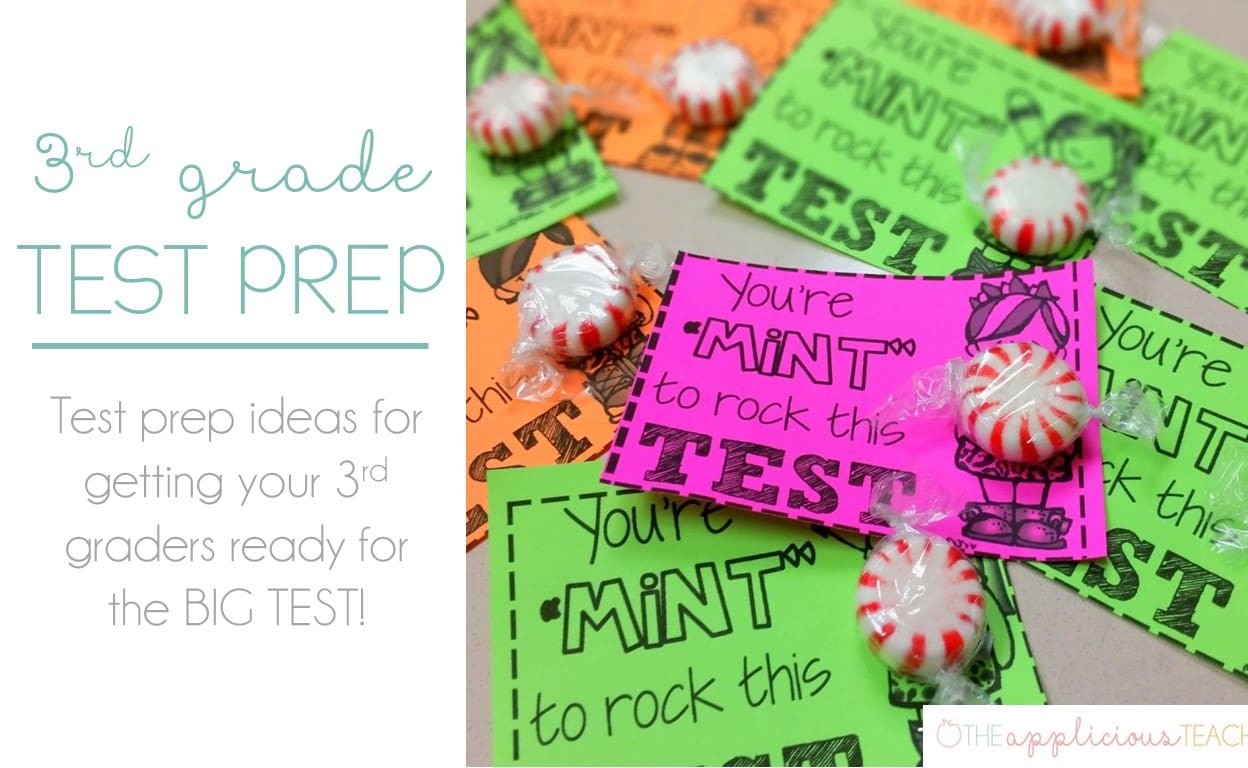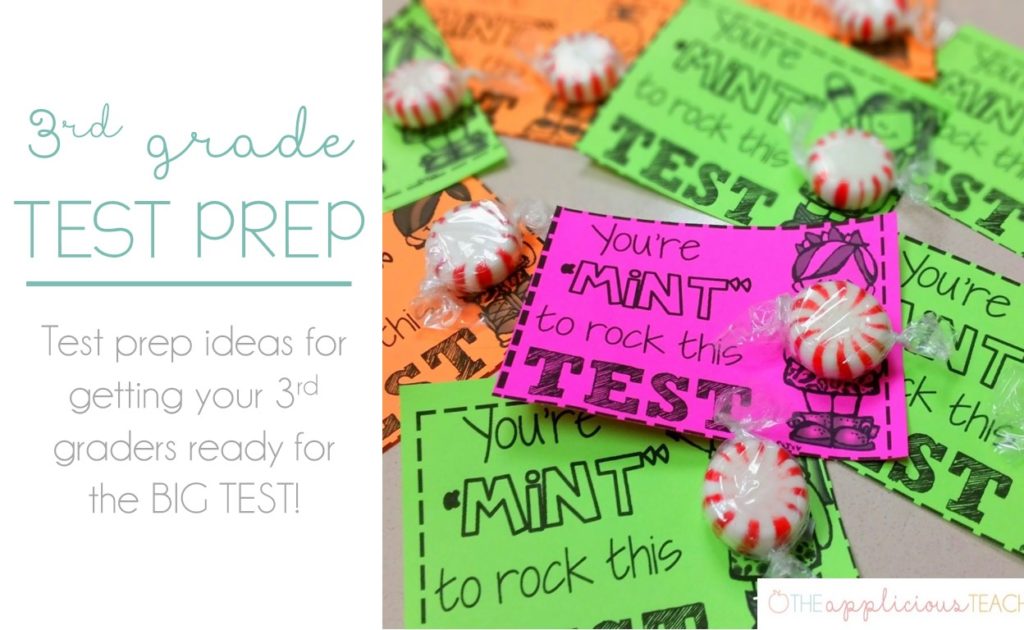 Let's first start with our state testing…This year here in sunny Florida, we are working through our first year of FSA (Florida Standards Assessment) I'm nervous, the kids are nervous, but it is what it is…
Test Prep Olympics
We started the week off with some culminating "Test Prep" Olympics.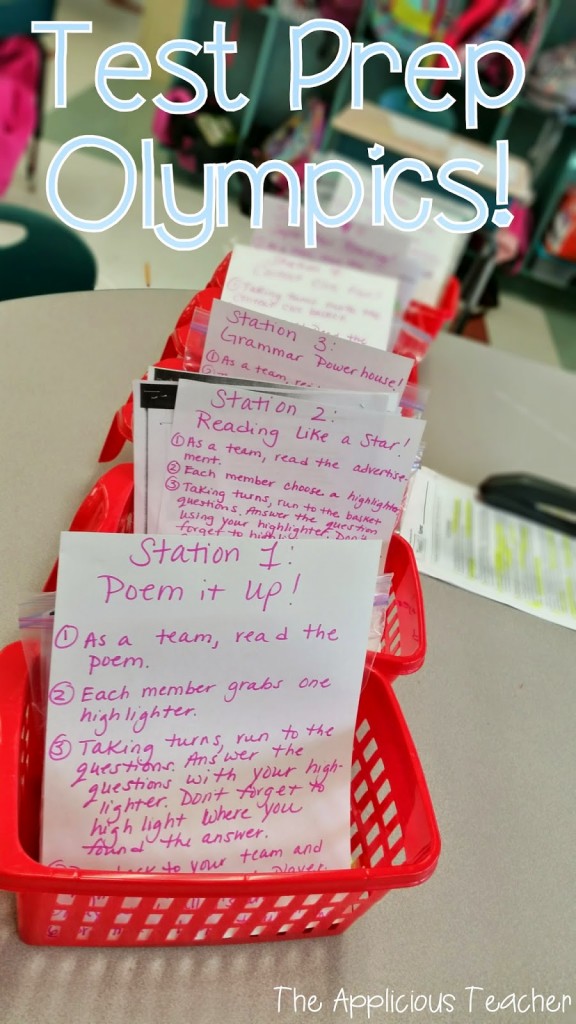 I wish I could take credit for this fun and relatively easy to set up activity, but I found it on Scholastic! You can read more about it
here
…
For our version, I split my class up into groups of four and they worked to come up with team names and made a "poster" so they could cheer on their fellow classmates.
For the reading portion of our event, I made up six reading stations. They were all a mixture of activities that I had pulled from a test prep book. Some nonfiction articles, grammar, poems. I also worked in some "fun" activities like a "Puzzle Conundrum" station using the contractions puzzle from
this post
.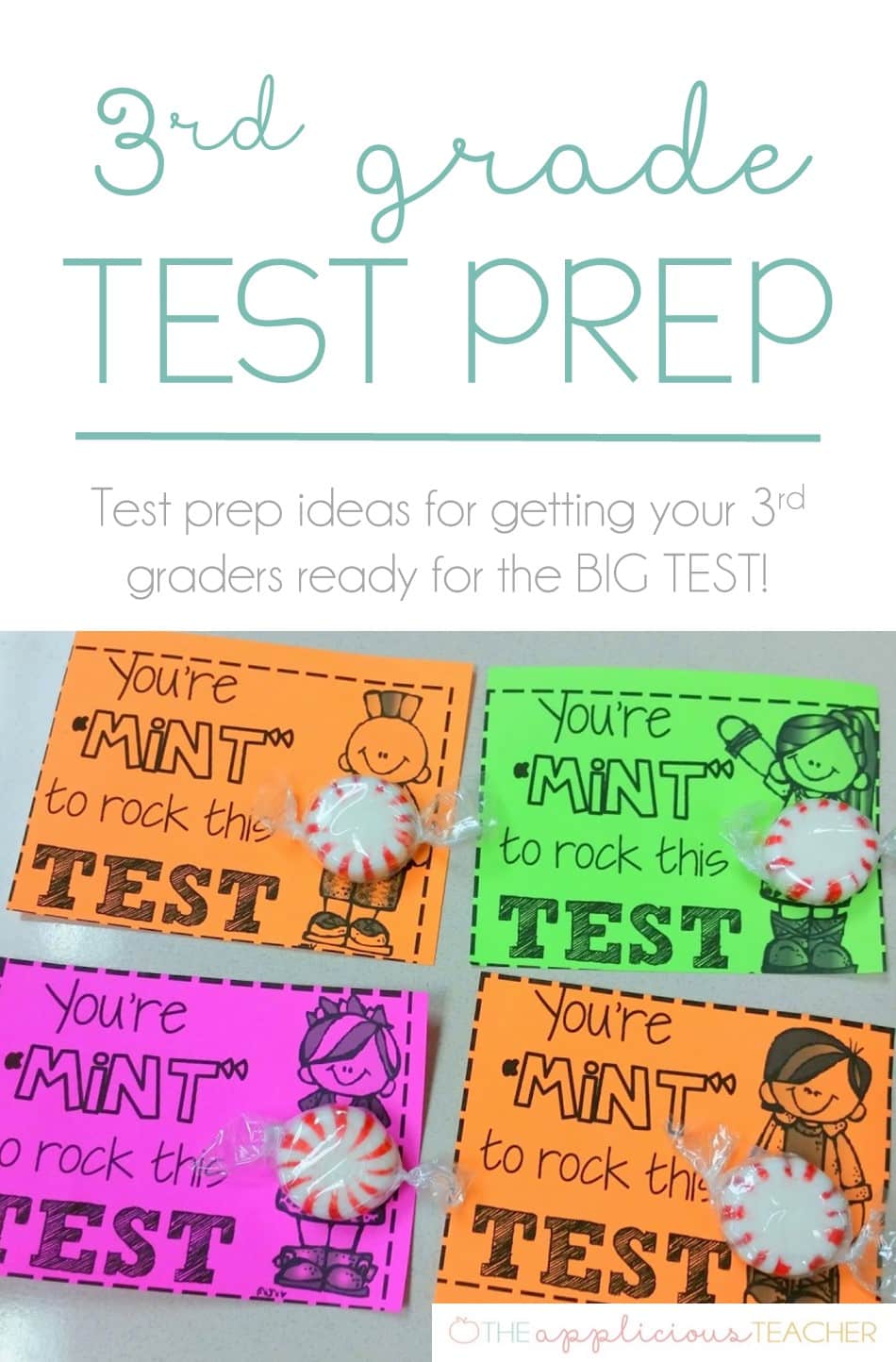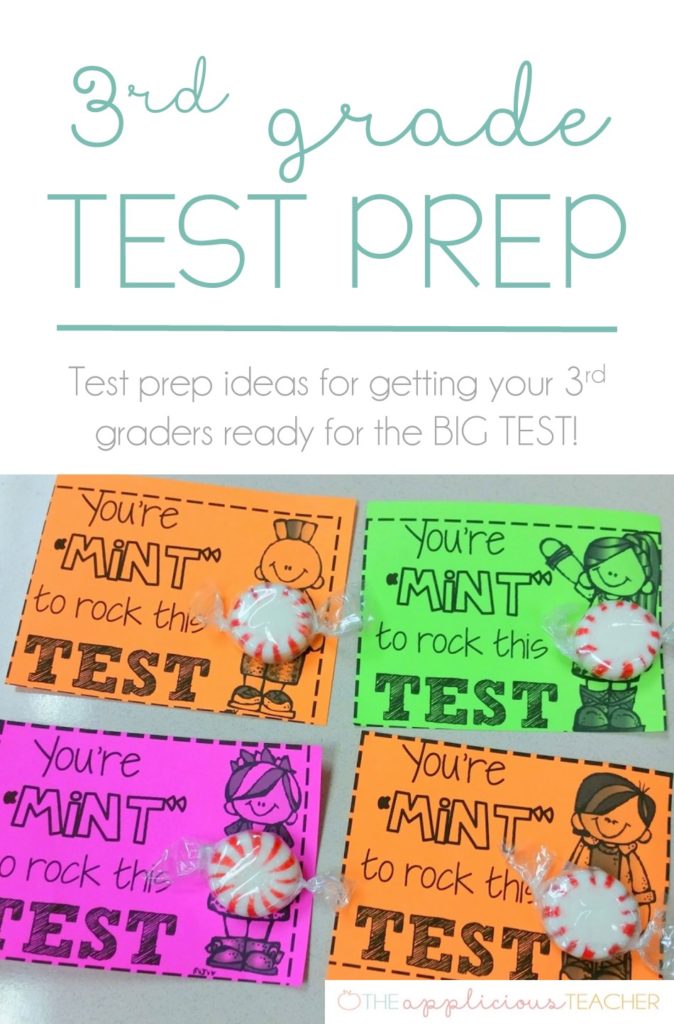 Then it was time to start our relay games! We took the fun outside (thank you FL weather!)  and I placed each basket about 15 feet away from a starting station. I explained each station and we were off.
After starting the round, the teams worked to read the passage located at the starting station. Once they finished reading, the students took turns running to the work bucket to answer the questions relating to the passage. The kiddos had a blast running across the field to complete the reading tasks!
Test Prep Jeopardy Game
Tomorrow we'll be competing in a "Jeopardy" style math review as our math portion of our test prep Olympics.  Grab that
here
as a FREEBIE! You can read more about how we completed our Jeopardy game by
reading this post here
!
Testing Encourage"mint" Treat
Weds was our first official day of State Testing…
I wanted to start our testing off on a fun, but smart, foot so I made up these cute little cards for my kiddos.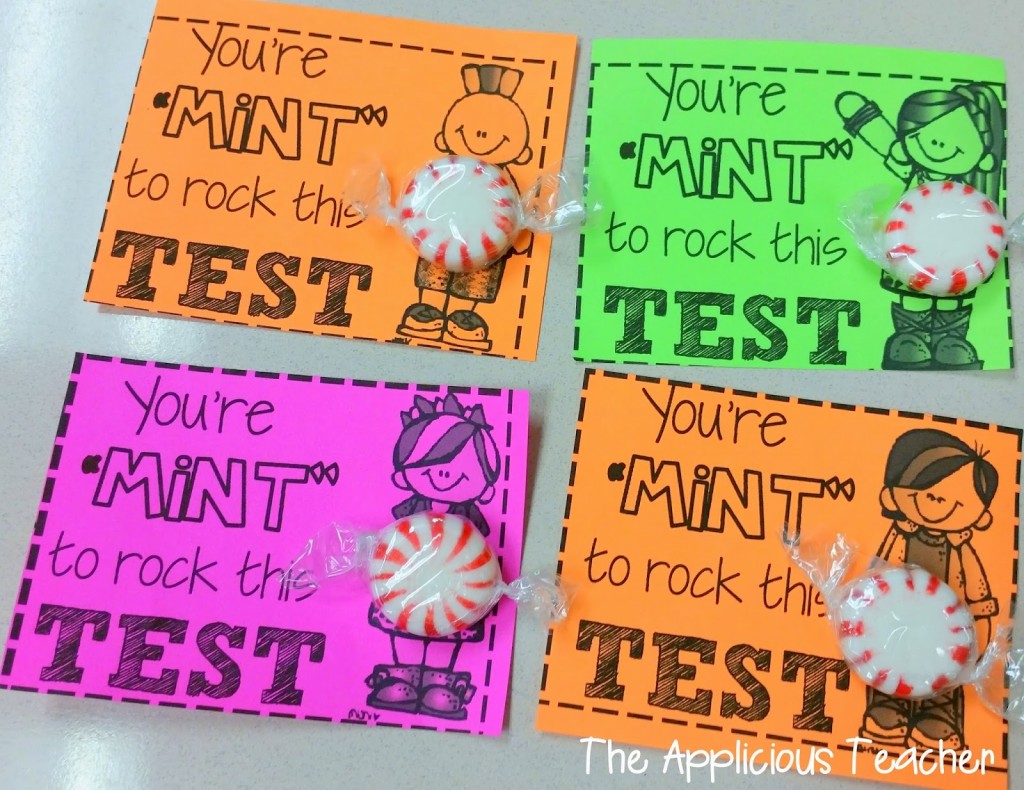 My kiddos are total rock stars and I KNEW they would just love these little treats!
You can grab this little print out
here
for FREE!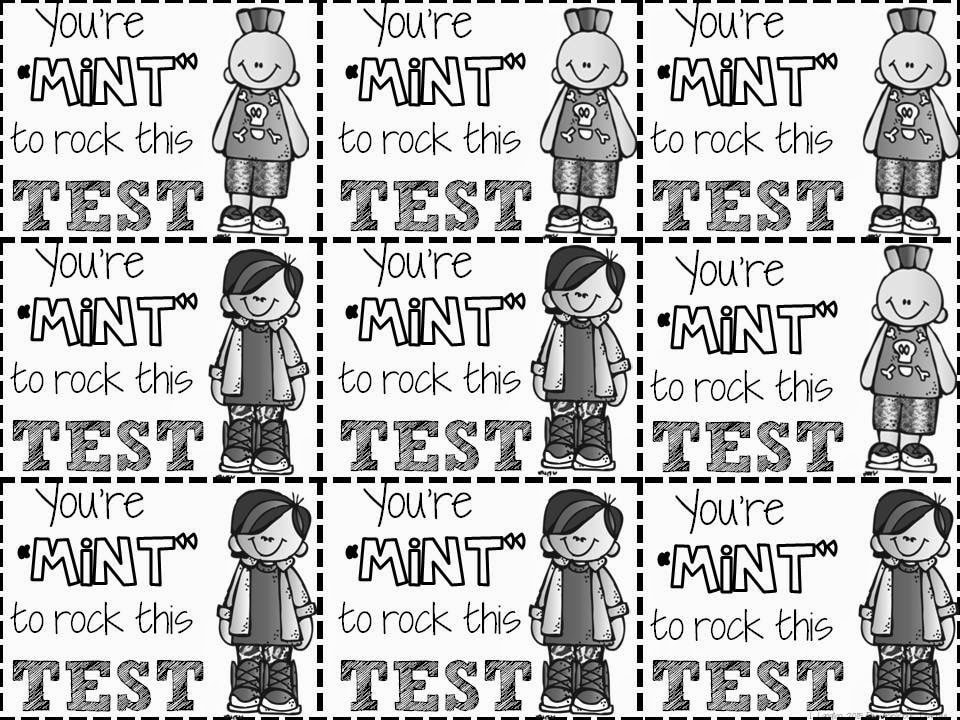 (If you grab this FREEBIE, I'd love to have you check out other
FREEBIES
in my
TpT Store
. If you like what you see, just click "follow me!" to get emails on more freebies and newly uploaded products!)
Just print onto some bright paper and tape on a starlight mint. EASY-PEASY!
April Fool's Day Writing Activity and Craft
Did I also mention that our first day of testing also fell on the first of April? Yeah….Don't worry, I kept it serious until AFTER the test! Then, it was time to have some fun!
The night before, I baked some of my famous Chocolate Chip Oatmeal Cookies.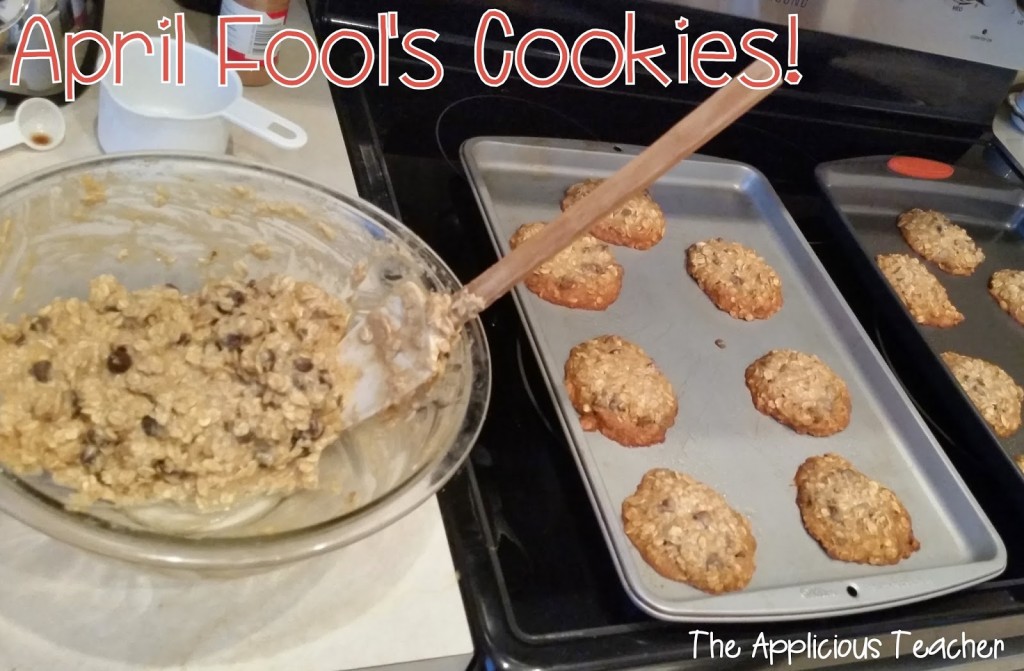 As I passed them out, I told the students I had done some research and found that if I added one *special* ingredient, that it would help recover their brains and help build dendrites faster.
Once all my students were done with their cookies, I revealed my special ingredient…
Roach Legs!
BLAH!
LOL! After some squeals and chokes, I let them know it was just a little April Fool's Day joke. We all had a good laugh. 😉
Plus it was the PERFECT lead in for this little writing craft! Once the class settled, I passed out brainstorm sheets and we used the rest of the afternoon to write and publish our silly
April Fool's Day jokes
.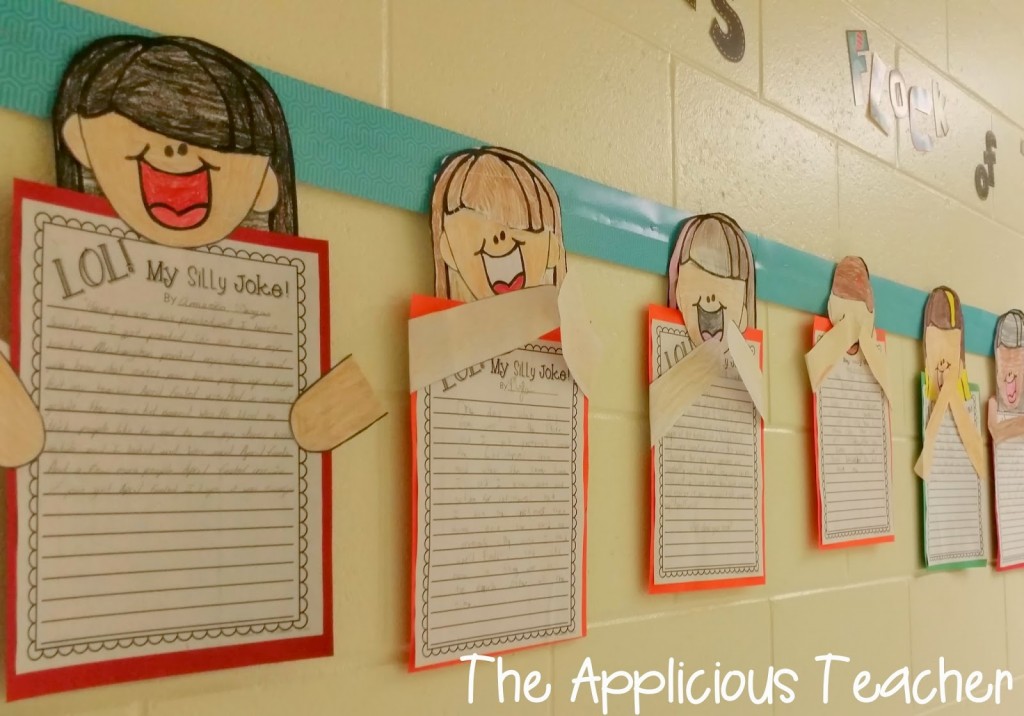 You can grab this fun activity
here
in my store!
Sign up to snag these!
Receive all these classroom management tools right to your inbox!