Staying organized during the school year can be tricky. Especially if you work with a team who likes to order materials WELL in advance! One way I've found to keep myself organized week after week is through using weekly drawer organizer for all my lesson plan materials.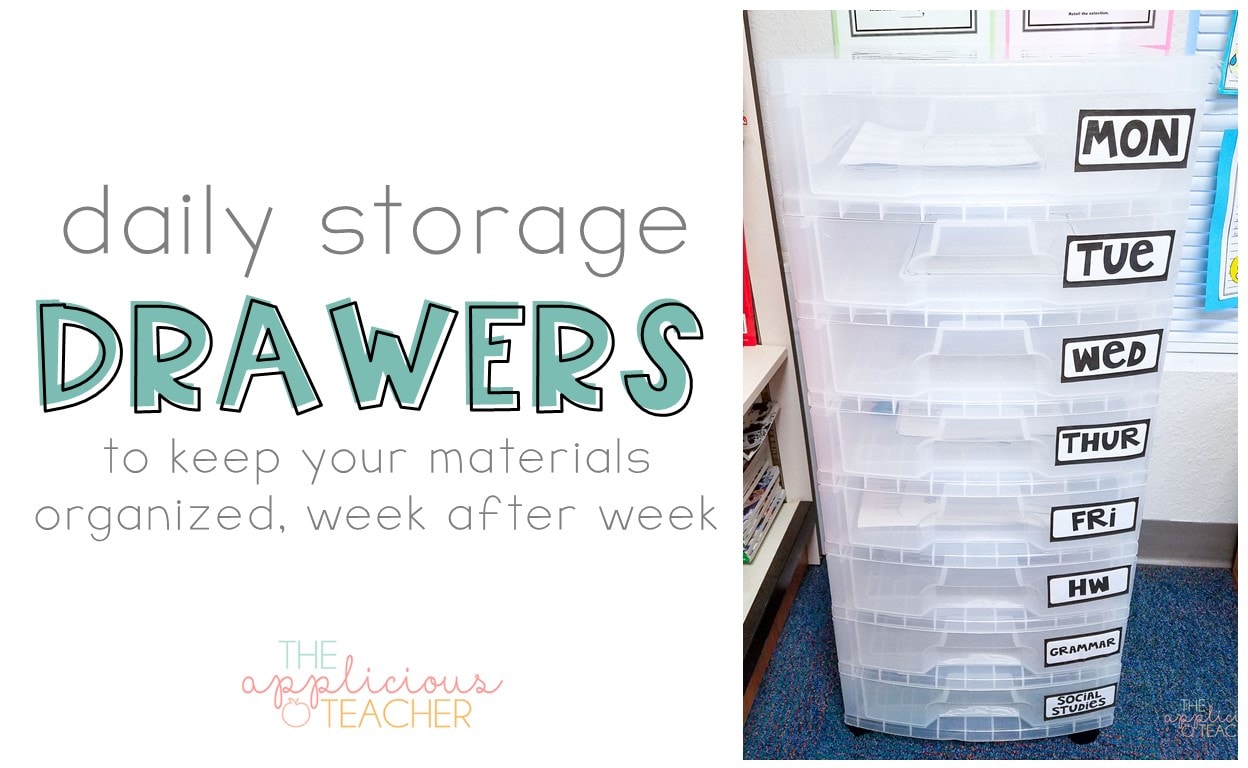 So a weekly daily drawer organizer is as simple as it sounds. It's a plastic drawer system that is labeled for each day of the week. This helps to hold all your materials for your upcoming week!
*Please note that this post does contain affiliate links. For each item purchased that I recommended, I receive a small fee in return. These small fees help maintain this website and all the wonderful free content I'm able to share with you.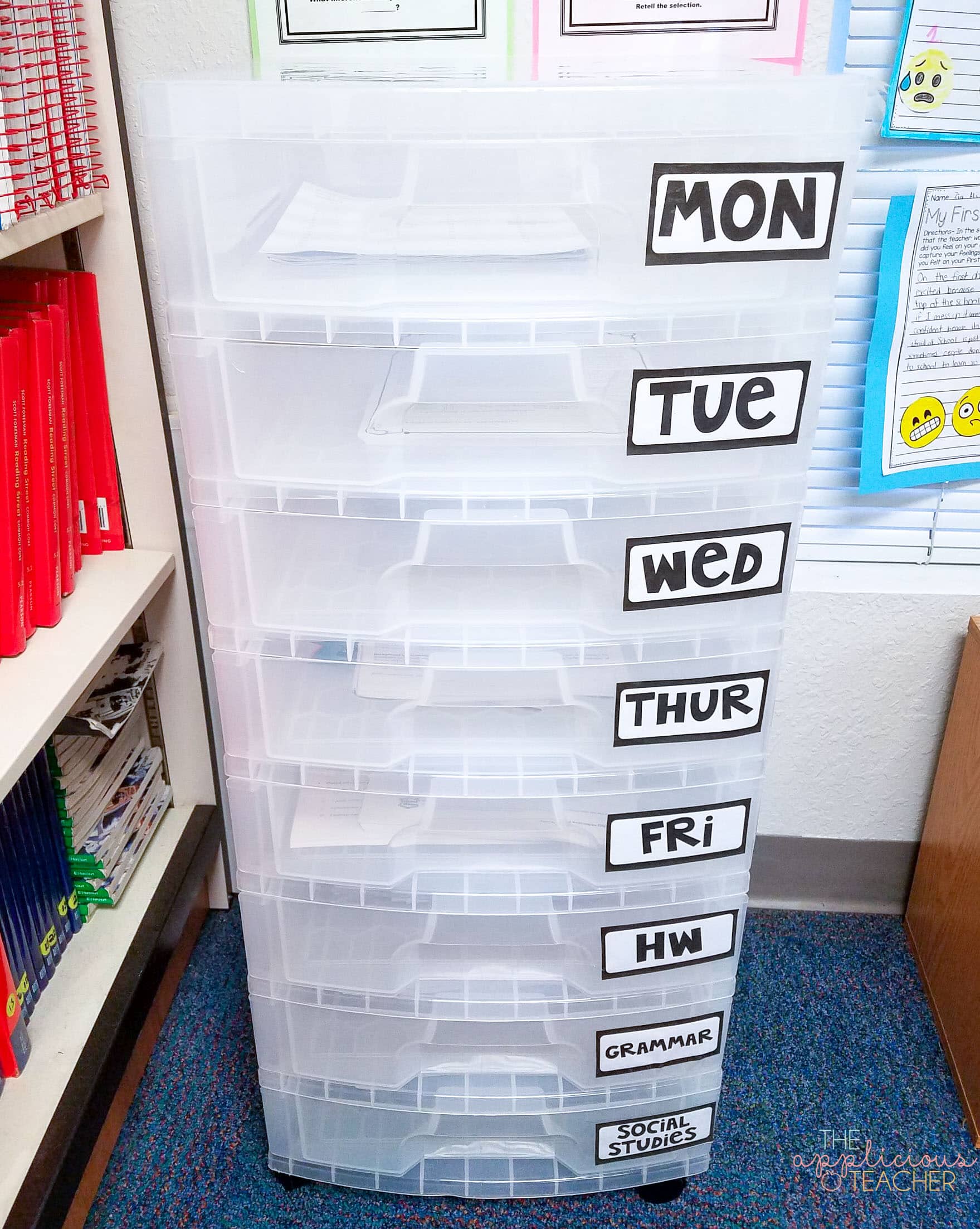 What Drawer System to Use?
This past year, I used a container that I found at Micheal's. This is the one used in the pictures above! I was able to use a coupon with it, so the price wasn't as steep. But, in the past, I used one that looked like this.
The important thing is to look for a plastic drawer system that has:
enough drawers for each day of the week
large enough to fit class sized stacks of activities, books, and craft pieces
as extra drawers (if needed)
Amazon does have some really great options too!


Setting Up Your Weekly Drawer Organizer System
Getting this baby set up is pretty easy! Think about your week and how you organize your day. For me, I have assignments that I need for each day, plus some storage for "extra paperwork"  for a few other subjects.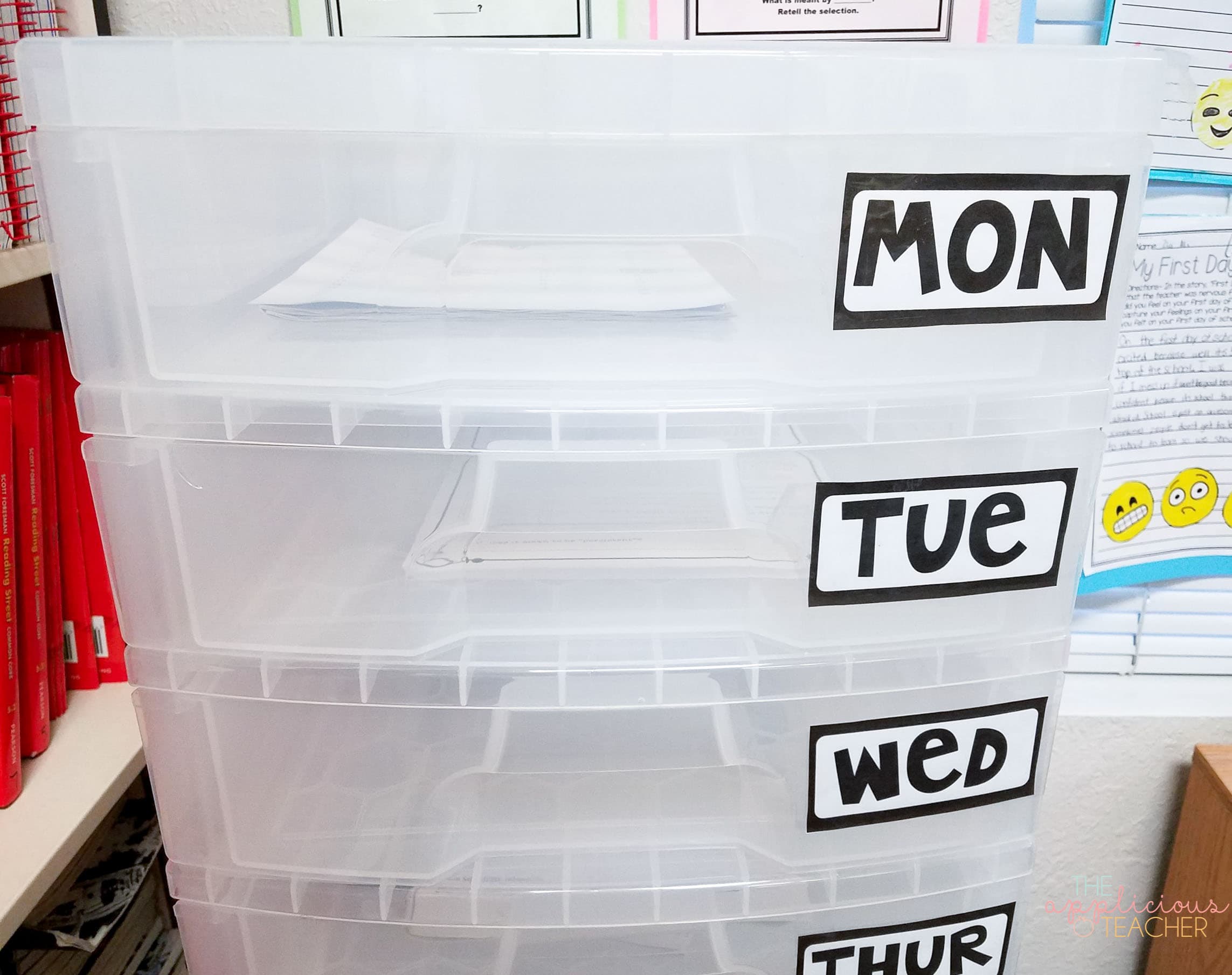 Here, I labeled each drawer for each day of the week. Then, I added a homework, grammar, and social studies drawer. You can label this however you feel would work best in your room.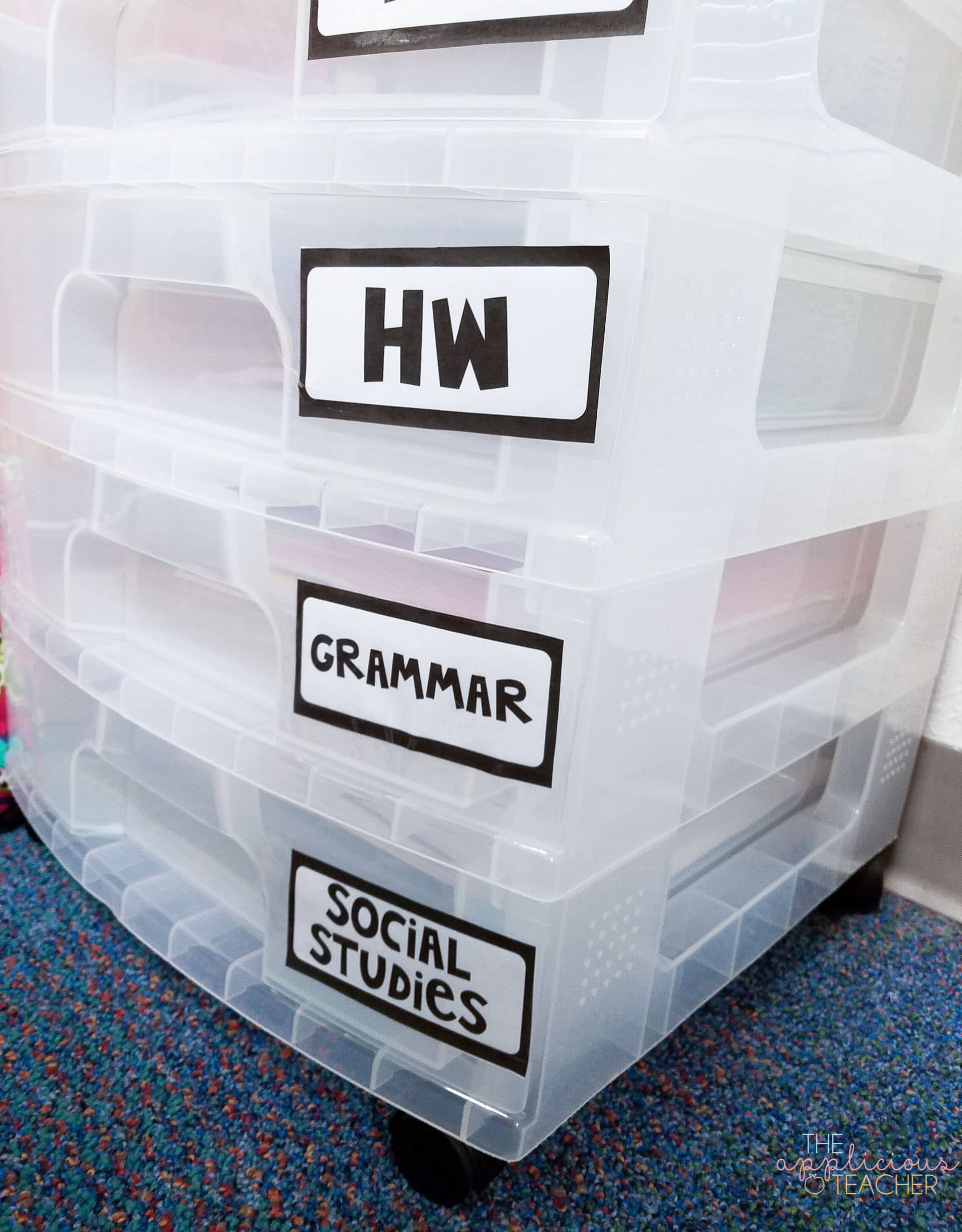 Like the labels I used? You can grab these editable labels FREE here in my TeachersPayTeachers Store.
Taking a Peek Inside
What to keep in each drawer is entirely up to you and how you teach. But, I'll share how I used this drawer system to keep me organized even when I was teaching 2 sessions of ELA and Social Studies every day!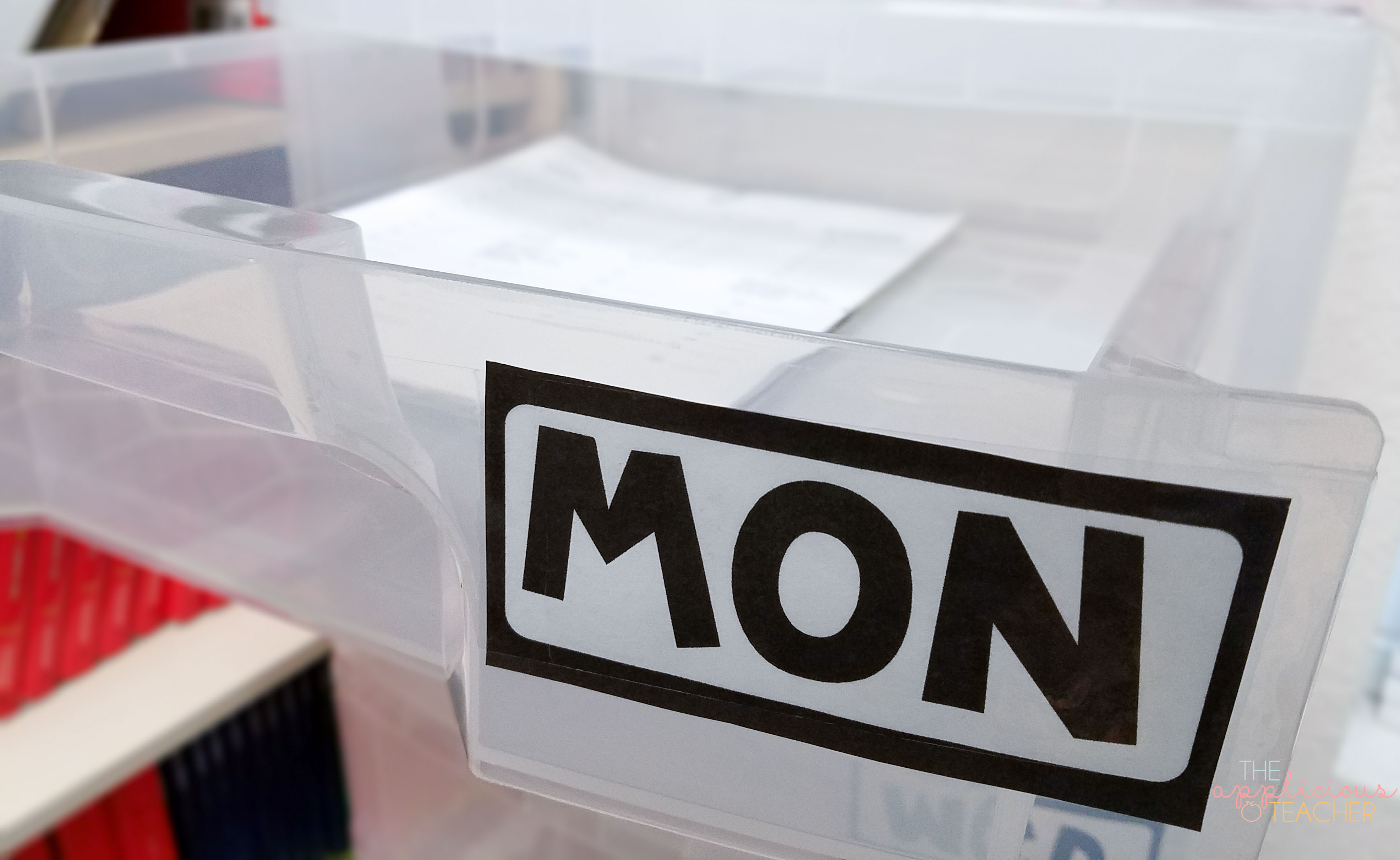 Each drawer houses everything I need to teach my lessons for that day. For my double blocks, I'd just section out the papers. The top part was for my first block and the bottom stack was for my second block.
Items to stow in your drawers:
copy of lesson plans (in Monday drawer!)
books you'd like to read
worksheets
ISN pages
assessments
craft samples and craft materials
notes and reminders
Keeping Organized
This little drawer system is a great way to keep yourself organized week after week. But only if you use it! To keep myself organized, I would put papers and materials in as I lesson-planned. Then, on Friday afternoon, I'd go through each drawer and pull out any work that didn't get done and reorganize each day for the upcoming week.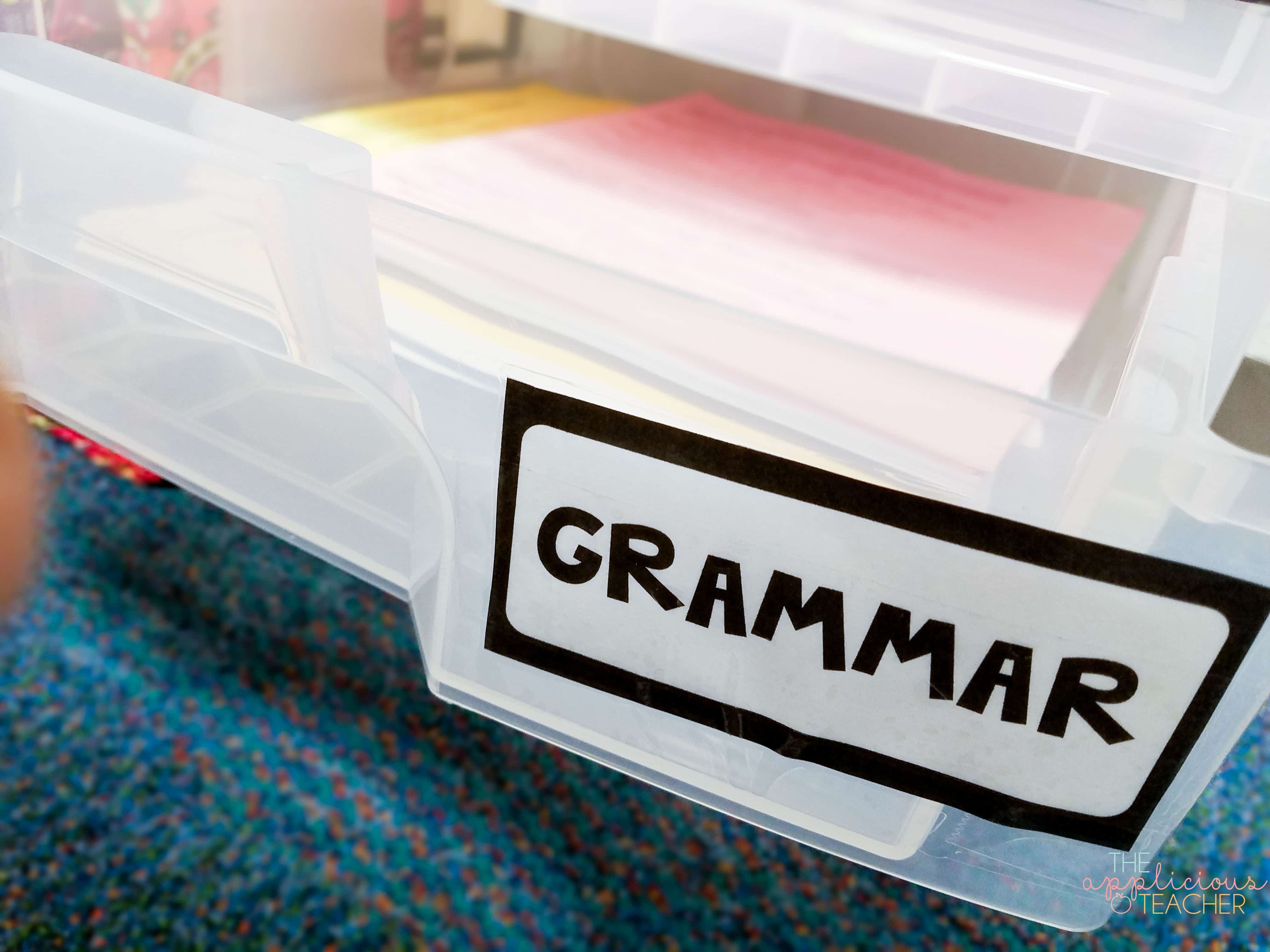 Before I left for the day, I'd go to the following day's drawer, pull out my materials (review my lesson plans) and set it out for the next day. I'd also grab any materials or printouts I still needed for the following day's lessons. This way no matter what happened the next morning (no matter how late I was) all my supplies were ready to go and I wasn't wasting valuable instructional time trying to pull together materials. YEAH for the teacher win!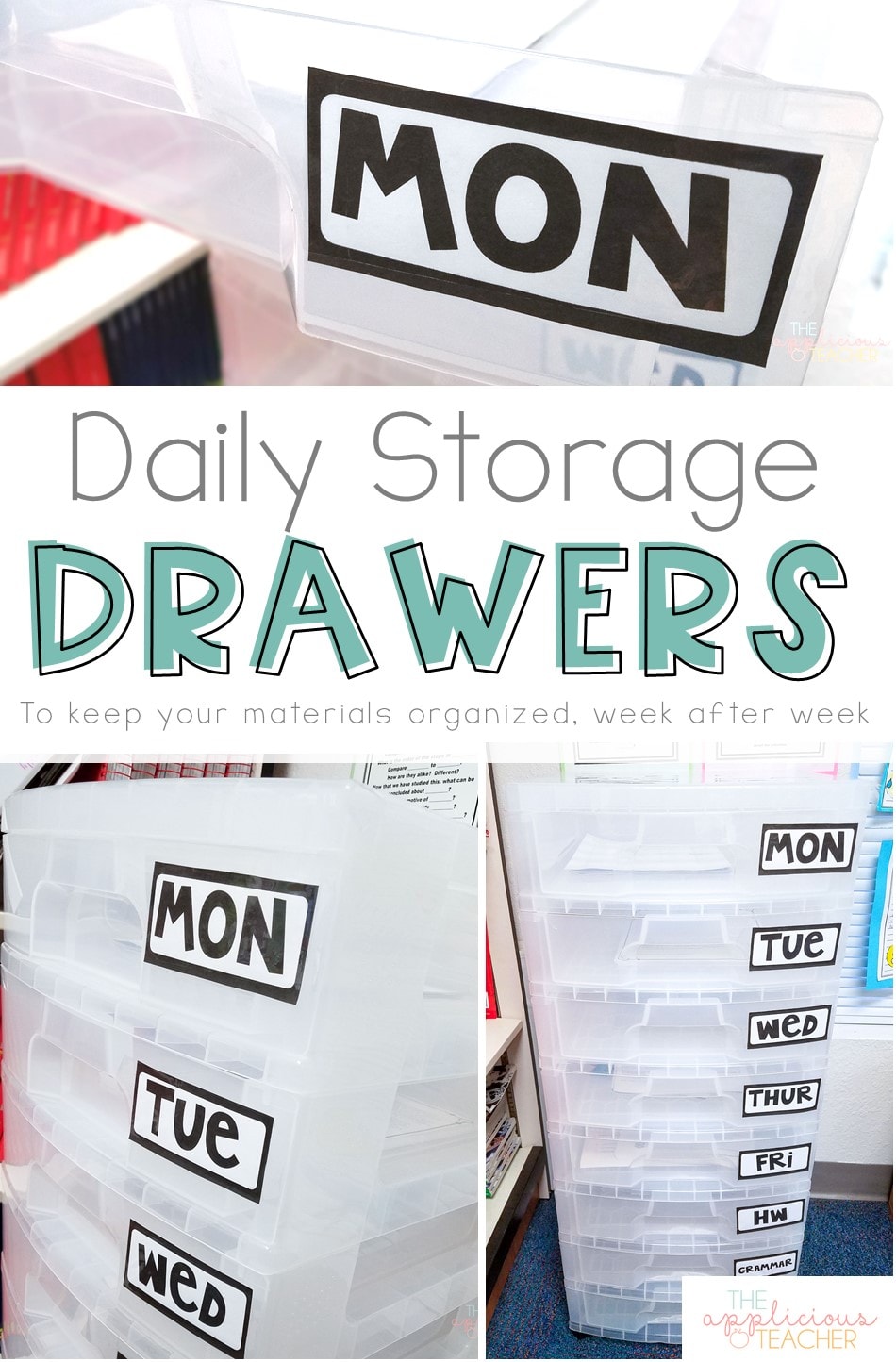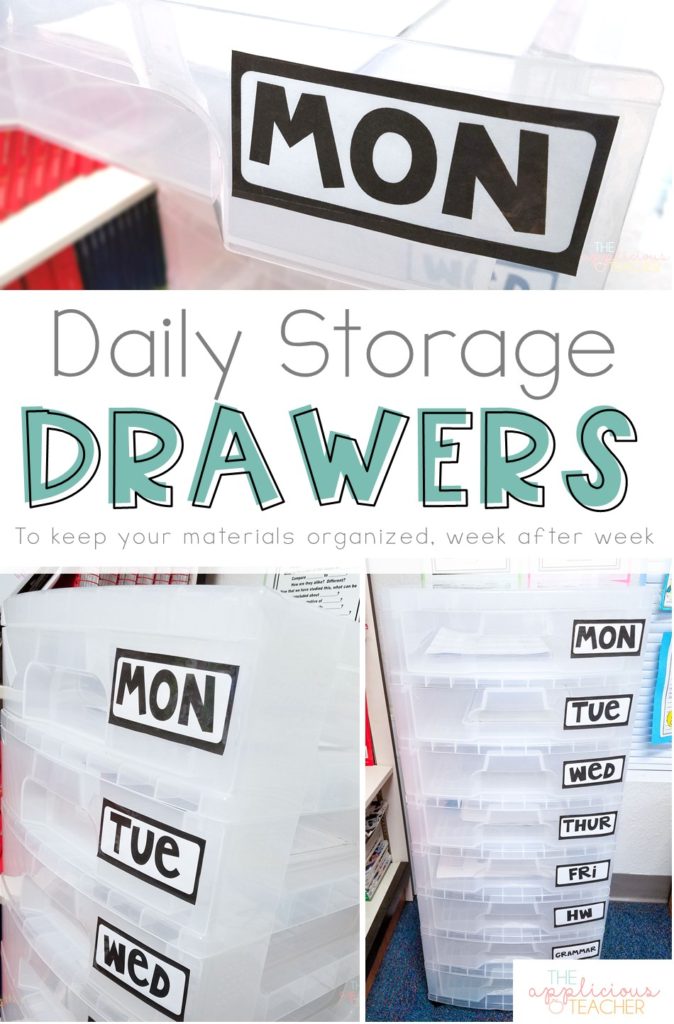 It also makes setting up for a last minute sub much easier. Instead of myself (or a sweet teammate) scrambling to find things for my kids to do, I'd just walk right over to my drawers and pull out lesson plans and materials and write any additional notes a separate sheet of paper. YEAH for easy sub set up!
A weekly drawers organizer is a great way to stay organized! I've used a system like this for the past 9 years and love it! What are some of your favorite ways to stay organized week after week!
Sign up to snag these!
Receive all these classroom management tools right to your inbox!