Is your classroom full of reluctant writers? Like the kind that just pushes the paper away? Or rush through to finish? Or how about those kids who completely refused to even start? If this sounds like ANY of the students in your classroom… do not worry! You are not the only one with students who are self-proclaimed "writing haters." But… it doesn't have to be that way. What if I told you there was a way to get your students not only interested in writing… but actually excited about writing. Today, I'm sharing three ridiculously easy tips for getting your students excited about writing. Yes… even the ones that tear up even at the mention of the word!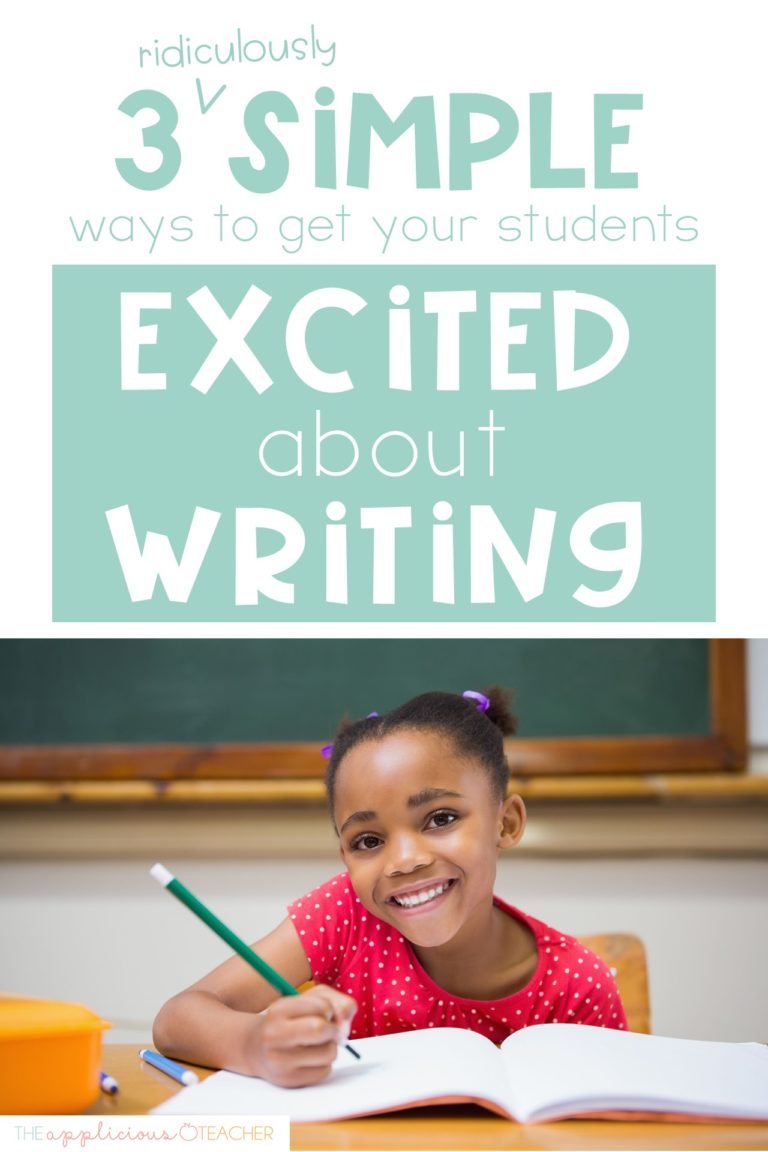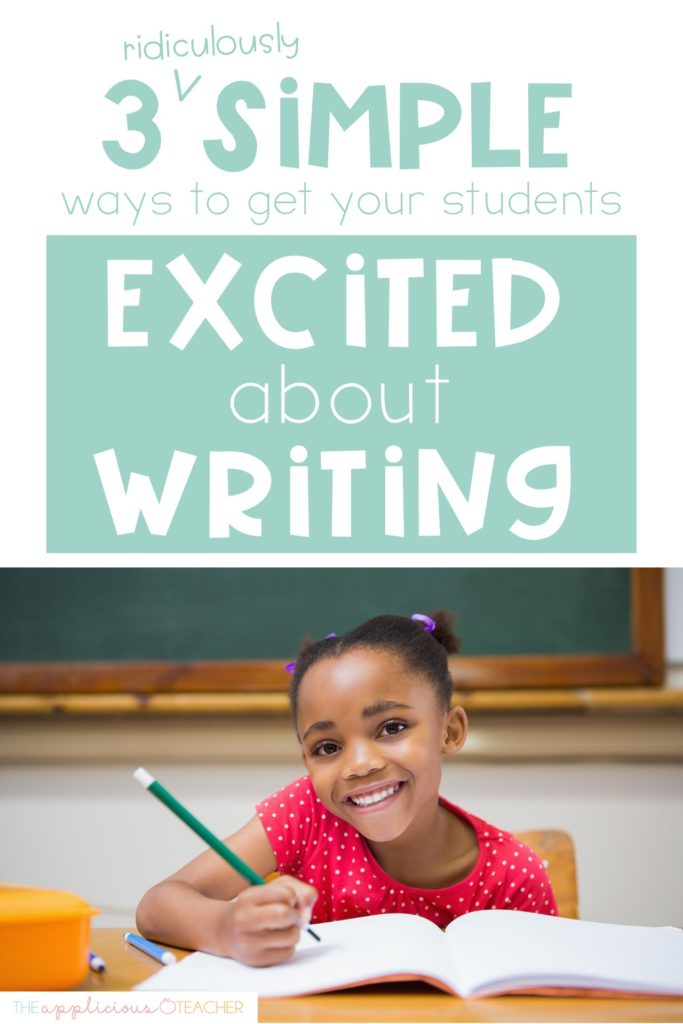 Excited Writers Tip #1: Use a Book
Ok… this one seems almost too simple, but it the most powerful one on my list, so I'm sharing it first. If you want your students to actually like writing, then start with reading… a book that is!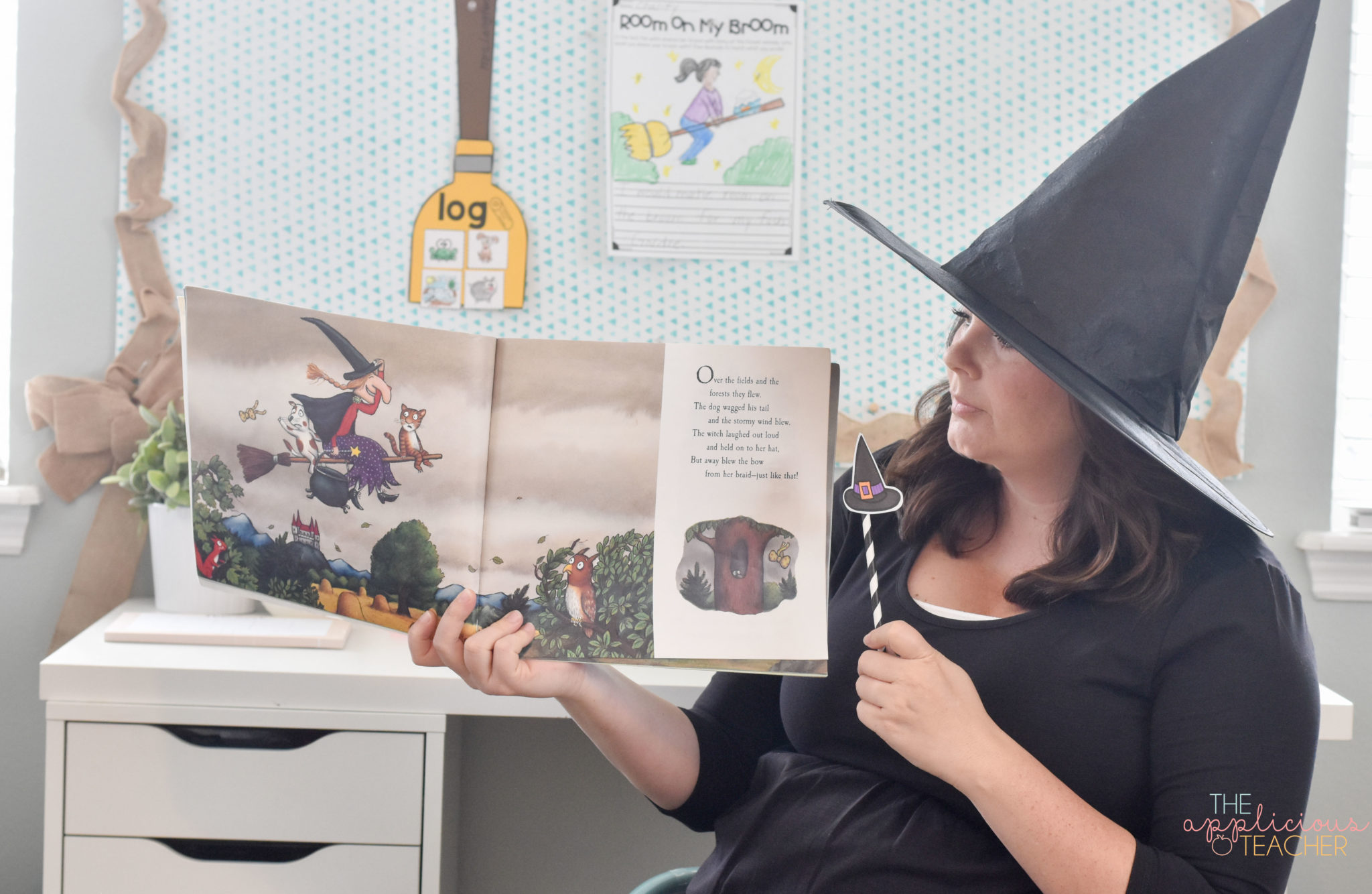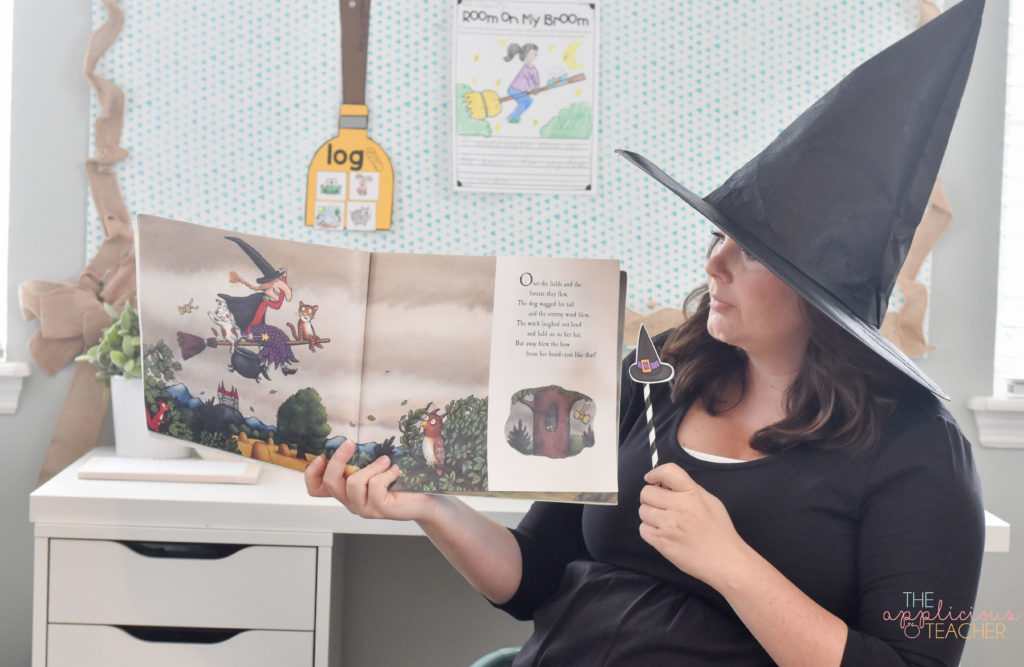 See, reading gets your students to make connections. When students listen to a story, they start to think about a time that something similar happened to them, or how the information presented applies to them, or to things they already know. Reading gets them thinking about a specific topic.
So, if you want to have your students write about a specific topic, idea, or focus, work to find a book that can "present" the idea. Want your students to work on a persuasive piece about pets? Pull the book, I Wanna Iguana.
Books can also help build background information that students might be lacking. It's hard to write about something you know very little about. Books can help build a background. For example, you want your students to use "small moments" when writing personal narratives. Chances are…they don't know what that is. Use a book, that shows a small moment, like Roller Coaster, to help your students better understand the concept. (Need some book suggestions? Be sure to check out the end of this post! I've got a free goodie to help you out!)
Read more about Small Moments here!
Take away: Select books that support an idea or theme related to the writing you'd like them to do. Use the book as a base to build a connection and background to your writing topic.
Excited Writers Tips #2: Writing About What They Know/Love/Interest
It's much easier to write about things you know a lot about. Maybe you're an avid Real Housewives fan. You could probably write a novel about the intimate details of the show's cast, like who's beefing with who, who's dealing with marital issues, and who's had more plastic surgery. But, if someone asks you to write about the golf game that was just on… you'd probably freeze. Here's why… you don't know much about it. It doesn't mean you could NEVER write about a golf game… it just means that you need time to better understand the topic. Like what is a birdie, anyway?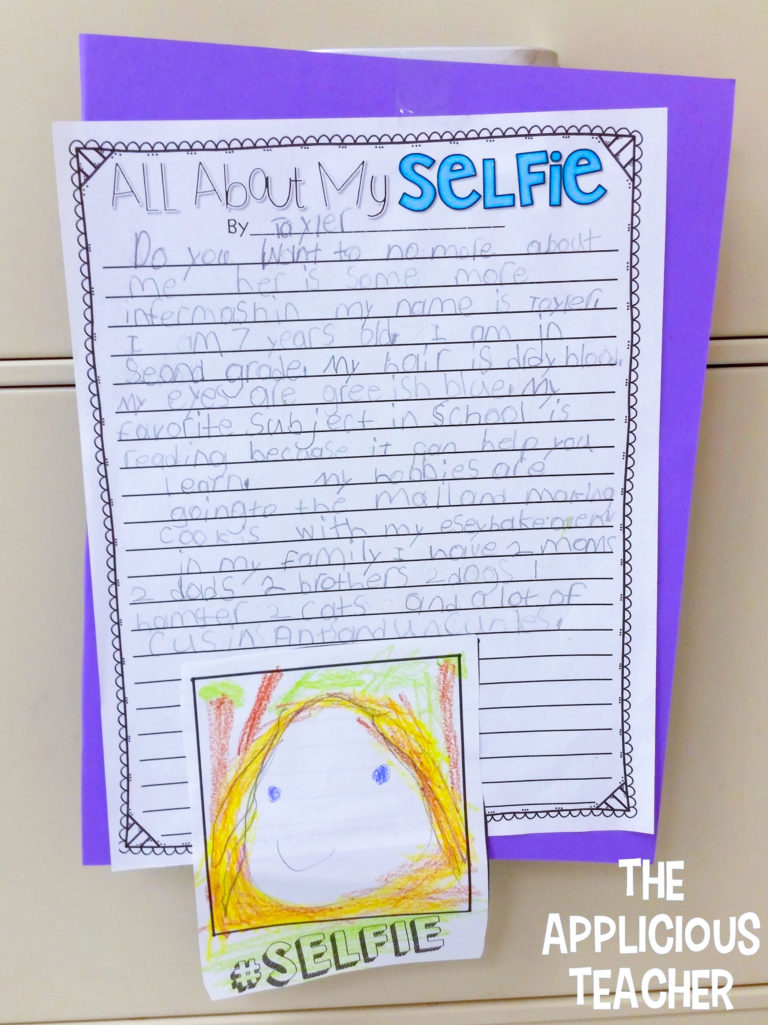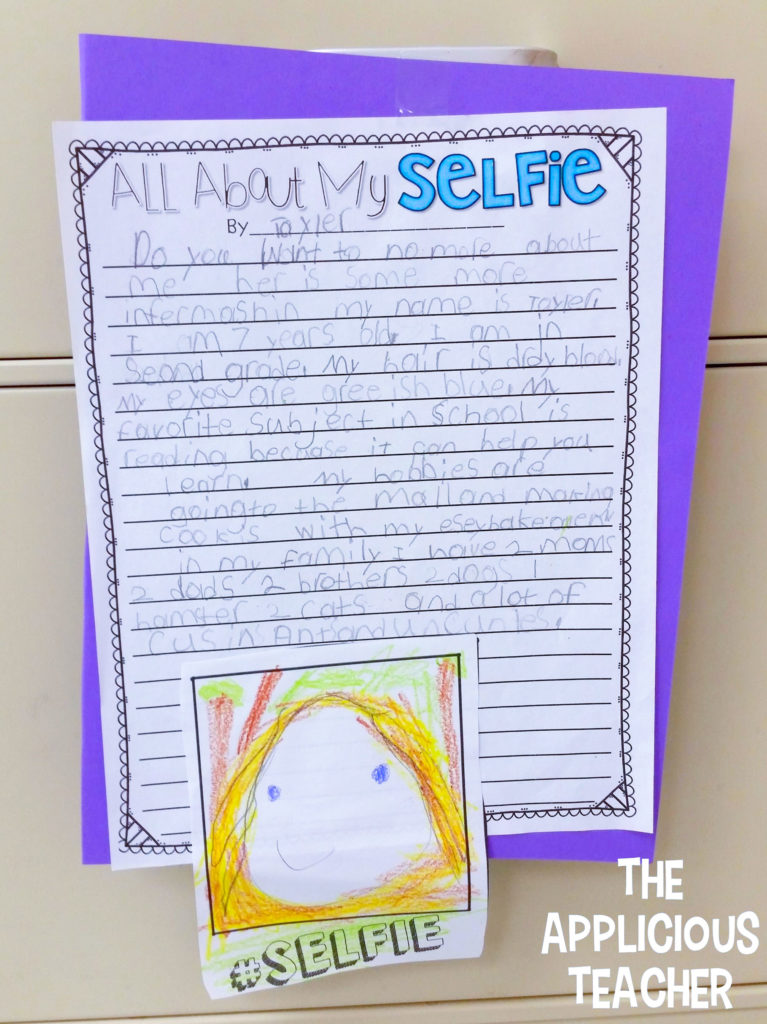 So here's how to apply this strategy to your classroom. At the beginning of the year, build confidence in your students as writers by giving your students to opportunity to write about the topic they know the most about: themselves! It's a lot easier to write about something you know about, so allow your students to feel that success. (No seriously guys, I've used this writing activity for K, 2nd, 3rd, and 5th and it is always a hit!)
I love doing that with this "All About My Selfie" writing project (that doubles as the perfect "Open House" display.) I use it as our first introduction to the formal writing process. The students are always excited to write it and even more excited to share the finished product. #easyteacherwin
From there, use this momentum to build your student's confidence in writing. Move on to other topics your students know about (based on a student survey like this one) or from your own classroom experience. Like how friendship is huge in the second grade, so after we've written about ourselves, we usually move on to writing about their best friend.
Use these tiny wins to then build a bridge to higher more in-depth writing. And if there's any resistance, don't hesitate to remind them of all the wonderful writing they've done in the past.
Take away: Use student interest to build writing confidence early on. Don't forget to remind your students of how well they wrote in the past.
Excited Writers Tip #3: Add a Craft
Ok… this next tip seems a little frivolous and you're probably thinking… really Leigh? A craft? But hear me out on this one. Very few students actually get excited about writing just so they can write. If that were the case, you wouldn't be reading this post and every person in the world would be a published author. But… every student does enjoy getting creative. Yes… even those moody 5th graders. And the craft is where you can let the creativity come out. I mean, it does in the writing, but many students fail to see how creative writing can be. It's not as in your face. But a craft… that's something you can see.
See… if I said to my second grade class, "Today we're writing about what you did this summer." Some kids might get excited to share their trip to Disney World or about how they went to the beach. But others stop at the word writing and think: BORING!
But, if I said to my class, "Today we're writing about what you did this summer," and held up this fun finished cactus craft… there's a lot more buy-in. Suddenly, this writing project doesn't feel like a boring writing thing. It feels like a fun activity that our teacher is letting us do.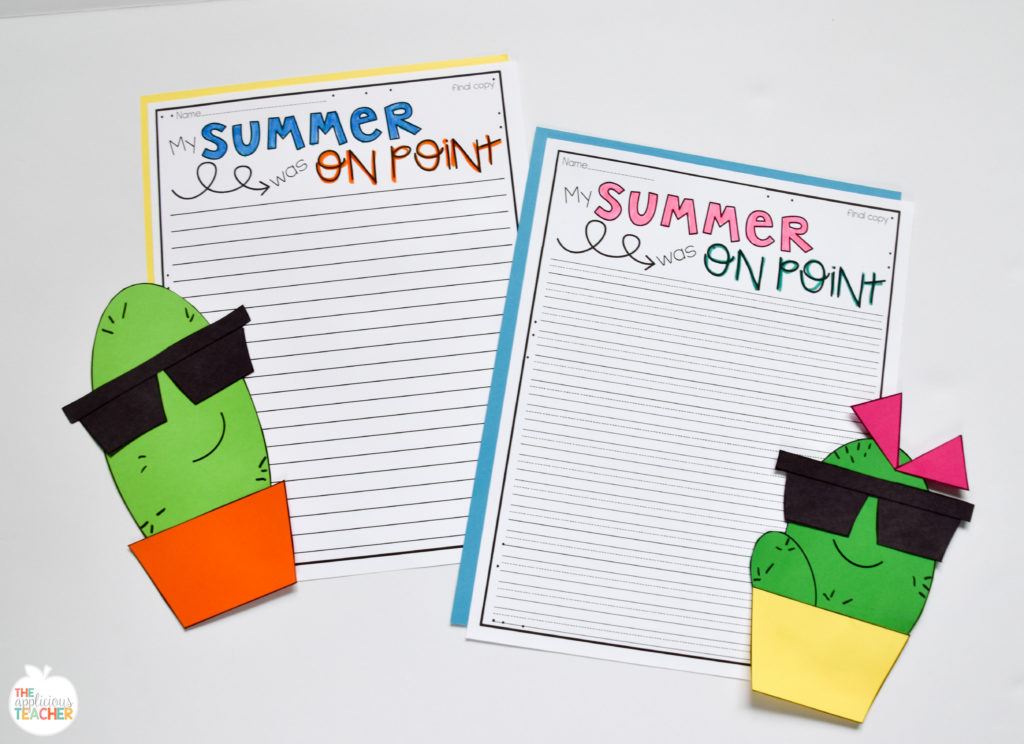 Writing is all in the packaging, and a craft makes the packaging more attractive.
Take away: Use crafts to add buy-in and to add a level of creativity. Especially at the beginning of the year.
So these are my three ridiculously easy tips for getting your students excited about writing. Using books to make connections and build a background on a concept is a great way to anchor the writing process. You can build up your writer's confidence by selecting writing topics that interest them. And finally, don't ever underestimate the power of a craft.
Writing Made Easy: Writing All Year
So teaching writing is a challenge. I get it. That's why I've worked to make teaching writing as easy as possible! Writing All Year is a collection of all the writing activities in my store. This never-ending bundle will literally take all the guesswork out of writing. Each activity includes everything you need to guide your students through the writing process. From brainstorms to rough drafts, rubrics, final publishing sheets, and of course crafts! All while focusing on things your students are interested in! This use all year long pack is perfect for 1st through 3rd grade writers.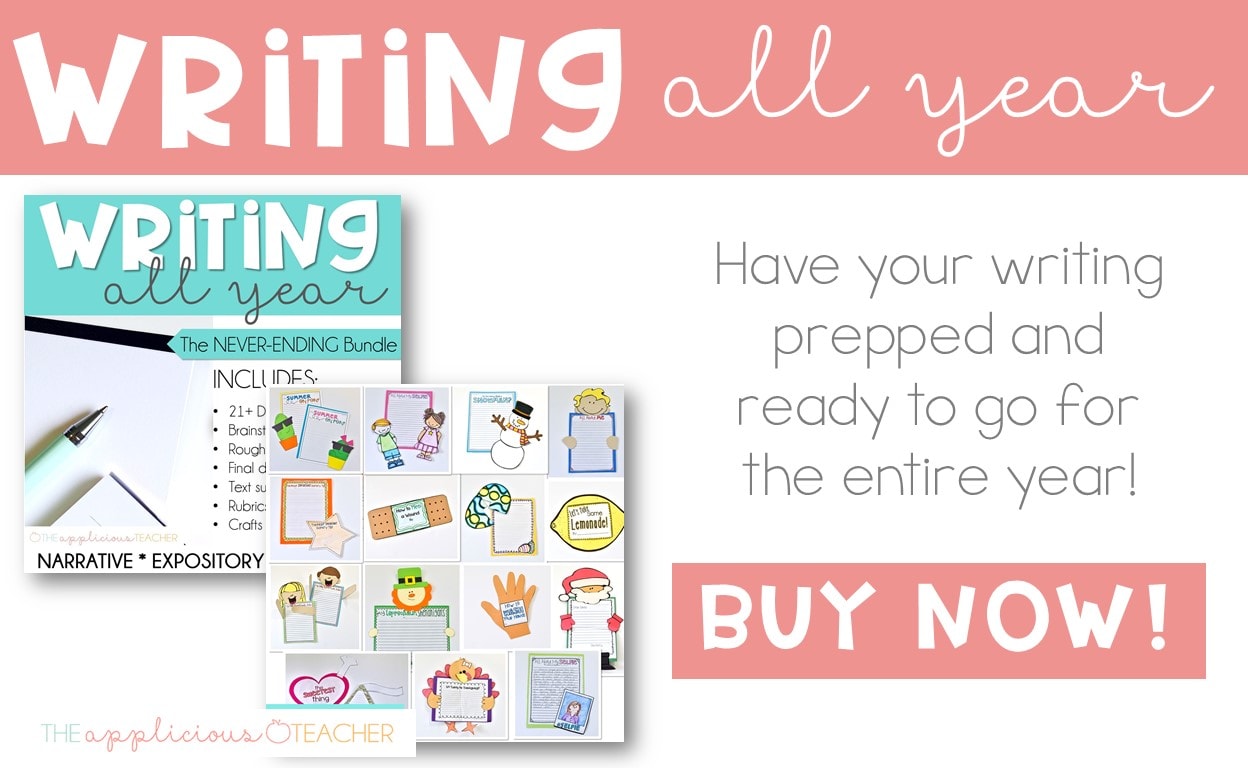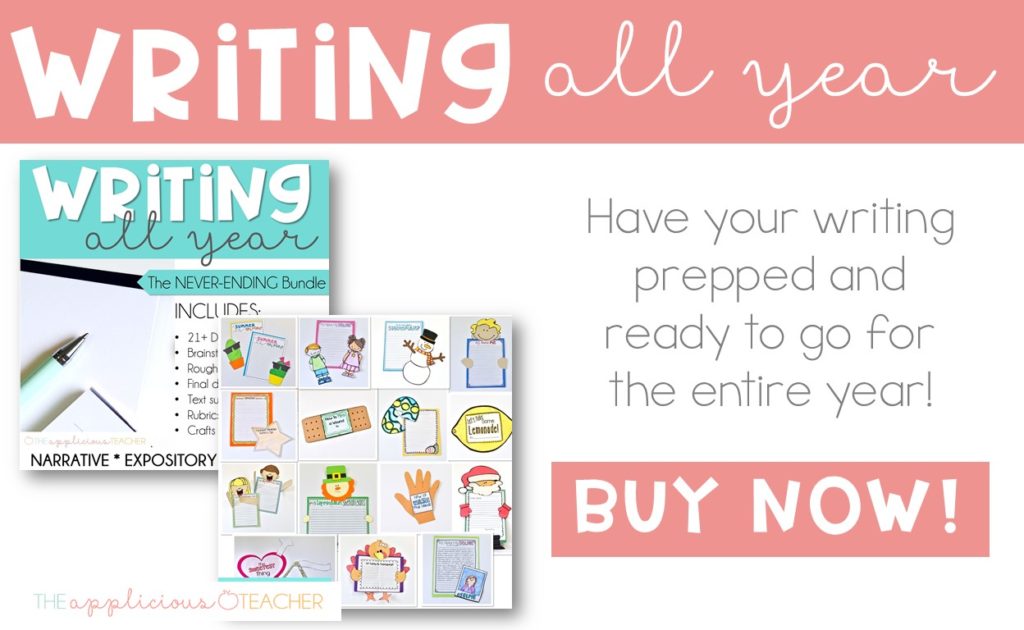 You can check out this bundle here in my TeachersPayTeachers' store. You'll save big $$ by purchasing the bundle.
More Writing Posts
Want to know more about writing in your first through third grade classroom? Check out the blog posts below!