You guys! Where did February go? I'm not gonna lie, it felt like the longest month in history, but here we are, already into March! #poof! Well, while the rest of the education world was pummeled by snow days, ice storms, and wind advisories, the Applicious classroom was busy here in Central Florida. Our focus last week? Dental Health! Here's a few Dental Health Month activities we did.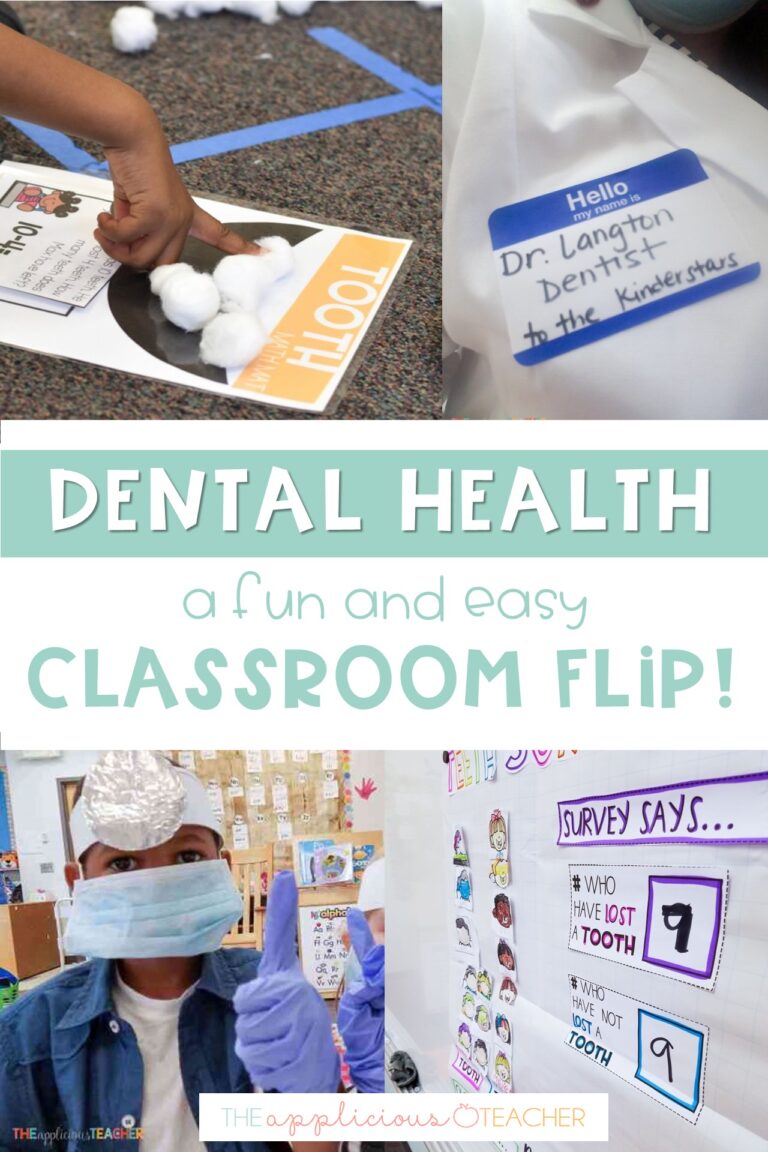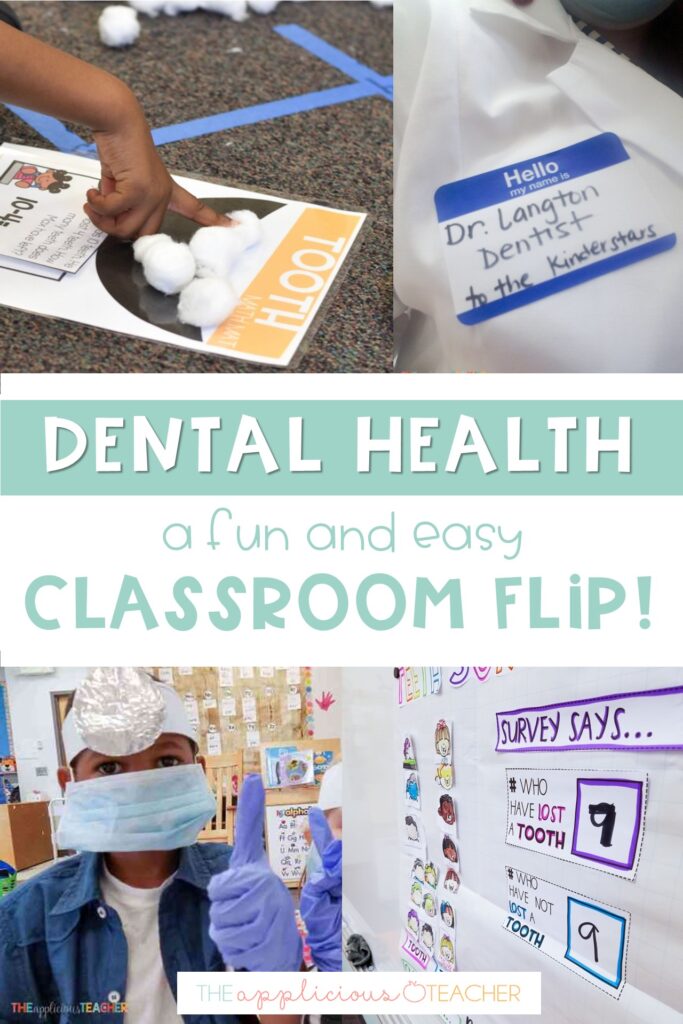 So, February is one of those months where you really want to get EVERYTHING in! There's Valentine's Day, President's Day, of course, it's also Black History Month, so you try to highlight that. But, February is also Dental Health month. In second and third grade, I usually just let that last one slide, but this year, I KNEW we needed to talk about our teeth! I mean five and six is when you first start losing those baby teeth! So, when the rest of the school was celebrating a very famous rhyming doctor, I decided to send my students to Dental School!
Please note that this post contains affiliate links. What this means is that if you purchase something that I've recommended, I receive a small fee in return. These small returns are used to maintain this site and allow for little giveaways and access to free resources for you!
Setting the Stage for Dental Health
Starting a new unit is always a little intimidating. It's like the first date of the learning world. Hit it out of the park, and you KNOW it's gonna be a good learning experience. Falter just a wee bit? It could spell disaster. That's why my go-to is usually a really good book to help introduce our theme or topic. But, this time around, we started with a graphing activity!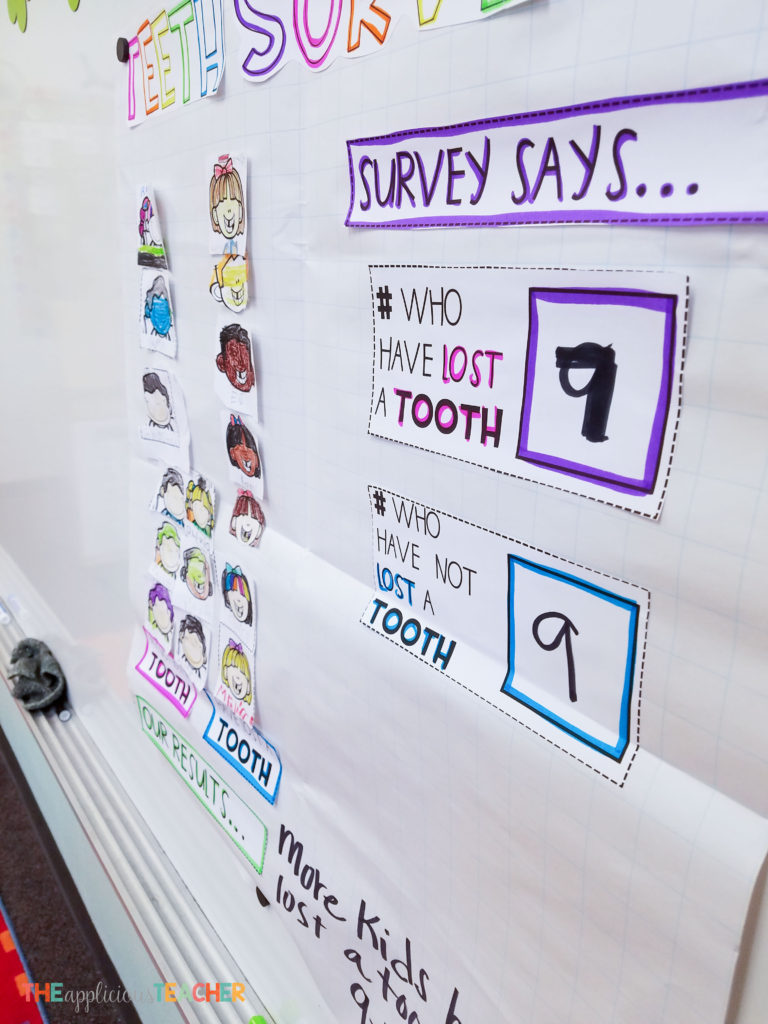 First, we talked about losing a tooth. Students were super excited to share their experience with each other. Then, it was time to get to business. Students chose a "kid" based on their experience with losing teeth. I kept it easy with either lost a tooth or hasn't lost a tooth. Then, they colored, cut out and pasted their "mini-me's" on the chart.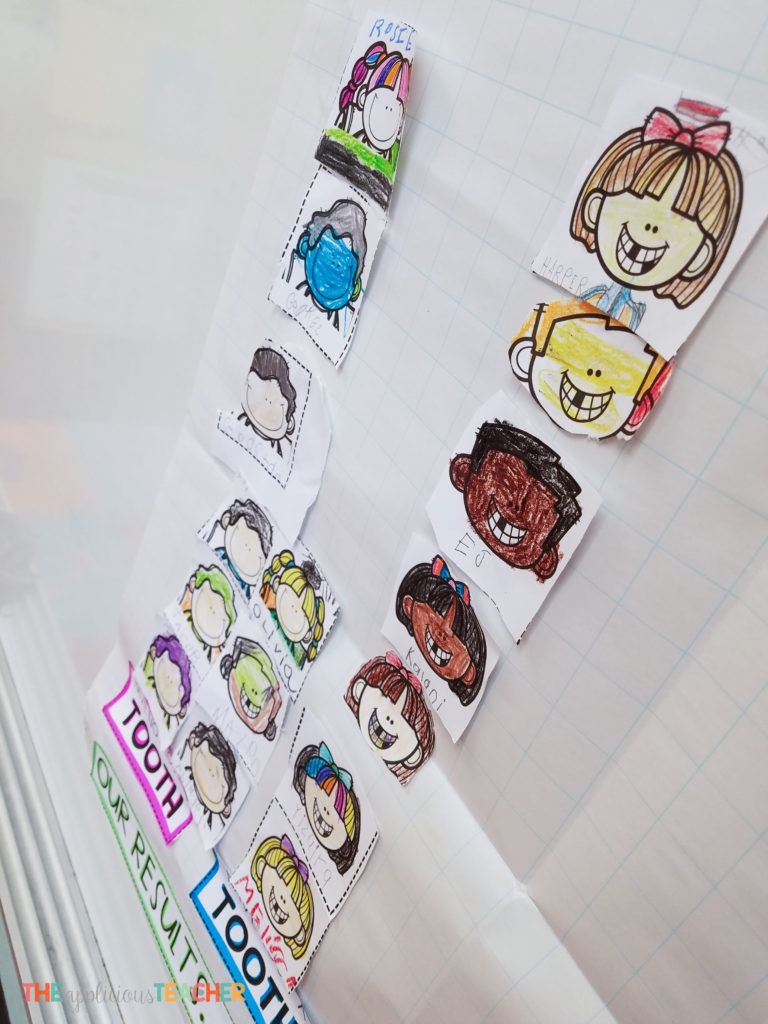 Seriously so cute! From there we compared results and figured out that more students in our classroom have NOT lost a tooth!
Teeth Activities for Math
We brought our dental health unit into math all week as well! Last week we were finishing up subtraction within 10, so we used teeth as part of a way to solve simple word problems! The kids loved drawing mouths and teeth in their math journals to model our problems.
As a culminating activity, students completed this fun subtraction mouth!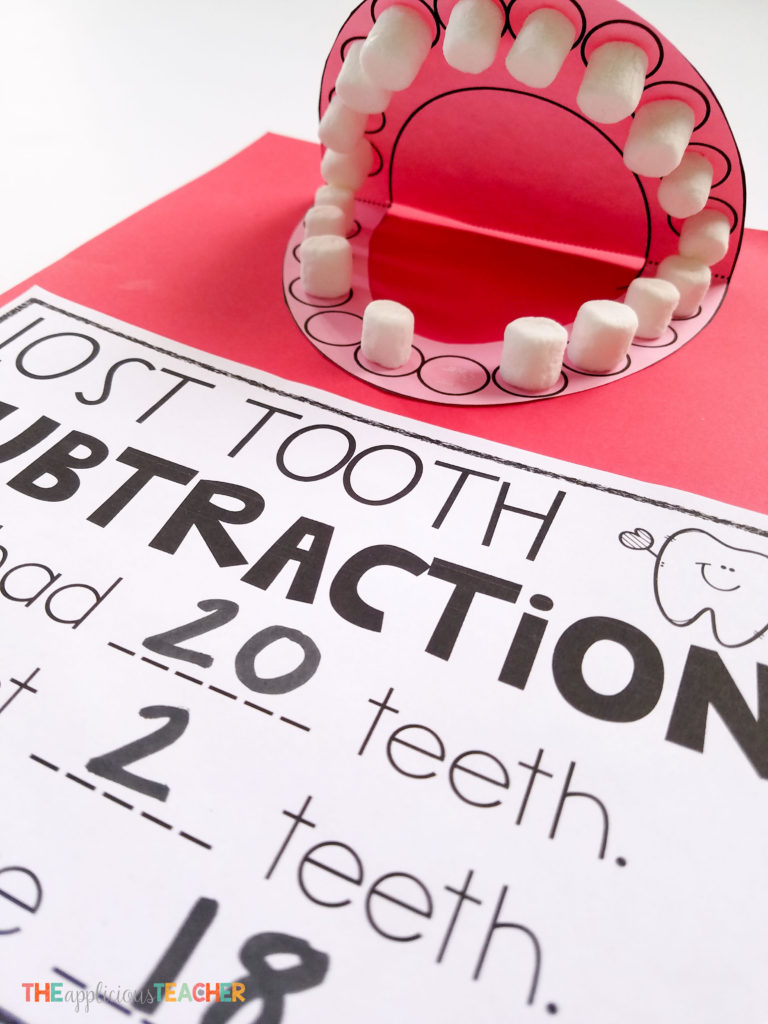 After reviewing subtraction with students on the whiteboard as a class, we went back to our seat to get to work. First, students worked to count their "teeth" to get a starting number. I had two versions of the mouth sheet to make sure that all my learners were successful. Then, each student received a handful of mini marshmallows. From there, students filled in their "mouths" with teeth, a removed a few as part of the subtraction problem. Students recorded their subtracted number, then recounted their teeth to confirm their difference. Students used white glue to keep the "teeth" in place.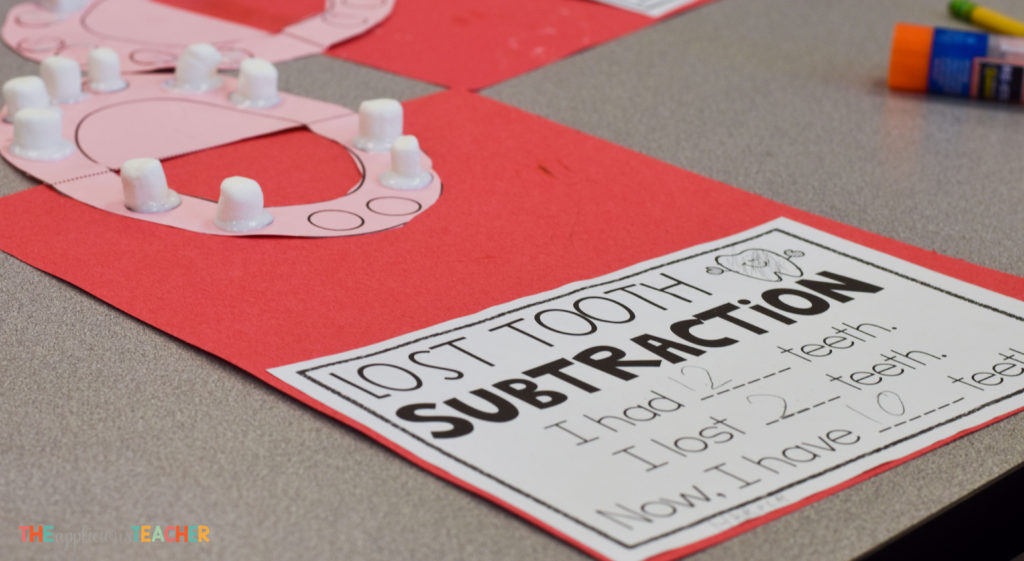 As I checked student's work, they were able to get a small helping of "eating" marshmallows to enjoy as a special treat. Honestly, the promise of this was the only way they were going to NOT eat the ones I gave them to glue on! It seriously worked wonders!
We also brought our toothy unit into small group math time using these toothy mouth mats. To play, students chose a subtraction word problem card. Students either read the word problem (higher groups) or modeled the subtraction sentence using the mats and cotton balls as teeth. Students love filling in the mouths and "pulling" out the teeth!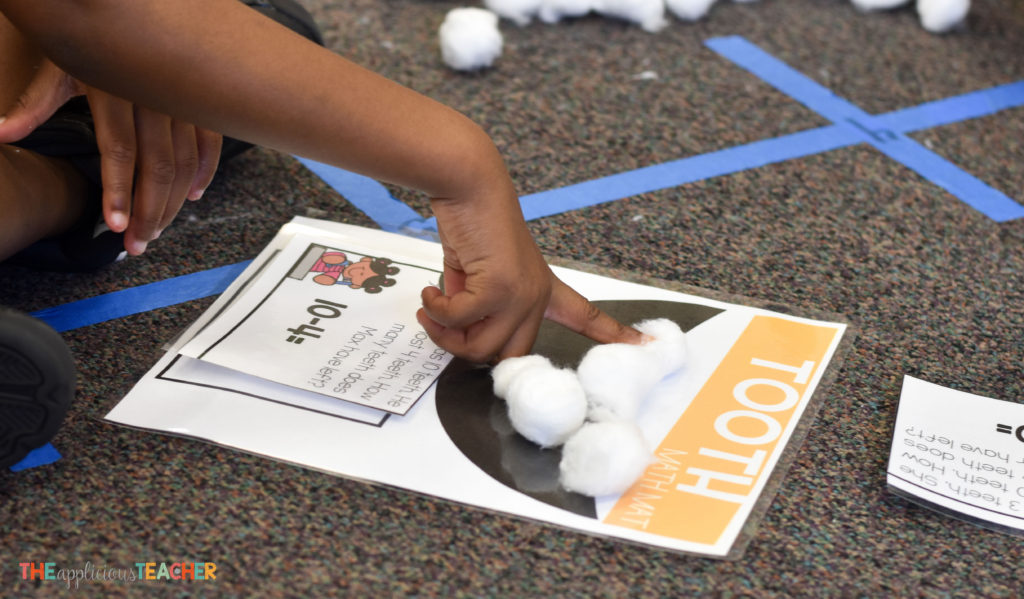 Dental Health in the Reading Block
We also brought learning about teeth to our reading block. To start, we learned all about teeth and dental care through this GREAT book, "The Tooth Book: A Guide to Healthy Teeth and Gums"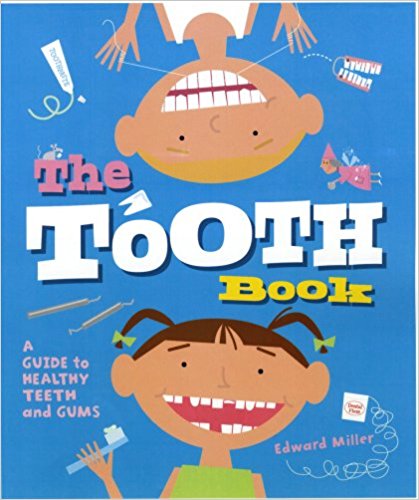 We used this as a close read for the majority of the week because of all the juicy information! On our first read, we just discussed the main topic and details. We also discuss how we could use the pictures to help us figure out what this whole book was going to be about.
From there, we worked on text features. This book does a great job of explaining the different parts of our teeth. So after reviewing this content vocabulary, we were ready to make our own teeth diagrams!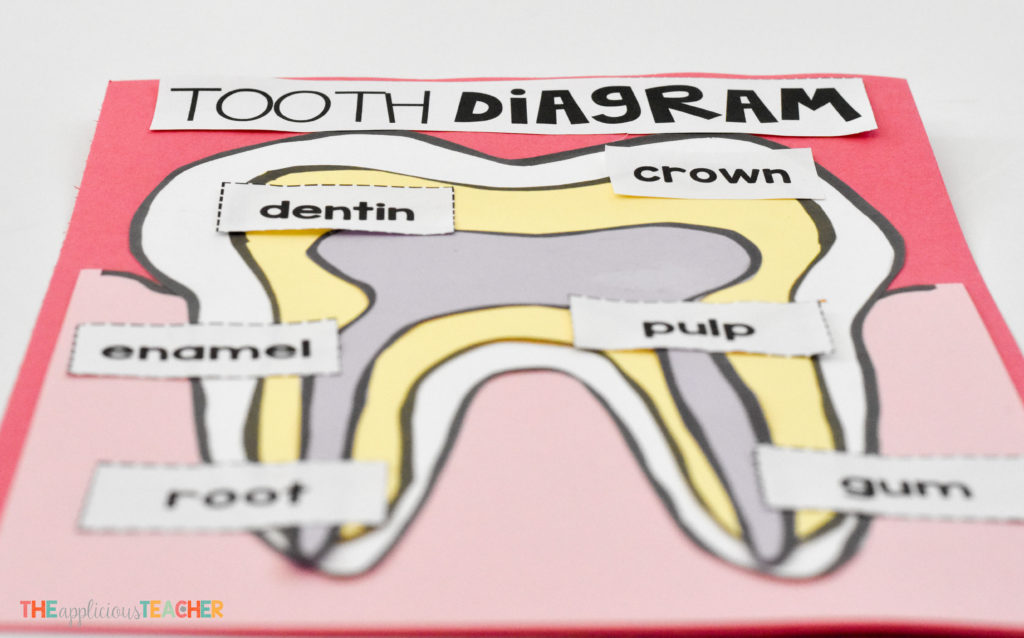 Our instructional plan including lessons that focused on rhyming, so we also learned a little poem about Teeth Best Brushing friends (BBF!) Together, we learned the poem. Then, we discussed the rhyming words. From there, students finished the poem by filling in the rhyming words. To finish their projects, the kids made toothbrush and tooth friends!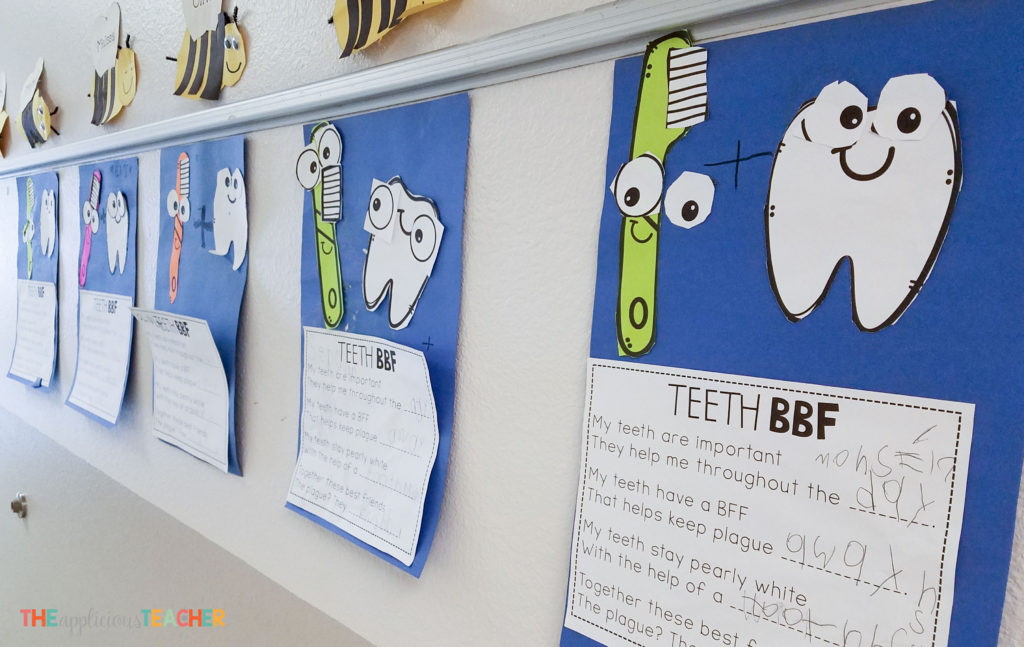 They really turned out so cute!
To share our learning about teeth, we also wrote a tooth care shape book. I remember making shape books when I was kid, so I knew the kids would be super excited to write their learning about teeth care on an extra large tooth!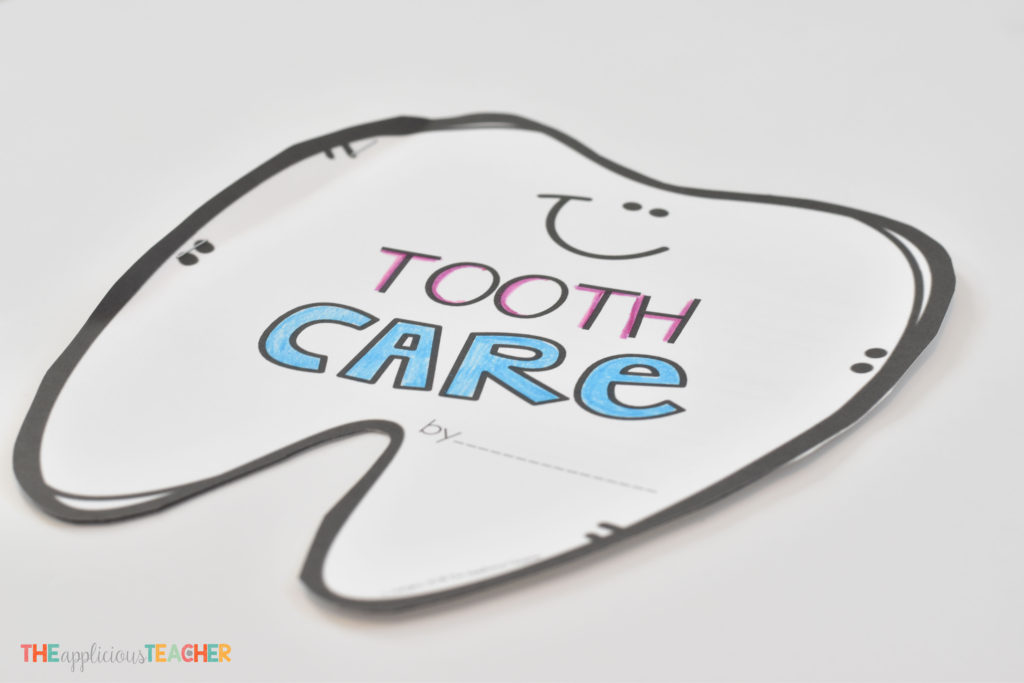 Inside, students wrote one or two ways they could work to take care of their teeth.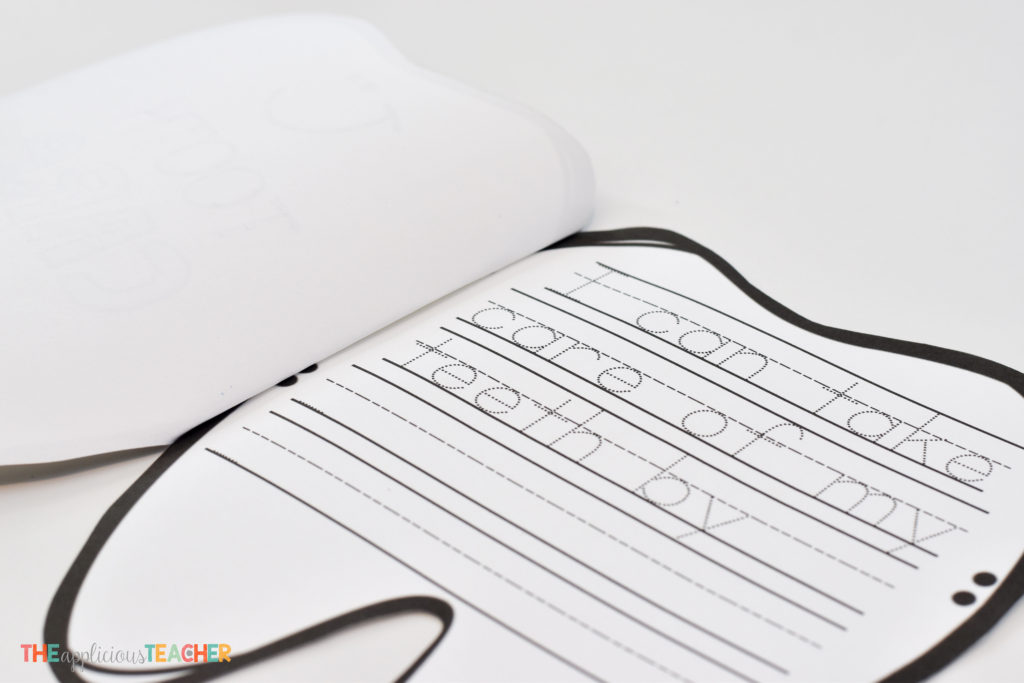 Dental School in Kindergarten
At the VERY end of the week, it was time to go to "Dental School". I was so excited to do a mini classroom transformation. I recently finished reading "The Wild Card" by Hope and Wade King and I had been itching to try a classroom transformation in miniature.
So on Thursday morning, I showed up to school dressed as a dentist. White coat and all!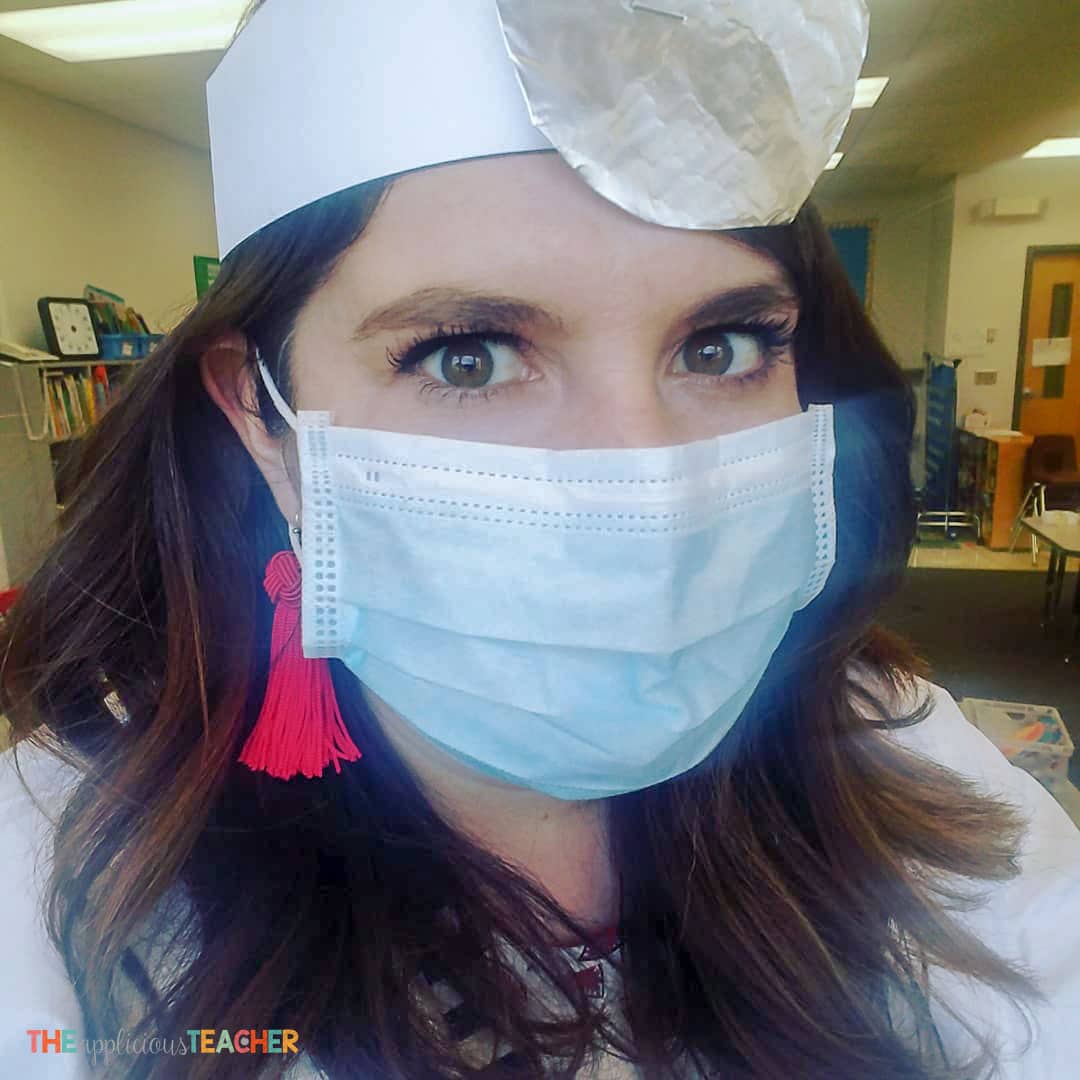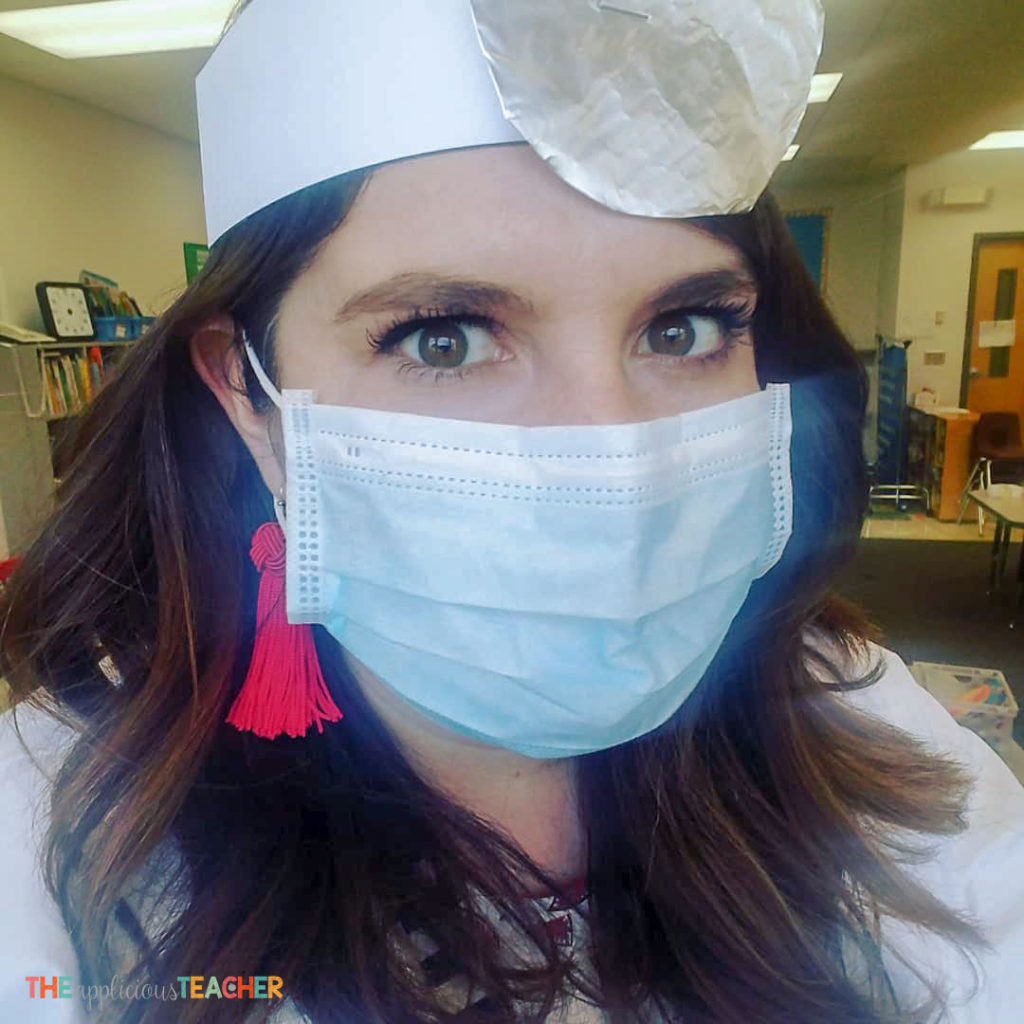 I'm not really a "dress up" person, but I knew if I wanted to get the excitement and engagement out of my kids I had to dedicate myself to the role. I got the white lab coat for super cheap here on Amazon and also ordered small latex-free gloves and face masks.
In the morning, we made our "Dentist Light" hats using strips of paper, circles and covered them in foil.
We also wore our "official" Dr. Badges and made sure to refer to each other as "Doctor" as we went throughout our day.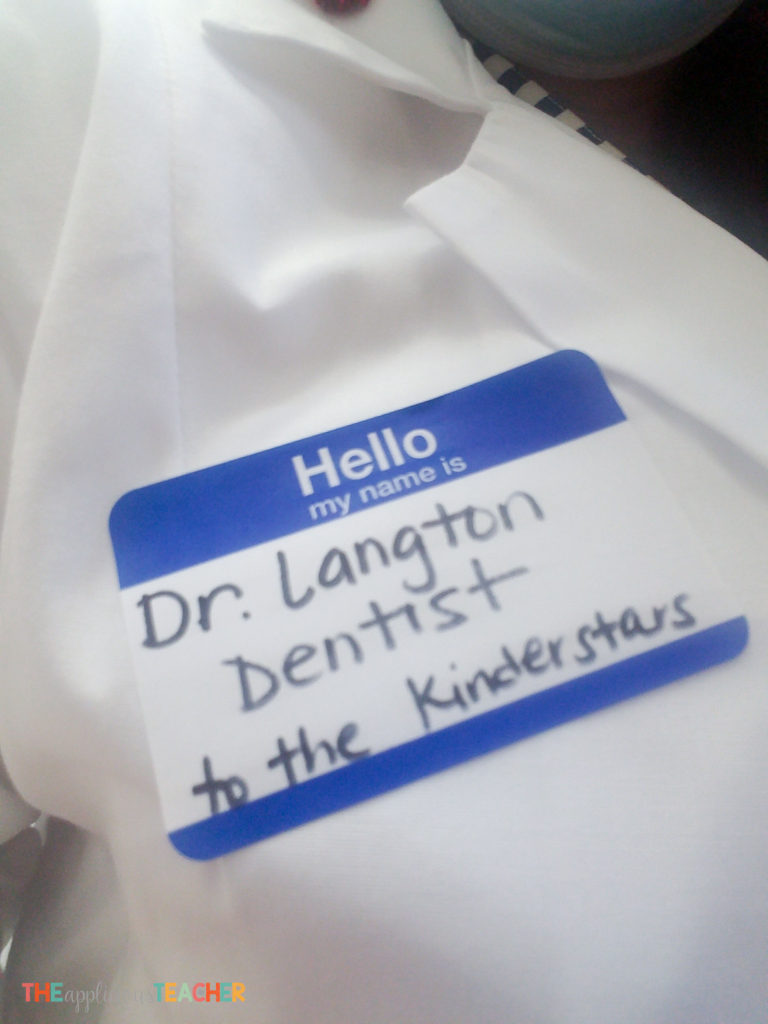 I was Dr. Langton- Dentist to the Kinder Stars. 🙂
Since we had spent all week learning about teeth, it was time to put our theory into action. So, in place of our traditional literacy stations, we did dental stations! Each station related back to a skill we had been working on throughout the week! This is when we got into full "Dentist Gear".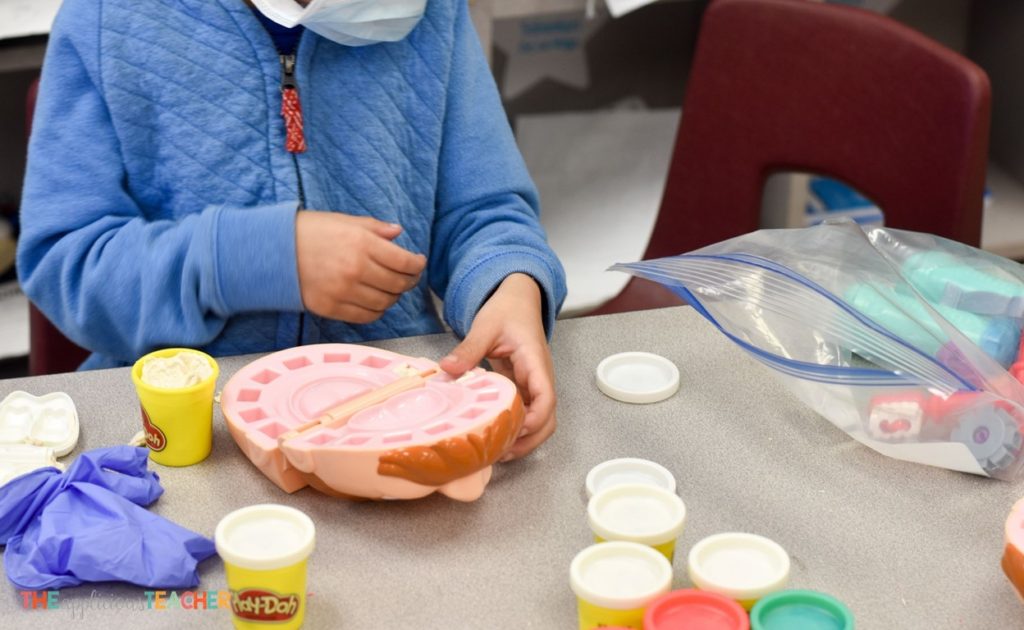 Here were our Dental Health Stations:
Whose Teeth? An Inferencing Activity-
Earlier in the day, we read "What if You Had Animal Teeth". From there, we discussed how animals use their teeth for different things. By the time we got to centers, we were ready to explore how different animals have different teeth. We completed this activity at my teacher table. Together we read animal information cards. Then, we studied different "teeth". From there, we matched teeth with their correct animal. As students placed their teeth, we talked about the "why" and "how" of their choice.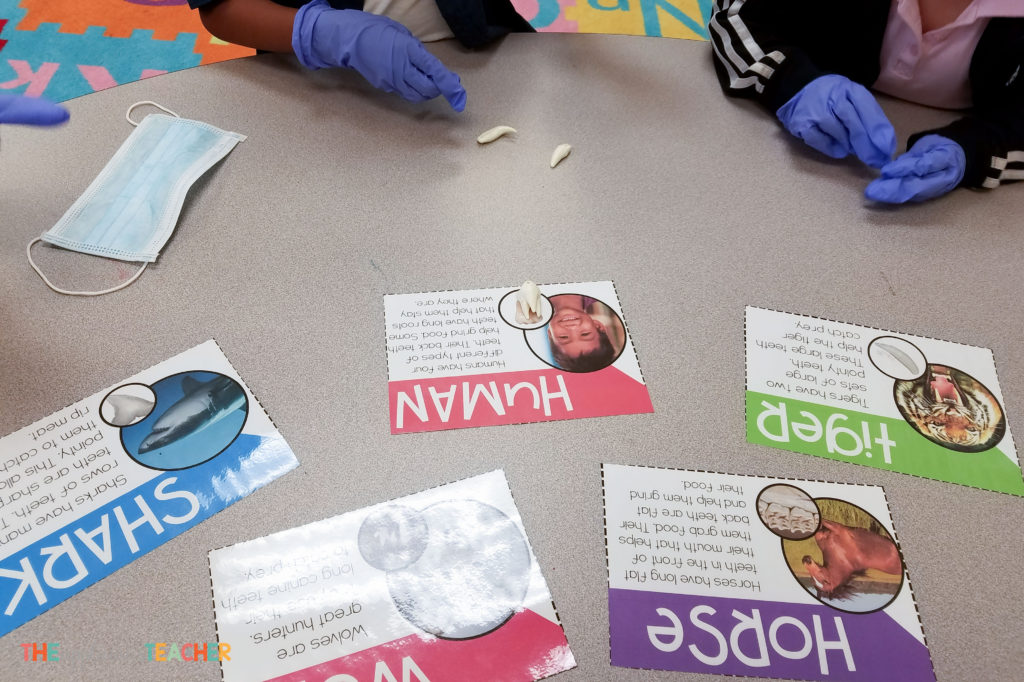 Teeth Imprints:
I also used some of those fake teeth in this fun station. I'm not sure how I convinced a parent to come in and help, but I did. First, students studied the different animal teeth. Then, they worked to make an imprint of the tooth to take home. The dough was a super simple salt dough recipe I found here! We let the pressings dry in our cubbies for about four days.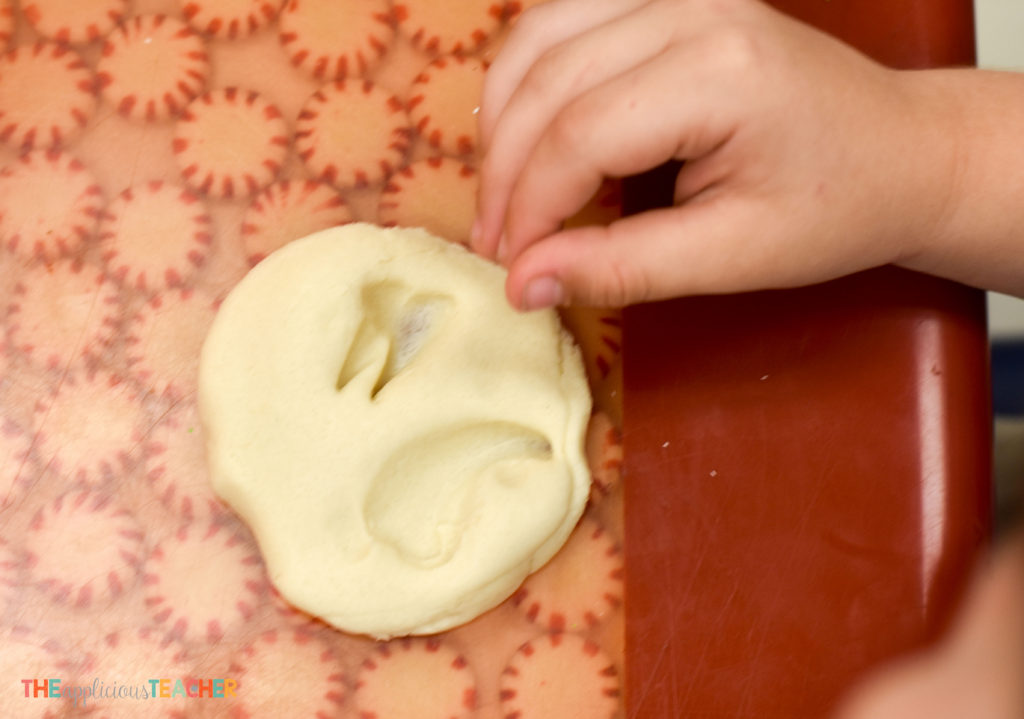 Color by Code Sight Words:
For this station, students worked on their sight words by reading and coloring a dental inspired picture by code. Sight word practice? Check! Practice coloring inside the lines? Double-check!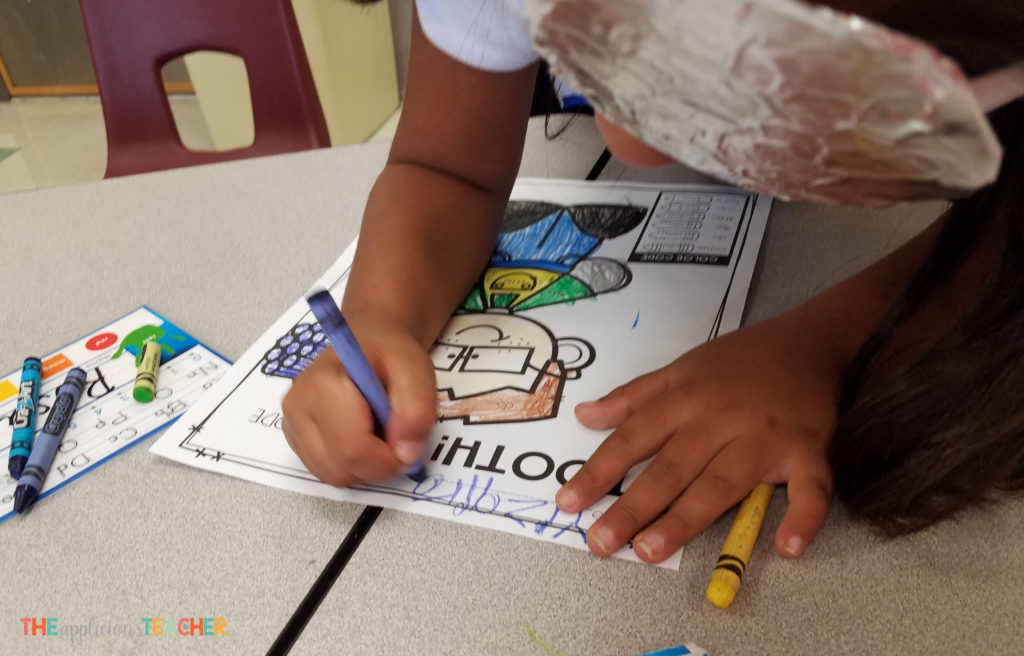 Dr. Drill and Fill Play-doh Station-
Seriously, one of the most loved stations of the day! We used this Play-Doh set!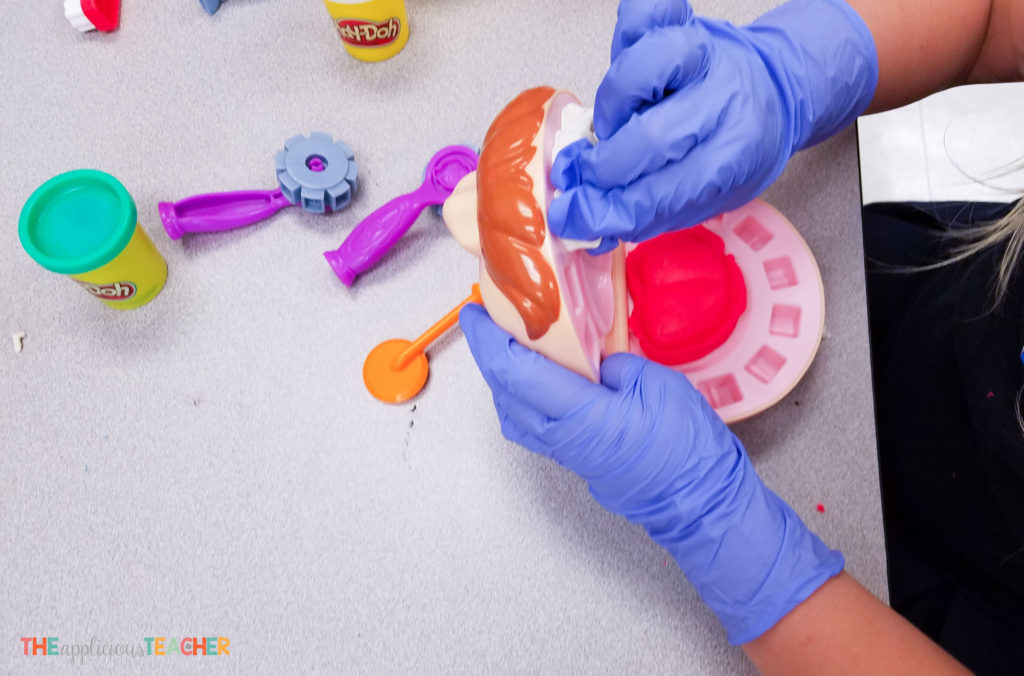 Students worked to answer questions. Each time they answered a question correctly, they got to make and place a tooth in their patient's mouth.
Tooth Fairy Rhyming
For this station, students worked to help the tooth fairies collect their teeth by saying the pictures on the teeth cards. If they rhymed, then they placed them in the "Rhyming Tooth Fairy's" bag and if they didn't rhyme, they placed it in the other bag.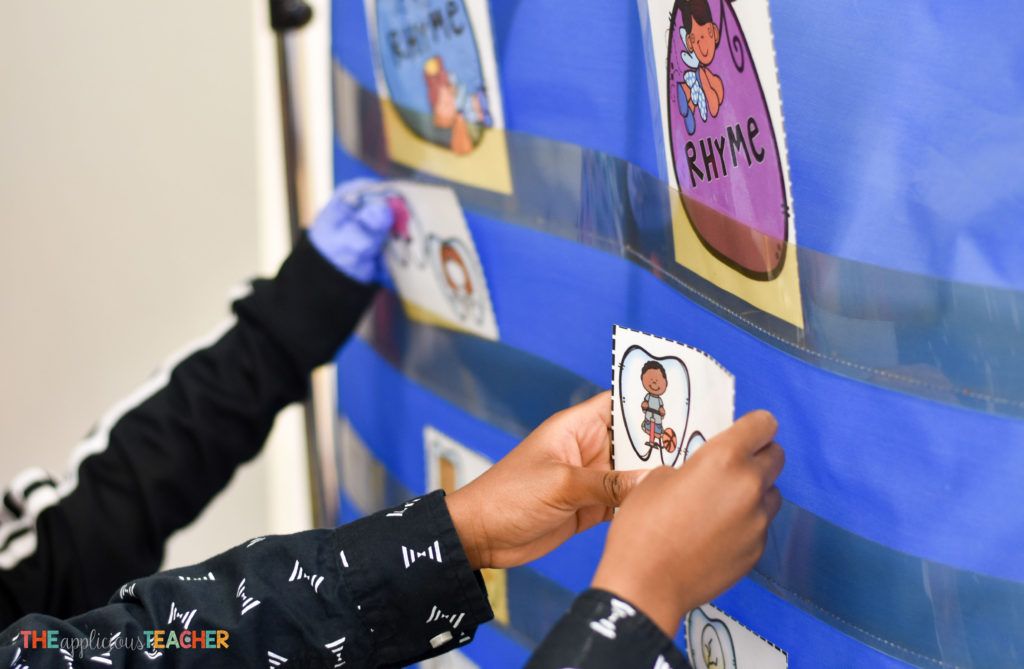 The kids were so engaged AND excited to use all their learning throughout our stations. When we finally made it through all the stations, so many of the kids wanted to go back through them again! LOL!
Follow the links below to grab some of the supplies we used during our unit!


This was one of my favorite units in Kindergarten! Seriously! If you'd like to send your kiddos to dental school, be sure to check out the links below!

Sign up to snag these!
Receive all these classroom management tools right to your inbox!