So what's an Applicious teacher to do?
One of our most extensive word studies was the use and understanding of prefixes. We started off with 4 basic prefixes: Un-, Dis-, Re-, Pre- And oh man! What a powerful prefix unit this turned out to be!
Introducing Prefixes
To introduce the concept of prefixes,  I used these handy reference posters…
Prefix Activities: Gallery Walk
Once the idea of prefixes was introduced we brainstormed words that had a prefix (any prefix!) Then we did a gallery walk. If you've never used a gallery walk, I HIGHLY suggest this technique to engage your students about a topic! They get the kiddos up and moving and puts the learning in their hands. Perfect for an anticipatory set to get your kiddos brains thinking about prefixes! Here's how we did ours:
Ahead of time, I had made an anchor poster for each of the prefixes we were studying. Then, I set them up around the room with a marker at each station.
I gave the class 7 minutes to walk around and write words they already knew that exemplified the given prefix. The only catch? They couldn't repeat a word that was already written.
Here's a peek at our posters after the first day…
Checking Our Work on Prefixes
The next day, I grouped my students into 4 groups and each group got a poster. Their new job was to review each word on the poster and confirm that it indeed belonged on our exemplar poster for that prefix.
We used Dictionary.com on the Ipads to confirm our words. The kiddos crossed out any words that didn't belong and checked off the words that did.
Such an engaging and exciting way to put the learning in student's hands. My thirds loved being the "teacher" and checking over each other's work.
Prefix Interactive Student Notebook
Prefix Games
To play, I divided the class into two groups. One red and one blue. I displayed one large Bingo board game with base words on the document camera.  Then taking turns, students grabbed out a prefix bingo card.
Using the prefix as their guide, they tried to match their prefix with a base on the board to make a word. We'd run it through the Ipad to confirm it's validity. (Love that third-grade word!)
If it was a real word, the team won that square. Their goal was to get four words in a row to win. 
Prefix Center Activities
For the small group game, I printed the rest of the game boards out on fun cardstock and laminated them. The students played more in a "Bingo" style fashion using colored counter chips to cover their base word if they were able to make a word.
Battling Prefix Misconceptions
To play, I gave each student 2 index cards. On the cards, they had to write a real word and a word that wanted to be real (an Impostor!) using one of the prefixes un-, re-, pre-, or dis-.
Then, I collected up all our cards. Then, back down on carpet we sat in a circle and passed back the cards to different students. Taking turns, we'd read the cards and decide if the word was "Real"  or an "Impostor". and put it into different piles on the floor. The kids LOVED trying to trick each other with their words! Warning: giggles will ensue!
Grading our Prefix Word Study
Word Studies on Prefix Unit
 You can grab all these prefix activities and so much more in my word study pack: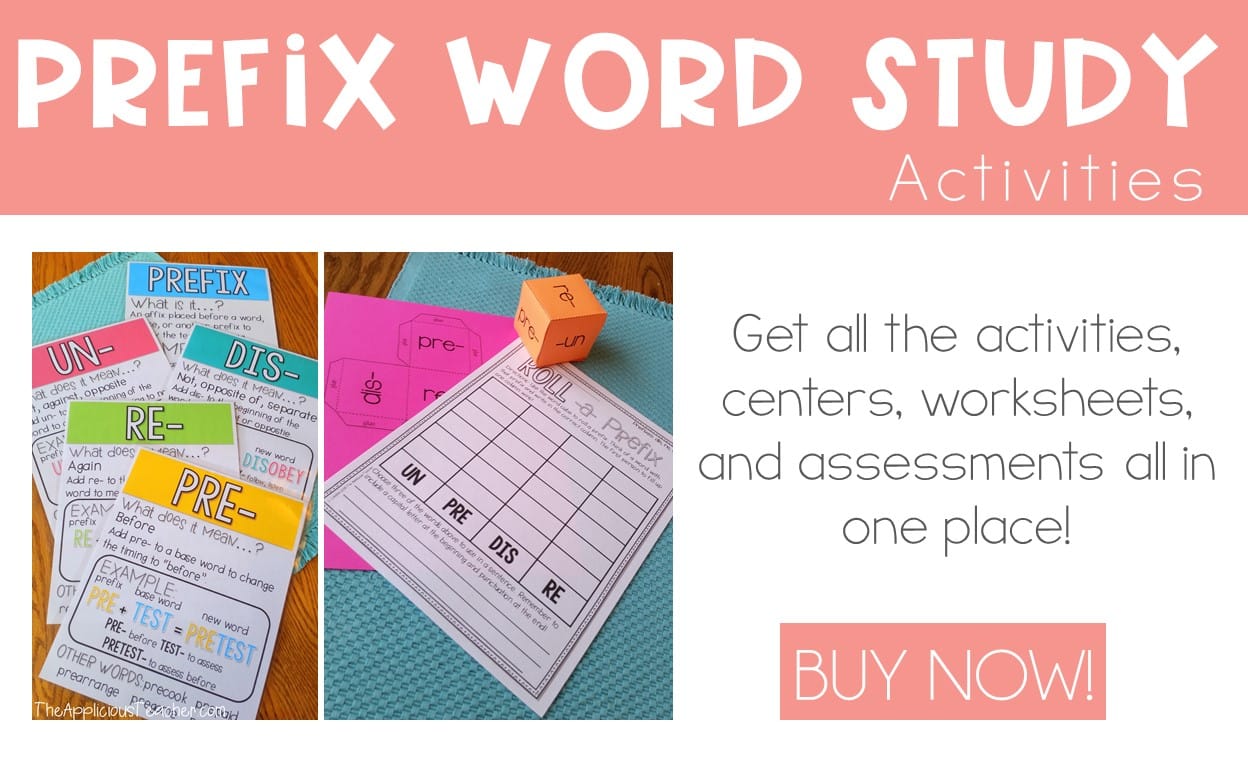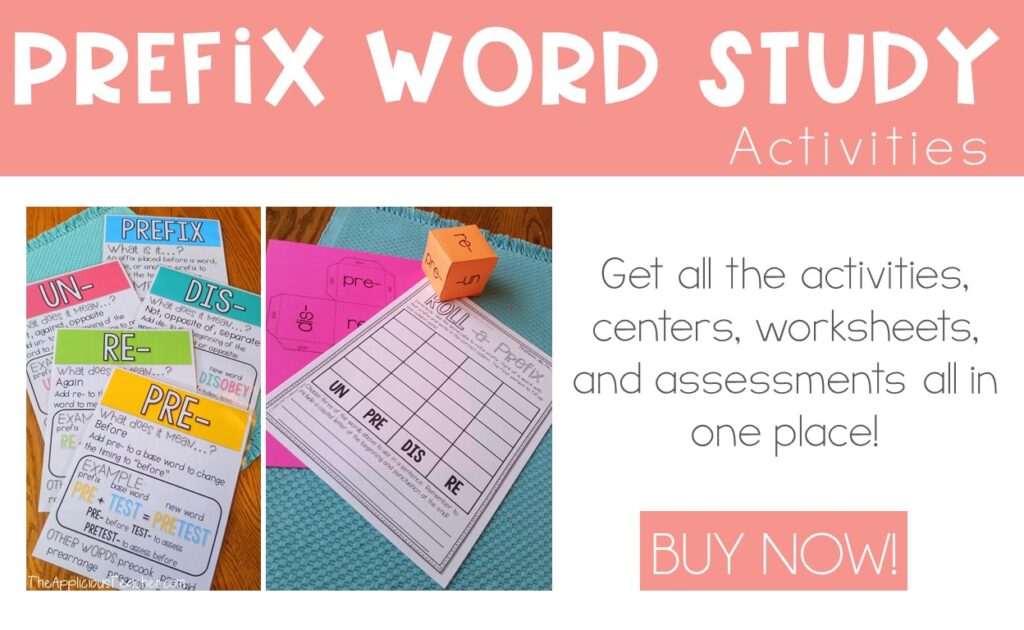 I'd love to hear what strategies you teach your students to help them understand the words they are reading! Be sure to share them below!
More Great Ideas!
Check out these other great ideas for upping the engagement in your classroom through standard's aligned actitivities!