Teacher friends… we finally made it! We made it to 2021! And although 2020 left us all feeling a *bit* out of sorts, it's time to put 2020 behind us and embrace the new year! One of my favorite (pre-2020) celebrations was the 100th day of school. I know with many of you still working in socially distant classrooms, teaching online, or teaching both in-person and online, it seems impossible to plan anything fun! That's why today, I'm helping your plan books when it comes to the 100th day of school! Now, all these activities are designed for celebrating a virtual 100th of school, but many of these 100th day of school activities can be modified for your in-person classroom!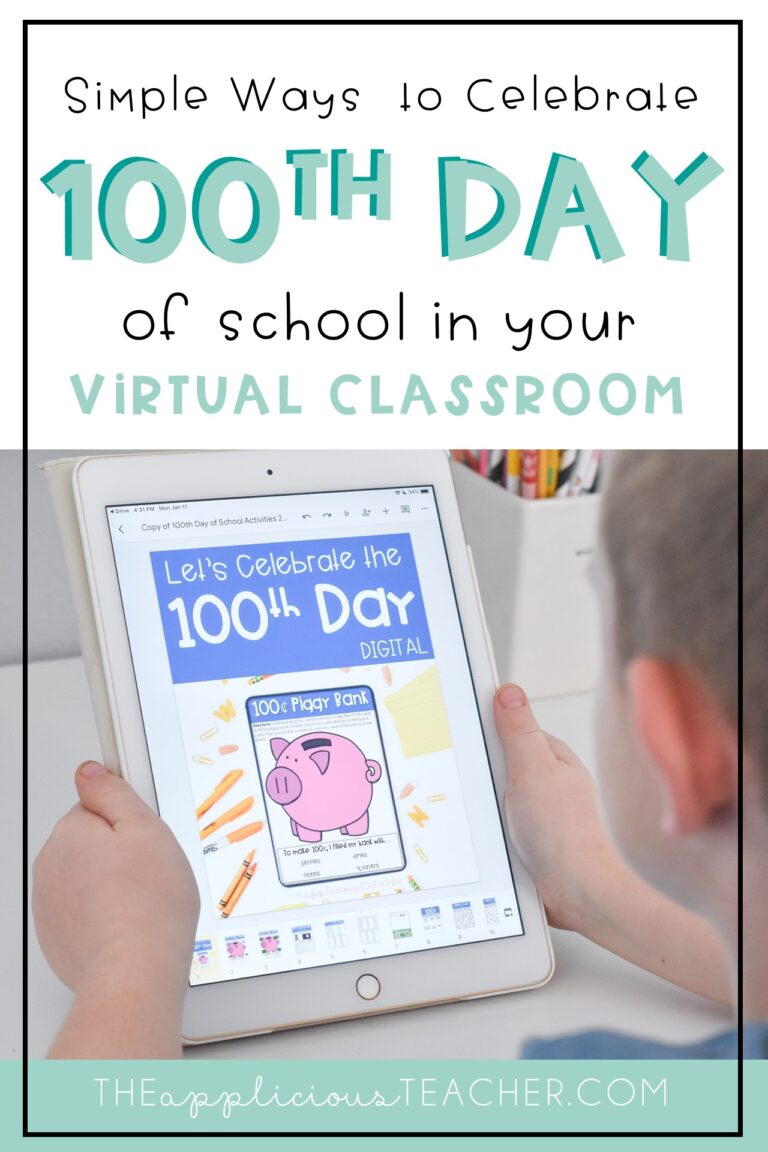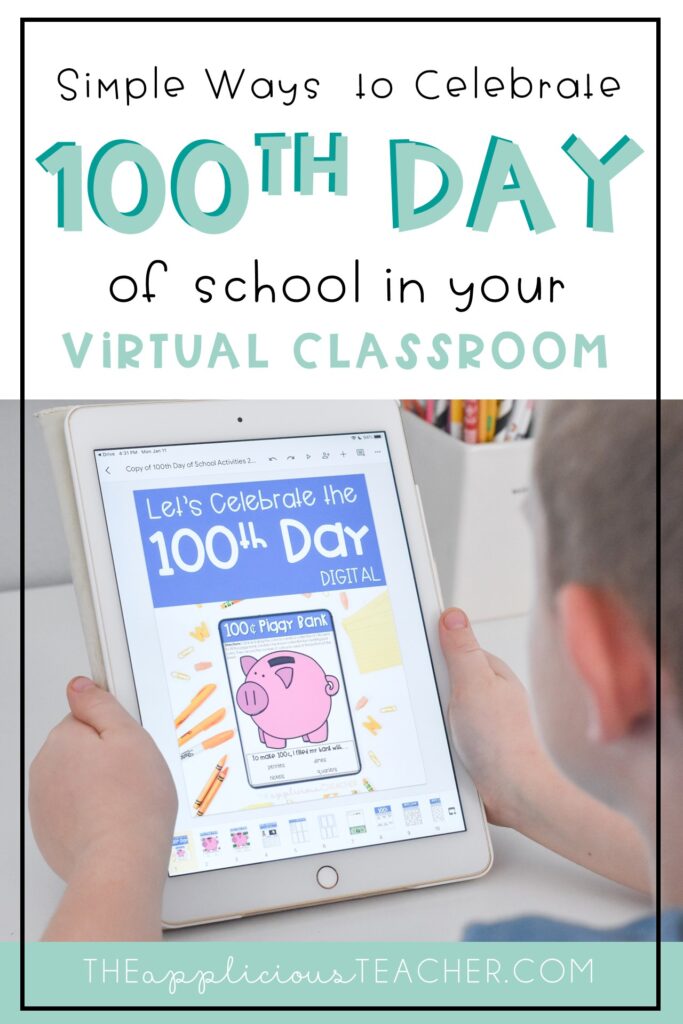 I know everything looks a bit different this year…but it is still absolutely possible to celebrate the 100th day of school with your students and make it fun and memorable!
Check out these top 11 Ways to Celebrate the 100th Day of School in Your Virtual Classroom:
Please note this post contains affiliate links. If you do follow my links, please know that I do make a very-very small commission from your purchase. There is no cost to you, but this extra coinage helps to keep this little space up and running. You can read more about the affiliate networks I am apart of here.
1. Make a 100th Day Collection Poster
100th Day of School classic, but with a virtual twist! Making a collection poster of 100 items. But this can totally be done virtually!
A simple way to make this work in your virtual classroom is to have students create their collection collages on posters and share them during a group meeting that day. For practice, students can count all the items in their collection to make sure there are a 100 (and to start getting your students' brains tuned into the number 100!). Need a letter to send? Check out the letter in this 100th Day Activities pack!
This could also be done using Google Slides! Instead of a physical poster, students can use a Google Slide and fill it with 100 pictures or shapes of items. Your animal fans could fill their page with pics of animals, or the LEGO builders could fill the space with pics of 100 pieces. Doesn't have to be too fancy!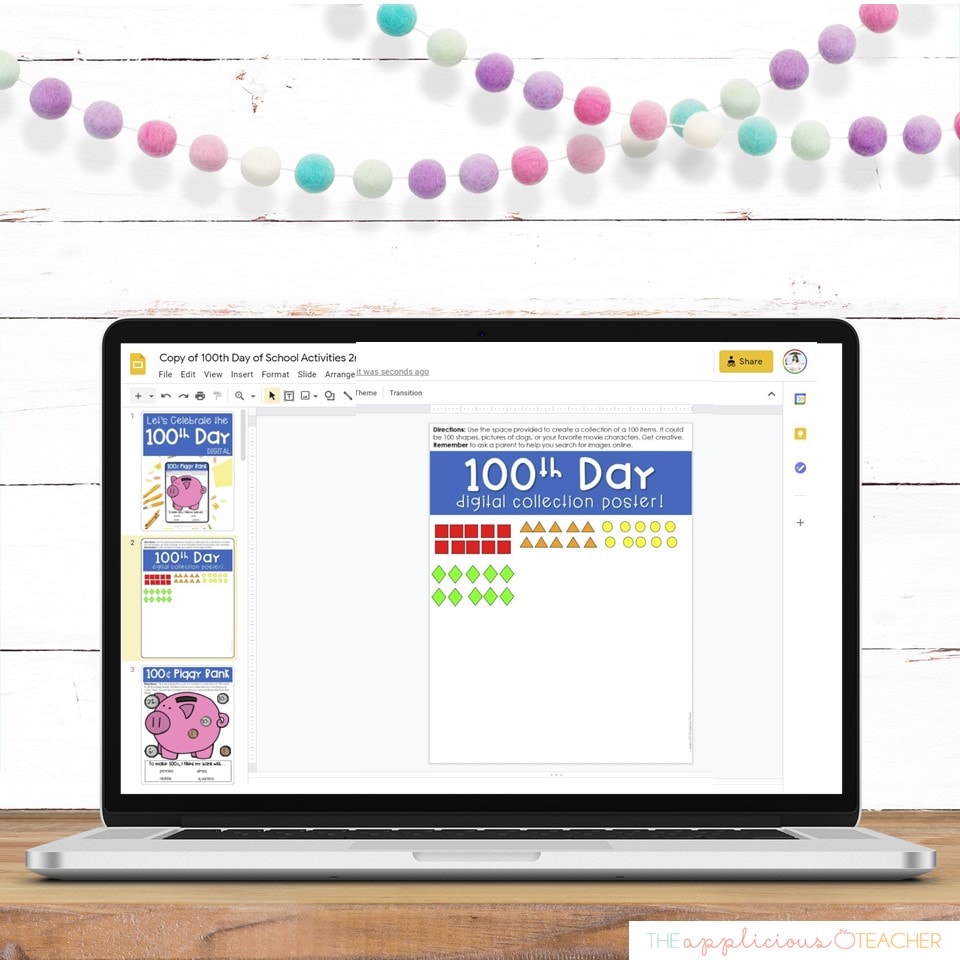 (No time to make one yourself? There's one already done for you in this 100th Day Activities pack!)
2. 100th Day Virtual Scavenger Hunt
Have your students complete a scavenger hunt from home and share virtually! For example, they would find and count a hundred items at home, like rocks, pennies, paper clips, pebbles. Get them counting AND celebrating 100 days!
3. Complete the 100 Seconds Challenge
So much can happen in 100 seconds! Get your virtual students up and moving with this 100 Seconds Challenge! To complete, students work to complete as much of a task as they can for 100 seconds! Keep it fun with things like hopping on one foot or how many words they can read/write!
Sprinkle the challenge throughout the day, or complete it all in one sitting. Your choice!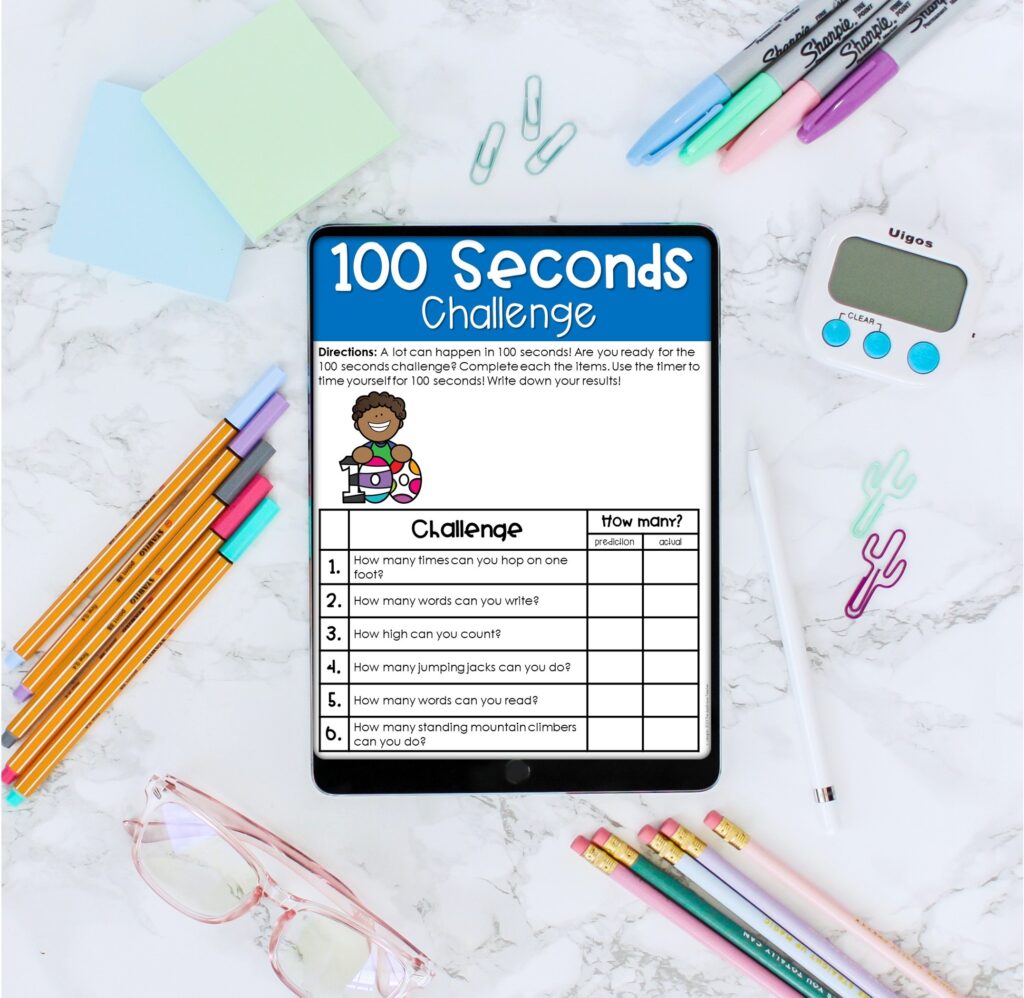 This page is done for you and includes space for students to write predictions and an embedded video to a 100-second timer! (#nostressplanning)
4. 100 Words
You know your students know how to spell words, but can they write 100 words? How long can it take? Challenge your students to write 100 words. Time them to see how many they can write in three minutes, then let them finish on their own.
Add another fun spin by creating 'themes' for each group of 10. For example, write 10 sight words, then 10 verbs, 10 nouns, and 10 adjectives. You could get really creative and do this with spelling words or content vocabulary!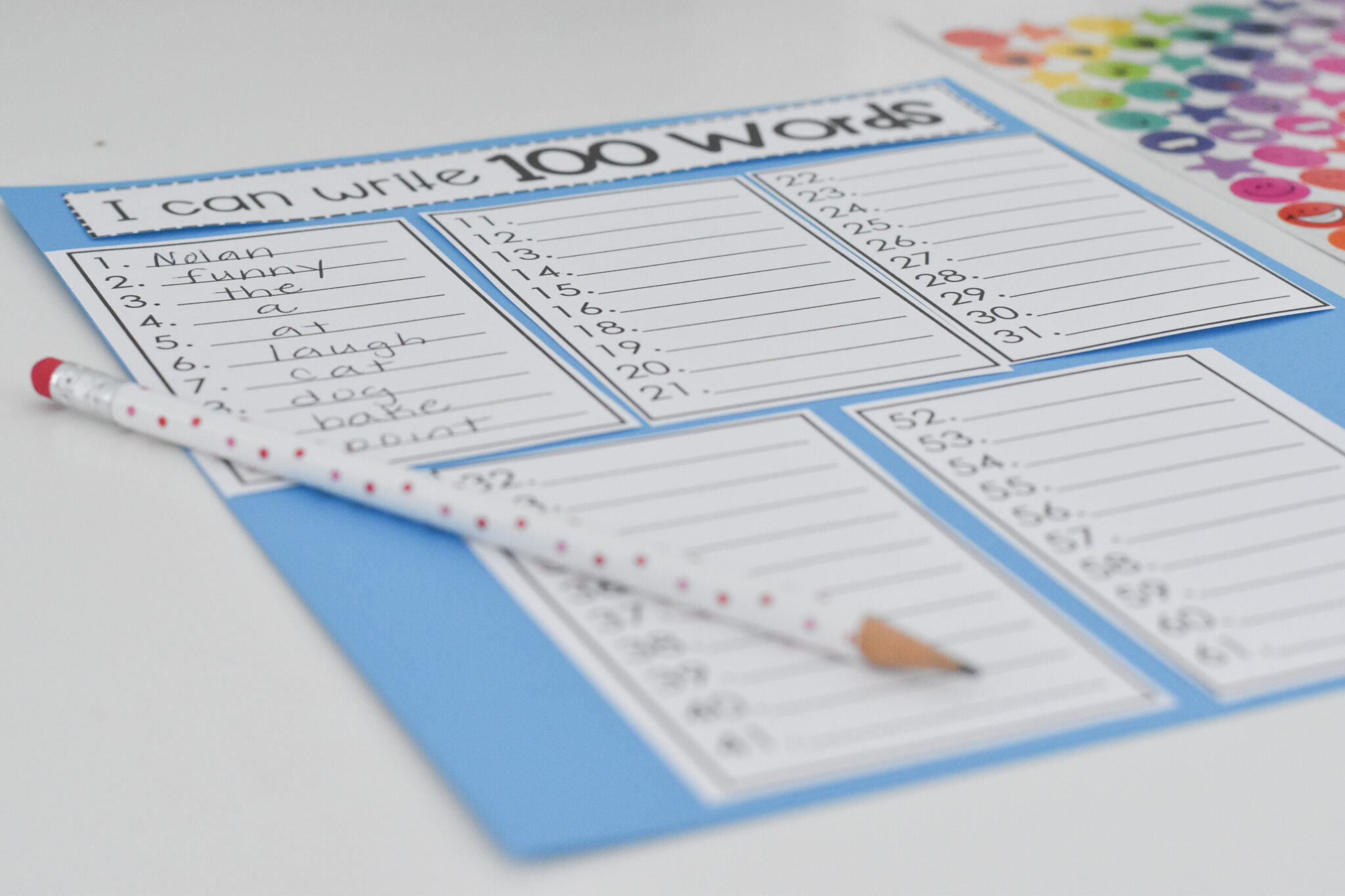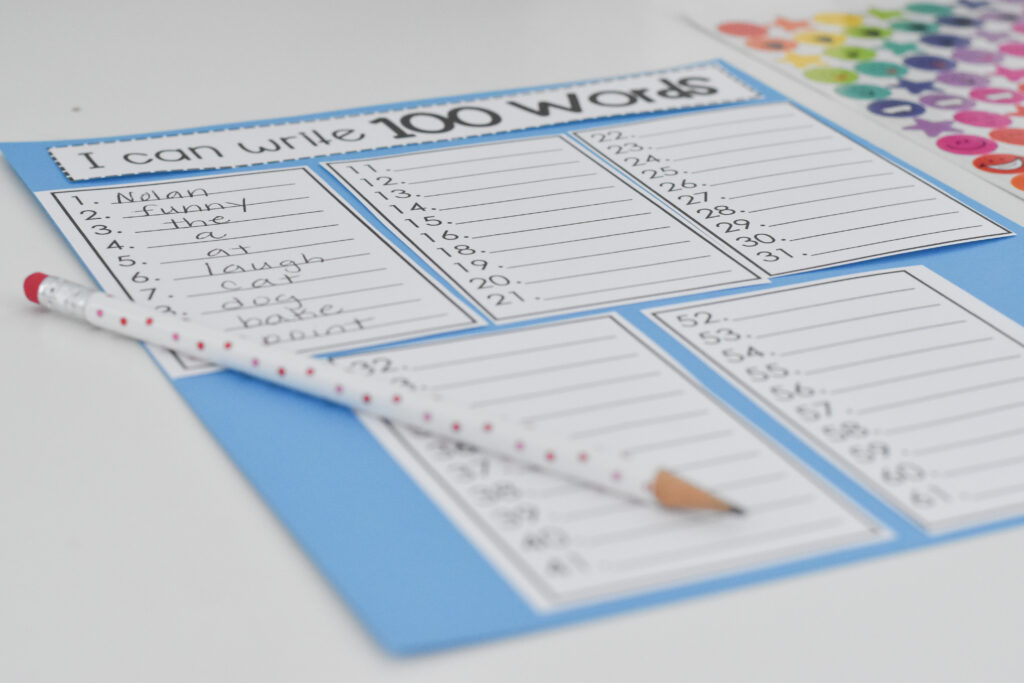 5. Play Digital Parts of 100
If you teach a grade higher than 1st, this game is a must! The object of the game is to match the numbers that make 100. Super fun and simple to play in your classroom. This game is perfect for building number sense in the 2nd or 3rd-grade classroom. The freebie here in my TPT store includes three different sets with varying complexity so you can easily differentiate for your students.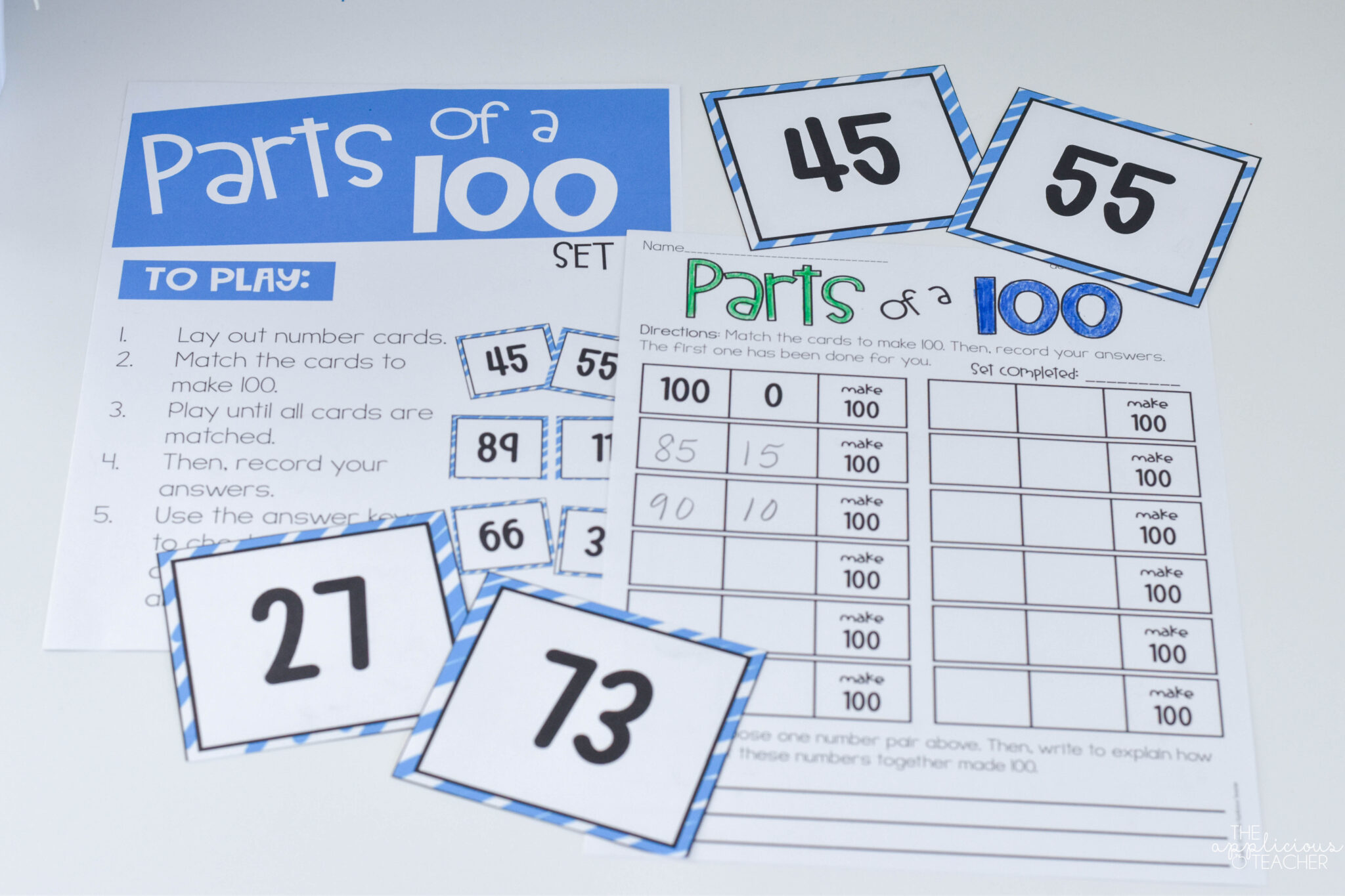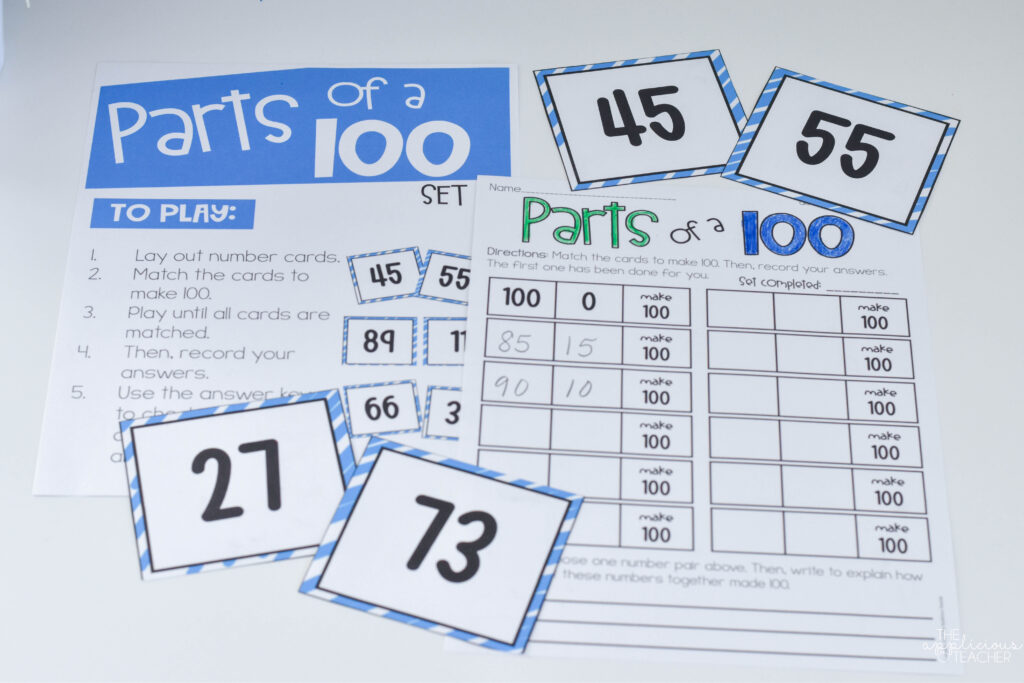 There's a digital version available in my 100th Day Activities for 2nd grade pack.
6. 100 Days Smarter Certificate
Make each of your students a special certificate celebrating their achievement of being 100 days smarter!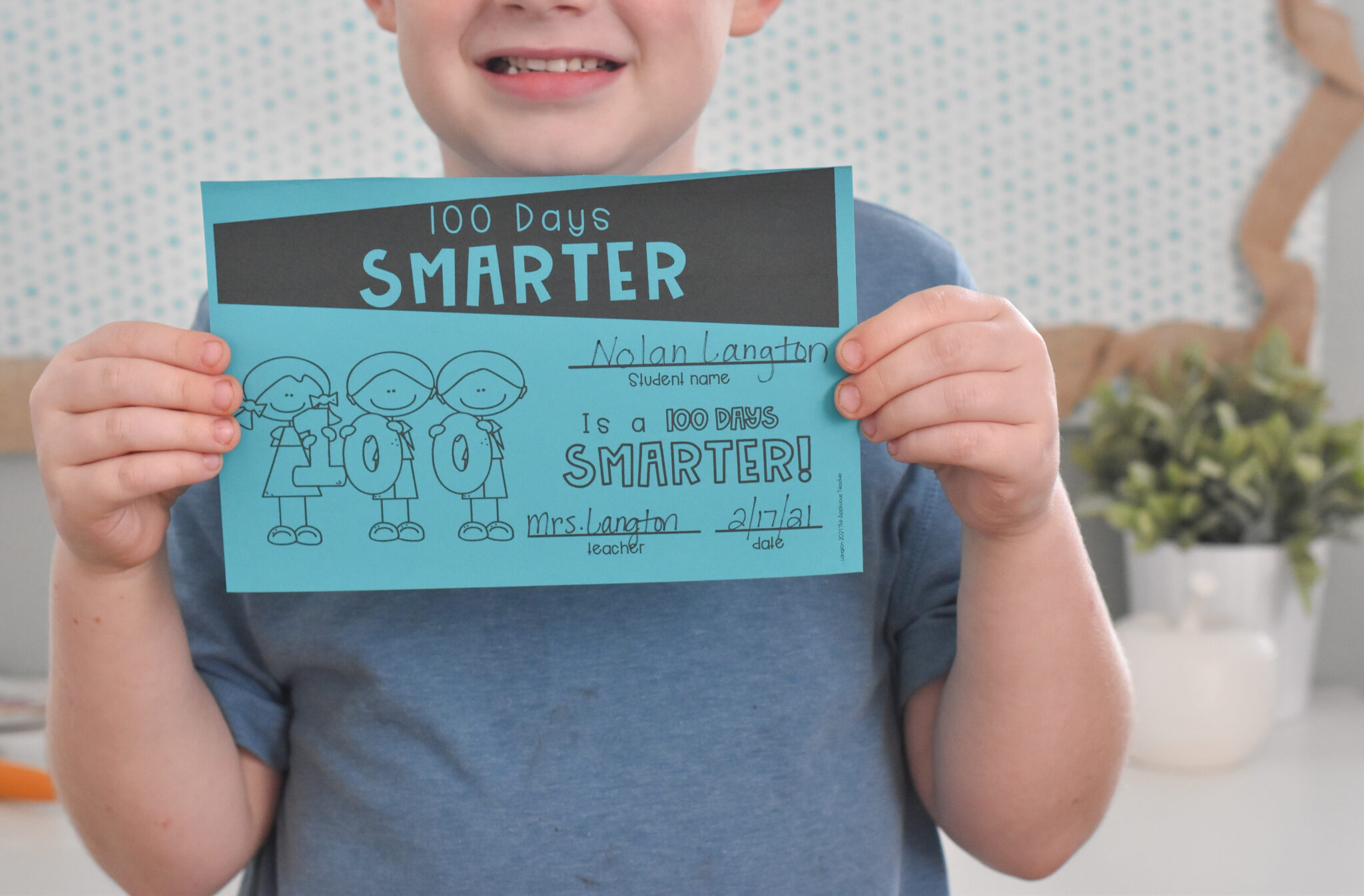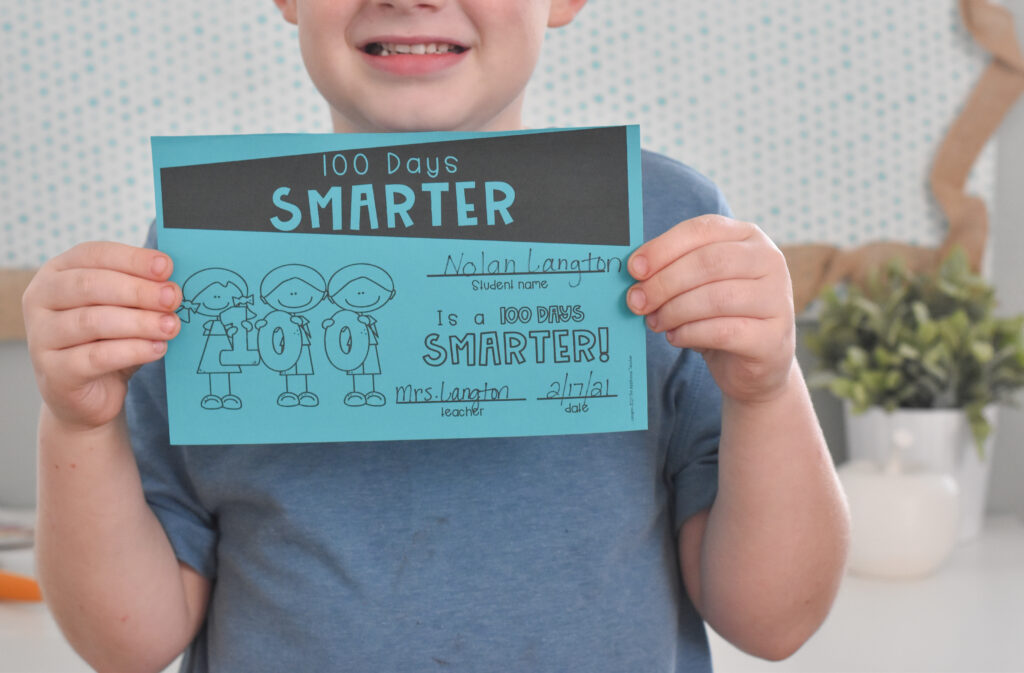 Have an extra few minutes? Make it more personal and include an extra special milestone that they individually hit or a new level they each accomplished.
7. $100 Writing Activity
Bring your 100th Day of School celebrations to your writing time with this simple writing activity. Ask your students: "What would you do with 100 dollars?" Be sure to give students time to share what they would do! I love how this simple writing activity lets them dream and be creative. Grab the print and go version here!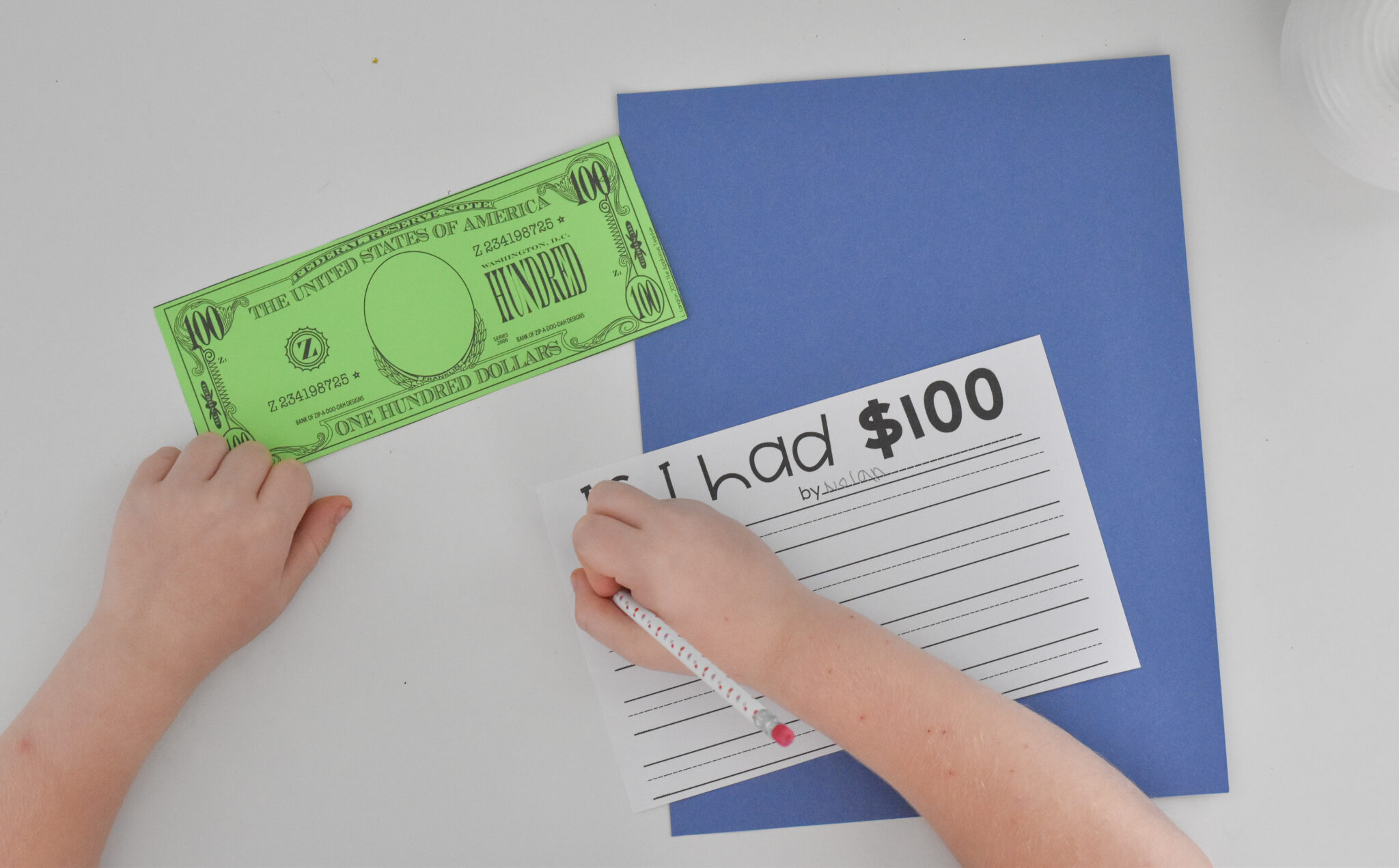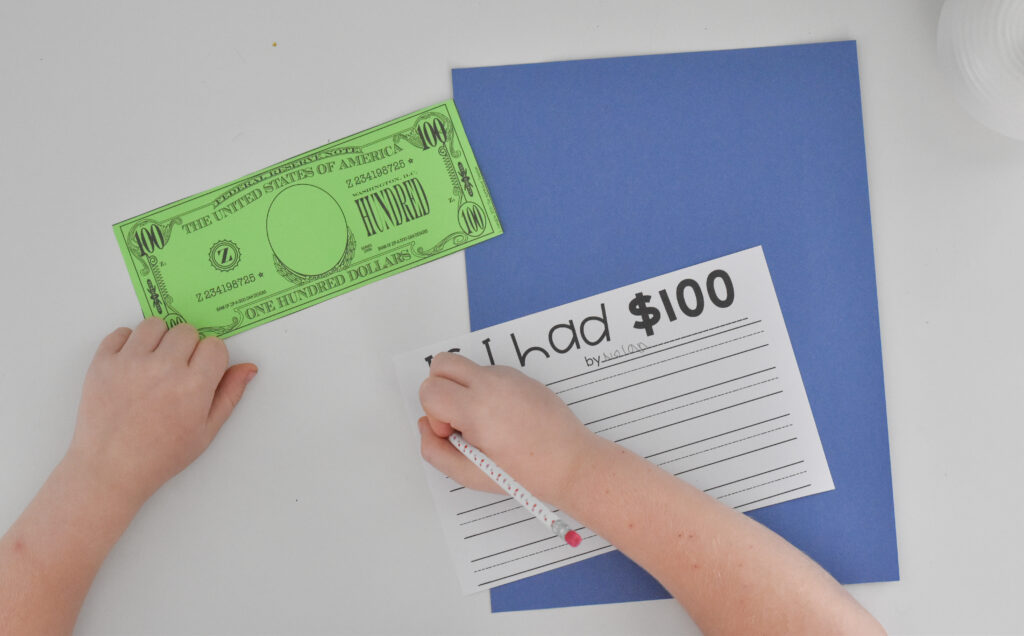 (There's a digital version of this writing activity already done for you in this unit!)
8. Read a 100th Day of School Themed Book Together
Dig through your book stack and find your 100th Day of School favorites! (Wait?! You don't have them all together? Read this post to see how you can keep all your teacher stuff organized year after year!) For this one, schedule a read-aloud time for your virtual students and read!
Not sure of what books you could read? Here are a few of my favorites!
9. Watch a 100th Day of School Read Aloud Book
Don't have time for a whole-class read-aloud? That's ok… you can always have your students watch an online read-aloud. This one is of the book, 100th Day Worries.
10. Create a 100 Piggy Bank Craft
So crafts are hard when you're learning from a distance. For this activity, students work to fill their piggy banks with either 100 cents or $100 (you choose which one best aligns with where you are in your curriculum). Your students will love filling their piggy banks with money, and you'll love the critical thinking and math skills that come with this fun craft!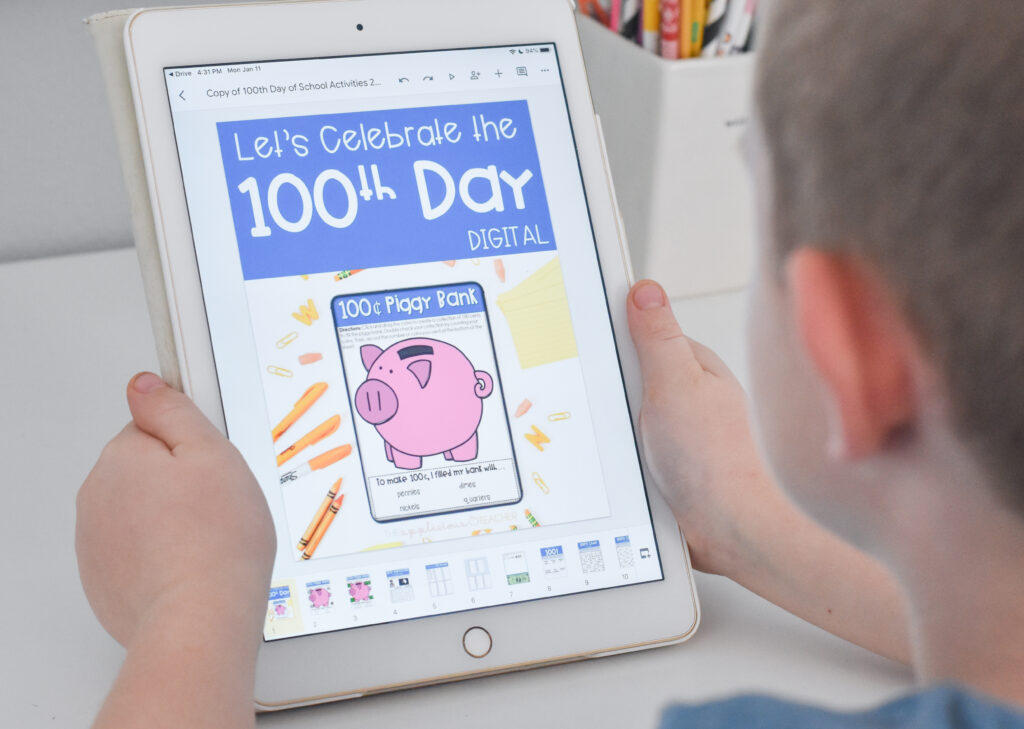 The digital version is all done for you in this 100th Day of School Activities Pack. The digital version is completely interactive! It includes digital coins and dollar bills so that students can click and drag to fill their digital piggy banks-just like the original, but without the cutting and gluing.
11. 100th Day STEM Challenge
Challenge your students to think outside the box and build using only 100 of something. For example, they could use toothpicks, marshmallows, LEGO bricks, plastic cups, rocks or sticks, or really anything they have at home! After completing the challenge, have your students take a photo and upload it to your Google Classroom. Don't forget to share what they made during your Zoom meeting.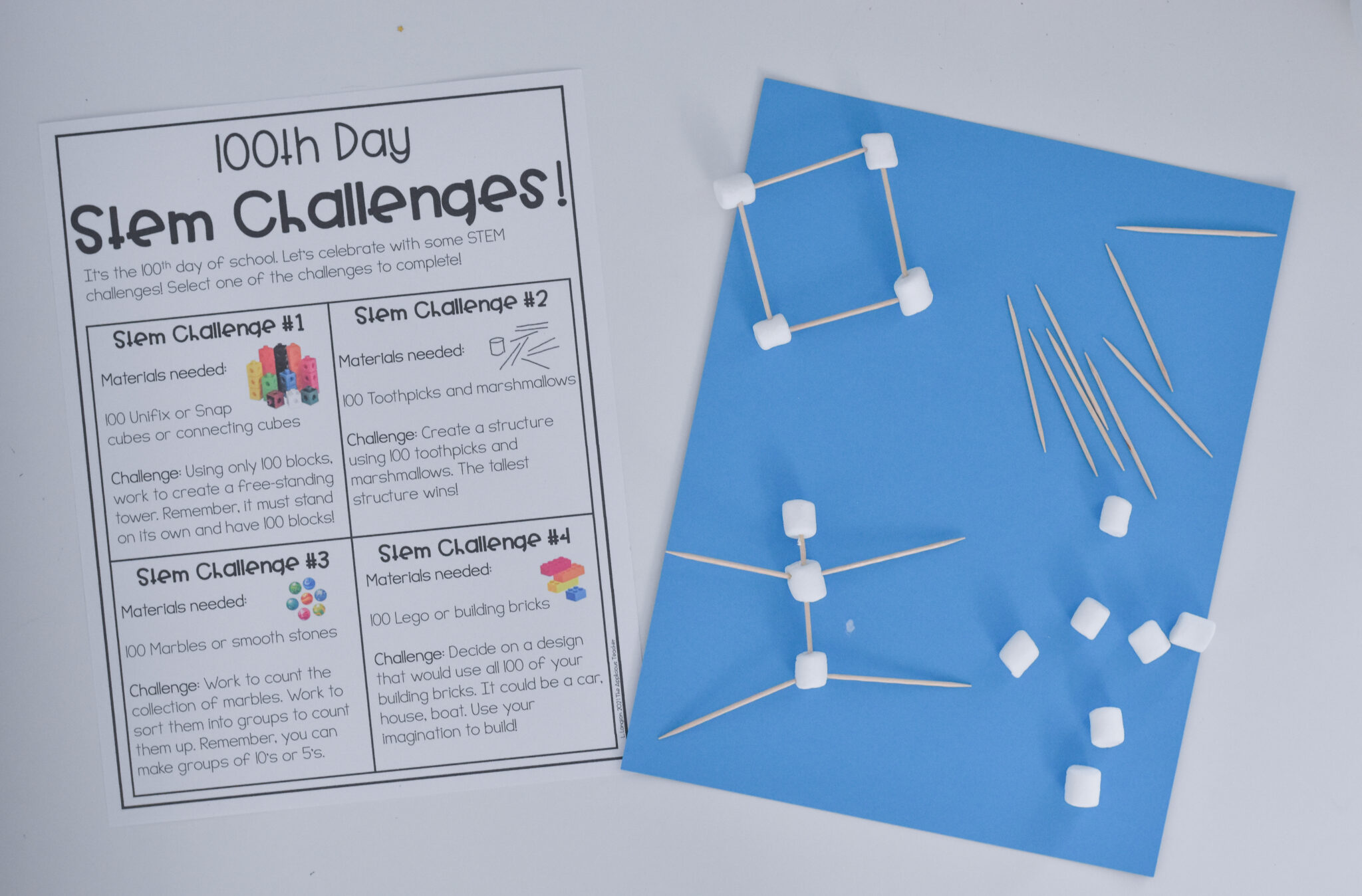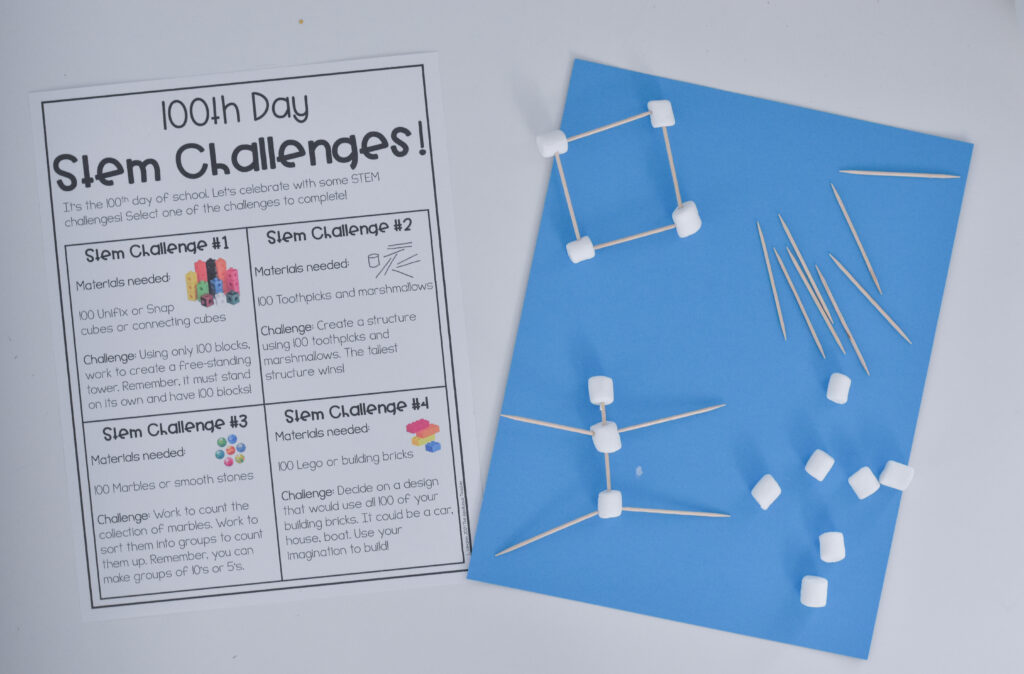 See! You can still have fun this school year (and keep the focus academic!) with these fun and easy 100th Day of School virtual ideas!
Now, I know you're a busy teacher and you don't have time to scour all over the internet to find an activity here or a digital version of something there. And you especially don't have time (or the brain space!) to make a bunch of fun activities. So to help save you time (and oh so much precious brain space), I've created this 100th Day of School Activities Pack just for you!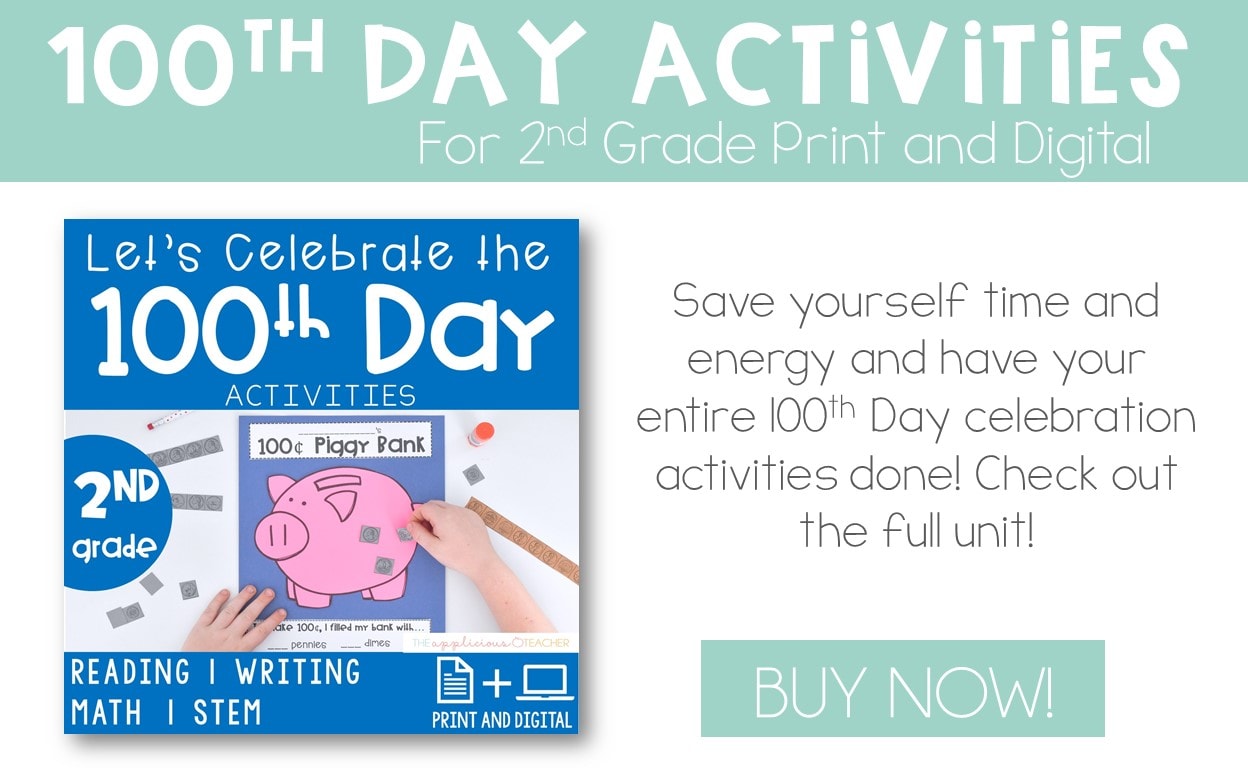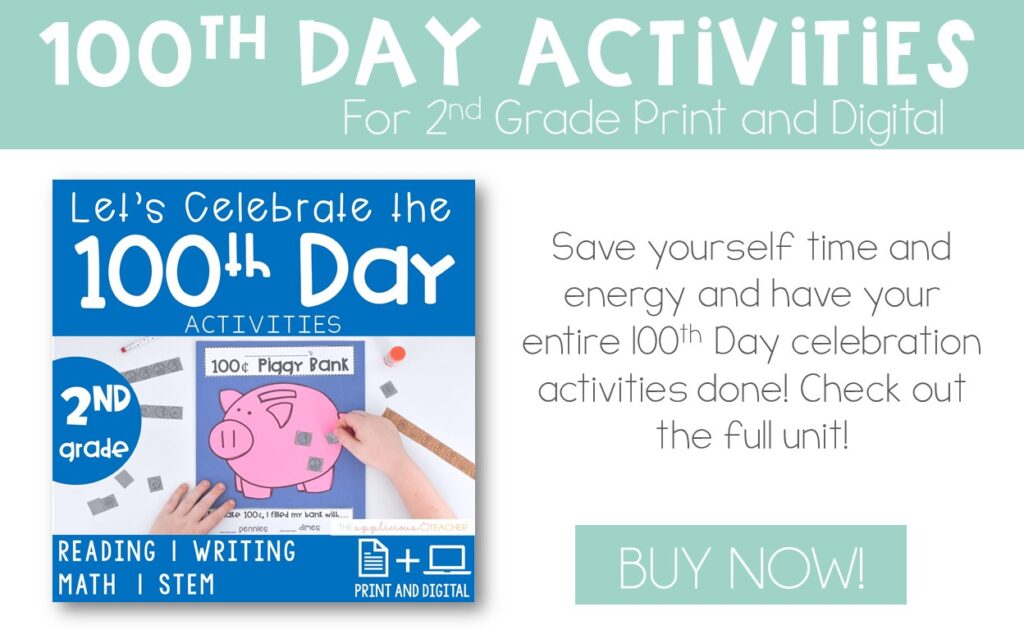 This pack includes everything (literally everything!) you need to plan out your entire day! This pack includes activities for reading, writing, math, and STEM. There are also printable and digital versions available of every activity, so you know you'll be covered whether you're teaching in person, online, or both! (And no last-minute replans/recreation if you end up having to go virtual due to quarantine or district mandates!)
You can grab this unit by clicking here! Don't forget to follow my store so that you can be the first to know about new products, sales, and special deals!
100th Day of School Virtual Activities
So these are just a few suggestions and ideas for celebrating the 100th Day of School in your virtual classroom. With this school year being… well… this school year… it's nice to try and bring some "normalcy" back to your classroom during these unprecedented times.
Looking for More Inspiration? Check out these fun posts!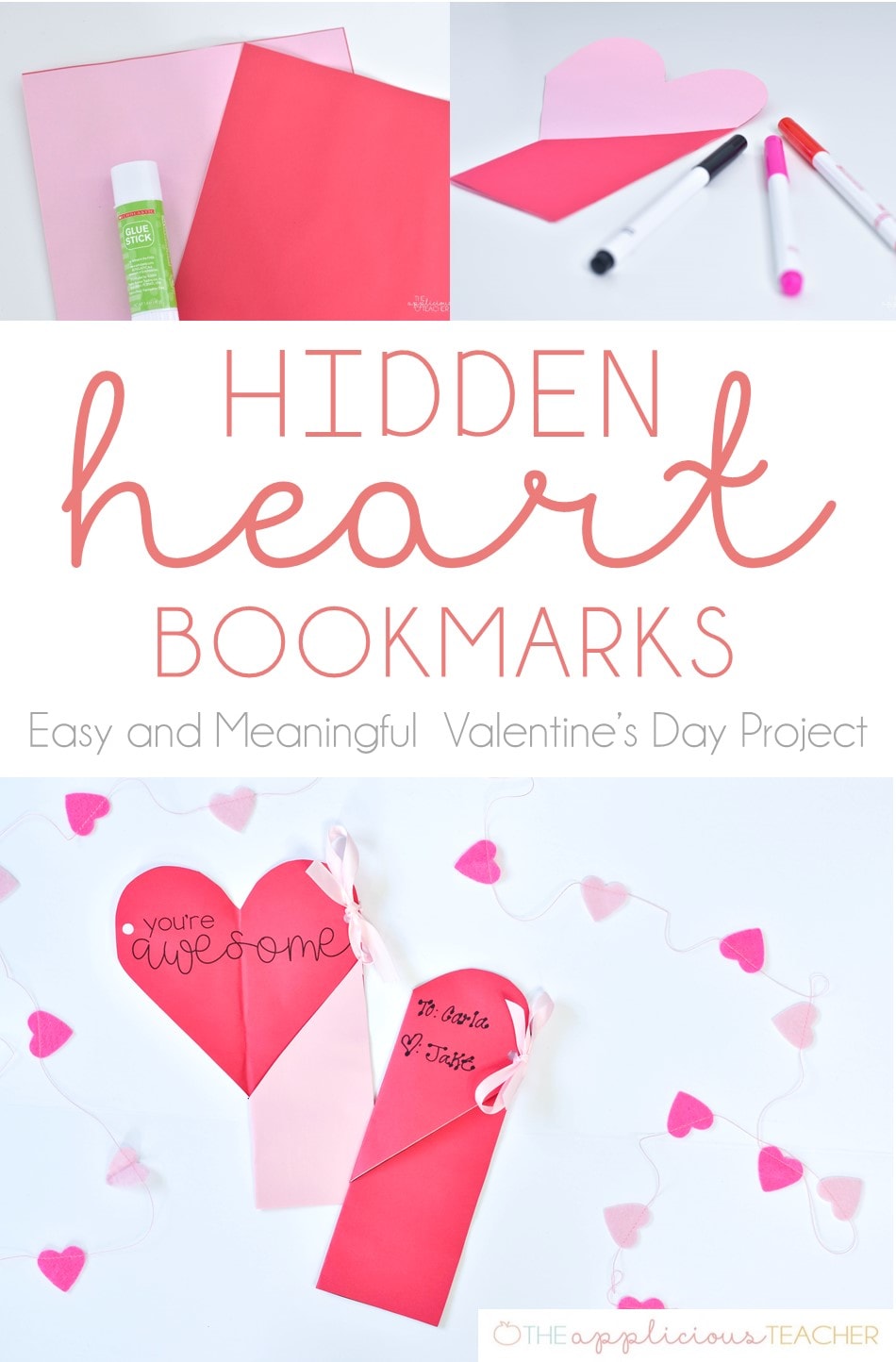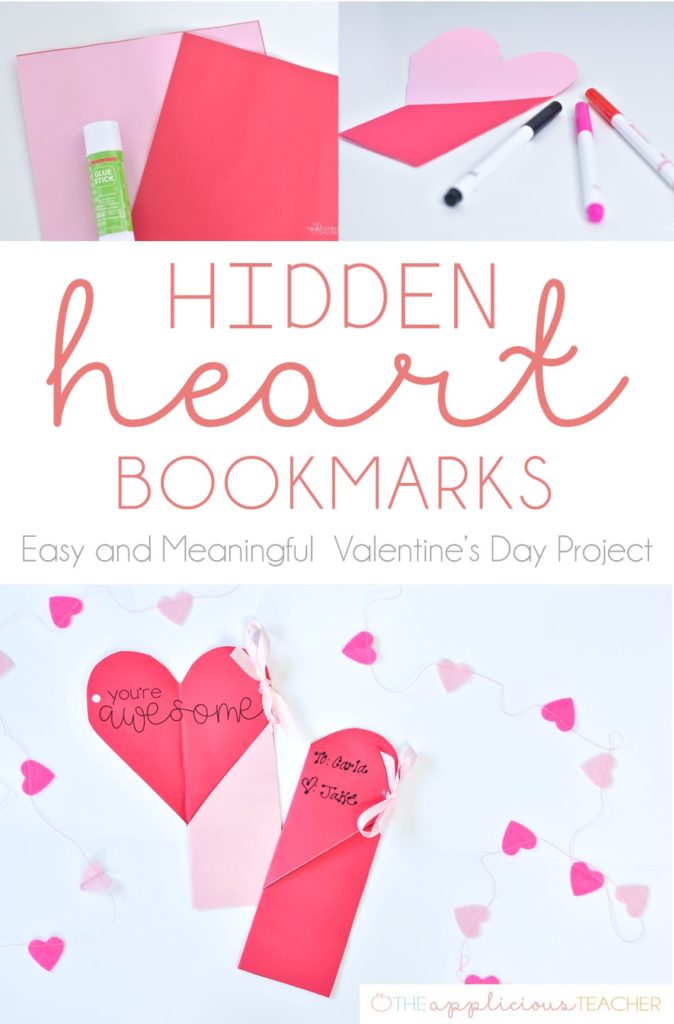 Sign up to snag these!
Receive all these classroom management tools right to your inbox!