Not much is certain at the moment. We don't know when school will return to "normal" or for how long we'll be dealing with social distancing and safety measures, but I do know that for certain, without a doubt… we'll need a planner to stay organized in the new school year. How else are you going to juggle lesson planning for in and out of classroom instruction? That's why today I'm giving you a no-bars hold review of the new Teacher Planner from Emily Ley's Simplified brand.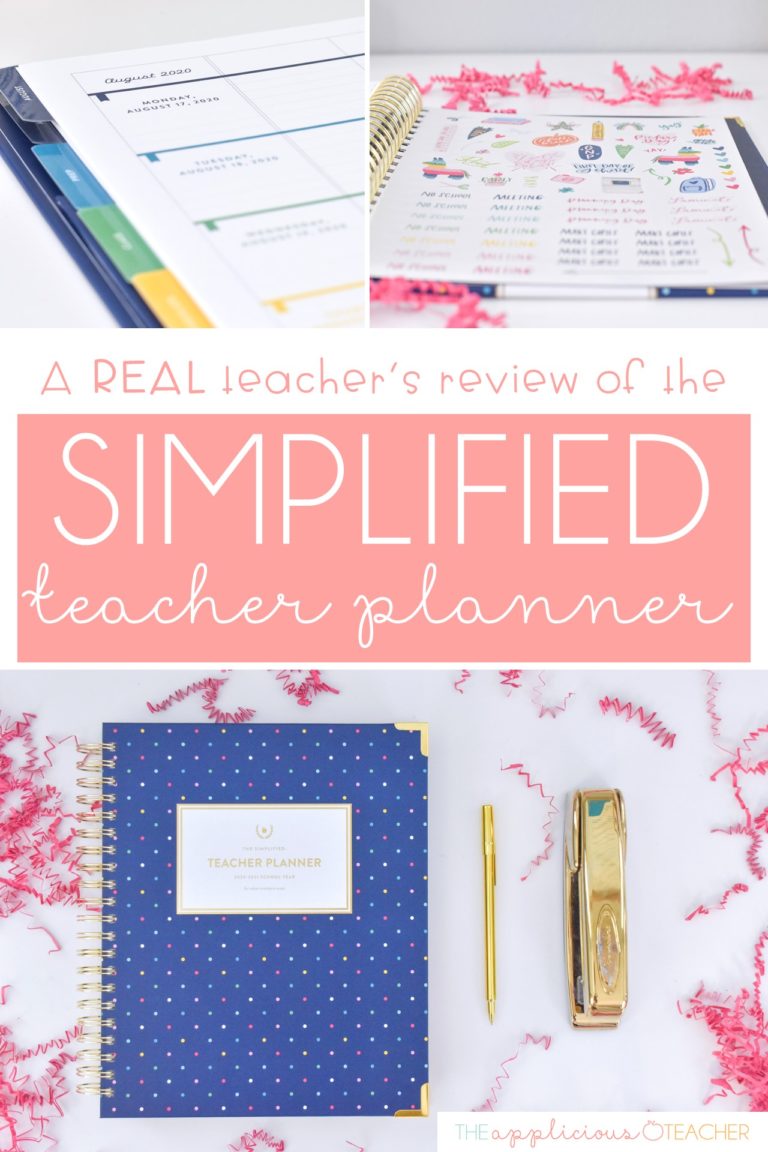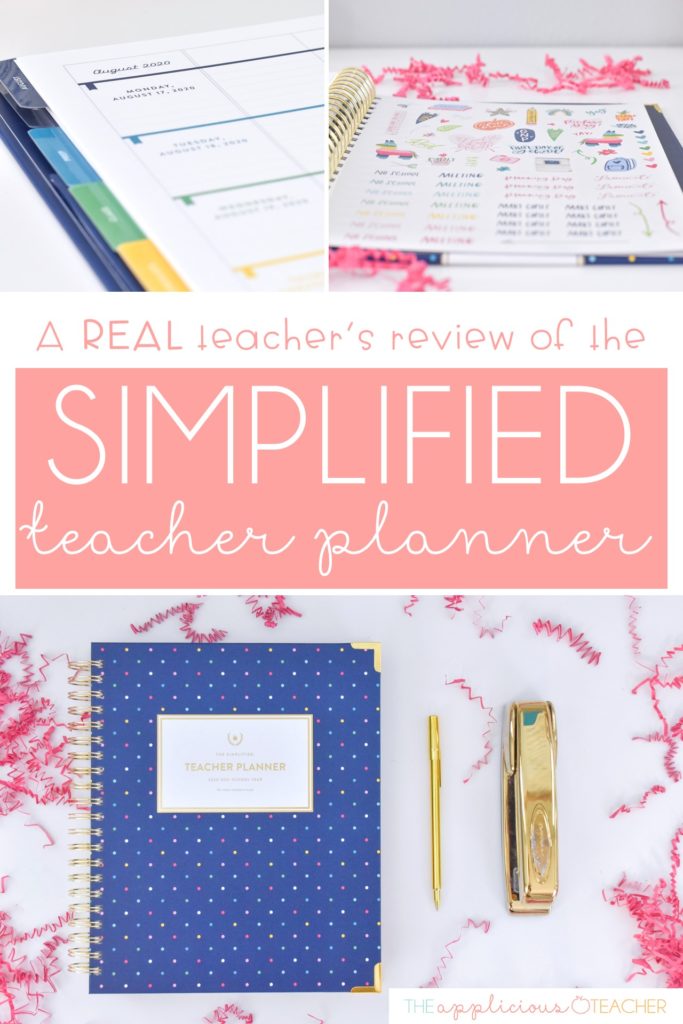 Please note, there are sponsored links in this post. That means, that if you click the link and purchase the item, I receive a very small commission. These pennies help fund this website and allow me to continue to helpful blog posts for you. This is at no additional cost to you. In full transparency, I was "gifted" this planner but was never asked to do a post. All opinions expressed are my own. To read more about the affiliate networks I belong to, you can click here. 
Please note the cover change for the 2021-2022 school year… but the guts are still the same!
The Simplified Teacher Planner
First off… are you familiar with the Simplified brand? I feel like you have to understand this brand before you can understand this planner.
Started by Emily Ley, Simplified is a paper product brand that has grown to include books, planners, office supplies, and now teacher planners. All with the idea that less is more. Emily believes that when you focus on what's most important, then you are able to achieve more. This philosophy is evident in her simple designed paper products. Honestly, I'm here for it! (I'm a big fan of Emily's books! Check out my must-reads for teachers for 2019 and 2020 here!)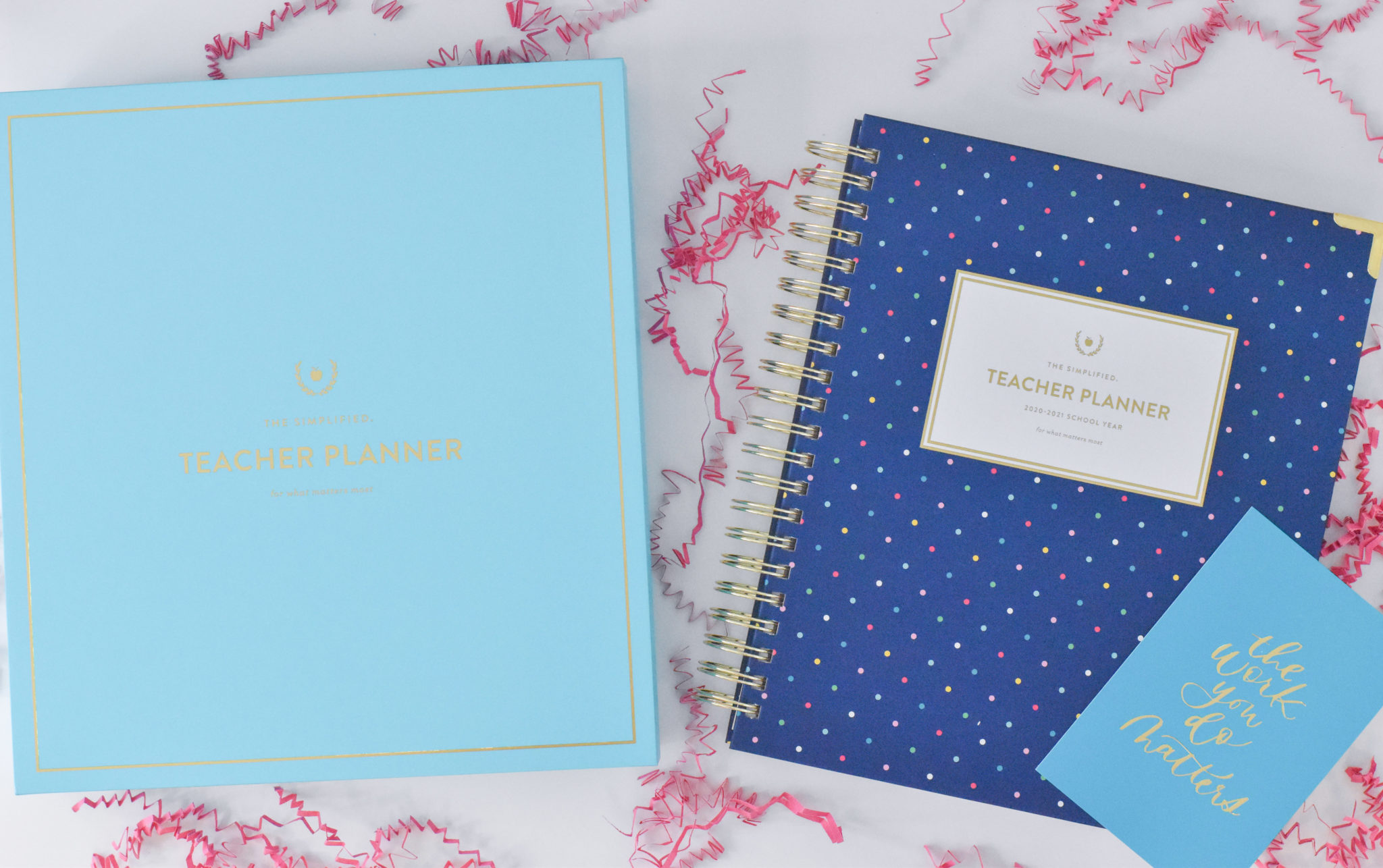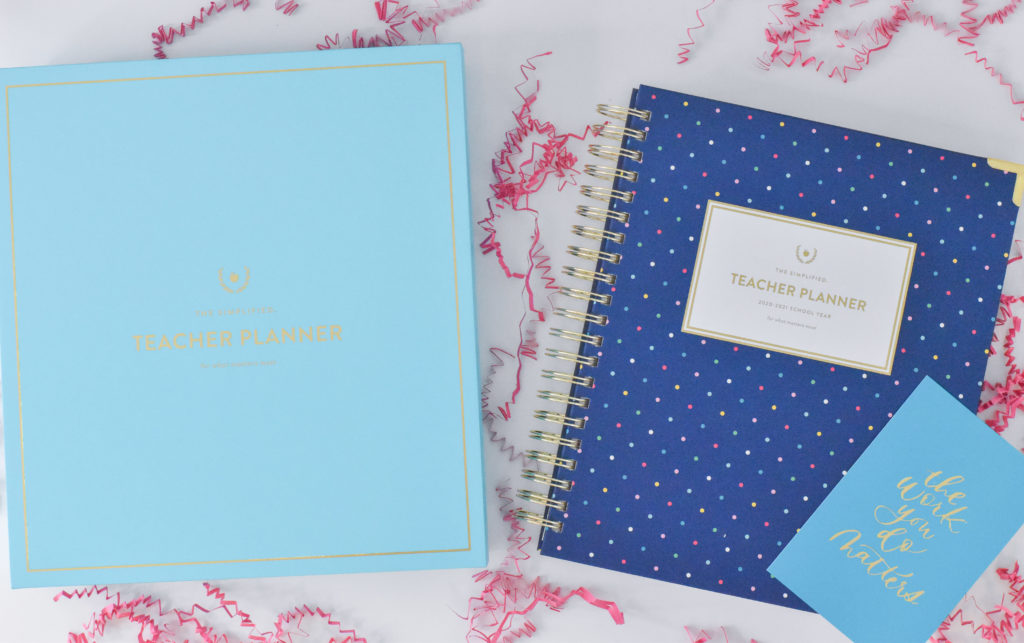 When the Simplified brand launched its Teacher Planner last year, I was skeptical… What could this brand whose focus is on simplicity bring to one of the most complicated jobs around?
Emily Ley's mother was a school teacher. When her Emily's sister began working for her company after 7 years in the classroom, Emily knew it was time to do something special for teachers. So that's when she set out to make a beautiful, simple, and useful planner for teachers. The Simplified Teacher Planner was created with love and care to help teachers make the most of our time inside and outside of the classroom.
And all the teachers are saying, "Thank you" for this gorgeous piece of organizational paper bliss!
The Outside of The Simplified Teacher Planner
Can we talk about the presentation for a second? When my planner first arrived, I felt like I was receiving a present. The planner was packed in a brown box, but when I opened it, I was greeted with bright pink paper strips mounded over a gorgeous teal and gold foiled box.
You guys… this planner came in its own box!
Normally, I'd complain about the waste of resources, but the pink paper strips were promptly used to cushion a gift basket and the teal box is not only beautiful and sturdy, but it also serves as a place to hold your planner for reference the following year. It's big enough to hold papers too, so I know I'll be using it to house important papers as the year progresses! #nowaste
The planner also came with a beautiful printed card with the saying, "The Work You Do Matters." The gold printed card was a nice touch and is currently hanging in my home office. I think it would also make a great reminder framed on a teacher's desk.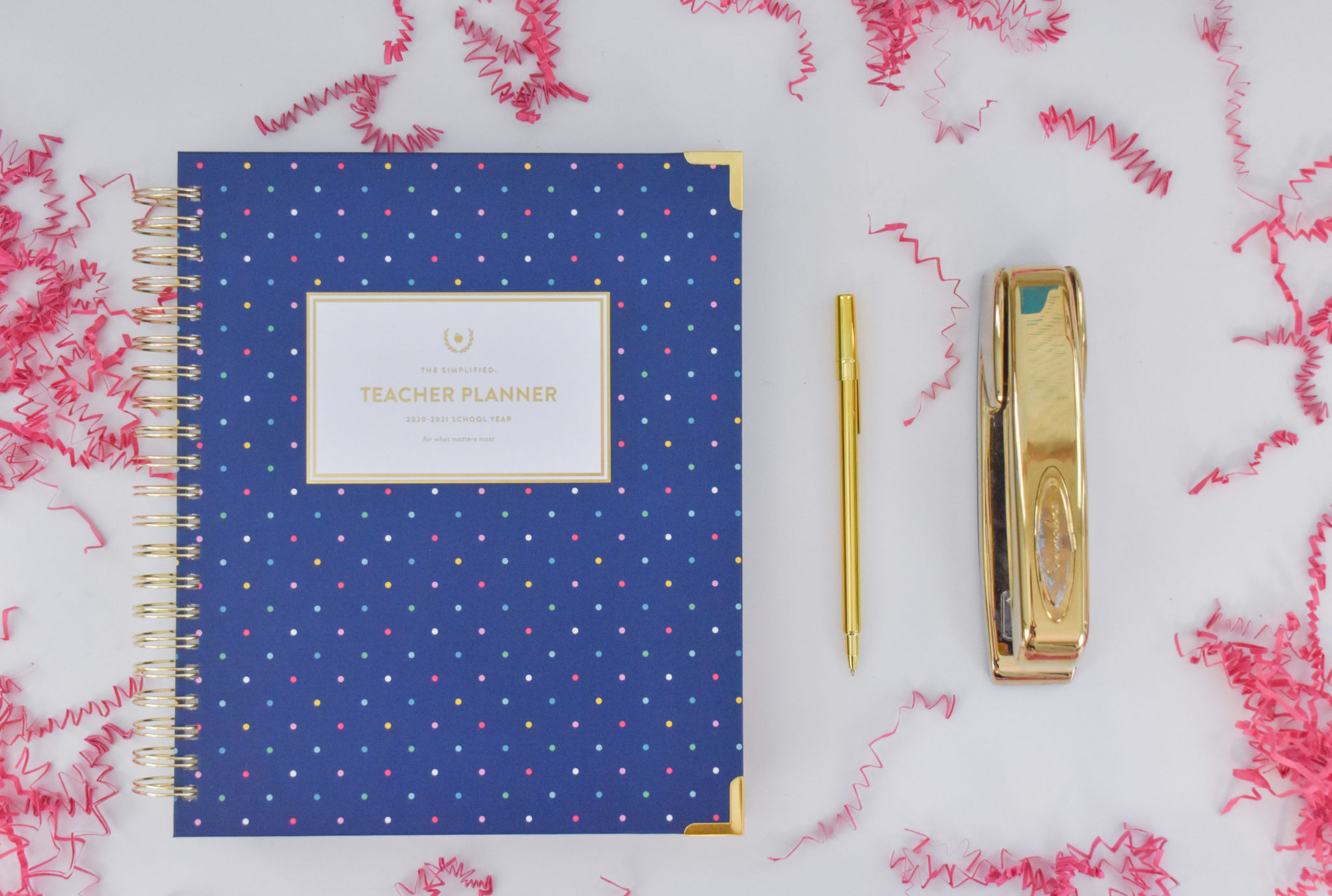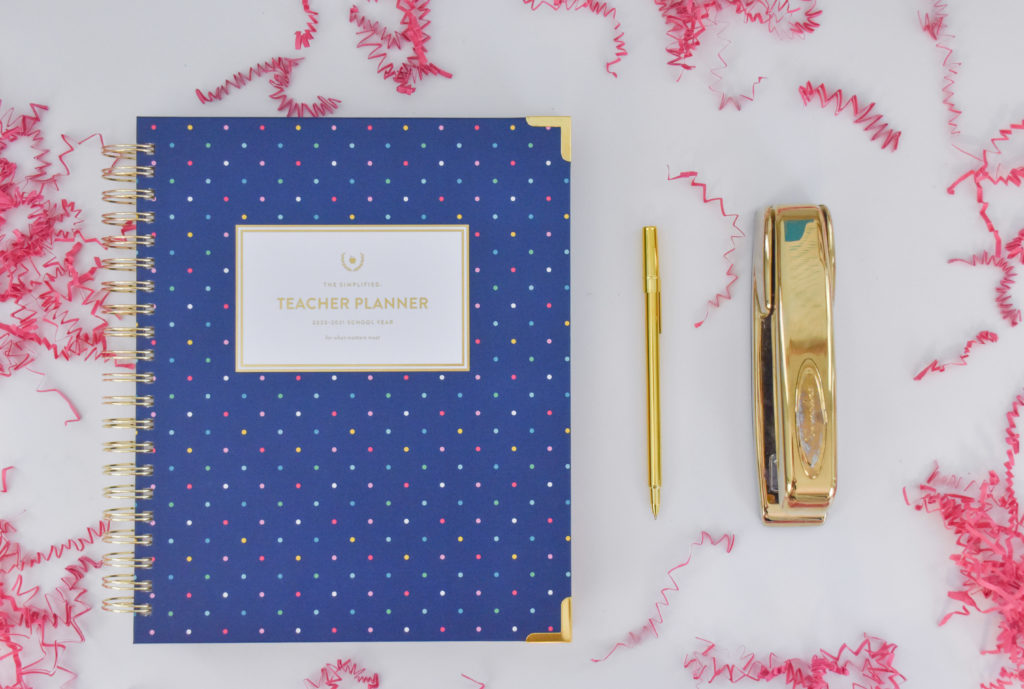 It's All in the Details
First off, the cover is my favorite! The whimsy navy and polka dot print is fun. The gold o-ring binding and gold corner protector details make the planner feel special, like a cherished book. Size-wise, it's pretty large, but it feels sturdy in your hands, not overwhelming. Just know, you're probably not going to be able to throw this baby into your purse. A teacher bag? Yes… your purse? No.
I do wish there was a place on the cover I could add my name and school. There is a spot on the first page to add your information, though.  Overall, I am happy with the thick cardboard-like cover. Read: No getting ruined from being thrown into your bag again and again. There's also a thick pocket on the inside cover to stow important papers/items.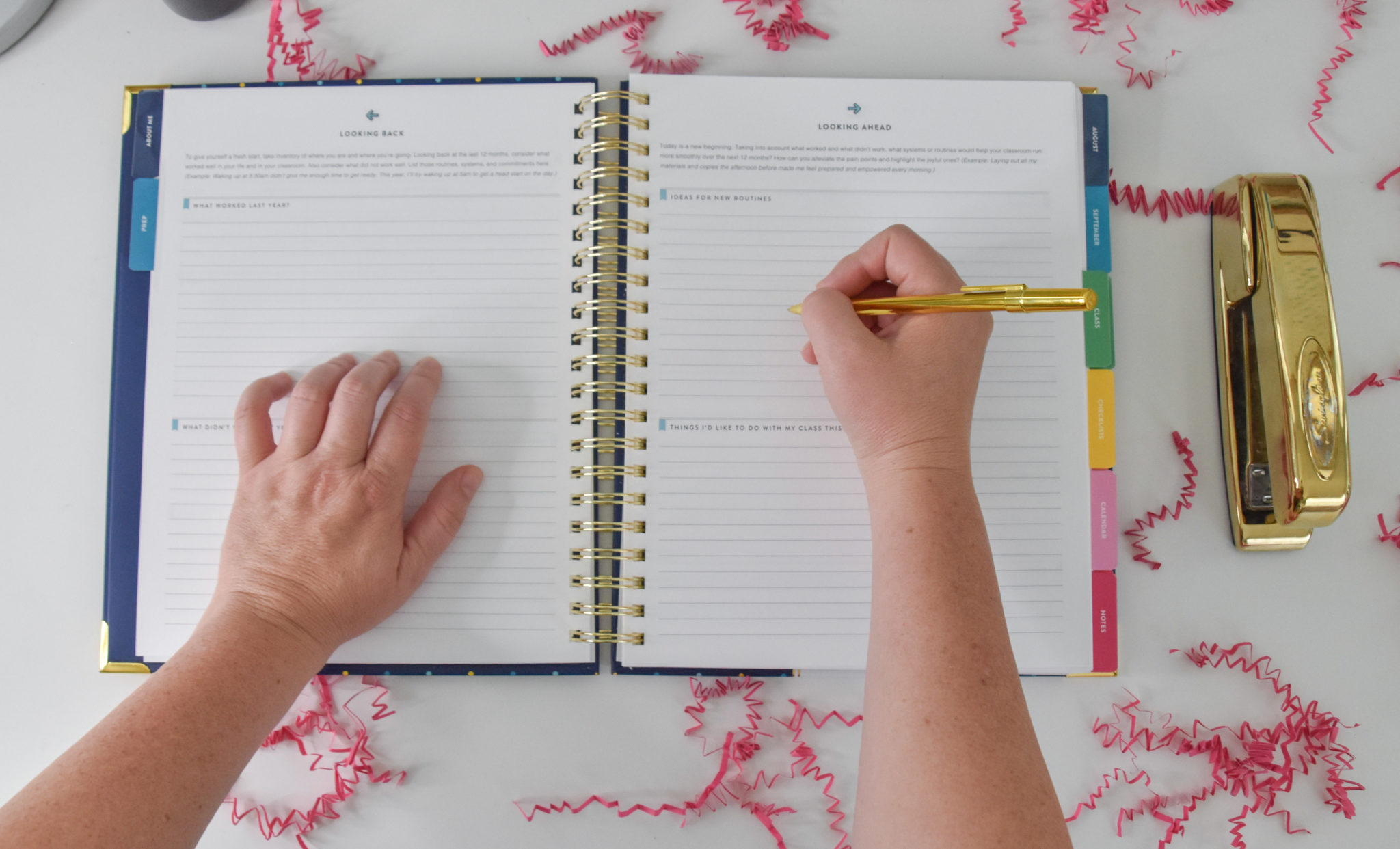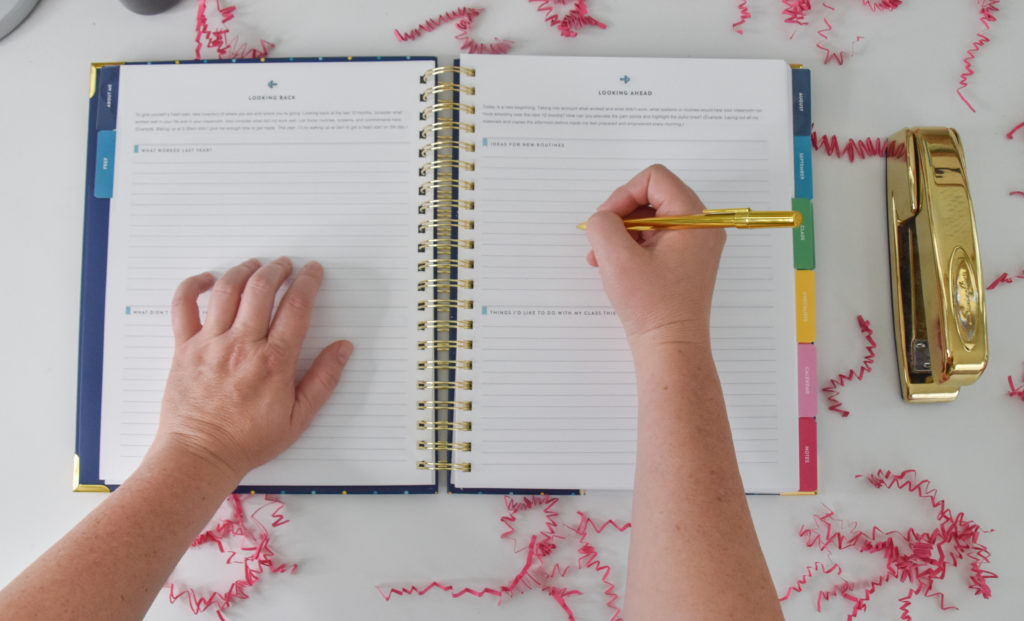 The Planner Pages
The first few pages of the planner are dedicated to you, teacher friend and I love that! There are pages for reflections, writing out routines, schedules, and so much more. All printed on thick, 80lb., pure white Mohawk Via paper.
Each section is tabbed to make it easy to navigate the planner. The tabs are high quality, laminated in different colors.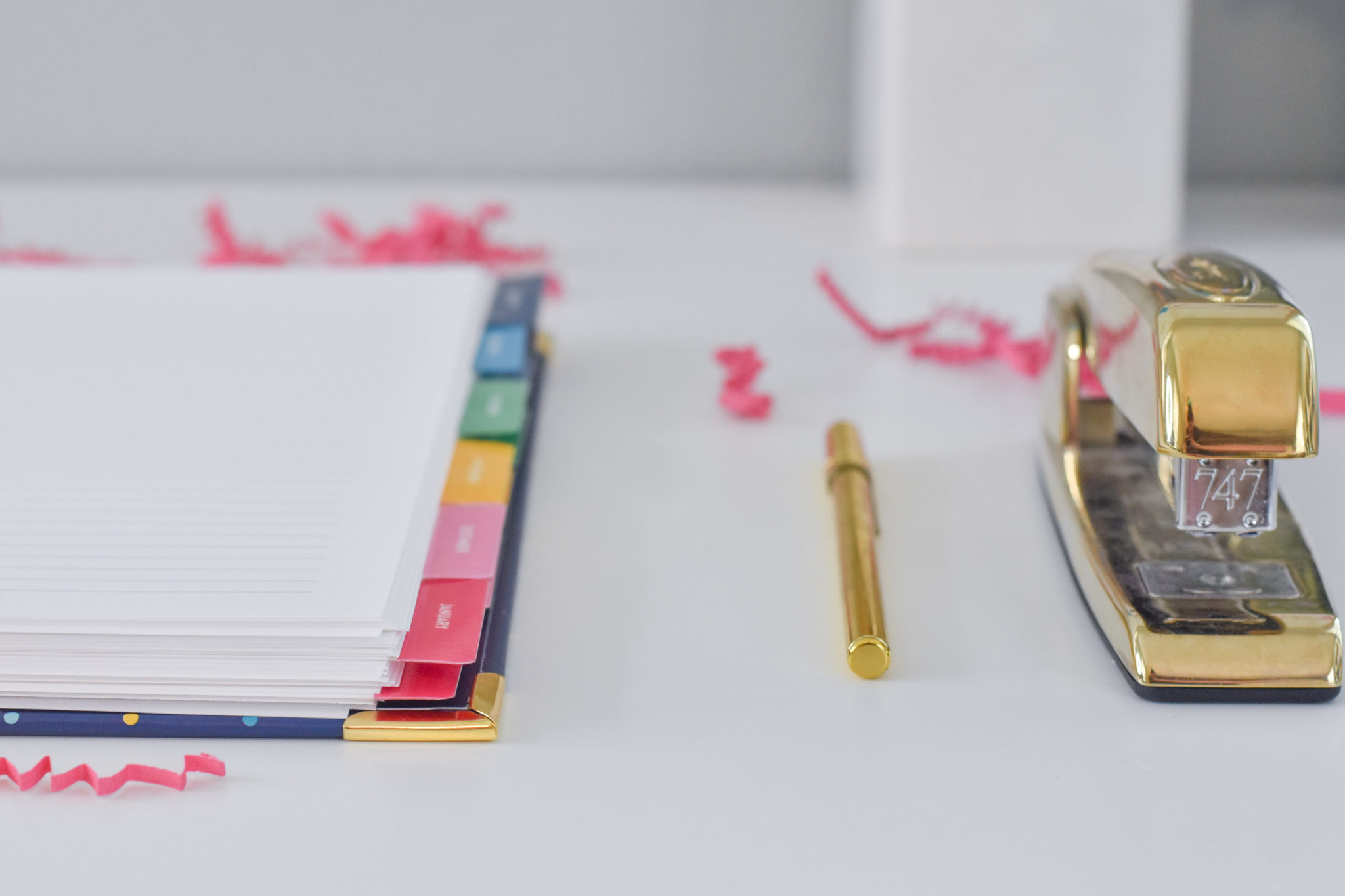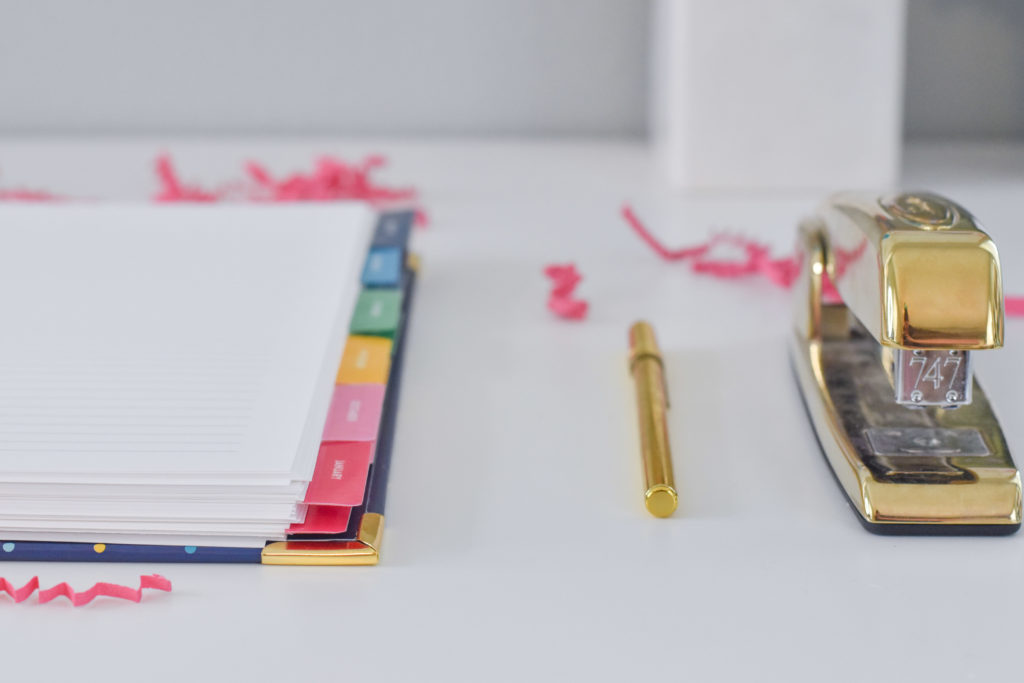 Some other teacher-friendly sections included in the Simplified Teacher Planner are:
Class Information
Checklists
Calendars
Notes (and there are plenty of note pages-making it an ideal place for writing down important reminders all.year.long)
Lesson Plan Pages
Once you get through the teacher sections, you'll find yourself in the lesson plan sections. The Simplified Teacher Planner runs from August through July. Each month is sectioned out and starts with a full double-page spread calendar (perfect for keeping important dates and meetings!) Then, behind you'll find pages laid out for lesson plans.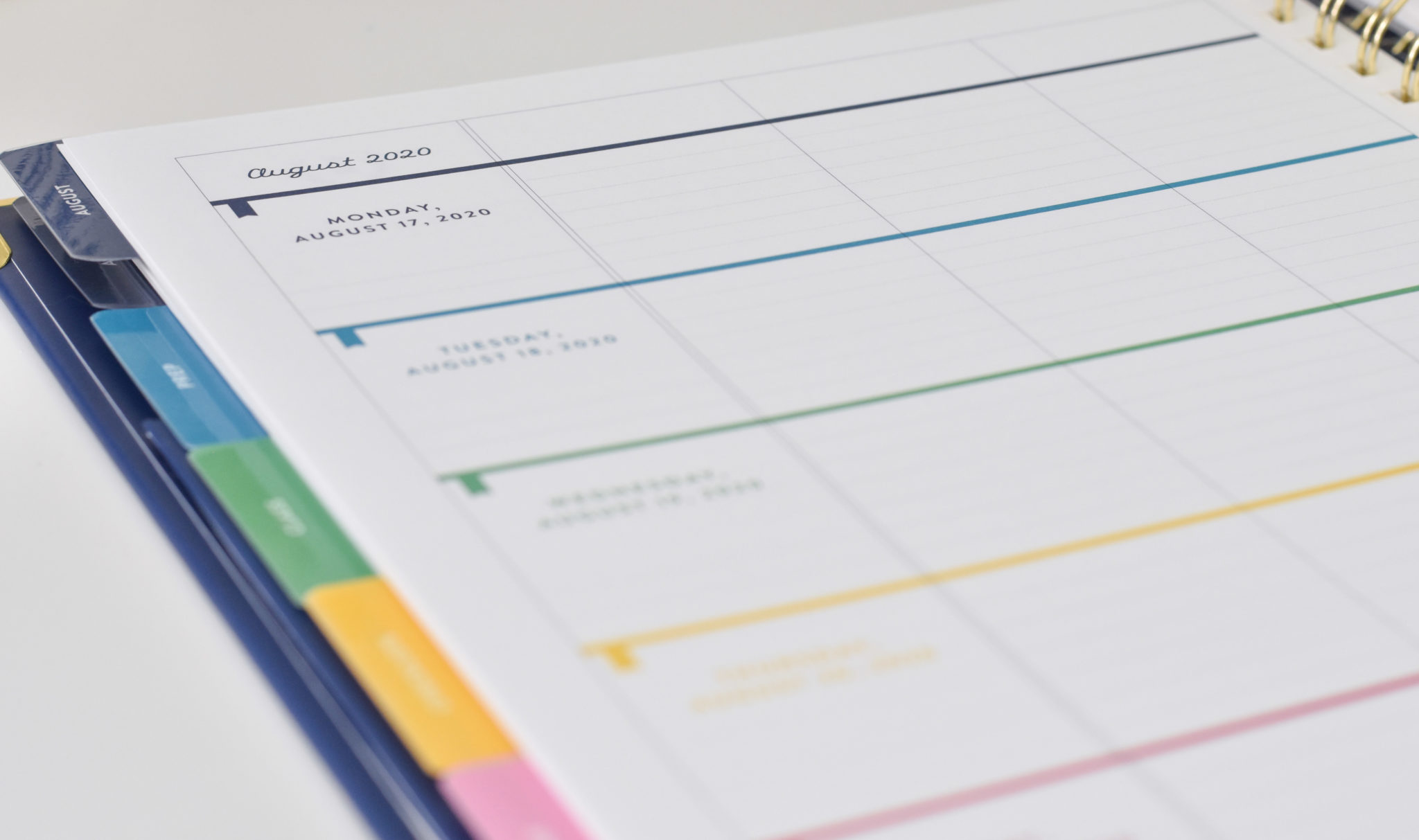 Each week, you'll find a Monday through Friday spread with six sections across the top. I'm not a big fan of handwritten lesson plans, personally. (Especially since every principal I've worked for required I turned in plans every week) But, I love the simple color scheme and lined pages.
There's also a section for notes at the end of the spread. Perfect for adding reminders or jot down notes. Even if you didn't write your plans in here, I love the idea of keeping notes on small group lessons, assessment needs, or daily to-dos.
Fun Teacher Planner Extras
The very back of the teacher planner also includes 5 sheets of teacher-specific planner stickers. You guys, these stickers are gorgeous and so fun!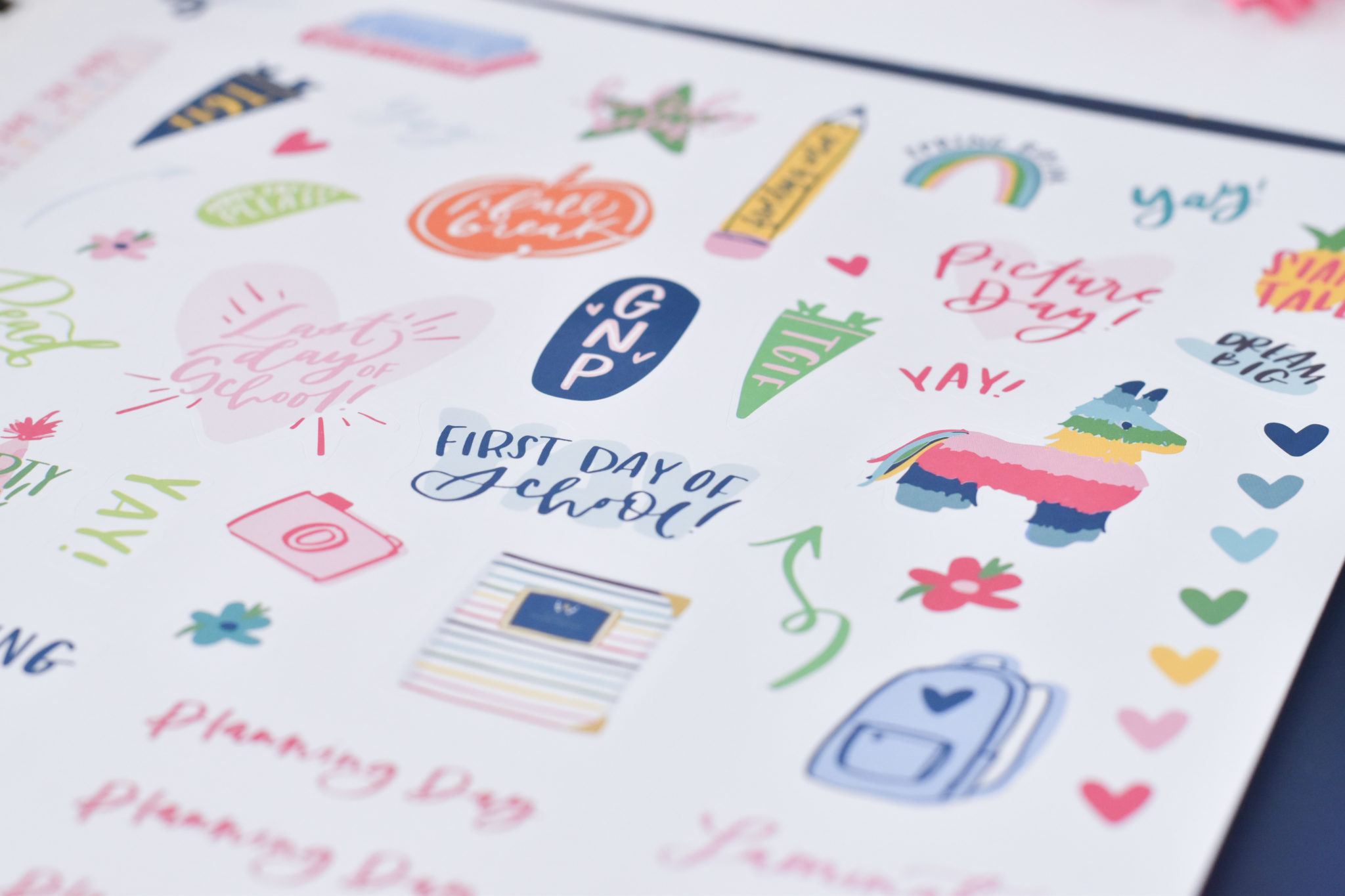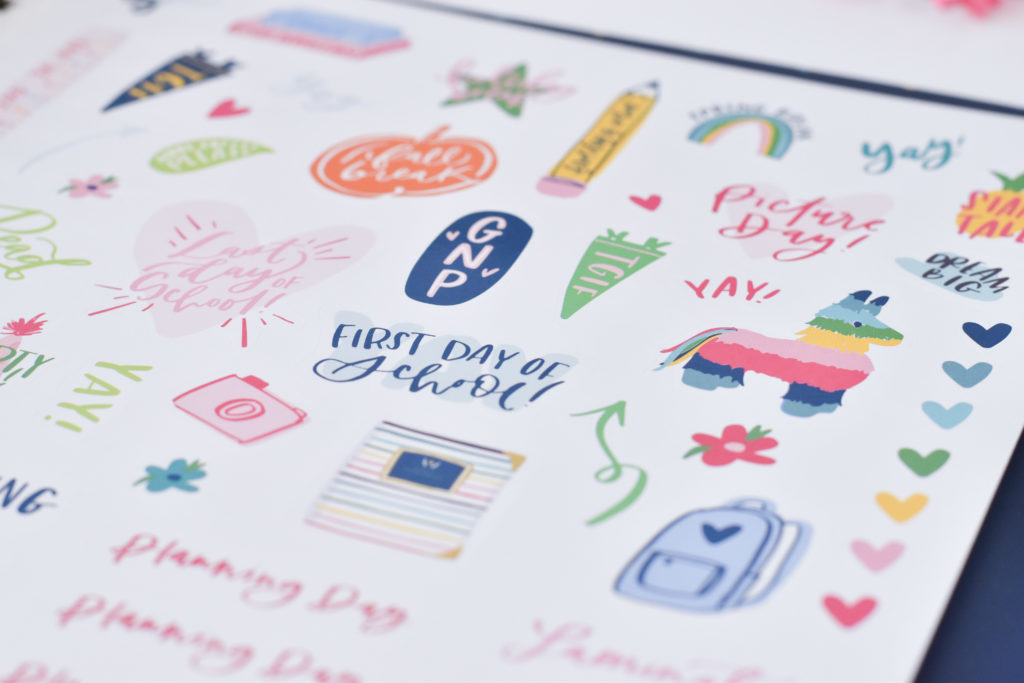 Ok… I'll be the first to admit that I love the idea of planner stickers, but have NEVER-EVER used a sticker in my planner. Isn't that sad? But, these stickers beg to be used. Don't worry there's a good mix of "business" and "fun" stickers to be had on this one.
Simplified Teacher Planner Take-aways
So, that's a closer look at Simplified's Teacher Planner. There are some definite pluses to this beautifully designed planner, but there are some drawbacks too. Here are my overall pros and cons on this teacher planner.
Pros of the Simplified Teacher Planner:
Simple, beautiful design– There is no denying that signature Simplified look to this planner. It has everything you need without being too overwhelming.
Hardcover with gold corner protectors– No need to worry about your planner pages bending while in your teacher bag. The quality cover and details protect your planner for the year ahead.
Lots of built-in reflection and teacher "work" pages– You guys know I'm a big fan of reflection (read more about that here!) and I love that she encourages that thought process from the beginning.
Simple, easy to use pages- All of the pages in this planner are thoroughly thought-out and are simple to use. No extra learning curve here.
Already dated- I know some planners that you can buy do not come predated. This one is pre-dated and ready to be used!
Planner stickers- I also love that this planner includes 5 sheets of stickers in the back. It's a good mix of business and fun ones, too! I like that they're attached, so there's no wondering where you put them when you're ready to add a few to your planner.
Full spread month/week pages- If you're familiar with Simplified planners, you'll notice they follow a similar pattern with the Full month view followed by the weeks.
Cons of the Simplified Teacher Planner:
Limited design- Don't get me wrong, I love the classic polka-dot cover (and last year, the cover was rainbow striped) But, that's it… there aren't any other designs available. If you want to match your classroom decor or maybe preppy isn't your style, you're kind of stuck with what you get.
Not customizable– I know other planners out there allow you to add your name, school, and even pictures to your planner. This one doesn't have the option.
Large size- Although not out of control, it is large. The planner pages themselves are regular paper size, but the planner cover extends past that making it a bit larger on the teacher planner scale.
Only offered in August to July options- So I know the majority of schools start in either August or September and run through May/June. But, some schools are starting to move to a "year-round" track where summer is only a few weeks long and school starts back up in late July. This planner makes it a bit more difficult to use if you are a year-round teacher. I guess you'd start at the back of your planner, then switch to the front?
Price-  You guys, I am all for paying a little bit more for something that will last and I do think this planner will last you all year. But, this planner isn't cheap. It's not out of the ballpark in the ways of teacher planners though, and I find it comparable to other pre-printed planners on the market. Just know, you're making an investment in the quality of this planner. You're paying for the sturdy cover, heavy paper pages that won't bleed, and the gold details. You're paying for fun stickers and teacher note pages.
The Simplified Teacher Planner
I think when I close my eyes and dream up the perfect teacher planner for me, most of it would look just like the one Emily has designed in the Simplified Teacher Planner. It's simple and beautiful design allows you to focus on what's most important, and for me… that's all I could hope from a tool designed for teachers!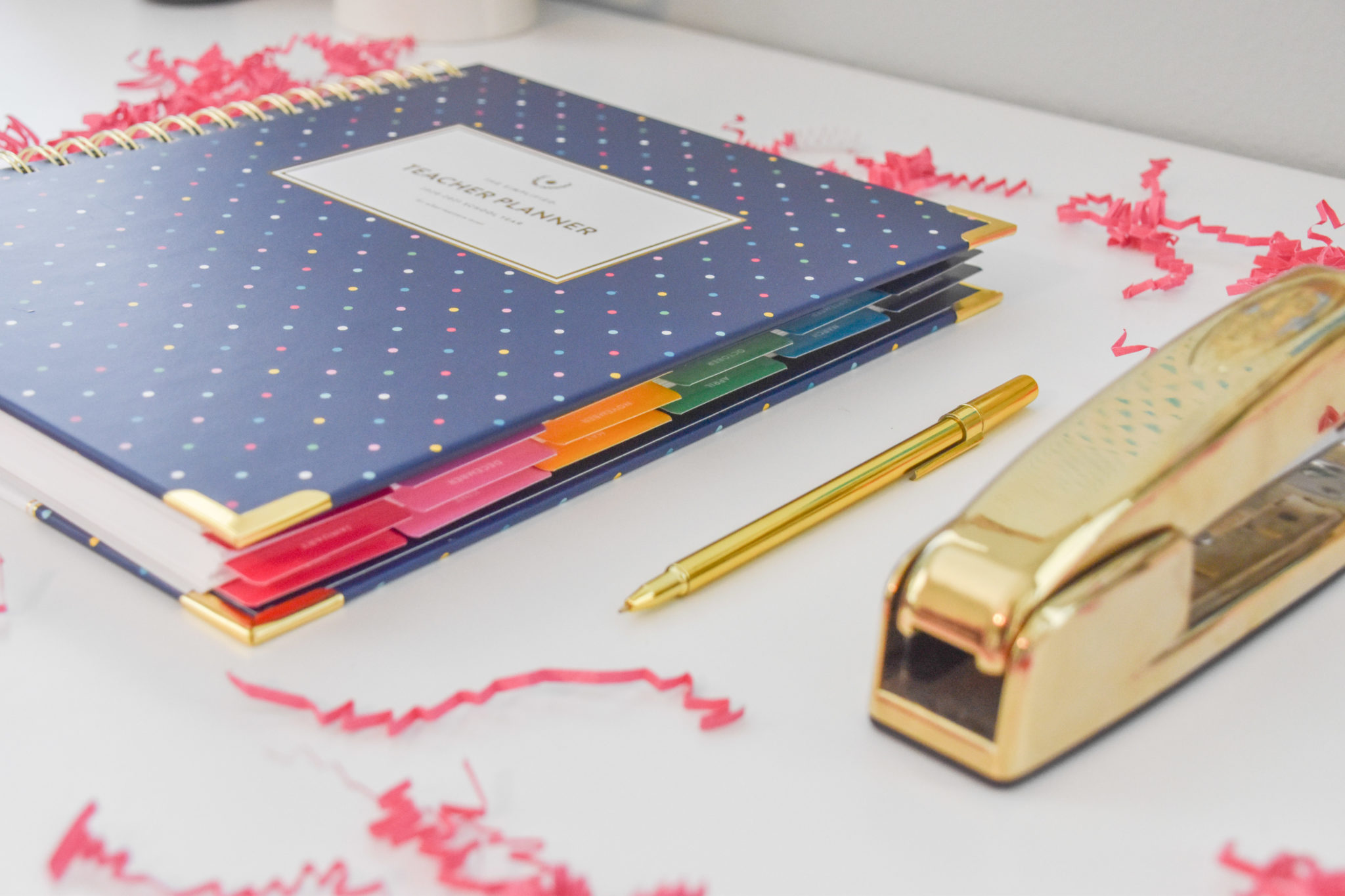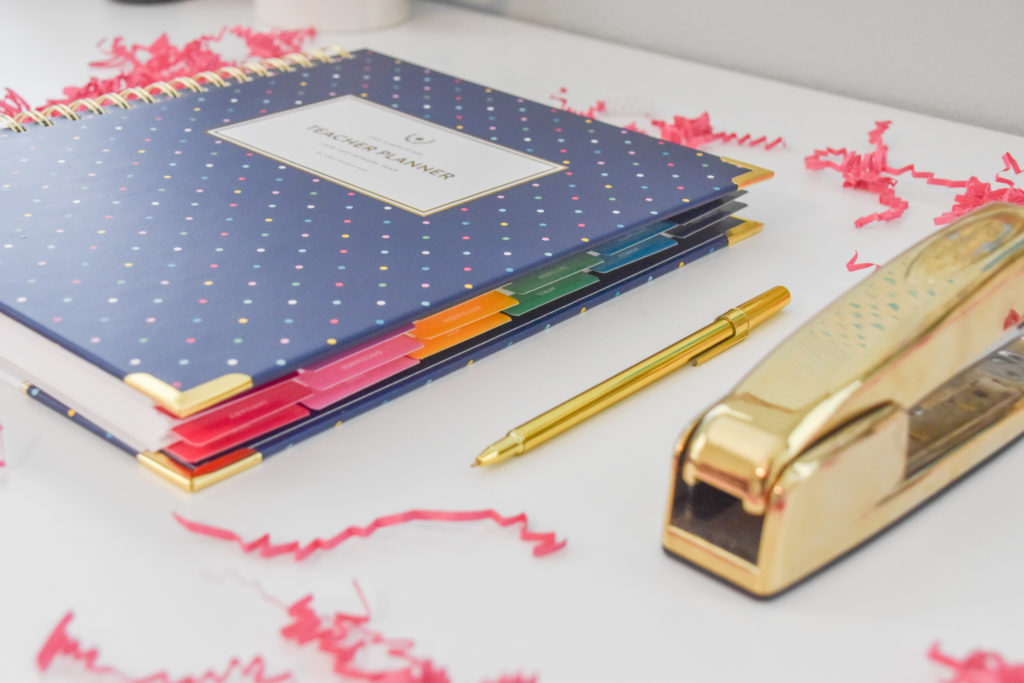 Want to see more of this planner? You can check out the planner here on the Simplified website.
So do you have a favorite teacher planner? Share your favorite below!
More Great Ideas!
Check out these other great blog posts full of ideas to help you navigate this crazy teaching world!
Sign up to snag these!
Receive all these classroom management tools right to your inbox!