So I've been getting tons of questions over in our 2nd grade teacher fb group on how the best way to organize your Google Classroom for 2nd grade. Some teachers say a Google Classroom account for each subject, others say to make a topic for each week… but I'm telling you…you want to keep it simple! Don't over complicate things with this one (isn't teaching in 2020 complicated enough?)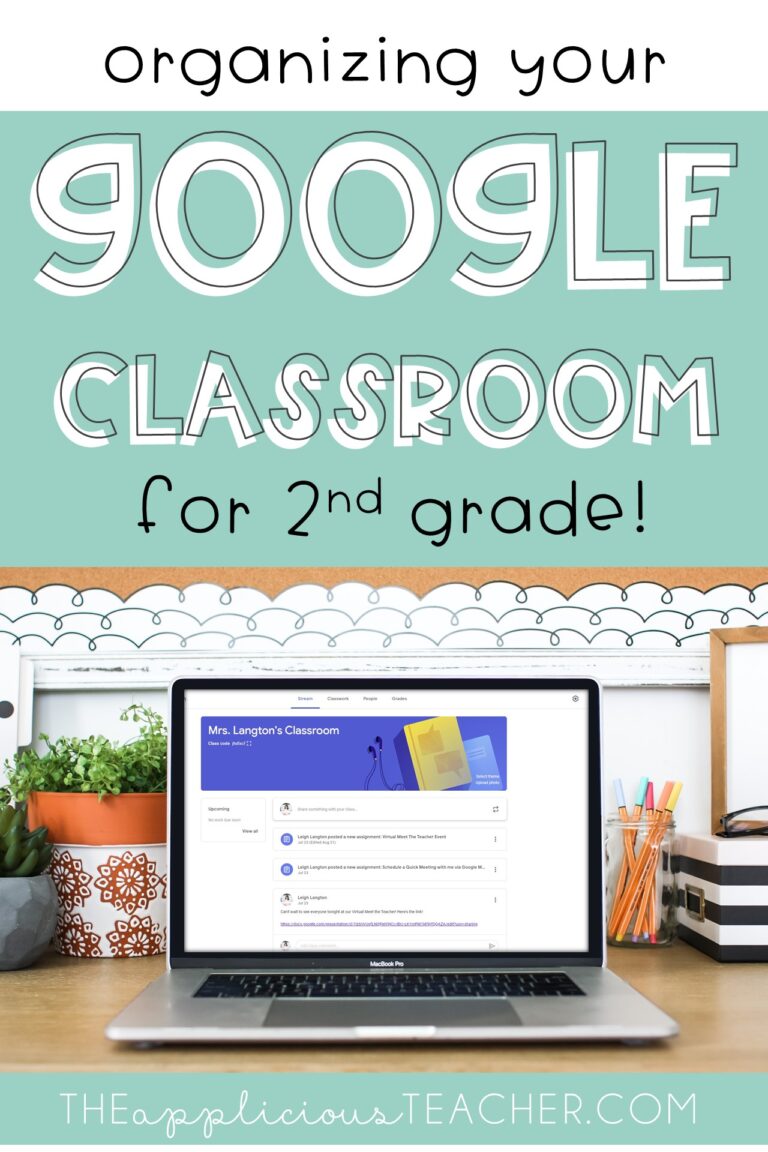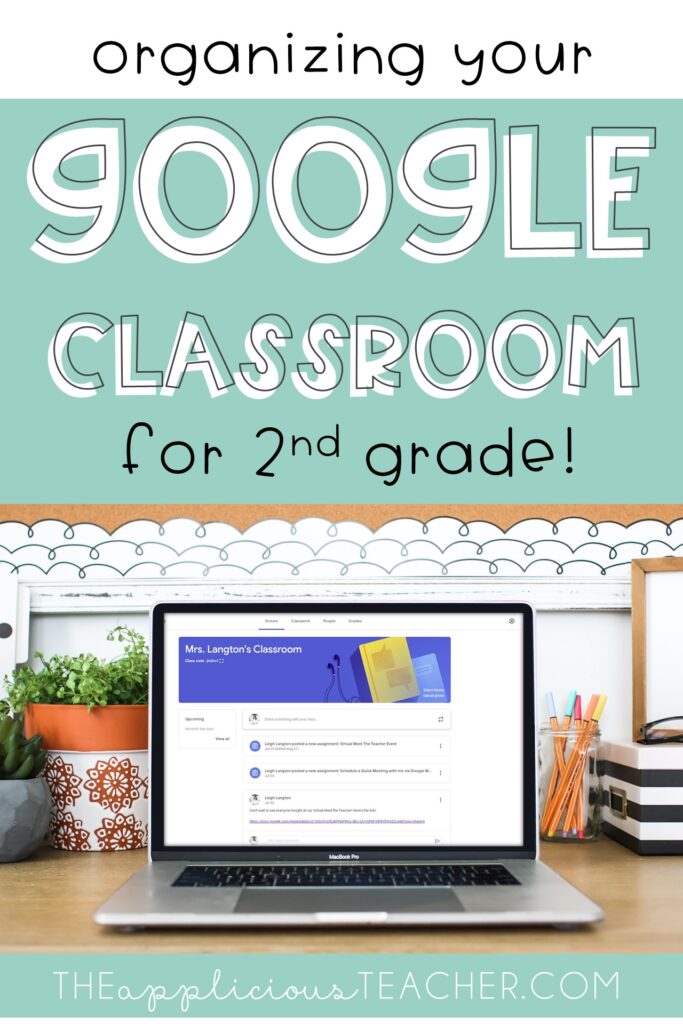 Setting Up Google Classroom for 2nd Grade
Ok… just to refresh your brain on Google Classroom, let's review the different levels of organization within this platform.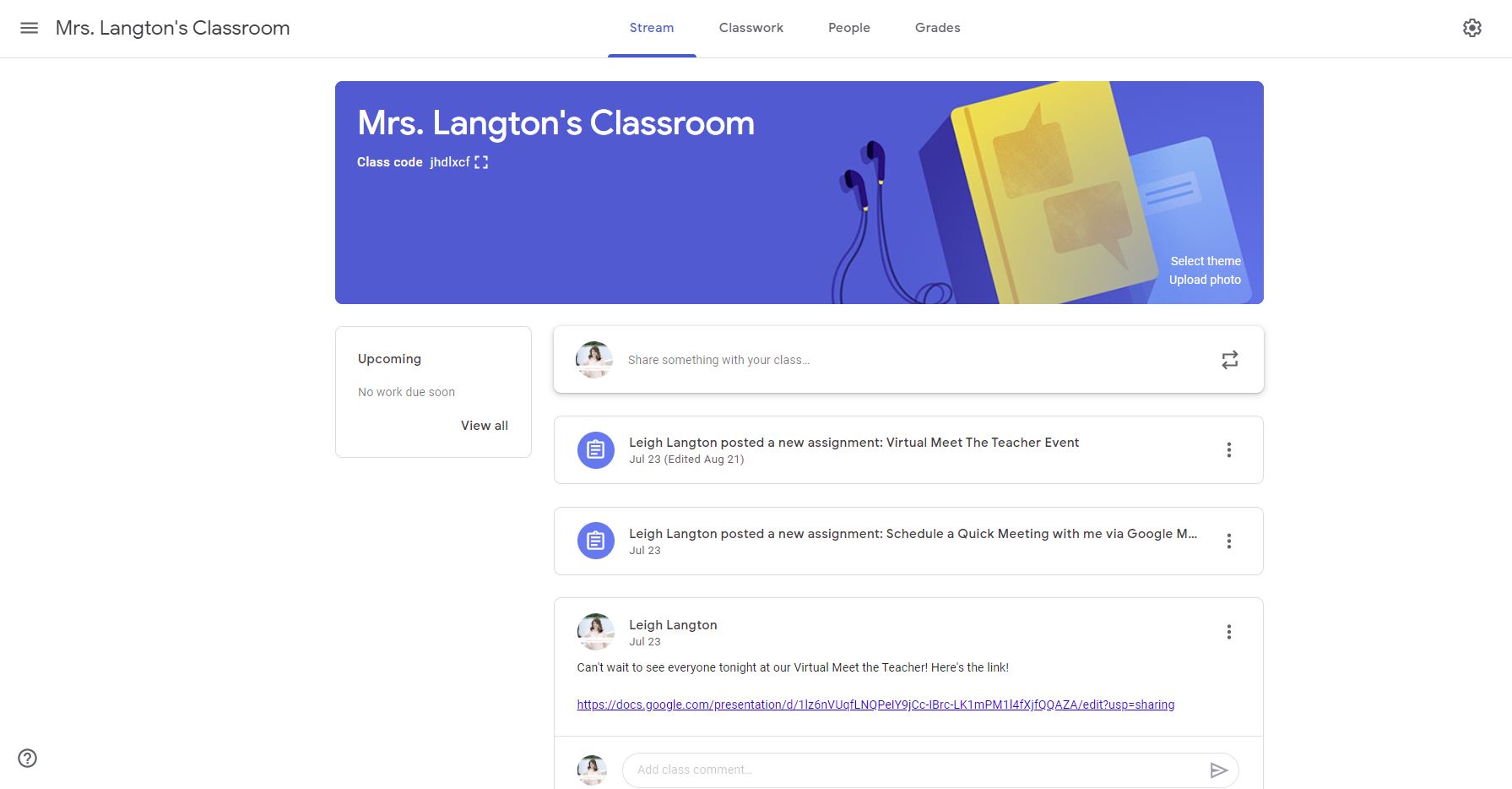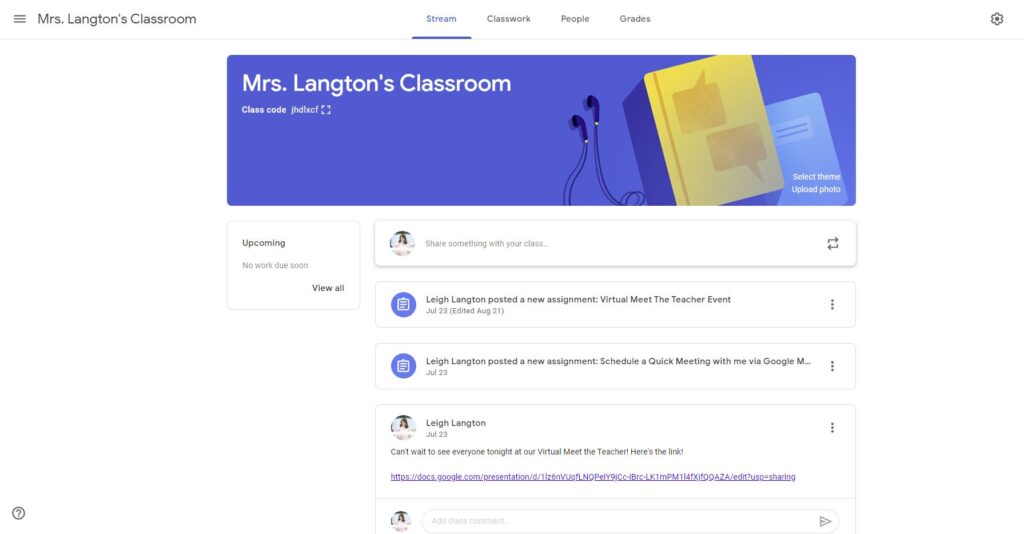 First you have a classroom. This is an online space where you have the ability to add students, assignments, announcements, and grades. You can create more than one classroom depending on your needs (ie: You teach more than one group of students and plan to assign different things to each group)
In your Google Classroom, you can create assignments and topics. Topics are the overarching theme or "idea". Assignments are nestled beneath topics.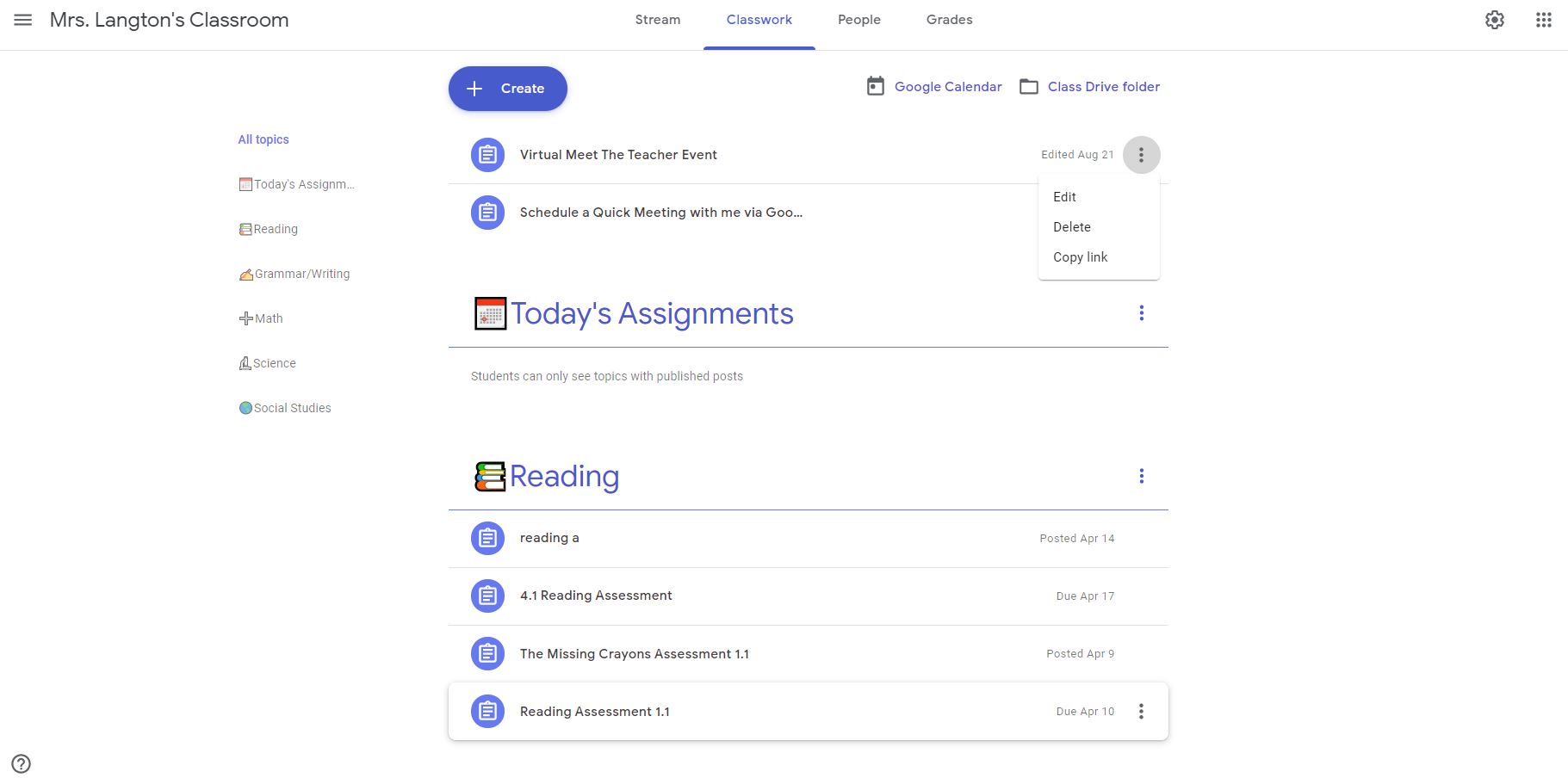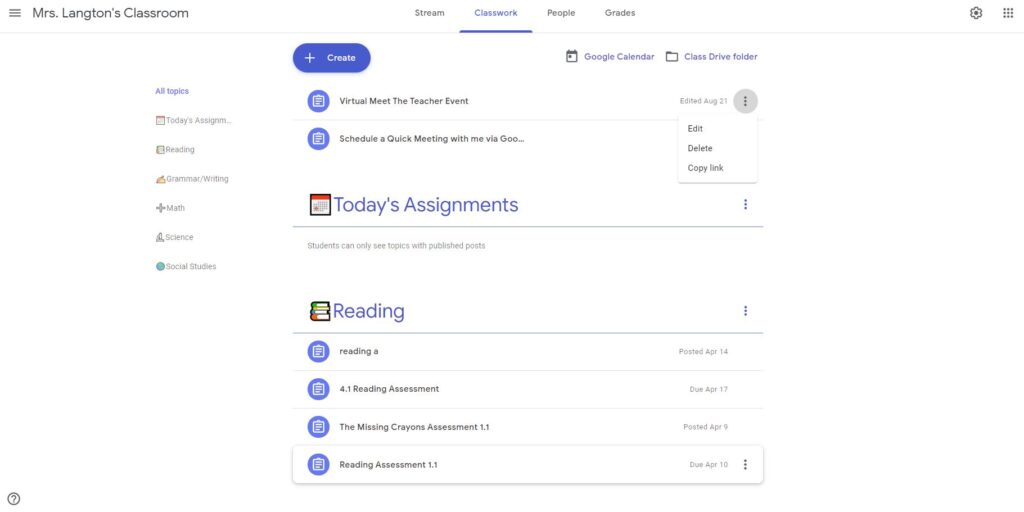 Start with subject area topics
First, start with creating topics for each subject you will assign work to in your Google Classroom. If you're using Google Classroom as your learning platform for virtual learning, then you'll want to include a topic for all subject areas.
Reading
Writing/Grammar
Math
Science
Social Studies
I find it easiest to create topics that mirror the subjects that I have in my grade book or master schedule. And def keep them the same if you're doing a hybrid or synchronous teaching model! (Your sanity will thank you later!)
Add a "Today's Assignments" Topic
Ok… so now you've added all the subject areas (don't forget special areas if you're having to push out assignments for them too!)
In addition to the regular subject area topics, I like to add a "Today's Assignments" topic.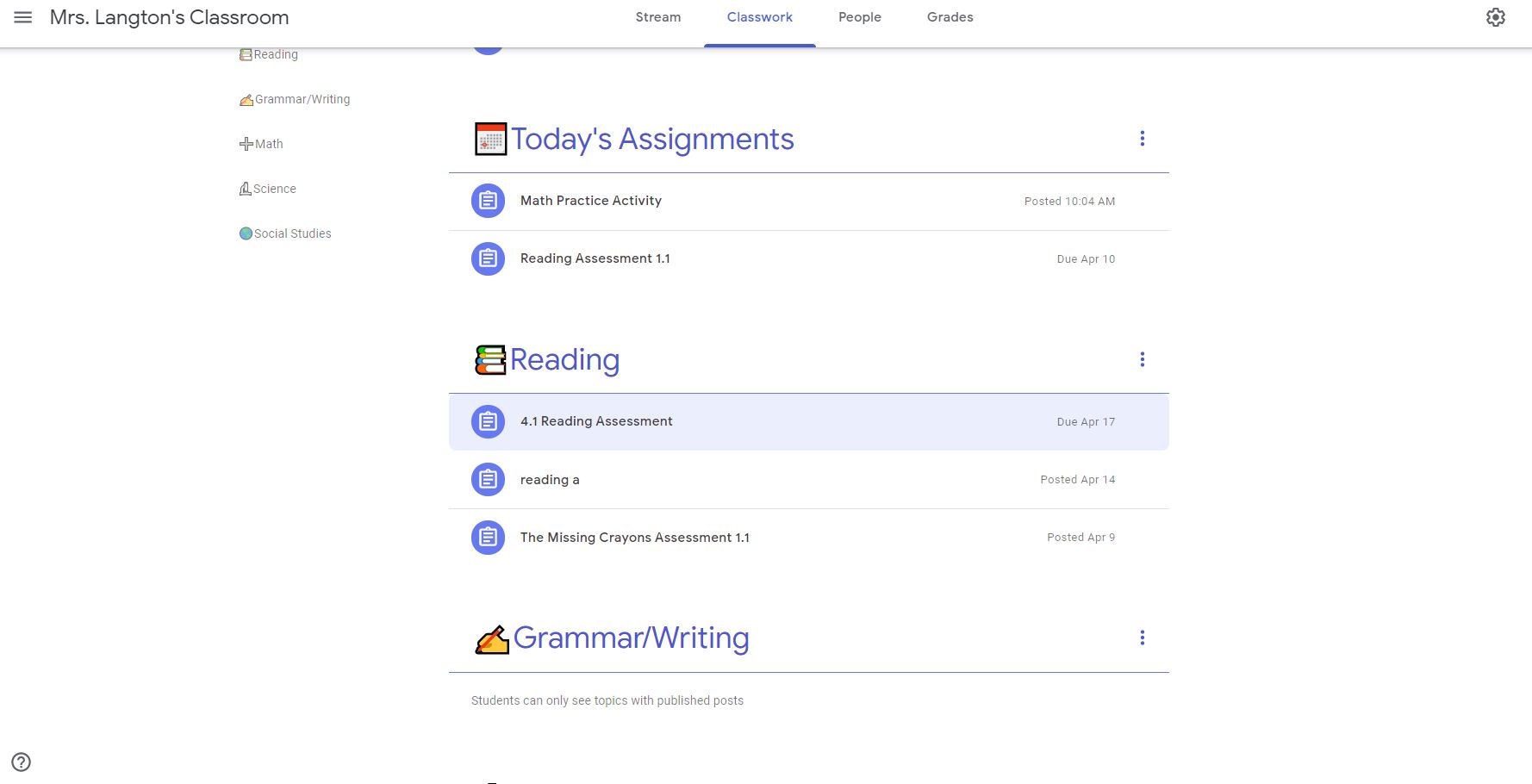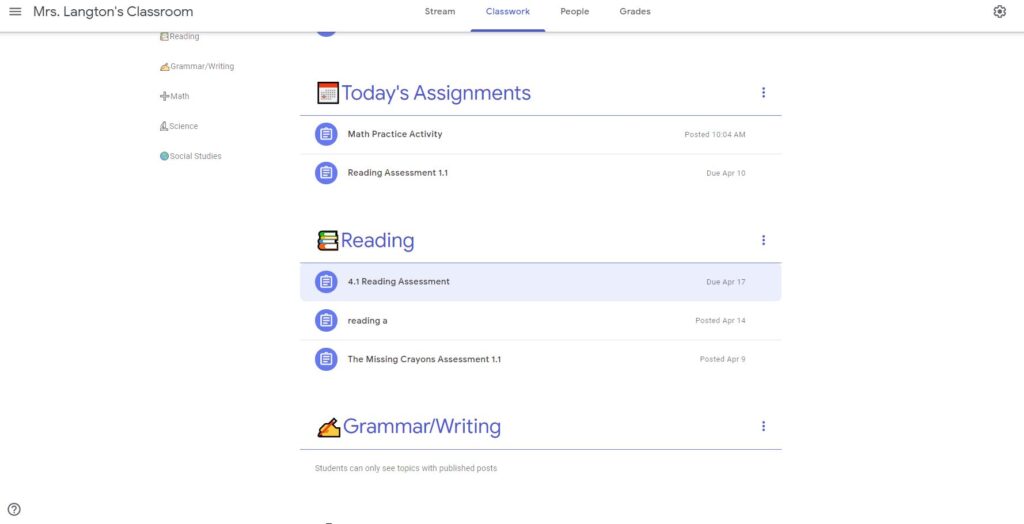 This one simple addition will completely change how your students sort through their work!
The "Today's Assignments" topic allows your students to easily see what they need to be doing that day in the sea of topics and assignments.
See… that's why so many teachers are tempted to create elaborate systems like access Google Classrooms or topics by week… all those assignments start to meld together as time goes on and more assignments are added.
Google Classroom makes it super simple to drag and move assignments into different topics. So, in the morning, just go through and move assignments that need to be completed today under the "Today's Assignments" topic. Then, you can move them back under their correct topic the following day. Just be sure to let your families know that you'll update the "Today's Assignments" topic by a certain time each morning and stick to that plan.
Yes, this may seem like extra work on your end, but trust me it will help relieve some of the headaches on the front end (especially the issue: What am I suppose to do today?)
Watch the Video!
No time to read or need more visual assistance? In this video I show you exactly how to organize your Google Classroom for 2nd grade!
Benefits of a "Today's Assignments" Topic
Creating a "Today's Assignments" topic will also allow you to reuse assignments/task.
For example, you want students to use a choice board or activities menu they complete by choosing one activity each day.
Before, you would have to assign the choice board over and over again, creating a new assignment for each time a student should complete it.
Now, you can have the due date at the end of the week, but move it to the "Today's Assignments" topic each day students are expected to complete it. #teacherlifesaver
Another benefit to the "Today's Assignments" topic is that it allows you to have all assignments due at the end of the week (giving students time to catch up) but the flexiblity to pull assignments to the front to be completed on their respective day.
Adding Emojis to Your Google Classroom Topics
Ok… so this last one is fun and probably not needed, but it definitely will help your students visually see their work: add an emoji to the topic headings!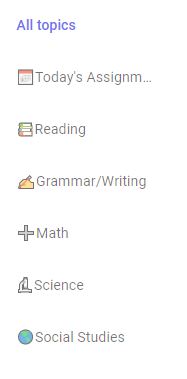 At the beginning of each topic, add an emoji that highlights an aspect of the subject.
For example, you can see I used a stack of books 📚 for reading, a writing hand ✍ for writing/grammar, math symbol ➕ for math, a microscope 🔬 for science, and a globe 🌎 for social studies. For the "today's assignemnts" topic, I used a calendar 📅 emoji!
They add such a fun touch to your classroom and really make each topic stand out from the page!
How to Add Emojis to Your Google Classroom
Adding emojis to your Google Classroom is super simple, too! There are two options for adding them:
Option 1: use your computer's keyboard
Did you know that some computers have emojis built into their keyboards…Ok.. .maybe not the keyboard, but if you have a later version of Windows, then this should work. First, click where you'd like to add an emoji. Then, right-click using your mouse. A menu option should come up that has "emoji" right at the top.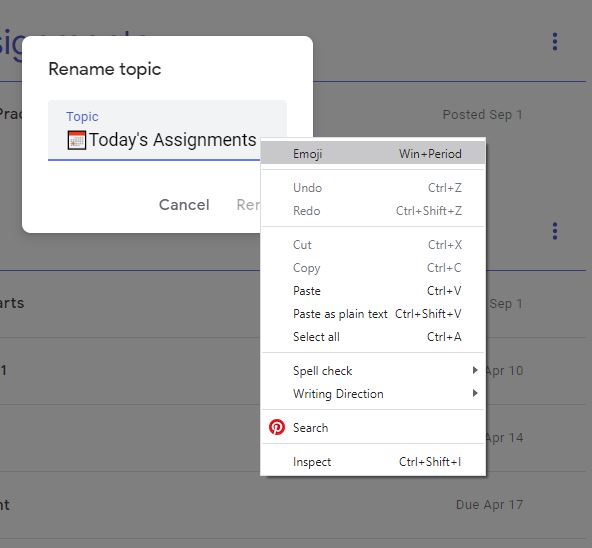 From there, click emoji and use the "search feature" or the pictures at the bottom of the emoji mini screen to find the emoji you are looking for. Click it or press enter and the emoji will appear in your text on the computer! 🎉🎉🎉🎉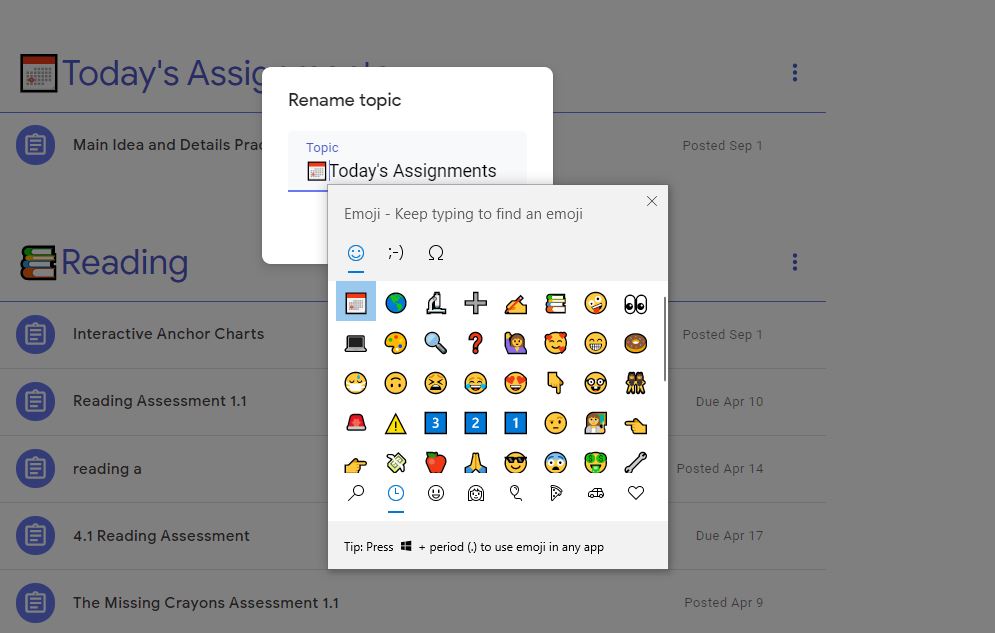 Option 2: copy and paste method
If you don't have access to the right-click method, have no fear! There is another way! Use an emoji website like getemoji.com.
On the site, just search for the emoji you are wanting to use, then highlight the emoji, right-click > select copy > navigate to the page you'd like to insert the emoji > right-click > select paste. ( You could alternatively use the shortcuts: control + c to copy and control + shift+v to paste.)
A simple way to organize your Google Classroom for 2nd grade
So that's it… seriously folks… the simplest, easiest way to organize your Google Classroom so your second graders (and their parents!) can navigate easily through!
Adding a topic for each subject and then using the "Today's Assignments" as a place holder for your daily assignments will be a life saver or the course of the next few months! And who doesn't love emojis? They will help make your topic headings stand out more!
More helpful posts
Looking for more helpful ideas? Check out these related posts!