It's that time of year where everything is up… the sun, the temp, your kid's activity levels… What's a teacher to do? Make S'mores, that's what! I love pulling out this fun s'mores science experiment at this point in the year. It's a great experiment to help students learn more about the sun's energy, or about heat transfer!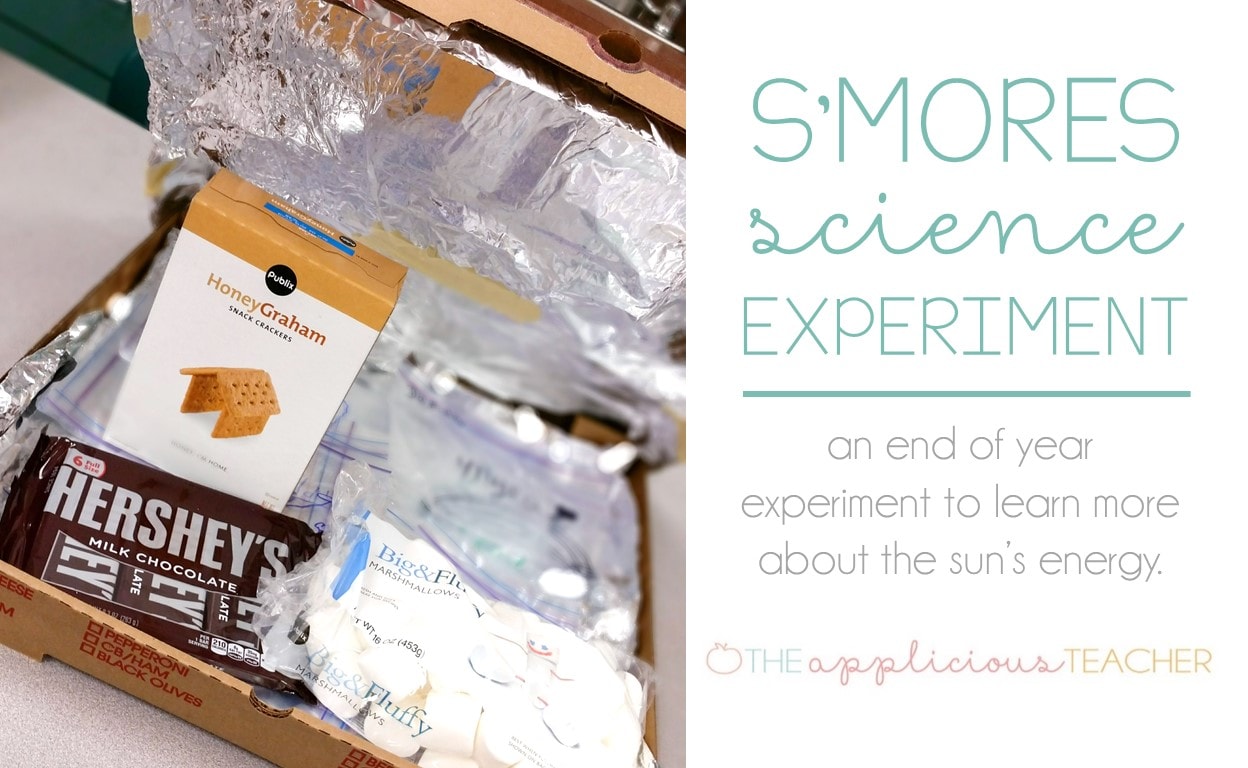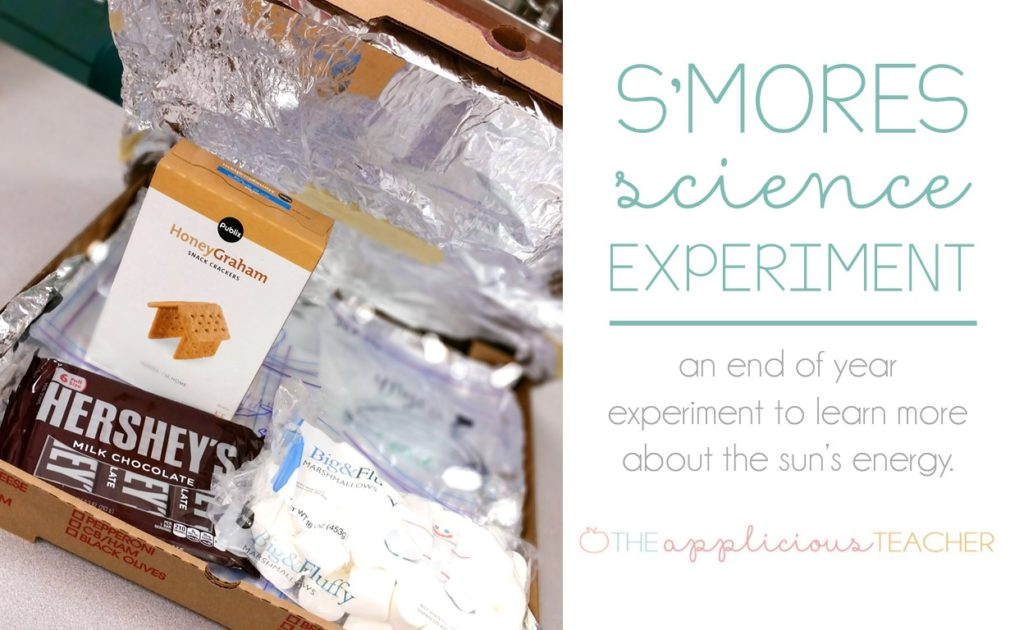 Pulling in the Science Standards
Making s'mores in a solar oven is an easy and fun experiment you can do in one day! (weather permitting!) I love the flexibility of this fun experiment. You can use it to learn more about the steps in the scientific experiment, or to learn more about the sun's energy.
When I completed this activity in second grade, we used it to demonstrate how the sun's energy could heat the Earth. In third grade, we used it to discover how heat can transfer. Both used this exact experiment, but for today's post I'm going to focus on the sun's energy.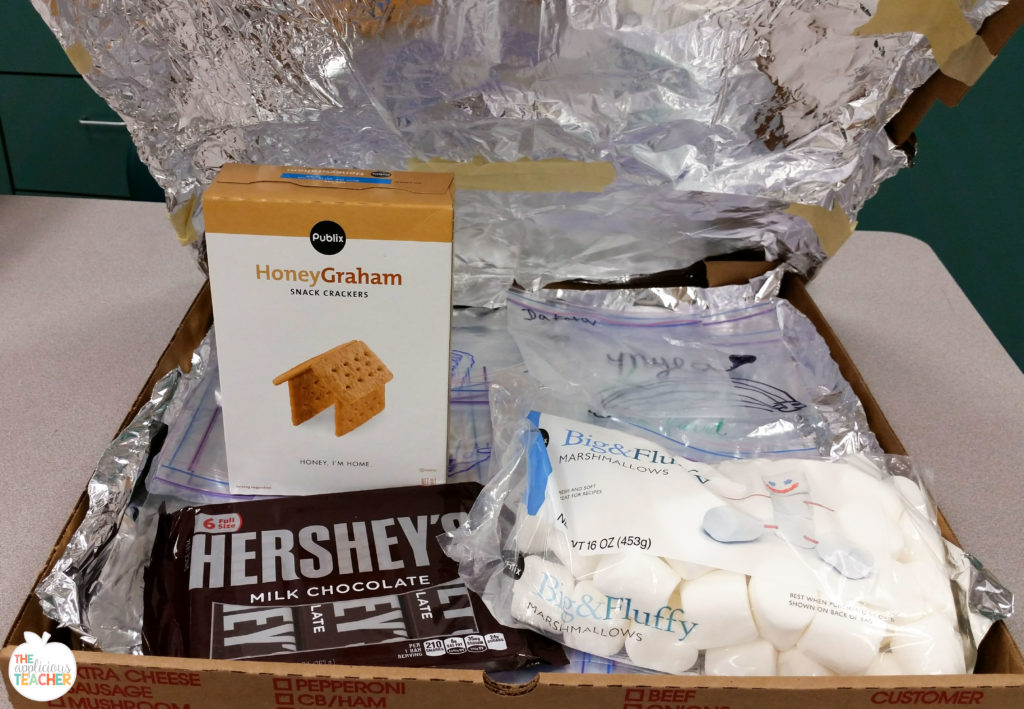 Pulling Your Materials
For this s'mores experiment, you going to need to following materials:
marshmallows
graham crackers
chocolate bars
quart size baggies
foil
pizza box or other type of box
In addition, I like to print out lab recording sheets for each student to glue into their Science journals as well as an extra copy for me to model.
Setting the S'More Stage
To set the stage for this experiment, we first discussed the sun's energy or heat and how it can warm the Earth. Living in Florida, it was easy to relate the sun to warming our faces or heating up our playground equipment. But, could the sun's energy or heat be used to cook? With that question in mind, we set out to answer our question! I like to do this beginning part of the experiment in the morning so that the S'mores have all day to sit out in the sun.
Together we filled out the question and hypothesis part of our lab write up sheet. Then, we gathered supplies and wrote those down.
Key ideas to guide your discussion:
Will the sun warm the S'mores?
How will we know?
How might the S'mores change during the experiment?
What hypothesis can we make using our knowledge of the sun's energy?
S'Mores Science Experiment
From there, we worked to start setting up our experiment. First, I had the students walk me through adding the foil to the pizza box. As a taped it in, we discussed how the foil was going to act as a mirror to seal in the heat from the sun and "bounce" it around in the box.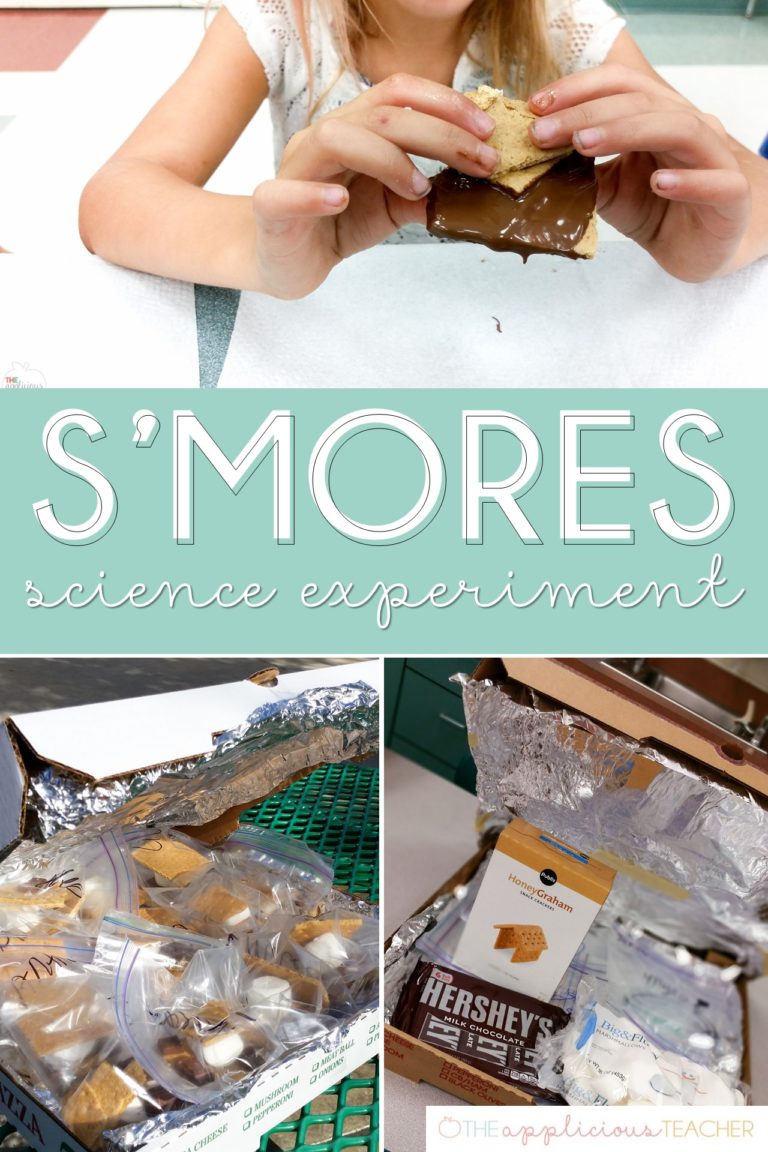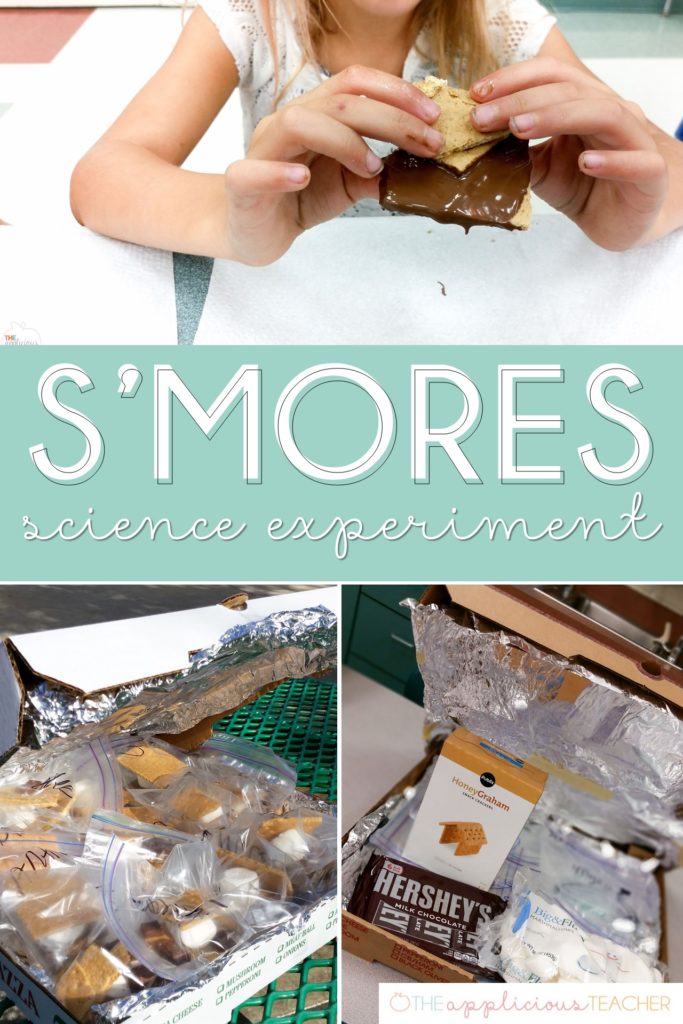 As we discussed and I completed the "oven", we wrote down what I was doing on our lab recording sheet.
Finally, it was time to assemble our S'mores. To keep it simple (and the lesson moving!) I demonstrated how to set up the S'more and wrote the steps on our recording sheet. Once students finished copying down the steps, I gave out materials for them to make their own S'Mores. I also passed out a quart sized baggies to each student and one permanent marker to each table. After students assembled their S'more, they wrote their name on the baggie and slide the S'more in.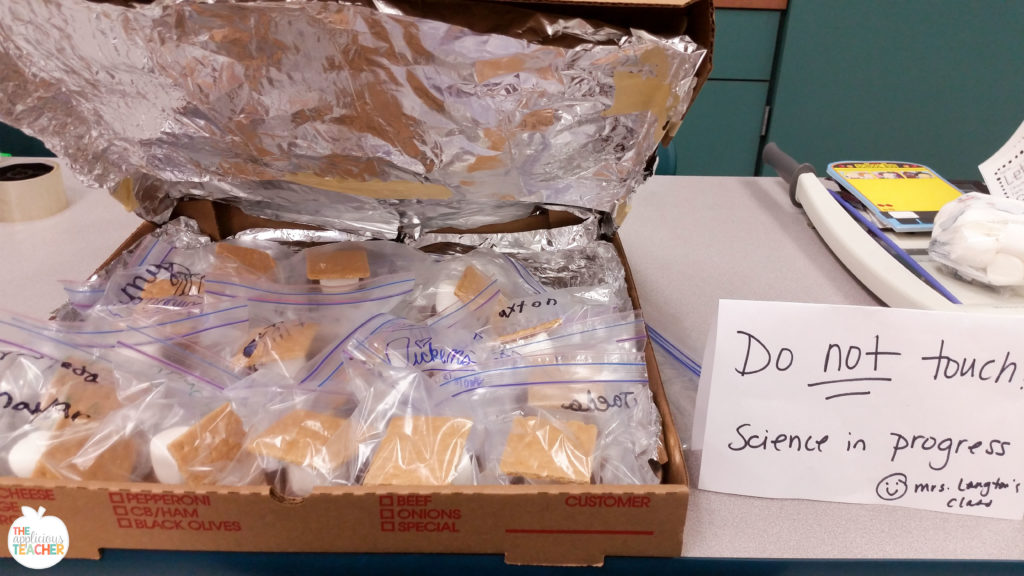 We also made a little sign to remind our school friends not to touch our science experiment as it sat out in the sun.
The Sun's Energy Heating the Earth
We brought the pizza box and S'mores outside for the remainder of the day. As a class, we decided to keep the lid open so that the sun's rays could heat up the space in the box (but that could be a whole other version of this science experiment!)
After an hour or so, we went back to check on the S'mores and made observation notes in our science journals.
At the end of the day, we were ready to bring the S'mores inside and write down what happened!
Recording Our Findings
To keep things from getting too messy, I opened one S'more and walked around the room. Then, we wrote our observations and results. The kids couldn't believe how melted the chocolate and marshmallow had become!
We also brought the experiment back to our original question, can the sun's energy heat the earth? How did we know it did? These are all things I made sure the kiddos included in their conclusions area of their lab write up.
Enjoying the S'Mores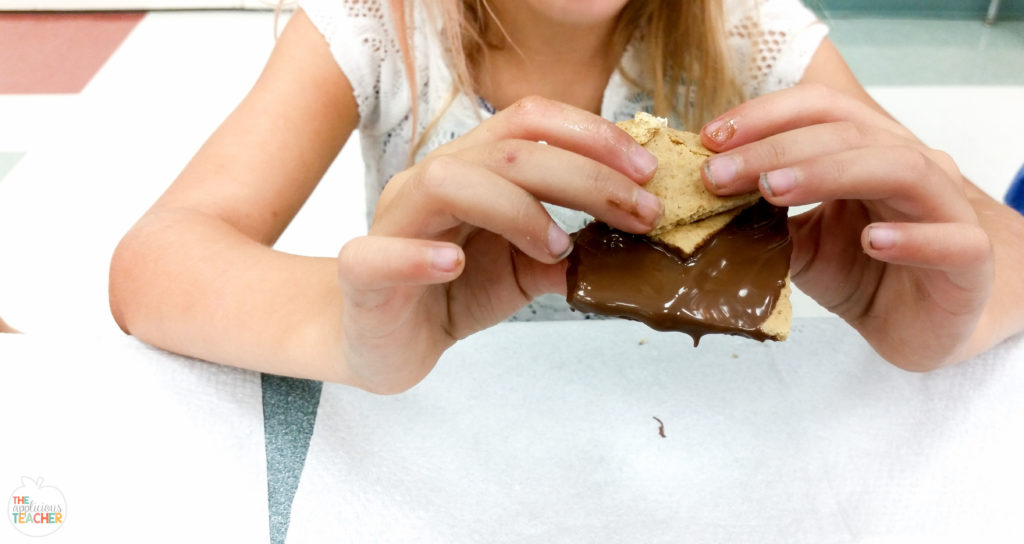 After all that, it was FINALLY time to enjoy our ooey-gooey S'mores! For this part, I passed out their s'mores baggies and had them eat the treats very carefully over paper towels. Once the finished, they had to wash their hands and clean up their desks! No ants for this teacher please!
This was such a fun and easy experiment to do! Perfect as part of a weather unit or as an end of the year fun treat! Either way, I know your students will enjoy!
Grab This Experiment and MORE for Yourself
Want to try this easy experiment with your class? There are two ways you can snag this experiment for your class! You can purchase this pack (with a fun writing craft and sequencing activity!) in my TeachersPayTeachers store or here on my website!
Sign up to snag these!
Receive all these classroom management tools right to your inbox!