Teaching persuasive writing to your kiddos can seem tricky at first. You might find yourself wondering where to start or trying to decide what resources to use. But, don't worry, because I have the perfect activity that your 2nd graders will love! This Snack Attack Writing activity is the answer you have been looking for. Come check out this awesome resource!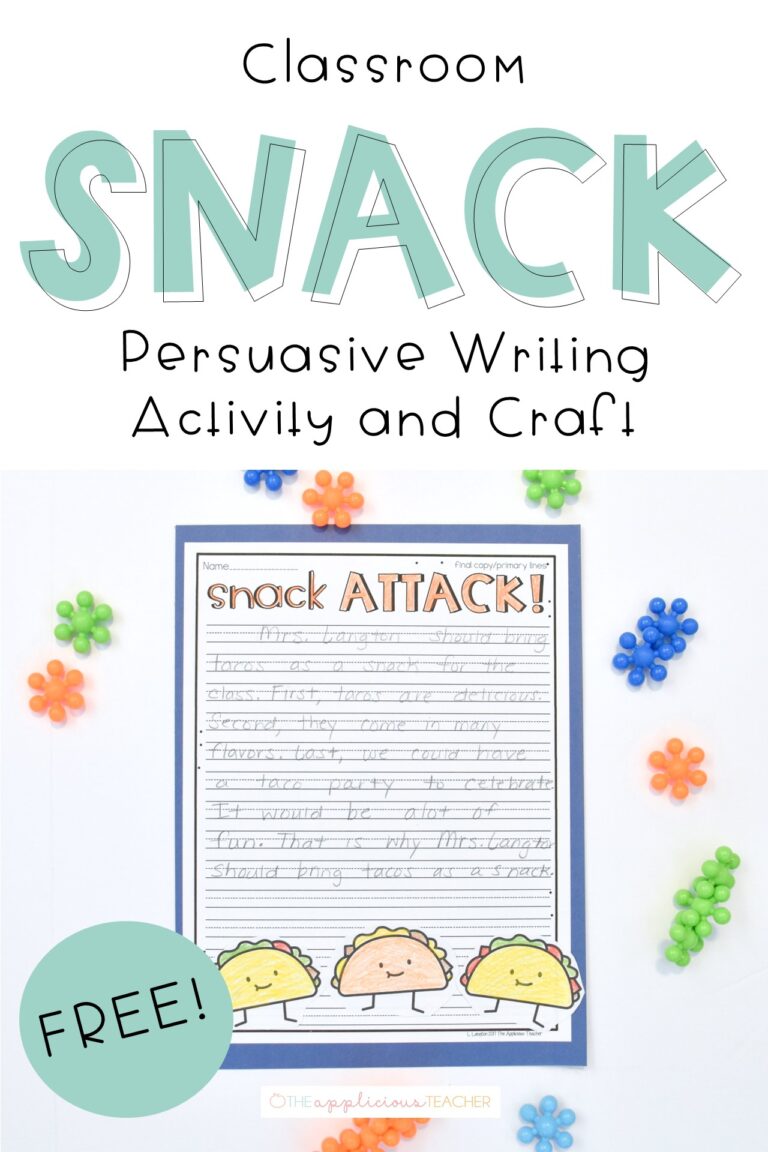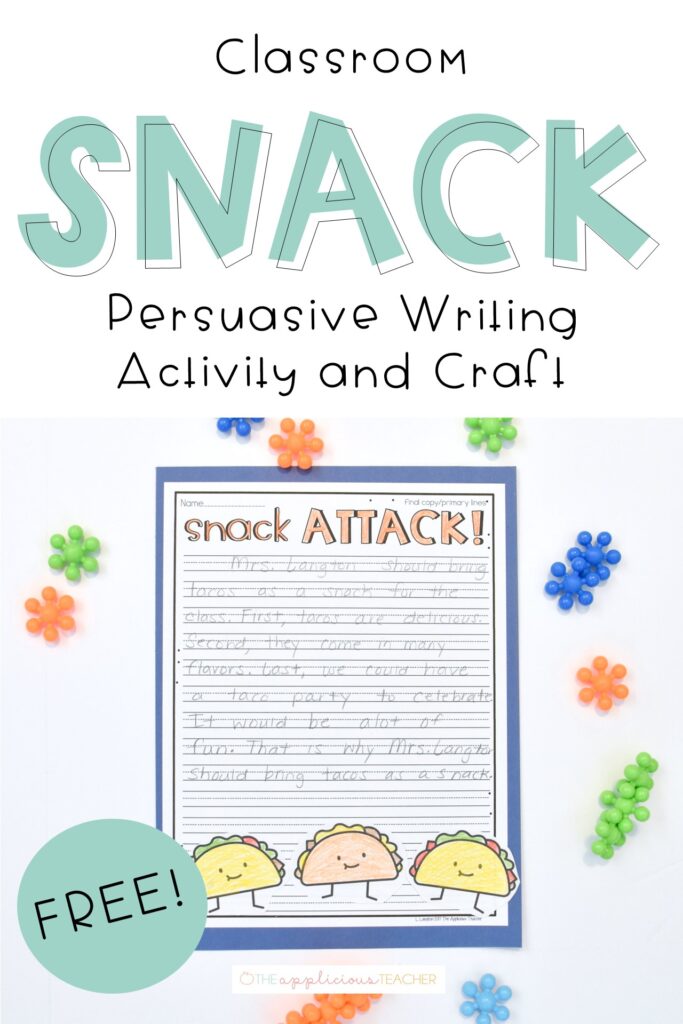 Please note this post contains affiliate links. Please know that I make a very small commission from your purchase if you follow my links. There is no cost to you, but this extra coinage allows me to continue creating free resources and writing awesome content for you!
Snack Attack Persuasive Writing Activity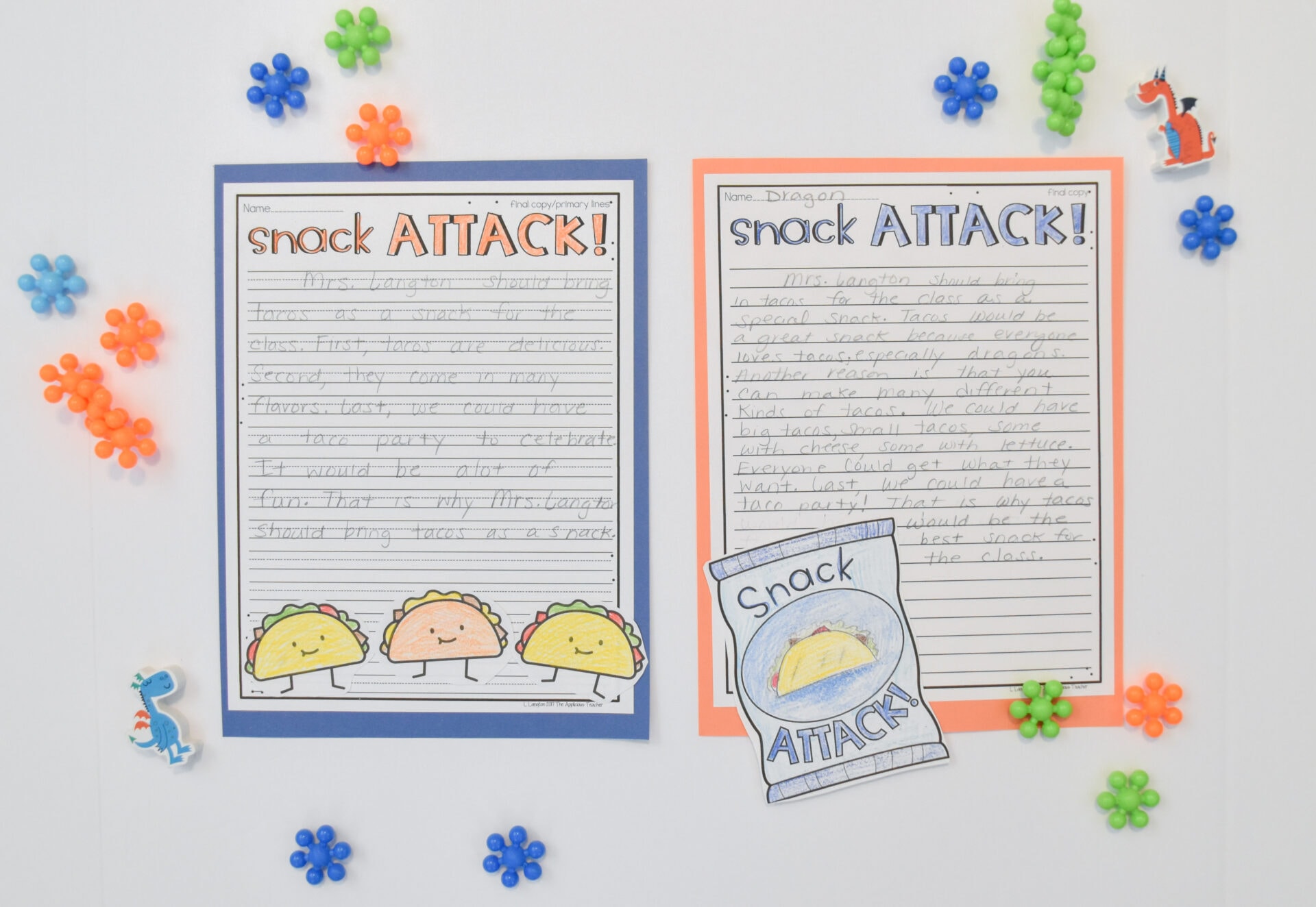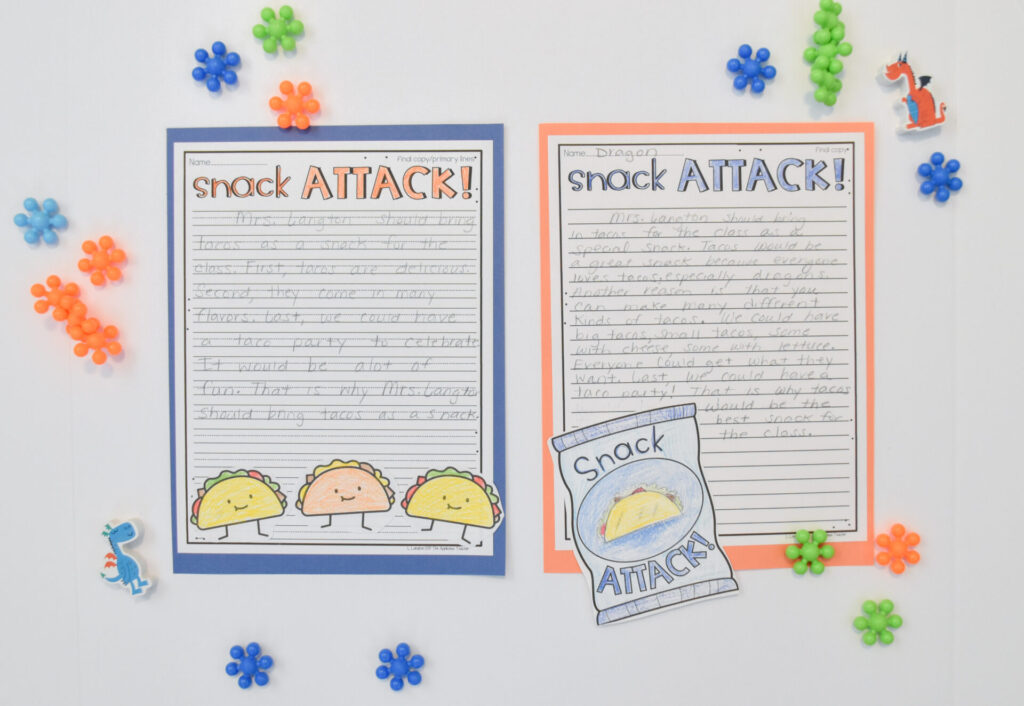 In Snack Attack! Students will write a persuasive essay convincing their teacher to provide a preferred snack to the class. This writing project will help your students write a persuasive essay using:
A clear position statement
Evidence or details to support their position
I promise your students will love this persuasive writing!
Suggested Books for Persuasive Writing in 2nd Grade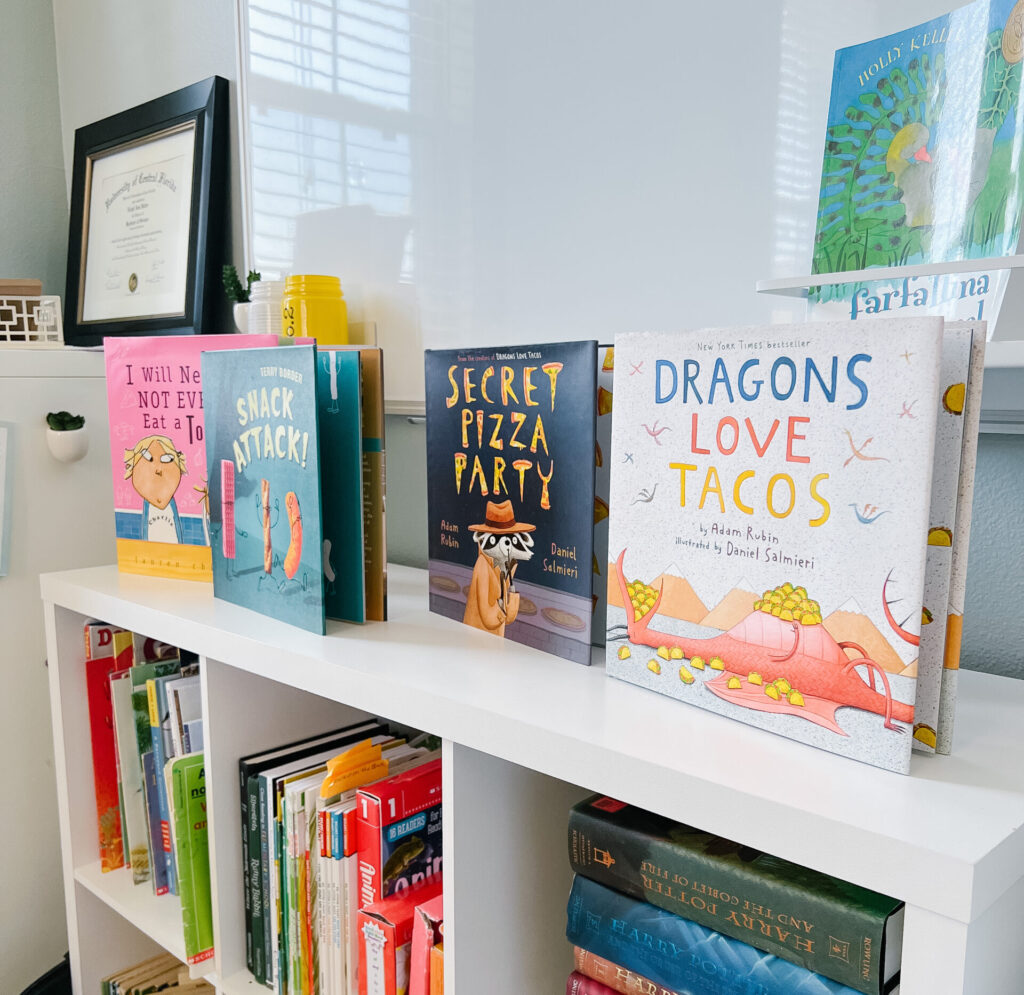 When teaching a new topic, I love using resources that will provide my students with some background knowledge. There are two books I highly recommend that will help spark the conversation of persuasion with your students.
The first book is Dragon Loves Tacos by Adam Rubin. This deliciously funny read-aloud is an unforgettable story about new friends and the perfect snack that will have your students laughing until spicy salsa comes out of their noses!
The second book I recommend is also by Adam Rubin. Secret Pizza Party is about a raccoon who loves pizza! However, someone is always chasing the poor raccoon away from his favorite food. What does he decide to do? Plan an elaborate secret pizza party, of course!
Both books are great ways to discuss how the author uses details to support their claims with your students.
Here are a few other books that would work for this writing activity, too:
Brainstorming Ideas
After reading the story, it's time to introduce the writing! Tell students that they'll be working on writing a persuasive piece where they're trying to persuade YOU to bring in a snack for THEM!
From there, brainstorm some snacks that would be class appropriate. Write the snack suggestions the class comes up with on the board. Then, have students choose which snack they'd like to write about. Send them back to their seat to brainstorm why that snack would be perfect for you to bring into class.
This resource includes a brainstorming sheet. They can work through their thoughts which is a great way to help students zero in on their snack position. Students can also begin to develop details to support their opinion. The brainstorming sheet is super easy to follow and is a great visual for students when planning out their thoughts.
Teacher Note: I suggest you model how to fill out a brainstorming sheet as the students fill in theirs. This can be incredibly helpful for early and emerging writers.
Writing a Rough Draft
Now it's time for the rough draft.
When your students begin to write their rough draft, it is important to remind them to use their brainstorming sheet as a guide. You will want to model for your students so that they understand the expectations. Follow these steps:
Model how an introduction helps tell the reader what the author is writing about
Use the brainstorm sheet to write an introduction sentence
Then, model how to use details- remind students to use capital letters and ending punctuation as they write. Model rereading writing for clarity.
Add a conclusion and discuss how a conclusion helps "sum up" the writing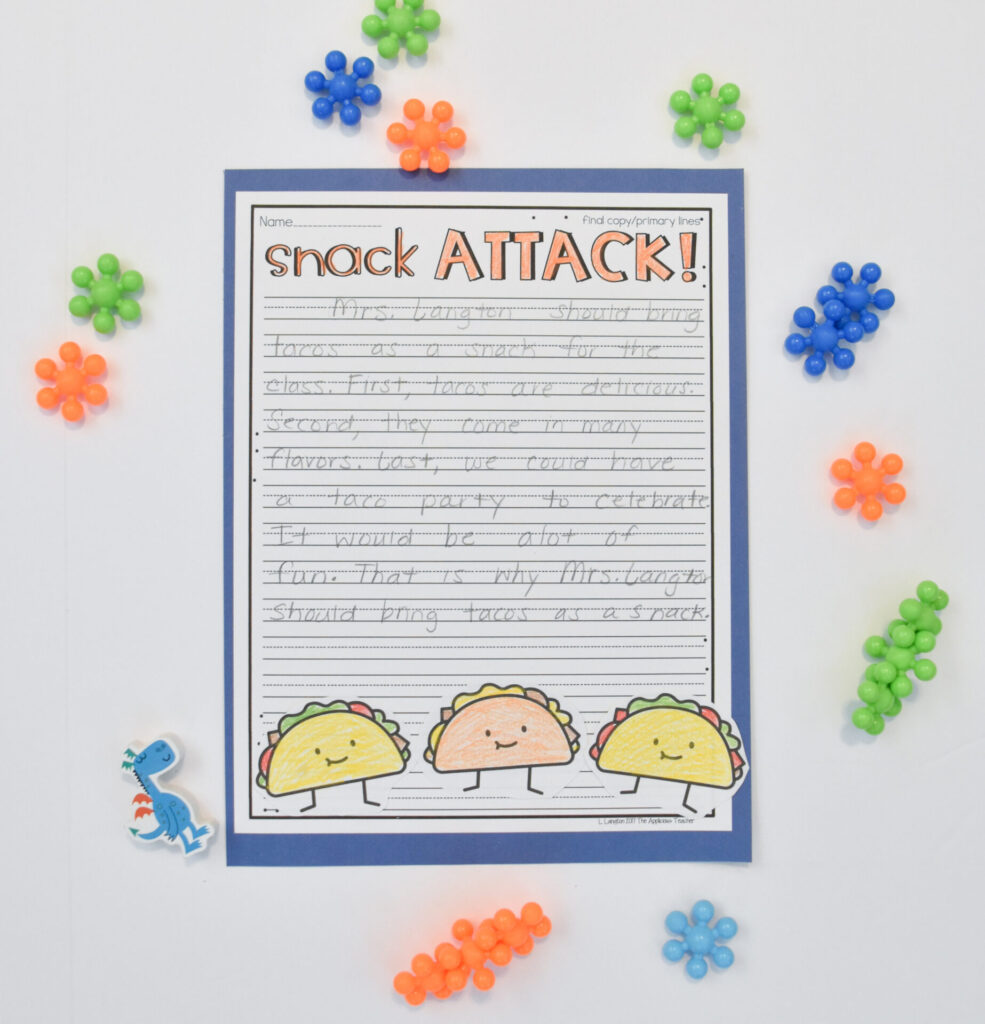 Using a Rubric for Editing
This is one of my favorite things about this resource! Students will use a self-checking rubric which helps them learn the editing process. I always like to begin by discussing how to use the rubric. It is also a great way for your students to ensure their writing has all of its pieces. There are many ways you can have your students edit their writing pieces. For example, using the rubric, students can check over their writing independently or pair up with a partner who can share their opinion or make suggestions.
Revise and Rewrite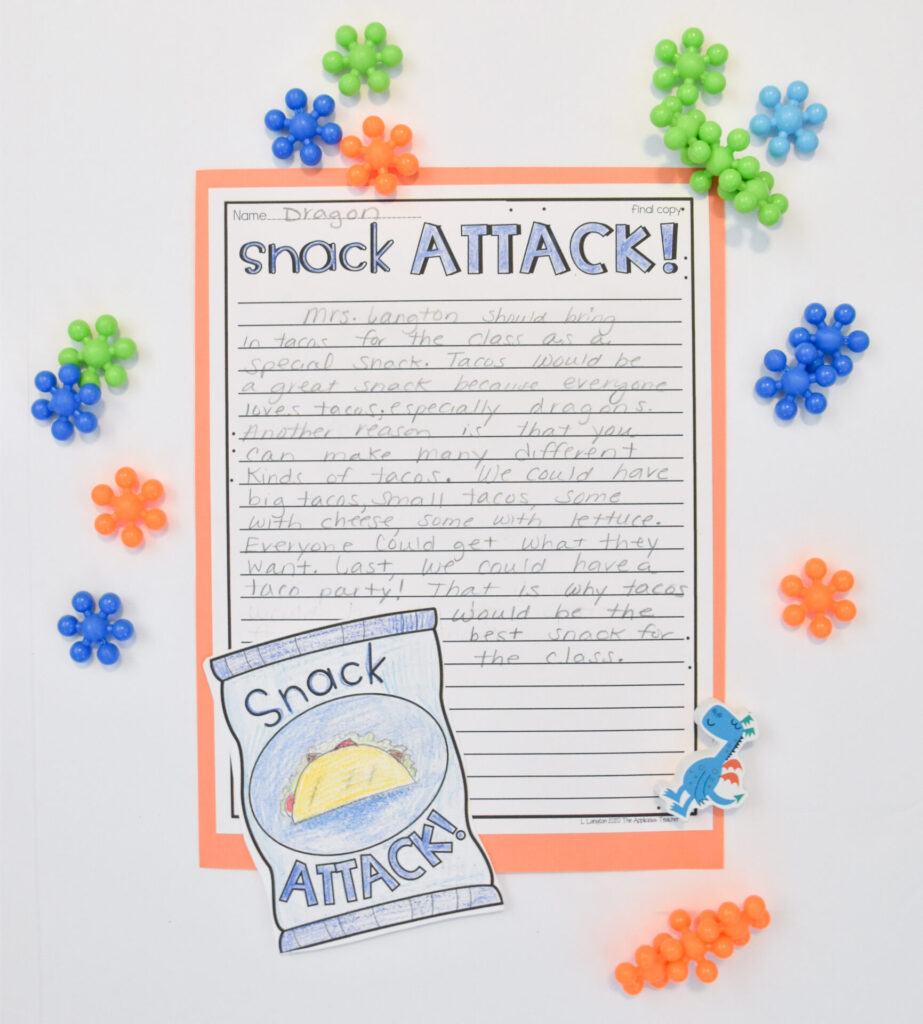 After students have had the opportunity to edit their writing, they can begin writing their final draft. During the rewriting process, I like to remind my kiddos that they are still using their self-checking rubric as a guide. They can also use any recommendations given by their partner. When students are ready to publish, I give them the special writing page included in this resource. They also get the opportunity to create a craft. As a final step, students should attach their rubric to the back of their persuasive writing piece.
Voting for the Best Snack
One of the best ways to increase student engagement with this writing activity is to actually buy the winning essay's snack suggestion. I love making this part a friendly competition! First, have your students share their writing pieces in small groups. While your students are reading, you will want to circulate around the room to find 4-5 most convincing details. Have each student read their writing piece to the class and have your students vote on the best one. I would recommend using a blind voting system with two levels (5 essays, to 3, then 1). Last but not least, bring in that special snack for the class to share!
Free Persuasive Writing Resource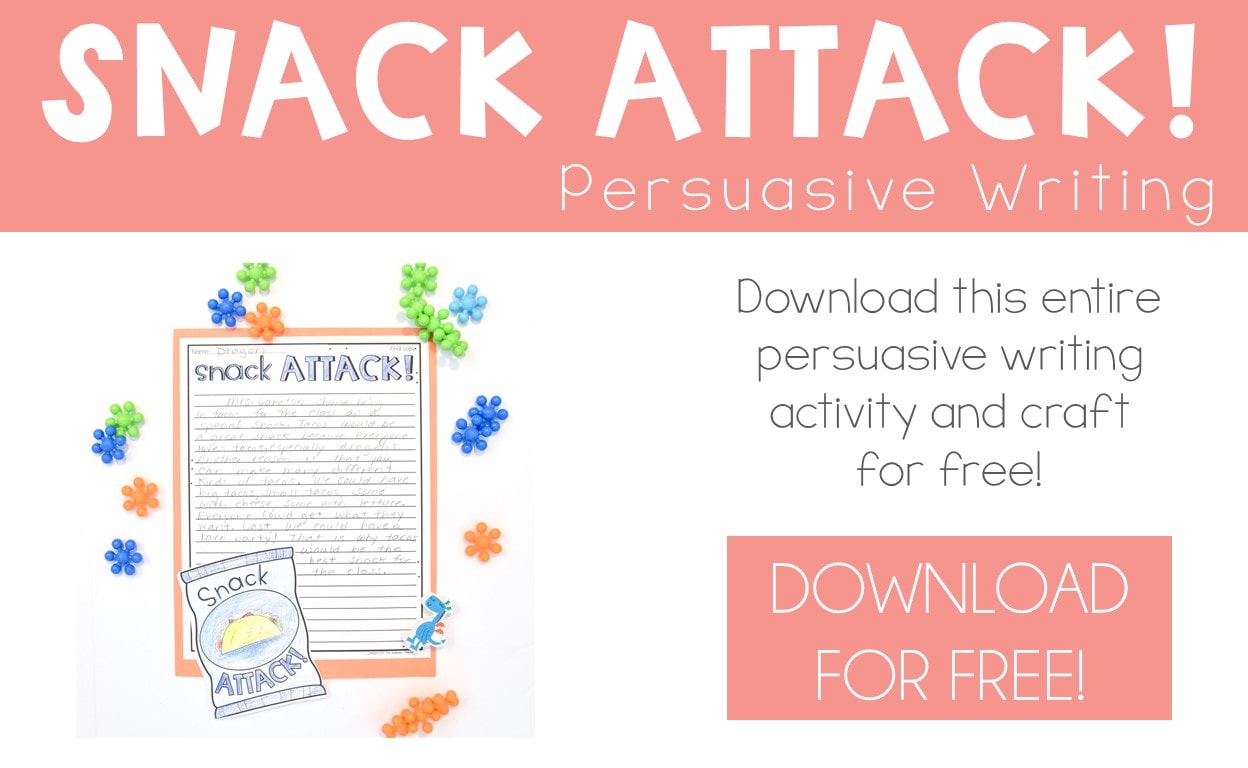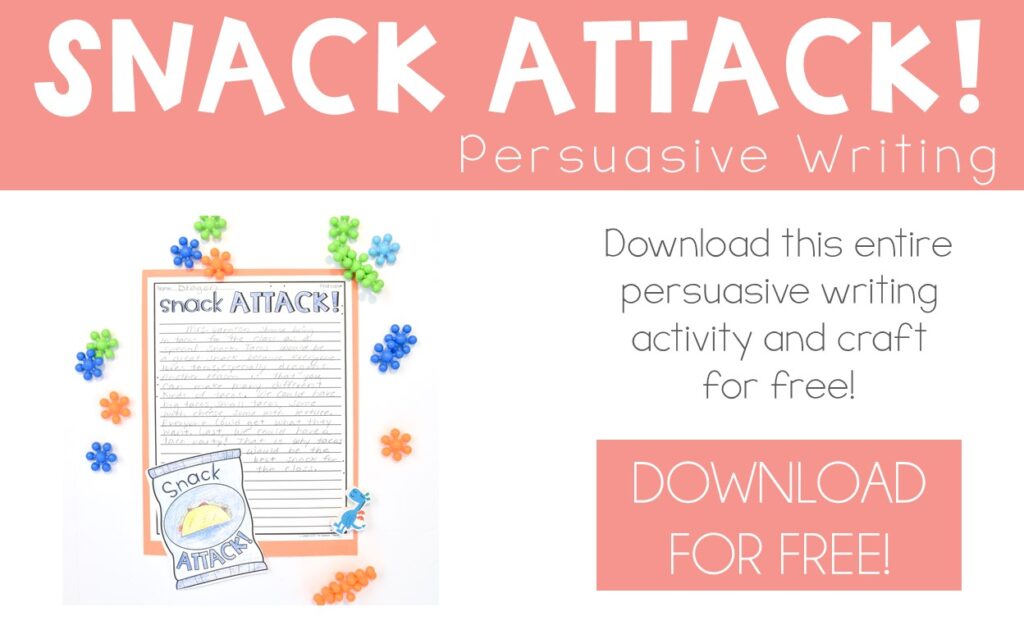 Now that you know all about this wonderful resource, I have some good news! Just add your email to the form, and you'll get this entire product for FREE! I know this resource will be extremely helpful when teaching your students about persuasive writing. Not to mention that they will be highly engaged and excited to write!
So, tell me, what is one of your favorite parts of this resource? Or do you love it all? Comment below and share your thoughts!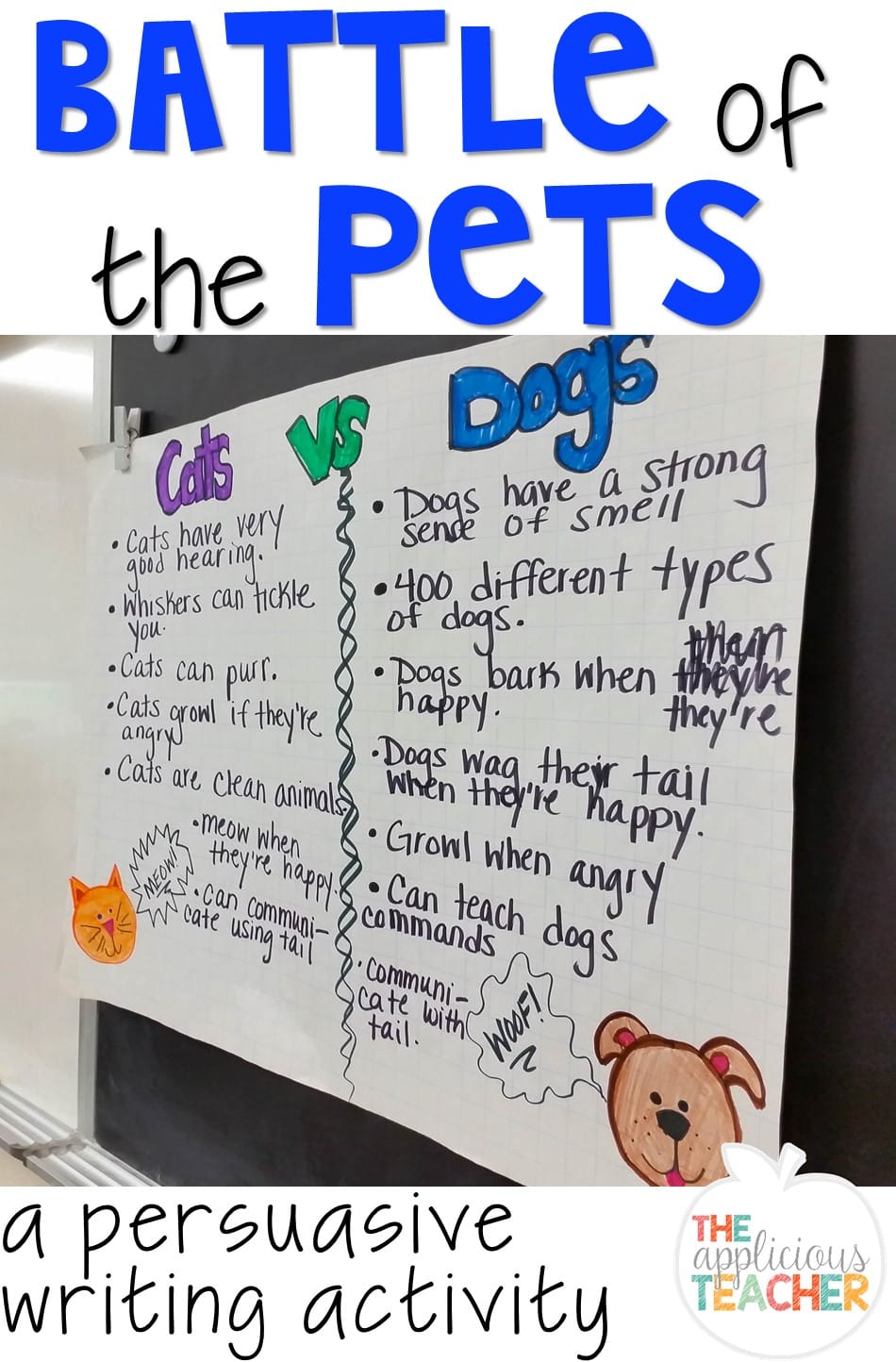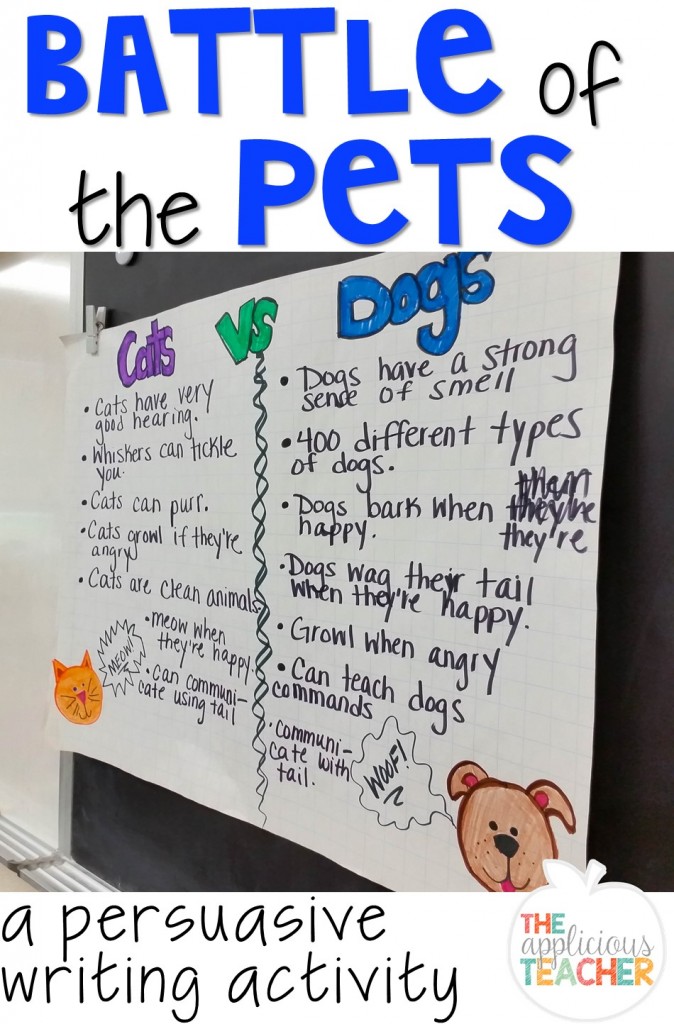 Related Posts
Sign up to snag these!
Receive all these classroom management tools right to your inbox!