One of my favorite events of the year is Meet the Teacher. There's just something about meeting all your new students for the first time, it's like magic! I'm sure you agree! But, this year… many teachers are faced with starting the school year virtually. That means a Virtual Meet the Teacher Event, too. It sounds intimidating, impersonal, and exactly how you don't want to start the year, but I'm here today to share how you can plan a Virtual Meet the Teacher event that still has some of that normal Meet the Teacher magic!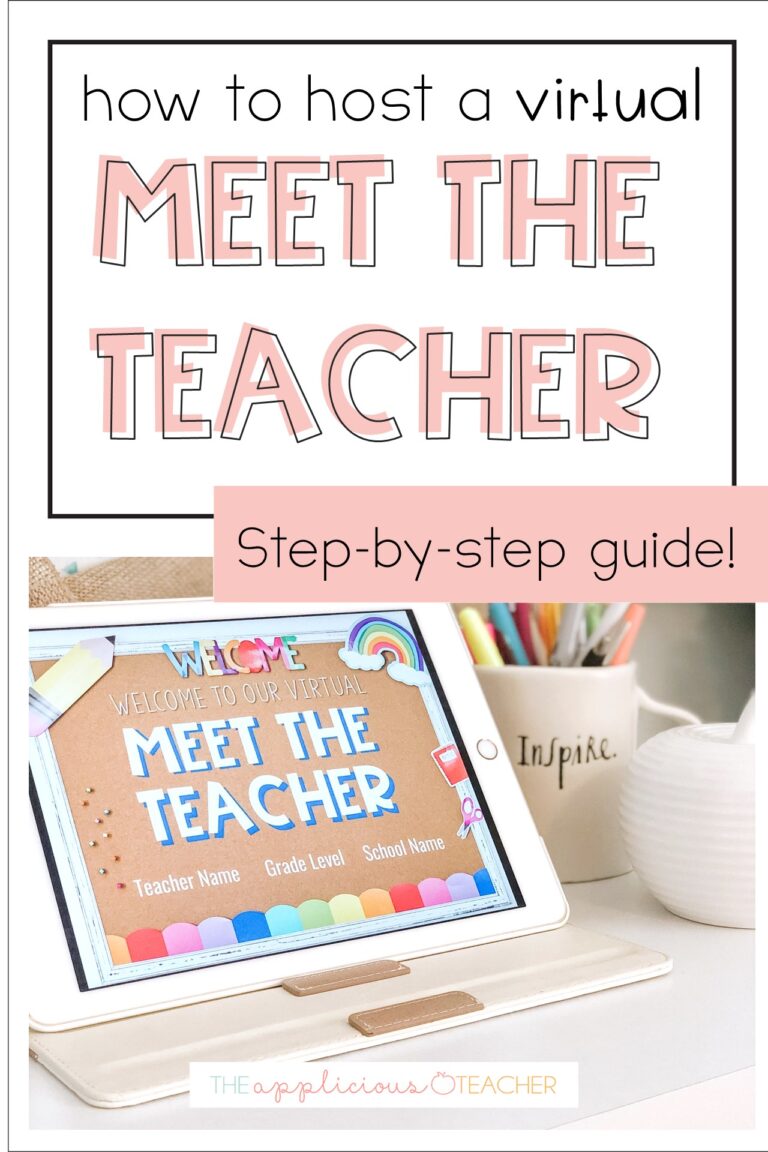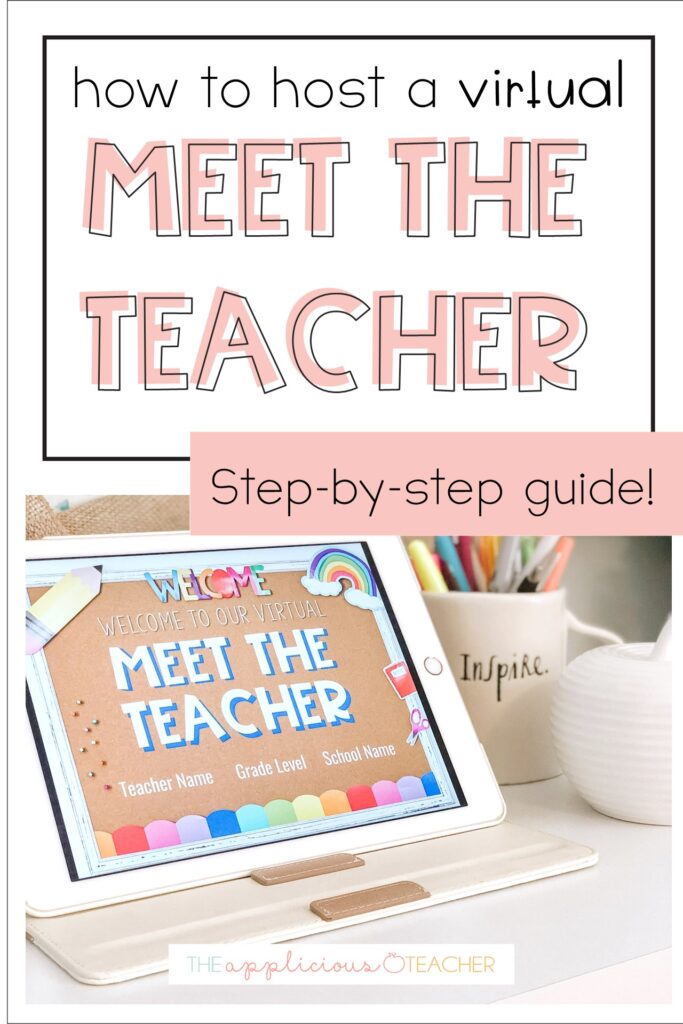 Virtual Meet the Teacher Event
Meet the Teacher is stressful enough, but now we're trying replicating that for a virtual classroom??!! Ugh! How can we make those all-important connections with our new students??
But, I am here to tell you that a successful virtual Meet the Teacher is absolutely possible, and I'm going to show you how to totally ROCK it!!
Our virtual teacher meet and greet will have three phases:
Initial contact
Virtual video conference Teacher Meet and Greet
Virtual Meet the Teacher informational digital slide show.
Need to plan an in-person Meet the Teacher? Check out this post!
Initial Contact with Families
Okay, let's first talk about that initial point of contact with your new families.
One of the most important parts of a Meet the Teacher event is that you get a chance to meet your students and their families. It allows you to have a positive first point of contact. When you're doing virtual instruction, you miss that in-person contact. So, you need to make sure that you create a moment where you're going to be able to develop a connection.
So what does that look like in a virtual setting?
Maybe it's giving your families a call to invite them to your virtual Meet the Teacher event, or sending an email with the link for the event.
Whatever works for you, be sure to let them know you're having a virtual Meet the Teacher event and you would really love for them to come and be a part of it! Also, don't forget to let them know how to access it! (Don't worry, we'll talk more about that in a minute.)
Disclaimer:
I'm going to primarily be speaking in terms of Google (TM) Classroom because that's what I'm most familiar with. Since your school might be using Microsoft Teams or Zoom or something else, you'll need to adapt this and make this work for what your district is doing. You do you, boo!
Video Conference Teacher Meet and Greet
Now, let's actually talk about scheduling the "Video Conference Teacher Meet and Greet" part of your virtual meet the teacher event.
First, we need to let our families know about the event. I suggest calling families 4-5 days prior to the day of your event. Then, follow up with an email that will include the link to the virtual event and also a link to SignUpGenius. (more on that in a minute!)
This keeps things on schedule and running smoothly, and also helps you know who to expect so you can better prepare.
And the best way to schedule the video conference portion of the "Virtual Teacher Meet and Greet" is with SignUpGenius!
SignUpGenius for a Quick Teacher Meet and Greet
Now, to create the SignUpGenius form, it is super easy… and, it's FREE! Just create an account and then you click "create a sign-up."
Here's an example of my "Meet the Teacher Day" sign up.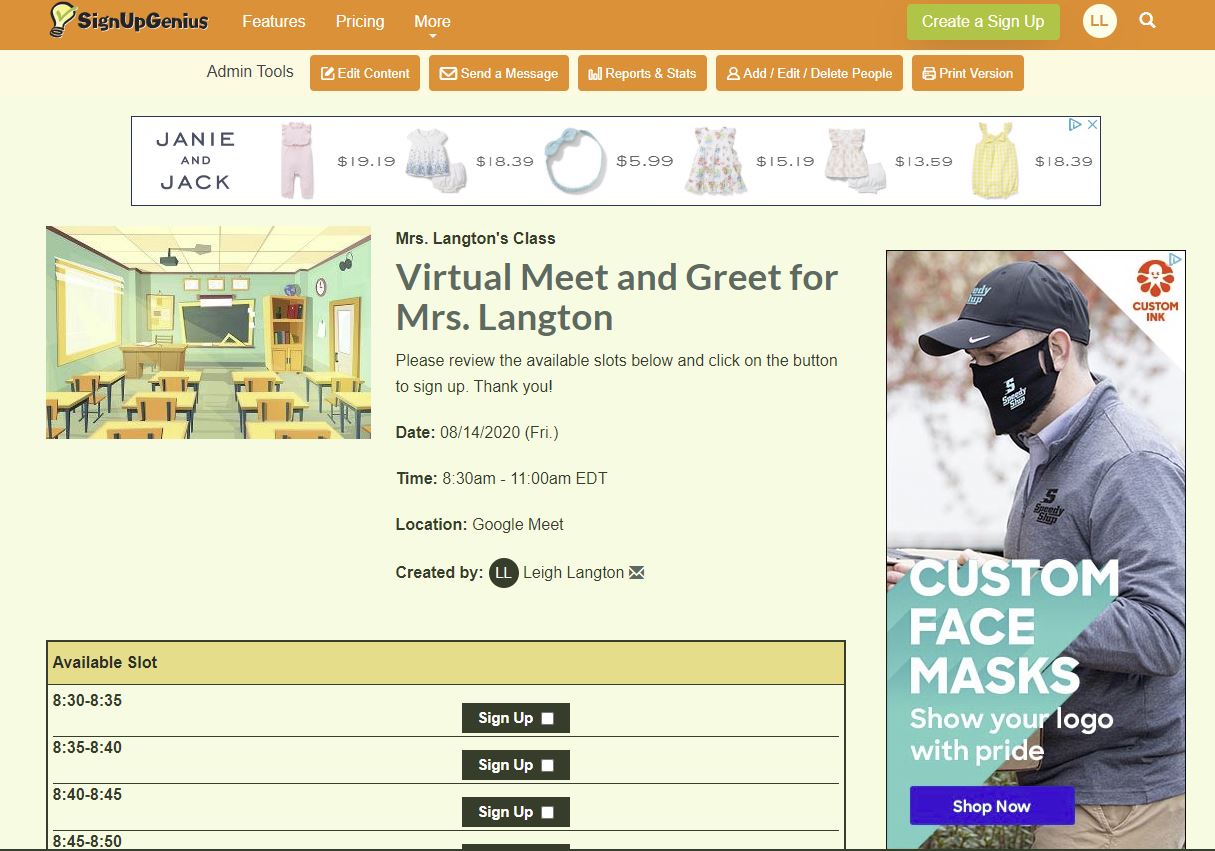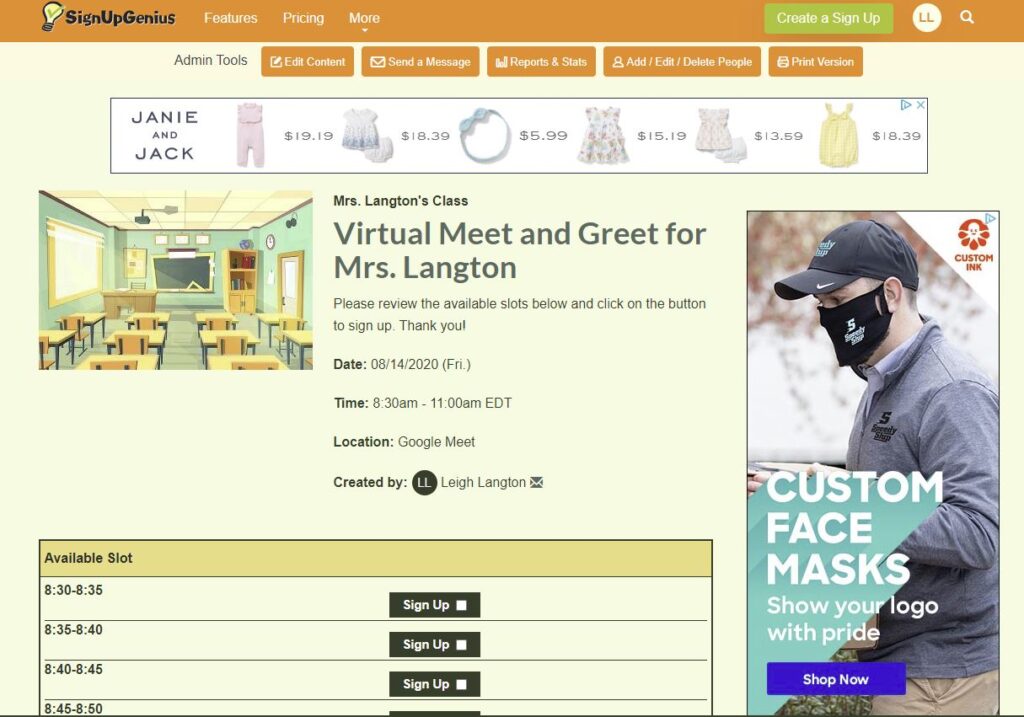 I've got the Meet the Teacher day, time, and location in my sign up form on there. The location could be on Zoom or Google Meet. Either way, put the meeting link there so your families know where to "go".
Next, add the time slot options. I've made slots that are five minutes long. This is the time where you can "see" your students and touch base with your families.
Believe me, five minutes seems like such a short amount of time. But when you are talking to someone you haven't met, and there's not really much else to do other than say hi, ask a few questions and move on! Believe me, five minutes is perfect!
Here's how it will look the day of your Virtual Meet the Teacher Event:
Be ready in your Zoom or Google Meet.
Then, every five minutes or so, you'll have parents and students coming through. There, you'll get a chance to touch base. Introduce yourself, say hi to the family member(s) or caregiver(s), meet your student (the best part!), and let them know that you are excited for them to be in class this year with you! (So true!)
Also, let your families know you have some forms and things for them to fill out in our Google classroom, so be sure to click the link you had sent over for the Virtual Meet the Teacher event.
Applicious Teacher Tip! Keep track of who came through your virtual event! At an in-person event, you'd have a sign-in sheet, but it's a little trickier with a virtual event. Here, I suggest keeping a checklist of your students (like the one found in my best-selling School Forms and Checklist Pack!) That way, as you meet with families and digital forms are submitted, you can place a checkmark on the checklist. Then, at the end of the event, you know what families and students you still need to touch base with.
Virtual Meet the Teacher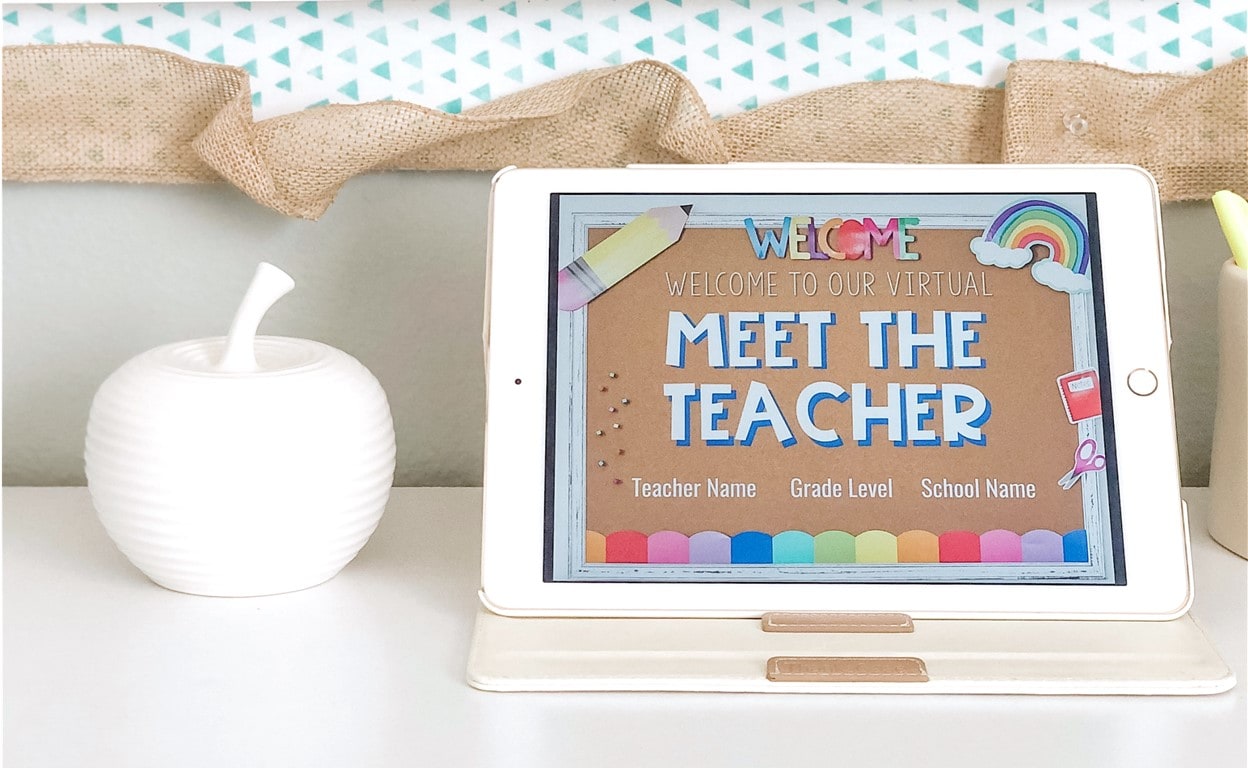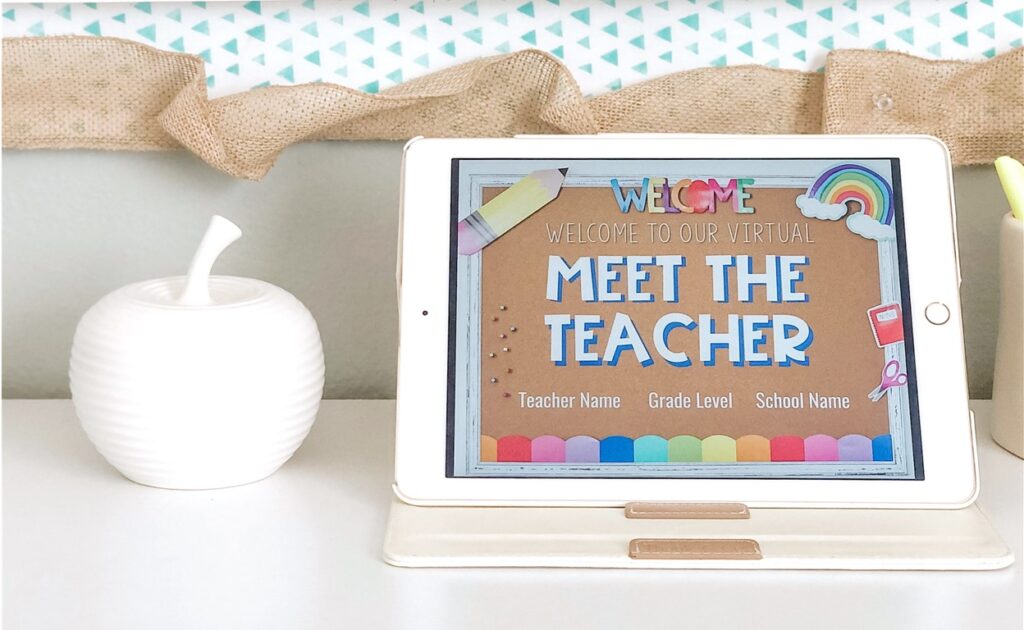 Okay, now, let's look at our actual virtual event slideshow and how you can use it! I've made a Google slides presentation that you can share and send it out to parents via email or post it in your digital classroom.
(In my Google classroom, I created it as a topic: Virtual Meet the Teacher. Once students are assigned to me, they'll be able to go in and see it.)
Alright, let's look at this Virtual Meet the Teacher Slide Show presentation. (Please note this slideshow is available alone, or as part of a bigger bundle: School Forms and Checklists)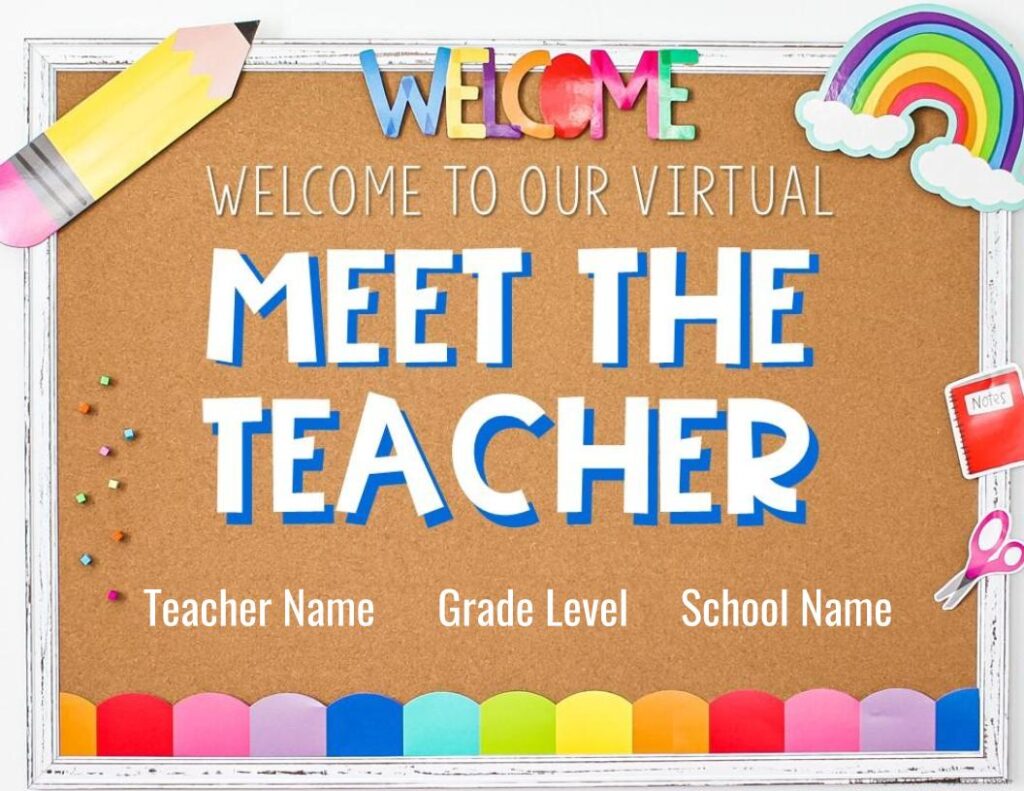 Everything is done for you. All you have to do is go in and add your name, your grade level, and your school name, and add your links.
There are also programable buttons so, when it is shown in presentation mode, parents can click each button and be taken to that part of the Meet the Teacher slideshow.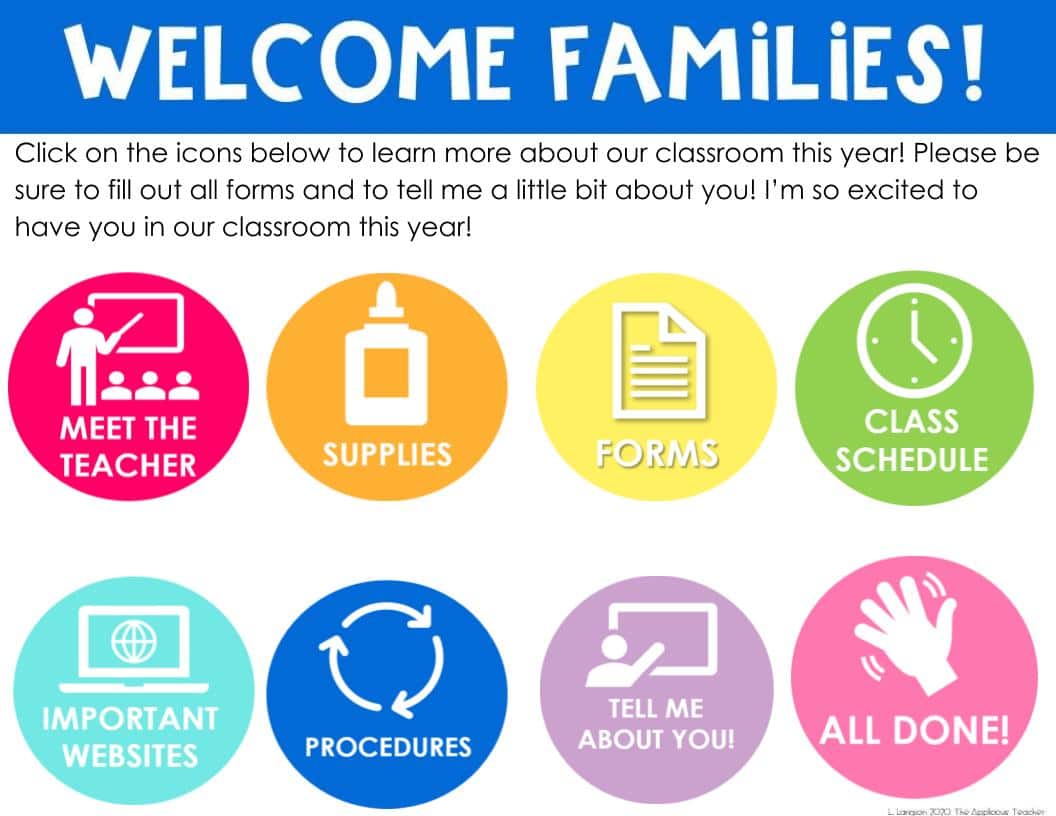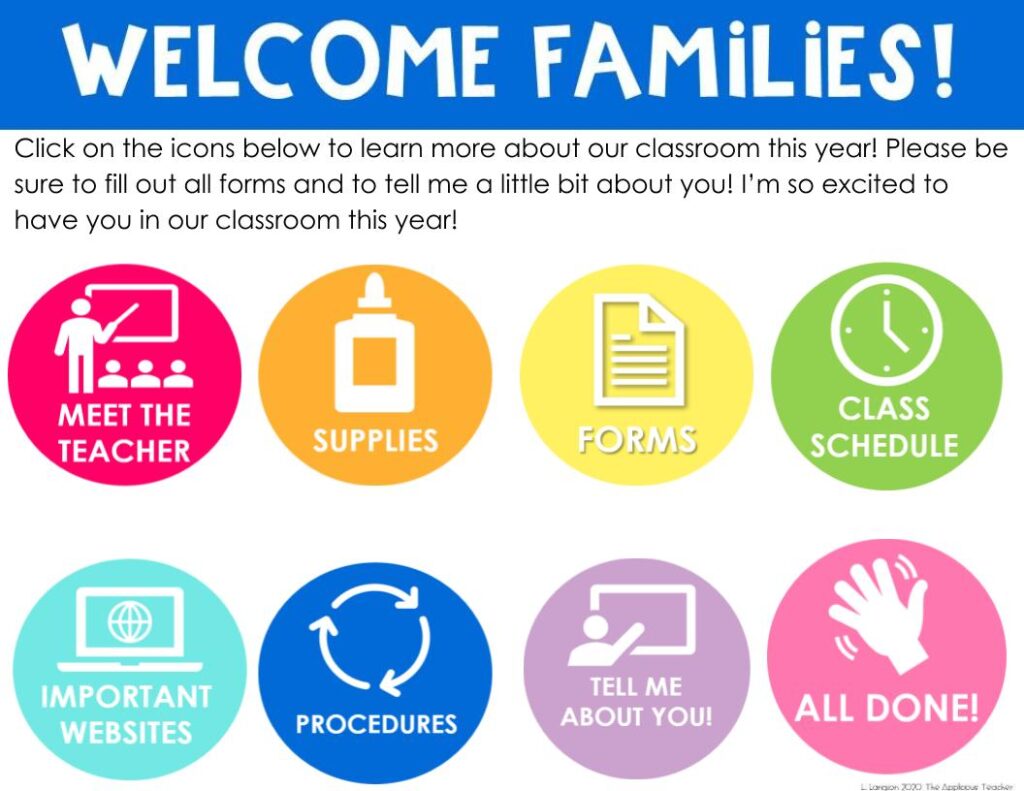 Let's take a quick peek at the slides: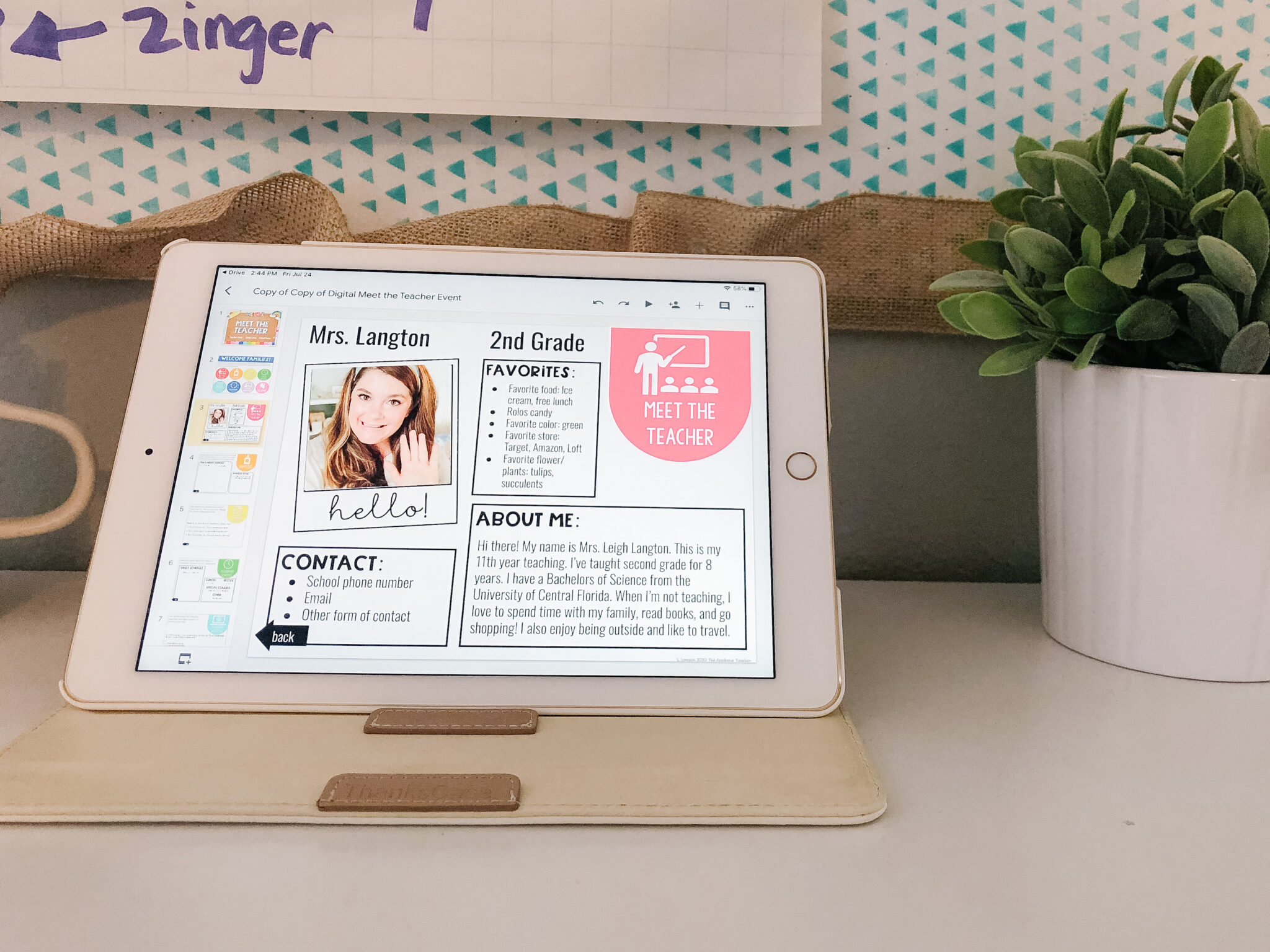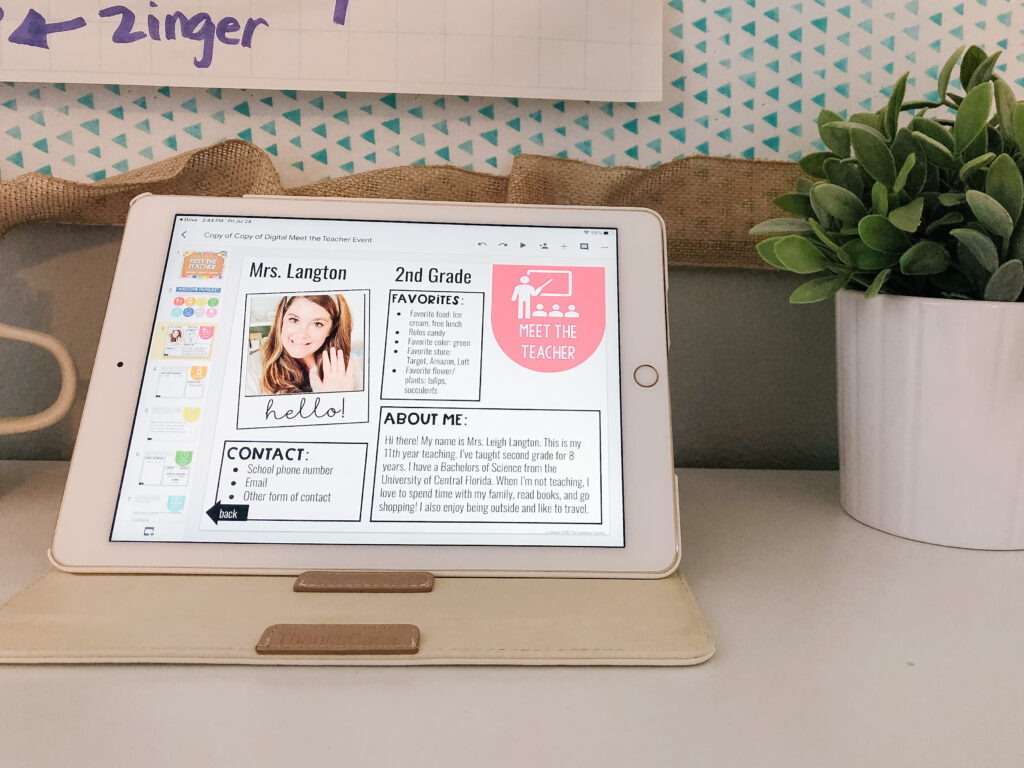 Meet the teacher: Here's your chance to tell your families more about you! Add your photo and some information about you. Don't forget to add your contact information!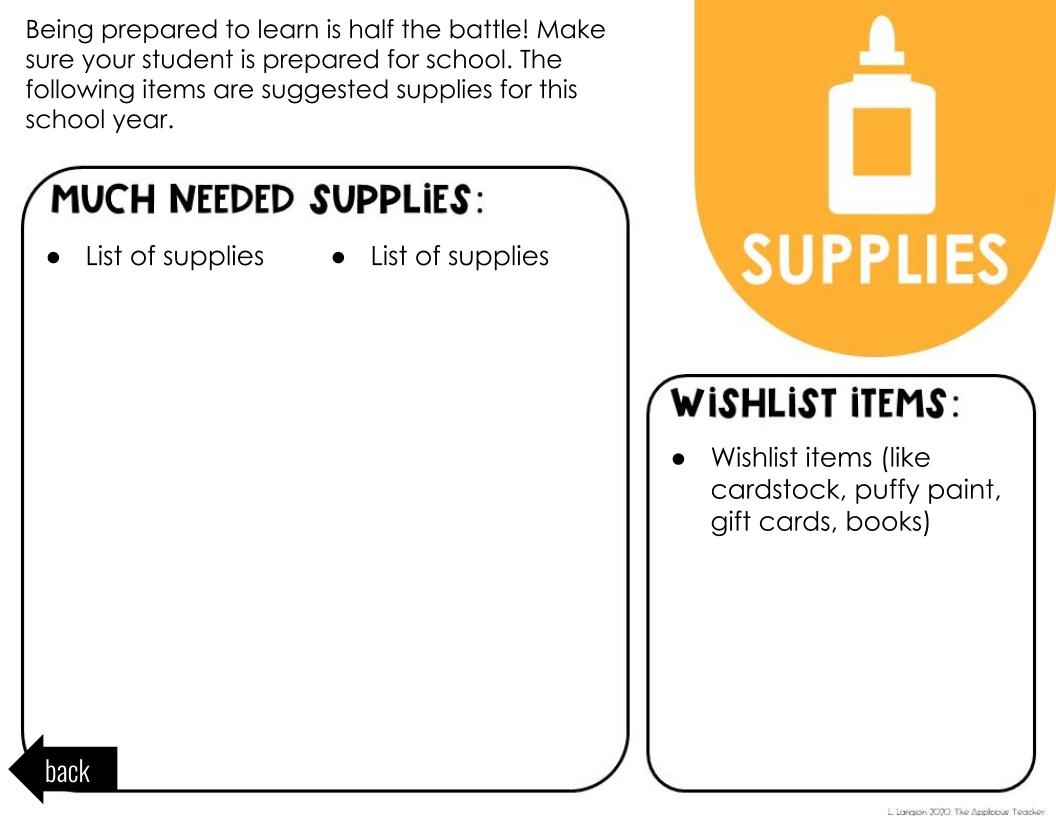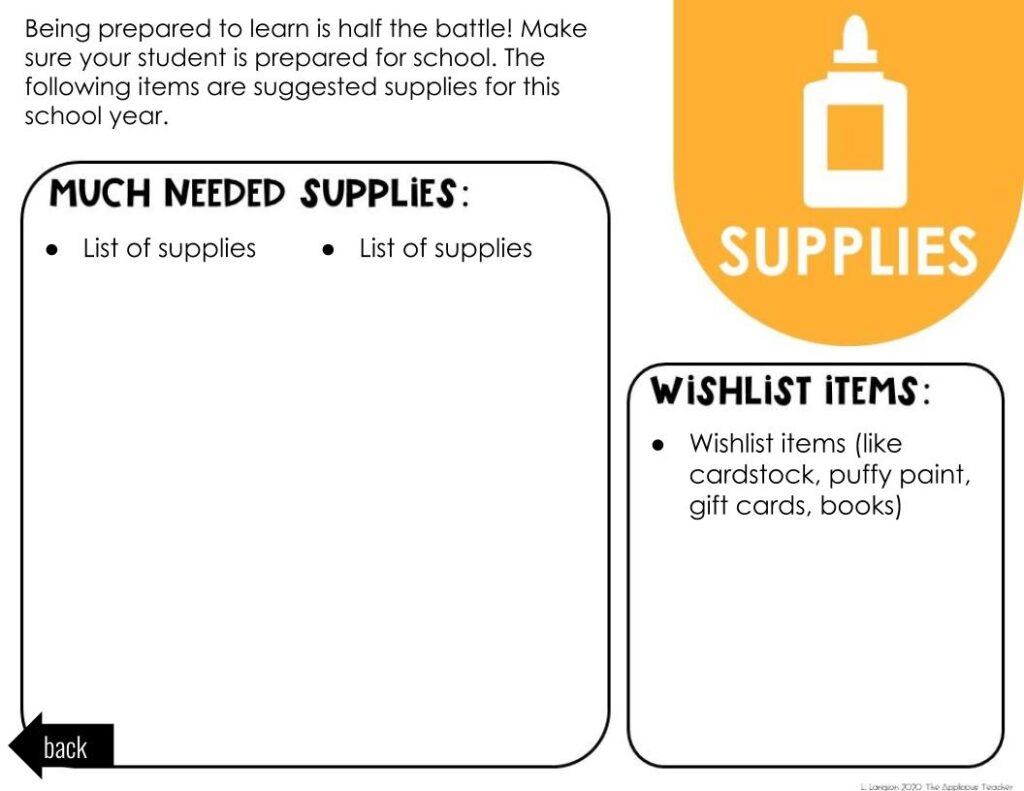 Supplies: Even if you're doing all virtual or hybrid, there will still be supplies needed, or at least recommended. Maybe it's a notebook, pencils, crayons, markers, glue, and scissors. Follow your district's supply list that they have to make it simple. (Oh and don't forget to add some "wish-list items! Things like: cardstock, puffy paint, gift cards, books, highlighters)
Forms: In a traditional Meet the Teacher, there would be tons of forms and sign ups for parents to fill out. So this is a perfect place to hold all your forms digitally!!
Some forms you might want parents to fill out:
Student information sheet
how they are going home
volunteer sign up
parent contact information
PTA sign up
Any other forms
Need digital forms? My best-selling pack: Back to School Forms and Checklists has EVERYTHING you need for your Meet the Teacher event. (AND did I mention they're editable too?)
Really, you can do whatever you need… All you have to do is just type in what you need and then add it to the form section and then highlight it.
Class Schedule: Here you can share your expected daily schedule. This is especially crucial if you're doing a hybrid model where the schedule can be a bit more complicated. Show them in-class vs. home days. Then a general morning and afternoon schedule. You can get more specific like lunchtimes, recess, classes or special times, anything else you want to add.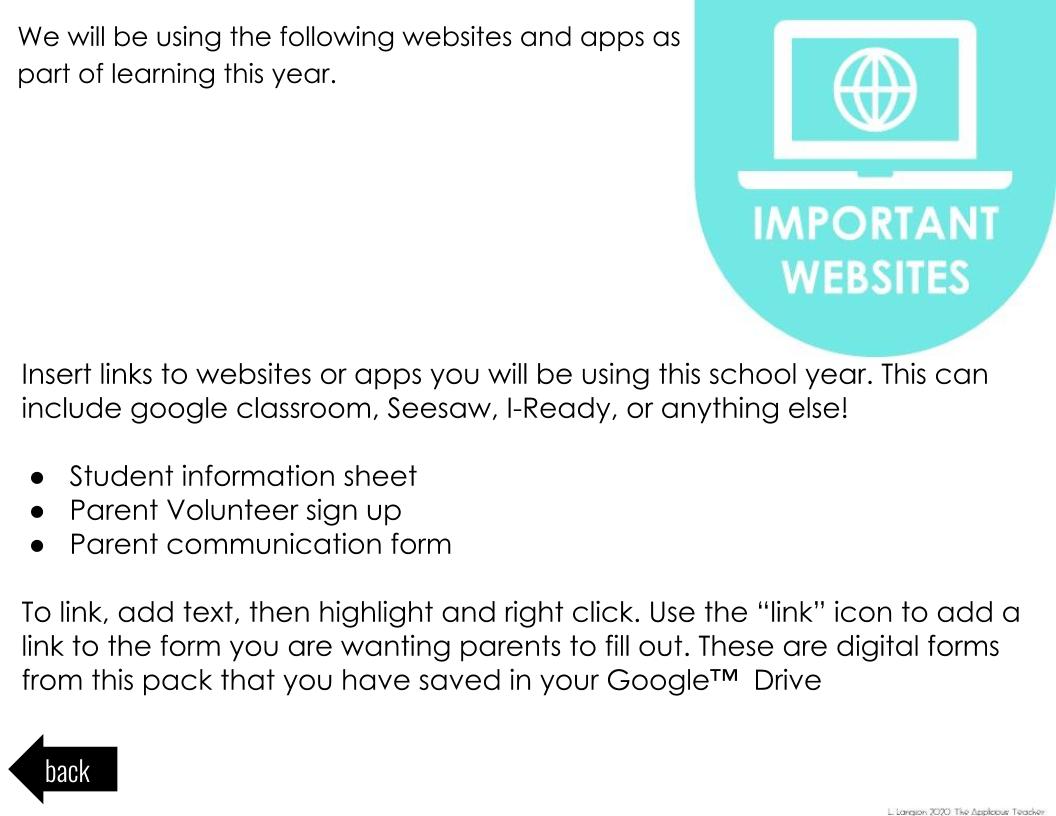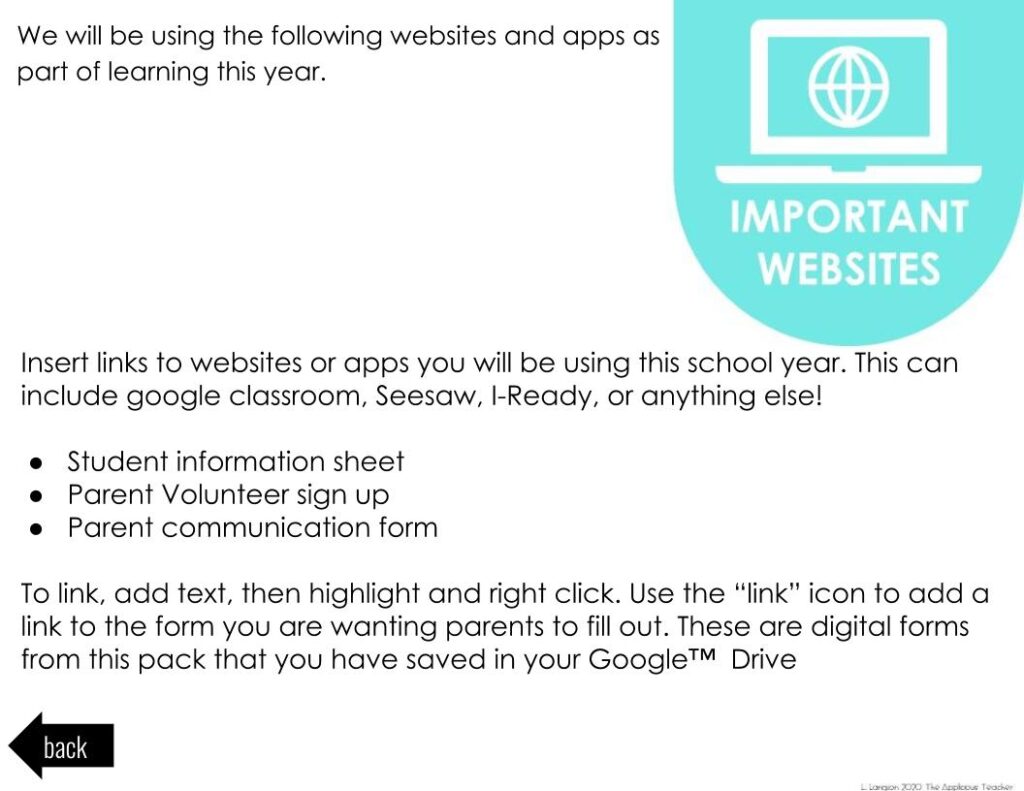 Important Websites: This is where you add links to iReady, Seesaw, ClassDojo, or Klassroom and any other websites you expect your students to be using throughout the year. It will also help communicate to your parents that you're expecting your students to know how to use these websites, or at least be familiar with them.
Procedures: Here's a perfect place for you to talk about some of the procedures that students are expected to follow. It could be homework related, like how to submit homework online. It could be drop off and pick up procedures. Or, it could be your expectations for the virtual classroom. Maybe even include CDC guidelines.
Just remember that this is basically what parents need to know for the first week or two. So, you can always send out more information as it applies. It's basically a crash course in everything they'll need to know to get through those first few weeks of school!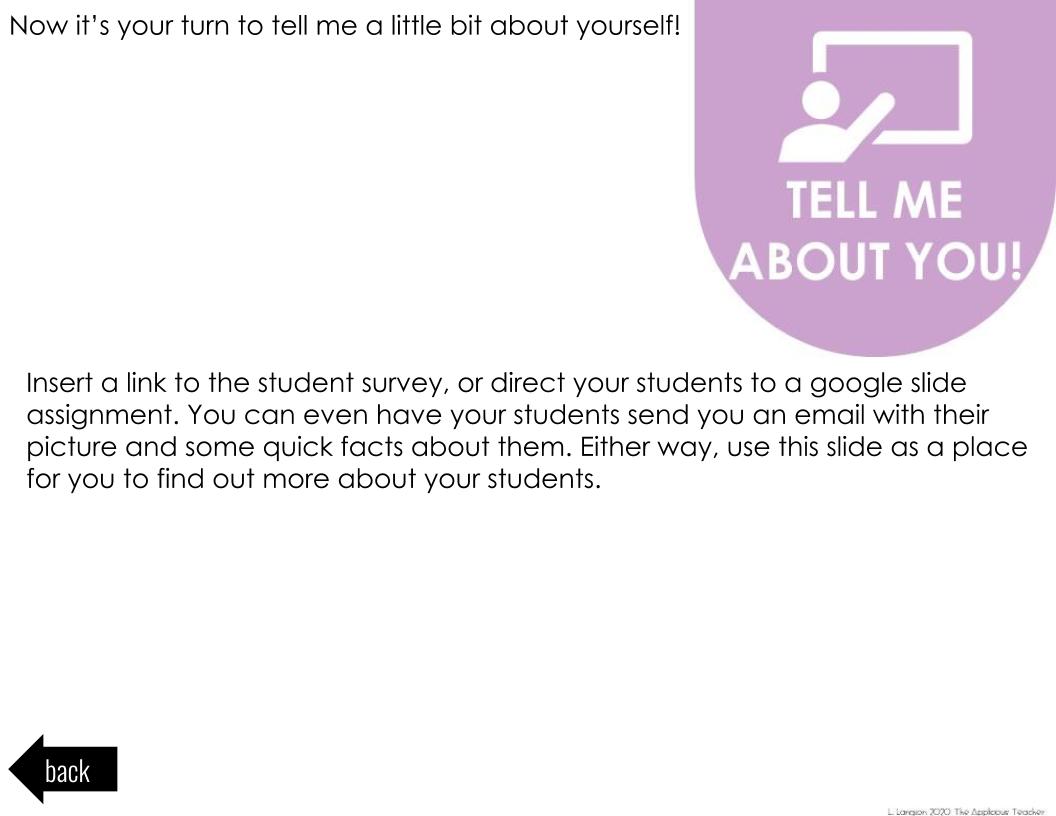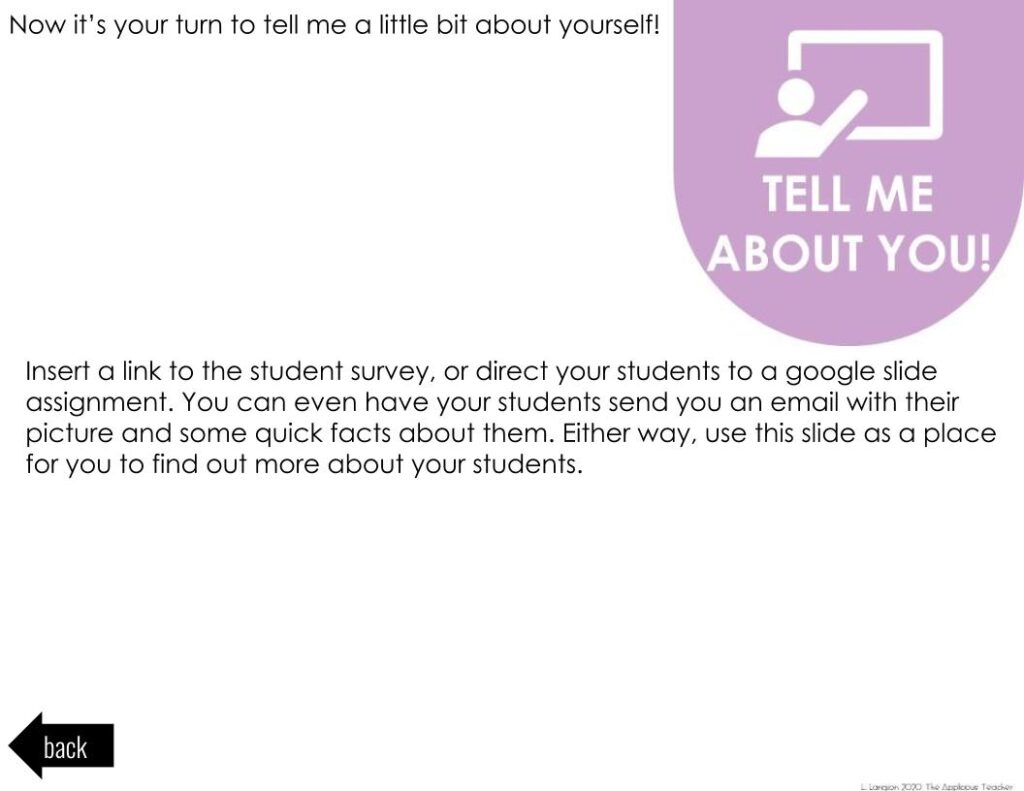 Tell Me About You: So, the last slide is my absolute favorite one because it gives your students a chance to tell you about THEM!! And that's who we really are excited to meet at Meet the Teacher, right? We're so excited to meet those students and the fact that we can't do it in person just breaks my heart as a teacher and I know you feel the same way.
That's why I truly love this slide because here you can have a student survey (like the one found in this pack!) for them to fill out so that you can get to know them better that way. Link to that survey here or have them send you an email with an answer to a "getting to know you" type of question. (Just make sure that they don't type on this presentation!! Eek!) However you do it, this is your chance to really get to know your students.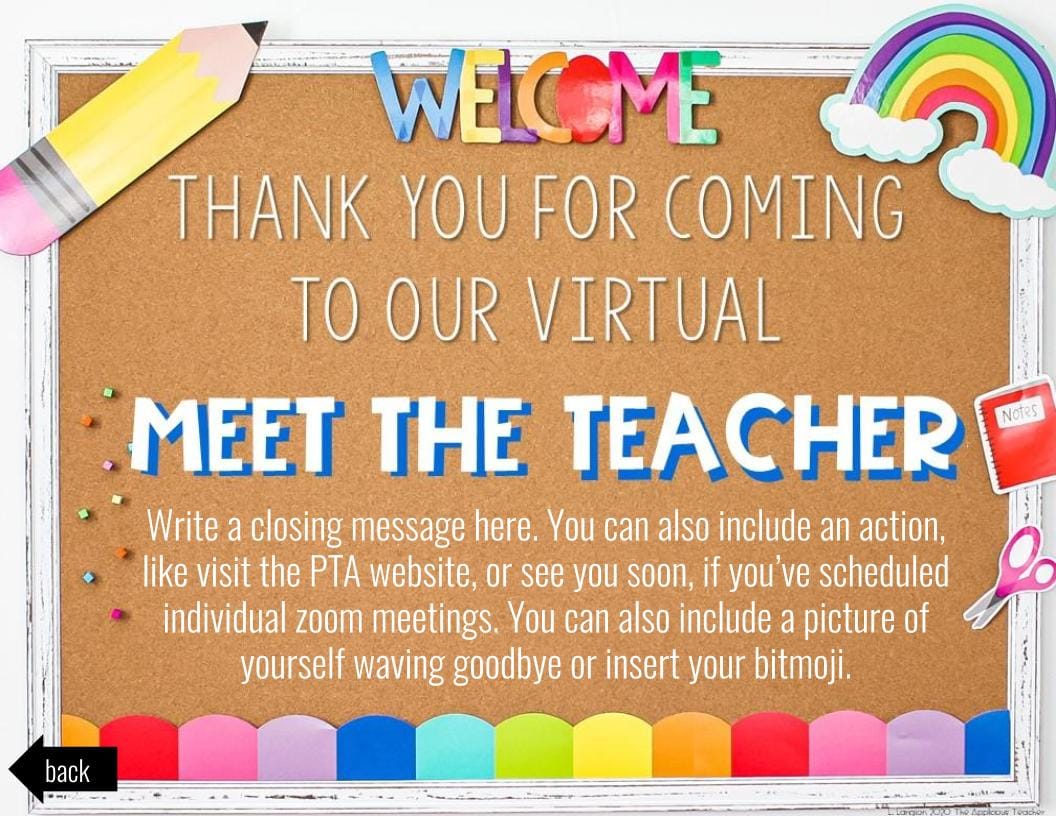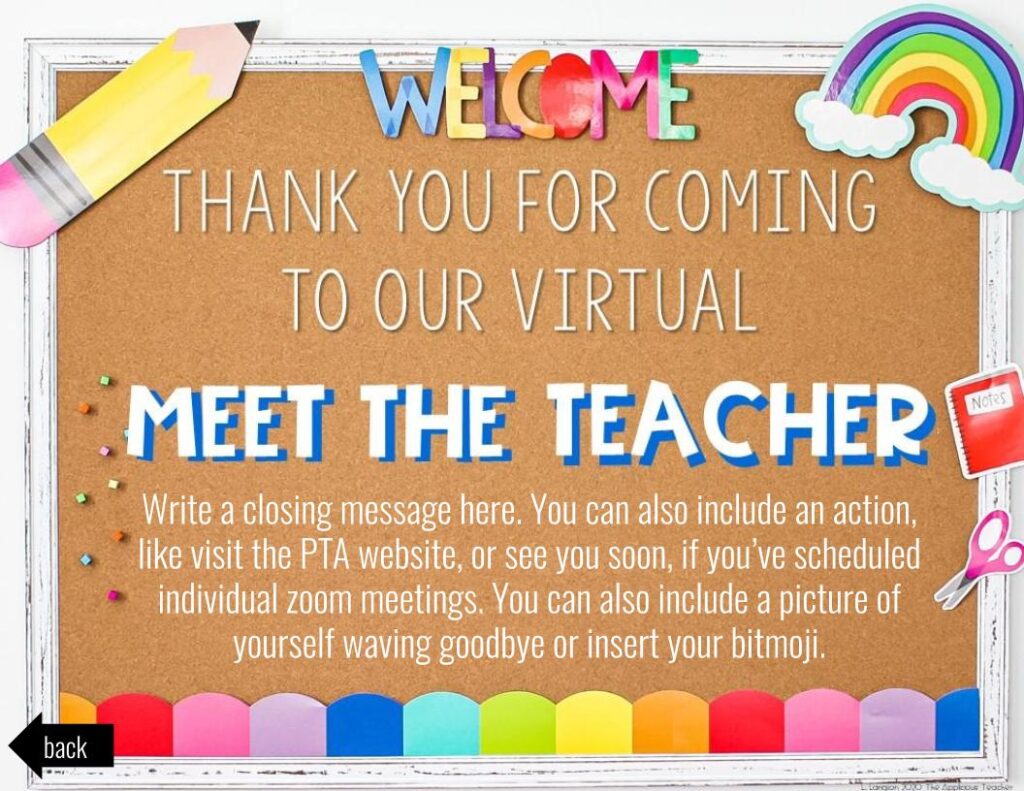 Thanks for Coming: The last side is a thank you slide. This is your chance to thank the parents for coming to your virtual Meet the Teacher event. You can also write a closing message letting them know how excited you are. You can add your Bitmoji or a photo of you.
Posting and Sharing Your Virtual Meet the Teacher
Once you've updated the slides, send it to parents by clicking the share link. Then, using that link, you can email it directly to parents. You can also do what I did and post it in your digital classroom.
Side note: When parents are accessing this file, you're going to want them to be in present mode because that's where they're actually going to be able to see the animations in action.
Now, if you're looking for this Meet the Teacher file specifically, it is listed in my TPT store HERE.
If you want all the forms too, even the ones that I suggested as we walked through this, then there's another link for my Back to School Forms and Checklists Pack that INCLUDES the virtual Meet the Teacher event slides!! Plus, all of the forms I talked about here – like the student information form – and MORE!!! You can grab that one HERE!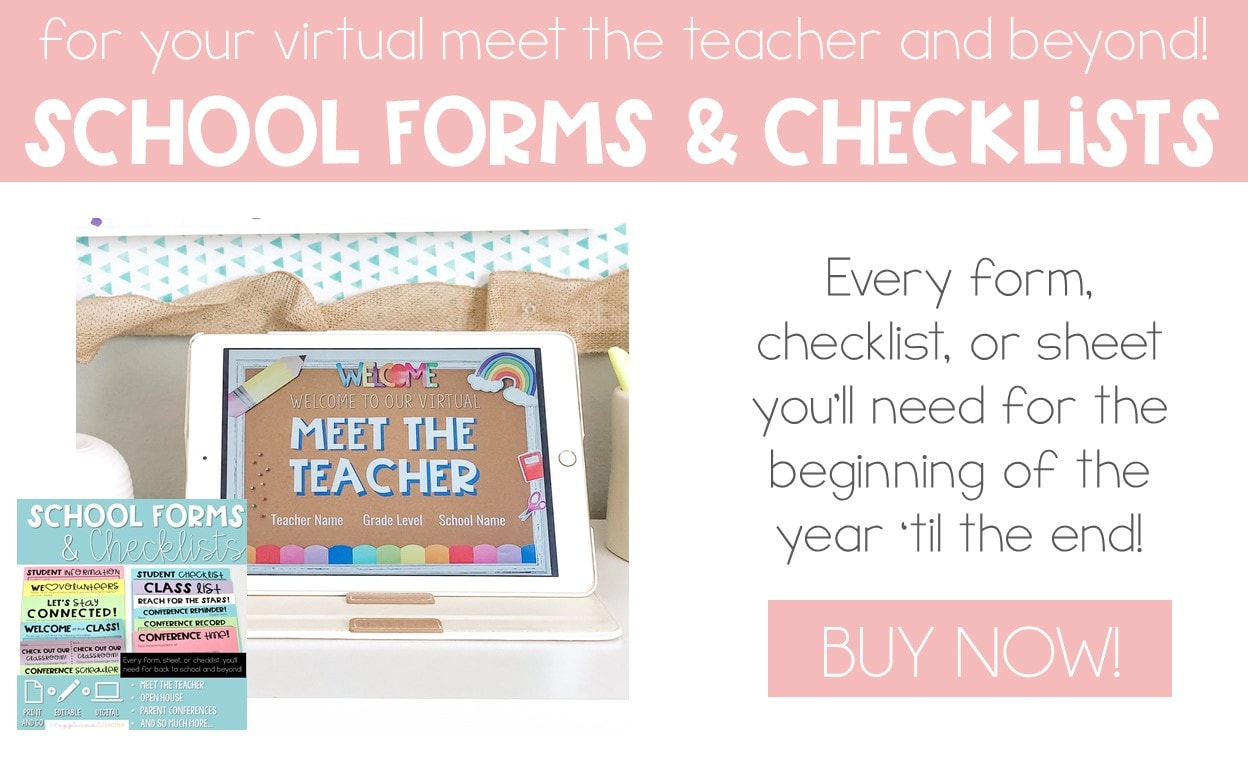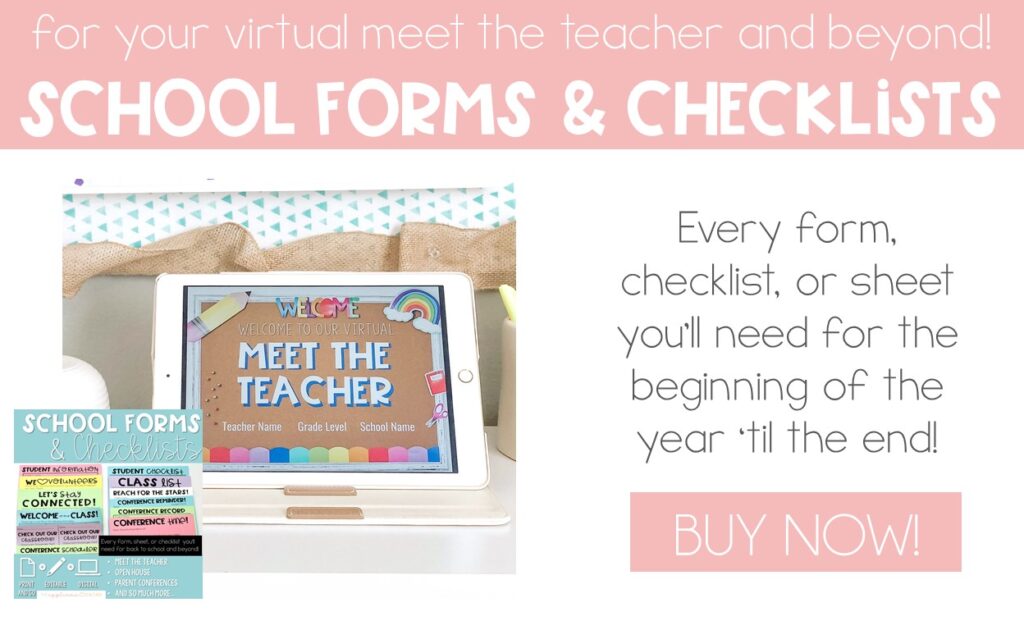 No-Stress Virtual Meet the Teacher Solution!
Ok… I hope this super long post helped you understand how you can navigate a virtual Meet the Teacher event.
I'm happy to be able to do this for you all and walk you through it. I hope this helped alleviate some of the stress you may be feeling starting out the year!!
Have you used this for your Digital Meet the Teacher?! Tell me how it went in the comments!!
Sign up to snag these!
Receive all these classroom management tools right to your inbox!