Well… October is finally here and you know I'm so excited to start pulling out all those Halloween themed books! One of my top-top faves? Crankenstein by Samantha Berger. My students always loved this one, so a few years ago, I made a Beyond the Text unit centered around this Halloween gem. This year, so many teachers are finding themselves instructing their students via a distance learning classroom, I knew I had to take Crankenstein digital! and I'm glad to say it's D.O.N.E just in time for your October reading and writing lesson plans! Let's check out those digital Crankenstein activities, shall we?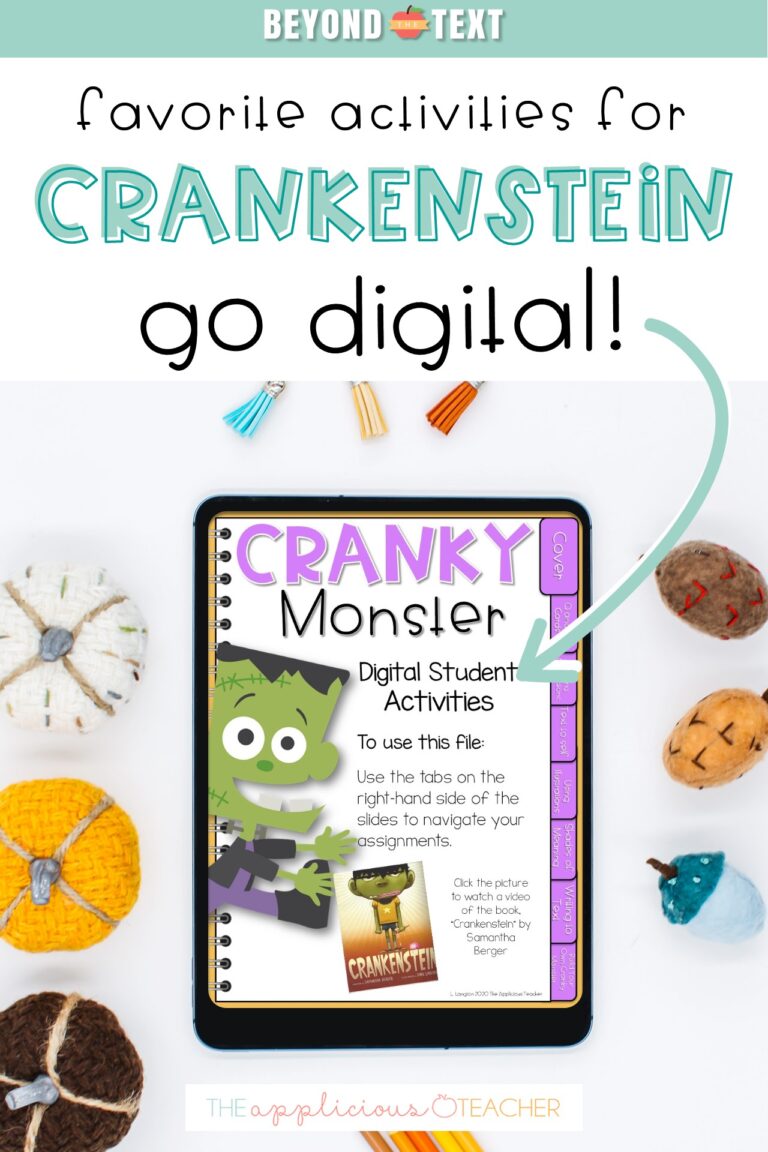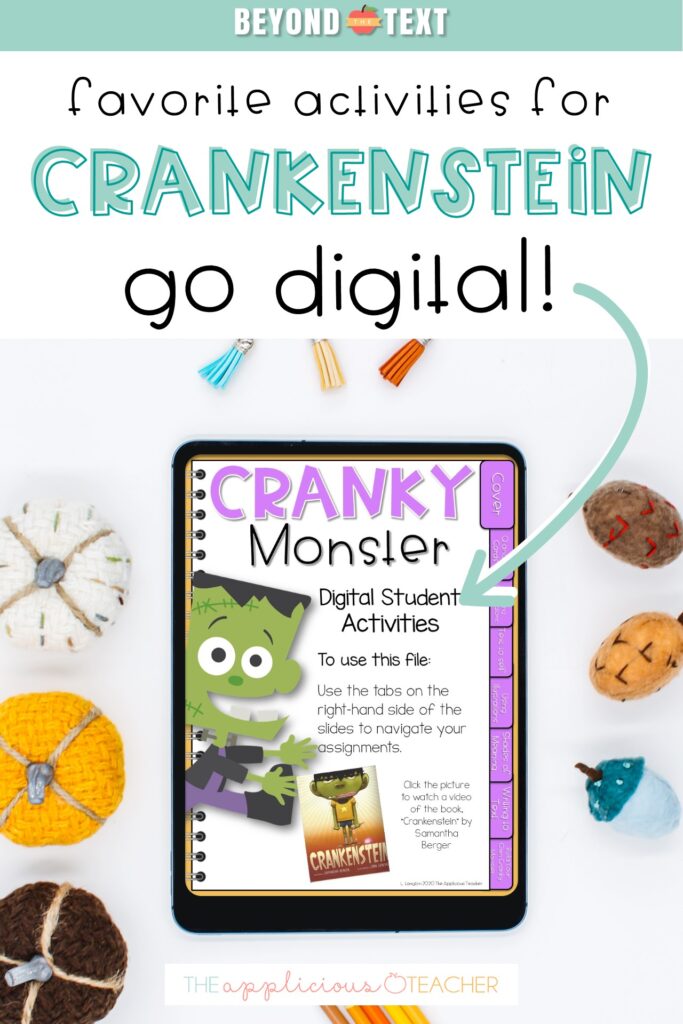 Check out how I used this unit in my 2nd grade classroom!
Beyond the Text: Crankenstein Reading and Writing Activities
Just in case you're not familiar with my reading and writing activity packs, here's a quick run through what Beyond the Text actually is!
Beyond the Text™, is a teaching style that focuses on meaningful and authentic learning practices to engage your students as they build deep connections with a text. Using quality text as a guide, Beyond the Text ™ helps you lead your students through the learning process with repeated readings, mini reading comprehension lessons, vocabulary strategies, and key grammar skills.
Each Beyond the Text unit includes:
5 day reading and writing lesson plans
question cards
Reading comprehension activities
vocabulary strategy instruction
grammar skill focus
responding to text writing prompts
a fun craft!
Check out all my Beyond the Text units here!
Digital Crankenstein Activities
So the new digital student activities are the same as the activities found in the original Crankenstein Beyond the Text Unit. But, they have been reimagined to work in a digital classroom! (Think how easy it will be to plan your hybrid class lessons this upcoming week!)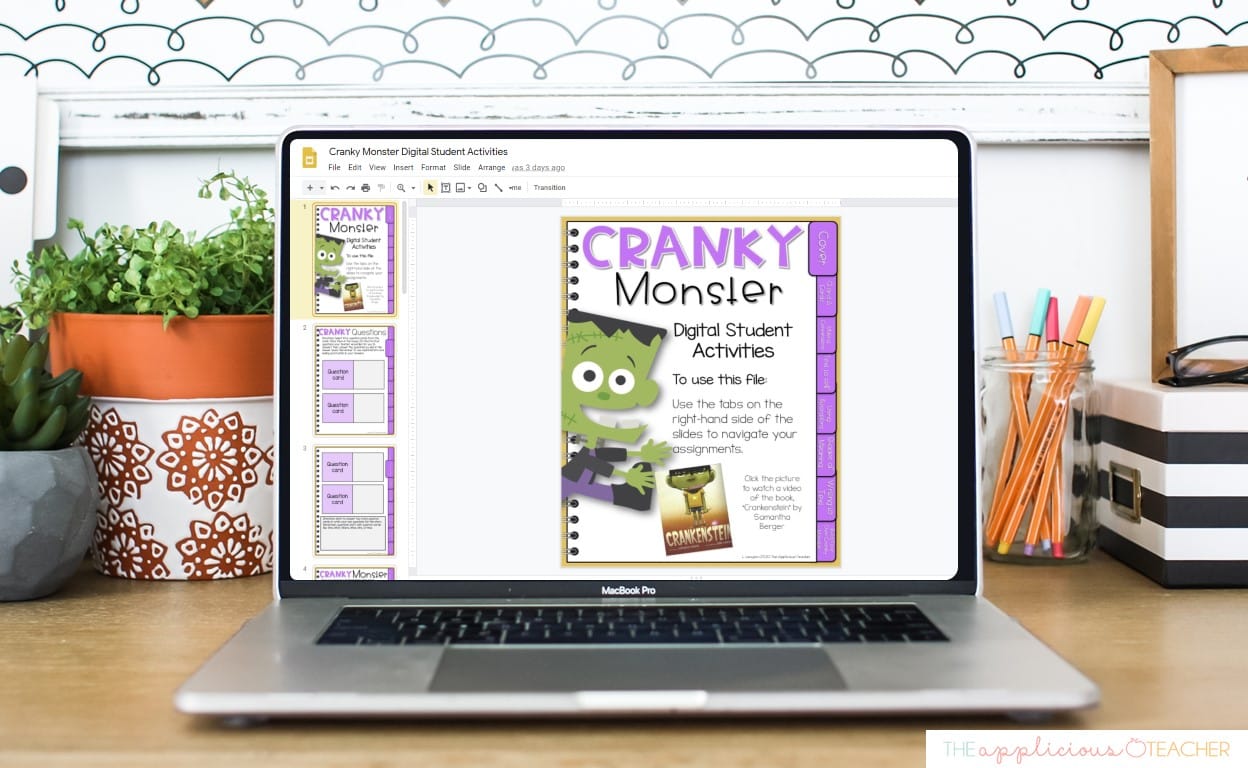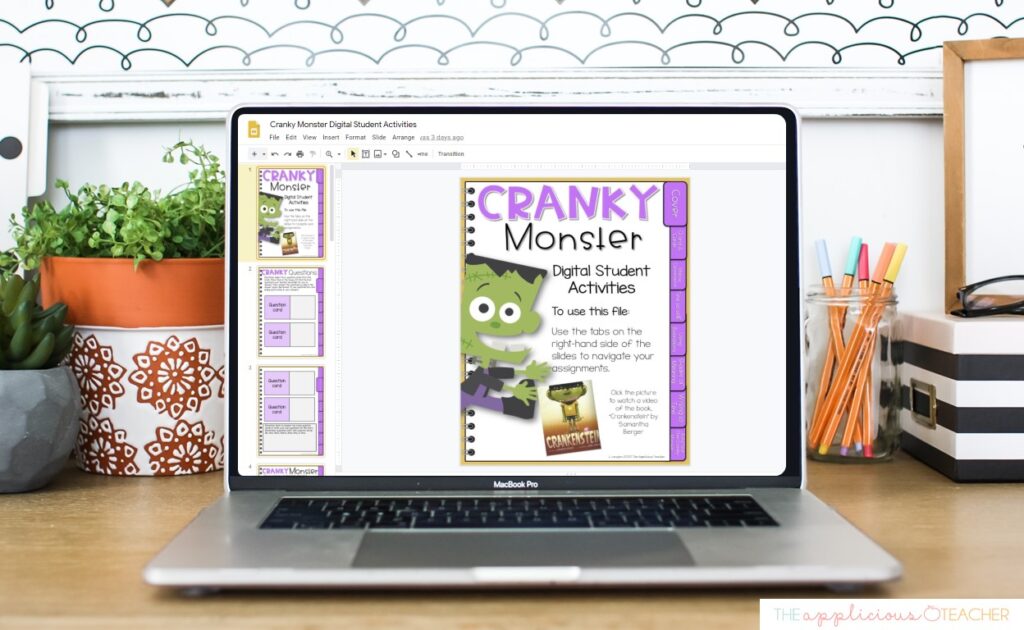 Crankenstein Digital Interactive Notebook
Since Beyond the Text units are designed in one week intervals and work to move your readers deeper into comprehension as the week progresses, I wanted to make sure that your students had access to each activitiy they needed, but not get overwhelmed by the number of pages in the activities pack.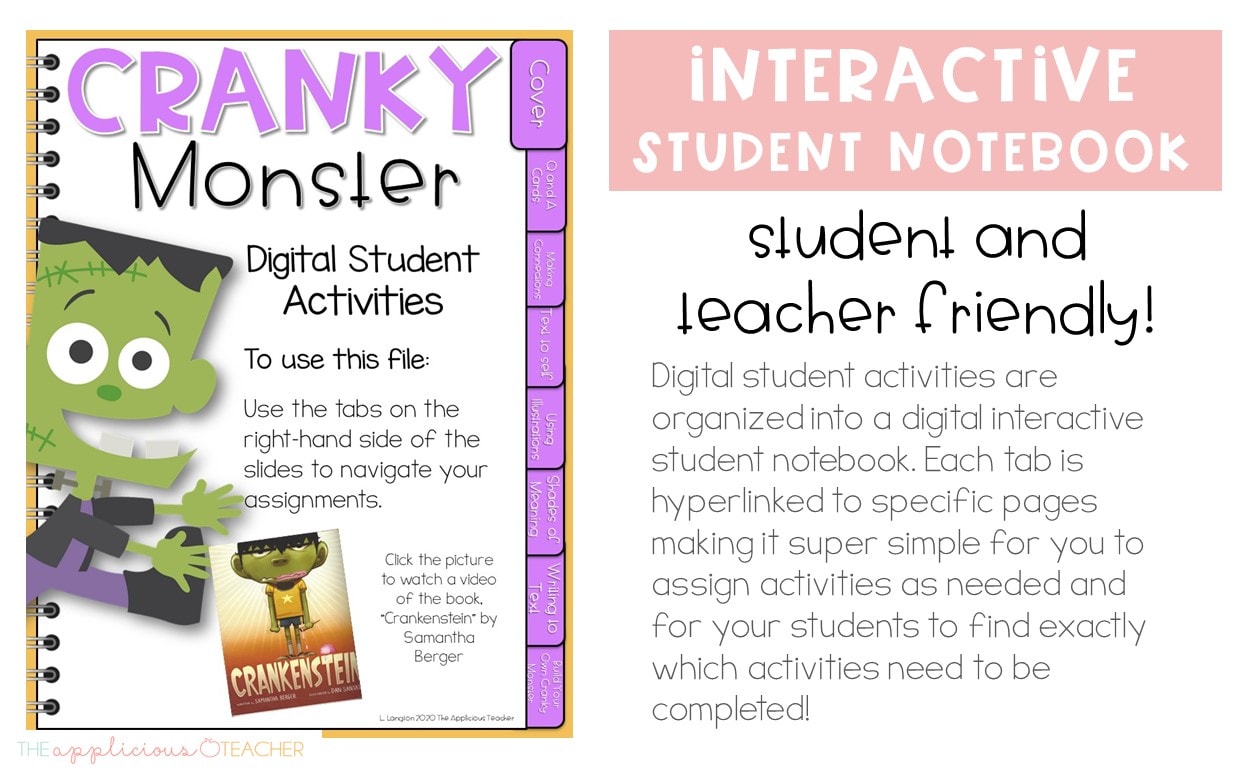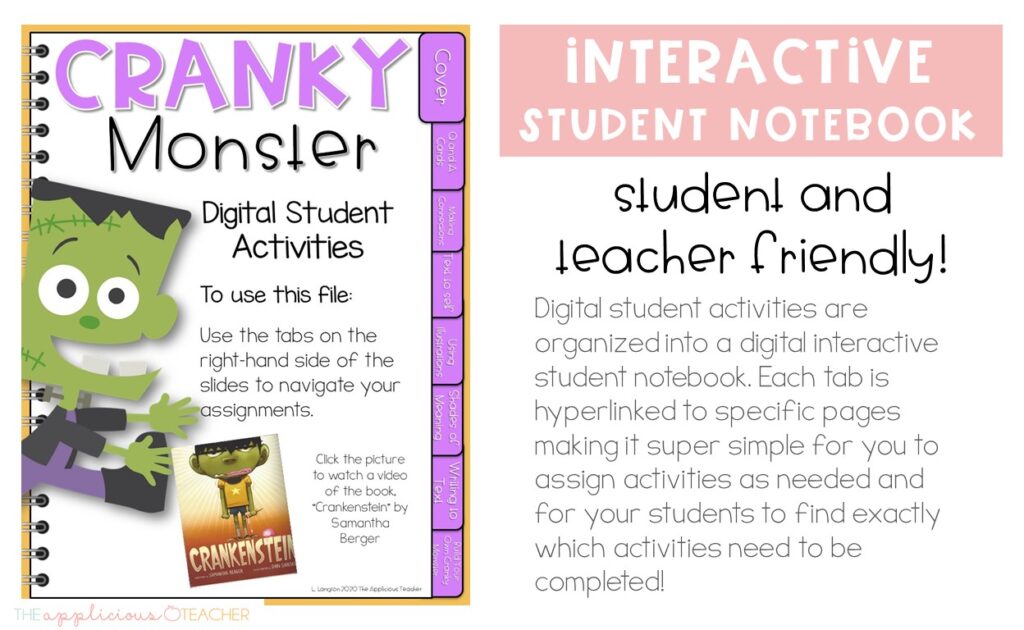 In steps… the digital interactive student notebook!
This engaging design makes it easier for you to assign specific pages for your distance learning students to complete. It also helps students easily navigate the pages for the week.
The tabs on the side are hyperlinked make navigating each day's assignments a little easier! Instead of scrolling through each page, students can click the tab and be taken directly to the activity they need to complete that day.
Digital Reading Comprehension Activities
So let's go through each part of the digital unit!
Cover and link to video reading
The cover of the notebook includes hyperlinked tabs to all the included activities as well as a link to a video reading of the book. This is perfect if you're only wanting your students to complete a few activities a day. The video link allows your students to refer back to the story, even if you aren't there reading it them!
Question Cards and Making Connections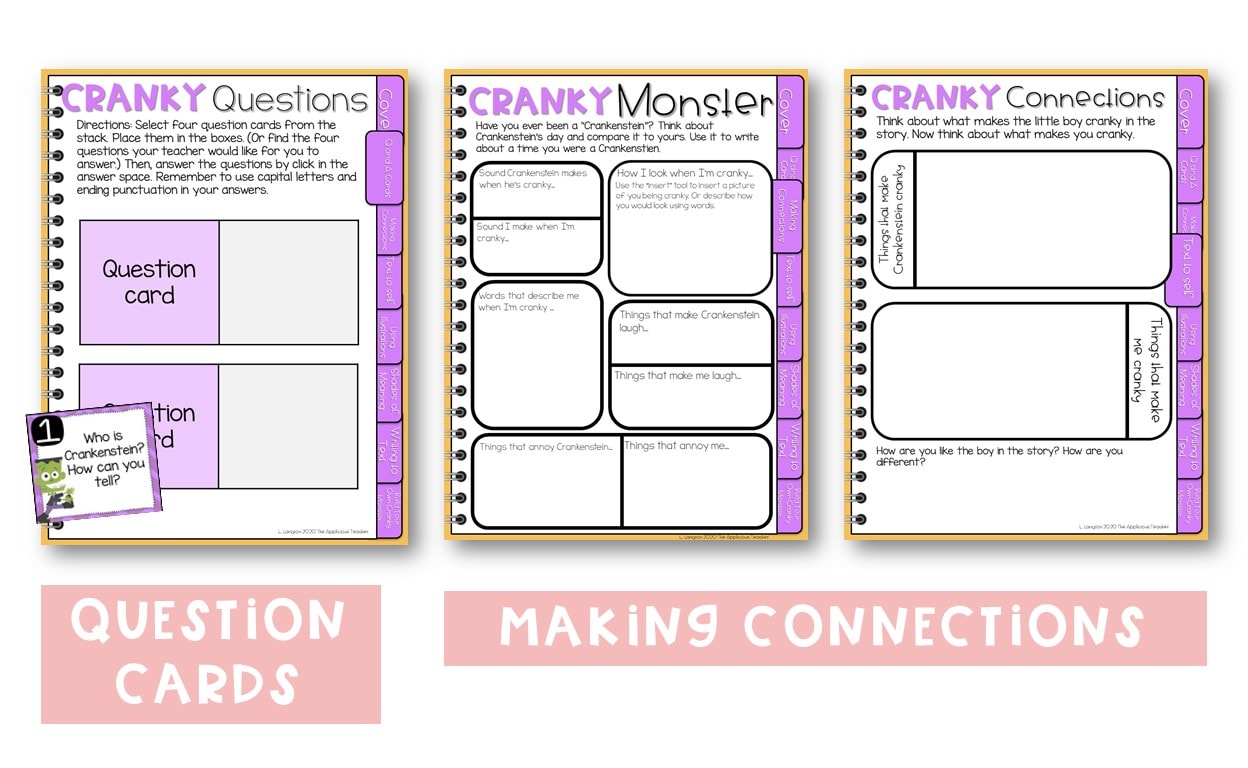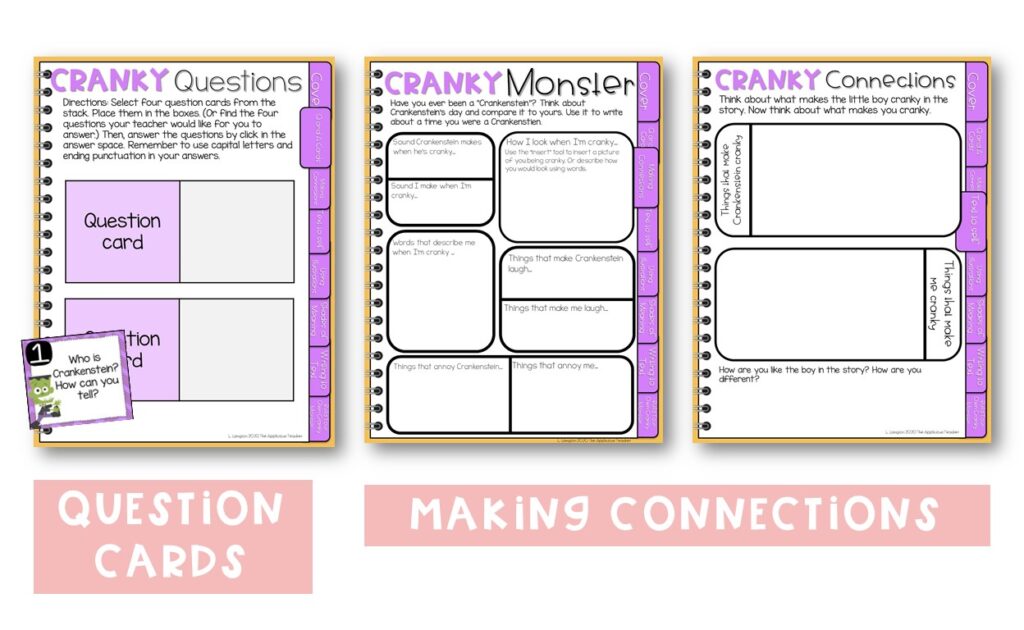 After the cover, students dive into the question cards. In class, you would use the cards as part of a class discussion of the book after reading it for the first time. In the notebook, students can select four different question cards and answer them in the space give. There is also a place for students to write their own questions for the text.
After the question cards, there are several different activities that allow students to make connections to the text. How are like or not like the Crankenstein in the story. Choose one page for your students to complete or use all three!
Using illustrations and shades of meaning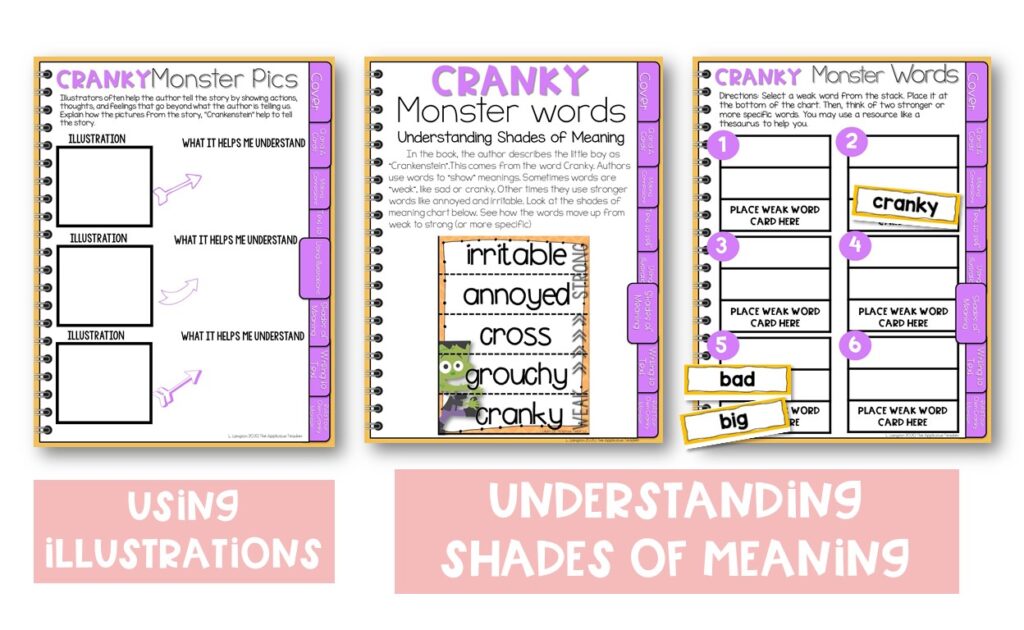 On the second day of reading, have students really focus in on how the illustrations help tell more of the story. In class, you would have students draw or write the illustrations they found helpful on the page. In the digital version, a few helpful illustrations from the book are provided and students work to explain what more information the picture gives.
My favorite? The picture where the little boy is mad that he waited so long to ride a ride and then realized he was too short!
Next, build your students' vocabulary strategies with a "shades of meaning" activity. Built into the digital unit is a mini-lesson and reference poster so your online students can better understand how stronger words help create more meaning. From there, they can practice using stronger words by clicking and dragging the "weak" words and brainstorming two more meaningful or stronger words.
Responding to text and a digital craft
After studying and rereading the text all week, by thursday, it's time to shift the focus and allow the students to share their thoughts and ideas. This digital Crankenstein unit includes three different responding to text activities. Each prompt asks students to use the text to suppor their writing.
Each prompt also includes a rubric so students can check their work against the expectations.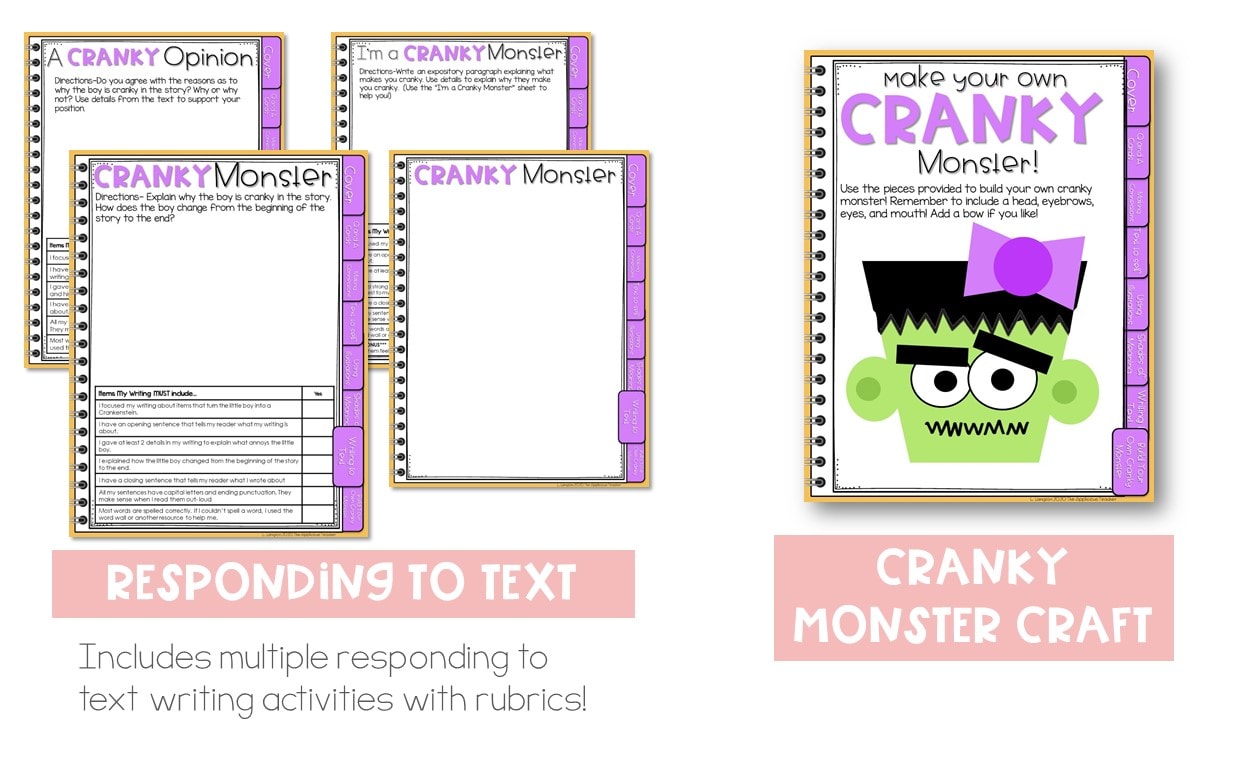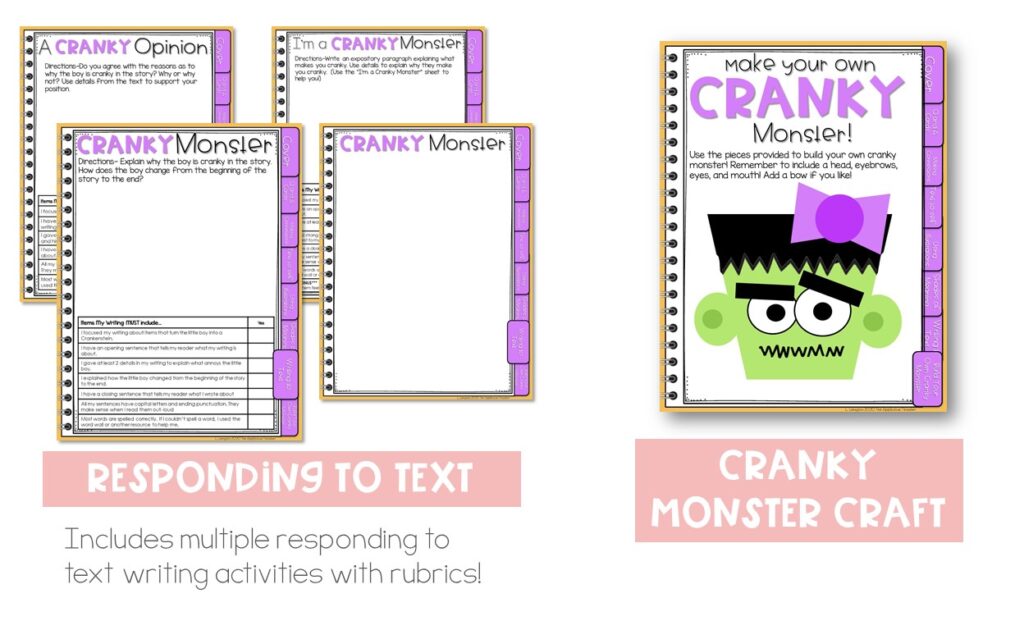 After students complete their writings, it's time for a fun craft (love bringing in the arts!) But this can be a little tricky with a virtual class. That's why I love this "Make Your Own Cranky Monster" digital craft option! To complete, students use shapes and different pieces to create their own cranky monster! Your students will love this little creative activity after working so hard all week!
Crankenstein: Reading and Writing Activities: Print and Digital
Want to make your lesson planning easier for next week? Click here or below to grab the updated version of Crankenstein: Beyond the Text unit! This unit includes both in print and digital versions.
Updates on Beyond the Text Units
I know finding quality resources that you can use for both in person and online instruction can be a challenge, so I'm working hard to update all my Beyond the Text units to include digital versions of the activities.
If you have any of my other units, be sure to check the updates page on TPT regularly! I'm adding the digital components to all my units, which means you can get the digital activities for free! #teacherwinning!
Building Reading Comprehension with Books!
Looking for more ways to build your students' reading comprehension skills? Check out these related posts!
Close Reading Newsletter
Subscribe to get these close reading sticky notes for FREE!