Back-to-school time is quickly approaching, and my mind is starting to fill up with all the things I still need to do to get ready for the back-to-school season! One easy thing I can do now while still sitting in my bathing suit by the pool is prep all my Meet the Teacher and back-to-school forms for the first few days of school. Since I'm prepping anyway… I thought I'd share my top 7 must-have forms for Meet the Teacher and the beginning of the school year!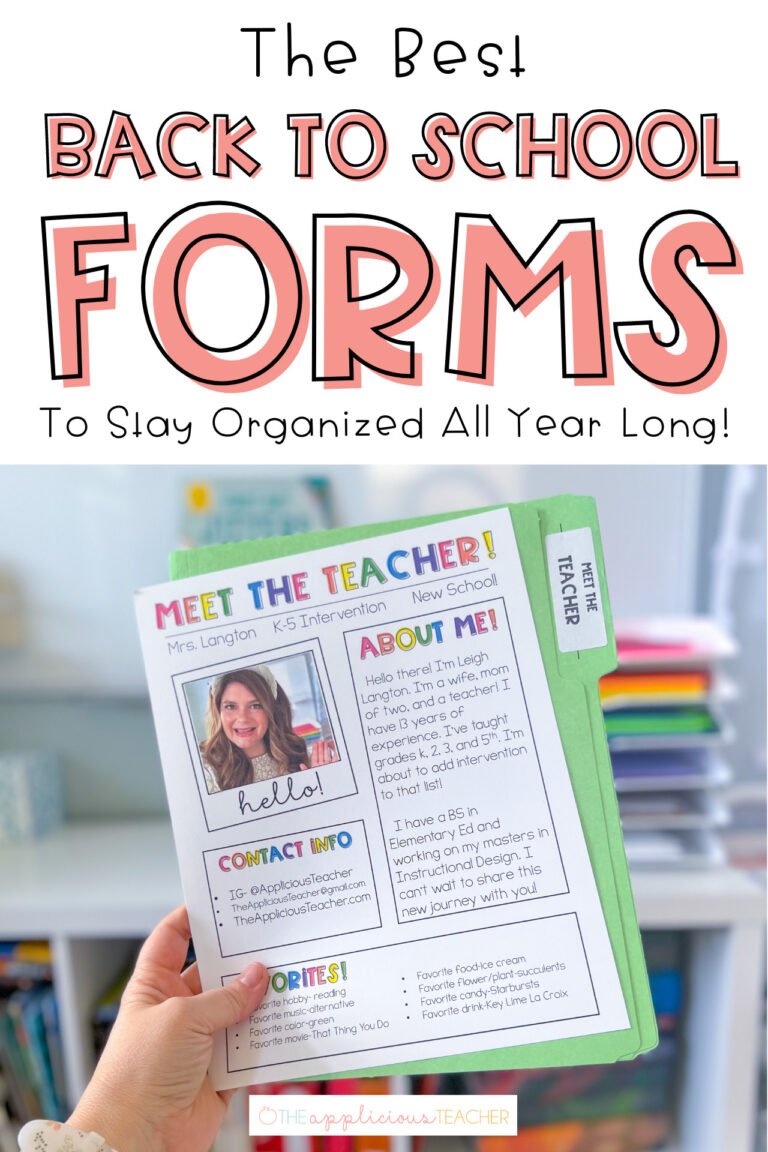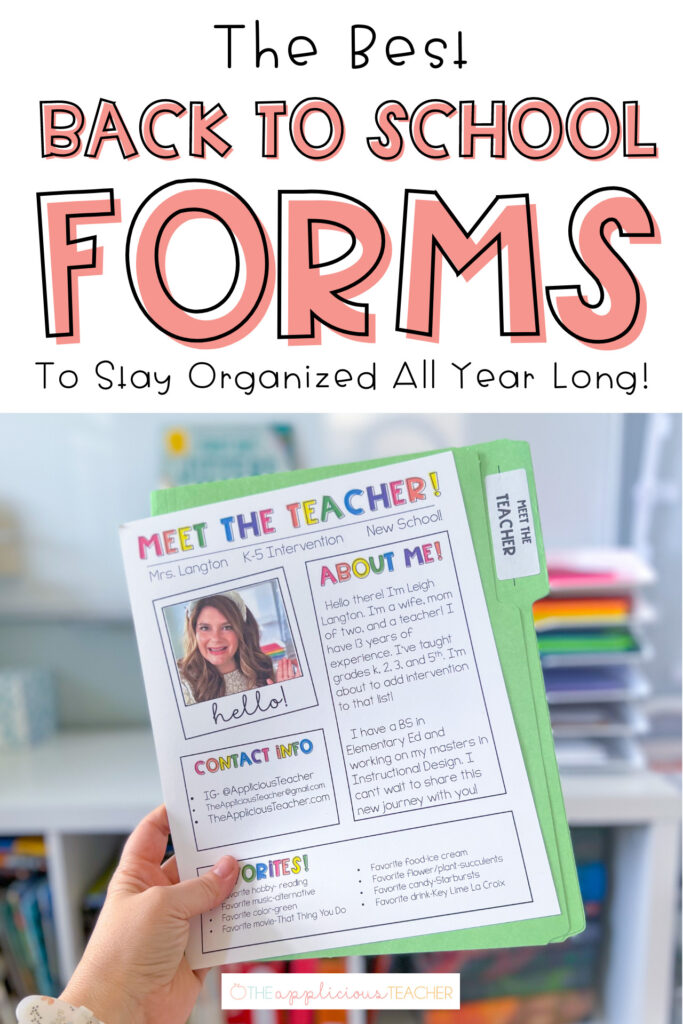 Meet the Teacher Forms
It was a struggle, but I think I've narrowed it down to my top seven. After 13 years of teaching, I've gotten into a pretty good system for knowing what I'll need for Meet the Teacher, Open House, and the first week of school.
Let's take a peek at those must-have Meet the Teacher forms and back-to-school forms!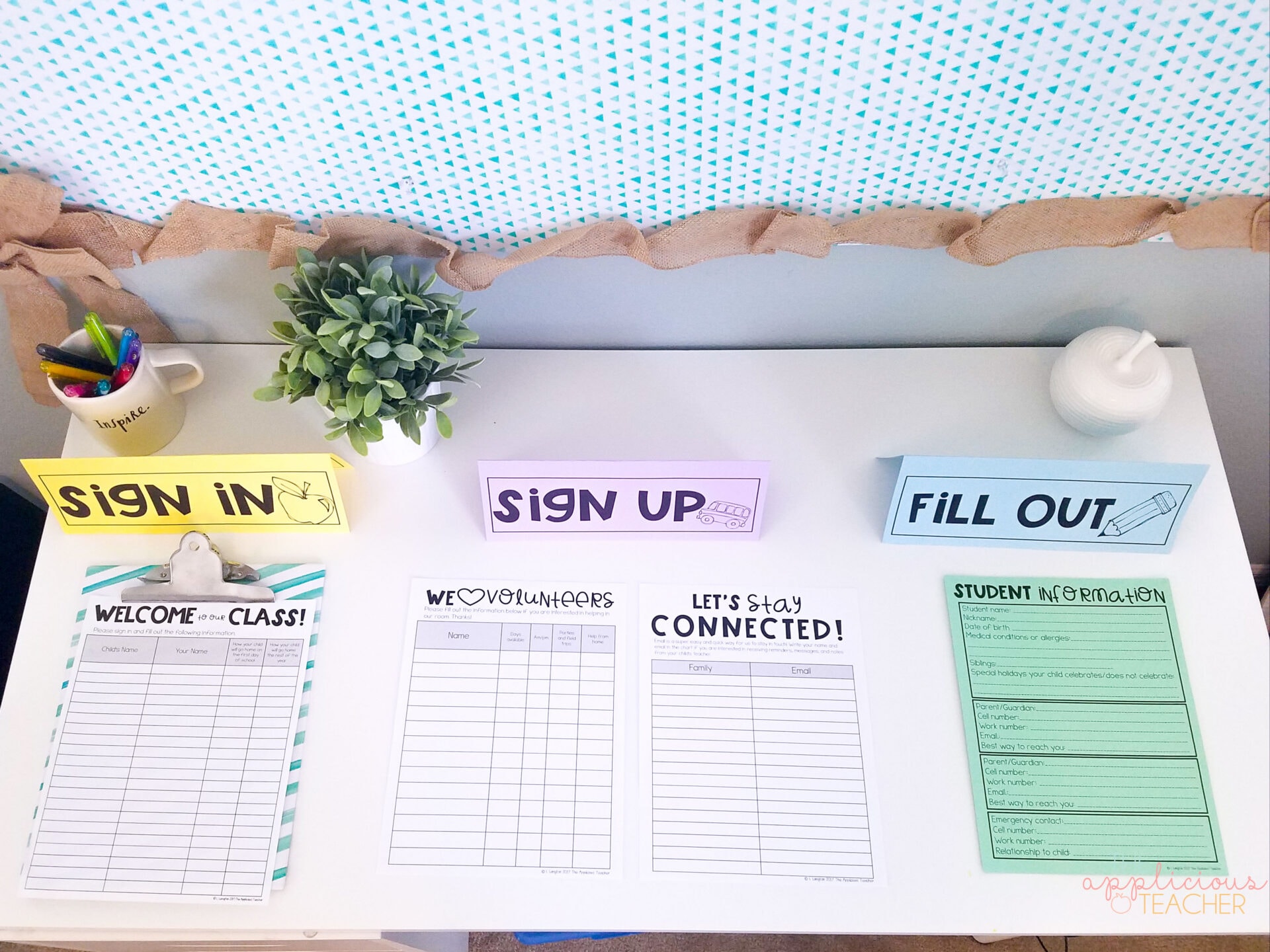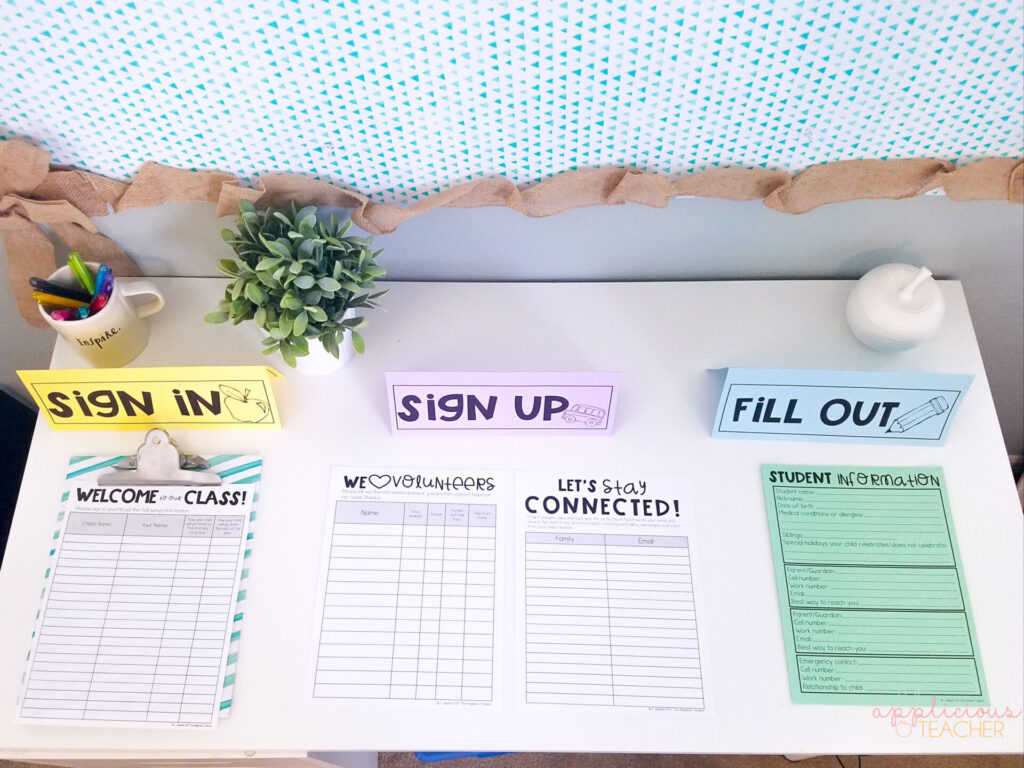 1. Student Information Sheet
This is my first must-have back-to-school form for a reason. For starters, it provides so much valuable information on the little human you're entrusted to teach for the rest of the school year.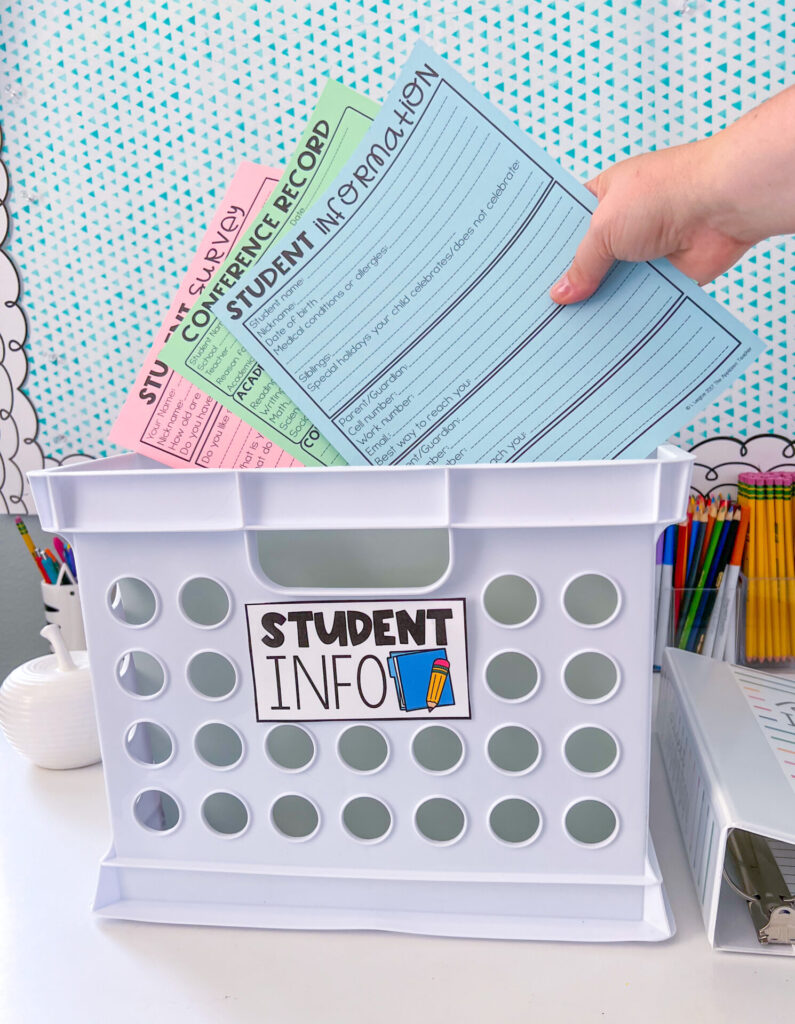 I like forms that give lots of information (like this one!)
Think names, siblings, addresses, attitudes towards school, holidays, and medical information. I know that sometimes a student information sheet can resemble an emergency card, but in my experience, those were usually housed in the front office and don't always give the full story. You can grab a copy of my (editable!) one here!
2. Student Survey
This one goes along with the student information sheet. It's the perfect way to learn more about the students who are going to be in your classroom for the rest of the school year.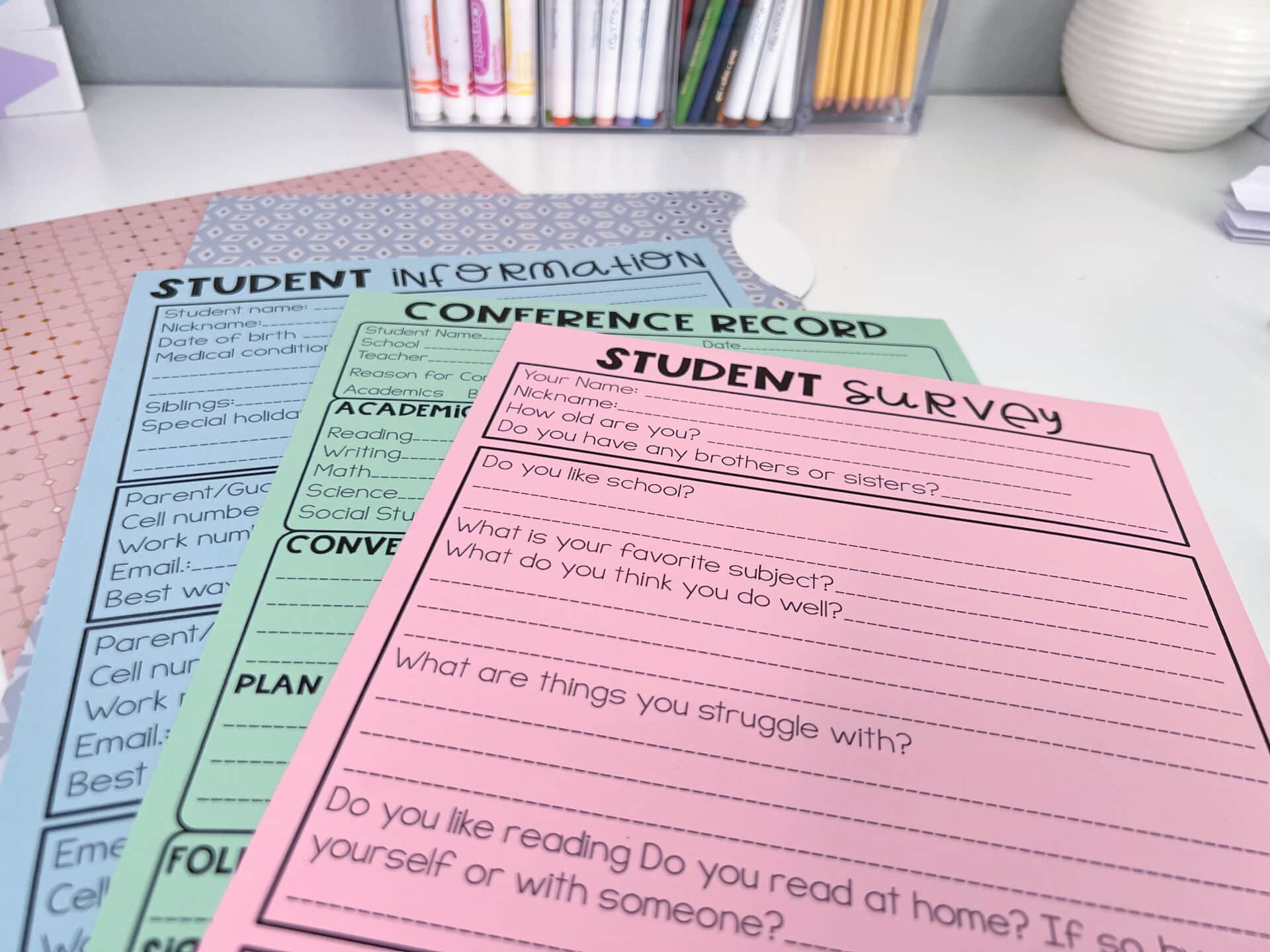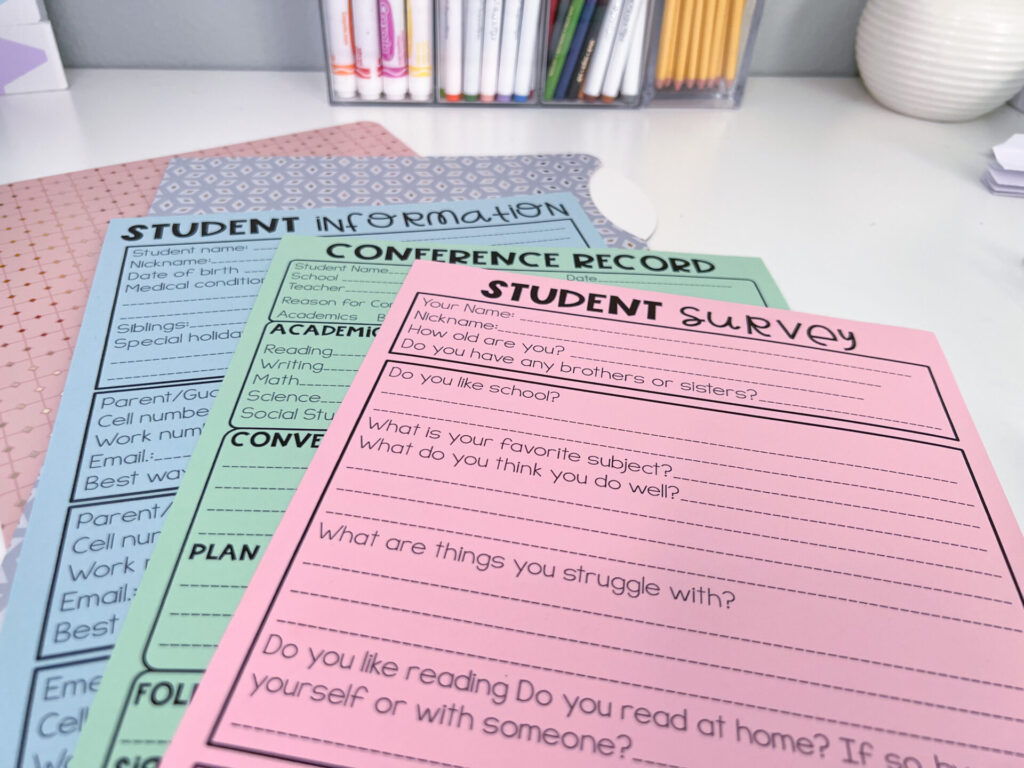 This survey includes questions about their strength and weakness at school. I like to have students complete this during the first week of school. Afterward, I place the form in their student information folder for easy reference as the year progresses.
3. Meet the Teacher Sign-In Sheet
So, I know this one seems a bit silly… but it is actually so helpful! Many families are popping in and out during your meet the teacher event. This sheet helps me keep track of who came and who didn't…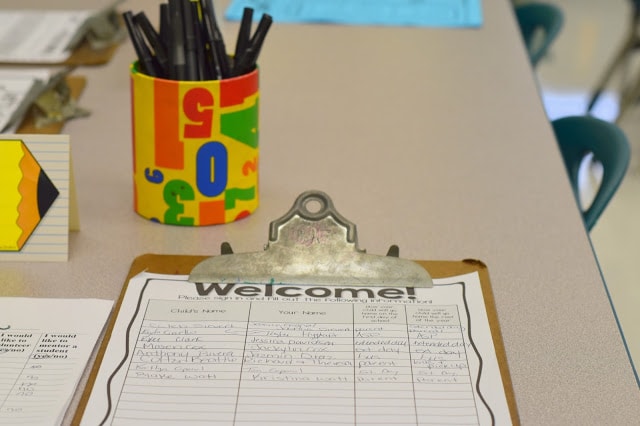 Then, at the end of the event, I can gather up all my extra sheets and forms, put them in a folder and have them ready to send home on the first day of school. No guessing or trying to remember whom you saw and whom you didn't.
Thinking ahead teacher tip! I also include a section about how the student is going home on the first day of school and the plan for the rest of the year.
Often, students are picked up by parents on the first day but then take the bus or are picked up by daycare the rest of the year. I keep this set aside for the first week of school, and if there's any confusion, I can easily look up guardian information ASAP!
You can read more about setting up for a Meet the Teacher event right here!
4. Student Goal Setting Sheet
Another form for students!
This one focuses on helping your students set goals for the school year. I like to tell students to think of two academic goals and one personal goal.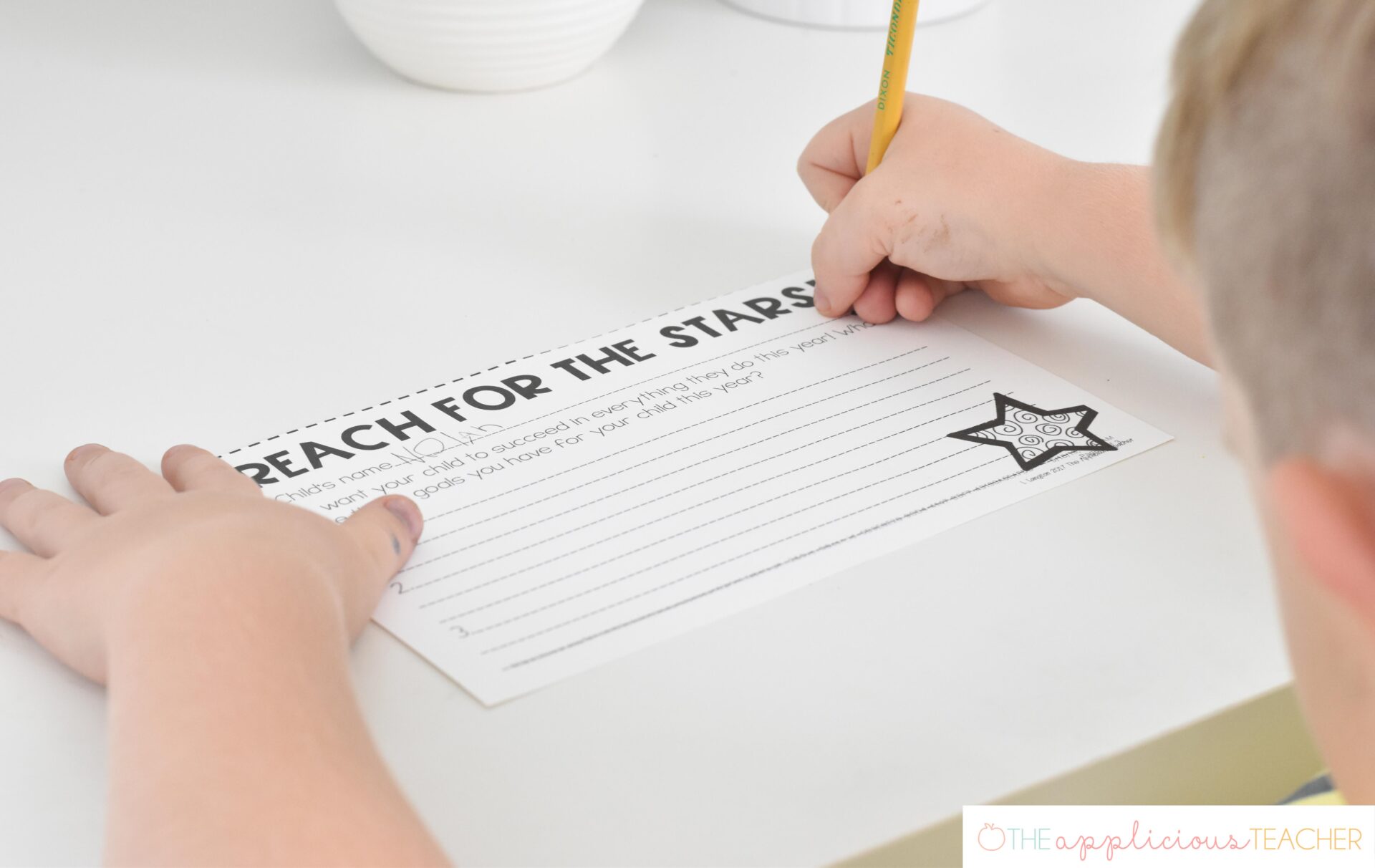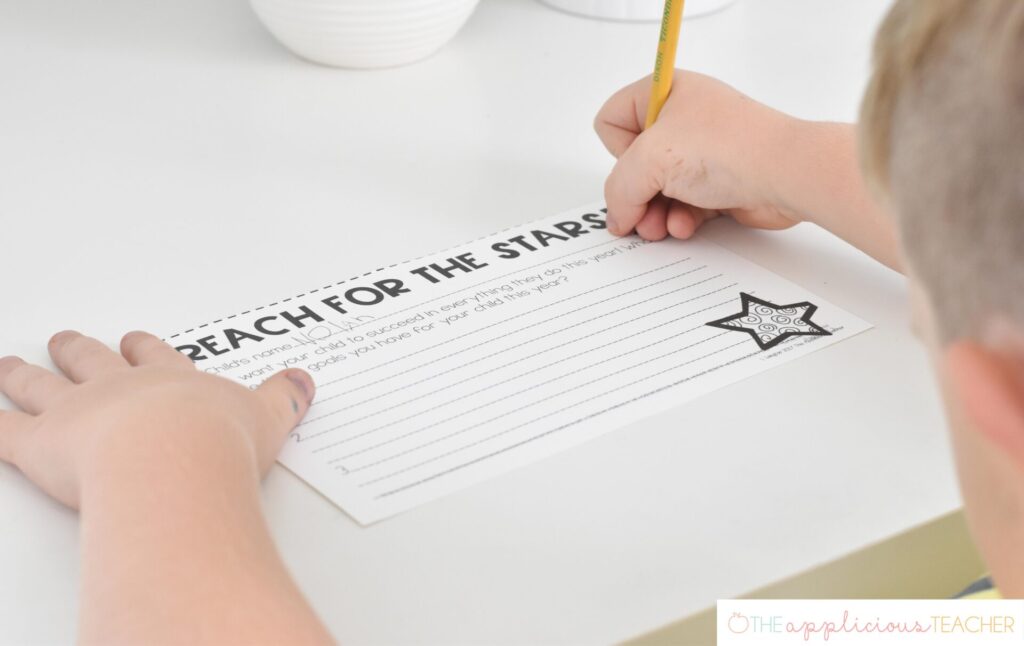 Then, keep the form in their student information folder and reference it throughout the school year.
5. Meet the Teacher Introduction Sheet
This one makes it easy to introduce yourself to your families! And the one in my School Forms and Checklist pack includes easy plug-and-play options!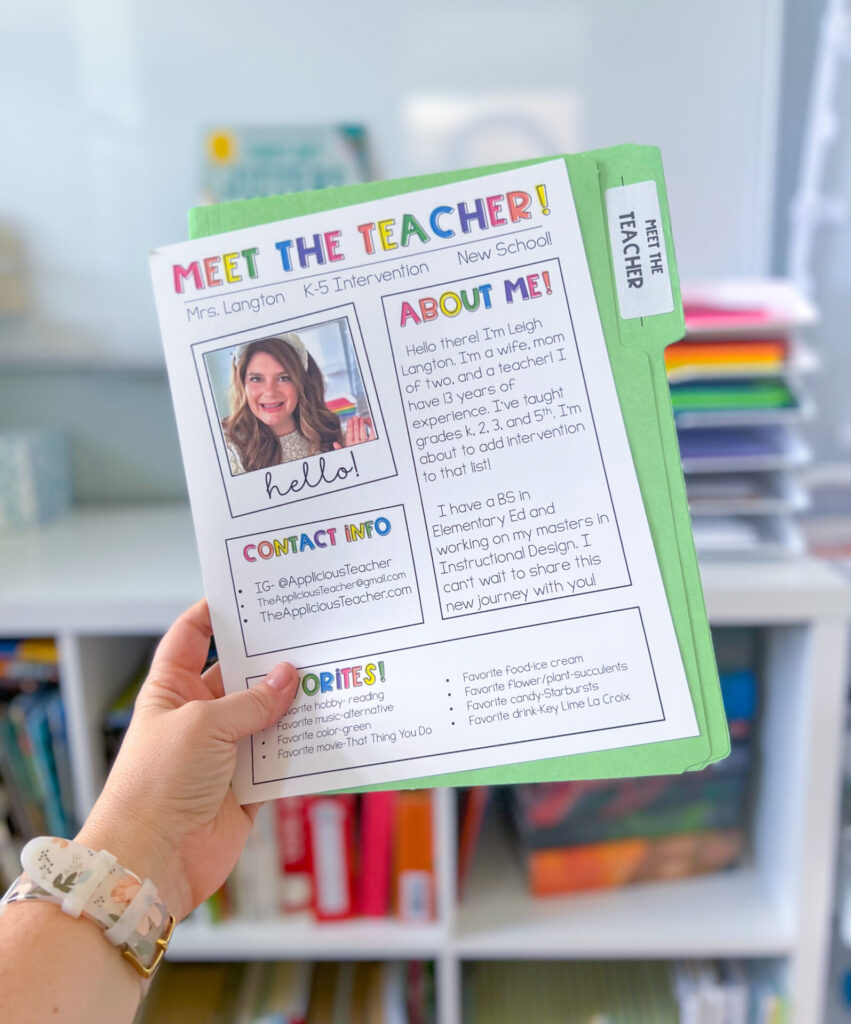 Make sure your "Meet the Teacher" sheet includes your contact information, a little blurb about you, and a few fun facts! I love including favorites so that families can refer back to the sheet during those "gifting" times of the year.
6. Classroom Volunteer Sign-Up Sheet
You know that saying "It takes a village." Well… in teaching, that village includes parents.
Early in my career, I was hesitant to have parent volunteers come in because I was worried they'd judge me on my teaching. By year two, I dropped the fear and went all in on parent volunteers. Here's my opinion: You can never have too many!
At Meet the Teacher AND Open House, have a sign-up sheet for parents to share if they'd like to volunteer that school year. The sign-up I use includes a section for when they're available (days/times) and asks if they are interested in helping from home, during field trips, or in the classroom.
7. Parent Email Collection
This last one will make setting up your email communication so much easier! If you plan on emailing parents at ANY POINT in the school year, be sure to set out or set up an email collection form.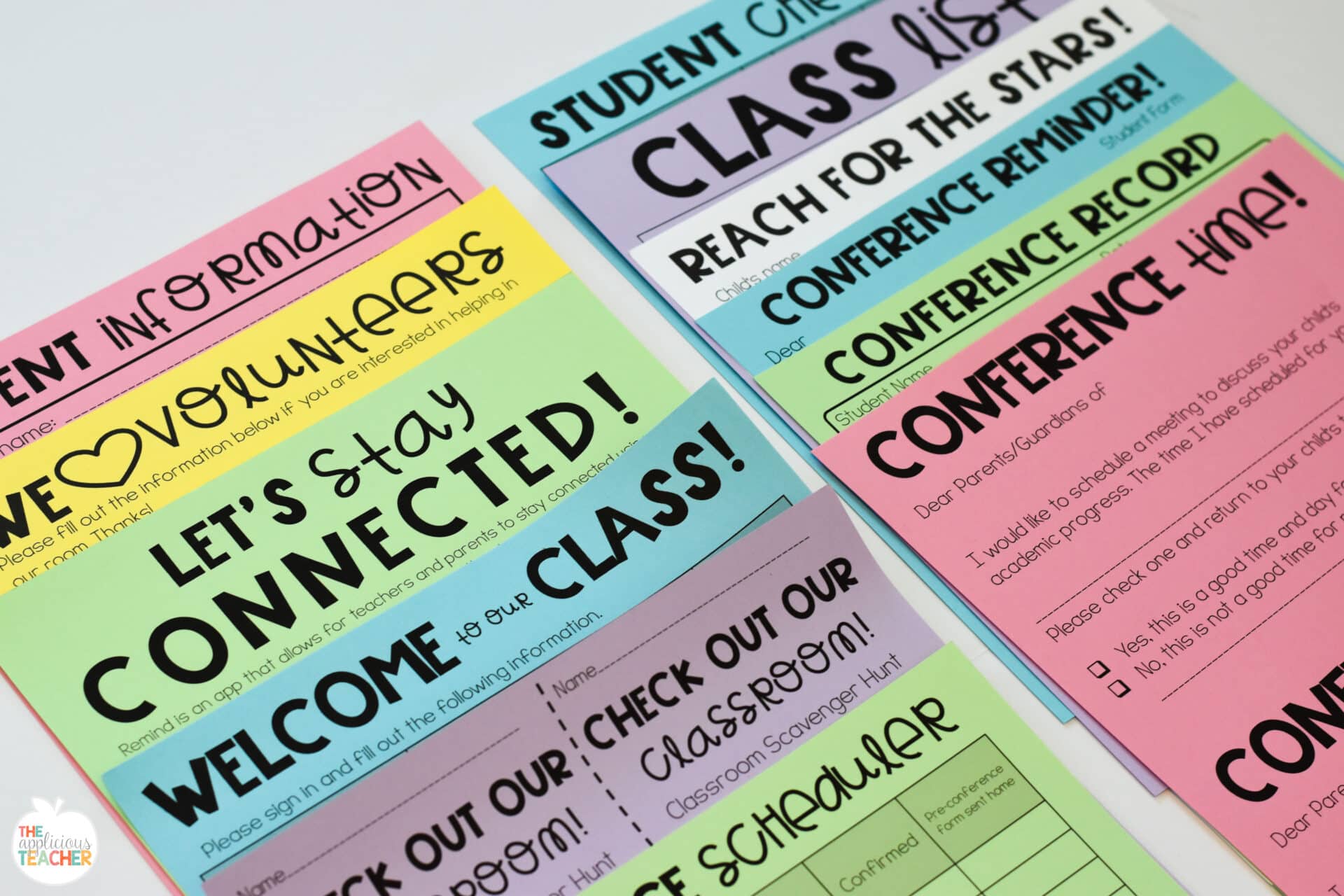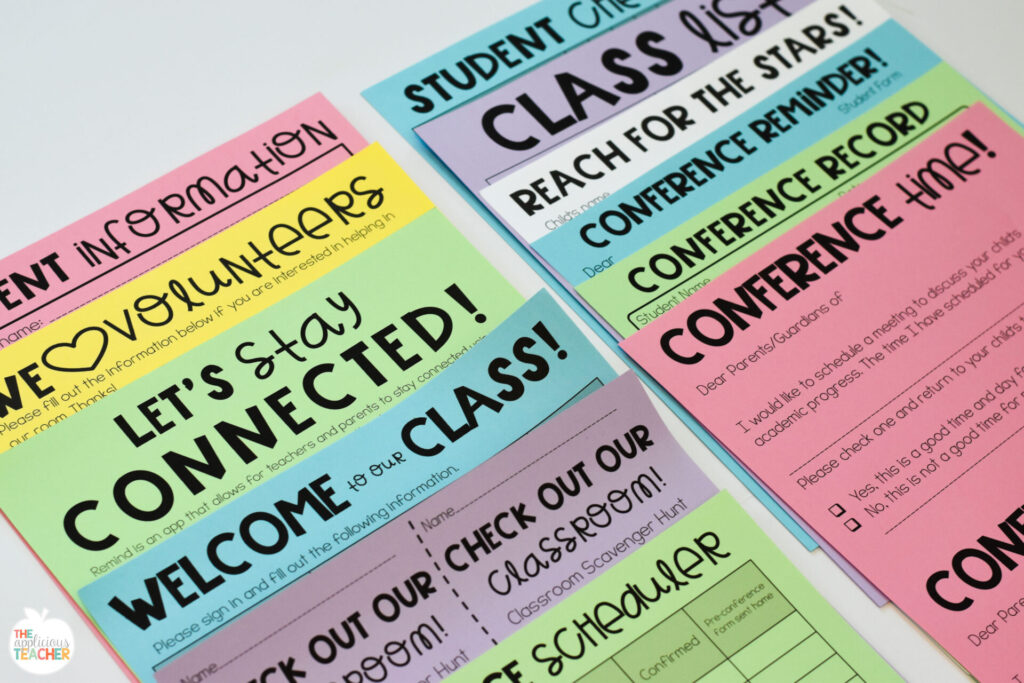 This can be as simple as having a sign-up sheet next to your sign-in area where guardians can add their name, student's name, and email. You can also get fancy and set it up as a Google Form.

Just be sure to collect them!
Back to School Forms and Checklists
Liked the forms I shared in this post, but don't want to make them yourself? Have all the forms you'll need for Meet the Teacher, Open House, First Week of School, and beyond by grabbing this best-selling resource! Click here or the picture to grab it!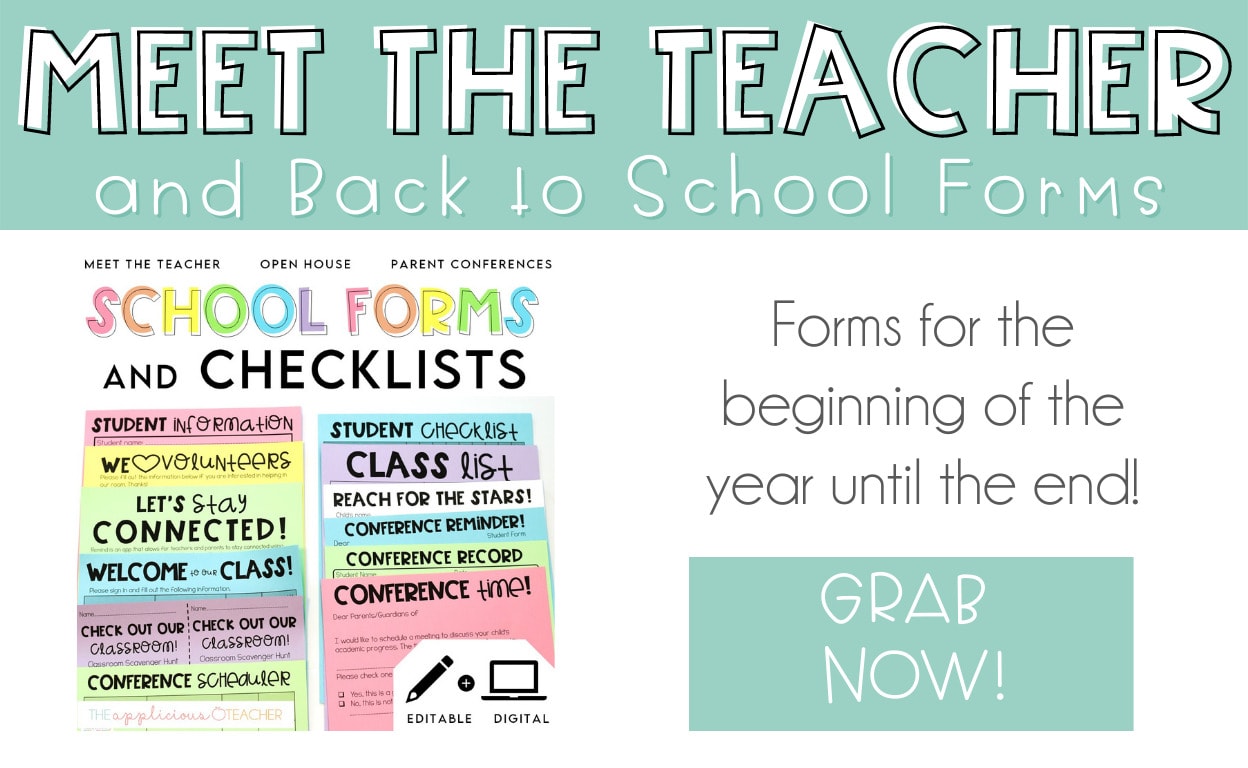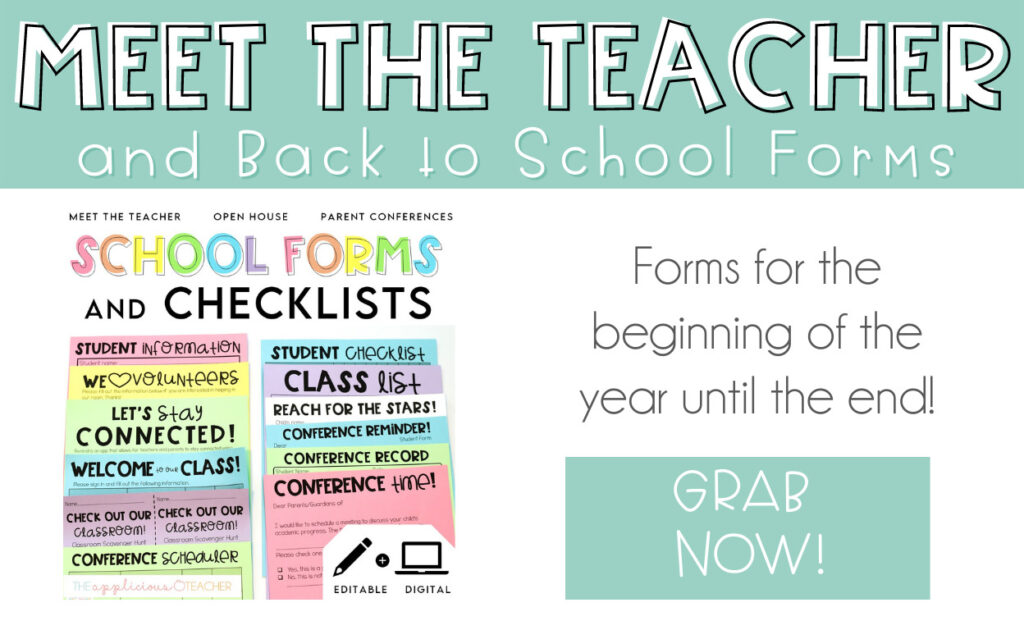 Must-Have Back to School Forms for Teachers
As you start preparing your documents for your Meet the Teacher event or the beginning of the school year, be sure to think through what information you'll need and how you might use it throughout the school year. These are my seven must-have teacher forms for back to school. Do you have the same forms? Or did I miss one? Comment below to let us know if there's more we need!
More Back to School Ideas and Resources!
Sign up to snag these!
Receive all these classroom management tools right to your inbox!