Congratulations! It looks like you'll be teaching 2nd grade this school year. You must be so excited! So scared. So unsure about where to start. Lucky for you, your girl Leigh has taught second grade FOR YEARS and today I'm sharing some tips to help you prepare for teaching the best grade around! From social development to math instruction, let's chat all things to be prepared for in second grade!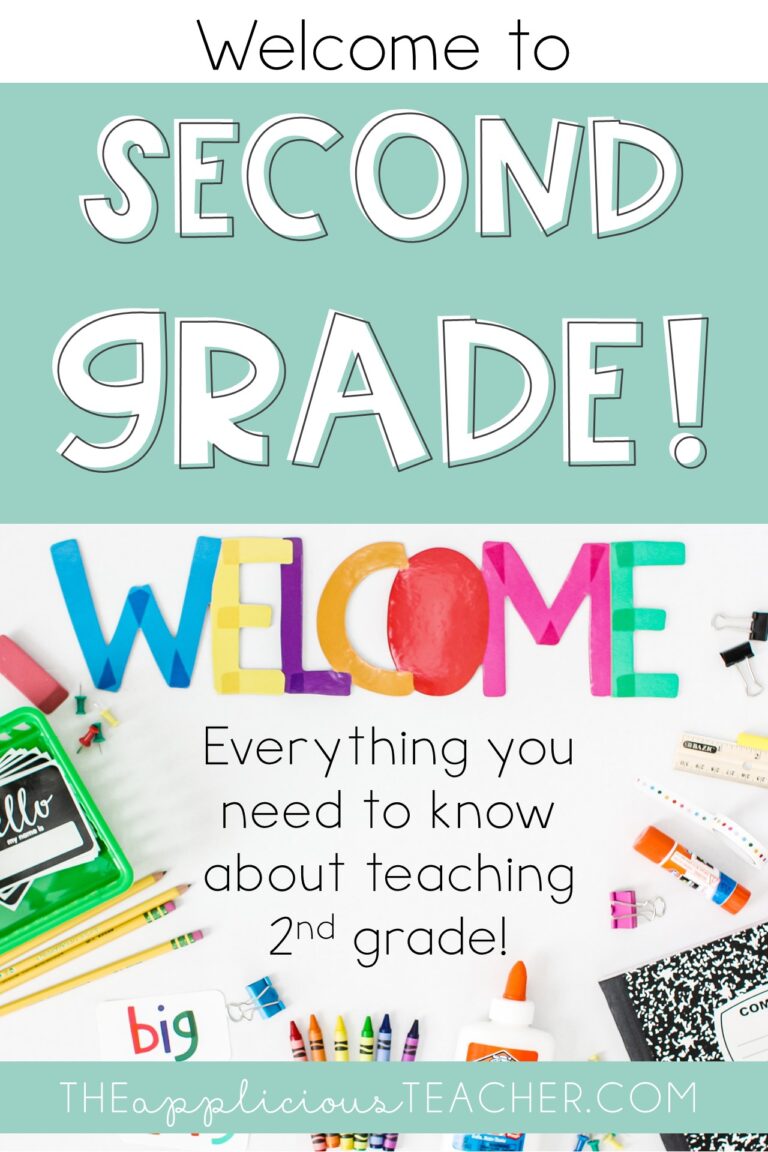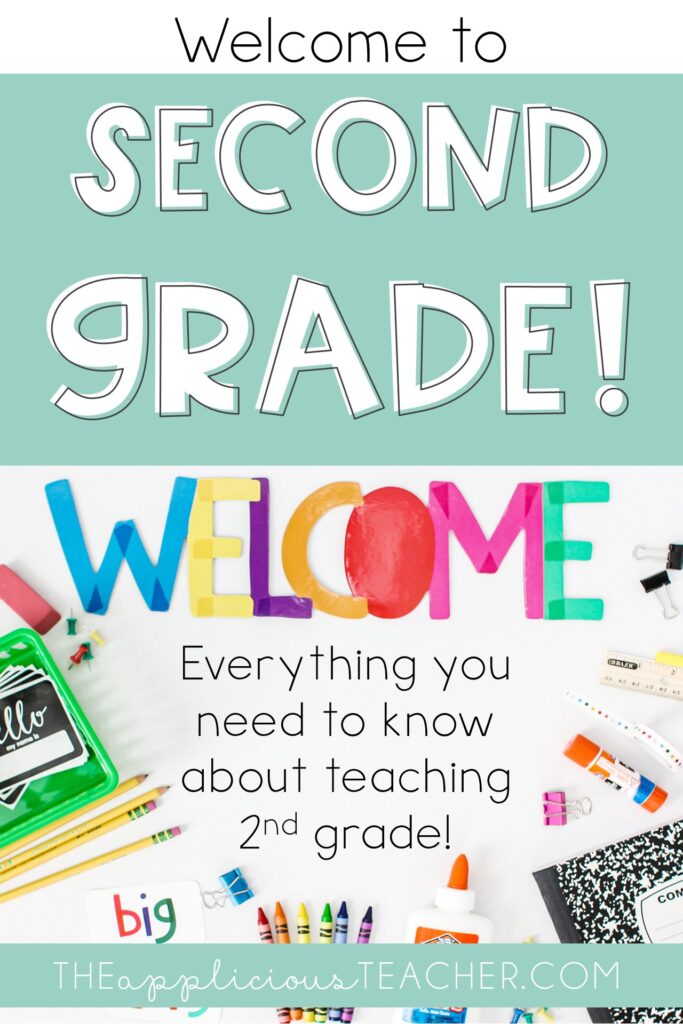 Honestly, I feel like 2nd grade is a hidden gem. Second graders are independent but still love school. They are excited about learning and are starting to understand humor. You get all the fun of diving deep into topics without the stress of state testing. They still believe in Santa Claus and the Tooth Fairy but aren't crying at the end of the day or need help buttoning up their pants. In all truth… second grade is the BEST!
Also, don't worry if you're worried you won't remember all this! At the end of this post is an Incoming and Outgoing Second Grader checklist that you can grab!
Understanding 7 and 8 Year Olds
Before we can even dive into the academics of teaching second grade, it's important that you understand some of the social and emotional development that happens in this "golden time" of childhood. (Info pulled from the CDC)
Emotional/Social Changes
Show more independence from parents and family. Second graders are ready to be more responsible, so make sure you allow them to be! (This means packing and unpacking, keeping their binders organized, and cleaning up the library! Classroom jobs will be a must, too!)
Start to think about the future.  They're starting to understand how their actions now can affect things in the future.
Understand more about his or her place in the world. Second graders understand that they are unique and want to explore how that makes them special in this world.
Pay more attention to friendships and teamwork. Great time to start introducing cooperative working groups of 3-4 students. They're ready to be challenged and excited to work with their peers.
Want to be liked and accepted by friends. (THIS IS HUGE in 2nd grade! They want friends, have friends and need to be liked by friends. Be prepared for some friend drama from both boys and girls. Also, don't be surprised that boys will play with boys and girls will play with girls.)
Thinking and Learning
Show rapid development of mental skills. This means more complex problem-solving skills! Hello, multi-digit addition and subtraction. Hello, complex reading comprehension questions!
Learn better ways to describe experiences and talk about thoughts and feelings. Great for making connections to stories.
Have less focus on one's self and more concern for others. Finally! We're developing empathy! But this also means we care about what others think… so be ready to discuss peer pressure!
Can follow multiple steps-  They can come in, turn in homework, write down homework, and work on morning work without having to be told a gazillion times!
Have longer attention spans and understand teamwork- This is the moment teachers everywhere have been waiting for… students who can actually care and pay attention for longer time spans (Don't overdo it… but a good 20 minute-30 minute lesson is within range!)
Ok… now that you understand the emotional and social development of the students in your classroom, let's discuss what to expect in the different aspects of your class!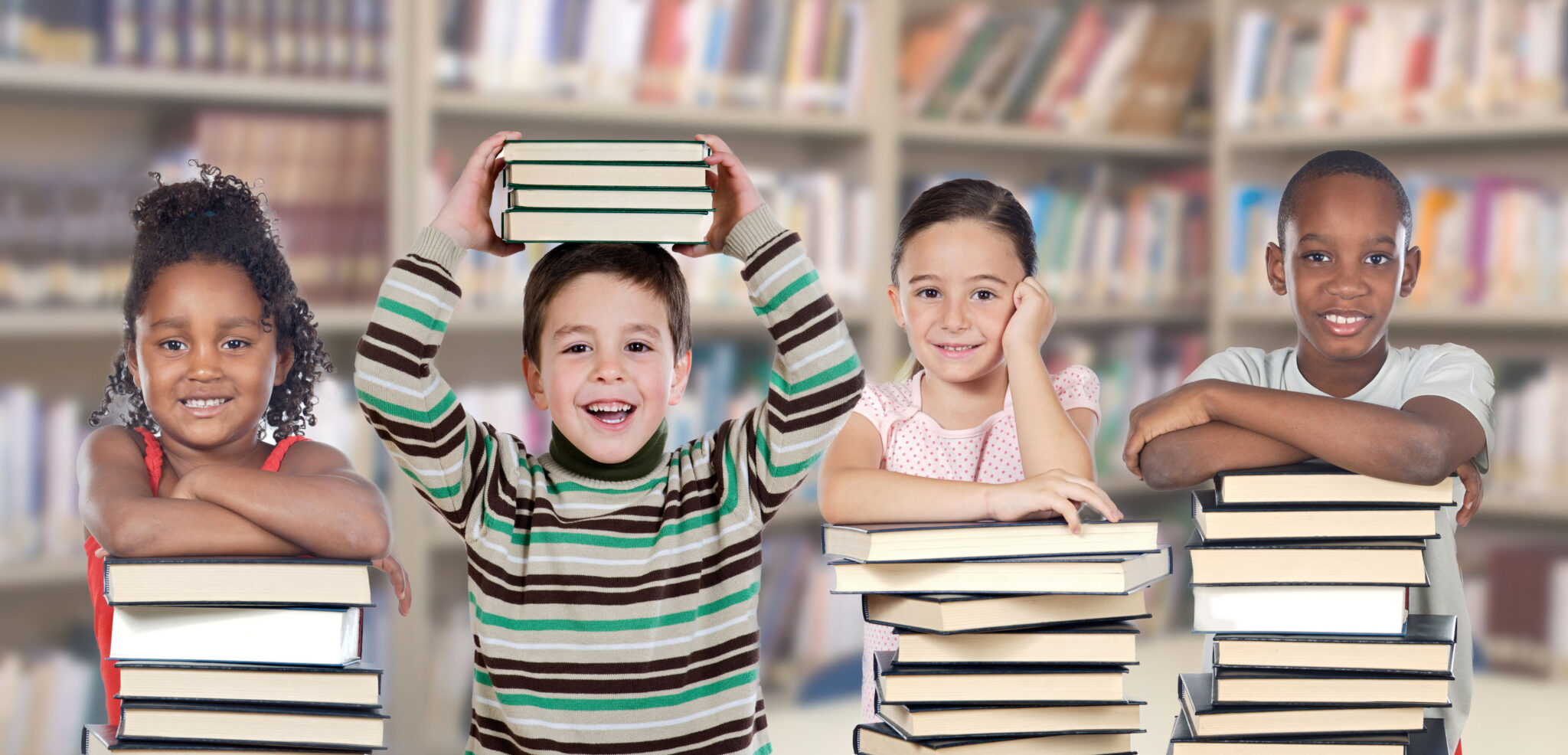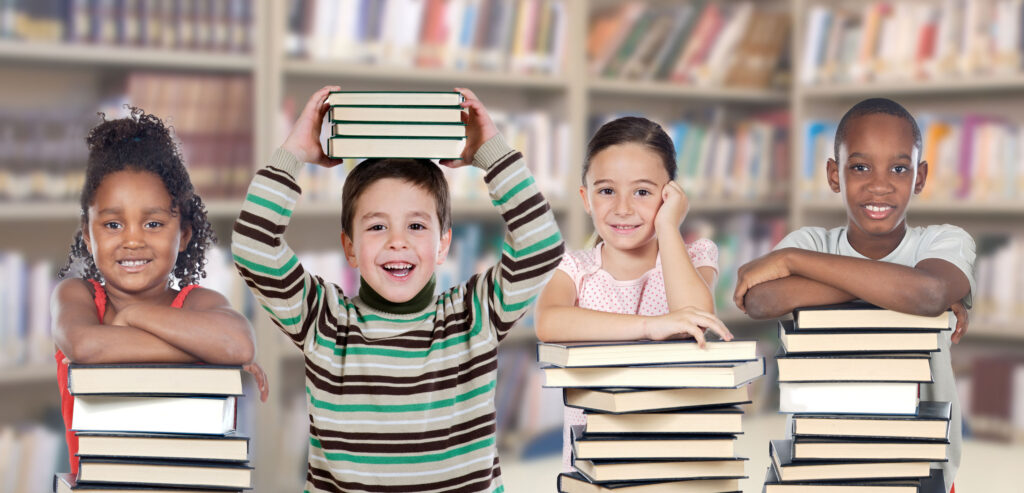 Reading in Second Grade
Most students in second grade can read. They are ready to move on from "learning to read" (reading decodable books or simple books) to "reading to learn".  Second grade is the year this magical transition happens. Your students are no longer reading word to word, but instead are working to string together longer meaningful phrases and retain more of what they read.  Second graders are ready to read text on their own and share information gathered. You will spend the majority of the school year working to make this transition.
General Reading Levels of incoming 2nd grade
In general, most students entering your classroom should have the following reading levels:
DRA of 18+, F & P Level J, Lexile 400,
Reading fluency of 60 wpm and 90% accuracy
Mastery of 80% of the 1st-grade sight word list
Can answer "right there" questions from the text.
General Reading Levels of exiting 2nd grade
DRA level 28, F & P Level P, Lexile 650
Reads 90 wpm
Mastery of 80% of 2nd-grade sight word lists
Answers complex questions that go beyond the text
Looking for books that are perfect for second graders? Check out this post!
Second grade is also a big grade for reading fluency. While kinder and 1st work on building sight words, second is spent mastering fluency and reading comprehension using all the skills taught in previous years. It is imperative that any phonics or phonemic interventions (if needed) are given early in the year.
Writing in Second Grade
Yes, we see a great deal of growth in student reading in second grade, but I feel like the biggest in your face growth happens in writing. Generally speaking, most of your incoming students can do the following things in writing:
Write 2-3 sentences on topic and generally uses correct capitalization and ending punctuation. (This is very loose! It is not uncommon for your students to struggle with placing punctuation at the beginning of the year.)
Illustrate a story that matches what was written.
Write words based on known phonics patterns or use inventive spelling.
But, as the year progresses, your student's writings will grow! The vocabulary they use and the length of their writings will increase substantially in second grade.
Write 8-12 sentences on topic and uses correct capitalization and ending punctuation.
Illustrate a story that matches what was written.
Create charts, graphs, or other images to support their text.
transitioning to conventional spelling.
You guys… it's not uncommon for some of your students to be writing five-paragraph essays by the end of the year! That's insane considering that just from K to first grade they gained a few sentences. Seriously, I love teaching writing in second grade!
We've got reading and writing, now let's talk about…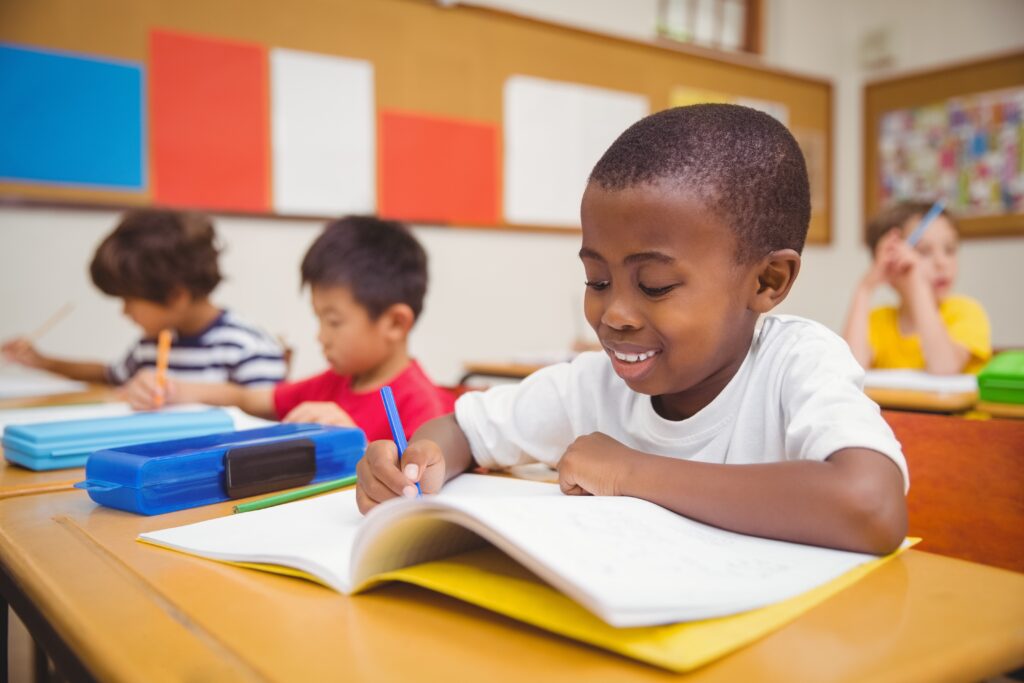 Math Instruction in 2nd Grade
So math also gets ramped up in second grade. Even over the course of the 11 years of teaching, math in second grade has changed the most. Many of the things that I taught (and were challenging!) in 2nd grade have slid down to 1st grade since the entrance of CCSS. But, second-grade math is still my favorite math to teach. Mainly because it's so much "life" math! Like hello! You need to know how to tell time and count money!
Ok… here's what to expect those newly minted seconds to already know upon entering your class:
Math Concepts that most incoming 2nd graders have:
Add and subtract numbers within 20 using a strategy (number line, hundreds chart, fingers, mental math, picture)
Understands the value of 1's, 10's, and 100's when presented with base ten blocks.
Skip counts by 2's, 5's, and 10's to 100.
Can count to 120 verbally.
Has one-to-one correspondence.
Math Concepts mastered by exiting 2nd graders:
Knows basic math facts fluently and accurately
Add or subtract 2, 3, and 4 digit numbers using an array of strategies
Count a collection of coins totally over a dollar.
Can tell the time to the nearest 5 minutes (should know to the nearest minute)
What to Expect in Second Grade
So those are just some of the concepts you have to look forward too when teaching second grade. There is so much growth that happens in this grade level. It's like the "growing up" grade. At the beginning of the year, they really are "just babies" then by the end, they are ready to become big third graders and you couldn't be more proud!
Incoming and Exiting 2nd Grade Students Checklist
I know I shared a ton of information and your head is spinning. Don't worry! I made a checklist of all these things AND more for you to easily reference or send home with parents! Grab the free file below!

More 2nd Grade Blog Posts