It's been a hard school year… okay, the last two years! For many, it feels like *it's only November???* That said, we ALL could use some hacks to make teaching a bit easier these days – both mentally AND physically – am I right?! That's why I put together some of my favorite Applicious teacher hacks that will absolutely change the game for you… and save your sanity!! (I promise!)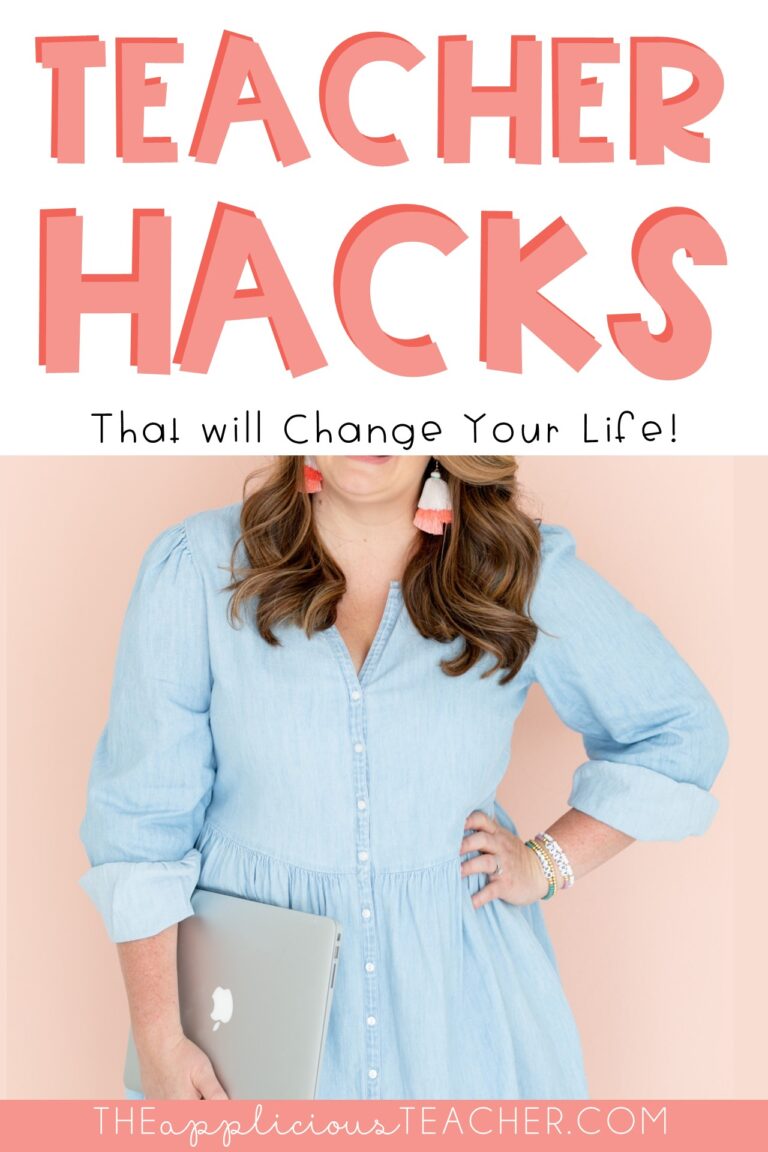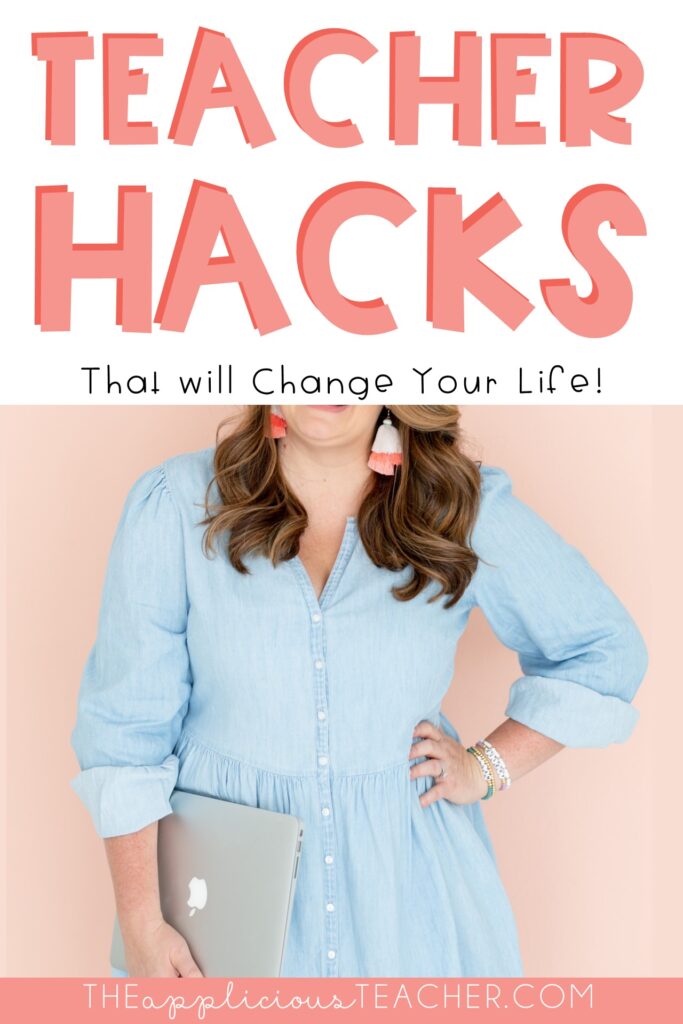 Please note this post contains affiliate links. When you use my link to purchase an item, I receive a small monetary fee in return. These small fees help pay for the upkeep of this website and allow me to continue bringing you amazing content year after year! To learn more about this, click here.
15 Hacks that will Change Your Teacher Life
Teaching is hard enough, so let's talk about some super simple things you can do to make it even just a little bit easier!
1.
Automated Open Tabs in Google Chrome
So I'm starting with a tech one because if you don't do any of the other hacks… you should at least do this one:

Set Automated tabs in Google Chrome.

Real life: there are the same web pages you open every single morning. Maybe it's your attendance, online grade book, GoNoodle.com or ClassDojo. Either way, it takes time to type in and bring up all those pages so that you're ready to go.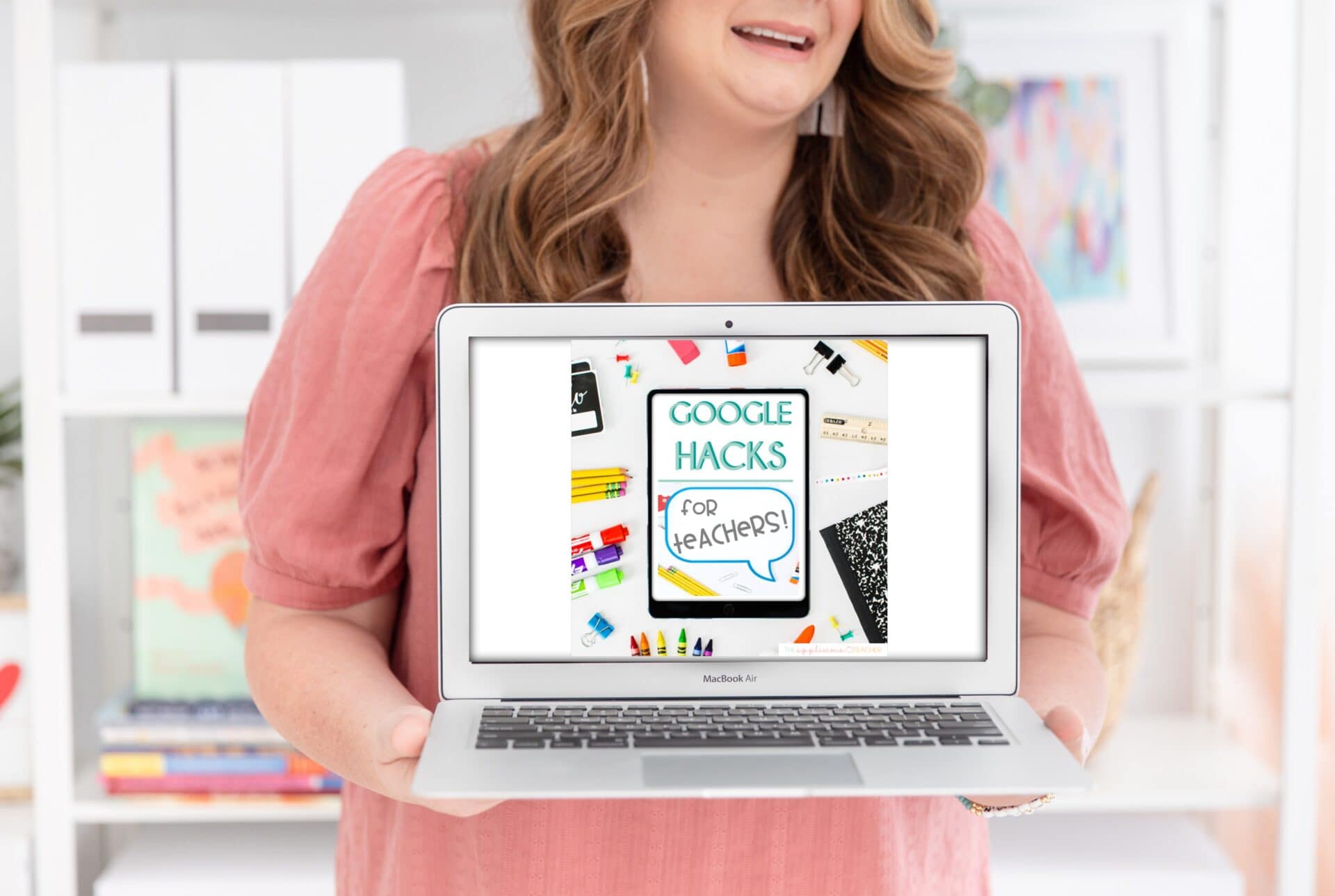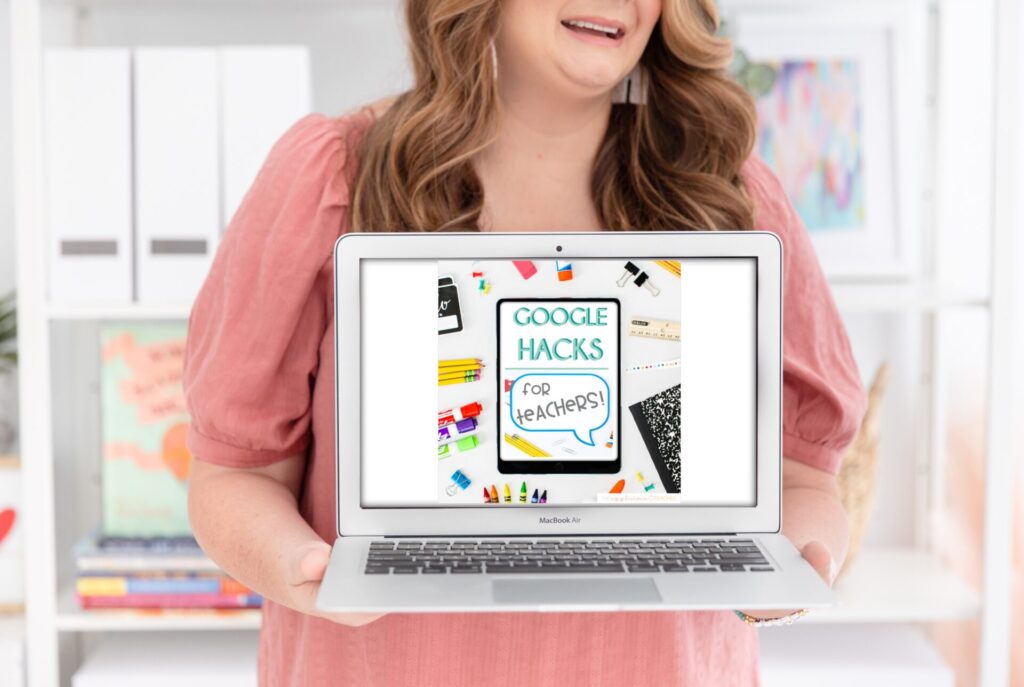 That is time that could be spent getting a lesson ready for the day, so why not automate it? Did you know you can set up your Google Chrome so that certain pages open E-V-E-R-Y- TIME you open your web browser?
Here's a step-by-step video that shows you how:
Oh, and there are a few other Google Hacks for you to find there, too!
2. Daily Drawers
This next one is seriously life-changing and I am so surprised that more teachers don't use some sort of system like this!
Ladies and gentlemen, let me introduce you to:

Daily drawers!
This simple system is life when it comes to being able to leave at a reasonable time every afternoon. The system is simple: Find a plastic drawer system with 5 or more drawers. Label each drawer for a day of the week. Then, as you plan ahead for the following week and order copies, place the materials in each drawer.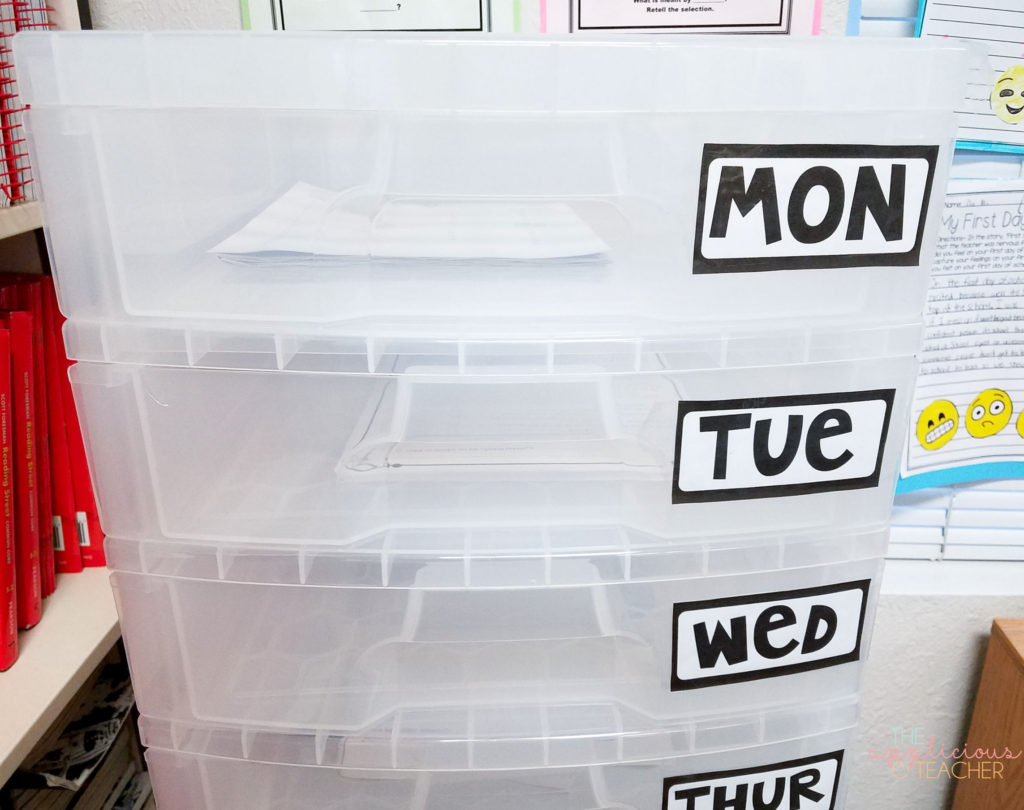 Now at the end of the day, instead of running around trying to find everything you need to teach for the day, you can just open up the drawer for the day you need, and POOF! It's all there!
Grab these labels and check out my favorite drawer systems here!
3. No-Cut Borders
If I've said it once, I've said it a million times:

DO NOT CUT YOUR BULLETIN BORDERS!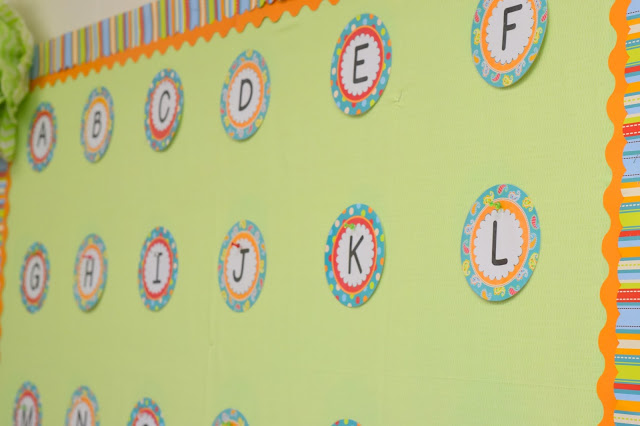 Yes… I meant to type that in shouty capital letters. I'm serious, teacher friends. There is no better way to destroy a border set than to cut it.
Instead, work to layer the pieces underneath and over each other so that every piece fits. No scissors are needed. Now, if you want to use that border again somewhere else, you can! Just pull the staples and voila! A perfect, almost mint condition border you can use year after year (or bulletin board or bulletin board).

Check out this post to see more bulletin board hacks!
4.
Set Up For the Next Day Before You Leave the Day Before
This one's so helpful! You'll feel prepared mentally and physically for the next day, so you're not worrying about things at home that night. And then, when you fly into school the following morning, you're ready to conquer the day and be much more present.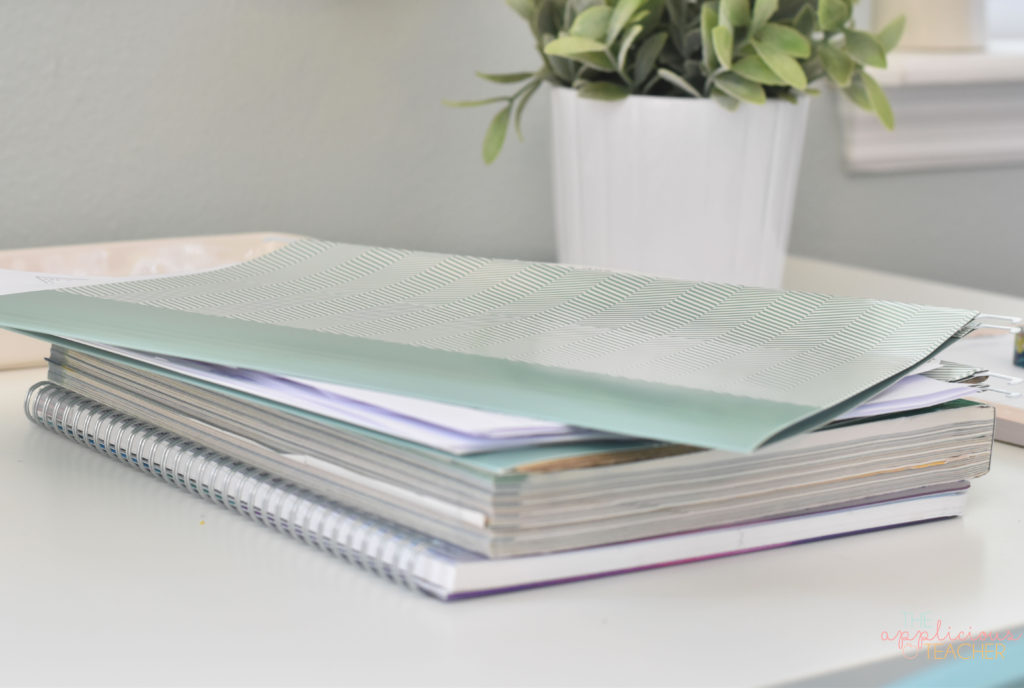 If you've set up your Daily Drawers (tip #2), then this is as easy as one, two, three!
I'm all about working smarter, not harder!
5.
Student Numbers (on everything, even papers)
Assign your students numbers at the beginning of the year. Make it even easier on yourself and assign them in alphabetical order so you can find students easily by their number.
Now, this number can go on everything and anything that belongs to your student.
Some items that student numbers can go on:
textbooks
notebooks
desks
student papers (this makes it easy to see who didn't turn in their work or forgot to write their name)
pencils
supplies
computers…
The list could go on and on!
6. Student Jobs So You Don't Have To
Want to make your life easier? How about having your students feel like they belong in your classroom community? Cue classroom jobs! Hate having to turn on the projector every morning? Assign a job! How about students fighting over who's first in line? Hello, line leader (and door holder while they're at it)!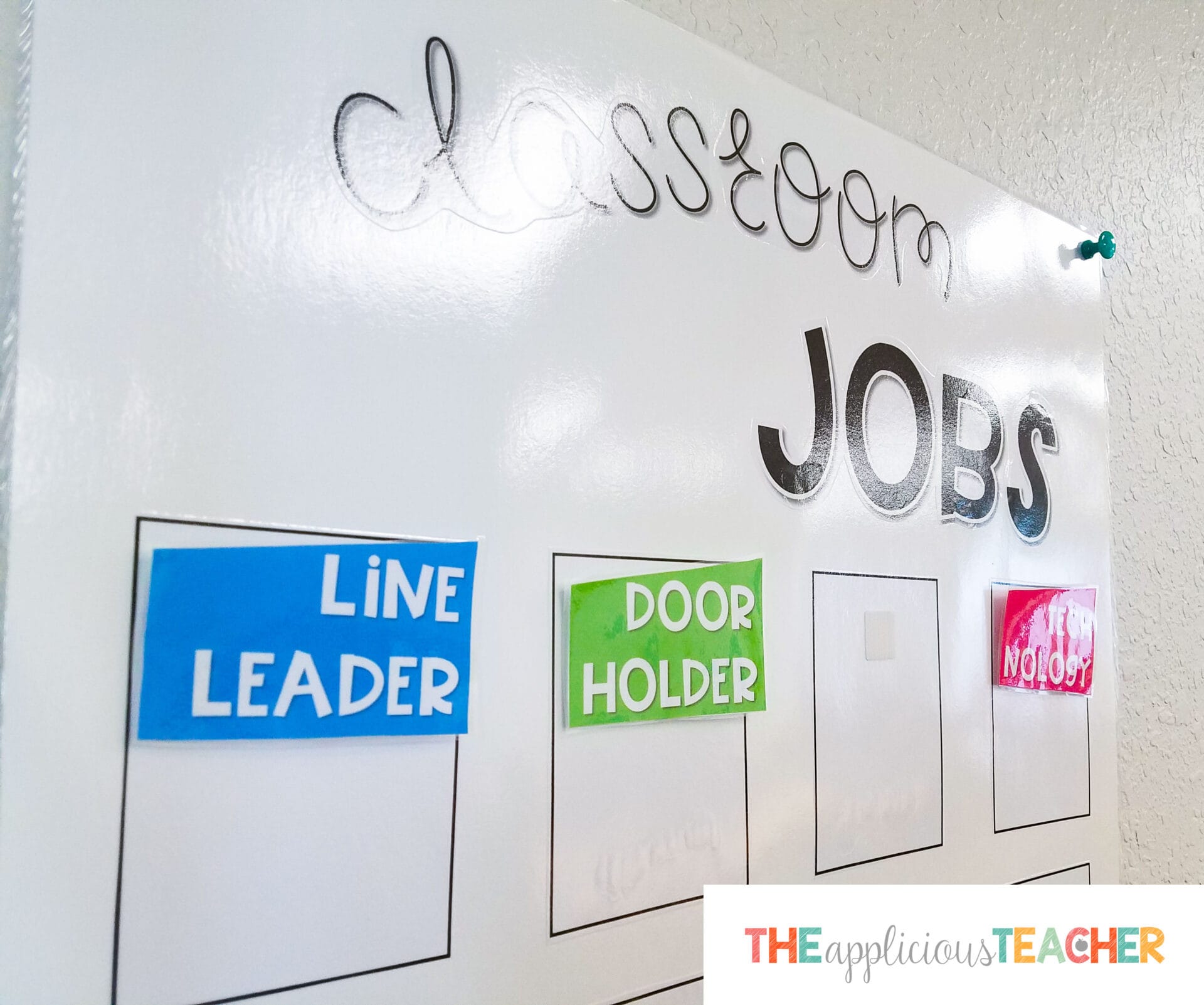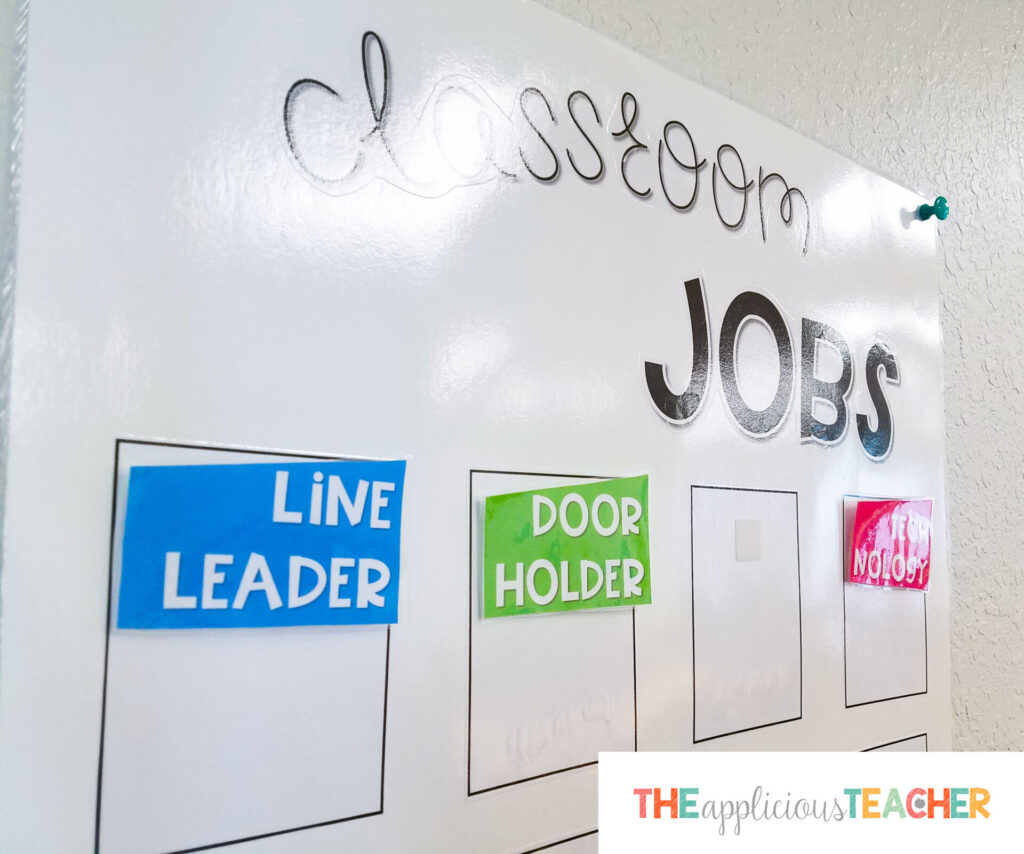 Classroom jobs not only save you time and energy (no passing out papers- give it to the paper passer to do!), they also create a strong sense of classroom community. Students feel that they share responsibility in the classroom, and that's a win for everyone!
Classroom Job suggestions:
line leader
door holder
technology (lights, projector, turn on computers in the morning)
paper passer
messengers
pencil sharpener
teacher assistant
class genius
The possibility of jobs is endless! But so worth having!
Want to make setting up classroom jobs in your classroom a breeze? Check out this best-selling product in my store!
7. Hand Signals
This next hack will help cut down on the "extra talking" that often happens in a busy classroom setting. Use hand signals! Ever asked a question to the class or call on a student just to hear: " Can I use the bathroom?" Seriously, no need to have that type of interruption! Use a hand signal instead! There can be tons of different hand signals from the bathroom, drink, agree, disagree… whatever you need!
Just out this post to learn more about some of my favorite hand signals to use for quick formative assessment!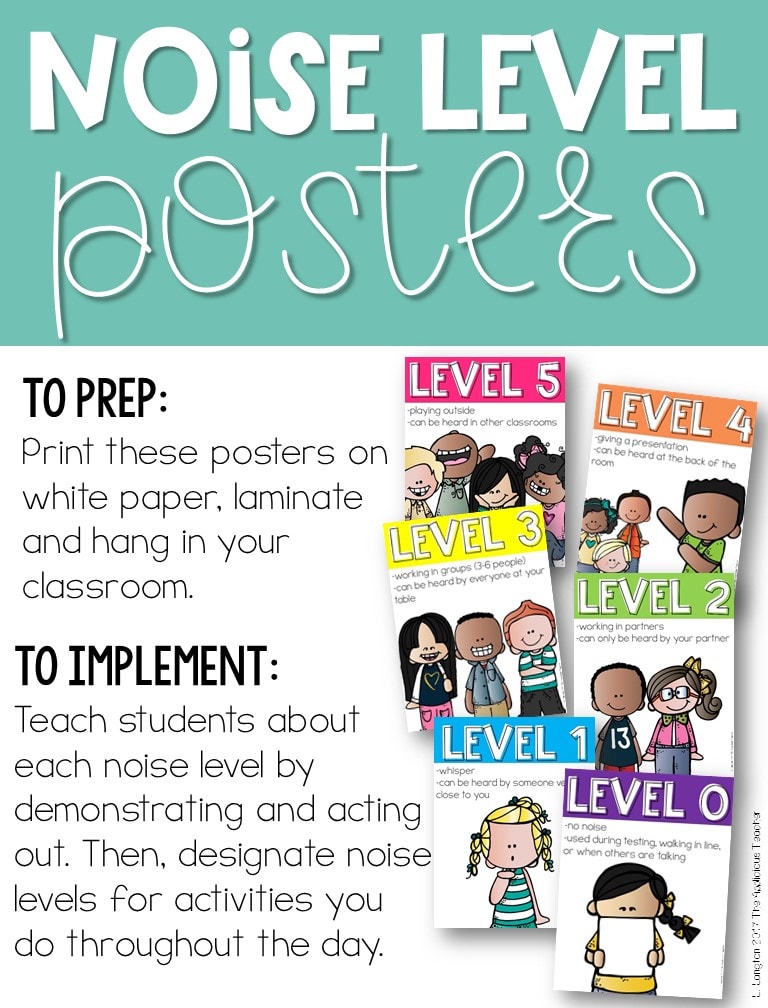 8. Voice Level Numbers
Tired of your students shouting or talking during inappropriate times during the day? Teach and use the Voice Level number system. This system is easy to implement and clearly outlines how loud you expect students to be during a set activity.
Center station groups? Level 2, please. Presenting to the class? Take up to 4. Playing outside. Go up to a 5, no problem. Working on a test? We're at a level 0!
Read more about this system and grab free sound level posters by checking out this post: 5 Tips for Dealing with a Chatty Class – The Applicious Teacher
9. Using a Doorbell to Get Attention
If you're on Instagram, then you've seen this one! It's popular for a reason! The electronic doorbell saves your voice and adds some fun to your classroom. Check out this popular one on Amazon!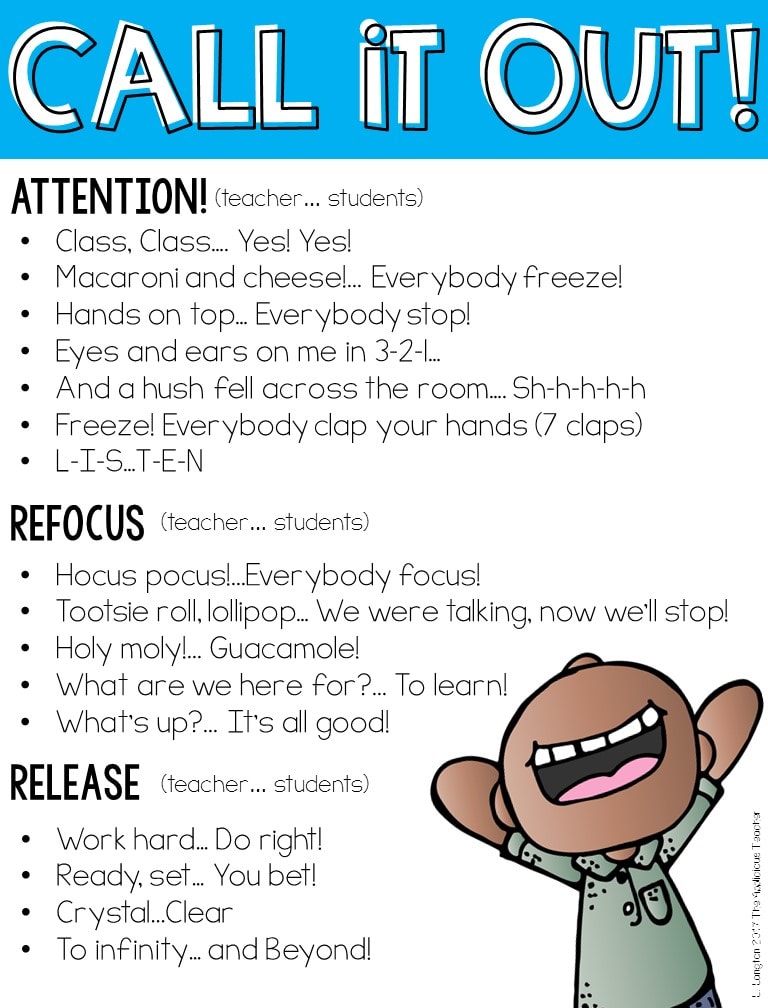 10. Call and Response
Teacher: Class.
Students: YES?!
Want a quick and easy way to get your students' attention (and your electronic doorbell is nowhere to be found)? Then a 'call and response' is for you! I like to keep at least four additional 'call-and-responses' in rotation so they don't get too stale.
Check out this post for a list of my favorite easy call-and-responds!
11. Assign a Class Genius
Having a class genius is a little way I found to keep questions from having to come to me first. To use this idea, assign a student to be the "Class Genius" for the day or another length of time. All questions get fielded to the Class Genius first. If the Genius doesn't know the answer, then he or she and the student asking the question can come and interrupt me.
This simple system has been a game-changer in my small group instruction! Now, instead of having a line of students waiting to ask me questions, they can field them to the Class Genius. Plus, what kid doesn't want to be referred to as the "Genius" in the class?
12. Use Desks As Dry Erase Surfaces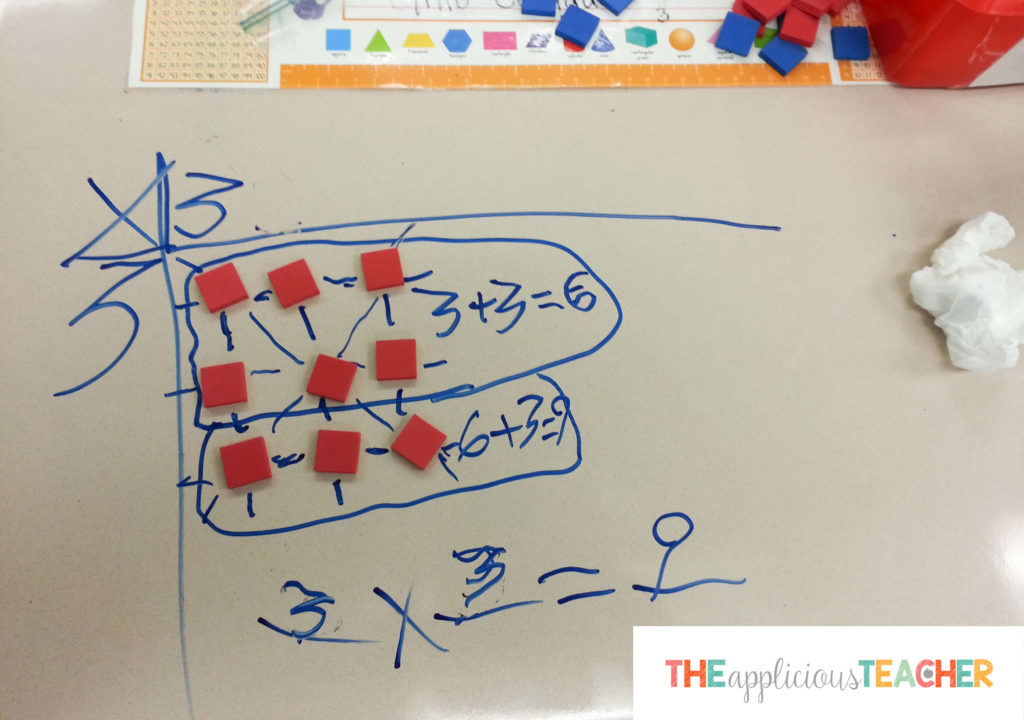 Low on copy paper? No problem! Pass out dry erase markers and let your kiddos write on their desks. No need to limit it to desks… it can be on plates, cabinets, etc. Check out this post for more ideas!
13. Download All of KG fonts For Free!
This teacher hack is perfect for those of you wanting to make a few quick resources for your kids!
The question I get asked the most about the resources I make?
Where do you get all your fun fonts?
Although I purchase a ton of fonts to create resources, one of my favorite font designers actually allows all her fabulous teacher-friendly fonts to be used for FREE in the educational setting (read: NOT FOR SELLING!).
And that designer? Kimberly Geswein from KG Fonts! Do yourself a favor: head over and download her entire font catalog to your teaching computer. You won't regret it!
Now you can add some fun flair to your personal classroom creations!
14. Everything Data Binder
Don't want to worry if there's a last-minute data meeting or discussion? Then you need a student data binder! This baby holds all the data for you, so there's no having to run to a computer/a million different drawers to find all that student data.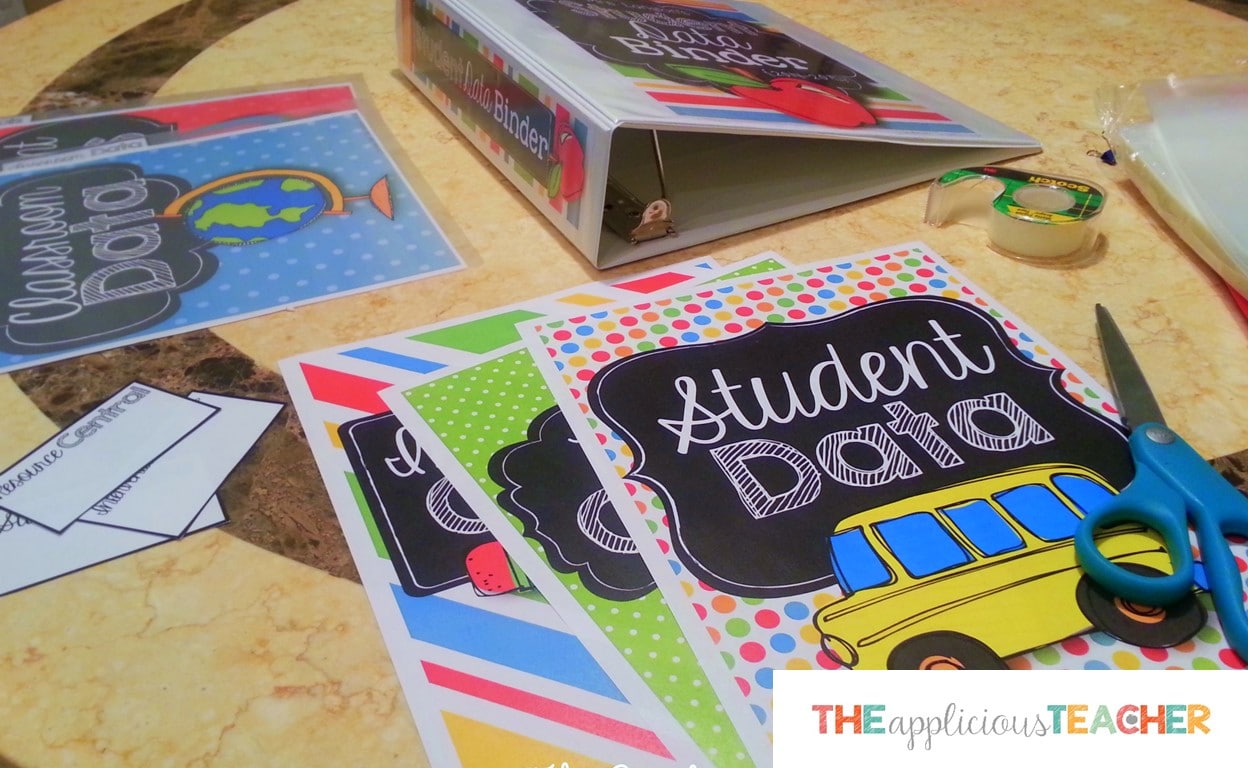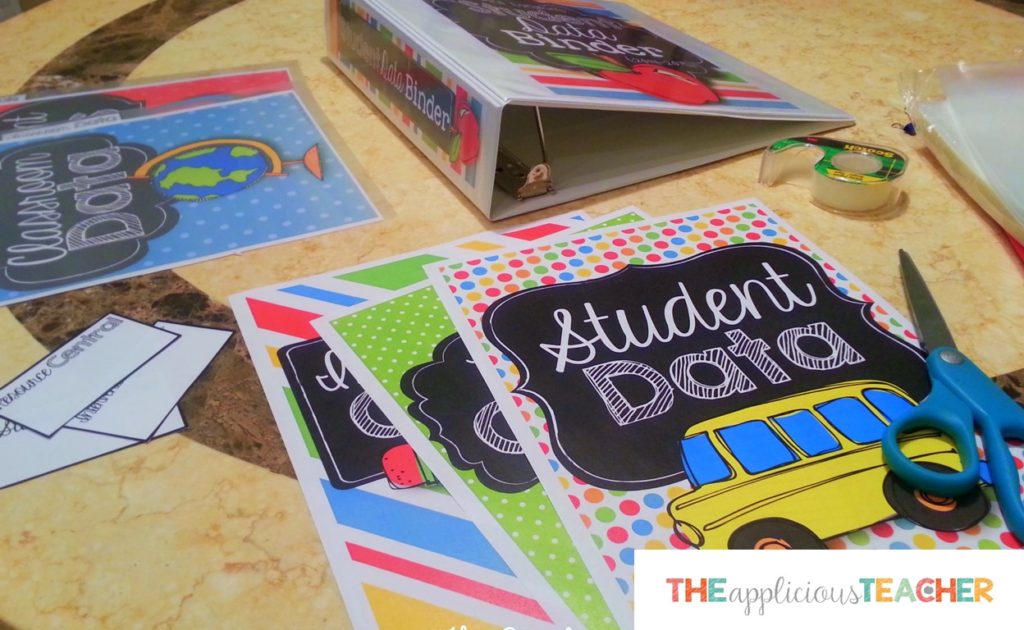 Check out this updated one here: Teacher Everything Binder Bundle Simple and Colorful by The Applicious Teacher
15. Teacher Everything Binder
No more, "what happened to that paper?" Keep it all in place with this simple binder system!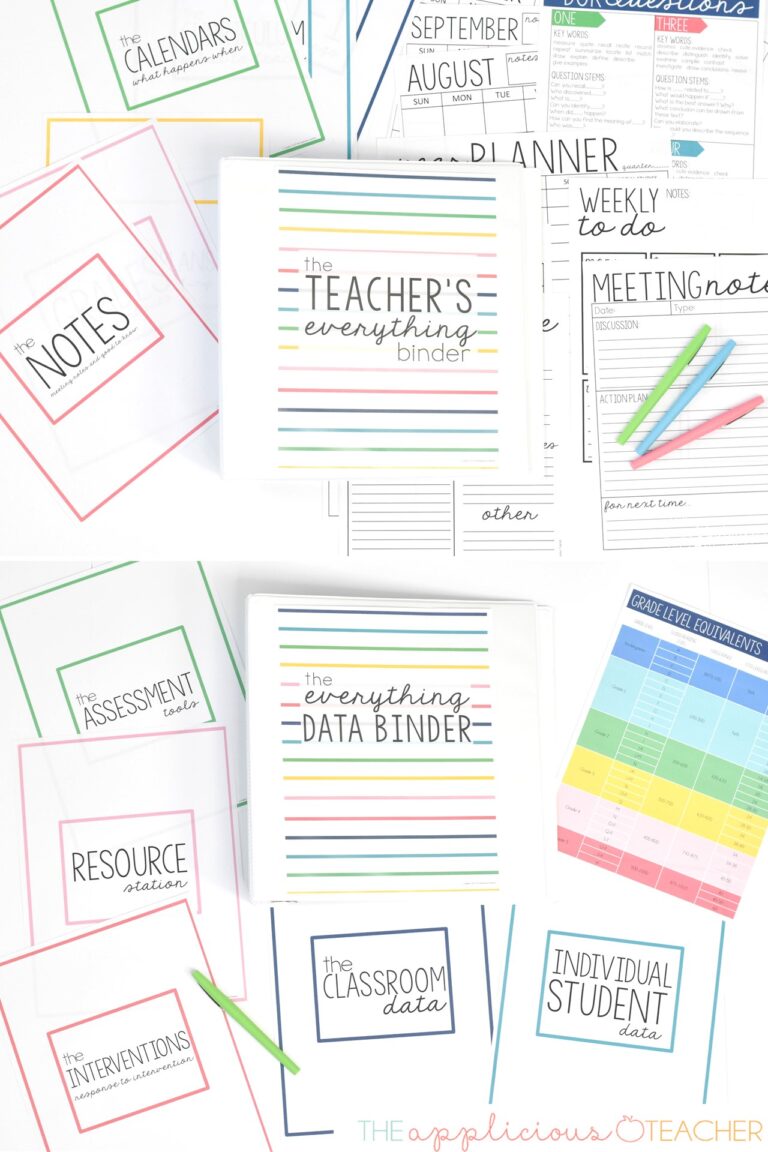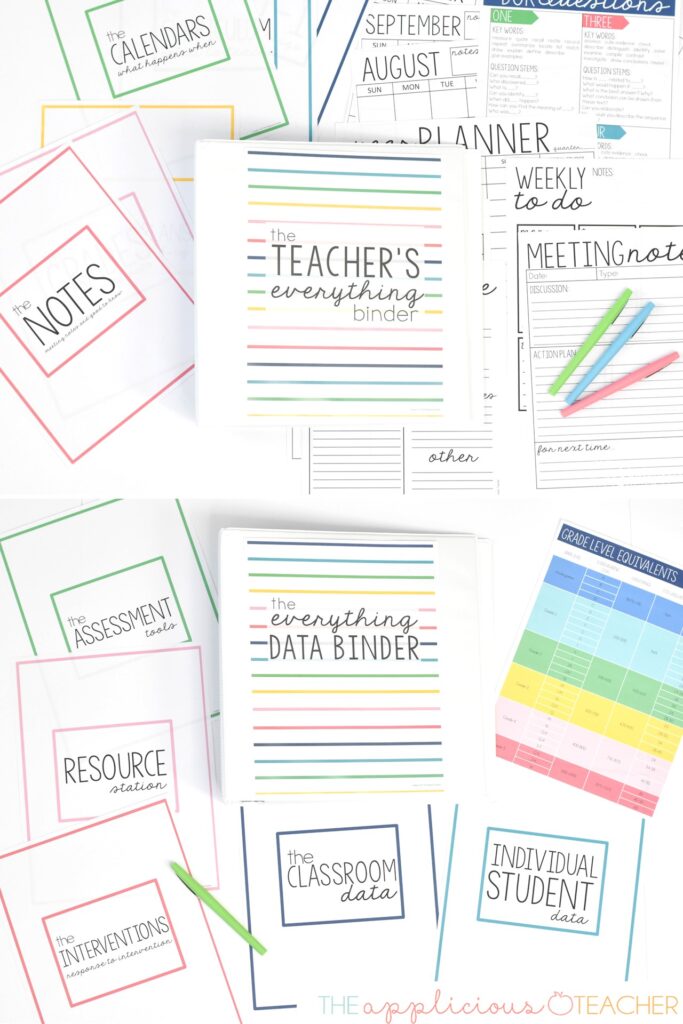 This is the same system I've used to stay organized year after year!
Grab this binder set here!
Teacher Hacks that Will Change Your Life!
Do you use any of these teacher hacks already? Tell me in the comments if you implement any of these, and how it goes!! I'd love to hear what's working for you!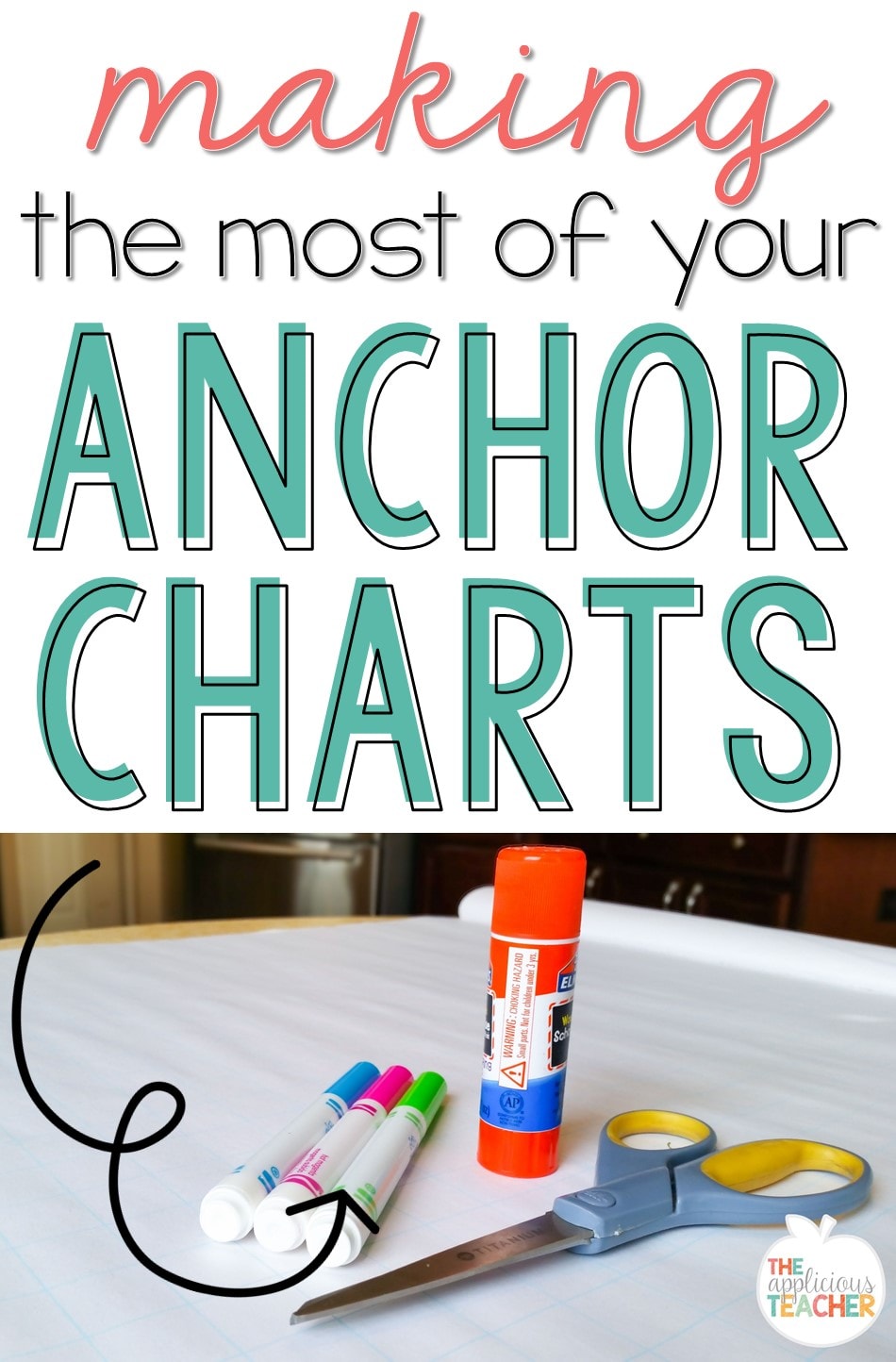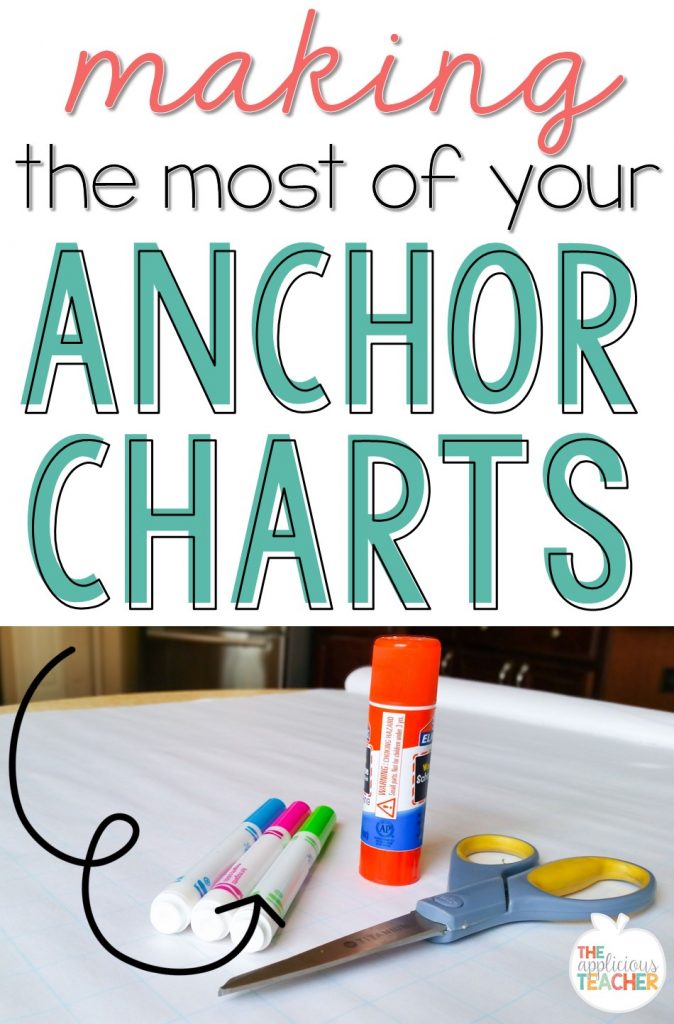 More Great Ideas:
Sign up to snag these!
Receive all these classroom management tools right to your inbox!